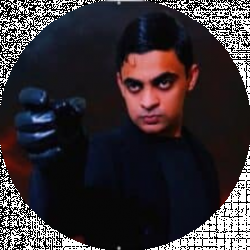 Latest posts by Boo-Ali Khan
(see all)
If I am being honest, Vera Bradley's Star Wars collection is something we didn't know we needed in our lives. But when it came out, most of us fans, even those who couldn't afford it, became totally obsessed with it.
Not every fan looks for action figures or toys, or just some basic or low-end merch products to show off their love for their favorite Star Wars characters. Some are Senator's children or Coruscant inhabitants, who prefer comfort over anything else.
And that's where Vera Bradley comes in with its comfy and cozy daily-use items, offering intricate designs and premium quality – at some high price, obviously.
Just like the Star Wars universe, the Vera Bradley x Star Wars collection is quite captivating. The signature Vera Bradley patterns amalgamated with Galaxy's favorite heroes are mesmerizing enough to take your breath away. Be it bags, clothes, blankets, or accessories, everything pays tribute to the series in a unique and beautiful way.
So, if you are a Grogu fan, a Darth Vader admirer, a Leia lover, or a Star Wars fan in general, this Vera Bradley Star Wars guide is for you. But before going on this journey, I would recommend taking a look at your bank balance so that you won't go broke.
Bottom Line Up Front
Vera Bradley's Star Wars collection offers a wide range of products, ranging from simple yet beautiful tote bags to the comfiest clothing items. You can never go wrong with any of these. The quality is top-notch, and the designs are pretty enough to make you fall in love.
Being a die-hard Grogu fan, my favorite from this collection has to be Star Wars™ Vera Tote. This tote bag comes in brown with a lined pattern all around it. And not only the outside, but the inside of the bag also carries cute impressions of Grogu, something that is enough to make you talk of the town
My Top 3 Picks
Star Wars™ Vera Tote: Whether you are a college student or a mum of two, totes are a necessity. This Vera Star Wars tote is definitely a head-turner wherever you take it.
Star Wars Mini Notebook with Pocket in Far, Far Away

: Want to make journaling and jotting down notes more fun? This is your chance.

Star Wars™ Textured Throw Blanket

: A perfect option to keep you warm during long winter movie nights, especially if you are a follower of the Dark Side.
My Selection Criteria for These Products:
Following are some of the factors that compelled me to choose these products:
A Variety of Items
During my selection, I have made sure to include products from every category offered in Star Wars Vera Bradley collection.
Something for Everyone
Vera Bradley is a brand known for its premium quality products. The fabric quality and stitching of its products are just top-notch, which consequently makes most of the products pretty pricey. Still, I tried to include some affordable picks as well for all those Star Wars fans who don't have reserves of Imperial credits.
Multipurpose Products
Most of the products I have listed here are the ones that I feel can be used in more than one way and are long-lasting.
My 13 Favorite Vera Bradley Star Wars Products
Star Wars™ Vera Tote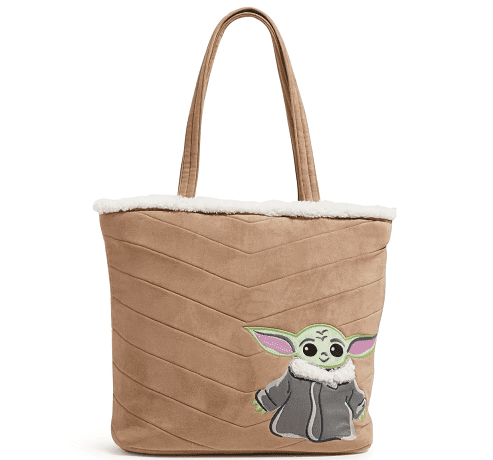 If you are looking for a cute tote bag that would fulfill all your traveling needs, be a great outdoor partner, and offers support for your tiresome college classes, you have come to the right place. This Star Wars Vera Tote allows you to do all that with the power of the Light Side.
This beautiful tote bag in beige-brown color with our very beloved baby Yoda stitched on its front is a piece that is loaded with cuteness. It is made of a Polyester/spandex blend, so durability is assured.
It has a zip closure on its top and a hidden top slip pocket with 6 inner pockets to keep you organized.
The inner is also lined with a beautiful baby Yoda print cloth, not to mention these Grogu impressions are also accompanied by Mando and Razer Crest's prints. The white fur on its top edges gives it the final touches it needs.
It's 15 inches wide and 14.5 inches tall, with a foot-long pair of straps. I must say, even for a Vera Bradley tote bag, it's a bit expensive. Still, if this bag attracts you, you can avail the installment plan offered by the company as well.
Pros
It's made with recycled cotton.
The brand offers a 60-day free return/refund.
Cons
A bit pricey.
The fur gets dirty pretty quickly.
Darth Vader Backpack by Vera Bradley – Star Wars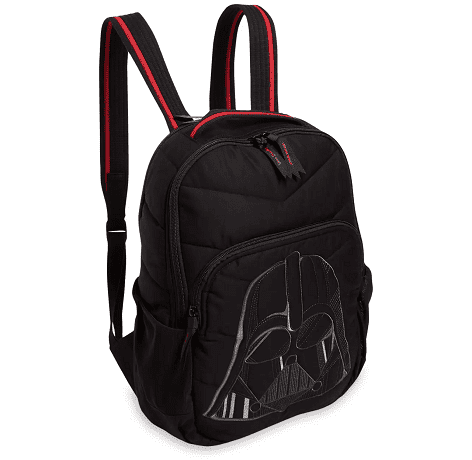 "I'm Here To Put You Back On Schedule." – Darth Vader.
Well, I am here to make your life easier with this Vera Bradley Darth Vader backpack. Backpacks are not only a need but a fashion statement as well. There can be no better way to flaunt your love for the mightiest lord of the Sith than having a backpack with his face – literally – on it.
This Vera Bradley backpack is everything a Darth Vader fan might need. It's minimalistic, comfortable, and durable, and the sizing is also perfect for everyday use. There's plenty of space to keep your books, clothes, shoes, and almost anything you need.
This backpack consists of one big compartment with a zip closure, and its front has the iconic Darth Vader helmet embroidered on it. Not to mention, the front also has a zipped pocket, while the interior has a slip pocket, a zip pocket, and pen pockets as well.
The interior of the bag is also lined with wipe-clean fabric with an all-over print of spaceships and florals, so you don't have to worry about spilling things inside it.
At its back, there is a laptop compartment that is sufficiently padded to make it safe for your precious PCs. And brownie points for the side pockets to keep your water bottle so that you never go thirsty.
The shoulder straps on the back are adjustable, and the red lining reminds me of Darth Vader's lightsaber, something that might feel mundane but holds great value for any Sith fan.
Pros
Sufficiently padded for a laptop.
It has a trolley sleeve as well.
Cons
Not enough information is provided about the back being sweat-proof.
Star Wars Medium Cosmetic in Far, Far Away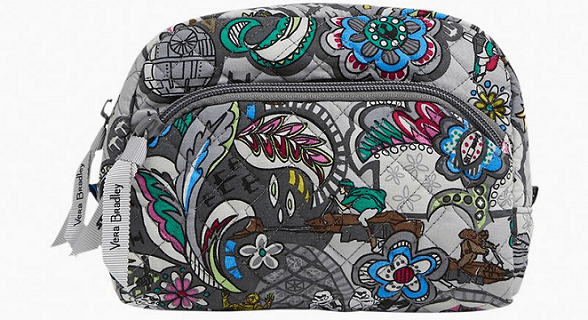 This pick is specifically for all those female Star Wars fans who usually suffer headaches before traveling while packing their cosmetics.
Even without the travel part, I truly believe keeping one's cosmetics in one place is a task not all of us have mastered. But with this beautiful Vera Bradley Star Wars Cosmetic bag, all your worries are going to vanish.
The signature Vera Bradley quilted pattern on this cosmetic bag is enough to speak for itself. With Luke, Chewie, C-3PO, and many others, this print is, by far, one of my very few absolute favorites.
Like most Vera products, the bag is made of recycled cotton. It has a zip closure on top and another zipped pocket in the front for extra storage. The interior is also lined with a wipe-clean cloth, with prints of our favorite characters and even some Bucketheads.
It's adequately sized to fit in your travel or daily-use bag and is big enough to carry all your makeup tools.
All in all, due to its vibrant colors and fabulous designs, this almost 8-inch bag is no less than a piece of art and would definitely fulfill every criterion you might have set up for a cosmetic bag. So ladies, don't miss out on this one!
Pros
Easily washable.
The zips used are sturdy and of good quality.
Cons
It might run out of stock in the near future.
Star Wars Mini Notebook with Pocket in Far, Far Away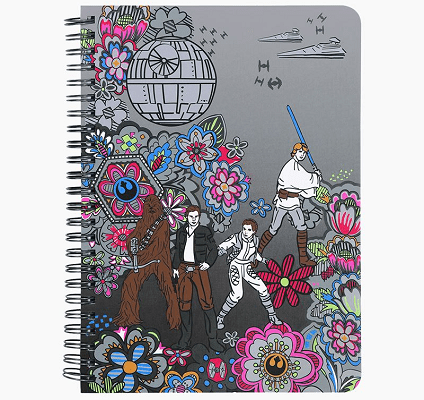 The old student in me got very excited when I first saw this Mini spiral notebook. So, if you are a student, a journalling-obsessed individual, or someone who, like me, has to keep a notebook in his bag all the time, this one is for you.
But remember, you are definitely going to attract a lot of attention if you have to take it out in your office, or in my case, in the courts.
With Han Solo, Leia Organa, Luke Skywalker, and Chewbacca, the notebook cover features the signature Vera Bradley design. But if you ask me, Chewie on the cover was the best part for me. Not to mention the grey, pink and blue hues give it a very refreshing look.
It has 160 white horizontally lined pages with holes punched in them in case you need to take them out. Having a dimension of 6.25 inches x 8.25 inches, this pad is pretty manageable as well. And don't forget its interior pocket to keep your Death Star secret blueprints, stickers, and whatnot.
The notebook is also inexpensive, so you don't have to worry about your Imperial credits. Also, it would make for a perfect gift for your little padawans.
Pros
It's lightweight.
Its spiral design makes your writing experience pretty efficient.
Cons
Too flamboyant for an office environment.
Star Wars™ Zip ID Case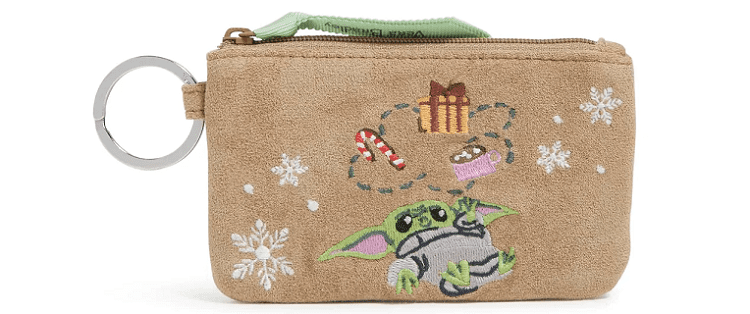 If you are an office lady, I can totally understand that finding all those tiny cards from among the other accessories flooding your huge bag is pretty difficult, if not impossible. So for all of my fellow wielders of the Force, keeping cute little ID cases in your bags has, for all the right reasons, become a necessity.
With the market flooding with ID cases of various designs and build, finding the right one to please your aesthetic sense has become a task. I assure you, this Vera Bradly Star wars zip ID case is the one that ticks all the right boxes. It's compact, durable, cute, and everything else you need.
This ID case is made of polyester/spandex blend material and has a beige color. It has a cute little baby Yoda embroidered on its front and a zip closure on the top. And the back also has an ID window with Grogu peeking through it.
This ID case also has a key ring, so you don't lose your house keys every time you come back from the office. The inner is also lined with premium quality cloth, having a Baby Yoda Holiday print and Vera Bradley Star Wars tag.
If you are looking for a budget, yet good-quality, gift for Christmas, you don't want to miss out on this option.
Pros
It's currently on sale.
The fabric used is easily washable.
Cons
Prone to getting dirty due to its light color.
Star Wars™ Weekender Travel Bag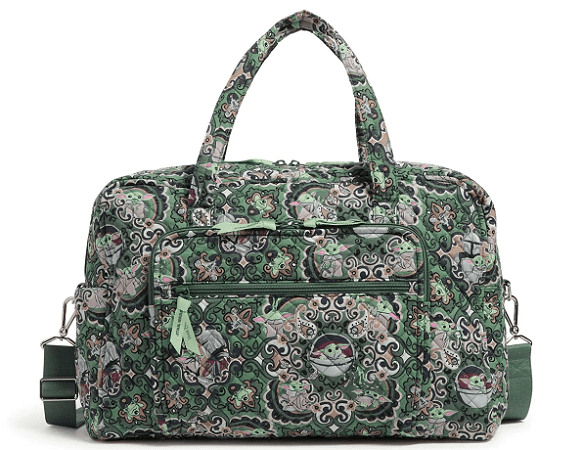 Planning a tour is all fun and games until it comes to the very tiresome and confusing task of packing. If you are anything like me, struggling with compartmentalizing your products and ending up forgetting what and where you kept, or sometimes even leaving things behind, you are going to thank me for this pick.
This Vera Bradley Star Wars Weekender Travel bag will be the one solution to all of your travel problems.
It has the signature Vera Bradley Mandalorian Medallion print, with beautiful impressions of Baby Yoda, Mando, some frogs, and the iconic Razer Crest, so the cuteness is guaranteed. The colors are also vibrant, and the green and pink hues give it a refreshing look.
It is made of recycled cotton and is soft, lightweight, and easy to carry. The best part about it has plenty of pockets to help you organize better.
The bag features a big zip-closure compartment. Its outer has a total of five pockets, with three slip pockets and two zipped ones to carry important stuff like socks, chargers, and even some makeup tools, etc. The bag's interior also has five mesh pockets to avoid losing things.
The bag has an adjustable/ removable strap to help you carry it over your shoulders. For a little over 150 bucks, you can get this travel back that would last for many years and journeys.
Pros
It can carry up to 35 L.
The fabric quality is excellent, and the bag is quite sturdy.
Cons
It gives a very old floral look from a distance.
Star Wars™ Jogger Pajama Pants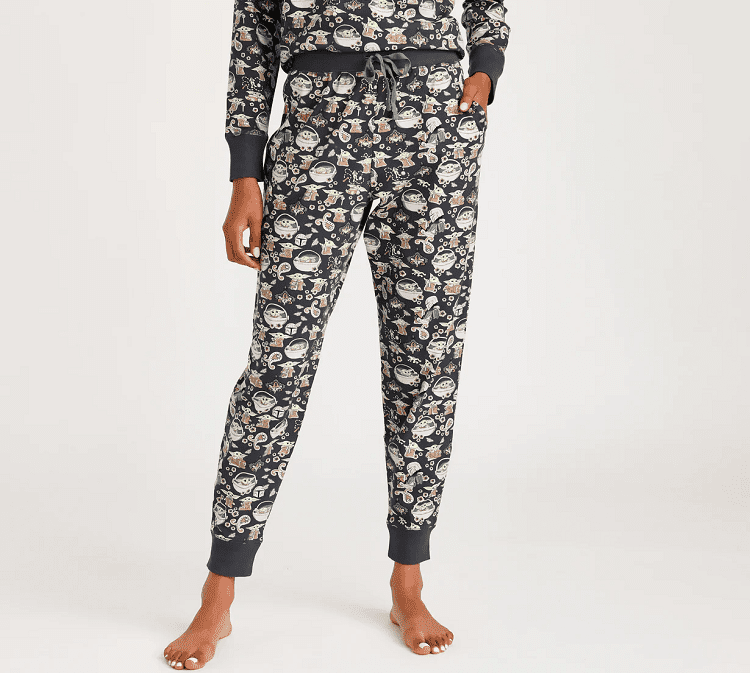 Pajama pants are a staple piece of clothing that almost all of us own a pair or two. They are hands-down one of the comfiest outerwear that you can own. And believe me when I say it, as most of my top-rated articles had the comfort of my PJs behind them.
These Vera Bradley Star Wars Jogger Pajama pants are made of a blend of 95% cotton and 5% spandex, so you know they fulfill the claim of being one of the comfiest pajama pants out there.
They have the cutest Mando and Grogu print, which will add extra character to your wardrobe. They are soft, washable, and durable. And brownie points for the added pockets to keep your keys, phone, and almost anything you want.
Though I am not a big fan of rib trims, these pants have thick elastic rib trims both at the waist and at the leg openings. But wait; if this pair of pants makes it up to your liking, I'd suggest buying Star Wars™ Long-Sleeved Pajama Henley as well to sort your winter holidays.
Another great thing is that they are easily washable. Just leave them in the washing machine and put on the gentle spin, and they'll be as good as new.
Pros
These pants are available in different sizes ranging from small to XXXL.
They offer solid seams.
Cons
These pants have a relatively small rise.
Star Wars™ Long-Sleeved Graphic T-Shirt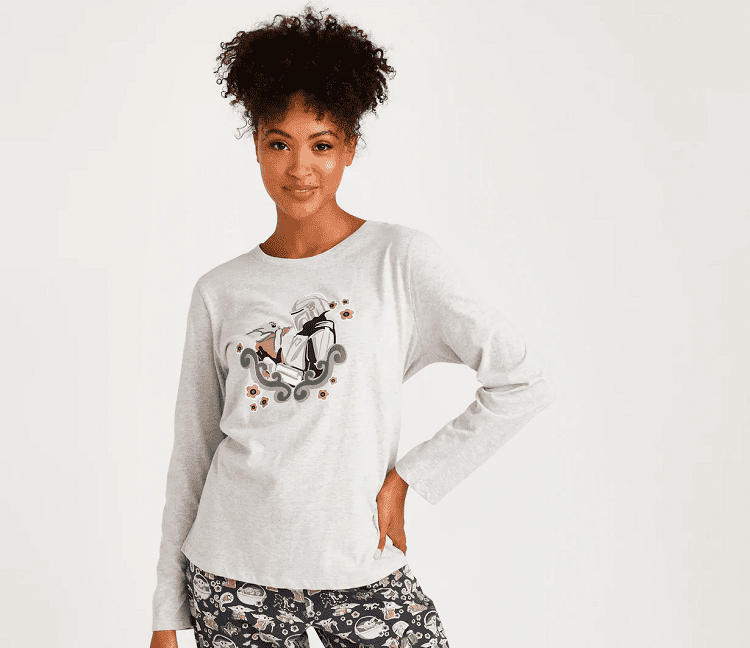 I don't think there is any individual on this planet – except for some aboriginals or indigenous people, perhaps – who does not have a T-shirt.
To speak the truth, nobody can ever have enough of these cool shirts. So, if you are a fan of T-shirts and are looking for some style and comfort to add to your collection, this pick is definitely for you.
This Vera Bradley Star Wars Long-Sleeved Graphic T-Shirt with Mandalorian and Grogu screen printed on it is definitely a great addition to any Star Wars fan's wardrobe. After all, no one can say No to the depiction of a beautiful and heartwarming relationship between our lovely Grogu and his crime partner, Mando.
Because of its cotton build, this greyish-white t-shirt ensures comfort, and the long sleeves will also keep you warm on the coldest of winter nights. It has a stretchable crew neck and the seams are also finely stitched, so you won't have to deal with loose threads.
And don't forget its print quality, which is pretty good and won't come off even after multiple washes. And the best part is you don't have to go through the hassle of ironing it.
Pros
A perfect option for those fans who are into minimalistic designs.
It is easily washable and does not need ironing
Cons
Color options are not available for this shirt.
Star Wars™ Round Crossbody Bag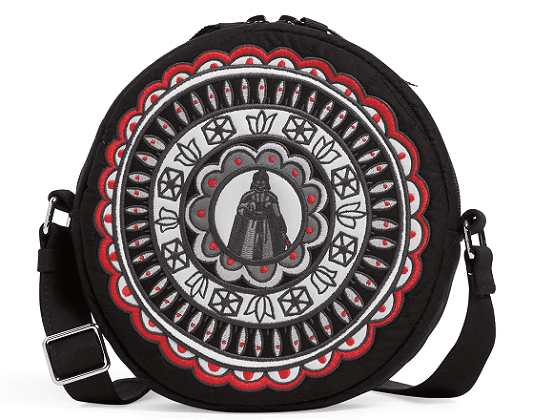 How can we talk about Vera Bradley and not mention one of its best products, a.k.a. the crossbody bags? No Vera Bradley Star Wars guide could have been complete without some funky, vibrant, sometimes scary, and premium quality bags.
Crossbody bags complete your outfit and reflect your personality in the best way possible. And I can assure you that with this black Vera Bradley Darth Vader Round crossbody bag, your inner dark energy will radiate from every part of your body.
The bag itself is made of quilted cotton, and Vera Bradley's far, far away geometric pattern is embroidered on it. The white, grey, and red hues against the backdrop of black, not to mention the Galaxy's most dangerous villain in the center, will surely catch everyone's eyes.
It has one big pocket with a zip closure that goes halfway around the bag. The interior has a zip pocket and even a slip one for keeping small stuff. A sturdy adjustable wide strap is also provided to give extra support and, of course, for aesthetic purposes.
Buy this bag, and stop worrying about the things you need to carry to rule the Empire!
Pros
The embroidery on the bag is of good quality.
Not too big to burden your shoulders.
Cons
The embroidery of Darth Vader is pretty small.
Star Wars Princess Leia Bag Charm in Far, Far Away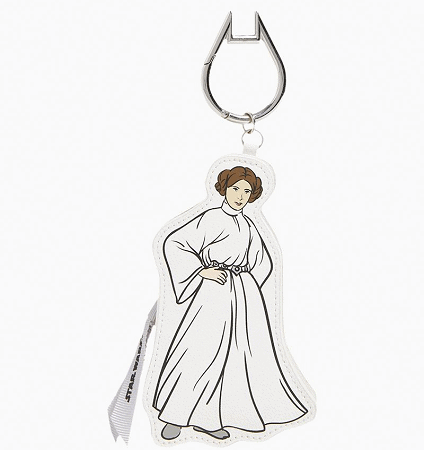 "Well, I guess you don't know everything about women yet." – Princess Leia
If there was one character from the Star Wars series that we all loved, it was Princess Leia Organa. Intelligent, beautiful, courageous, and loyal, Leia was the Jack of all trades.
If you are an admirer of Leia, just like me, you can always immerse in her awesomeness with this equally beautiful Vera Bradley Princess Leia Bag charm.
I am pretty sure the people who carry bags everywhere they go know the importance of bag charms. After all, nothing adds character to your bag or reflects your personality more than these little attachments.
This Vera Bradley bag charm features a beautiful cut-out of Leia made with Polyurethane. It has a mini pocket with a zip closure for keeping coins, keys, medicine, hands-free, or whatever you want. So, say Goodbye to losing your essentials once and for all!
The best thing I like about this charm, which many fans fail to notice, is its Millennium Falcon-shaped carabiner that can be attached to your bag or backpack. Moreover, the mini-pocket is lined with printed fabric, containing a Stormtrooper and the mighty Darth Vader peeking through it.
But remember, don't touch this charm with sloppy hands, or the Princess might have to send it to Alderaan for a wash.
Pros
Generously sized.
It is made of pretty sturdy material.
Cons
It easily gets dirty due to its white color.
Star Wars™ Textured Throw Blanket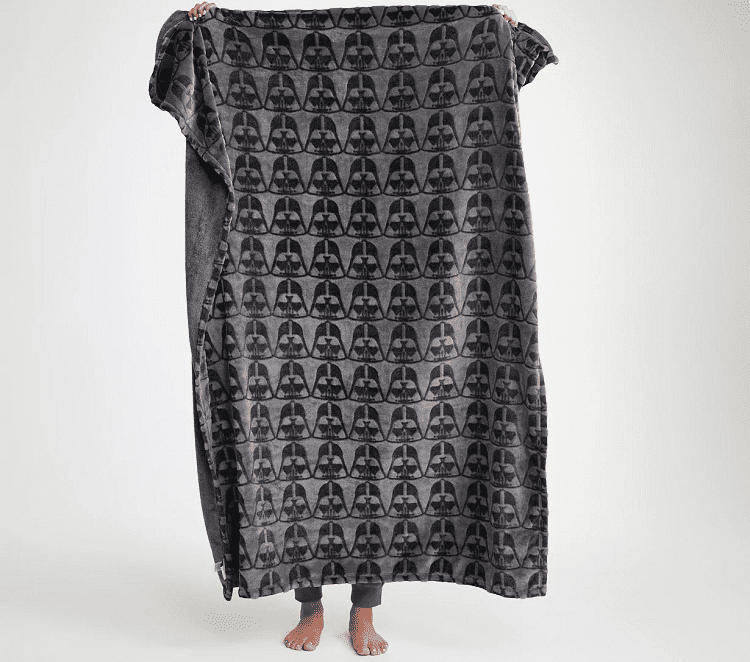 Now, it's time to introduce my fellow followers of Dark Side to one of my favorite picks from the Vera Bradley Star Wars collection, the Darth Vader throw blanket.
For long winter movie nights and sleepovers, this throw blanket is going to keep you safe from the shenanigans of Jedis. After all, no surviving Jedi fears any Sith more than the mighty lord Vader.
This blanket is made with 100% polyester microfleece, and the sheared pattern makes it look like it is based on wool. Although it's relatively thin, the size of this intimidating blanket is big enough to give you and your loved ones the extra warmth you deserve. The seams around the blanket are also nicely stitched and blend perfectly with the print.
Another great thing about this one is that you can also personalize it as well. You can add your name, a logo, and a monogram of your preferred font, size, and color. After all, leaving a legacy is what Siths long for, and nobody would dare steal it from you.
It's also easily washable and will last you through many seasons.
Pros
It is machine washable
This throw blanket has a big size that can easily accommodate two people.
Its micro fleece build makes it pretty lightweight.
Cons
This throw blanket is thinner than most throw blankets in the same price range.
Star Wars ReActive Zip-Around Cooler in Black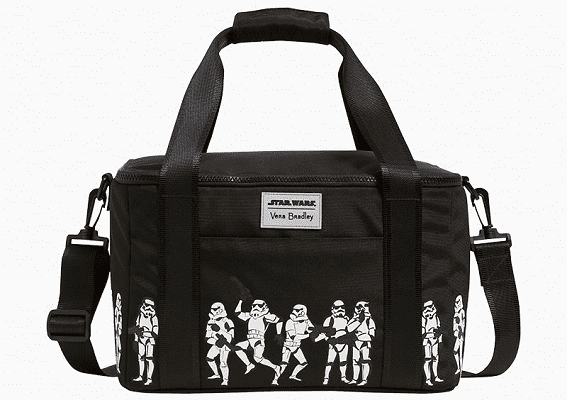 Planning a beach day with your friends and cousins and still thinking about where to keep your drinks and snacks safe? Then, worry not; I got your back, or should I say, the Troopers got your pack.
This Star Wars ReActive Zip-Around Cooler is just the right thing to make your trips fuss-free and keep your drinks cool. The cooler is made from recycled plastic water bottles, so you know you are doing something good for the Galaxy.
It is lightweight, durable, and waterproof, and you don't have to worry about your juices spilling and ruining the cooler. Also, the exterior has one slip pocket for keeping tissues, hand towels, bottle openers, etc.
The black color of the cooler, with Stormtroopers all around it, gives it a mysterious vibe, something that reminds me of Death Star. In addition to sturdy adjustable straps, it has a top handle that makes carrying your bottles a lot easier.
But I have to say, the cooler has a capacity of only 16 liters, which, for a price tag of almost $100, makes it pretty small.
Pros
It's eco-friendly and made from recycled plastic bottles.
It is pretty lightweight.
The shoulder straps are very sturdy and comfortable.
Cons
A little small for its price range.
Star Wars™ The Mandalorian™ Medallion Quilt Set, Twin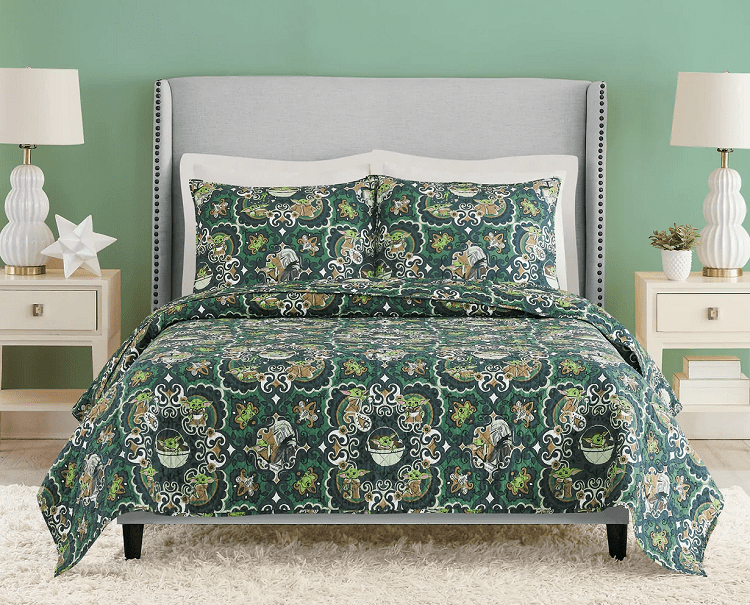 I have to say, the look of your bedroom plays a significant role in how you feel every morning. If you are tired of boring mornings, it's time to fill your plain-looking room with a vibrant, funky, and beautiful Star Wars Medallion Quilt Set.
This olive-colored quilt set with Vera's signature Medallion pattern and our very own Baby Yoda and Mando will definitely amp up the energies that surround your room.
The set comes with a pair of pillow shams and a quilt. The cover of the quilt is made with 100% pure cotton and is filled with a blend of 70-30 cotton polyester mix. This not only retains its cushiness but also keeps it pretty warm. And don't forget, the quilt comes in three sizes; a Twin-size, a King-size, and a Queen-size.
Taking about the pillow shams, they are not that big and have hems in place of flange edges, not to mention they have hidden zippers for a seamless look as well.
Pros
Both the pillow shams and the quilt is machine washable.
The print is very strong and doesn't fade with time.
Cons
The twin size includes only one sham.
Frequently Asked Questions:
Question: Does Vera Bradley offer International shipping?
Answer: Yes, they do! If you are a buyer living outside the US or Canada, you can simply place your address on the website, and your product will be delivered to your location.
Also, with the list of verified retailers given on the website, you can also look out for verified retailers of Vera Bradley products in your area to avoid any scams.
Question: Do Vera Bradley Star Wars products come with a warranty?
Answer: Unfortunately, these products don't come with a warranty. But Vera Bradley does offer a 60-day return/refund policy, and if something happens to your favorite Star Wars product in the first three months, they will also replace it for you, owing to its availability.
Question: Can I get these Star Wars products in installments?
Answer: Yes, you can. Since most of these products are a bit costly, the Vera Bradley Star Wars items allow payments in installments as well. But remember, these installments are regulated by "afterpay," not Vera Bradley themselves, so do go through their terms and conditions before selecting their plan.
"Always Pass On What You Have Learned"
To be honest, the first brand that comes to mind when we hear comfort and sustainability is no other than Vera Bradley. And with its Star Wars collection, it has taken quality, exquisiteness, and cuteness to the next level. And let's not forget, from bedding items to picnic accessories, it has everything for everyone.
For my fellow Star Wars enthusiasts, I have listed my top picks in this guide. And although I love all of them, my favorite has to be the Star Wars™ Vera Tote. It's simple, elegant, durable, and almost everything you can ask for in a Tote. Not to mention, the cute-looking baby Yoda is something to die for.
I hope you are going to have a wonderful shopping experience after reading this guide. And if you still get stuck making a decision, let the Force make it for you.
"Do. Or do not. There is no try." – Master Yoda.
Looking for more interesting readings? Check out: