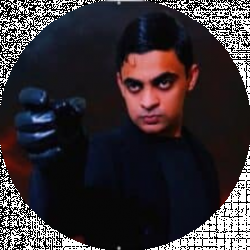 Latest posts by Boo-Ali Khan
(see all)
You Don't Know The Power Of The Dark Side!
Growing up with Star Wars can impact a person's life in many ways. But one thing I am certain of is that Star Wars has made me a rational and objective person, and much credit can be given to the phenomenal characterization of Darth Vader. And it is not only me who holds Lord Vader in reverence; the wide spread of his merchandise confirms that he remained the most influential character in the Galaxy.
It does not matter if you are a follower of the Light Side or are more aligned with the Dark Side of the Force; your Star Wars collection will remain incomplete without a piece from the Darth Vader merchandise.
In this best Darth Vader merch guide, from some buying tips to my insight into products, I will cover as much as I can about this most sought-after and extensive merchandise of the Star Wars universe. And by the end of this guide, I truly believe you will be able to make an informed decision about your favorite Darth Vader product.
So, get ready my fellow Sith apprentices; "this will be a day long remembered."
My Top 3 Picks from the Darth Vader Merch
Selecting only one all-time favorite product from the long list of Darth Vader merch would be hard. So, the three products that make it to the top of my list include the following:
Still, considering my budget and the value offered by a product, my vote will be for Star Wars Slippers Darth Vader.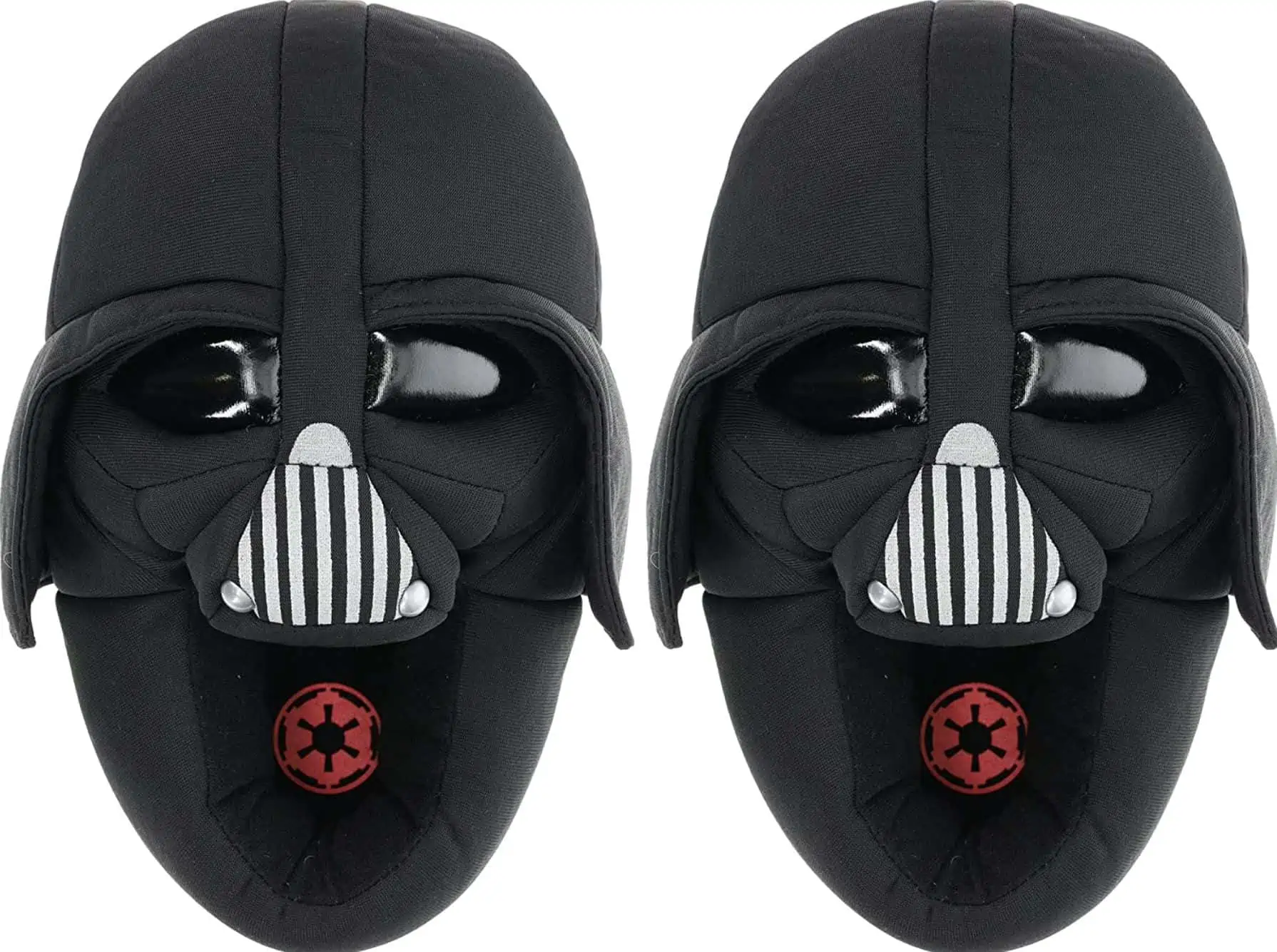 This pair of slippers is not only affordable, but its 3-D modeled design also makes it a perfect Darth Vader collectible as well. These slippers have a granular sole to provide a great grip. Not to mention their ample padding makes them a perfect fit for winter.
Some Buying Tips to Get You Started
Don't Overlook Fan Made Products
Star Wars is a phenomenon that has been going around for more than four decades. With every passing day, not only are more fans entering this marvelous universe but there is a rapid extension in its merch as well. However, not every product is produced officially.
When it comes to Darth Vader merchandise, a load of fan-made products also swarm the market. Although a significant portion of these products offers average quality, some are so detailed and exquisite that they leave the officially produced items behind.
Therefore, if you come across a piece of Darth Vader merch that speaks for its quality, you should not be concerned whether it's a fan-made or a licensed product.
Spend Wisely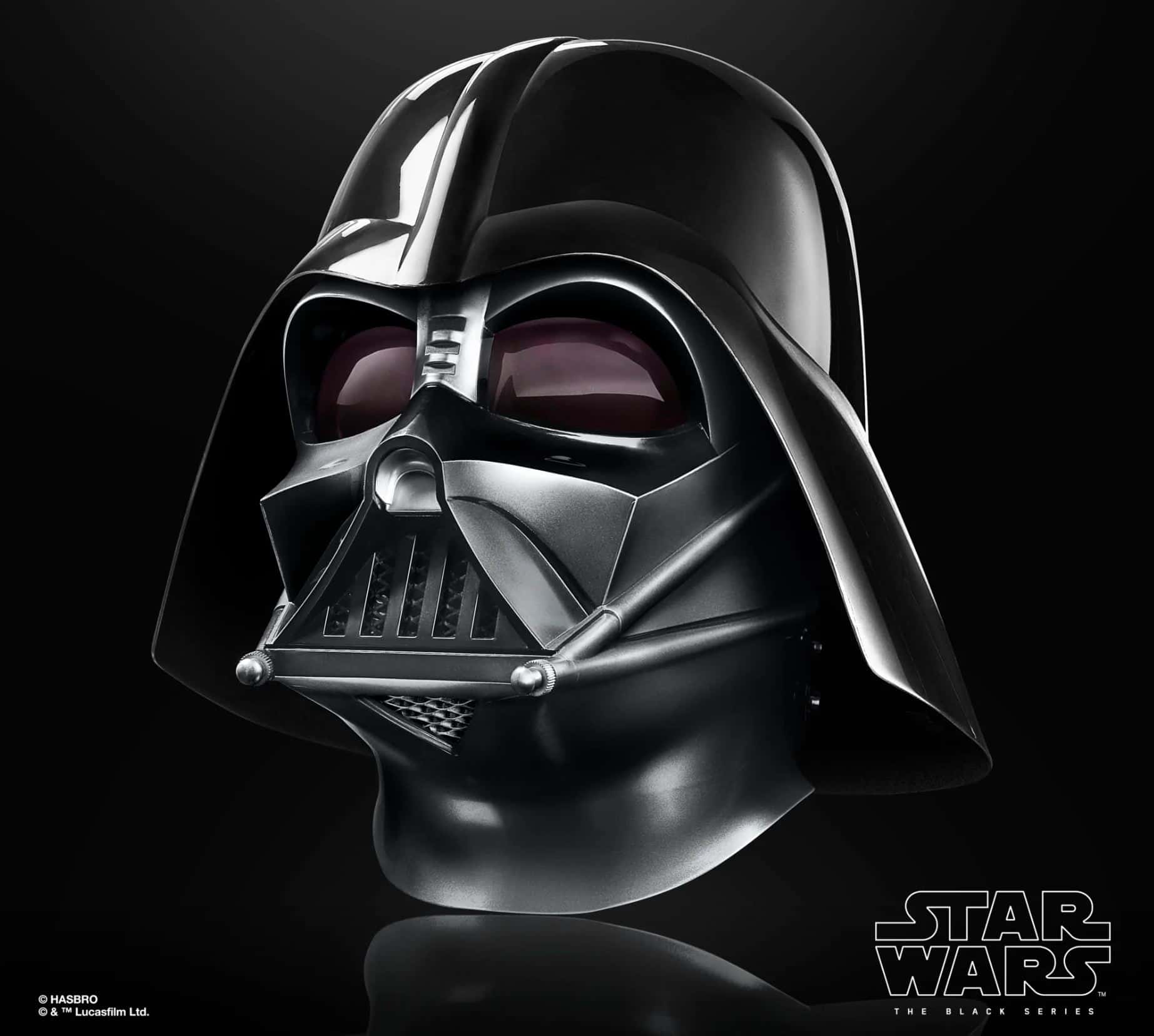 The Darth Vader products range from a few bucks to thousands of dollars. However, because of an array of qualities, you can also find some expensive options for the same product as well.
So, unless you are a Senator, I would recommend settling down for a cheaper version instead of a costly option. Who knows, this inexpensive version might fill the void forever.
Go for Physical Stores
In my opinion, visiting a brick-and-mortar store is a more practical option than shopping online. If you come across your favorite product from Darth Vader merch in a physical store, do not hesitate to get a hold of it.
Believe me, if you overlook a product, hoping to find its better or cheaper version on the internet, it will not likely happen. And it is also probable that you might not find the product on the internet at all. As they say, a bird in the hand is worth two in the bush.
Different Categories Included in the Darth Vader Merch
Apparel
The most common and affordable Darth Vader merch includes shirts, hoodies, cosplays, shoes, etc. Not to mention, the Darth Vader merchandise also offers Vader-based neckties and boxers briefs for the fans.
Shirts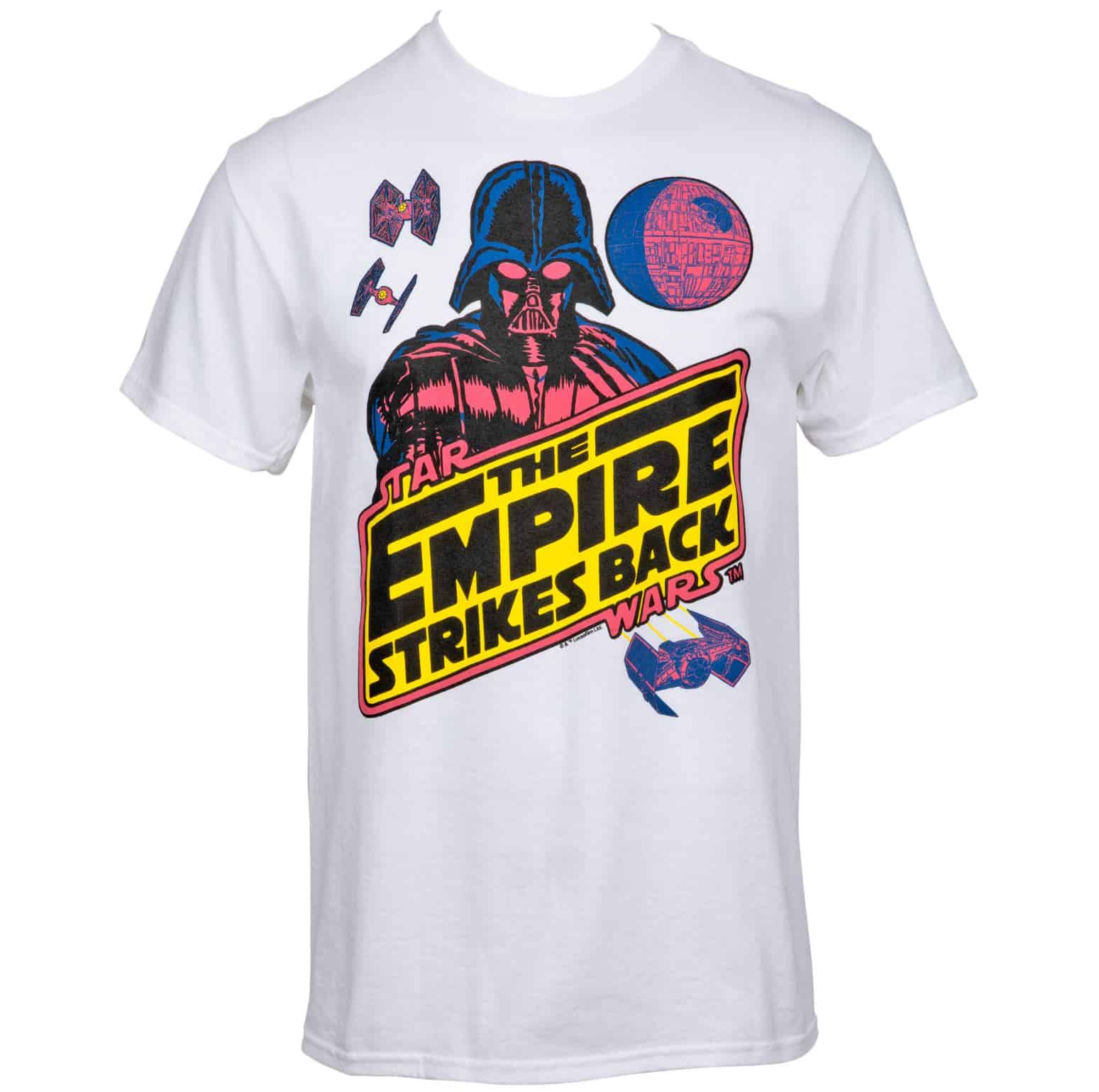 The best and most affordable way to show your love for the greatest Sith lord is by wearing a Vader-themed shirt whenever you go out.
The shirts offered by the Darth Vader merch usually include T-shirts and sweatshirts with various prints of Darth Vader in combination with different Star Wars characters or events.
These shirts are available for different age groups; however, most of these shorts are made for adult fans. And let's not forget, these Darth Vader shirts are mostly fan-made.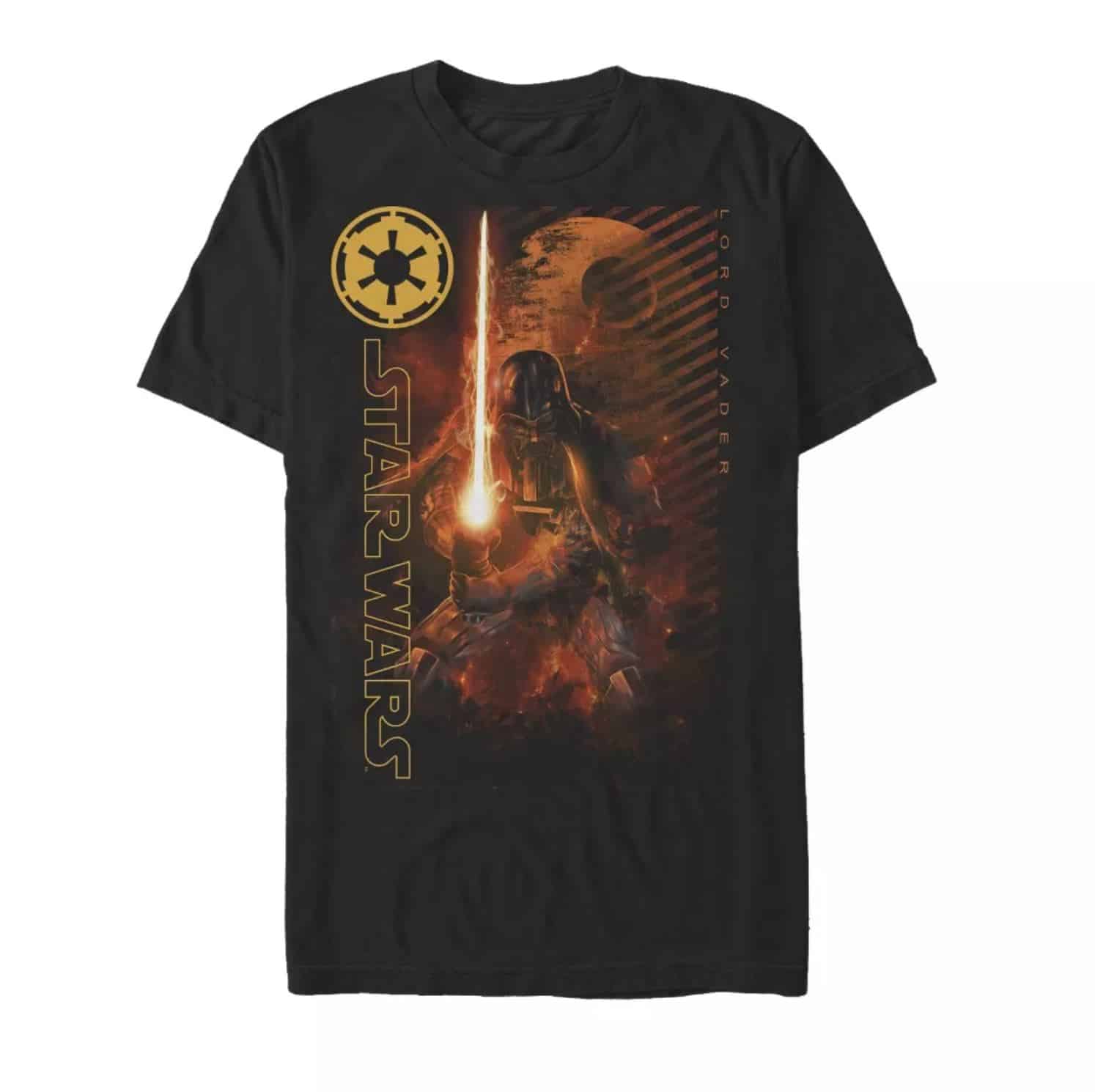 Out of thousands of shirts that exist in the market, the tee that has really fascinated me is this black Darth Vader fire T-Shirt. Talking about its print, this shirt has one of the most intimidating auras.
With Darth Vader wielding his Sith lightsaber against the backdrop of one of the fiercest weapons the Galaxy had ever seen, Death Star-II, this shirt states "LORD VADER" on one side and "STAR WARS" in its iconic font on the other. Moreover, the symbol of the Galactic Empire right next to Death Star speaks volumes of the Empire's power.
Made in the US, this shirt is 100% cotton-based and offers regular fitting, making it a perfect option for hot and sweaty summer days. Besides, being a single-layered shirt, it's pretty airy as well.
To satisfies the needs of all Star Wars fans, this shirt is available in a number of sizes: from small to 5XL.
Recommendations
Hoodies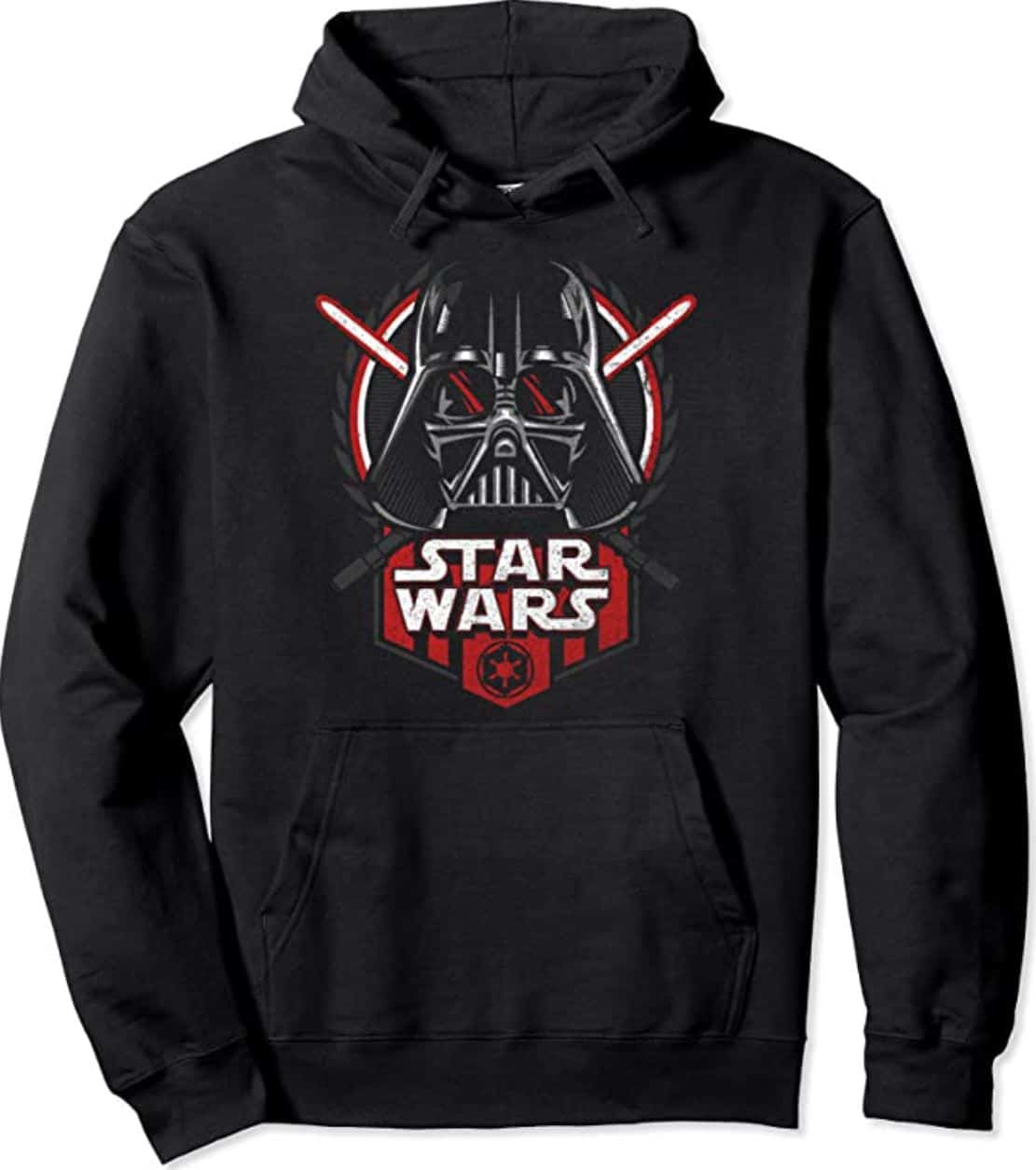 Just like Vader-themed shirts, a wide variety of Darth Vader hoodies is also there. However, most of them exist in black – obviously – not to mention they usually have a conspicuous print of Vader's helmet.
Although these hoodies cost a bit more than Darth Vader shirts, they are mostly unisex, even if they have a "for men" tag on them.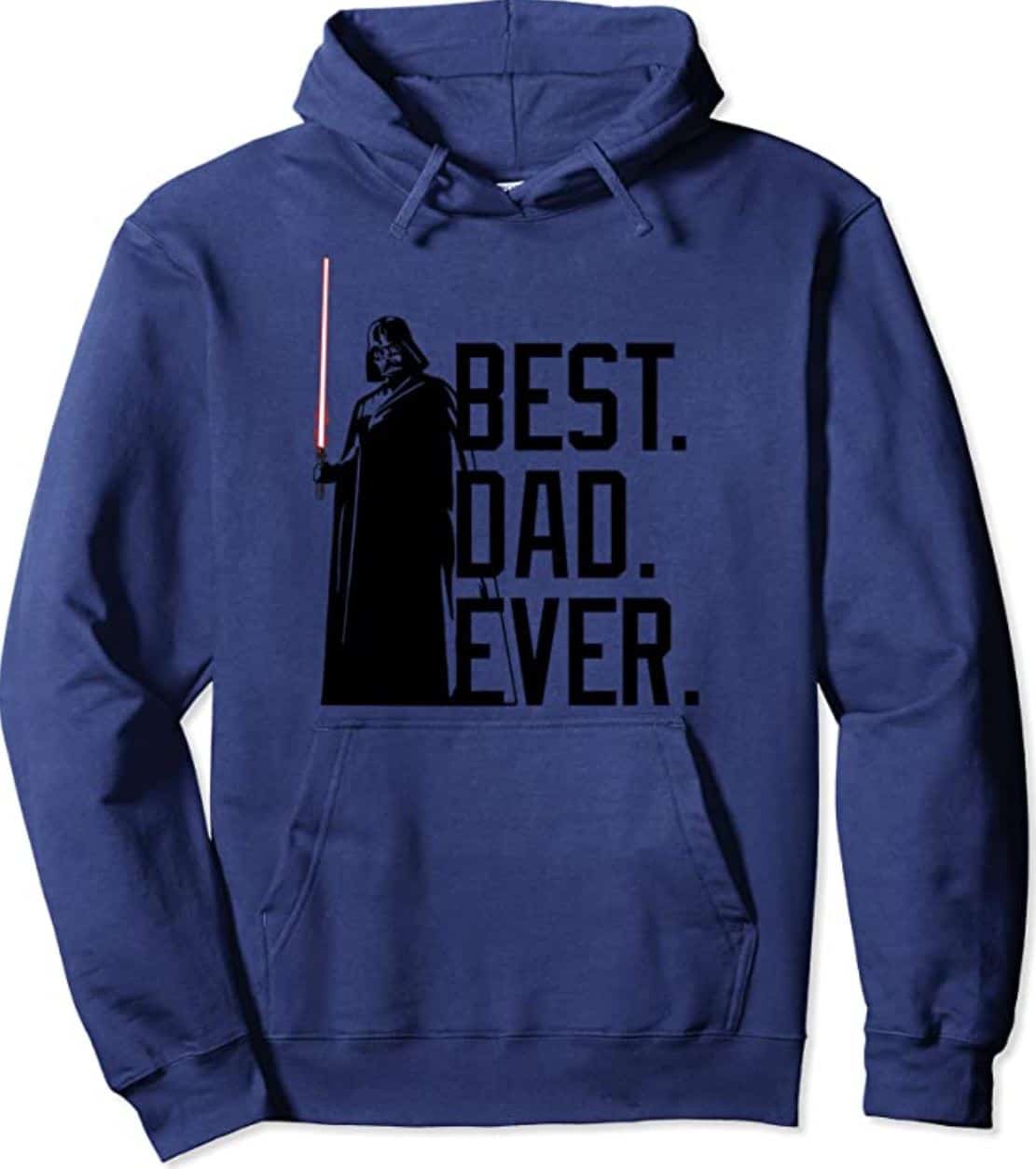 Many fans might not agree that Darth Vader was the best dad in the Star Wars universe. But if you think about it, Darth Vader not only sacrificed his life for his son, but he also gave up his entire empire and everything he stood for. This Hoodie is a reminder to every Star Wars fan who still has not fully realized the greatness of this Sith Lord.
The hoodie comes in four colors: two shades of grey and two of blue. However, even if they are all made of a cotton and polyester blend, each color has a different blend ratio, making them unique for each season.
Let's not forget that this hoodie comes from a Star Wars official dealer, so there can be no doubt about its quality. However, being an officially licensed product, this hoodie costs way more than an ordinary hoodie.
Recommendations
Costumes
Darth Vader cosplays are also pretty common among Star Wars fans. These cosplays exist in an array of designs – from simple kids' cosplay to sophisticated costumes, with helmets being the favorite part of the costume. Not to mention, being one of the most sought-after products in the world of cosplays, these costumes can cost thousands of dollars; after all, becoming Vader does not come cheap.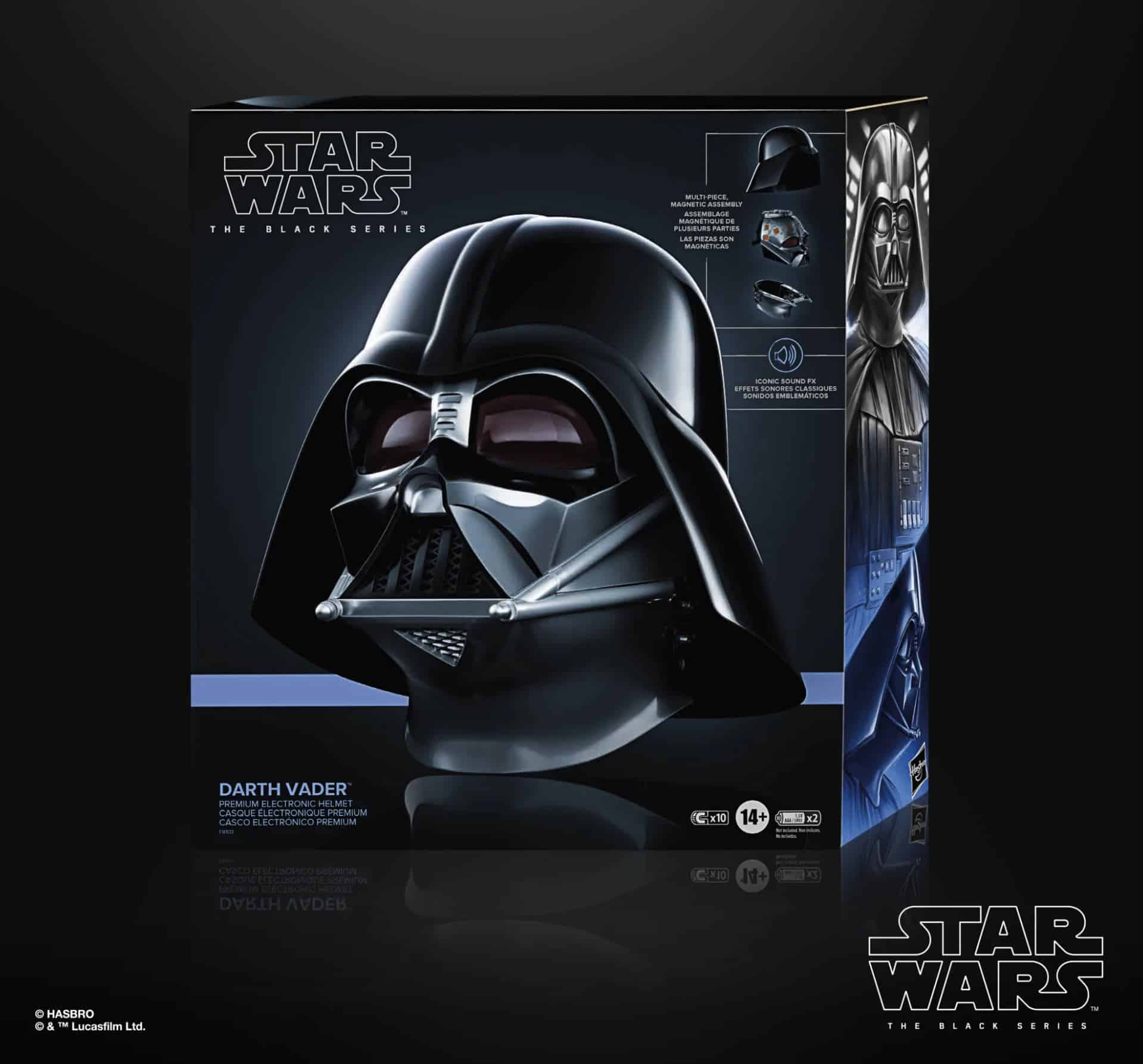 Almost all Star Wars fans agree that the most iconic part of the Darth Vader costume suit was his helmet. And If I am being honest, it was this helmet that made Vader's personality so intimidating and fearsome. Those black eyepieces, the Durasteel shell, and the hissing air intake were sufficient to instill fear in the heart of anyone who laid their eyes on this great Sith lord.
This helmet is a fully functional copy of Darth Vader's original helmet. However, it is not based on the helmet shown in the movies or the animated series, but on the one he wore in the Obi-Wan Kenobi series. Therefore, this Black Series helmet might seem a little broader than other replicas available in the market.
This helmet is sufficiently padded from the inside and has different magnetic attachments so that it can be worn or removed easily. However, the cherry on top is its sound effects, which impressively mimic the voice of lord Vader.
This premium quality helmet might need some extra bucks, but owning such a product will definitely take your Darth Vader collection to the next level. So, if you are thinking of adding an exquisite item of Vader merch to your Star Wars collection, this helmet is your forward.
Recommendations
Footwears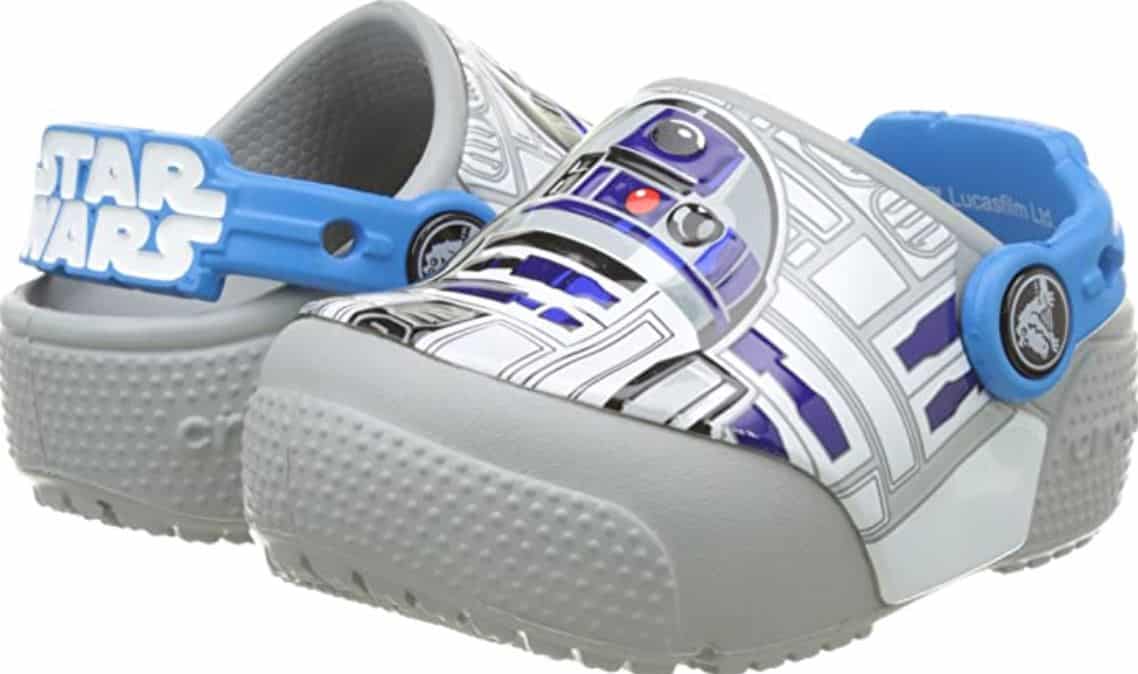 Footwear might be one of the least appreciated items of the Darth Vader merch. But if you ask me, no one deserves to call themselves a Vader fan if they don't have a pair of lord Vader kicks.
Although the Darth Vader footwears are relatively hard to come by, the quality, feel, and satisfaction they provide is definitely unparalleled. No wonder the Darth Vader slippers top the list of my favorite Darth Vader merch.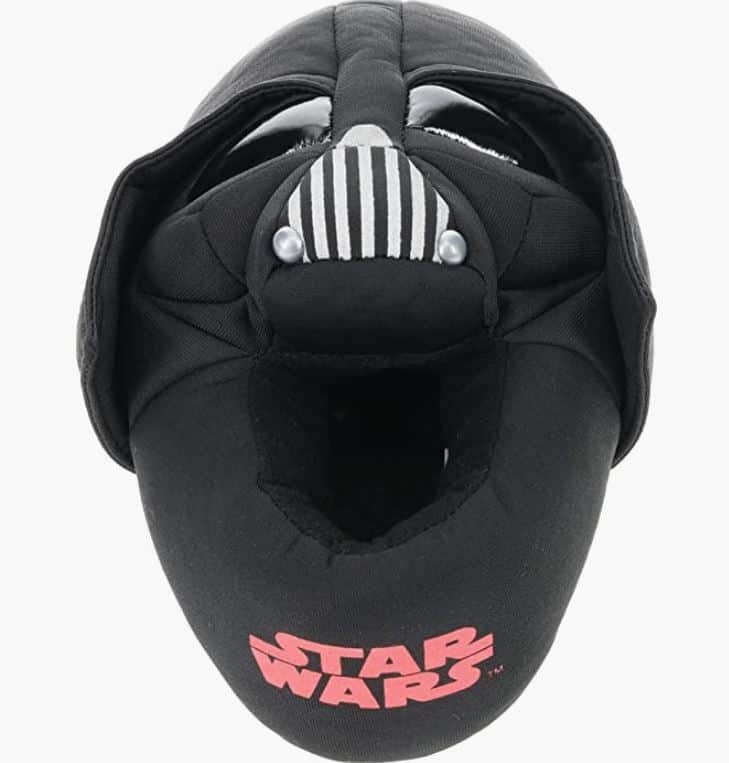 If you are too scared of Darth Vader but still want to experience the great Sith lord, try this cute pair of Vader slippers.
These slippers are based on Darth Vader's iconic helmet. However, unlike any other helmet-based product, these slippers are pretty soft. Still, being a 3-D-modeled product, these slippers copy the design of Darth Vader's helmet very intricately.
In my opinion, with cushions on all sides, these foam slippers look like a pair of sheepskin slippers. And let's not forget that these shoes are not only soft, but are also sufficiently padded to keep your feet warm on chilly winter nights. Moreover, the outsoles of these slippers have a granular texture to provide an excellent grip against slippery surfaces.
Although there is no denial to their productivity, if you ask me, these shoes' impressive build and design make them nothing short of your precious Nikes. So, placing them in a showcase would not be a bad option.
Recommendations
Miscellaneous Wearables
With a never-ending list of Darth Vader merch, from neckties to socks, you can find almost every wearable themed on lord Vader. And if due to some reason, you cannot show off your love for the great Sith lord, you can always wear Darth Vader boxer briefs or Icon Crew socks under your daily-life clothes.
And let us not forget, one can even find Vader-based pieces of clothing for chores like washing dishes or barbecuing – a perfect way to get the work done with the power of the Dark Side.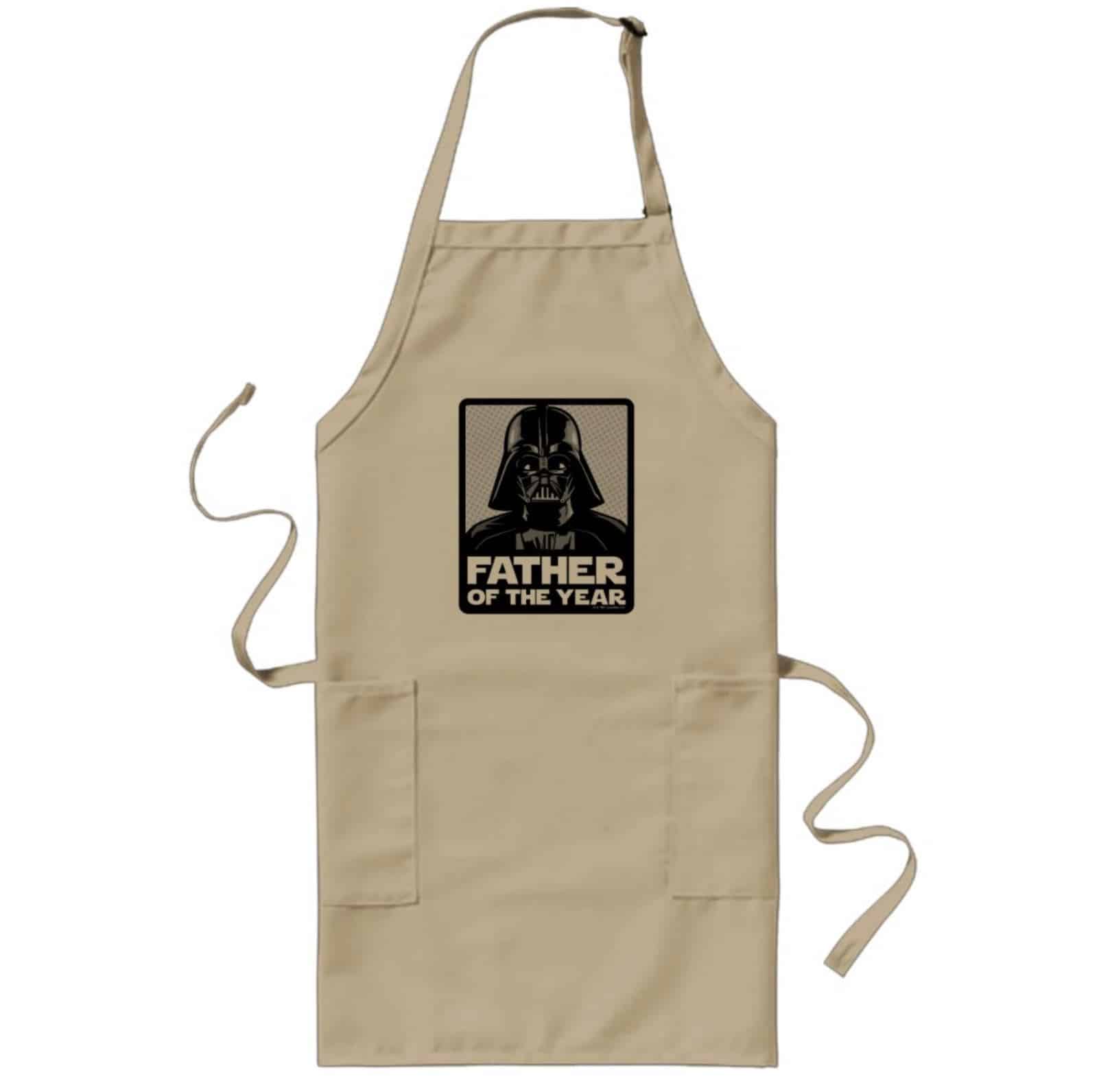 This product is dedicated to all those dads who spend a significant amount of time in the kitchen. Although this apron is specifically built for the B.B.Q. Kings, from washing feeding bottles to cooking pancakes in the morning, it is perfect for all your kitchen chores.
The construction of this apron is very minimalistic. It comes in three colors: khaki, white, and yellow, and has two pockets on either side. With a Darth Vader print right in the middle, this apron is a constant reminder that the Dark Side is there to help you with your chores even when the Light Side has forsaken you.
The quality of this apron is also pretty impressive. With a blend of cotton and polyester, this apron is twill based, making it quite durable and heavy. Moreover, it is also washable, so you don't have to worry about doing dirty jobs.
If you ask me, the best thing about this apron is that it is customizable. So, if you want to change the font or resize the Darth Vader print, all you have to do is simply go to the customization tab and enter your preferred options before finalizing your order.
Recommendations
Toys
When it comes to toys, Darth Vader merchandise includes an unimaginable variety. With countless figurines, action figures, Funko pops, Lego sets, lightsabers, etc., this merch satisfies the needs of both adult and young Vader fans alike. However, the most popular toys among fans are Darth Vader figures, lightsabers, and Lego sets.
Figures
No merch guide would ever be complete without a Funko pop. However, this guide includes a more special one, i.e., a light and sound Funko Pop.
Like most Funko Pops, this Darth Vader Funko pop is about four inches tall and stands on a base with STAR WARS printed on its front. Lord Vader is cladded in his iconic suit and holds a lightsaber, but to add more fun to it, this Funko Pop has a bobblehead as well.
Being a light & sound pop, the base comes with a speaker underneath it. With the push of a button, you can hear the buzzing sound of the lightsaber and even hisses from Vader's mask.
In addition to that, this Funko Pop also offers lightning effects in its base and the Sith lightsaber held in Vader's hand. And although these lights are not intense, the red light emitting from the saber can enlighten a part of Vader's face, giving it a very cinematic look.
Apart from the figure itself, the packaging of this pop is also very interesting. The combination of black and silver writing not only gives the pack a premium look but also gives it a pretty dark vibe.
Now, if you are wondering about its price tag, all I can say is that it is one of the most affordable Funko Pop on the market.
Recommendations
Lightsabers
Now coming to the most fascinating product that Star Wars introduced to us- the lightsabers. These lightsabers are mostly the first piece of merch that Darth Vader fans want to get a hold of; therefore, they are available in different qualities ranging from 20-30 dollars to a few hundred bucks.
Even if these lightsaber toys do not emit plasma, their charismatic plastic blade is enough to intimidate any of your opponents.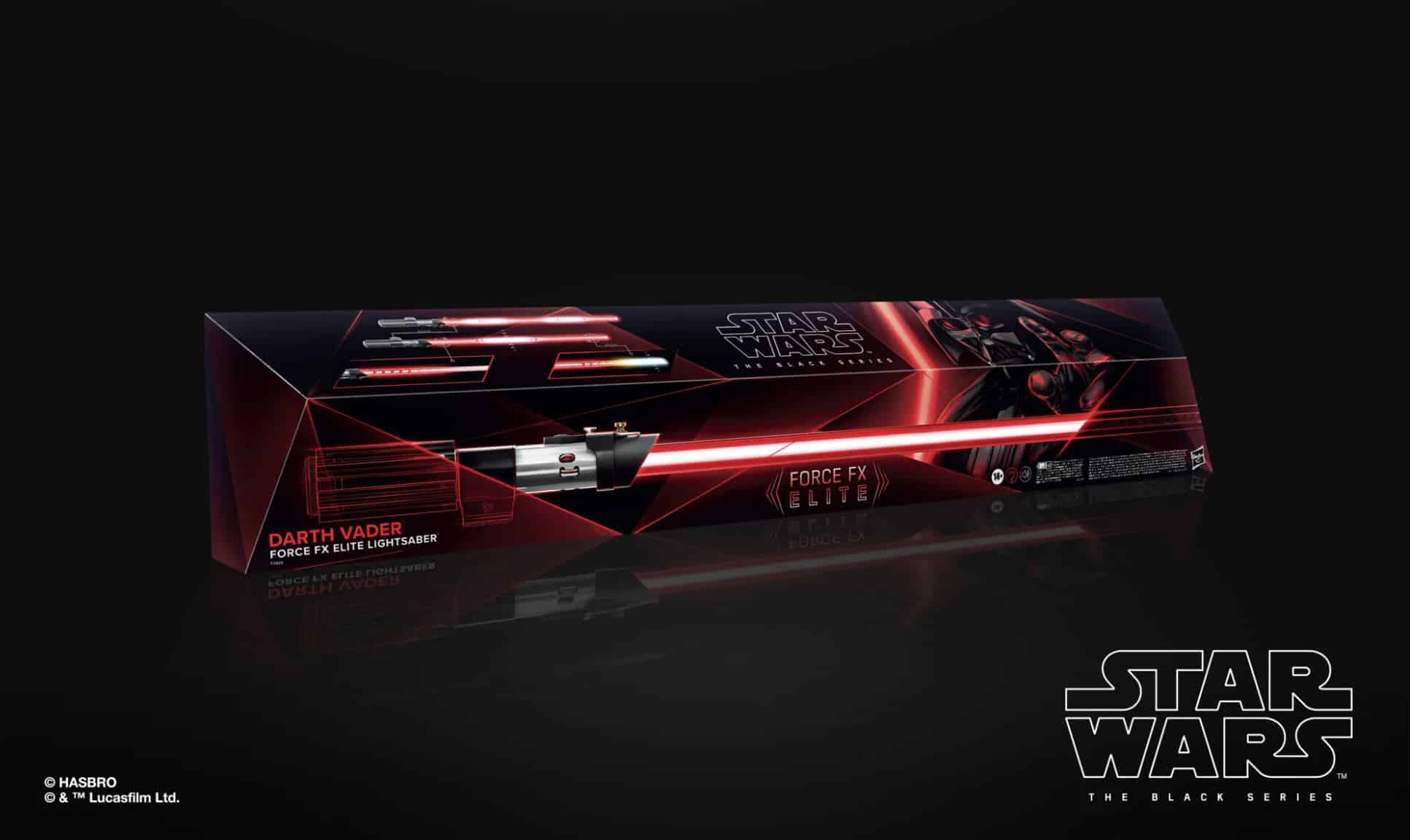 Behold! The Galaxy's most powerful and fearsome weapon – the Darth Vader lightsaber. Unlike other lightsaber wielders, lord Vader used his lightsaber very rarely. After all, his Force wielding prowess was enough to bring most adversaries to their knees. So, whenever his Sith lightsaber would come into action, something serious was bound to happen.
This Vader lightsaber is perfect for those Star Wars fans who want to get a first-hand experience of Darth Vader's power. Although an array of Darth Vader lightsabers can be found in the market, this Black series lightsaber is hands down the most realistic Vader lightsaber ever produced commercially.
This set comes with a lightsaber stand, hilt, blade, and Kyber-crystal. The Kyber-crystal can be inserted into the hilt, or it can be displayed out in the open. Similarly, the hilt can be detached from the blade and displayed independently on the stand.
In addition to the removable Kyber-crystal, the thing that really makes this lightsaber amazing is its lightning and sound effects. As far as its lightning effects are concerned, it includes a series of special effects for deflecting blaster shots, lightsaber duels, and cutting through objects, etc. Moreover, these special effects are coupled with different sounds. Not to mention, the sound effects for drawing and moving the blade make this product more splendid.
But remember, you might need some Imperial credits in order to get your hands on this masterpiece.
Recommendations
Lego Sets
When it comes to big brands, such as Lego, Darth Vader merchandise is pretty common in their production. Therefore, Darth Vader fans who are into building bricks always have an array of Lego sets to choose from.
These Darth Vader Lego sets usually range from 5-6 inches to 30-40 inches in length. However, some of them are not officially produced anymore, but they can be found on Amazon, Walmart, or Target, or even eBay.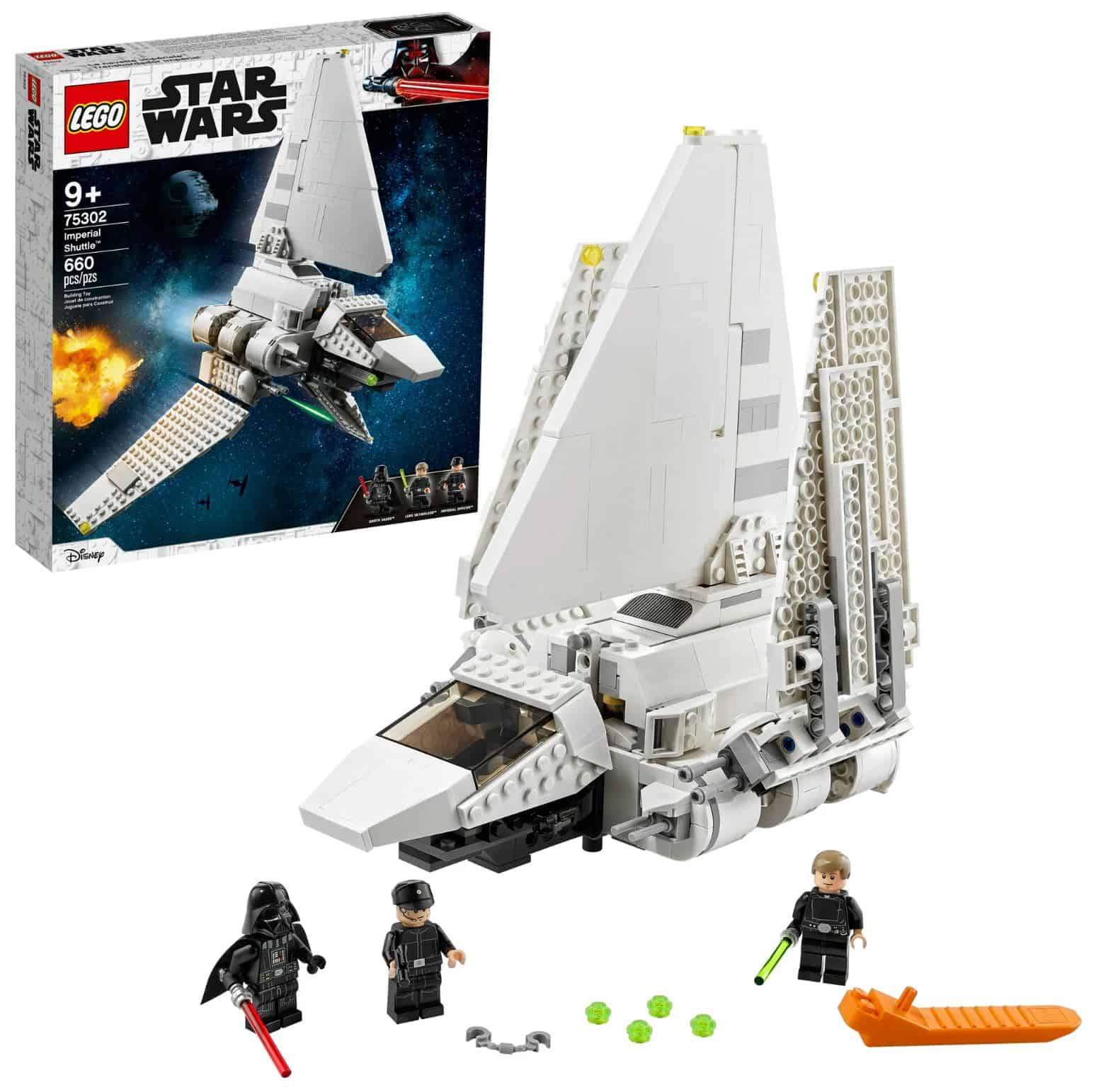 A lot of things changed when Anakin turned to the Dark Side. And one such apparent change included his spacecraft; after all, one would not expect the greatest Sith lord to arrive in a Starfighter.
This Imperial Shuttle LEGO set is based on the spacecraft lord Vader primarily used during his travel. Although this shuttle was widely used by Imperial forces, it was often associated with Darth Vader.
This LEGO set includes an Imperial shuttle, three mini-figures – Vader, Luke, and an Imperial officer – two lightsabers, and a handcuff. The shuttle is a little short of a foot in length, having a wingspan of almost 14 inches. However, these wings can be folded to bring the ship into the landing position.
Furthermore, the cockpit is also customizable, allowing you to take the father and son on a journey away from all the troubles, something we all wished for. Some beads-like bricks are included in this set as well, which can be placed in front of the canons to make them look like shooting lasers.
So, if you are a Vader fan and are more interested in a creative gig, this LEGO set might be the right choice for you.
Recommendations
Kitchenware
It would not be wrong to say that Darth Vader merch offers innumerable practical and household products, such as kitchen accessories.
If you are a true devotee of the Sith Order, the Vader coffee maker will let you have your morning coffee brewed by the power of the great Sith lord. Not to mention you can also have your toasts or waffles with Darth Vader's helmet on them. And do not forget the "power of the Dark Side" to prepare meals quickly by using the Darth Vader-based pressure cooker.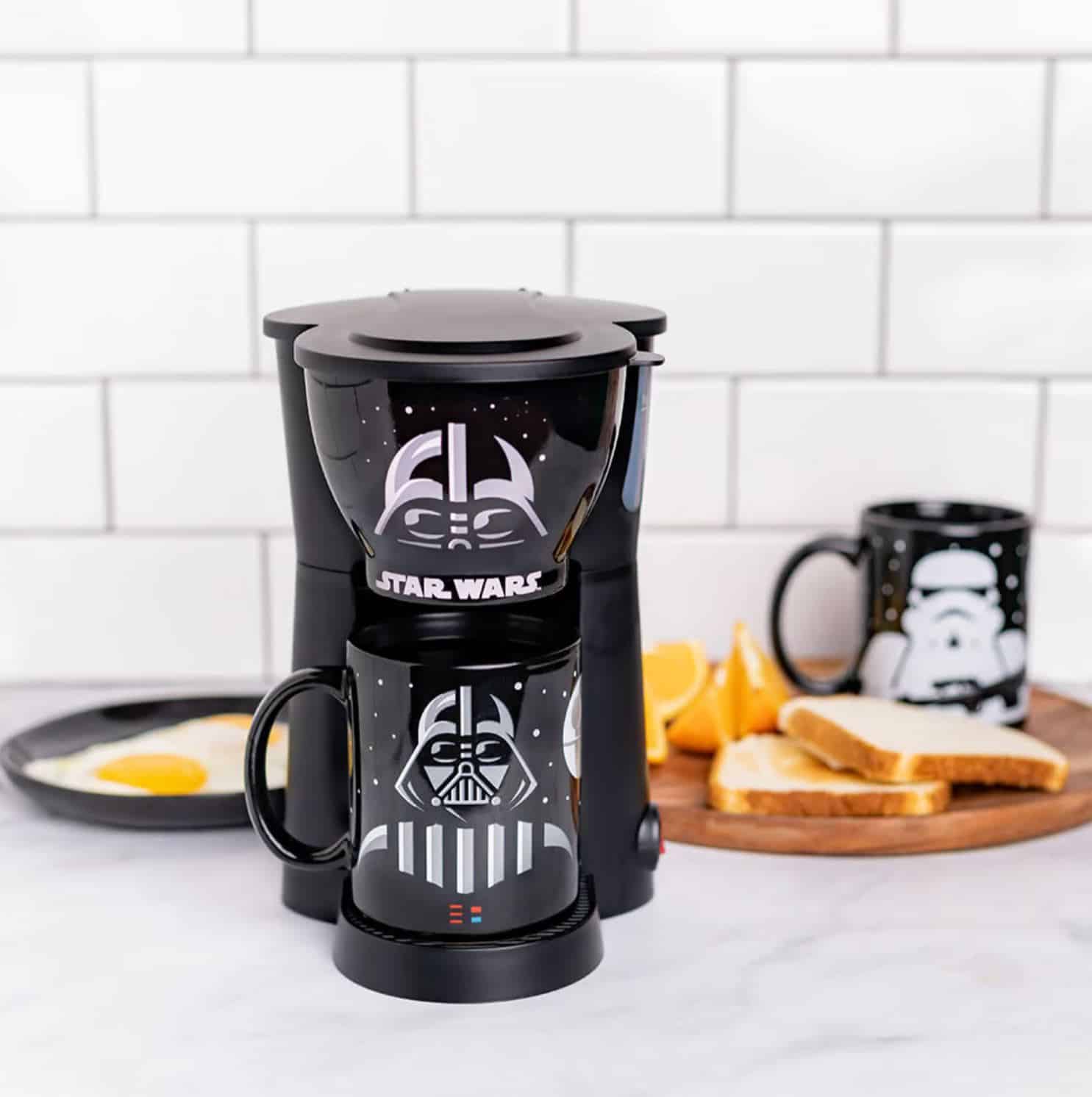 You will never be a true follower of the Sith Arts if you don't start your day with the power of the Dark Side. And what else can give you a kick of the Dark Side of the Force than a cup of black coffee blessed by – rather brewed by – Darth Vader himself?
For all coffee enthusiasts, allow me to present this Darth Vader coffee maker that will definitely brew you the best coffee in the whole Galaxy. Just put your coffee in the filter, fill the reservoir with water, and let the Dark Side do its magic. But don't forget to turn on the electricity; as we all know, there is a great disturbance in the Force, and the Dark Side might not be able to supply its full power.
This coffee maker also takes care of our time commitments and doesn't take more than a minute and a half to brew an 8-ounce mug of coffee. And don't forget, this coffee maker also comes with a Stormtrooper and a lord Vader mug, all under 50 dollars.
If you are a tea person like me, worry not; this coffee maker is also perfect for making tea and hot chocolate.
Recommendations
Bags
I am pretty sure if you don't want someone nosing around your personal belongings, there cannot be a more watchful and intimidating eye than that of lord Vader.
Darth Vader merchandise offers a variety of bags ranging from small purses to big suitcases. All of them, fortunately, share the same vibe that these are not to be messed with. And if you are wondering, then yes, most of them come in black.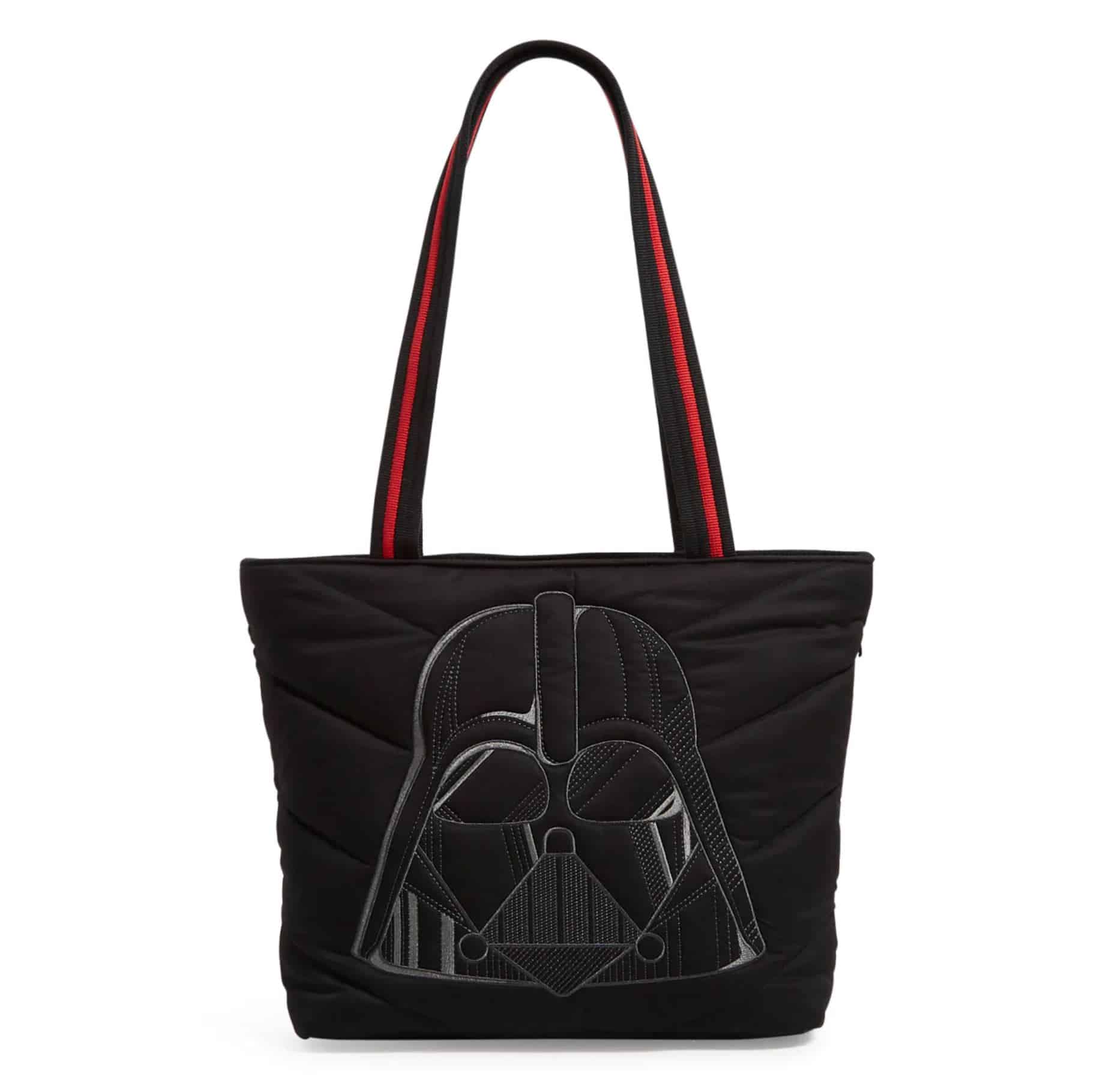 Now it's time to introduce a product for all those female Darth Vader fans who do not shy away from speaking out about their allegiance with the Dark Side.
This cotton-based tote bag offers an embroidered sketch of lord Vader's famous helmet and comes in black, which goes well with the overall design of the bag. The detailing on this bag can be assessed from the gray stitching used to show helmet reflections, something that looks really magnificent. Furthermore, the straps of the tote bag offer a red lining which serves as a perfect reminder of Darth Vader's lightsaber.
The two things that I really like about this bag are its pockets and lining. If you unzip the main compartment, you will be introduced to the whole world of Star Wars. I have to say, with the prints of Tie-fighters, Starfighters, Bombers, Star Destroyers, and Death Stars, the lining is a piece of art in itself.
Coming towards its compartments, this bag has six inner pockets and includes a hidden pocket on the outside to store different accessories. However, before you make up your mind to buy this gorgeous – yet badass – bag, I must mention that it's more costly than an ordinary tote bag; after all, it's a Vera Bradley product we are talking about.
Recommendations
Miscellaneous Accessories
After coming across Darth Vader socks and boxer briefs, I have become confident that you can almost find everything Lord Vader-based on the internet; all you need to do is to write Darth Vader at the start of the product, hit enter, and wait for the magic to happen.
Be it a stationery item, home décor, clothing accessory, or bedroom decoration, a Sith fan can easily find these Darth Vader-based products online. And the best thing is, a majority of these accessories come pretty cheap.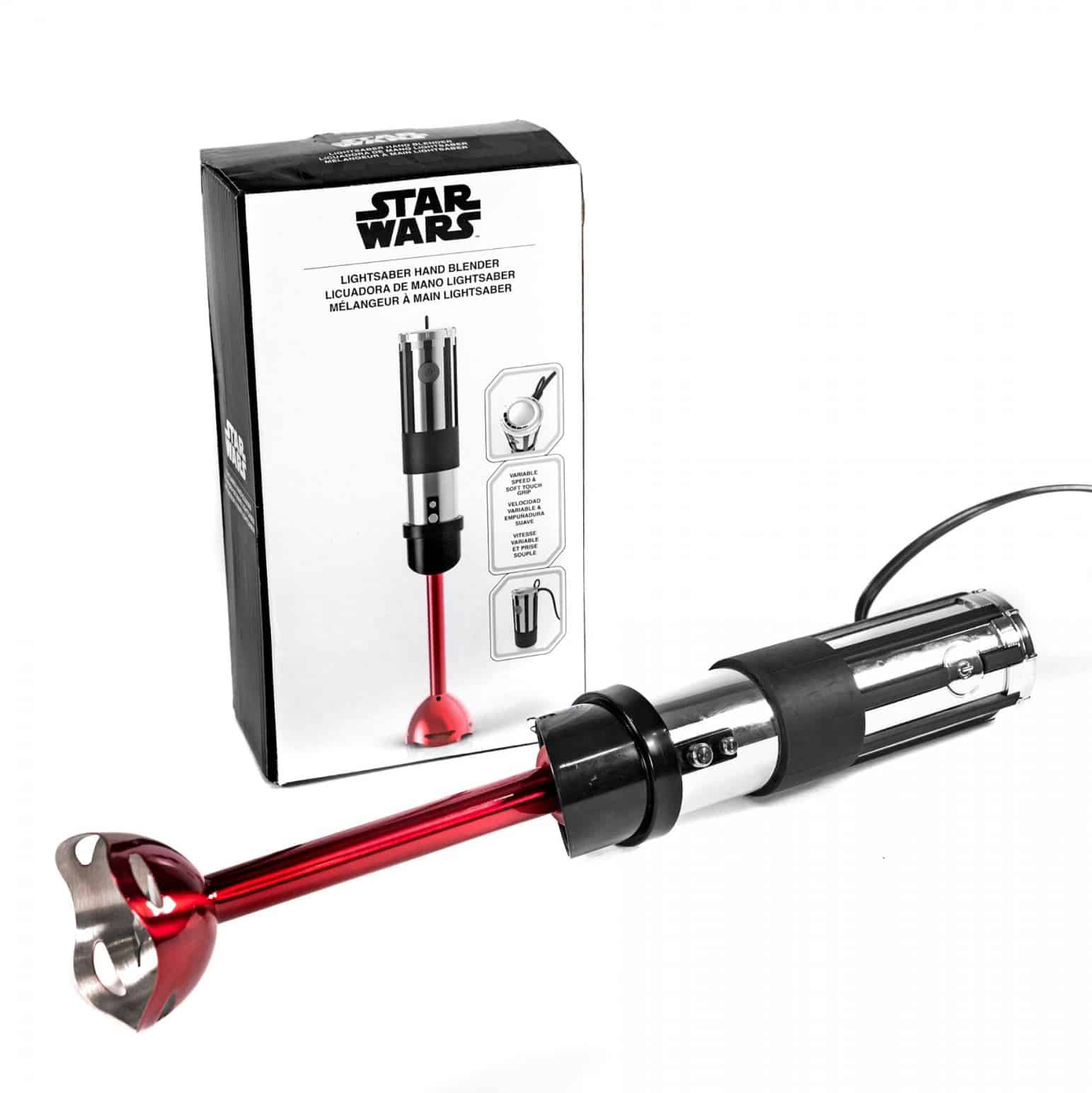 To be honest, after I was introduced to Star Wars, everything with a handle and a protruding structure always reminded me of lightsabers. And I would not be lying if I said I used to wield such objects in the air like I was a master of Makashi.
This hand blender is a perfect home appliance for those Star Wars fans who are greatly influenced by lord Vader's Sith lightsaber. Its motor body shares a very close resemblance with the hilt of Vader's last lightsaber. Not to mention, its blending arm is also coated red to make it look like a Sith lightsaber's plasma blade.
The body of this blender is striped to offer an efficient grip. Also, just like the hilt of the lightsaber, the speed control buttons are present at the top of the handle.
Talking about its efficiency, with a sharp and robust dual-blade, this blender is perfect for grinding nuts, blending drinks, and whipping creams or batter.
Therefore, for its affordable price tag, this blender should be a must-have for every Vader-themed kitchen.
Recommendations
Frequently Asked Questions:
Question: What is the most expensive piece of Darth Vader merchandise?
Answer: Darth Vader merchandise offers some high-end products, costing anywhere from a few hundred dollars to a couple of grands. However, the most expensive Darth Vader product ever sold is a 1977 Darth Vader double telescoping lightsaber figure, which was auctioned for almost $65,000!
Question: How much does a full Darth Vader costume cost?
Answer: A full Darth Vader costume can be bought for 80-100 dollars. But such a costume does not offer premium quality – not to mention its accessories, such as the helmet and lightsaber, are also usually substandard.
However, some high-grade Darth Vader costumes are also available in the market. But they cost about $1000-1500.
Question: Is Darth Vader merchandise only for kids?
Answer: Darth Vader has a pretty strong following among Star Wars fans. From Baby Boomers to Gen Z, every age group has some die-hard fans of this cinematic character. Therefore, it would not be correct to say that Darth Vader merchandise is only oriented toward kids. On the contrary, with the availability of products costing thousands of dollars, Darth Vader merchandise is quite popular and in demand among adult Star Wars fans.
This is The End For You, My Master…
It would not be wrong to say that Darth Vader is the heart and soul of the Star Wars universe. Being an iconic Star Wars character, he did not gain popularity only after returning to the Light Side, but he was equally revered while he remained a loyal apprentice of Darth Sidious.
Although there are innumerable categories of products offered under Darth Vader merch, the most popular classes include apparel, toys and figures, and kitchenware. However, before you start your hunt for these products, you should consider the following tips: the fan-made products are not to be overlooked; do not overspend on a product; brick-and-mortar stores are a perfect place to buy your favorite piece of the merch.
Out of all the fabulous products offered by this merchandise, the one item that really attracted me is Star Wars Slippers Darth Vader.
The 3-D design of these slippers perfectly captures the look of Vader's helmet. Though they might feel a little loose, these slippers are sufficiently padded to keep your feet warm during winter. Also, their affordability makes them perfect for everyday use.
If you call yourself a devotee of the Dark Side, don't wait anymore to get your hands on your favorite piece of Darth Vader merch. Happy hunting.
Looking for more interesting readings? Check out: