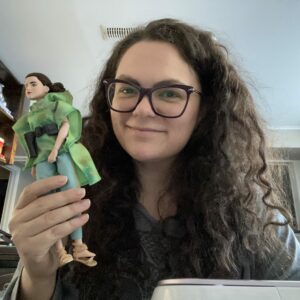 Latest posts by Candace Osmond
(see all)
When people talk about the Lego Death Star, nine times out of ten they're referring to Death Star 10188. It's arguably the most impressive Death Star Lego has ever released-with more interactive features, minifigures, and detailing than we'd ever seen on a Lego Death Star before.
I know you may be eager to jump into your own Imperial warship and take the galaxy by storm, but I say we should circle around the conference table and go over what makes this set great and not-so-great first. If you're considering buying 10188 for yourself or a Star Wars fan you know, then it's important you have all the facts first.
Bottom Line Upfront
If you can fork out the cost to get this retired Lego set, I'd highly recommend it. With an average assembly time of 20 hours, you could turn this one set into weeks of fun. Plus, in the end, you get a sweet Death Star to display in your home!
About the Lego Death Star
All the way back in 2008, Lego released a Death Star that universally impressed fans. It's gigantic; you can interact with the interior and exterior, and the rooms inside the Death Star feature scenes from the original trilogy.
Given the time it takes to build and the price of 10188, it definitely isn't a set for everyone, so I'm going to give you some more info on the nitty-gritty details. By the end of the article, I'll make sure you can make a fully informed choice about whether you want to build this beast or not.
Pros and Cons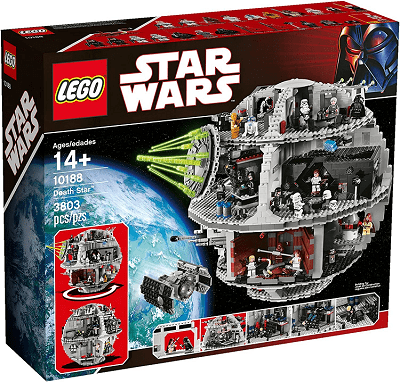 Buying huge, vintage Star Wars Lego sets can be a commitment, both time and money-wise. To help you figure out if 10188 is a set you'd enjoy building, I've assembled this list of pros and cons. Give it a quick read-through if you're undecided, or maybe you're considering a few different sets.
Pros

Still considered one of the best Lego sets after 15 years
20+ hours of build time
Interactive features
27 minifigures
Over 3,000 pieces in total
Impressive display piece
Visible interior and exterior
Great for teens and adults

Cons

Expensive
Not great for young kids
Harder to find since retirement in 2015
Huge time commitment that isn't for everyone
With so many pieces, it's easy to lose some
Key Features of the Lego Death Star
The 10188 Death Star is different from the other two models Lego made in some pretty significant ways. I want to give you my honest opinion on this giant and offer some details on what sets this Death Star apart from the other ones. Let's get into the Imperial blueprints, shall we?
How Many Pieces
Oh, if you thought building a Death Star was going to be a cakewalk, I'd say you've either never watched Star Wars, or this is your first time building a Lego set. This Death Star has 3,803 pieces in it. You're going to need more than a free afternoon to get this big boy built.
Price Range
As you can imagine, retired Lego sets that have a million pieces to them cost more than your average set. This one is going to cost you somewhere in the range of $900-$1200. Yikes, I know that's a hefty asking price, but keep in mind this is one of the biggest, most popular Lego sets from Lego's most popular franchise.
Age Range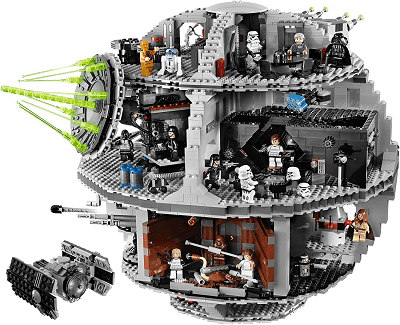 Lego recommends this set for anyone fourteen years old or older. Personally, I think the minimum age has some flexibility. If you have a young Sith Lord at home who's younger than 14, but they've shown great architectural skills with Legos before, then go ahead and get them the set if they're 12-13. The Dark Side knows no limits, after all.
Assembly Time
Get ready for this: The estimated build time is 21-23 hours. That's almost an entire day, but keep in mind the building will go faster if you have more people on the job. Whether you want to build the Death Star yourself or with friends/family, I hope you're up for a challenge because this is going to take a while.
Finished Dimensions
Once you've fully built this set, it should measure 23.15" X 6.93" X 19.76". It's not something that can fit on a tiny shelf or a small end table. If you want to display your planet destroyer, make sure you have a big, open space that doesn't have shelves positioned closely together.
Included Lego Minifigures
This set actually has some cool minifigures that I'm happy with. In previous posts, I've had some complaints about big starships not coming with any recognizable minifigures, or sometimes none at all.
10188 comes with Luke Skywalker in two forms, Han Solo, Princess Leia, Obi-Wan Kenobi, R2-D2, C-3PO, Chewbacca, Darth Vader, Emperor Palpatine, Grand Moff Tarkin, 2 Royal Guards, 2 stormtroopers, R2-Q5, a mouse droid, and some exclusives. That's quite the lineup! There are 27 minifigures in all.
Cool Extra Features
This Death Star is laced with so many interactive features that I'm having a hard time condensing all of them down. Each room has small features that can interact with the minifigures in some way, but here are some of the bigger features that stand out:
Rotating turbolaser turrets
Tractor beam controls
Secret hatch to trash compactor
Decision Making Tips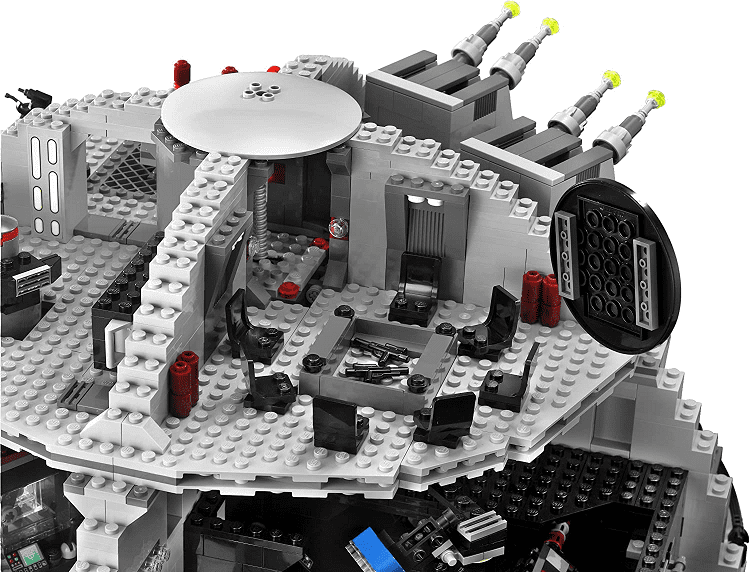 I'm no stranger to the fact that large, old Lego sets are expensive and sometimes hard to find. That being said, hardcore Lego Star Wars fans will want the biggest and the best, and that's what I'd rank the Lego Death Star as.
If you're still undecided on whether or not you want the 10188 for yourself or a fellow nerd, read this quick breakdown of decision making tips. This might help you think from a different angle about why this set is the right one for you and your busy schedule or not.
Age Range
Remember, while the Lego Death Star is interactive, it isn't meant for young kids. Kids could play around with the different rooms in the Death Star and play with the minifigures after it's built, but this is a complicated one to construct. If this is a gift, is the person you're buying this for over 14? If not, you might want to consider a less daunting set.
What is Your Budget?
Even by Lego standards, this is an expensive set. Are you willing to go deep in that wallet of yours and shell out over a grand for the Death Star?
If you're willing to splurge or have the financial stability to buy one, then you should get one now before they go up in price even more. If this set is out of your price range for now, don't worry about it. Lego has tons upon tons of Star Wars sets.
What's the Most Important Feature of a Lego Set for You?
Honestly, there isn't much to say here, because the 10188 Lego Death Star has it all. It's got an impressive collection of minifigures, interactive features, cool interior and exterior detailing, and it's huge. For this one particular set, I feel that no matter what you're looking for, the 10188 has it.
How Much Time Do You Want to Invest in a Lego Set?
This is definitely an important question, because it's time to be really honest with yourself. Are you willing to put 20+ hours into building a Lego set? If you're a fiend for new challenges and have some Lego building experience under your belt, I say fill yer boots!
Having this set out on display is definitely something to brag about (but if your Death Star is going to sit on your end table only a quarter of the way finished for the next five years, be real with yourself and skip this one.)
Is this a Gift?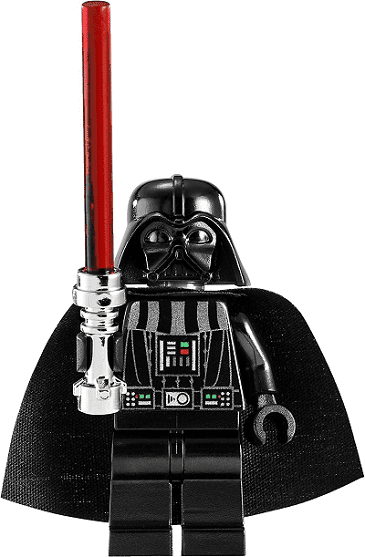 You know your 15-year-old nephew is the biggest Star Wars fan ever, but is he a fan of building with Legos? Say your sister is a Lego building fanatic-have you noticed if she has Star Wars sets amongst her collection?
If you can't figure out whether the fan you're buying for would want this set, it might help if you can answer these questions:
Are they over 14?
Have they built enormous Lego sets before and did they like it?
Are they a fan of the original Star Wars trilogy?
Do they have time to build a set that will take 20+ hours?
Are they good at constructing Lego sets?
If your answer to all or most of these questions is yes, then the Death Star is the perfect set for the fan in question. If not, you might want to shop around for something else. No worries, I have to recs below.
Do You Have Space to Display It?
Don't forget that the 10188 is a Goliath of a set. Placing it on a small coffee table or in a bookshelf isn't going to work-it's simply too big.
Assuming you want to display your Death Star once it's built, you're going to want a large display space with a sturdy foundation. I don't recommend trying to fit this one on a shelf, because there's a good chance the Death Star is too tall for the shelves you have in mind.
Where Can You Buy the Lego Death Star?
Good question! You won't find the 10188 Death Star on Walmart or Target shelves anymore since Lego retired it in 2015. Instead, you'll have to look for your intergalactic world-ender in online marketplaces like:
Other Alternatives to Consider
You already know there are other Lego Death Stars you can buy besides 10188. Instead of focusing on sets like 10143 and 75159 (the other Death Stars,) I want to show you some sets that take you to scenes inside the Death Star.
Don't worry; there are plenty of Empire-approved Lego sets for kids and adults of all ages, so if your lightsaber tends to shine red and not blue, keep reading for some more ideas.
Lego Star Wars Death Star Trench Run Diorama 75329 Building Set for Adults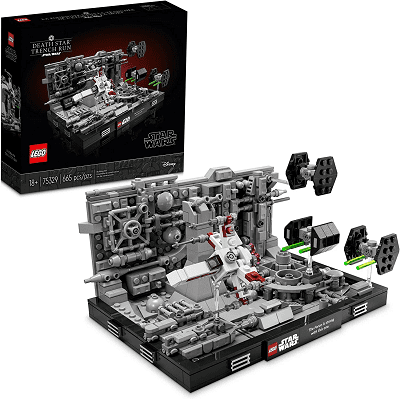 Best for: Adults
Remember when Luke flew an X-Wing fighter through the Death Star while TIE fighters and an Advanced TIE fighter nearly shot him down in A New Hope? Yeah, that scene is kind of hard to forget.
That's why I thought this diorama was a cool idea. For being made of Lego blocks, this scene capturing the trench run is very intricate. Even Luke's X-Wing accounts for tiny details, so building this thing is no walk in the park.
Key Specs
Price Range: $53-$63
Number of Pieces: 665
Age Range: 18+
What's cool about this set is that it allows you to use complicated building techniques you won't see in sets made for kids. If you were looking for a serious challenge to tackle and still want a Lego set relevant to the Death Star, this is the one I most recommend.
Pros
Perfect for adults
Intricate and challenging to build
Brings iconic movie scene to life
Cons
Not for inexperienced builders who easily get frustrated
Lego Star Wars TIE Interceptor & Death Star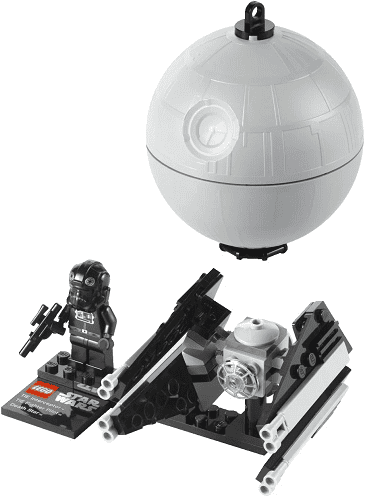 Best for: Young kids
What I like about this TIE Interceptor & Death Star is that it would make a perfect first Lego set for a young kid. It's got a TIE pilot minifigure, and the two starships that need building are very simple.
Given the small size and the mini pilot, it has potential for interactivity even though it doesn't have any shooting lasers, sound effects, or extra features like that.
Key Specs
Price Range: $80-$90
Number of Pieces: 65
Age Range: 6-12
My only complaint here is that since this set is targeted at kids, I think kids would rather have a more recognizable character as their minifigure. Would it have killed Lego to throw in a Death Vader minifigure instead? Probably not.
Pros
Perfect for young fans
Includes TIE pilot minifigure
Includes 2 iconic starships
Cons
Not challenging for experienced Lego builders
Lego Star Wars Death Star Final Duel 75093 Building Kit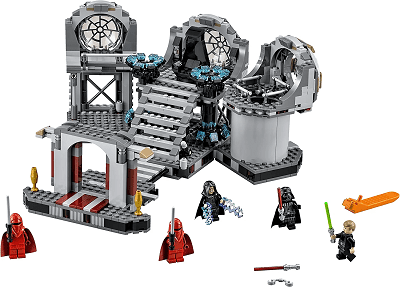 Best for: Older kids
Not to play favorites, but this is my favorite of the alternative Death Star sets. 75093 is decently large with 724 pieces in total, but the building techniques you'll use to construct it are pretty simple. The throne room of the Death Star is a fan-favorite, iconic location, so I'd be stoked to build it (as a kid and now.)
Key Specs
Price Range: $170-$190
Number of Pieces: 724
Age Range: 8-14
In this scene, you'll recreate the tragic moment Luke pushed his dad down the reactor shaft after finding out he wasn't a very good guy.
Emperor Palpatine and two Royal Guards are there, too, watching the Skywalker drama unfold. To stay truly accurate to the movie, Lego made sure Luke's lightsaber was green and not blue, which I can appreciate.
Pros
3 iconic characters and 2 Royal Guards
Large set offering an intermediate challenge
Features throne room of the Death Star
Great for interactivity
Cons
Younger kids may struggle to build this one
FAQs
In the very last bit I have to show you today, I want to go over some frequently asked questions about the Lego Death Star. Got any more questions you don't see answered here? Leave them in the comments below!
Question: How Heavy is the Lego Death Star?
Answer: The Lego Death Star is one hefty boi. It weighs 18.3 pounds once you put all the pieces together, so it might be better as a stationary set for you as opposed to an on-the-go toy for the little ones.
Question: Did Lego Discontinue the Death Star?
Answer: Lego discontinued the Death Star I've been talking about, which is model 10188. Truth be told, Lego has discontinued every Death Star they've come out with until now, which includes 10143 and 75159, too. Good news! You can still find all 3 models pretty easily online.
Question: How Much is the Original Lego Death Star Worth?
Answer: Since the original Lego Death Star (10143) is so old, the price has only gone up over the years. Currently, it's worth about $2,500. If you find it for much cheaper, be wary of missing parts.
Go Forth on Your Path to the Dark Side
Ready to build an intergalactic war machine used for slaughter on a (literally) planetary scale out of cute blocks? I am! I know that I've harped on how expensive this Lego set is, but it's also legendary, and I think the wow factor of 10188 makes it worth the buy.
Are you planning to get a Lego Death Star to add to your collection, or are you buying for another fan? Let me know in the comments below! If you'd like to read through even more Star Wars Lego set reviews, please come check out our website!
Looking for more interesting readings? Check out: