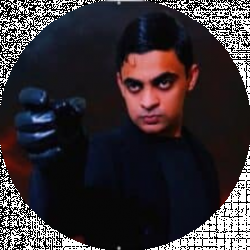 Latest posts by Boo-Ali Khan
(see all)
Wherever I go, he goes. -The Mandalorian
Hey, Baby Yoda fans! If you have fallen head over heels for the adorable charm of this legendary "Child," you are not alone; he is just irresistible. Even I couldn't resist the allure of Baby Yoda's cuteness. His soulful eyes and those oversized ears – it's just mesmerizing. And now I am beginning to understand why the Empire was after him all along.
But, good for us; with his skyrocketing popularity and the love he has received, the market is exploding with an abundance of Baby Yoda merchandise. From cozy apparel that lets you proudly show your love for Grogu to an array of delightful toys that bring this adorable character to life, Baby Yoda's merch contains everything for everyone.
So, whether you want to add a touch of Baby Yoda magic to your wardrobe, adorn your walls with delightful Mandalorian artwork, or deck out your kitchen with Galactic accessories, this guide has got you covered. And remember, for this best Baby Yoda merch guide, I've scoured the internet far and wide and experienced a vast array of Baby Yoda products to introduce you to the crème de la crème of Baby Yoda merchandise.
So, don't just sit and wait for your favorite Baby Yoda merch; the Imperial Troopers are always hunting for them.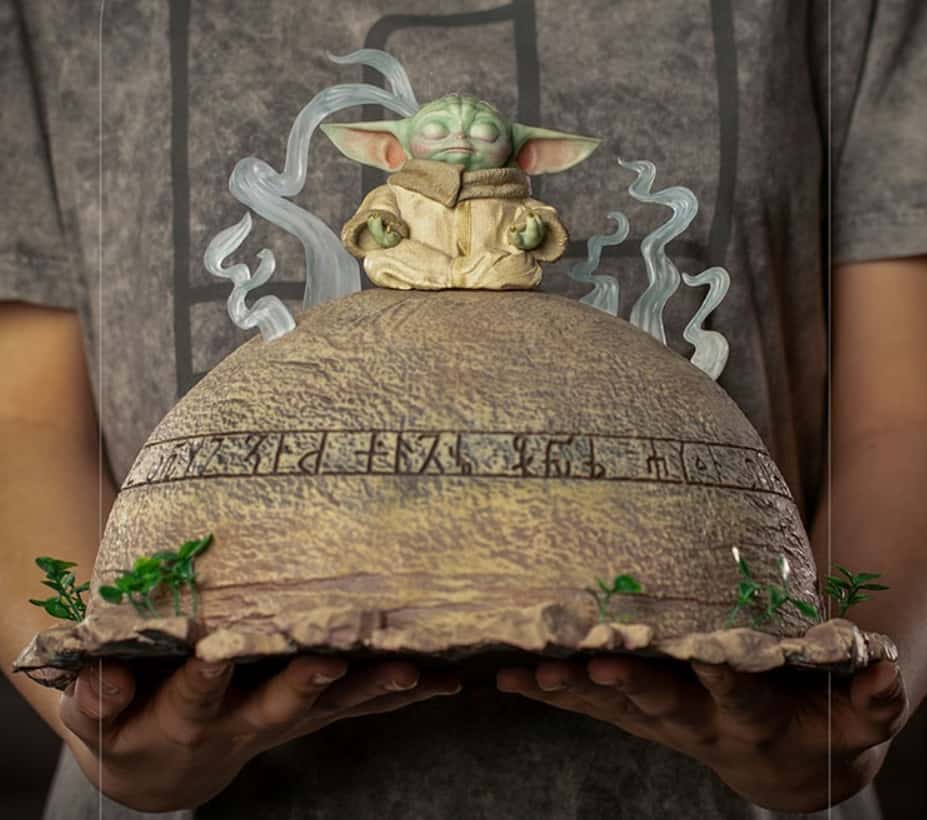 My Top 3 Picks from the Baby Yoda Merch
Though I'm sure you'll concur with me that selecting a favorite from this remarkable collection of Baby Yoda products is no easy feat, still, these are the three most exceptional picks, in my opinion.
And if I further narrow it down, The Child Cartoon Drawing Throw Pillow has to be my ultimate favorite. Its ability to transform your kid's bedroom into an intergalactic haven, combined with its exceptional comfort and fascinating design, is something you don't get to see very often. All in all, this pillow will create a magical sleep space that ignites both imagination and joy in your little one.
My Top Favorite Baby Yoda Products
Apparel
When it comes to wearing your Baby Yoda's heart on your sleeve, apparel is the most common option. From intricately embroidered Grogu's face to delightful costumes and hoodies, the realm of Baby Yoda apparel offers a plethora of options to cater to every fan's style.
Toddler Officially Licensed Star Wars the Child Halloween Fancy-Dress Costume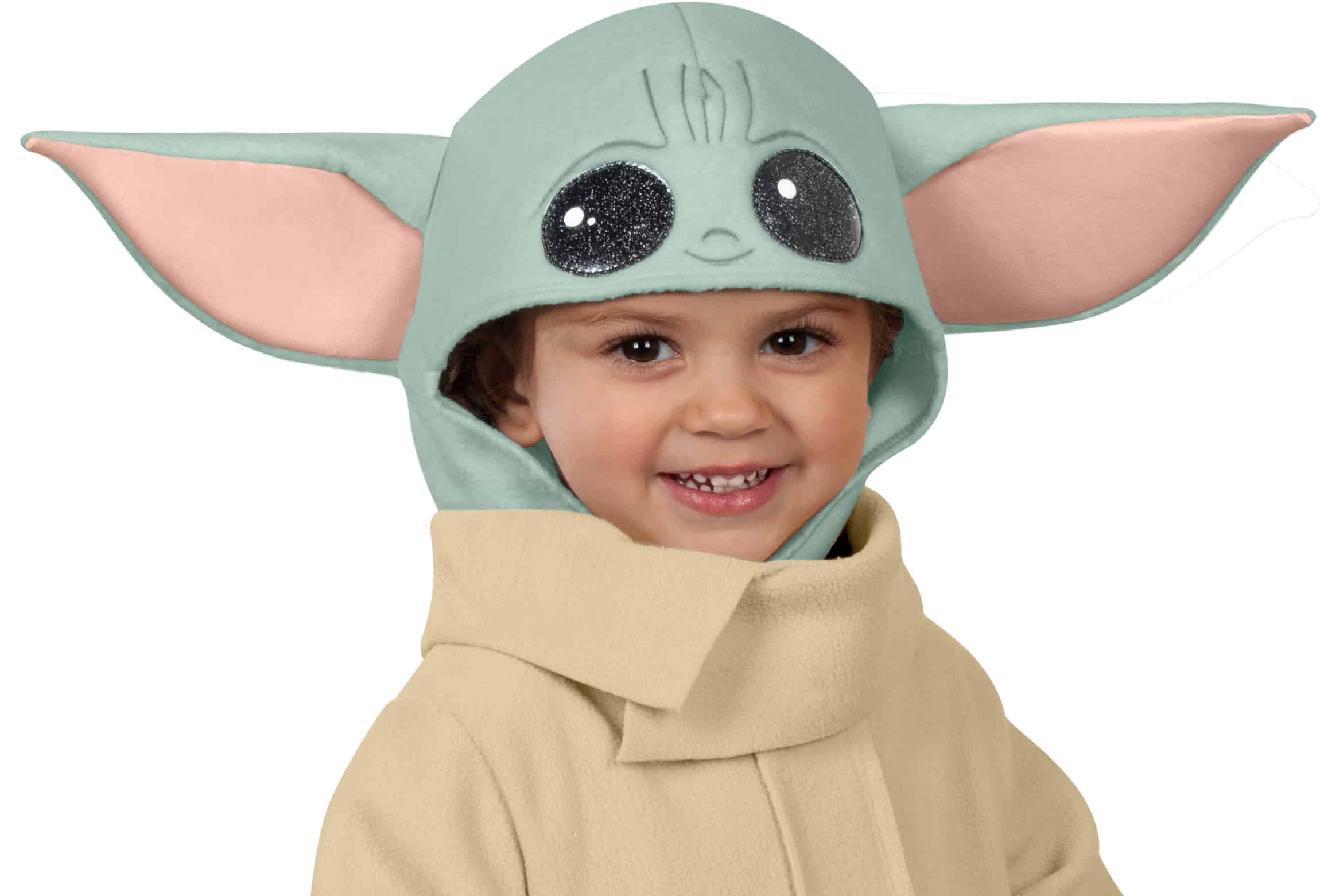 As a passionate fan of the Star Wars franchise, when it comes to Baby Yoda costumes, I've yet to encounter a costume that surpasses the charm of The Child Halloween Fancy Dress Costume.
Designed specifically for toddlers, what sets this costume apart is its exceptional quality. The well-made build ensures that it withstands the excitement and energy of Halloween night. Moreover, the cream-colored robe not only looks fanciful but will also keep your child cozy during those chilly October evenings.
And let's not forget; the costume also comes with a Baby Yoda-themed hood and little hand covers as well to give a more immersive experience of the little green creature.
Pros
The costume comes with a detailed hood.
The fabric is soft and comfortable against the skin.
Cons
It is not available in adult sizes.
The Child I'm All Ears Outline T-Shirt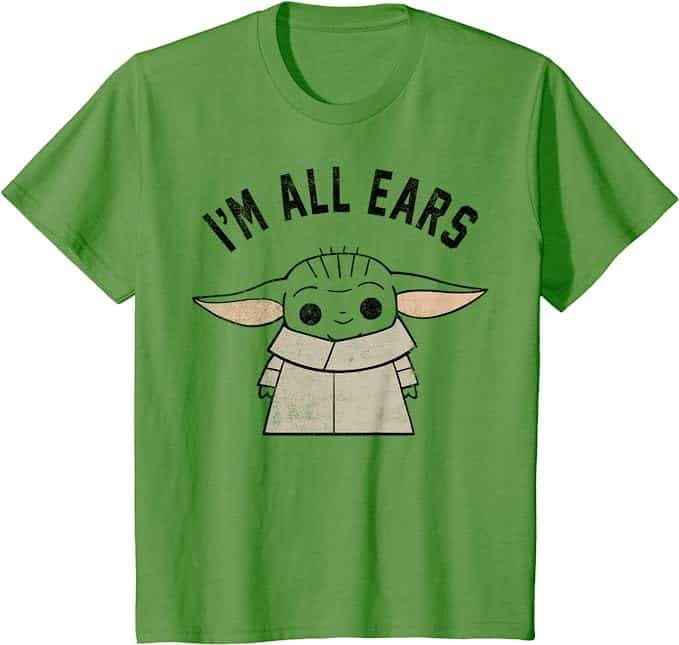 Get ready to make the Intergalactic fashion world envious because I've got the inside scoop on the "The Child I'm All Ears Outline T-Shirt"! As a proud owner of this delightful shirt, I can confidently tell you that it's a must-have addition to any Star Wars wardrobe, as even after several washing, the shirt has not lost color, and the print is still lovely and vibrant.
But before you call me biased toward Grogu, when it comes to summer shirts, I'm all about finding that perfect combination of breathability and comfort, and this shirt checks all the boxes. This shirt features an animated picture of the adorable Grogu and is made from lightweight and breathable fabric. It ensures you'll stay cool and relaxed no matter how hot it gets during your adventures on Tatooine.
Pros
It is a part of Star Wars official merchandise.
The lightweight fabric of this shirt keeps you cool and comfortable.
Cons
The shirt might feel too loose.
Adult Cosplay Hoodie for Women/Men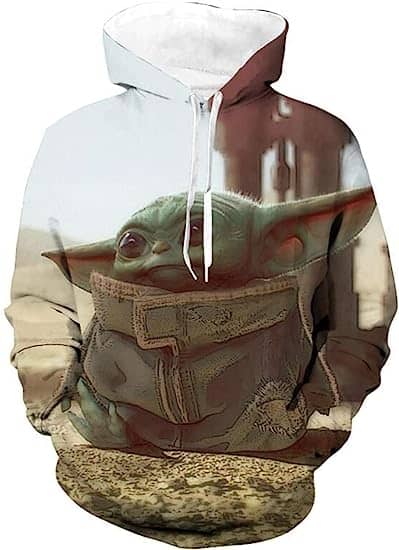 The "Adult Cosplay Pullover Hoodie" is a clear standout among the sea of Baby Yoda hoodies available online. Unlike the typical approach of simply slapping a picture of Baby Yoda on a hoodie, this one takes it to a whole new level with its mesmerizing and realistic design, which spreads over the whole hoodie.
My favorite thing about this hoodie is that all 3 of its colors come in different designs, each featuring different images of our beloved character, allowing you to choose the one that resonates most with your personal style. Still, if you ask me, I'll recommend the white one.
While the hoodie has impressive visual appeal and a snug fit, it may not be the best choice for freezing weather. Its lightweight construction prioritizes breathability over insulation, making it more suitable for moderate climates.
Pros
The hoodie comes in 3 different colors and designs.
The high-quality print on the hoodie is quite realistic.
Designed to be worn by both men and women.
Cons
The material is not suitable for freezing weather.
Disney Halloween Grogu Trick or Treat Bag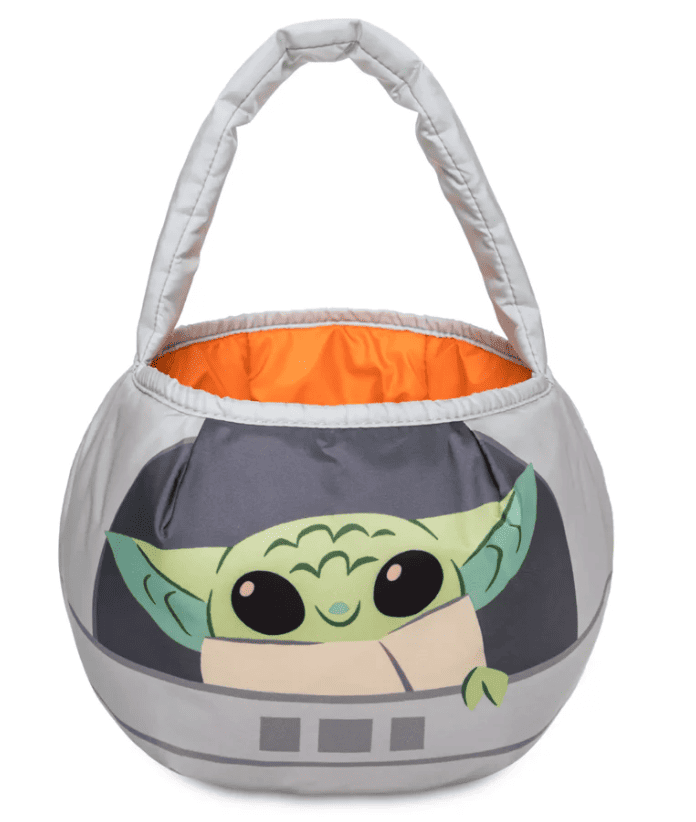 Make this Halloween unforgettable for your little one with the Grogu Trick or Treat Bag, a perfect accessory to complete their Halloween costume. I can assure you that the bag will make your child's Halloween experience extra special. With Grogu's cute and mischievous presence on the bag, your little Jedi will surely stand out and turn heads as they go door-to-door.
With its compact size, it's just the right fit for collecting all those delicious treats. The sturdy construction guarantees it can securely hold all the delightful goodies your child collects on their spooky journey. The reinforced handle adds an extra level of comfort, allowing your little one to easily carry their treasure trove of treats as they navigate through the Galaxy at night.
If you are wondering if this trick-or-treat bag will only come in handy on Halloween nights, you are wrong. Its small size, vibrant colors, and quality build make it a good decoration piece as well.
Pros
Good quality construction means it will be a reliable companion for many Halloweens to come.
The handle provides a comfortable grip.
Cons
The light color of the bag may be prone to showing dirt or stains more prominently.
Toys
If you're a fan of imaginative play or simply want a companion to brighten up your space, there's a wide range of options to choose from when it comes to collecting your very own Baby Yoda treasures. From mini Funko Pops to larger Baby Yoda statues that make a statement on your display shelf, you just need to make your pick. But remember, these toys can range anywhere from a few dollars to a few hundred bucks.
Grogu Star Wars Collectible Statue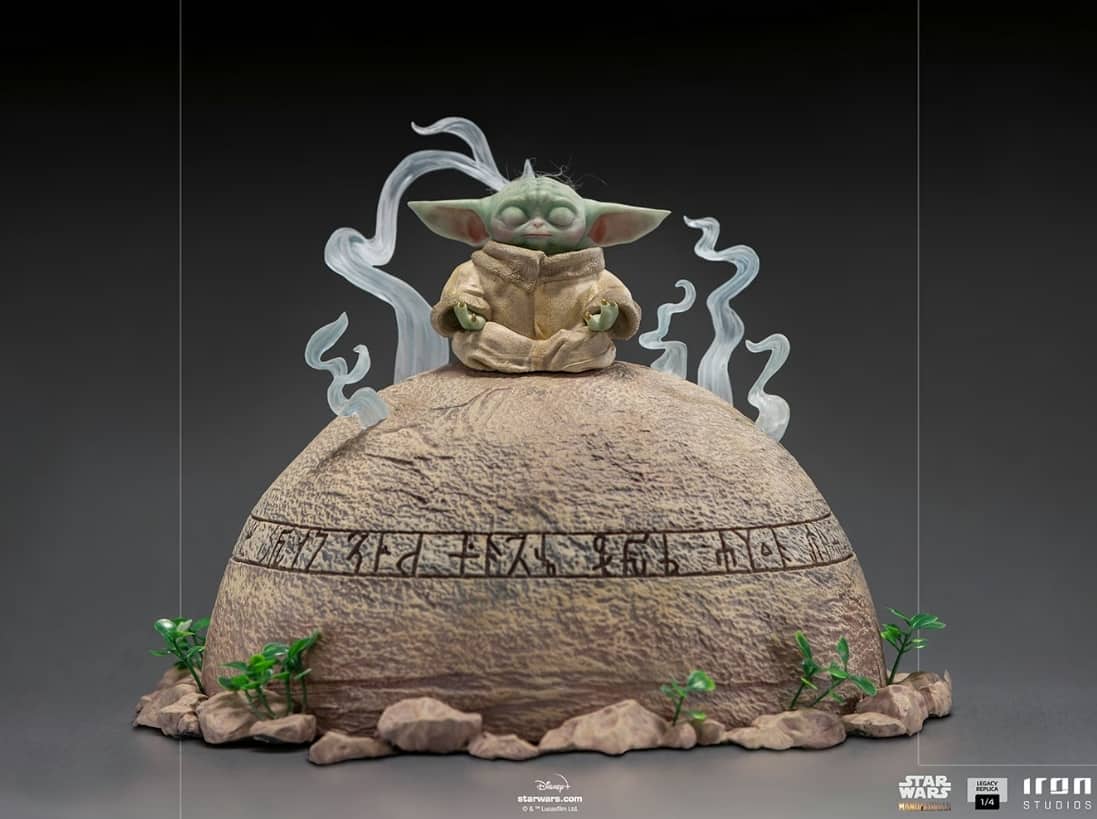 If you ask me what I would do if I have a spare 500 bucks in my pocket, you are staring right at my answer; the Baby Yoda Statue from Iron Studios.
Standing at about 30 centimeters, this limited-edition masterpiece, painstakingly sculpted in polystone, is a sight to behold. The level of detail is simply awe-inspiring as if real Baby Yoda had come to life.
In this remarkable statue, Baby Yoda is depicted seated on a beautifully sculpted mound adorned with enchanting LED lights casting a warm glow. And to make it more immersive, this statute comes with an additional head. Suffice it to say; I don't think this statue leaves any aspect of this little Force-wielder untouched.
However, it is essential to note that such craftsmanship and exclusivity come at a price. This remarkable piece of artistry is a valuable collector's item, so before you start adding it to your cart, you should take a look at your bank account first.
Pros
The addition of LED lights creates a stunning display.
An extra head offers a variety of expressions depending on your mood.
Cons
The statue is quite costly.
Funko Pop! Grogu with Armor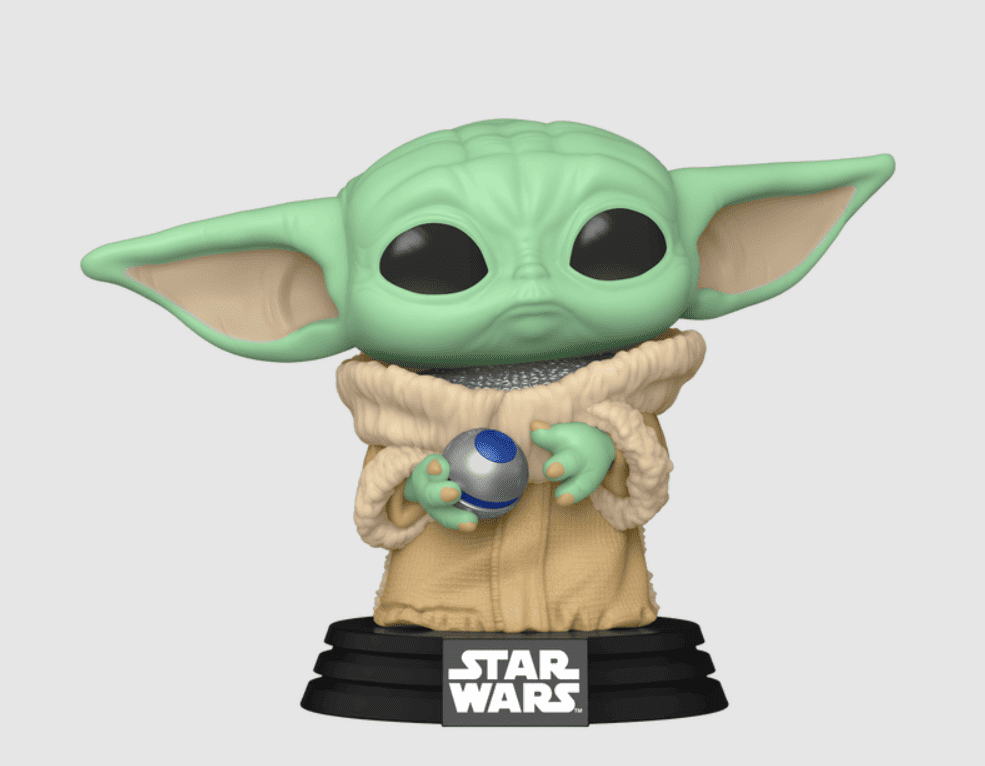 Before you get fooled by the small size of the Force-wielding cutie donning his stylish chainmail armor, this Grogu in Armor Funko Pop stands tall with an air of determination. And I wouldn't be lying if I say this bobblehead Grogu, while clutching his iconic silver ball in his tiny hand, effortlessly pulls off the cuteness Baby Yoda is known for.
The intricate detailing of the chainmail armor showcases the meticulous craftsmanship that Funko is renowned for. But that's not all of it; this chainmail armor is a reminder to all Grogu fans that choosing the Jedi path is not everything, and sometimes all you need is a true companion in your life.
Pros
This Funko Pop provides a budget-friendly option.
The Bobblehead perfectly captures Baby Yoda's allure.
Cons
This figure might be too small for some collectors.
The Child LEGO Set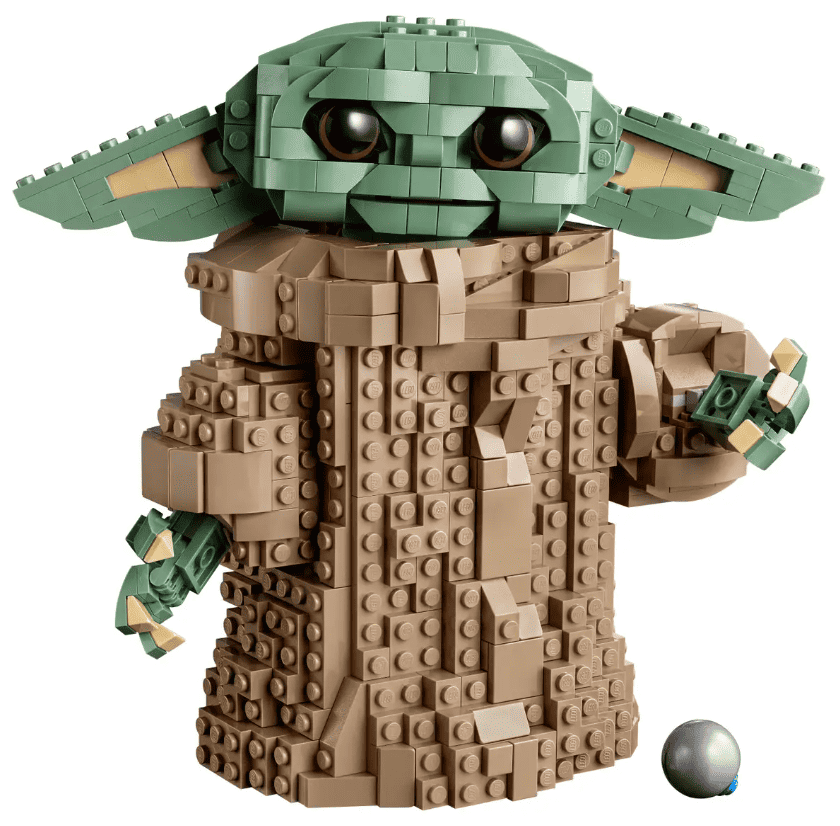 Let your child assemble the bricks to bring their favorite character to life and enhance their problem-solving skills with The Child LEGO Set.
The LEGO set contains over a thousand pieces and stands just under 20cm tall once put together. But besides the remarkable design, there is more to this set than meets the eye. From adjustable ears to posable heads and even a gearshift knob for the child to hold in his little hands, this LEGO offers an incredibly immersive experience for any LEGO as well as Star Wars fan.
So, the next time you settle in for a thrilling binge session of The Mandalorian, make sure to proudly display Grogu atop your shelf.
Pros
This set provides different points of articulation.
Includes illustrated step-by-step instructions for easy construction.
Cons
Not suitable for children under 10.
The Child 6.5 Inch Collectible Action Figure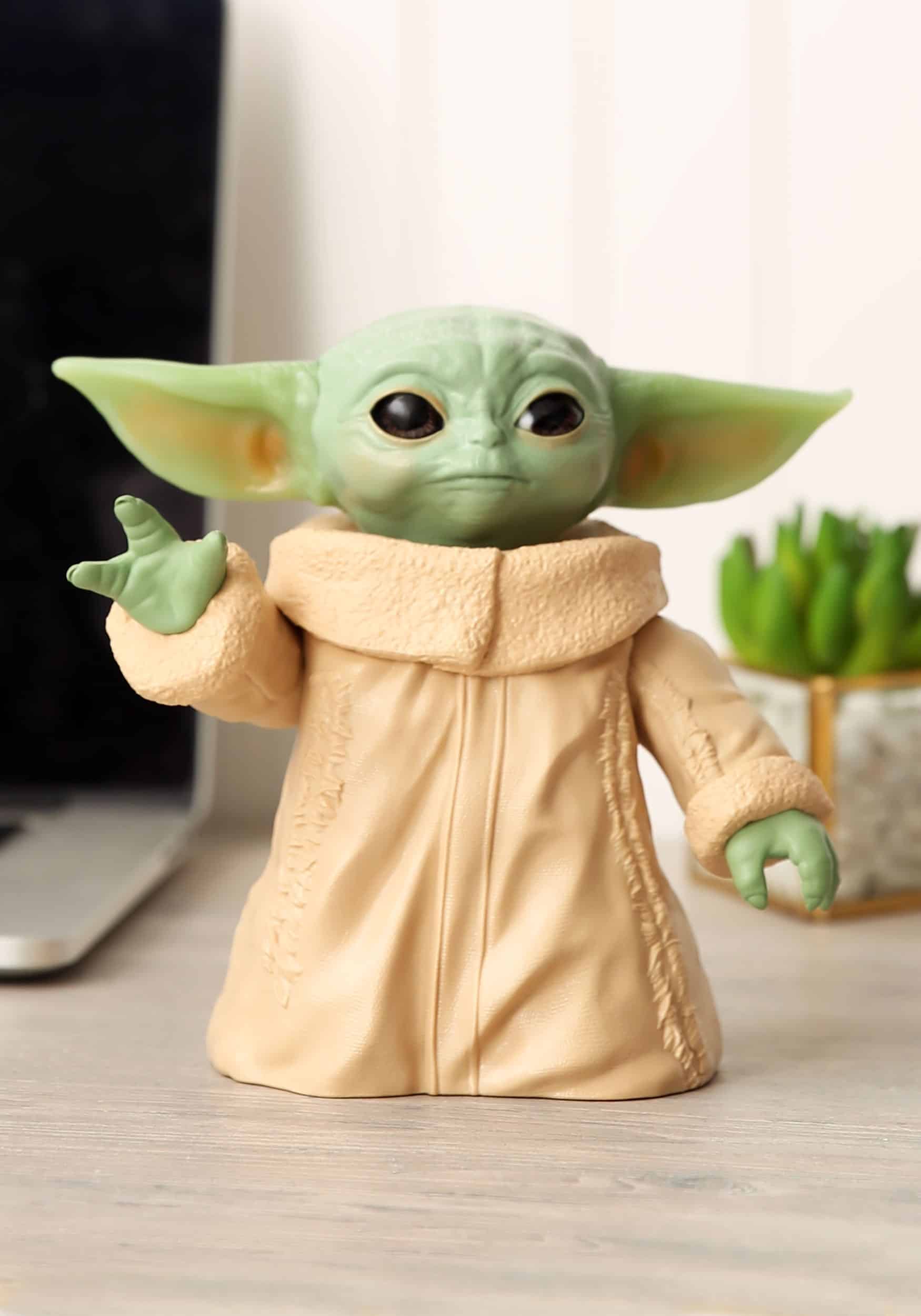 You will agree with me that no Star Wars collection is complete without an action figure. So, this 6.5-inch action figure of The Child is not just a merch piece but will also take your breath away. And I would not be lying if I say there aren't many things I want so bad, like this action figure.
With precise detailing, this action figure brings an overwhelming connection to the Star Wars Universe. And if that isn't enough, its impressive range of motion with multiple articulation points would surely win you over. With the posable arms and legs and the moving head, each joint brings something unique to your journey. Not to mention, Baby Yoda's hand also looks like it's emanating a tremendous amount of Force from this little creature.
Whether you wish to display it on a mantel or indulge in hours of imaginative play, its realistic build is a must-have for any Grogu lover.
Pros
It has great attention to detail; even the folds on Grogu's robes are visible.
The posable figure allows for the recreation of your favorite scenes.
Cons
The figure does not have a sturdy build.
Home Décor
The comprehensive collection of Baby Yoda home décor items allows you to bring an Intergalactic enchantment to your space. From vibrant Mandalorian wall posters and delightful coffee mugs to cozy throw pillows adorned with Grogu's likeness, the possibilities never cease to end.
The Mandalorian Season 2-Grogu Wall Poster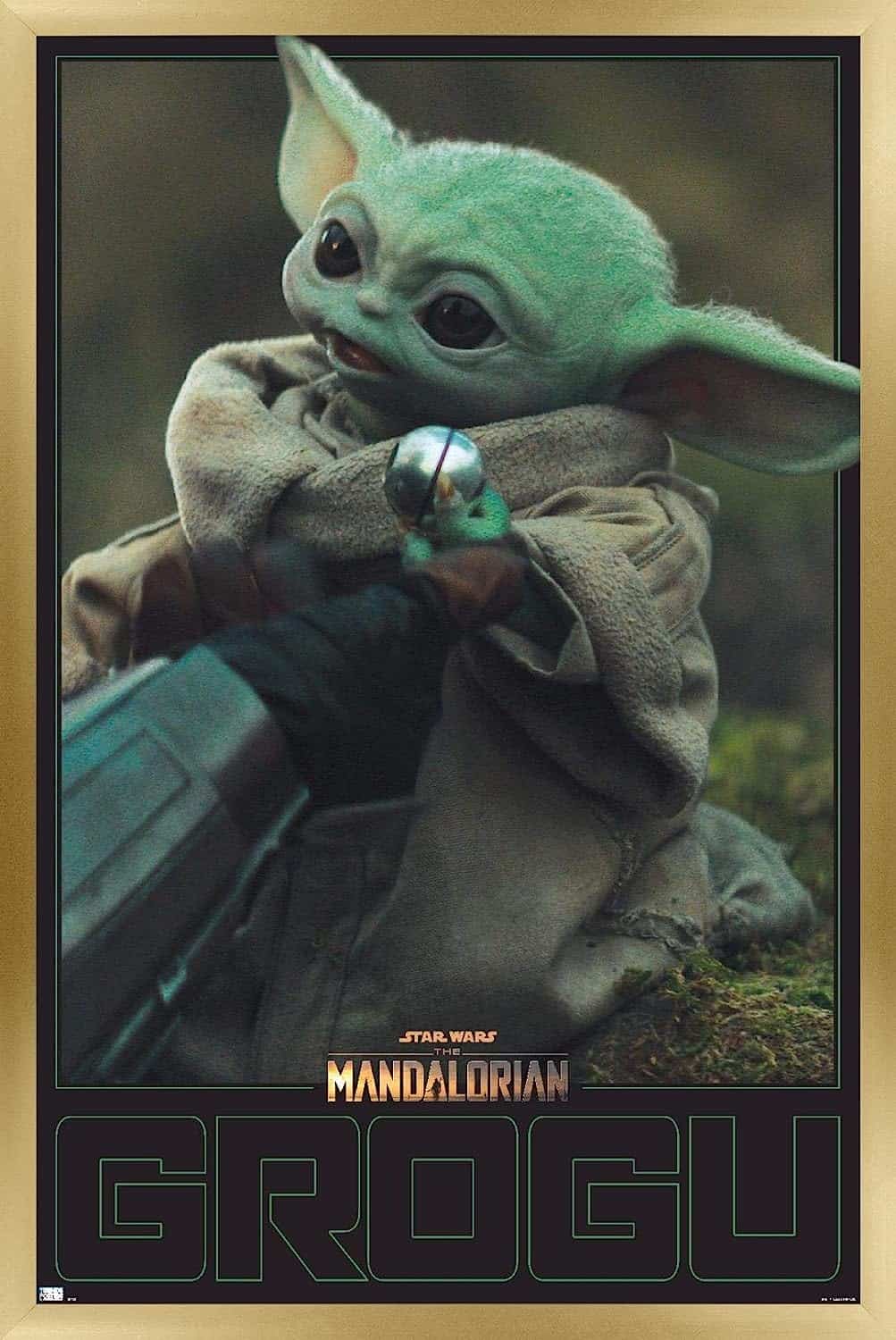 The Mandalorian S-2 Grogu Wall Poster is an extraordinary piece of artwork that captures the irresistible Baby Yoda in a heartwarming moment of joy and innocence. With a mischievous smile on his face and tiny outstretched hands, Grogu ardently clutches his ball, showing his unwavering fondness for the beloved plaything.
The vibrant colors and lifelike portrayal on high-quality art paper bring the image to life. And not only is this poster officially licensed, but it offers the flexibility to choose from various frame selections. Personally, I think the gold frame really elevates the overall visual impact.
You can display this astonishing Grogu poster proudly in your home, office, or personal space and let the adorable presence of Baby Yoda captivate your senses and bring a magical touch to your surroundings.
Pros
The poster is lightweight and easy to hang on your wall.
There are various frames available for you to choose from.
Cons
This poster is a bit pricy for its build.
The Child | Cartoon Drawing Throw Pillow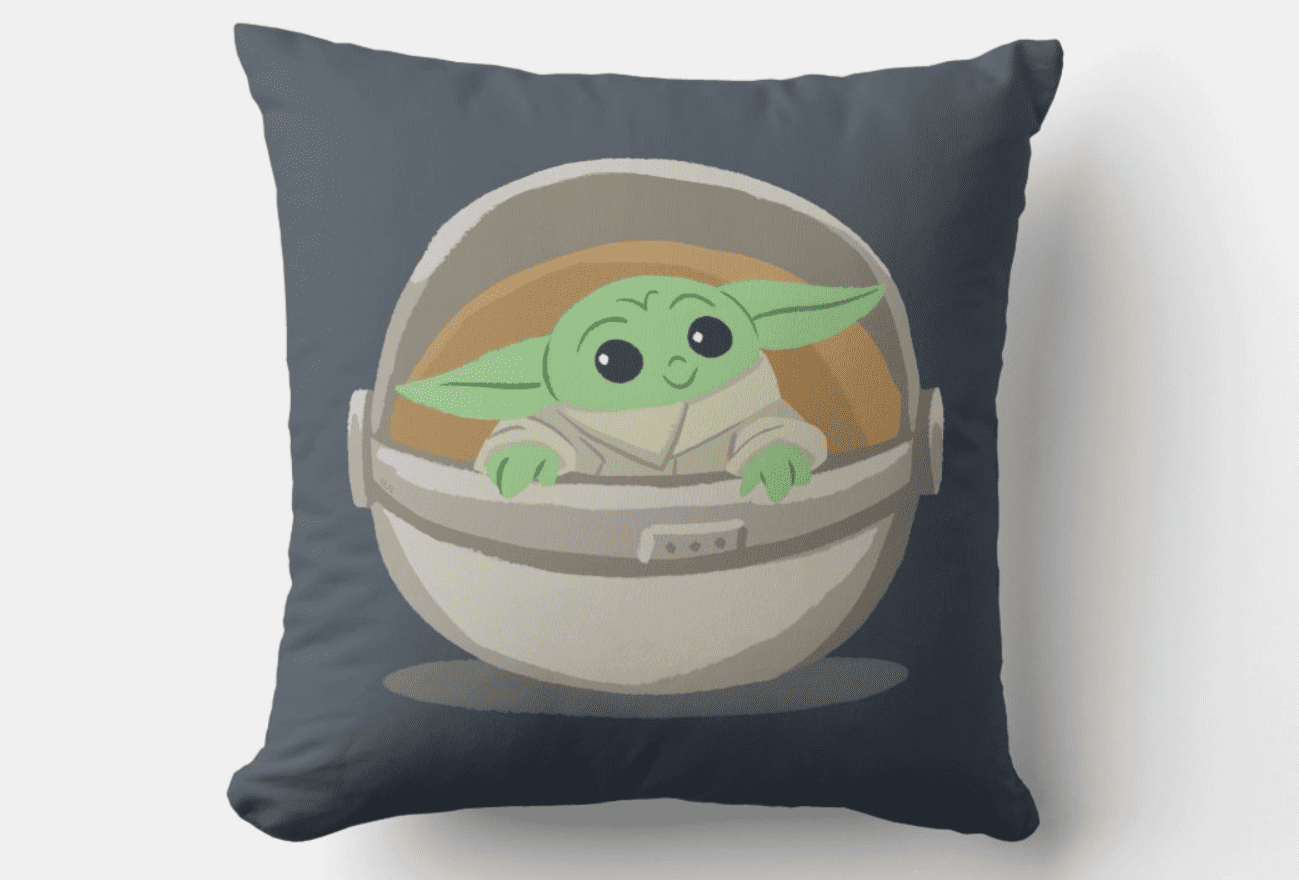 Turn your child's bedroom into a captivating cosmic retreat with The Child Customizable Throw Pillow. I am genuinely impressed by the fact that not only does this pillow provide a cozy resting spot, but it also offers an opportunity to ignite your little one's imagination.
Featuring a captivating and sublimated cartoon art of the iconic Grogu, this throw pillow is a visual delight. The soft polyester used in its making is guaranteed to make curling up in bed a moment of pure bliss.
And don't worry; the bold contrast of your room won't be compromised. This pillow is fully customizable and allows you to change the background color per your aesthetic preferences. Though one feature remains unchanged: a gleeful Grogu smiling up at you.
Pros
The pillow has soft materials.
This throw pillow is fully customizable.
Cons
This throw pillow does not come with many color options.
Grogu Stainless Steel Mug by Corkcicle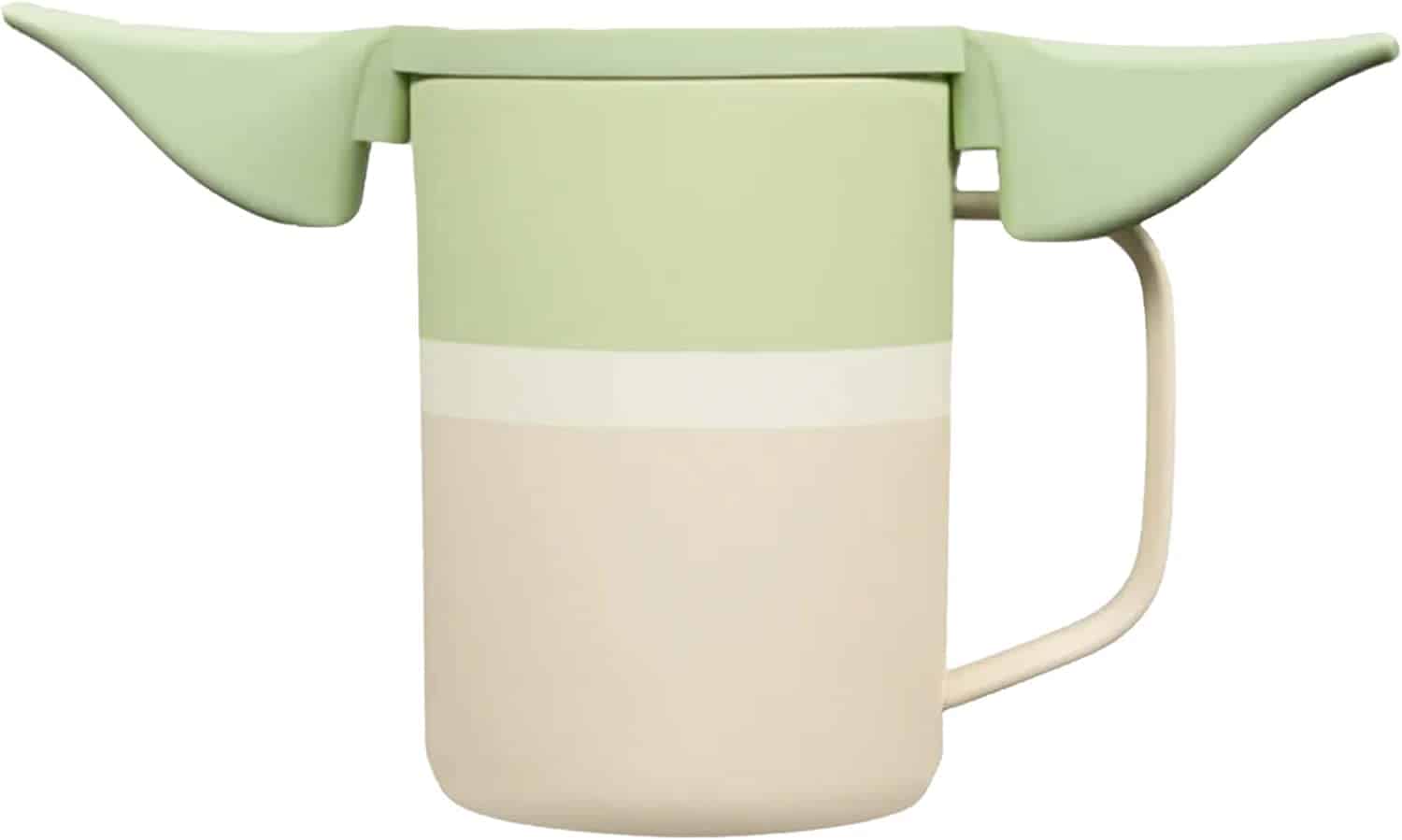 Make The Grogu Stainless Steel Mug your trusty companion and sip your favorite beverages in style with this mesmerizing coffee mug. Half adorned in the green shade of Baby Yoda's adorable visage and half reminiscent of the distinct color of his robes, this mug truly pays homage to our beloved character.
The real attraction of this mug, however, lies in its triple insulation. Whether you long for a piping hot coffee to start your morning or a refreshing cold beverage to quench those summer thirsts, the Grogu mug leaves no stone unturned.
Once you've filled the mug with your favorite drink, secure it with the lid designed in the likeness of Grogu's long ears, and it will keep your contents cold for an astonishing nine hours, and if it's hot for almost three hours.
If you are a fan of Baby Yoda and do not prefer showing off your love for this little creature, this minimalistic steel mug is your best shot.
Pros
The triple insulation keeps your drinks at the ideal temperature.
It is constructed with high-quality stainless steel to withstand everyday use.
Cons
It is not dishwasher-safe.
This mug might be too small for coffee lovers
The Child Glitter Motion Lamp Light
When you unwind in the evening, imagine this scene: a cozy corner, a warm drink in hand, and the soft glow of The Child Glitter Motion Lamp Light illuminating your surroundings; what can be more rejuvenating than an ambiance flowing with Force?
Featuring a 3D sculpted Baby Yoda on the top, the lamp measures about 14 inches in height. Although the lamp itself is a brilliant white, I love the little sprinkling frogs within the LED, casting a brilliant green shade in your room while exhibiting a never-ending world of patterns with every flicker and twinkle.
Aside from its visual charm, this lamp boasts impressive energy efficiency and has a long-lasting LED. So, as you bask in its gentle glow, you can be rest assured that you have made an eco-friendly choice.
Pros
It is sufficiently sized.
The soothing light and gentle motion create a relaxing atmosphere.
Cons
The lamp does not offer any other color options.
The intensity of the LED is not adjustable.
Miscellaneous Products and Collectables
Explore the unexpected and embrace the whimsical as you uncover unique gems in a wide variety of items, such as car decals, phone cases, and keychains. This category includes an assortment of Baby Yoda products you can find in everyday use.
The Child in Carriage Vinyl Automotive Decal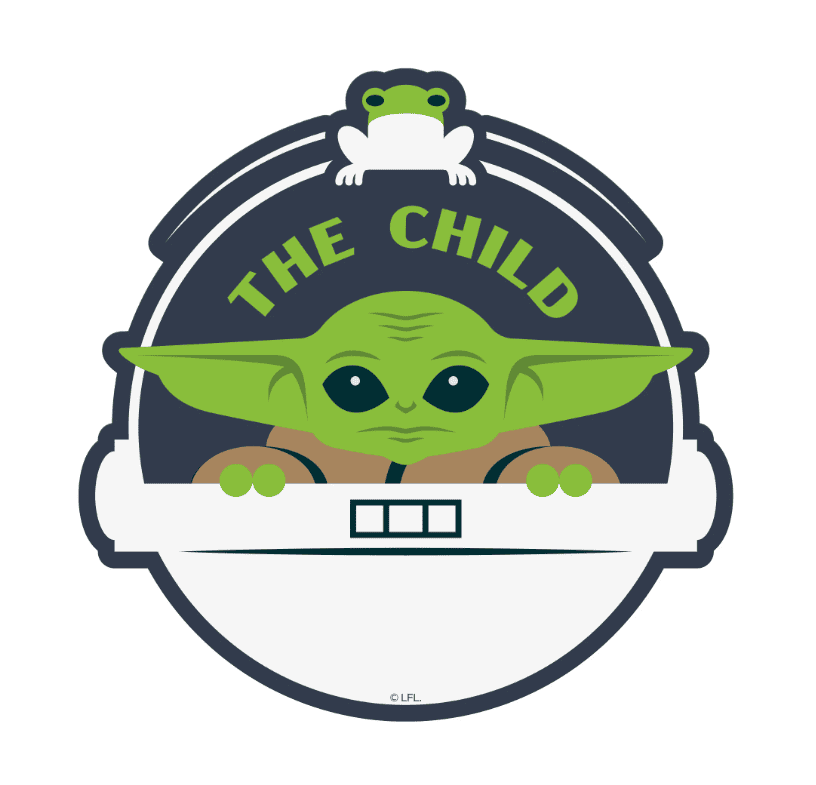 Elevate your vehicle's style with the captivating The Child in Carriage Car Decal. This delightful car accessory showcases an animated depiction of Grogu nestled within his protective pod.
Crafted in a dark green hue that perfectly complements Grogu's lighter shade, this car decal instills a delightful element in your ride for just under 5 dollars.
This Grogu decal can be securely adhered to the surface of your car and is designed for easy application, but what truly captivates me is its clean and minimal aesthetic which almost compels me to add this decal to my order. And let's not forget, this decal is suitable for all kinds of weather conditions.
Pros
It is easy to apply and remove without leaving residue or damage on the car's surface.
This decal is durable and crafted to withstand various weather conditions.
Cons
It is a little small compared to many other decals
Baby-Inspired Silhouette iPhone Case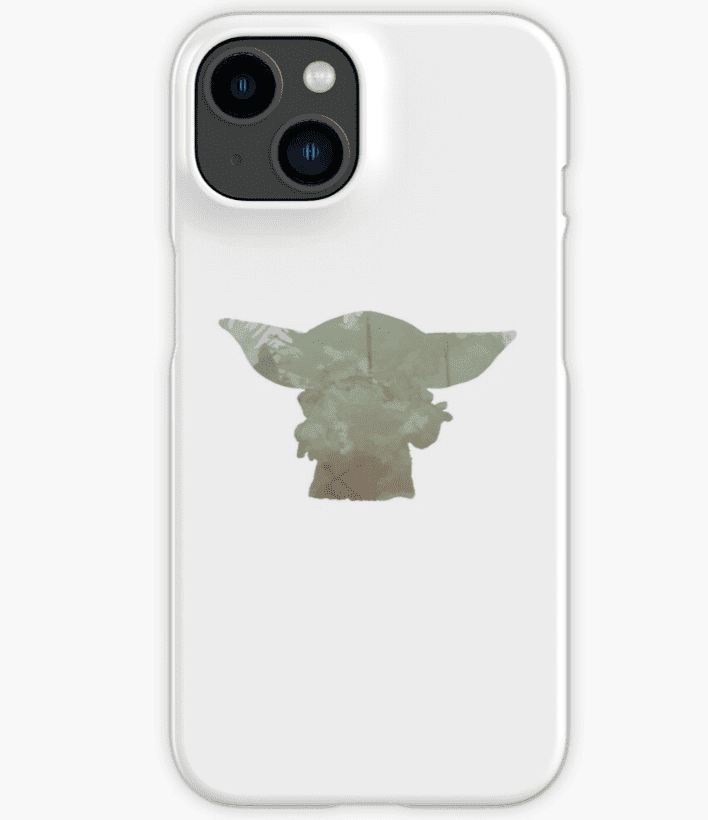 If you are an iPhone user as well as a Baby Yoda fan, you cannot go wrong with the Baby-Inspired Silhouette iPhone Case. This case is designed to fit various models of iPhone, ensuring compatibility and a perfect fit for your device.
With its elegant white color, the case features the captivating silhouette of Baby Yoda, his tiny figure facing the other away but instantly recognizable by those iconic ears. Moreover, it comes in three styles: snap, soft, and tough, offering different levels of protection while ensuring easy access to buttons and ports.
Choose the perfect fit for your iPhone and showcase your love for Baby Yoda with this stylish case.
Pros
An elegant white color for your iPhone.
This phone case is available for various models of iPhone.
You can choose between three different case styles.
Cons
The white color may not suit everyone's personal style or preferences.
Grogu Toy Plush Pillow Keychain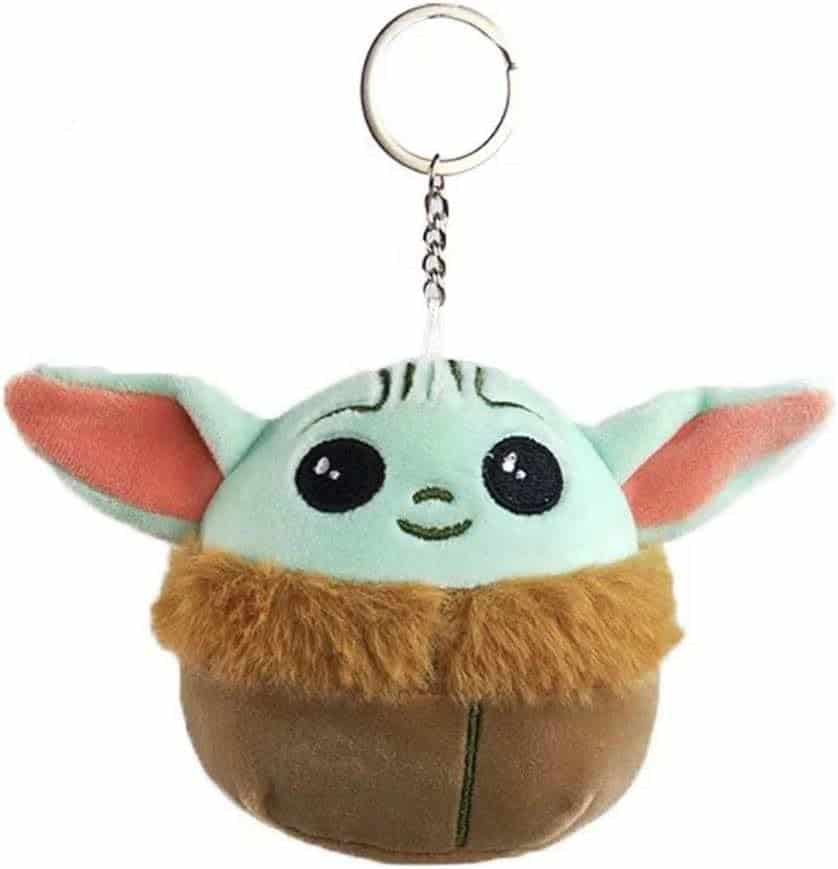 Let the Grogu Plush Pillow Keychain brighten your day with its ultimate softness and charming features. The cuddly companion serves as a useful keychain, and its lightweight design makes it ideal for attaching to your bag or car keys.
If you are anything like me, who finds yourself frantically searching for car keys on countless occasions, this Grogu Keychain, would automatically guide you to the spot where your keys are hiding.
Dangling from its silver chain is the adorable face of Baby Yoda. Made from 100% polyester and filled with cotton, it is also very cushy, so you don't have to be concerned about cuddling him with all your might; after all, Grogu knows how to get back into shape.
So get yourself this keychain and squeeze away through the Galaxy in your Razor Crest.
Pros
It is compact and lightweight.
It comes in a protective bag.
Cons
The plush material may collect some dust after regular use.
Frequently Asked Questions:
Question: Is Baby Yoda merchandise suitable for kids?
Answer: The Baby Yoda merchandise available online caters to fans of all ages, including kids. But before you order, do make sure to check for age recommendations on the product pages and look for any warnings.
Question: Is Baby Yoda merchandise available online?
Answer: There is a diverse range of Baby Yoda Merchandise that you can find online. These include clothing accessories such as costumes and shirts as well as collectibles such as statues and Funko Pops. Not only this, but you can also find an array of decorative items, bedding, and backpacks as well.
Question: Are there any physical stores that sell Baby Yoda merchandise?
Answer: Baby Yoda merchandise can be found in physical stores as well. You can get your hands on many of these items and more from Official Star Wars merchandise stores, toy stores, and pop culture shops, such as Starwarstore, Walmart, Target, etc. Also, do keep an eye out for local conventions or events that often sell unique and exclusive collectibles.
The Force Will Be with You, Always.…
After reading this guide, I am pretty sure you are now aware of the world of incredible products that celebrate everyone's favorite and adorable character, Grogu. So, whether it's apparel, toys, collectibles, or home décor, the range of Baby Yoda merchandise serves your daily needs very efficiently.
If you ask me, out of all the products in this article, my ultimate favorite is The Child Cartoon Drawing Throw Pillow due to its ability to seamlessly transform your kid's bedroom into a realm of imagination and adventure, capturing the true essence and cuteness of the Child.
But remember, before randomly going for your favorite Grogu merch, trust your instincts and select the items that genuinely resonate with you. After all, you don't want to go broke in pursuit of gathering every Baby Yoda product. Happy Hunting!
Looking for more interesting readings? Check out: