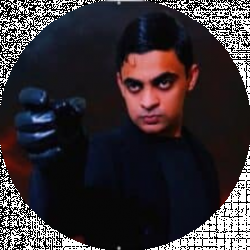 Latest posts by Boo-Ali Khan
(see all)
"Long ago, in a galaxy far, far away…"
As a kid, I was always a big fan of outer space and anything extraterrestrial. And when I discovered the original Star Wars Saga, I immediately fell in love with its futuristic and modern look. I was astonished to learn that they were made almost 30 years ago, a fact that was hard to warp around in my mind.
But, frankly speaking, Star Wars actually made its place in my heart when it became one of the very few series I could discuss with my father, who was not a big movies fan in the first place.
Just like any Star Wars fan, I still remember trying to use the force myself once the credits started rolling on the movies. Unfortunately, I discovered I was not one of the young padawans training to be a Jedi.
However, I, along with other fanatics, was able to experience the force when, with new Star Wars movies being released and an abundance of Star Wars series available, their merchandise spread in a galaxy far, far away.
Being a lover of the series, I collected numerous Star Wars merchandise. And lucky enough, I got my hands on some of the more exclusive Star Wars figurines just after release. So, I feel myself pretty adept when it comes to Star Wars figures.
Therefore, in this best Star Wars figures guide, I am going to share whatever I know about some of the most famous Star Wars figures, by also giving you some buying tips to save you a lot of trouble I faced while shopping.
Bottom Line Up Front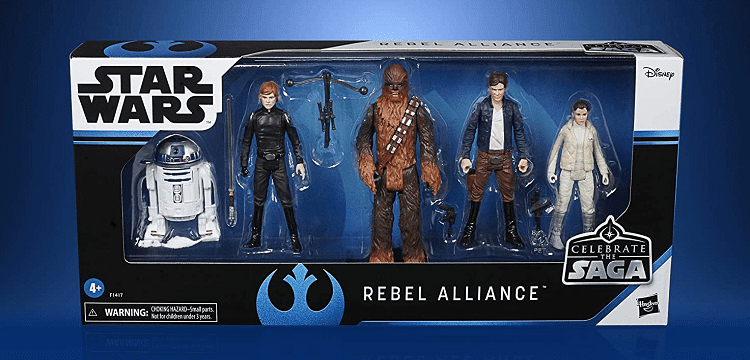 My favorite Star Wars figure is no other than the Star Wars Celebrate The Saga Toys Rebel Alliance Figure Set. This set comes at an affordable price, with some of the best characters from the franchise: Han Solo, Leia Organa, Luke Skywalker, R2D2, and the hairy Wookie Chewbacca. The great thing is that each character also includes their weapon of choice.
My Top Picks
My Reasons For Picking These Figures
All my top picks are incredibly detailed.
They feature some of my favorite Star Wars characters.
All the figures are made with quality materials and will not break very easily.
Most of these picks appeal to every Star Wars fan.
Some Buying Tips to Get You Started
Go Through Different Vendors
Star Wars figures can be expensive, which may lock out fans looking for Star Wars merchandise on a budget. Therefore, I would not suggest sticking to a single vendor; have at least three or four vendors where you can purchase Star Wars figures.
This way, you can easily compare prices to save you some bucks. This will also enable you to have a much greater variety of items.
Buy Retail If Possible
I always recommend buying Star Wars figures in person if there is a store nearby. This will allow you to easily point out any defects or problems in the figures. And if you're lucky, you can get exclusive Star Wars figures at a significant discount. This can also be a great help to avoid the long waiting periods when ordering online.
Check the Reviews
Since most buyers still prefer ordering Star Wars figures online, I recommend at least going to the review section of the product and checking the comments left by other buyers.
This offers a genuine insight into these products by also understanding their desirability and functionality. And you will be able to quickly identify any problems or defects with a Star Wars figure based on these customer reviews.
Set a Budget
As mentioned earlier, some Star Wars figures are notoriously expensive; it would be wise to set up a budget to limit how much you are willing to spend on them. In this way, you can make conscious decisions when choosing your favorite Star Wars figures instead of compulsive buying.
My Top Picks
Statues
Statutes share a very close resemblance to real-life characters or scenarios. The Star Wars statutes offer a range of characters and even some iconic scenes from the series. Furthermore, they are available in different sizes, ranging from a few inches to a couple of feet.
Obi-Wan Kenobi Statue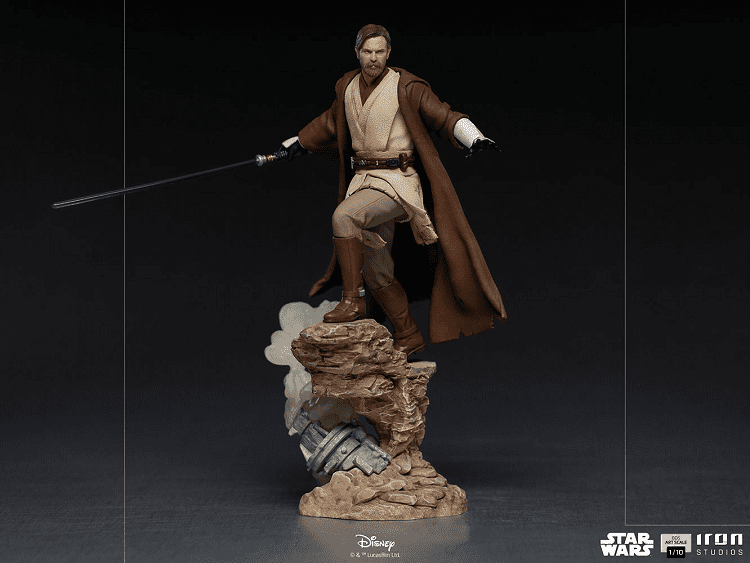 Description
This statue reminds me of my favorite prequel movies. It depicts a younger Obi-Wan Kenobi in an iconic pose. And seeing it always takes me back to his last tragic fight against his padawan, Anakin Skywalker.
This Obi-Wan Kenobi figure is holding his signature blue lightsaber as if in a duel. And with his left hand free, it feels like he is using the force as an additional tool in his fight while balancing precariously on two ledges of different heights.
If you ask me about the significance of this figure, it shows Obi-Wan Kenobi's most crucial moment when he finally left his friend at the mercy of the Dark side. Ironically, this moment later turned into a big meme as well, wherein he proclaims before Anakin Skywalker that he has the high ground.
With its exceptional attention to detail, this statue will ensure that the force is always by your side. Knowing Obi-Wan Kenobi was also instrumental in both Luke and Anakin Skywalker's becoming Jedi, he remains one of the most influential characters in the series. Making this statue all the more special to any Star Wars fan.
Pros
This figure has exceptional detail in even the small places, including the robe and face.
The figure has a relatively compact design, making it a perfect decoration for study desks.
Cons
The statue's steep price may lock out Star Wars fans working with a smaller budget.
Mythos Statue of Anakin SkywalkerTM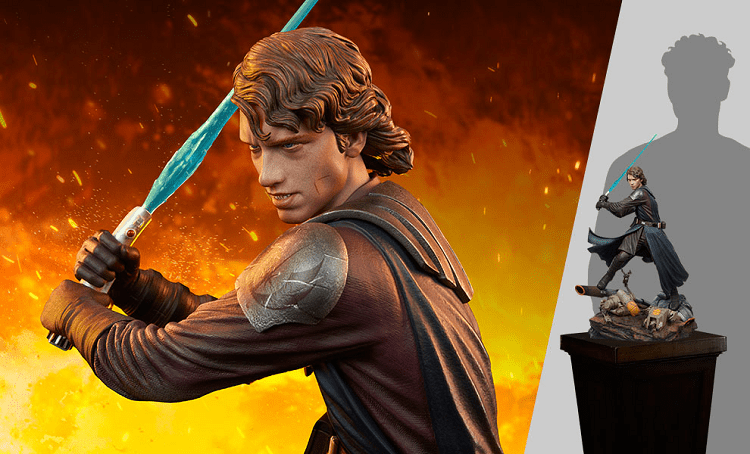 Description
Anakin Skywalker is one of the most iconic characters from the Star Wars universe. And knowing that he will eventually turn to the dark side and become the Darth Vader makes this statue all the more tragic.
It depicts Anakin Skywalker in a fighting pose with a firm grip on his lightsaber, showing his determination to win, whosoever the enemy be. His lightsaber shares the same color blue as Obi-Wan Kenobi's eventual lightsaber.
Furthermore, this statue includes two heads, which expertly depict the dual sides of this character. The first shows a brave Anakin fighting, and his face looks calm and composed.
He is standing over some destroyed battle droids, which is a reminder of just how powerful he was. The other shows him with a messy look in his hair and a quiet rage on his face. Maybe it's his turning point towards the Dark side of the force.
Some scratches can also be seen on the front giving the figure a sinister look. This reminds me that Anakin eventually lost to his master in their last duel. So, don't worry; this figure is not going to hurt you.
Pros
This statue has free shipping available for U.S. residents.
It features two replaceable heads that each show the different sides of Anakin Skywalker.
Cons
It is quite big and heavy and needs some ample space.
Action Figures
Star Wars action figures are miniature to medium-sized figurines, usually made from plastic. They are one of the most popular toys among young Star wars fans. They have movable joints, allowing them to pose in different positions.
Star Wars: Obi-Wan Kenobi the Vintage Collection Reva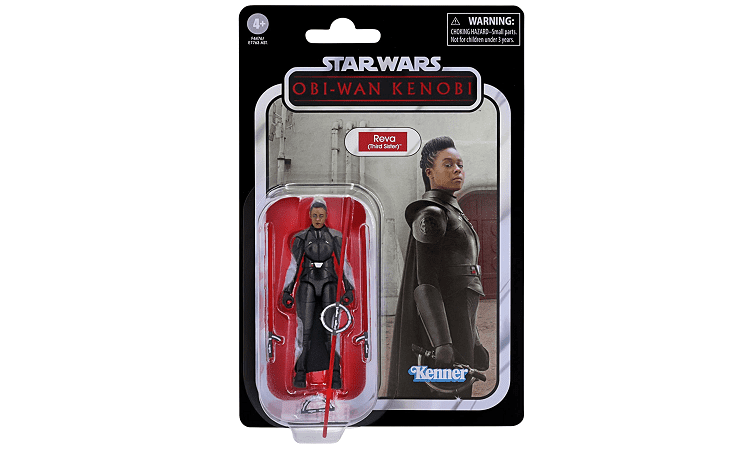 Description
Now, allow me to introduce you to the relatively new character of the latest Obi-Wan Kenobi series, Reva, or the third sister. As she is often referred to by her fellow inquisitors, she is one conflicted character whose motives are not revealed until the end, something that is perfectly captured by this action figure.
This action figure depicts her in her black inquisitor uniform, holding two red lightsabers. The lightsabers can even be combined to create one double-bladed lightsaber, which reminds me of a similar lightsaber used by Darth Maul.
The action figure is perfectly detailed. And talking about my favorite details, they are Reva's dark hair and carefully depicted skin color, which looks just like her actual appearance. Her Inquisitor's uniform also is done pretty well, and the cape, which is part of her uniform, makes her appear more majestic and regal.
This action figure is a perfect collectible for those who want to reminiscence the glory of Reva as the Grand Inquisitor, even if it was for a brief period. The Reva action figure also has movable arms, allowing you to pose lightsabers as you wish. Maybe you can pose her in a way to free herself from the Dark side and fight the evil.
Pros
This action figure has a very accessible price, which makes it affordable for most Star Wars fans.
It features a double-bladed lightsaber, enhancing its look and making it unique.
Cons
This character may be unknown to those who haven't watched the Obi-Wan Kenobi series.
Star Wars Celebrate the Saga Toys Rebel Alliance Figure Set F1417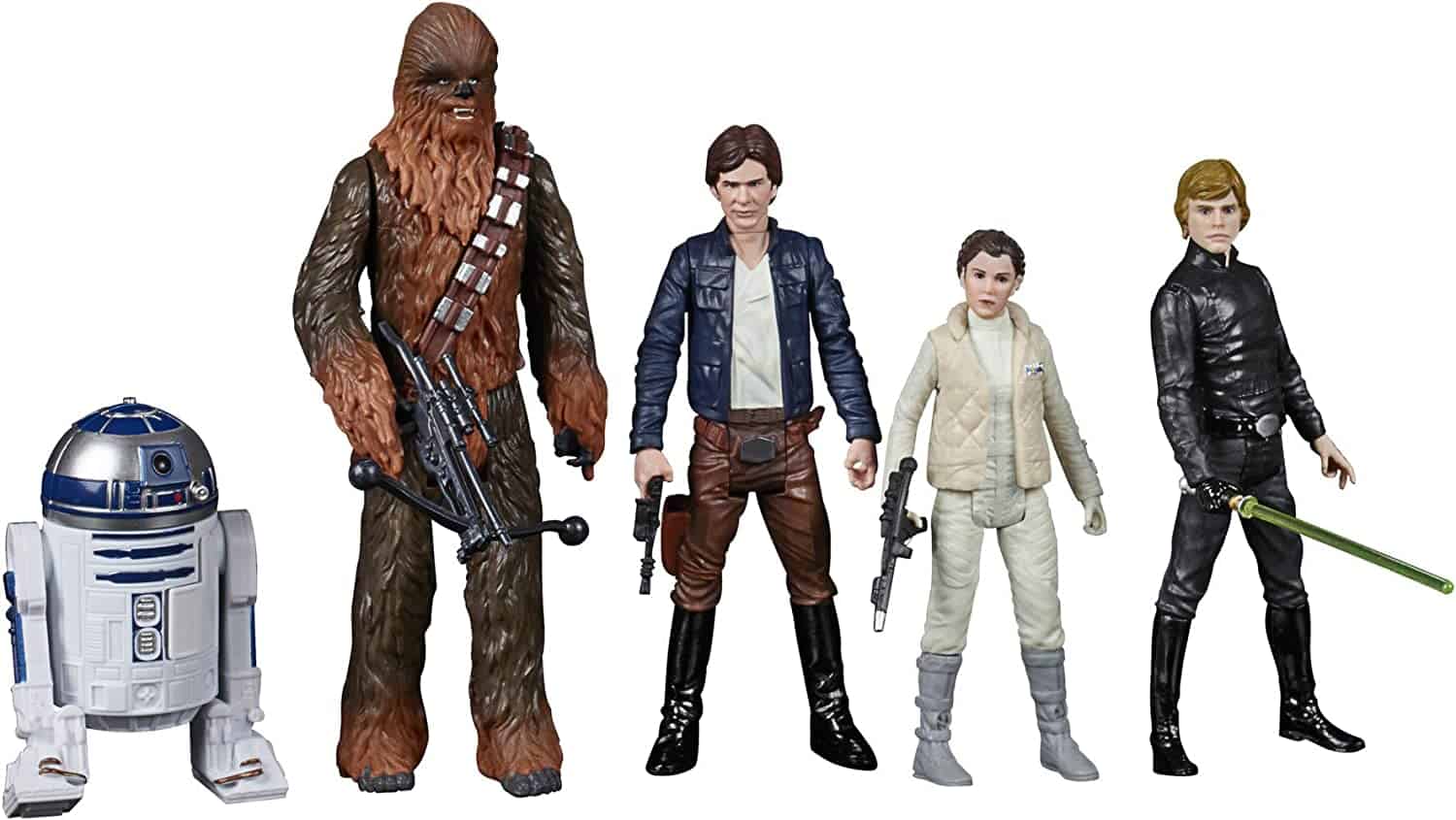 Description
If you want to save the hassle of searching for some of the series' most iconic characters, I might have the right thing for you. This pack contains five major characters of the original Star Wars saga at one of the most affordable price tags you may see on the market.
It features one of the most iconic Star Wars droids, R2D2, depicted in its signature blue color; Chewbacca, the furry Wookie companion of Han Solo, holding his preferred weapon of choice, a bow caster; Han Solo, holding his reliable blaster in his hand; Leia Organa, the love of his life, in her white uniform also having a blaster in hand; and finally, our hero Luke Skywalker, holding his signature green lightsaber.
This set reminds me of the original trilogy, which aged quite well considering the place these characters made in the hearts of almost every Star Wars fan. This set will be great for any old-school fan as a collector's item.
And with the multiple articulation points that come with these action figures, you can also embark on epic adventures as these rebels did.
Pros
This set offers five figures, which makes it a great deal for its low price.
This set also includes each character's weapons, giving kids a great and realistic playtime.
Cons
The small weapon accessories with this set may present a choking hazard to young children.
Funko Pops
If you ever came across small vinyl pieces made in a cartoonish art style with giant heads and big eyes, you were probably looking at Funko Pops.
Even if they lack a mouth, their popularity as Star Wars collectibles has been ever-growing, making them one of the highly sought-after collector's items. Their price is usually dependent on their availability and demand.
Funko Pop! Deluxe Star Wars: Battle at Echo Base Series-Chewbacca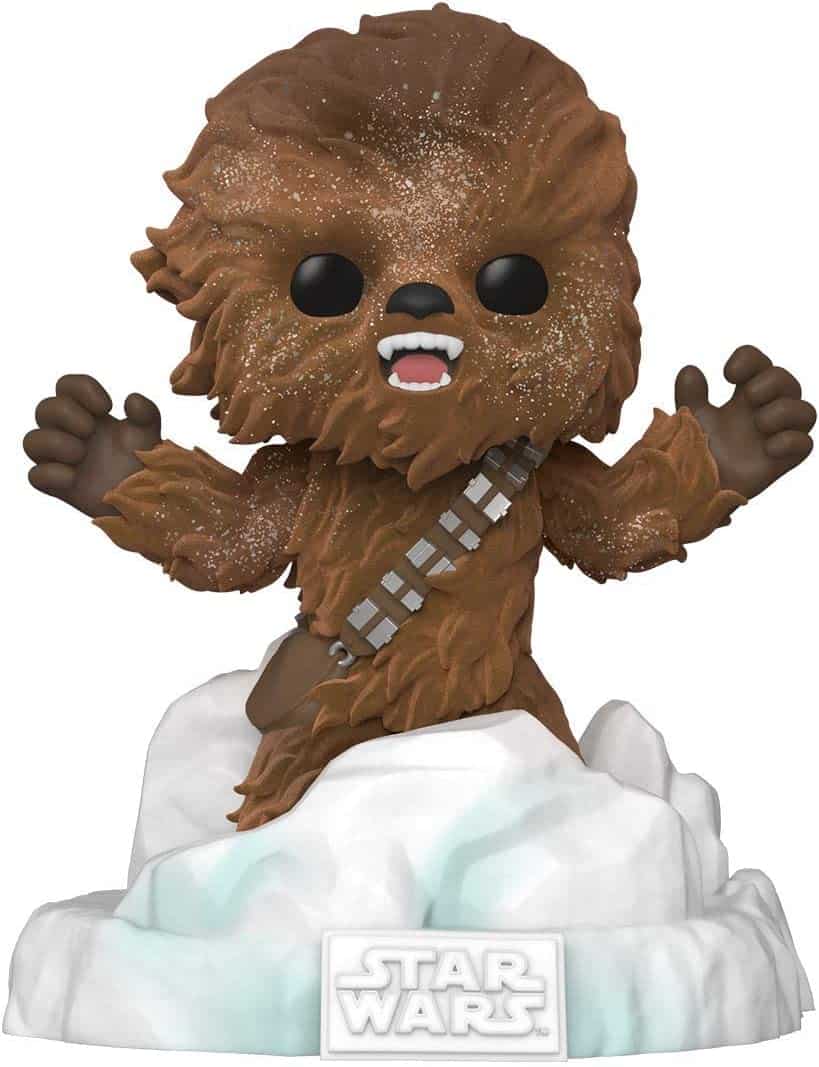 Description
Now, let's talk about one of the unique and most easily recognizable Star Wars characters that I always thought of as a grown-up teddy bear, Chewbacca. This Pop shows him in the battle at Echo Base wearing his bandolier, taking cover behind some ice boulders.
This Pop clearly shows him staring with an intimidating demeanor, and his mouth is opened to show his large fanged teeth. Still, I believe these teeth make up a pretty mesmerizing contrast of white against the dominant brown color of Chewbacca's fur.
The attacking pose of this Pop is a perfect reminder to those who think that while the Wookie may look cute, it could still be terrifying. This deep black-eyed Pop falls in the flocked category, which means its surface is covered with soft fuzzy fibers to give you a feel that you are actually touching a Wookie.
Pros
This flocked Pop gives you a real-life experience of feeling Chewbacca's wooly brown fur.
This figure comes at an excellent price for all Star Wars fans on a small budget.
Cons
This Funko Pop needs special protection from UV light, which may damage the paint.
Funko Pop! Princess Leia in Star Wars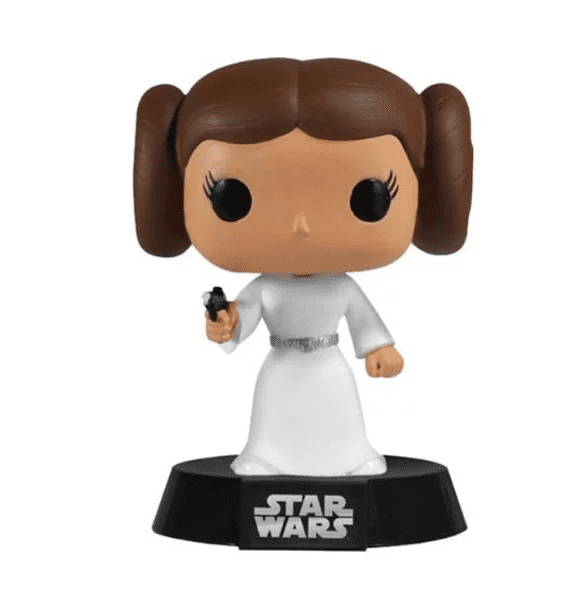 Description
It would have been a shame if a character like Princess Leia, one of the most essential characters in the Star Wars universe, didn't have a figure. But thank god that's not the case.
This Pop shows her in a pure white dress with a metallic belt on her waist. She is staring straight ahead with a blaster in hand, confirming the fact that she is the courageous daughter of Skywalker and Padme, after all.
This Pop is an excellent addition for any avid Star Wars fan. Her hair is styled in the iconic look reminiscent of when we first saw her.
And seeing those huge black commanding eyes reminds me of her successful career as a Leader of the Resistance. And a cherry on top is that this Pop comes at a relatively low and affordable price.
Pros
It features Leia's original hairstyle, which is iconic to many Star Wars fans.
A black Star Wars podium is attached to the figure's base, making it easy to put on uneven surfaces.
Cons
The Funko Pops might feel lacking in details to some Star Wars fans.
Nendoroids
Star Wars Nendoroids are chibi-styled action figures that feature popular characters from both the original saga and the animated series. However, the original Star Wars Nendoroids are extremely hard to come by.
Kylo Ren Nendoroid Mini Action Figure from Star Wars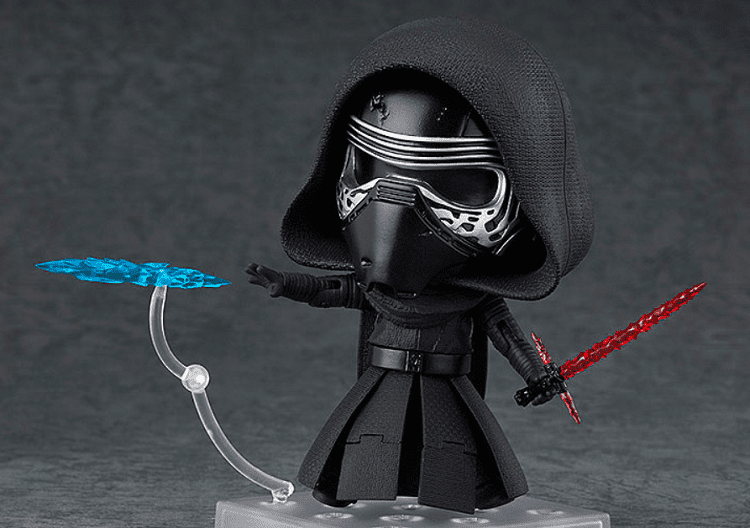 Description
One of the most tragic characters in the Star Wars universe, Kylo Ren, was first introduced to us in The Force Awakens. This Nendoroid is a tribute to the great Sith lord, who was led to the Dark force by the Supreme Leader Snoke, but the blood of Han Solo and Leia Organa did not let him astray for long.
This Pop depicts Kylo Ren with his red lightsaber with an unconventional handle. Kylo Ren's helmet is also detachable, and you can remove it to reveal his slightly scarred face, portraying his struggles in life.
This Nendoroid also features a stand with a blue blaster bolt floating in front of Kylo Ren, almost like the movie moment when he stopped a blaster using his control of the force. In my opinion, the best thing about this Nendoroid is the included Darth Vader mask, which perfectly captures the scene when Kylo Ren broods over the helmet.
However, this Nendoroid comes at a whopping price of about $300, which many Star Wars fans may find challenging to fit into their budget. Still, if you're anything like me, you will start saving up for this phenomenal Kylo Ren action figure the moment you first set your eyes on it.
Pros
The figure includes many accessories allowing you to duplicate many events from the story.
This Nendoroid is rare and highly sought after by many Star Wars merchandise collectors, making it quite a collectible.
Cons
For such a hefty price tag, this figure feels pretty small.
Star Wars Nendoroid # 858 BB-8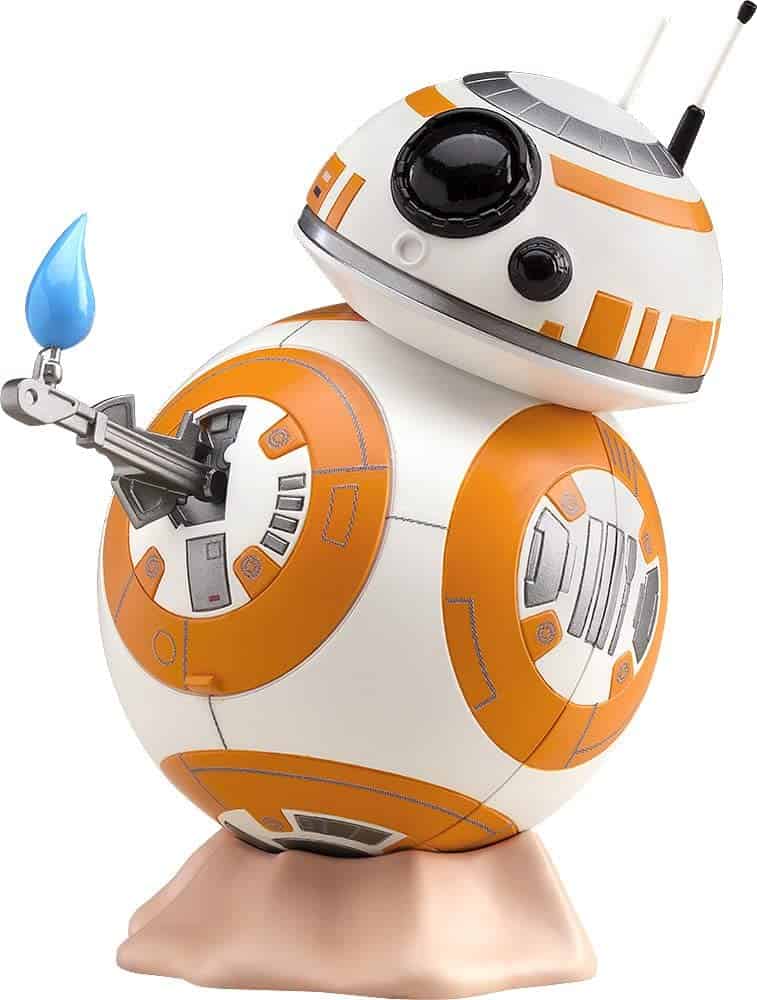 Description
One of the best things about Star Wars is that its fanbase is not limited to animate objects. BB8 was a droid from the new trilogy. And despite being a robot, this rounded droid has made quite an impression on me. After all, who can overlook this cute little fella and his selfless ways of doing things?
This BB8 Nendoroid is an exact copy of the original droid from the series. It has a detachable head with a magnet that can be used to make the droid move in various ways, allowing you to enjoy BB8's personality at its maximum.
It also has a stand that reminds me of the droid movement in the desert and leaving its tracks in the sand. Another attractive feature of this Nendoroid is the thumbs-up lighter pose of BB8, something that I totally love.
You don't have to think twice about buying it if you like BB8. This droid was a great help to Poe, and now it will do the same for you in your daily outer space adventures. Not to mention, this Nendoroid has an affordable price compared to other Star Wars Nendoroids.
Pros
Its magnetic head allows it the articulation that we can expect from a rolling droid.
This body of this Nendoroid offers quite some details.
Cons
The smaller parts like the removable hands and lighter can present a choking hazard to small children.
Exclusive Figures
These are limited edition or deluxe editions of Star Wars figures, featuring some of the most famous moments and scenes from the Star Wars universe. They can range from Funko Pops and action figures to even life-sized busts.
Dark Rey 1/6 Scale Star Wars: The Rise of Skywalker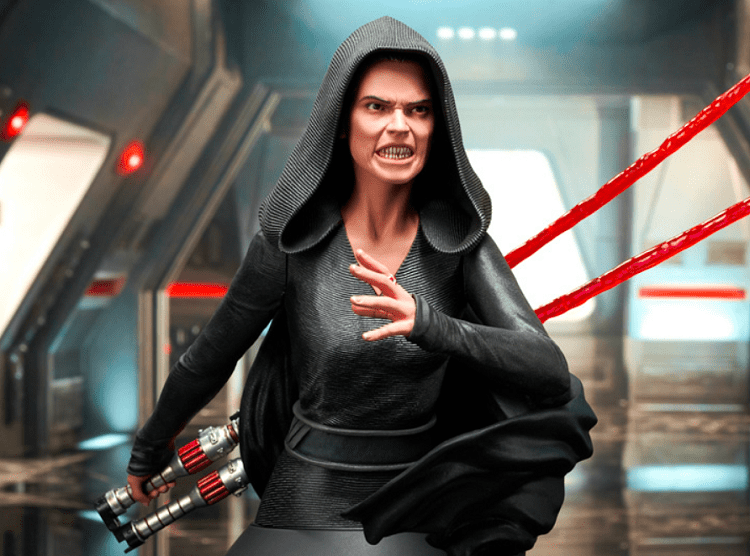 Description
This figure may just be a 1/6th-sized portrayal of Dark Rey, but walking up to it in the dark can be very intimidating. I recommend displaying this figure on a well-balanced stand to show the figure in its full glory. This bust offers two poses; one depicts Rey with a neutral, calm face, and the other shows her with a dangerous and aggressive look.
The attire of this figure is also full black, which reminds me of Kylo Ren's similar suit and makes me think what would have happened if Rey had turned to the dark side. Not to mention, the double-blade lightsaber in red makes me shiver even at the thought of Rey teaming up with Kylo Ren.
As this is an exclusive Star Wars figure, it is only available in a limited number. Therefore, many avid Star Wars collectors want to get their hands on it. So, I would not recommend waiting until it gets out of stock.
Pros
This item is exclusive and is guaranteed to increase in value.
This bust is very well-detailed and is a great conversation starter for any Star Wars fan.
Cons
This bust is very limited and may get out of stock before you have enough savings for it.
Jango Fett (Summer Exclusive)
Description
Who knew a Mandalorian would become that famous? Jango Fett, an expert assassin with exceptional abilities, is also considered the father of Storm troopers. Looking at this figure in all its glory, you may not even know if you are looking at a bounty hunter. So, be aware when you get close to him
Jango Fett is depicted excellently in this limited edition action figure. His Mandalorian armor is pretty well-detailed and holds two blasters ready to shoot. After all, he was an exceptional bounty hunter, maybe even the best in the galaxy.
This action figure includes accessories like a jet pack, two pairs of gloves, and two blasters. And with all these and the movable joints, you can recreate many posses as you like. I like to position this figure with his blasters in a shooting position, so no one would dare touch my precious collectible.
But, beware to keep this action figure away from smaller kids, as the small parts may present a choking hazard.
Pros
This action figure has great attention to detail as it has a rugged finish on the armor, as shown in the movies.
Cons
The antenna at the top of the helmet is quite fragile and can break easily.
I don't like the helmet, which seems pretty big as compared to the rest of the body.
Frequently Asked Questions:
Question: Are Star Wars figures Only for Children?
Answer: No, Star Wars figures are not only for children. Rather, in my opinion, most avid Star Wars figure collectors are way past the age to play with toys. This point is mainly strengthened by the fact that because Star Wars is so old, many grown-ups still enjoy it and thus want to show their love by owning figures.
Question: Are Star Wars Figurines Expensive?
Answer: Yes, most full-scale and detailed Star Wars figures tend to be a little expensive, and this is due to them being quite sought-after items on avid Star Wars fans' wish lists. The original Star Wars trilogy came out 40 years ago and, therefore, Star Wars figures have a wide appeal to both older and newer fans.
Question: From where Can I Get Star Wars Figures?
Answer: Star Wars figures are available at popular retailers like Walmart and Target. The biggest online market, Amazon, offers a great variety of Star Wars figures as well to those avoiding the hassle of physical shopping.
However, I would recommend Sideshow for more exclusive Star Wars figures as it has some unique pieces that you might not find anywhere. But beware that Star Wars figures can also have a steep price, so shop wisely.
Question: Do Star Wars Figures Increase in Value Over Time?
Answer: Yes, some Star Wars figures may increase in value with time. However, this does not mean that every Star Wars figure is going to give you some extra bucks when you sell it after a couple of months.
The figures that have a good chance of increasing in value are the exclusive Star Wars figures or limited-edition releases. But let me tell you, they usually come at an exorbitant price in the first place. So I would recommend pursuing collecting Star Wars figures as a hobby rather than as a profit-making venture.
Final Thoughts
With the immense popularity of Star Wars over the years and its significant influence on pop culture, Star Wars remains one of the most easily recognizable franchises in modern times. The lightsaber has been numerously copied and imitated in many shows.
Even since its inception in the late seventies, the series did not observe a stop in its different arcs. So, to get close to the never-dying moments that this series offers, owning Star Wars figures is a great way to go.
When deciding to buy Star Wars figures, I would recommend having more than two vendors at your disposal to better analyze what the figure has to offer.
Also, If you can get Star Wars figures from a physical retail shop, I recommend doing so rather than ordering online. Still, if going out is not your way, don't forget to read reviews in the product description when ordering Star Wars figures online.
The Star Wars figure close to my heart is the Star Wars Celebrate The Saga Toys Rebel Alliance Figure Set. This five-pack set contains the most iconic characters from the original Skywalker saga.
Han Solo, Chewbacca, Luke Skywalker, Leia Organa, and finally, their loyal droid R2D2, each with movable parts, ensuring an even more immersive experience. This whole pack is also quite affordable and will be an excellent gift for any Star Wars fan.
You may check out my other listings in this guide if you want some more detailed and high-end figures. Don't let the Dark side tell you otherwise!
Looking for more interesting merch? Check out: