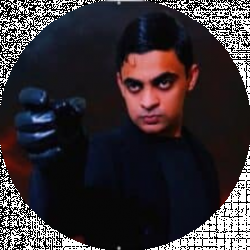 Latest posts by Boo-Ali Khan
(see all)
Any Star Wars fan would know that Darth Vader is one of the most iconic, recognizable, and enduring characters in the Galaxy. Being the main antagonist of the original trilogy – well, for most of its part – his fearsome reputation and distinctive appearance have made him a fan favorite for decades.
One of the most familiar and memorable aspects of Darth Vader's appearance is his helmet. If you ask me, this helmet was undoubtedly the most crucial part of his costume, serving as a symbol of his status and power within the Galactic Empire. And let's not forget, aside from its unique appearance, this helmet also relates to Vader's character development; after all, it hides his disfigured face and the first major blow as a Sith lord at the hand of his former mentor, Obi-Wan Kenobi.
In this best Darth Vader Helmets guide, I will be talking about the various types of Darth Vader helmets available for purchase, while also exploring their significance and different features.  However, I am pretty sure most of the new followers of the Sith are not fully aware of this intimidating veil; after all, I also believed Vader's helmet to be the same in every movie. So, before I get down to different options, let me briefly go through the transformation Darth Vader's helmet underwent over the years.
In "Star Wars: Episode IV – A New Hope" (1977), the Vader helmet featured a sleek, black design with a distinctive breathing apparatus on the front and a raised visor. In Episode V (1980), the breathing apparatus on the helmet was altered slightly, and it had a more streamlined shape. In Episode VI (1983), Vader's helmet remained largely unchanged, although it had a battered and worn look, suggestive of the strain Vader has endured over the years; after all, managing an Empire is no child's play.
Now that you are aware of the metamorphosis this legendary helmet went through, without further ado, let me take you on the best Darth Vader helmet's journey. So, whether you are a Star Wars collector, a cosplayer, or simply a lord Vader fan, this guide is for you.
"This will be a day long remembered." – Darth Vader.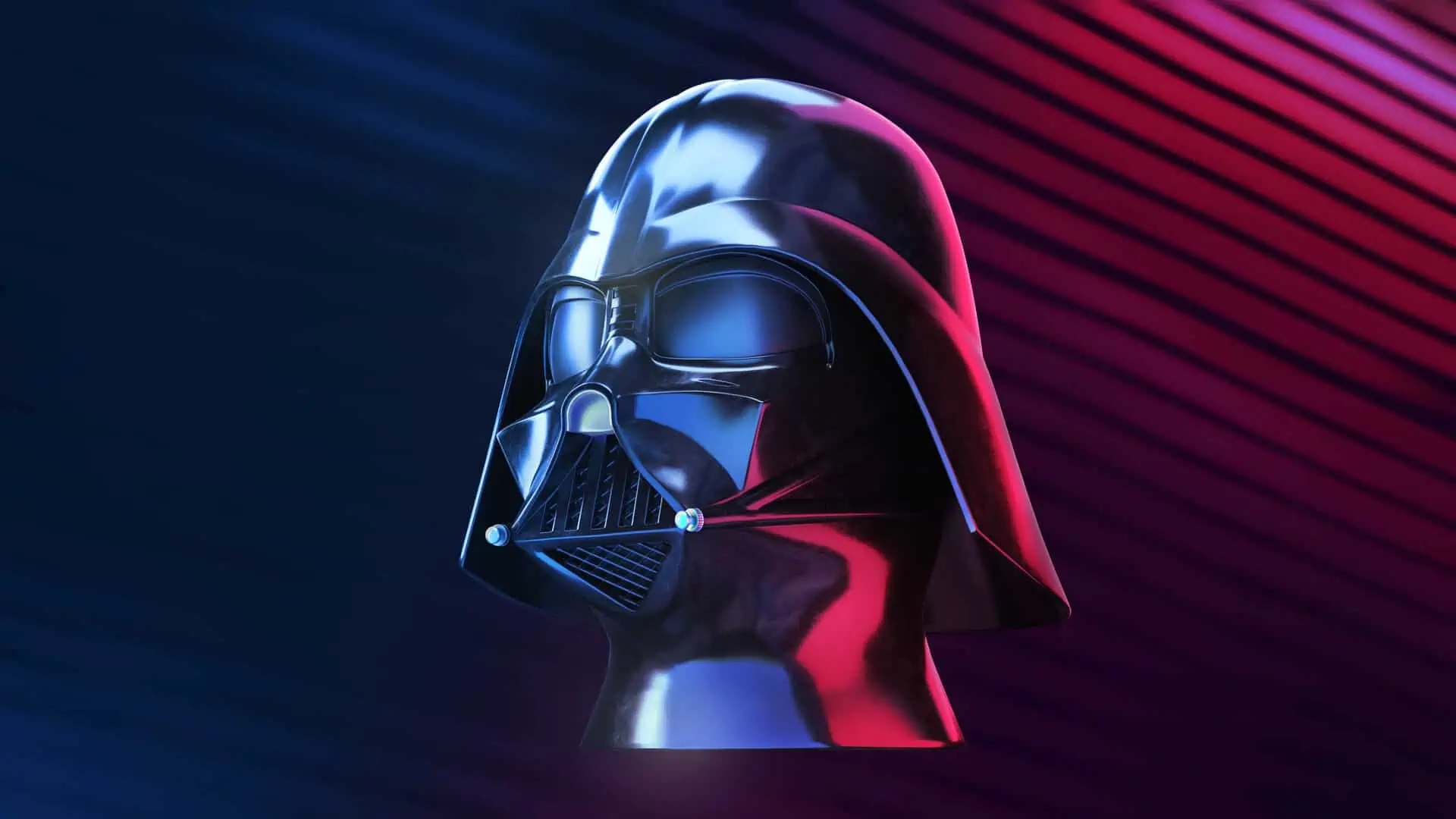 Bottom Line Up Front
Although I have recommended twelve different Darth Vader Helmets in this guide, my utmost favorite is the Vader Black Series Helmet. As a sucker for authenticity, I really like this helmet for the close resemblance it shares with the real Vader helmet. To be honest, with its elaborate layout and sturdiness, it was an easy choice in the first place. Not to mention, the comfort level and its sufficiently big size further add to its allure.
My Top 3 Darth Vader Helmet Picks
My Selection Criteria For Darth Vader Helmets
Before selecting any Darth Vader helmets for this guide, I have tried to ensure that they meet the following criteria:
All the Darth Vader helmets listed in the guide are currently in stock.
All the sites referred to for these helmets are legitimate and trustworthy.
All the Darth Vader Helmets feature a unique style ranging from minimalistic to flamboyant designs.
All the picks are made of long-lasting material.
My Top 12 Darth Vader Helmet Recommendations
With a variety of Darth Vader helmets available in the market, I have categorized my recommended helmets based on a budget range to make it easier for my fellow followers of the Sith.
Helmets under $100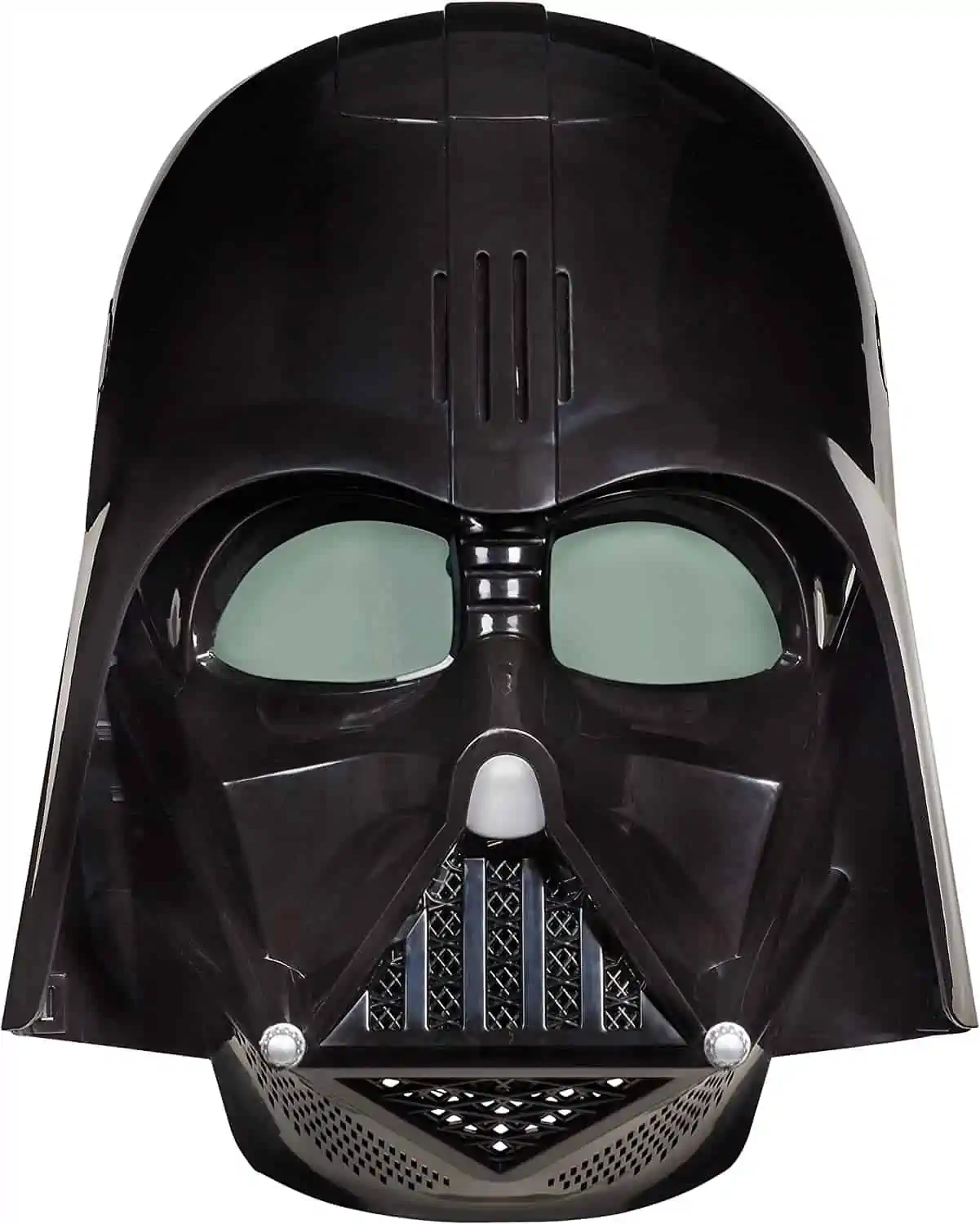 Description
If you are a little short on Imperial credits and still want to feel the power of the Sith Lord coursing through your veins and ready to strike fear into the heart of anyone who might dare challenge you, experience the ultimate transformation into the Dark Side with this Darth Vader Voice Changing Mask.
The adjustable straps ensure a secure and comfortable fit, while the more than 15 Darth Vader phrases and breathing sounds transport you to Mustafar. Who knows, you might get into the ultimate throwdown against Obi-Wan Kenobi.
If you ask me, this mask is an excellent option for young Star Wars fans. It's light on the pocket and allows kids to fully embrace their inner Sith lord by making sounds of lord Vader. However, I don't want to be a party pooper, but I should mention that the mask is essentially a helmet only from the front, and the sound output may be a little low for fans like me who are used to hearing things a little louder than normal.
Pros
Includes straps to adjust the fitting to your size.
Makes more than 15 Darth Vader sounds.
Cons
Not a full helmet to be worn at cosplays.
The sound is a little on the lower side.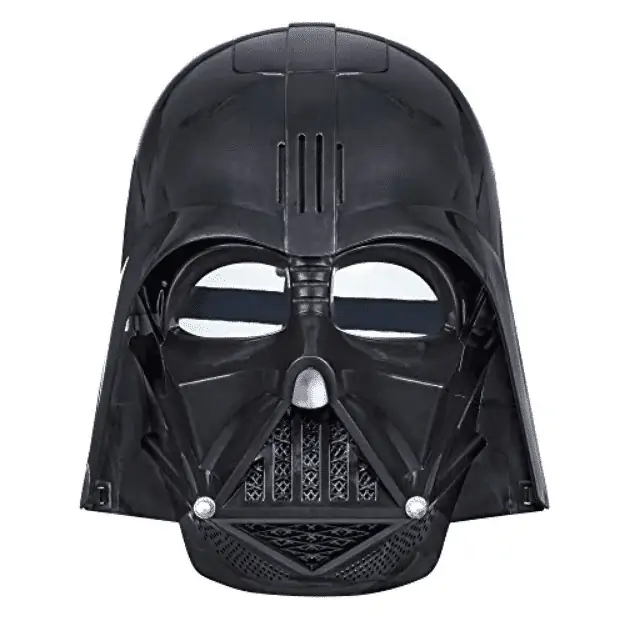 Description
Although many Star Wars fans believe that Darth Vader was at his best in A New Hope, if you ask me, he was seen most ferocious in Episode V. So, if you want to embrace the role of Darth Vader from Star Wars: The Empire Strikes Back, this helmet is your way to go.
With the simple press of a button, you can transform your voice into movie-accurate sounds of the Dark Lord of the Sith. The adjustable fitting and straps mean both children and adults can wear this helmet. Although the helmet may not be as accurate as some of the other options in this guide, for its lower weight and cost, it offers a good deal.
Though its material might look cheap, being a Hasbro product, it's not that low-quality. Still, if I am being honest, I would not suggest you to expect much quality from the straps, not to mention, they may be a little difficult to adjust as well.
Moreover, don't forget that the small parts included can also be a potential choking hazard for children under three. So never let your young apprentices out of sight if you allow them near this mighty helmet.
Pros
An affordable option that also comes with voice-changer
It is comfortable and lightweight.
Cons
Does not include a visor.
Straps aren't very durable.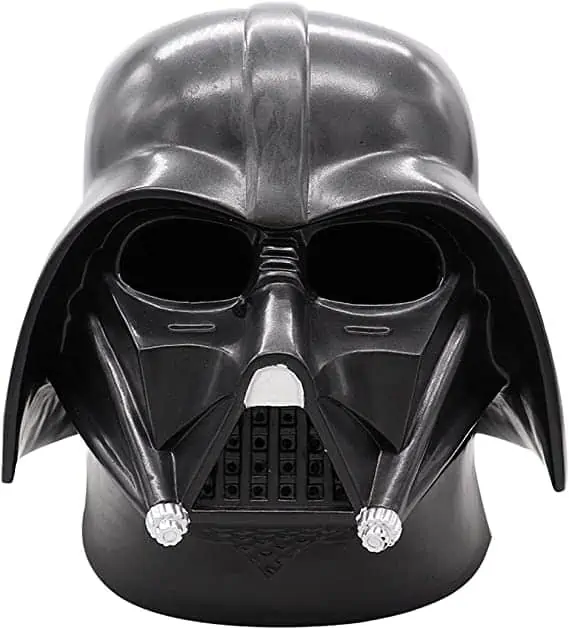 Description
If you're a big fan of lord Vader but don't have enough Imperial Credits, then you're going to love the CAFELE Star Series: Mandalorian Helmet Bounty Hunter Boba Fett Black Series 1/1 Scale Helmet Replica.
For its price range, it is one of the most detailed helmets a Vader fan can find. This full-head helmet is made with a soft and light material that is comfortable to wear over a long duration. To give it a more exquisite touch, this helmet is hand-painted, which, unlike most other helmets, gives it a matte finish.
For a little over $60, this helmet is perfect for Halloween and cosplays, allowing you to fully embody the character of Darth Vader and become the supreme Sith Lord. However, as far as its overall shape is concerned, it seems a little too round than most of the other Darth Vader helmets. Also, its fitting is too tight for people with big heads like mine – the downside of being a big brain.
Pros
Smudges are less visible on its matte surface.
It offers sufficient details for its price.
The seller offers an easy return policy in case of damaged packaging.
Cons
The helmet's size may be too small for some people.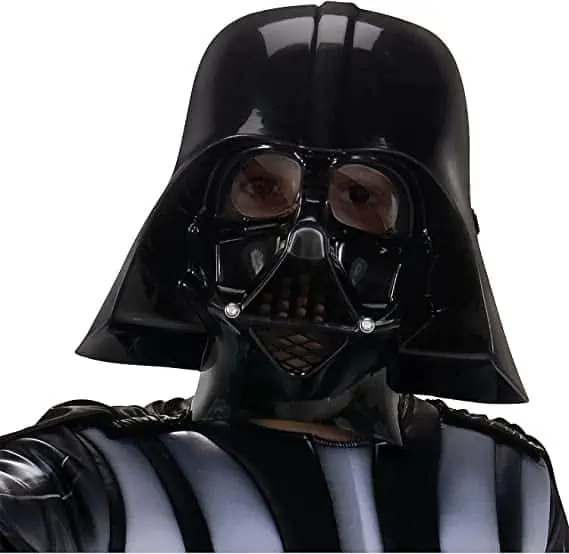 Description
Now, talking about the cheapest helmet on the list, there can be no more economical option to bring the epic world of Darth Vader to life than this Kid's Darth Vader Half Mask. Designed specifically for children, this option is smaller and lighter than adult-sized helmets, making it comfortable to wear for long durations.
Not just a costume prop, this half mask can also be used for imaginative play and brings the ultimate Star Wars experience to your child's playtime. However, I have to say that this mask may not be an accurate representation of Darth Vader's helmet. Also, the inner is not sufficiently padded, and the air intake only consists of rigid plastic mesh.
Anyway, these drawbacks are to be expected in a kid's mask, which costs less than $10. So, if you ask me, getting a lord Vader mask for your kid at such a price is still a steal.
Pros
Being a kid's product, it is much lighter than its counterparts.
It can be used both as a costume prop or for imaginative play.
One of the most affordable helmets.
Cons
Not a very accurate representation of Darth Vader's helmet compared to other options in the market.
It lacks padding.
Helmets over $100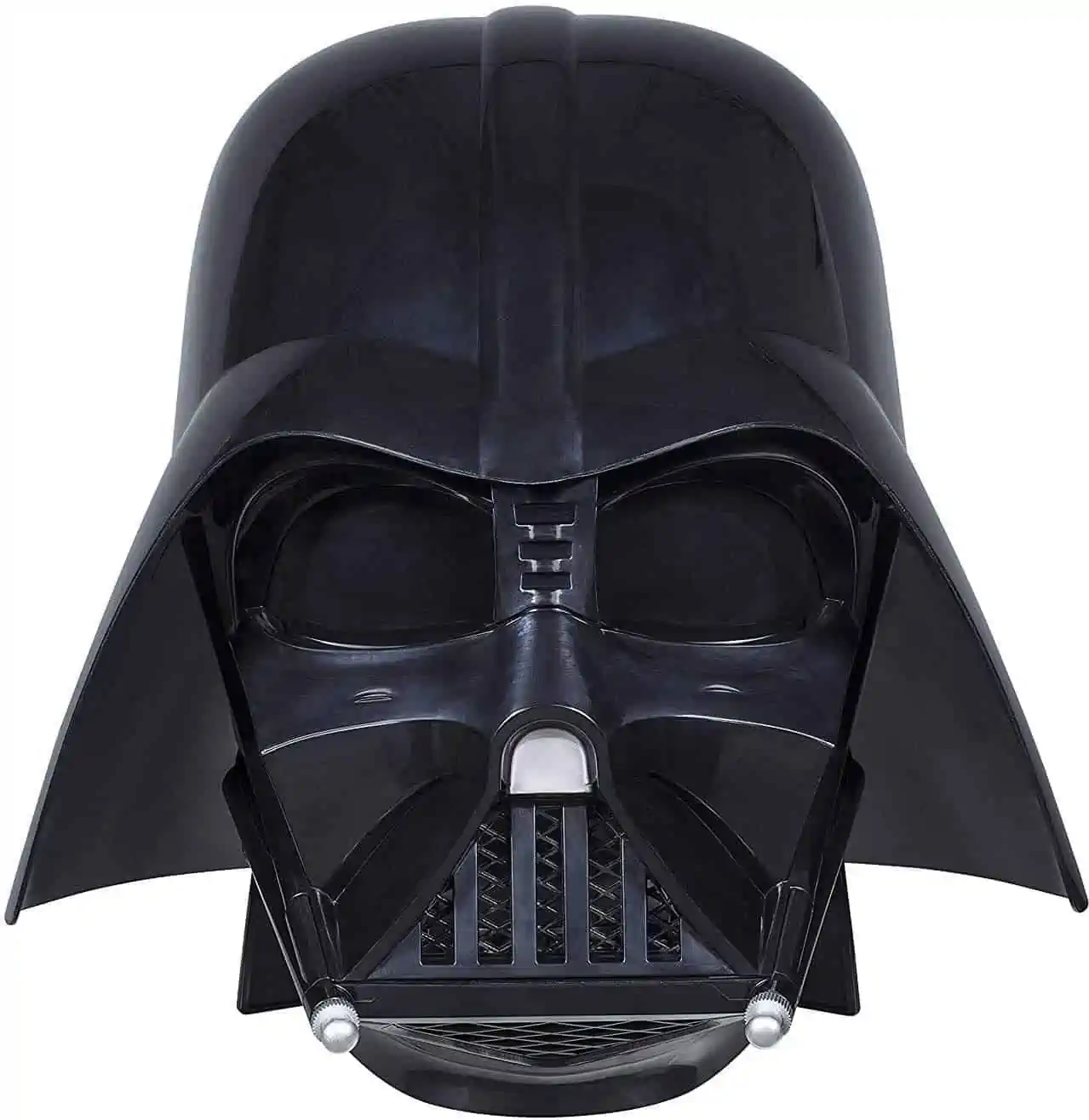 Description
Coming to my most favorite pick, there could be no better way to step into the shoes of one of the most iconic villains in cinematic history than this Star Wars The Black Series Darth Vader Electronic Helmet.
Apart from its exceptionally realistic and finely crafted interior and exterior, the helmet allows you to build it around your head. Also, the magnets, collar, and paddings hold the helmet together, which makes it a comfy fit. Although it was an earlier version of the Black Series helmets released in 2018, with a newer helmet introduced in 2022, I still prefer it for the most realistic details it shares with the Darth Vader movie prop.
With the step-by-step building, I am certain you will feel the Dark Side of the Force flowing through your body. Not to mention, it also has a rather large size, so you don't need to worry about a small helmet raining on your parade. Still, the real star of the show, in my view, is the electronic sound effects, which are far clearer than the other helmets that exist on the market.
Pros
It has an adjustable fit and padded interior for comfort.
The magnetic attachments allow for better fitting.
Features electronic sound effects, breathing, and voice amplification.
Cons
It is pretty costlier than its counterparts.
It is slightly heavier than the other helmets.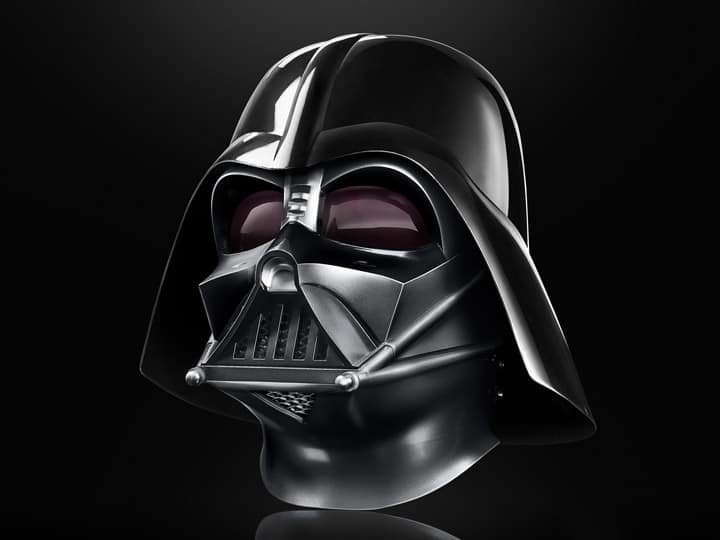 Description
The Star Wars: The Black Series Darth Vader 1:1 Scale Wearable Electronic Helmet (Obi-Wan Kenobi) is a full-size and comprehensive replica of the helmet worn by Darth Vader in the Obi-Wan Kenobi series. The helmet is part of the Black Series line of Star Wars collectibles; therefore, you can expect exceptional quality and meticulous attention to detail from this helmet.
Just like its precursor, not only is its interior padded for comfort, but this Black Series Darth Vader helmet also features electronic sound effects, including Vader's breathing and the helmet putting on and taking off sounds. However, being a broader option than its previous version, it can even be worn over glasses.
Although this helmet is a little cheaper than its 2018 version, I am not a fan of its grayish tint and wide neck. Still, being a Black Series product and the impressive built quality it offers, it definitely makes up for a perfect addition to any Star Wars collection.
If you're planning to buy it for a kid, I would suggest keeping an eye on the size and weight, as this helmet is definitely on the heavier side.
Pros
Features a high level of detail and good build quality.
It can be worn over glasses or other eyewear.
Cons
It does not offer voice amplification.
It is not very suitable for small children due to its size and weight.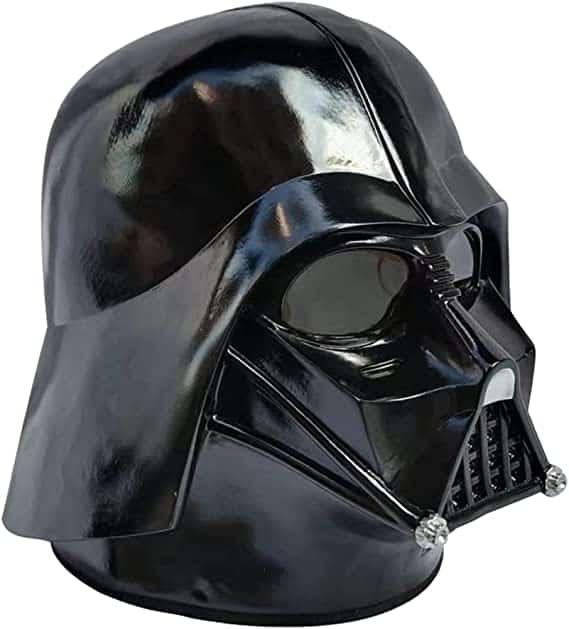 Description
A grave demeanor, a deadly appearance, and a piercing visage – all characteristics of the infamous Darth Vader are beautifully depicted with this Vader Premium Cosplay Helmet. This sturdy helmet made from resin is perfect for Halloween, cosplay events, or simply adding to your collection. The elaborate detailing and attention to authenticity will transport you to a Galaxy far, far away, where you can channel your inner Sith Lord and unleash your vindictive anger upon your enemies.
Though this helmet might look like any other Darth Vader helmet, if you look closely, you will find that it is a little less shiner than other helmets, especially those from Hasbro. Furthermore, I have also noticed that its visor is relatively bigger, and the neck is pretty broad as well.
However, if you ask me, for lacking the additional features, such as voice modulation and sound effects, this Vader Premium Cosplay Helmet definitely comes at a higher price point than some other options on the market.
Pros
Its bigger visor offers a better view.
The material used is durable and sturdy.
The seller offers an easy return and refund policy.
Cons
It is costlier than most of the other helmets of the same category.
This helmet does not offer any additional features.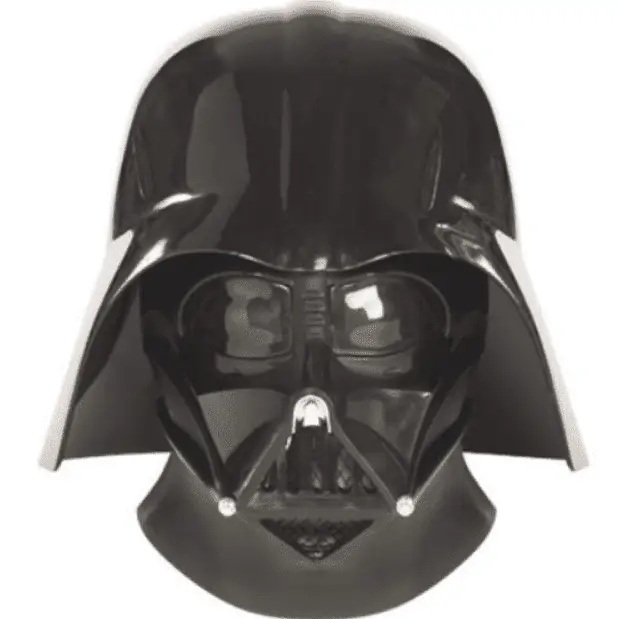 Description
As a huge Star Wars fan who remains up to date on everything in the Star Wars franchise, I was absolutely thrilled when I came across this Star Wars: Super Deluxe Darth Vader Mask and Helmet. The helmet is made of robust material and designed to fit most adult head sizes – at least it fit mine perfectly – due to the adjustable straps.
The intricate detailing and smooth metallic finish help seize the spirit of the original costume. However, the mask portion of the helmet is not that shiny, giving it a matte look. Not to mention, the top of the helmet can be easily removed.
The injection mold design perfectly captures the intricacies of Vader's mask and helmet, making it a truly prized possession. And the best part? It's cast from the original studio molds, so you can trust that every detail is authentic and realistic.
The helmet also has ventilation holes to help keep you cool while wearing it. However, the biggest bummer is that it lacks any kind of sound effects. So, if I am being honest, in terms of additional features, there are better helmet options available in the same price range, such as The Star Wars: The Black Series Darth Vader Electronic Helmet (Obi-Wan Kenobi).
Pros
The helmet has adjustable straps for a comfortable fit.
Ventilation holes are included to ensure better airflow.
Cons
Lacks any kind of sound effects.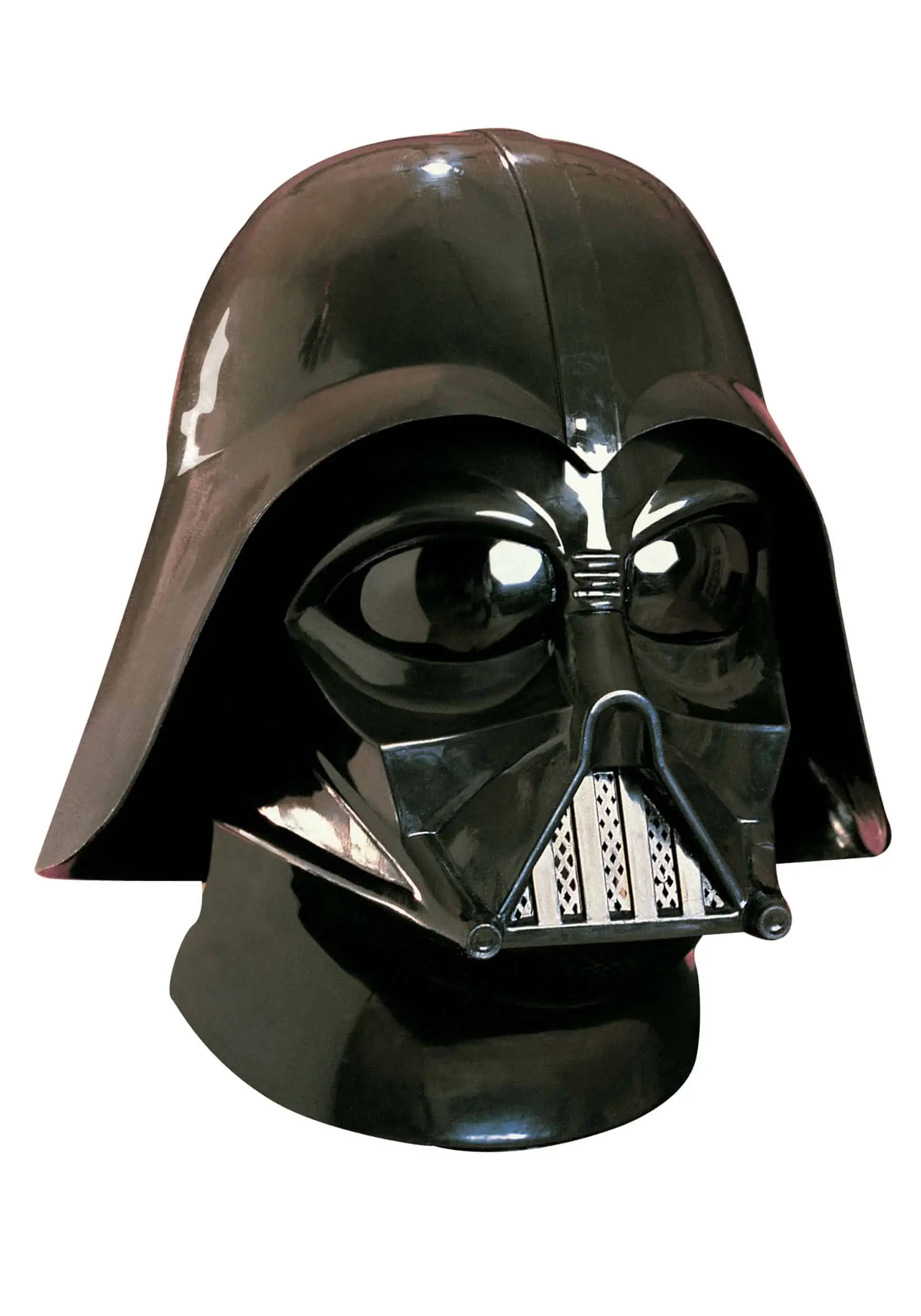 Description
If you want to experience the ultimate "The Revenge of the Sith" fantasy, you can count on the Darth Vader Deluxe Two-Piece Helmet. This premium replica is crafted with top-notch materials, including a shiny metallic finish and intricate detailing that captures the iconic black visor and breathing apparatus of the infamous Sith Lord. Not to mention, its interior is also padded for comfort. Apart from being an accurate imitation, the helmet is officially licensed, adding further to its value.
The two pieces of the helmet are joined together by Velcro at the top for easy assembly and removal, allowing you to pledge your allegiance to the Dark Side effortlessly and immerse yourself in the Star Wars universe. However, although Velcro makes it easy to manage, this attachment is not strong or durable enough.
In my opinion, although it is precisely based on the "Revenge of the Sith" prop, it has a weirdly elongated neck with a pretty broad base that does not fit with the overall costume. Still, for any avid Star Wars collector, the attention to detail of this Deluxe Two-Piece Darth Vader helmet makes it a standout piece.
Pros
This two-piece Darth Vader helmet is officially licensed.
The plastic used for the helmet is of excellent quality.
Cons
The Velcro holding the two pieces together is fragile and may come off.
Display/Showpiece Helmets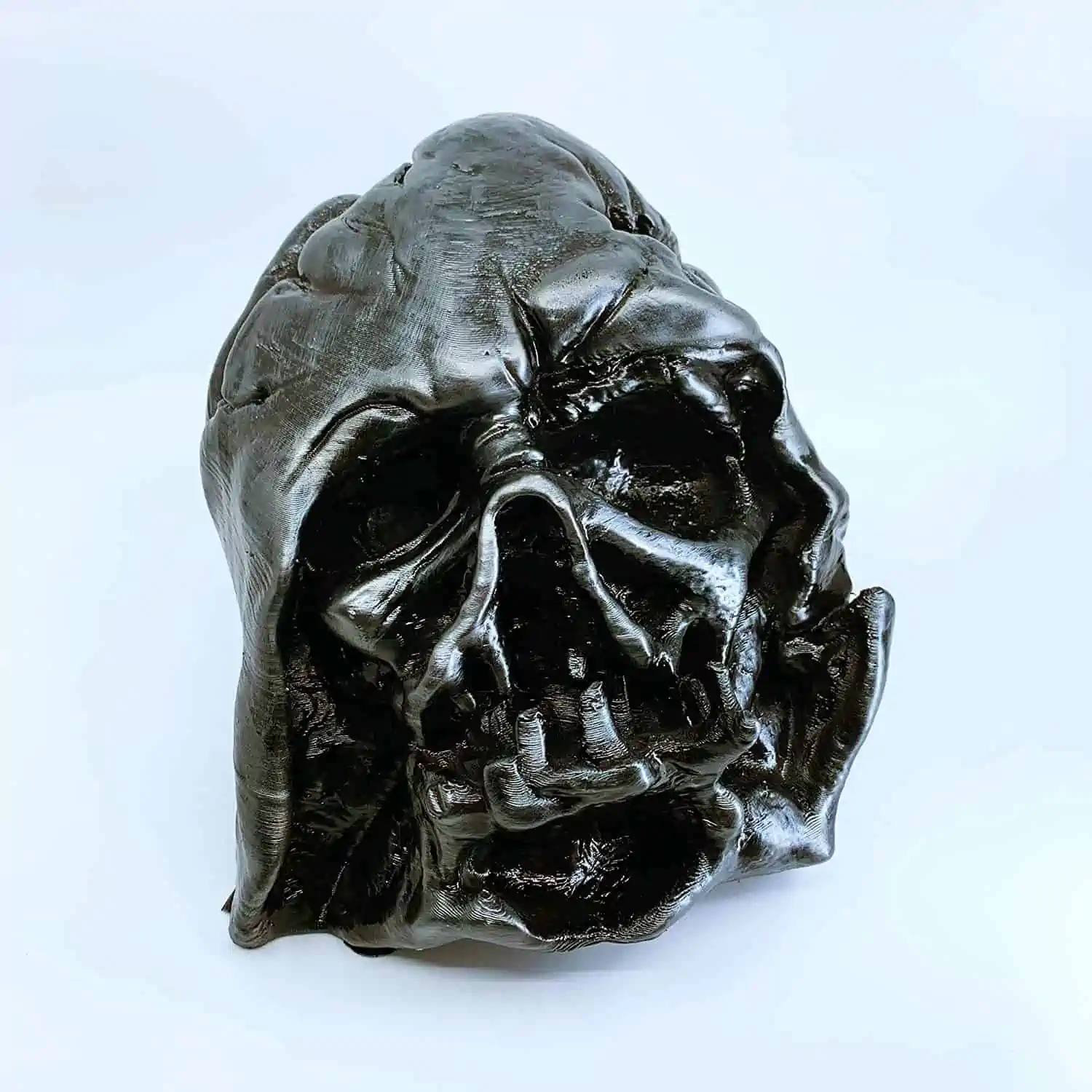 Description
This Darth Vader Melted Helmet is a unique collectible that pays tribute to one of the most powerful wielders of the Dark Side of the Force.
But before I get down to its details, if you are wondering how you are going to wear this helmet, the answer is you don't; it's a display item, not a wearable.
The Darth Vader Melted Helmet is made of high-quality PLA plastic, and each helmet is 3-D printed individually to accurately recreate the appearance of the helmet as it appears in the film. However, although it is quite accurate to what was shown in "The Force Awakens," it is pretty lightweight.
Made in different shades of black and gray, its unique design and attention to detail make it a standout addition to any helmet collection. Although there is no way to wear this masterpiece, if you are a fan of the films, a collector, or simply appreciate unique and well-crafted pieces, this Darth Vader Melted Helmet is surely an unparalleled item.
Pros
It is a unique collector item.
You can also order a weighted one to put it in a fish tank.
The helmet is supremely detailed.
Cons
This helmet is not wearable.
It will break the bank.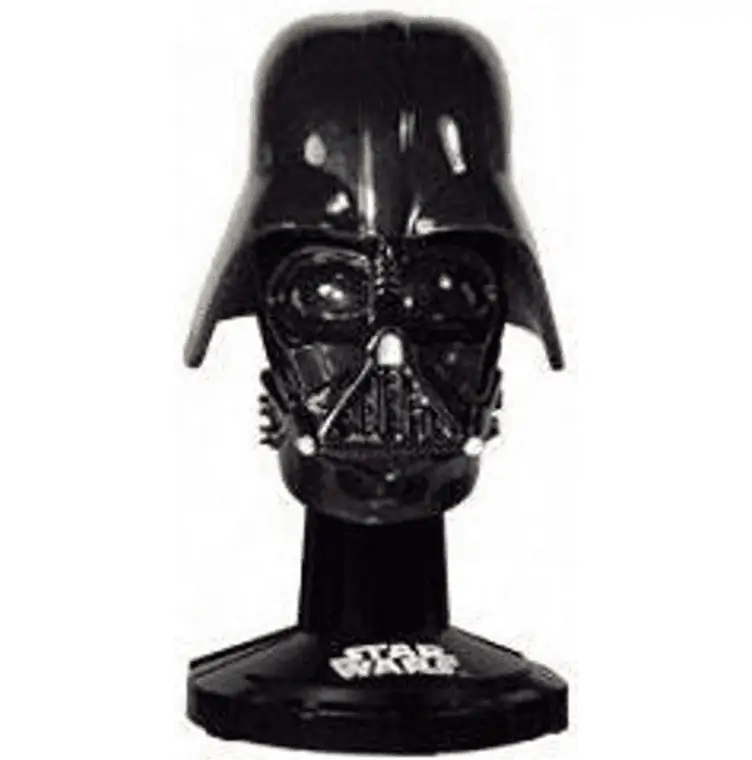 Description
If you're looking for a small Darth Vader Helmet collectible for your desk, which isn't heavy on the pocket, I think you need to look no further than The Darth Vader Mini Helmet.
Now, let's get one thing out of the way – this mini helmet is not an exact replica of Darth Vader's iconic helmet. It's more of a budget-friendly option for those looking for a Star Wars collectible.
That being said, it is still a cool little collectible for the price. Furthermore, the size of this helmet allows it to fit in small wall niches and also makes it easy to move around or transport if you need to. And one more thing, because of its stable stand, your cat is going to have a tough time tipping it over.
It's also not wearable, so if you're looking for something you can actually wear, have a look at some of the other options.
Pros
The mini helmet would be an attractive addition to your work desk
It is quite affordable.
It can be easily displayed on a shelf or desk, or wall niche.
Cons
The look of this helmet may not be appealing to collectors who are looking for authenticity.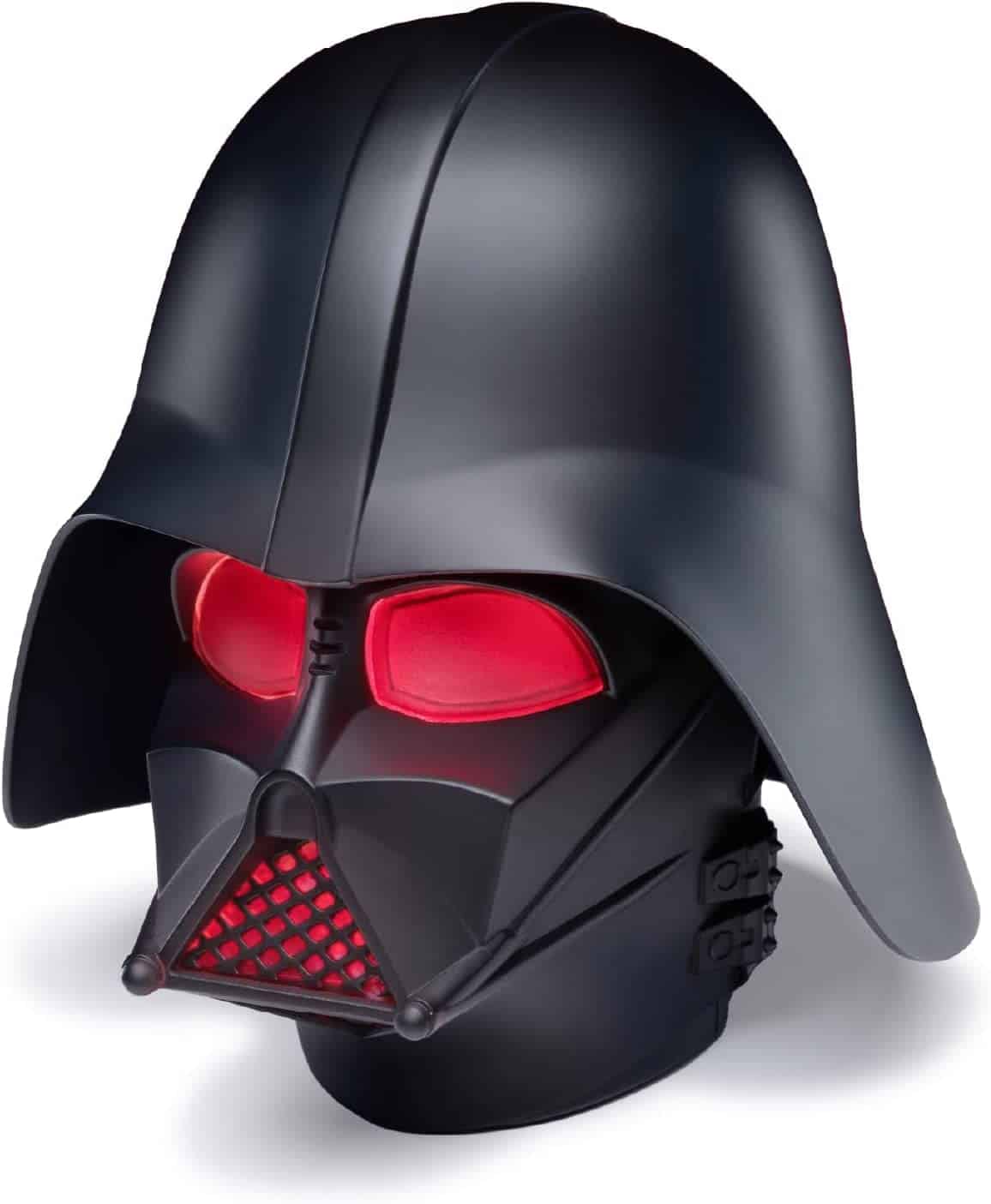 Description
Did you know the Dark Side could also have a Light Side? Don't believe me, check out this Darth Vader Light with Sound Collectable Lamp. Imagine the glowing red light and the sound of Vader's famous breathing as you fall asleep; this amazing piece is sure to add some Empire's flair to your surroundings.
Unlike the Japanese Import Mini Helmet, this 5.5-inch collectible lamp has a striking resemblance to the iconic Darth Vader helmet from the movies. I personally love the ominous red LED light that emanates from the lamp. Moreover, the addition of Darth Vader's raspy breathing to the lamp really amplifies the value of the product, in my opinion. It's a small detail, but it really adds to the overall experience of owning a Darth Vader collectible.
Another convenient aspect of the lamp is that it can be powered by micro-USB or AA batteries. This makes it easy to use in any setting, whether you're at home or on the move.
Don't forget, this collectible helmet does have some limitations. As a cheaper product, it's not as durable as some of the other choices, so always handle it carefully.
Pros
It's the perfect size for display in your room or bedside table.
It can be powered by micro-USB or AA batteries, making it convenient to use in any setting.
Cons
The lamp is not sufficiently durable.
The lamp does not provide enough light for reading or other tasks.
Frequently Asked Questions
Question: Are the available helmets in the market accurate replicas of Darth Vader's helmets from the Star Wars films?
Answer: The level of accuracy of these helmets varies significantly. Some of them may offer a more accurate representation of the movie props, while others just give a rough idea of what they are referring to.
It is essential to research the product and read reviews to get a sense of the level of accuracy. However, as a general rule of thumb, the higher the price of a helmet, the more accurate it will be to the movies.
Question: Does every Darth Vader helmet offer additional features, such as electronic sound effects?
Answer: Some of these helmets come with electronic sound effects, while some have a display stand. If a Darth Vader helmet comes with any additional features, it would be written in its product description. But remember, if you are not looking for a helmet with some additional features, don't go for such a helmet, as these extra features significantly affect the cost of your helmet.
Question: What is the price range of Darth Vader helmets?
Answer: The prices of the Darth Vader helmets vary depending on their quality, design, accuracy, and texture. However, these helmets can range anywhere from $10 to $150. And remember, helmets with additional features cost more.
Final Thoughts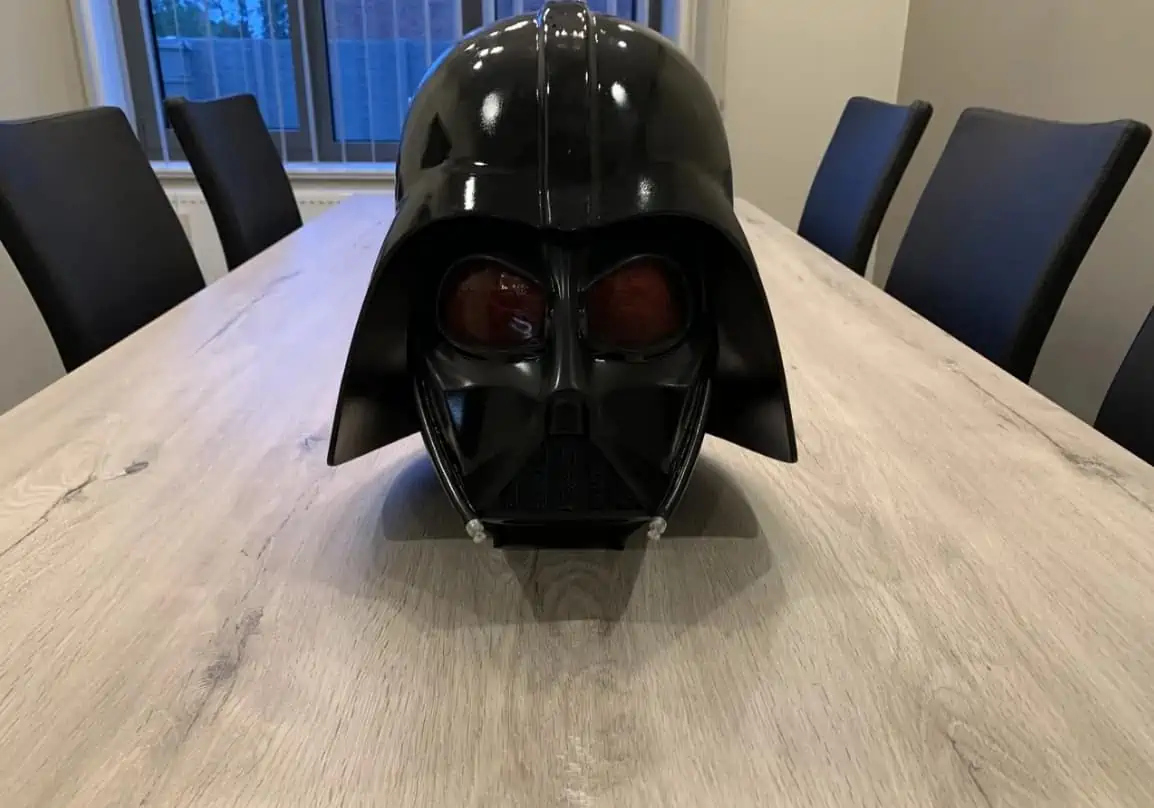 If there is anything next to Vader's lightsaber that a Vader fan wants more than ever, it would be no other than the lord Vader helmet. With a number of high-quality Darth Vader helmets available, personally, I found the Vader Premium Cosplay Helmet to be the best of the bunch. Due to its impressive level of detail and accuracy, it truly brings the character to life. Not to mention its sound effects are one of a kind.
When shopping for a Darth Vader helmet, be sure to consider the build material as well as any additional features such as sound effects or voice amplification. It's also a good idea to read customers' reviews to get a sense of the overall quality and fit of the helmet. And don't forget to thoroughly go through the seller's return policy before placing your order. With these tips in mind, I am quite sure you will have no problem finding the perfect Darth Vader helmet for your needs.
"You have controlled your fear. Now, release your anger." – Darth Vader.
Looking for more interesting readings? Check out: