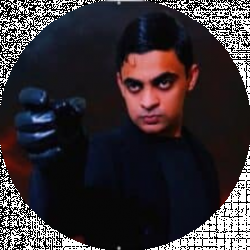 Latest posts by Boo-Ali Khan
(see all)
A pinnacle of modern science fiction, Star Wars has been a revolutionary franchise ever since the release of its first movie in the late 1970s. Boasting a diverse cast, I was introduced to new technologies, planets, and vehicles in a galaxy far, far away, and I became instantly hooked on them.
The most exciting aspect of Star Wars, apart from the light sabers, were the vehicles that seemed to operate using different laws of physics that might not fall in line with reality. Still, I really loved how the vehicles came in all shapes and sizes.
From the fast Millennium Falcon to the slow Sand Crawler trailing the deserts of Tatooine, everything was just amazing. The Repulsor lift engine was one of the most influential designs in Star Wars and seemed to have been used on most Star Wars vehicles. Not to mention the hyperdrive, which enabled light-speed travel.
Want to know more about these astounding vehicles? Then follow along with this Star Wars Vehicle Guide.
Bottom Line Up Front
The Star Wars universe has an unlimited number of vehicles, from leisure craft to transport vehicles or even military ships. But the one I fanaticized all the time was the Tsmeu 6 bike that General Grievous used to try and flee from Obi-Wan Kenobi when cornered in Utupau. This bike was unique and had incredible capabilities, and it really hurt me to see its destruction.
Another favorite of mine was the insanely dangerous podracers, which zoomed past at incredible speeds. Each was unique to the driver, interesting, and showed off the creativity and ingenuity of the racer.
Some Famous Vehicles From the Series
Razor Crest
Jedi Shuttle Buses
ComfortRide Passenger Airspeeder
Atmospheric fighter
The Ghost
3000 Luxury Yacht
Endurance
All Terrain Armored Transport
Speeder bike
Sand crawler
Tsmeu-6 personal wheel bike
Imperial troop transport
Pod Racer
The Armored Assault Tank
Gondola Speeder
Tribubble bongo
The OMS Devil Fish Sub
Kamino Submarine
Trident Class Assault Ship
My Top 19 Favorite Star Wars Vehicles From The Series
Ariel Vehicles
ST-70 class M-111/Razor Crest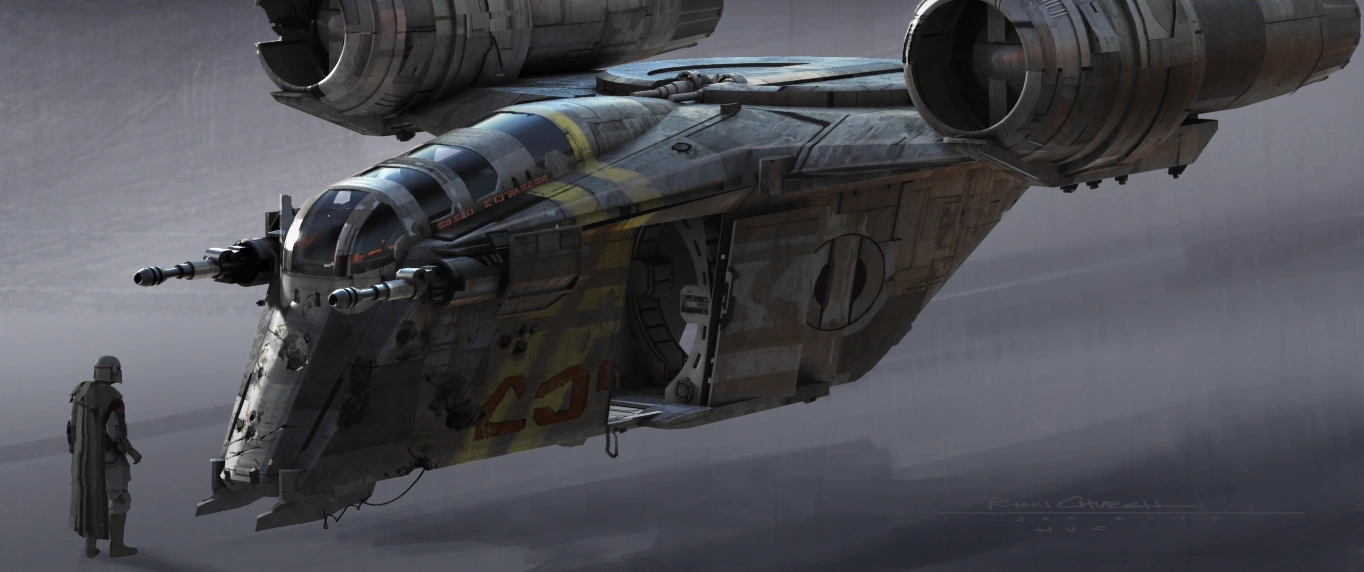 The Mandalorian's ship, an Imperial ST-70 class M-111 Assault Ship, was made for quick and fast operations. Designed as a light craft, it can still deliver destructive power to any opponents unlucky enough to be in the shooting range of its blasters. With two heavy laser cannons, it can easily lay waste to any small ship or target on the ground.
I also find the twin-engine system to be a great support in case any engine malfunctions. But, a bit cramped, this ST-70 class M-111 could only carry up to four passengers.
Djinn Darin, popularly known as The Mandalorian, named this Republic-era ship the Razor Crest. After having a change of heart, while piloting this ship, he was able to rescue our beloved Baby Yoda from his Imperial captors. However, I was sad to see the Razor Crest downed by Moff Gideon's Light Cruiser, bringing an end to the glorious ship that introduced us to the beautiful bond between The Mandalorian and Grogu.
Jedi Shuttle Buses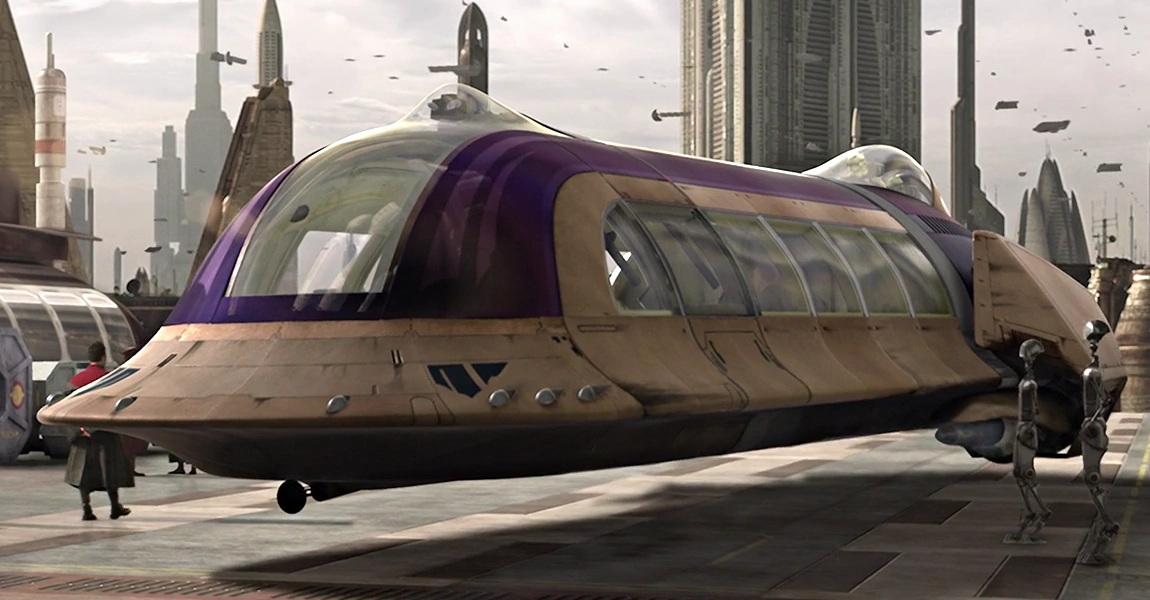 Though it might feel like a regular bus, this V.I.P.-only transport was the most preferred vehicle of Jedis. Found only in the Galactic City, the Jedi Shuttle bus was used by government officials from the Senate and the Jedi Council.
This high-level transport was seen docked nearby the Senate. Similar to the popular Coruscant transport, the Magnaline 3000 airbus, this 14 meters long Jedi Shuttle Bus could fit 32 passengers comfortably and had a maximum speed of 200 KPH. The pilot's cockpit was raised above the passengers' position, giving him a bird's-eye view when flying.
Following the prolonged battle of Coruscant, I expected some defense modifications on this ship. But unfortunately, that never happened.
ComfortRide Passenger Airspeeder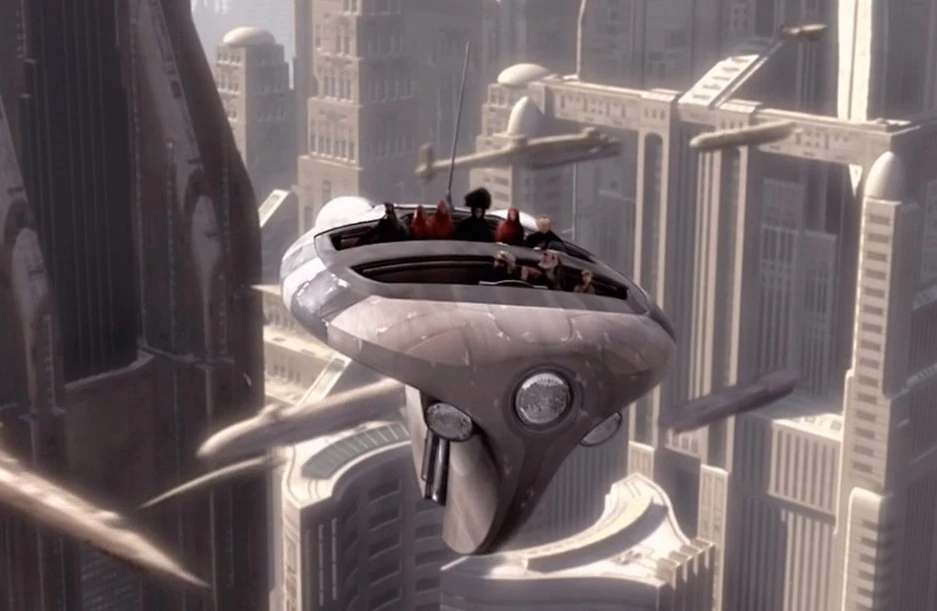 A favorite for Galactic City residents, the ComfortRide Passenger Airspeeder was an open-cabin repulsor lift transport popular on Coruscant with planet-wide air traffic. A spacious ride with room for two in the pilot's cabin and four passengers in the back, they are shown extensively in the Clone Wars, and they even make an appearance in Attack of the Clones.
These car speeders, which are always seen zooming in the background in Coruscant, have extra maneuverability. They are also allowed free travel and can take direct routes to any destination, making them a quick mode of transportation.
This Airspeeder was such a typical ship on the Coruscant that even most criminals or bounty hunters used it as well. Be it Weequays, Cad Bane, or Ziro; this speeder had hosted many infamous people.
Like modern cars, they came in different colors and designs that promoted their diverse use in the Galactic City. With a maximum speed of 191 KPH, these taxis ensured that the skies over Coruscant were one of the busiest in the galaxy.
TIE Striker Atmospheric Fighter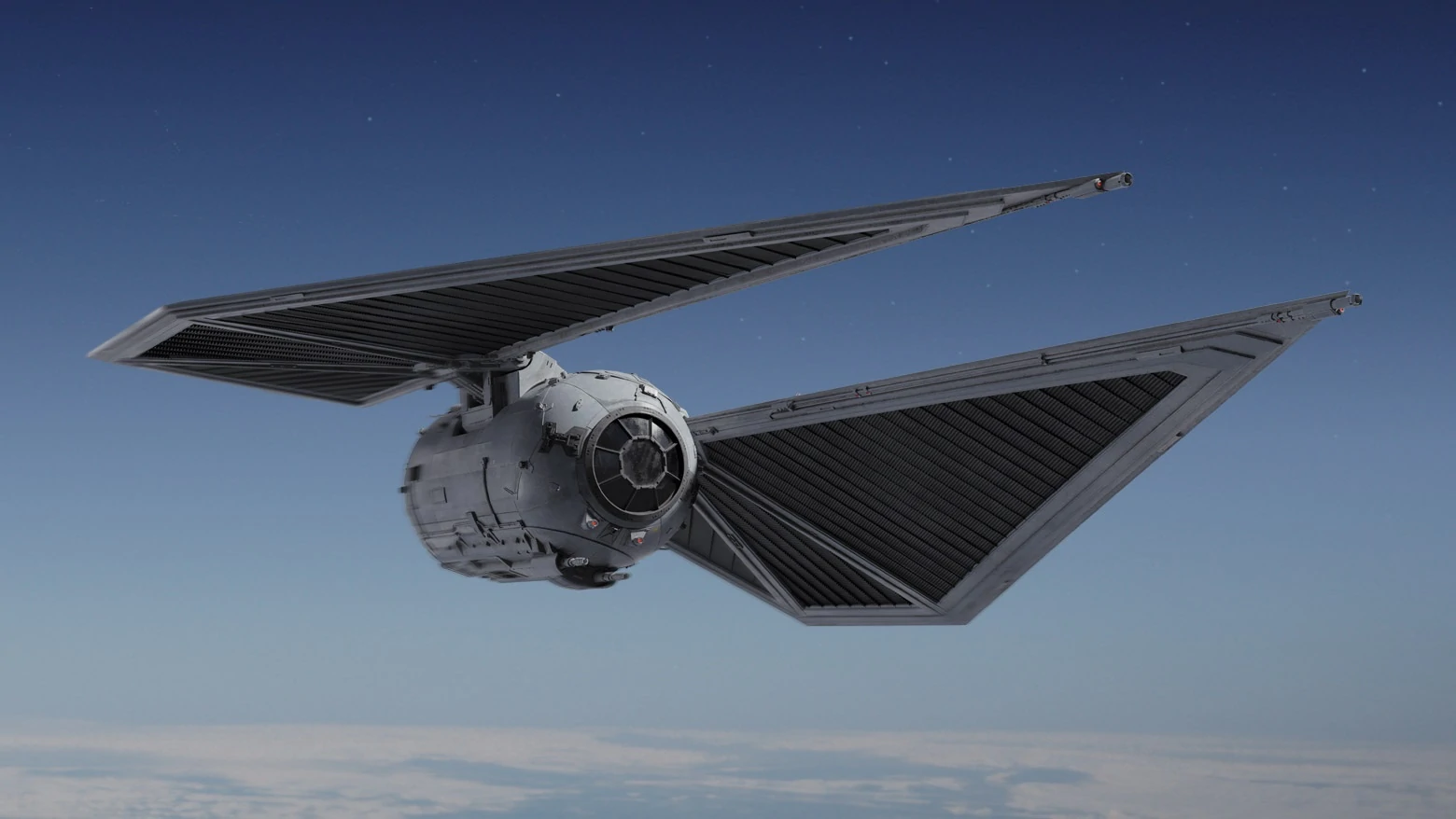 A variant of the dreaded Tie fighter that wreaked havoc on the rebels, the TIE Striker Atmospheric Fighter is modified to have more cutting streamlined wings than conventional Tie Fighters. This allows the TIE Striker to fly in a planet's aerosphere more efficiently by offering way less drag as opposed to the hexagonal panels used in the original TIE Fighter.
Giving a tactical advantage to any commander, this was one of the rare ships to be used by both the Imperial Navy and the Imperial Army. With four pairs of barrels and photon bombs armed to the teeth, it could inflict heavy damage on opposing forces.
I vividly remember watching these ships in Rogue One. Introduced in the Battle of Scarif, watching them take to the skies, I suspected the rebel's luck was running out. And they thwarted the rebels' hope of getting any reinforcements by flying magnificently in large numbers.
Even for only a short appearance in Rogue One, they still made their grand entrance into one of the best aerial vehicles Empire had. Moving at a super-fast speed, they could reach a maximum of 1500 KPH, presenting problems to rebels hoping for a quick escape. And if you ask me, this fighter was the scariest thing in Rogue One after Death Star.
The Ghost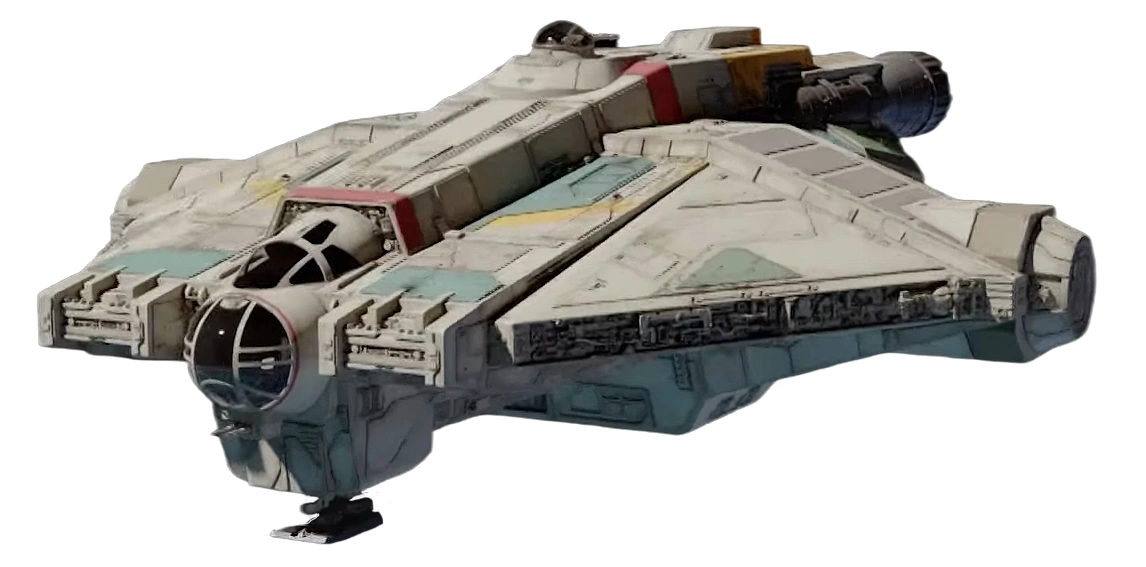 If you are a fan of Star Wars Rebels, then this ship is not new to you. Owned by the rebel leader Twi'lek Hera Syndulla of the Spectres Cell, this mothership carried a shuttle inside, the Phantom, utilized in daring rescue missions and rebel activities. It is a staple in Star Wars Rebels, akin to the Millennium Falcon in the original Star Wars Trilogy.
It was a bit small for a ship that could only transport six passengers with a crew of three. But this also made it a fast-moving aircraft at an astonishing speed of 1025 KPH. Ghost had a rotatory turret at its top, while two laser cannons were present at its back.
Its stealth systems were one of its greatest assets. Due to some illegal upgrades, the ship had energy dampeners, static jammers, and muffled engines to reduce any appearance on radars. A bit dramatic, maybe, but the ghost navigator has a complicated relationship with its droid Chopper, who had also flown the ship a couple of times when the crew was incapacitated.
3000 Luxury Yacht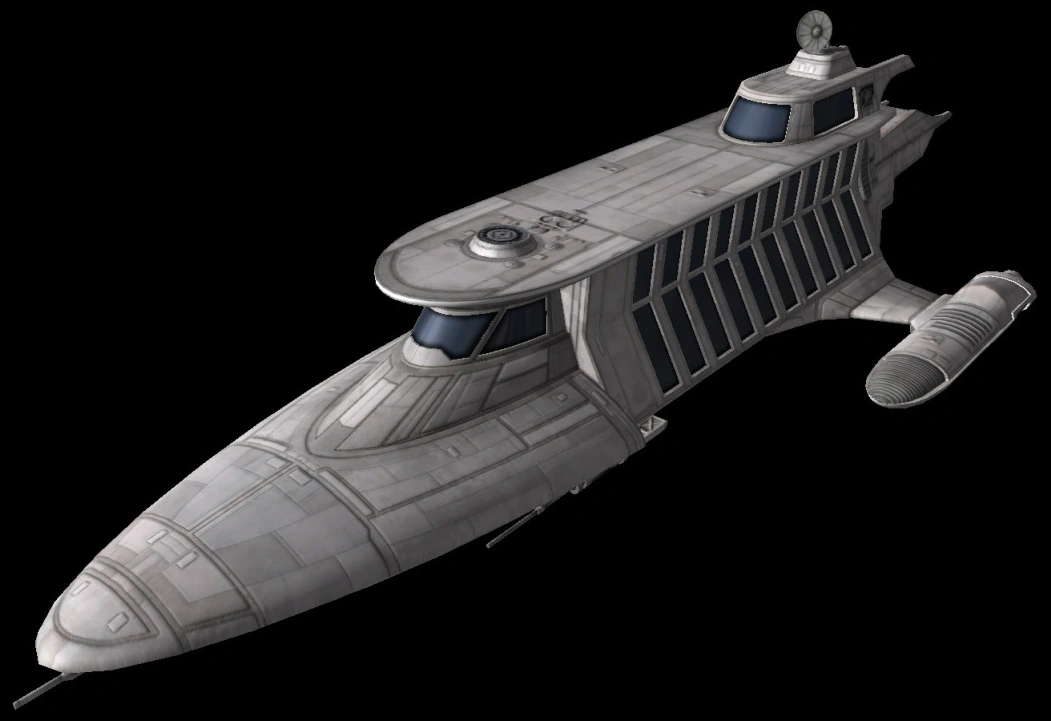 A fancy ship that resembled modern yachts, this ship was a testament to opulence. Filled with the utmost luxury amenities, it oozed royalty. With enough space to accommodate all the members of a diplomatic mission and their security, this ship had grandeur dining, a few visitor cabins for any special guests on board, and a large suite, which could be converted into a command base. Well, we can never ignore the war, can we?
A bit slow compared to other ships, at 850 KPH atmospheric speed, this luxury craft was not suitable for wartime activities. And lacking serious weapons, it only had a hidden laser cannon at its bottom that could come in handy in escaping tense situations.
This luxury craft accompanied many dignitaries, from Chancellor Palpatine to Lando and Obi-Wan Kenobi.
Endurance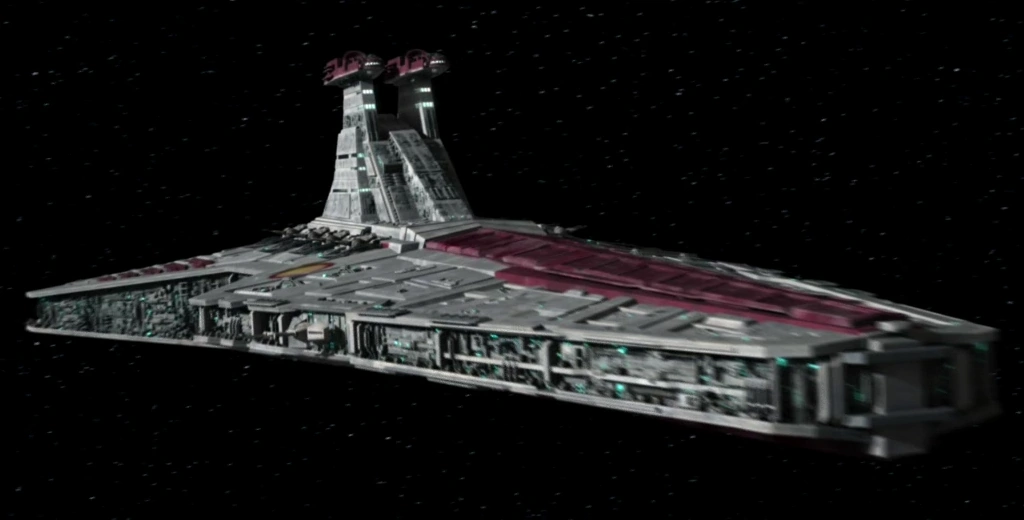 Now let us talk about one of the most intimidating spaceships that blessed the Star Wars universe, Endurance. They were only used during the Old Republic era and later replaced by the Imperial-class star destroyers.
This star destroyer was a formidable battleship with strong deflector shields protecting it from a heavy load of fire. Perfect for an offensive campaign, the Endurance also included a powerful arsenal that could change the course of a battle. But don't forget, the loss of this type of ship could be catastrophic as it would hold about 7600 personnel. Not to mention the thousands of metric tons of cargo that could be transported on this ship.
Its inventory had different types of war machines and even other smaller shuttles in its landing bay, which were required in a planet-wide assault.
This star destroyer was featured in the Boba Fett arc of the Clone Wars. The endurance ship commanded by Admiral Killian carried hundreds of cadets and troopers with Mace Windu and Anakin Skywalker on board. However, the whole ship was sabotaged by one person, rather a child, Boba Fett, in an attempt to kill Mace Windu. And consequently, this led to the crashing of this ship on Vanqor and ultimately got destroyed.
Ground Vehicles
All Terrain Armored Transport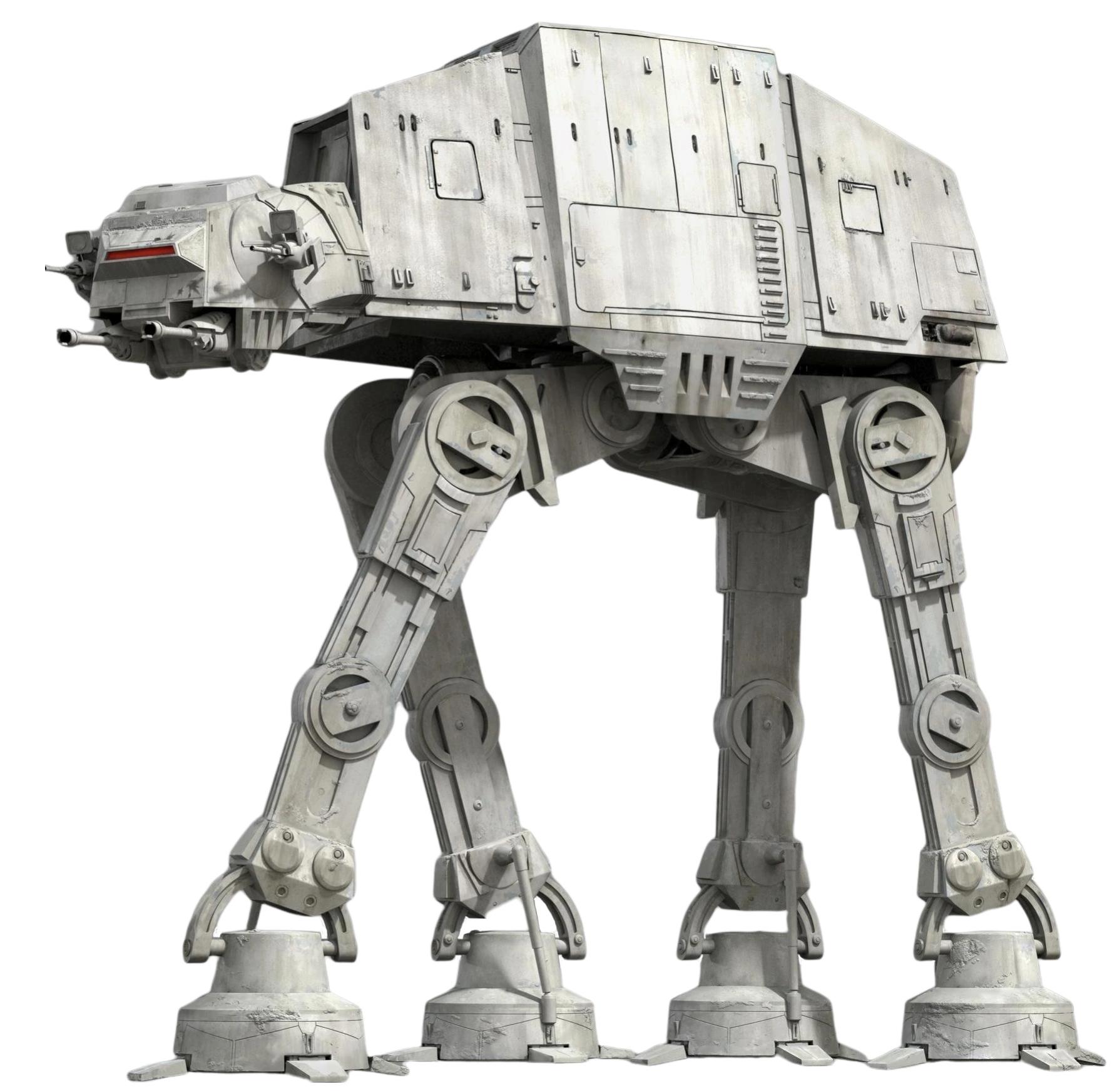 This ground vehicle is one of the most iconic vehicles to come out of Star Wars. Looming large and tall on four legs, this vehicle was a terror to any rebels who were misfortune enough to come across these giant armored machines. If you ask me, with joints that function like knees at over 15 meters tall and a 20-meter-long body, they resembled mechanical dinosaurs.
ATATs are usually the first line of attack during the ground assault of the Empire. The heavy amour on these walkers would render them extremely dangerous to rebel forces. And although they might not look that big, they would still hold up to 40 troops and even speeders inside them.
But due to its four-legged nature, this vehicle could be tripped, leaving it open to attack; however, it's not as easy as it may seem. And if you ever come across this armored beast, something I would never wish for, I suggest hurling grenades into its cockpit as Luke Skywalker did in the Battle of Hoth.
Speeder Bike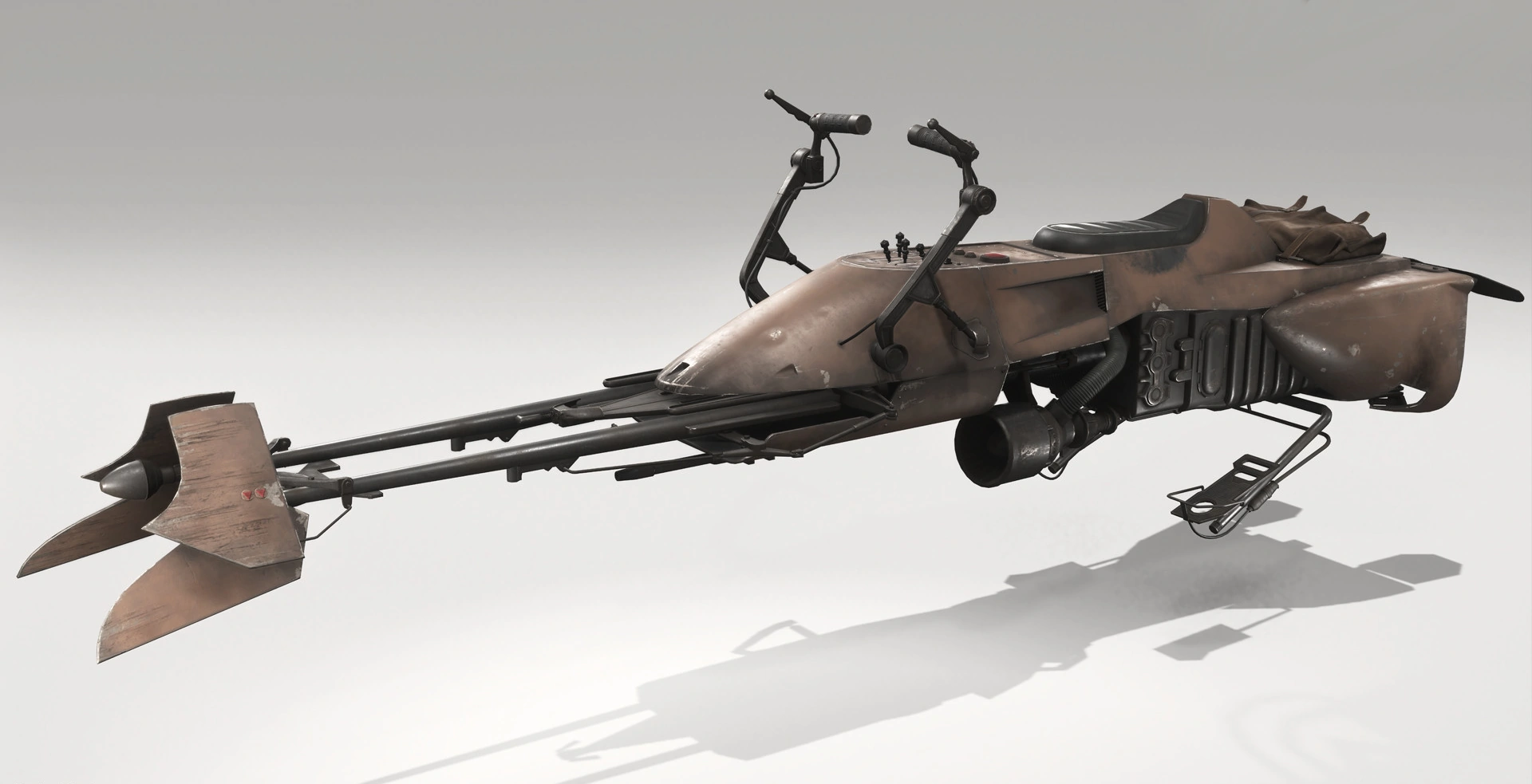 The classic speeder bike was first seen in the Return of the Jedi. This bike was used mainly by scout troopers for reconnaissance missions, and it could drive at a staggering speed of 500 KPH.
I still think of the hair-raising chase in Endor when Han has to chase one of the troopers along with Leia on these bikes. And that scene had me on the edge of my seat, brimming with anxiety. At such high speeds, I would have easily crashed into one of the trees in the forest of Endor.
With only space for a single pilot, this bike was made to be fast, helping you outrun any danger at jaw-dropping speeds. However, their fragile design also means that any crash on this bike is going to leave the rider with serious injuries.
The speeders made appearances in almost every Star Wars production. One such recent appearance was in the Mandalorian, where two scout troopers on these bikes were waylaid by the assassin droid IG11, who helped Mando escape safely from Moff Gideon's forces with Grogu.
Sand Crawler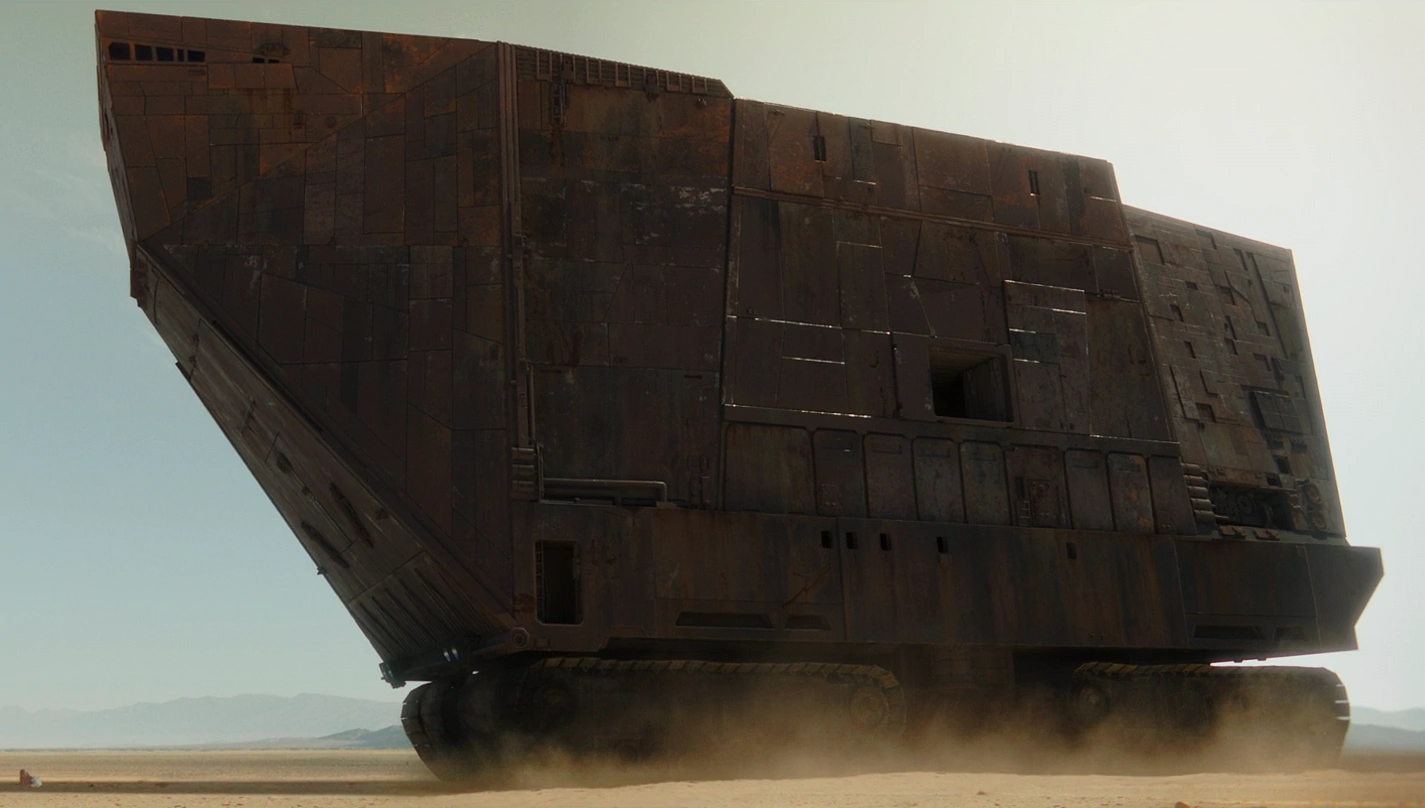 If you ask me what comes to my mind when I see Jawas, it's their Sand Crawler. This large and almost impenetrable mobile fortress was one of the first vehicles introduced in the original Star Wars trilogy. And who can forget Threepio and R2's crash landing after escaping from Leia's ship into the Tatooine desert, only to be united once again in the hold of this massive Sand Crawler?
Sand Crawlers, designed originally as mobile mining and smelting facilities, had thick armor, allowing them to withstand the harshest environments. They were coupled with reliable nuclear fusion reactors that the Jawas used to melt scrap metals and droids.
One Sand Crawler could house almost 30 to 60 Jawas. And its enormous body could carry tons of scrap metal with the help of its suction tubes. But this made them quite slow, with a maximum speed of 30 KPH, even slower than my old 4×4.
Tsmeu-6 personal wheel bike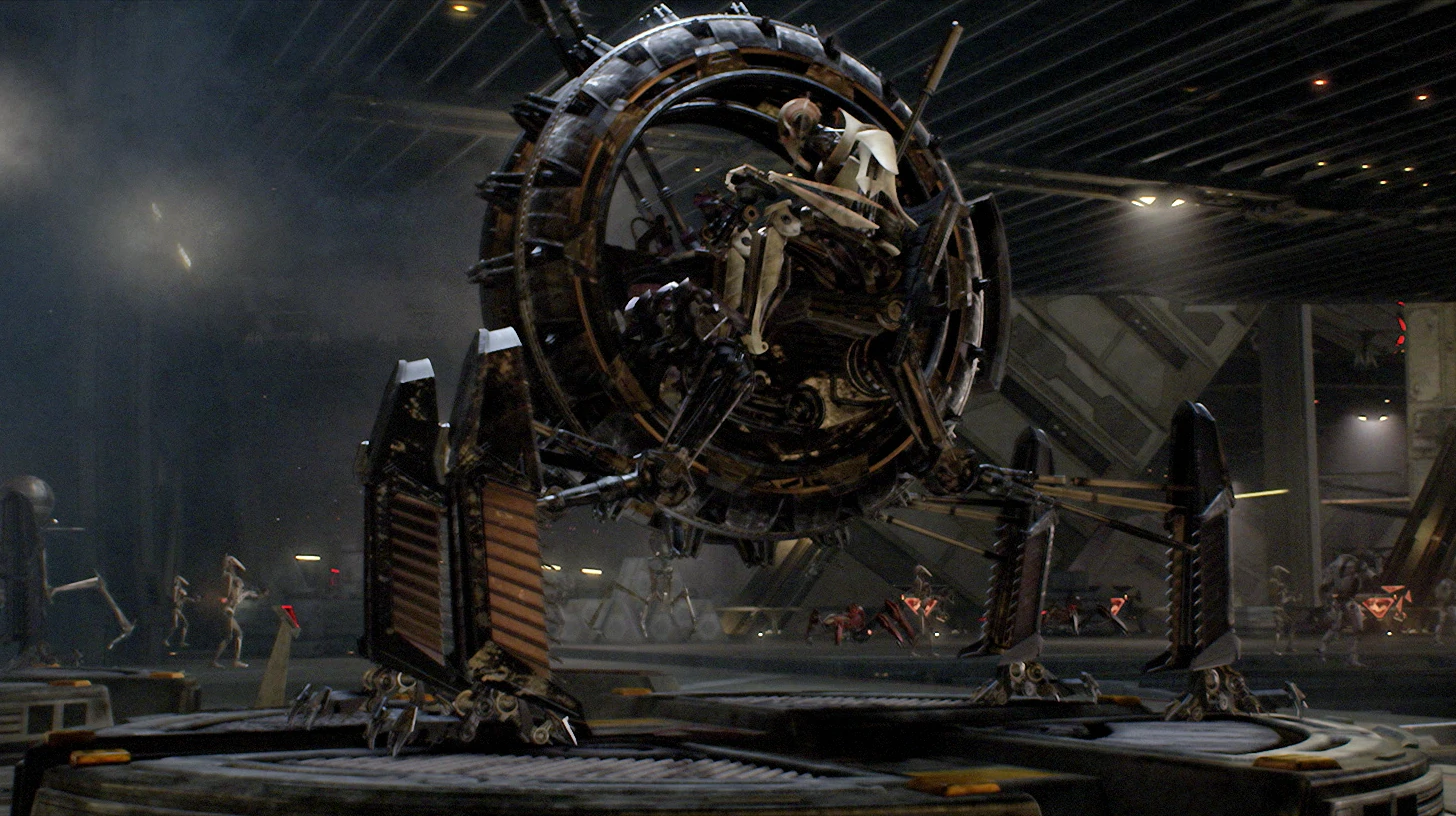 Now talking about one of my favorite vehicles from the Galaxy, a Star Wars rendition of the classic monorail, the Tsmeu-6 personal wheel bike. This bike was only seen when General Grievous tried to make an ill-fated escape from Obi-Wan Kenobi, consequently crashing this magnificent wheel bike. But, as John Keats said, a thing of beauty is a joy forever; a glimpse of this fabulous vehicle was enough for me to fall in love with it.
In addition to the wheels, this bike also had four legs that would protrude when walking on rough terrain or while parking. And to be honest, these legs make this bike look a bit like Doctor Octopus from Spiderman.
With a top speed of 330 KPH, this bike could be quite hard to catch up to unless you are Kenobi. Also, it had a laser cannon that could deliver sufficient fire damage to destroy anything in its path, but not an AT-AT, of course.
Imperial Troop Transport

The Imperial Troop Transport, as the name suggests, was an odd box-shaped vehicle with six exposed racks on its side to carry troops. And sometimes, even cargo was fitted on this transport. These transport vehicles made their first major appearance in Star Wars Rebels. However, they were also mentioned in the Star Wars trilogy decades ago and later in The Mandalorian as well.
A protected cab was included in this vehicle that could house two pilots and a commanding officer. And it could travel at a max speed of 150 KPH, not bad for its size. While it might appear harmless, this transport was equipped with two forward laser guns and one turret at its top.
Podracer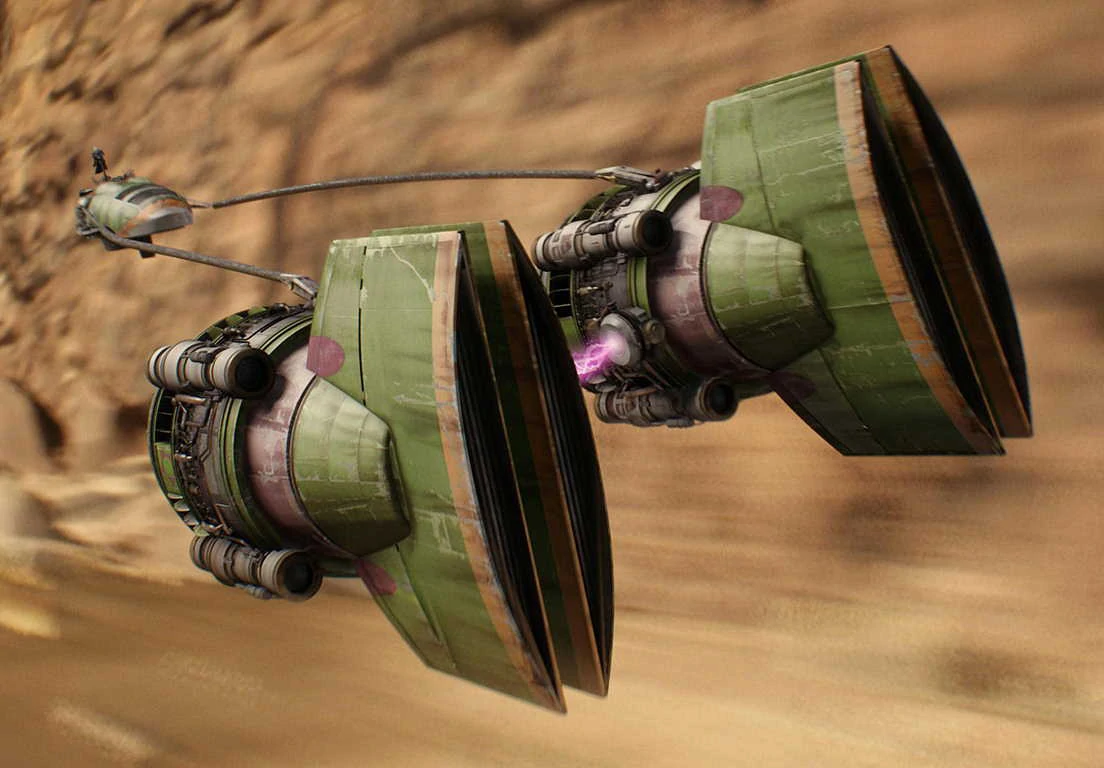 Let me take you back to where Star Wars began. Remember when young Ani made a vehicle out of scratch all by himself, and Qui Gon even bet their spacecraft on it? Yes, that vehicle was no other than a Podracer that gave birth to the whole Star Wars saga.
An extremely dangerous vehicle, each Podracer was made unique and specific to a pilot's needs and could accelerate up to 700 KPH. After all, in the eponymous Pod Racing, racers would have to compete on their individually modified Podracers and complete the race without crashing it.
Most Podracers had a similar design with a pilot's cockpit trailing behind two engines attached by a cable. However, this suspended build made them pretty prone to accidents, not to mention the insane speed that would not ever make it easy to watch them while racing with bare eyes.
The Armored Assault Tank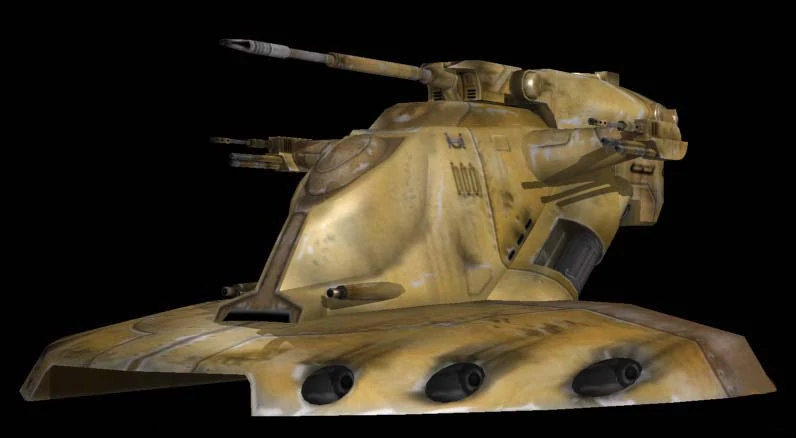 Drone-operated, these tanks were extensively used by the Trade Federation during the invasion of Naboo. And since their major appearance during the so-called blockade of Naboo, they appeared in almost every major battle in the Clone Wars. Not to mention, the first episode of the Clone Wars also featured Master Yoda slicing these tanks.
Because of their thick armor, these Armored Assault tanks could easily plow through walls and other barriers. Being a part of the Separatist army, these tanks were operated by a crew of four droids consisting of two gunners, a pilot, and a commander droid.
Despite their limited maneuverability, once these tanks were released, they could unleash a hail of repressing fire. These tanks had a payload of 57 shells, which could range from highly explosive shells to armor-penetrating shells, not to mention high-energy shells. And let us not forget the worst form of these armored assault tanks, the Defoliator Deployment Tank, that was about to wipe out the whole specie of Lurmen from Maridun if our Jedi heroes did not step in.
Also utilized as a transport, these tanks could also carry B1 series battle droids. But that does not make them any less dangerous. And if you got on the other side of these tanks by any chance, I believe you should have a lightsaber. But if the Force is weak with you, just like me, your survival might boil down to electromagnetic pulse bombs or portable missile launchers.
Aquatic Vehicles
Gondola Speeder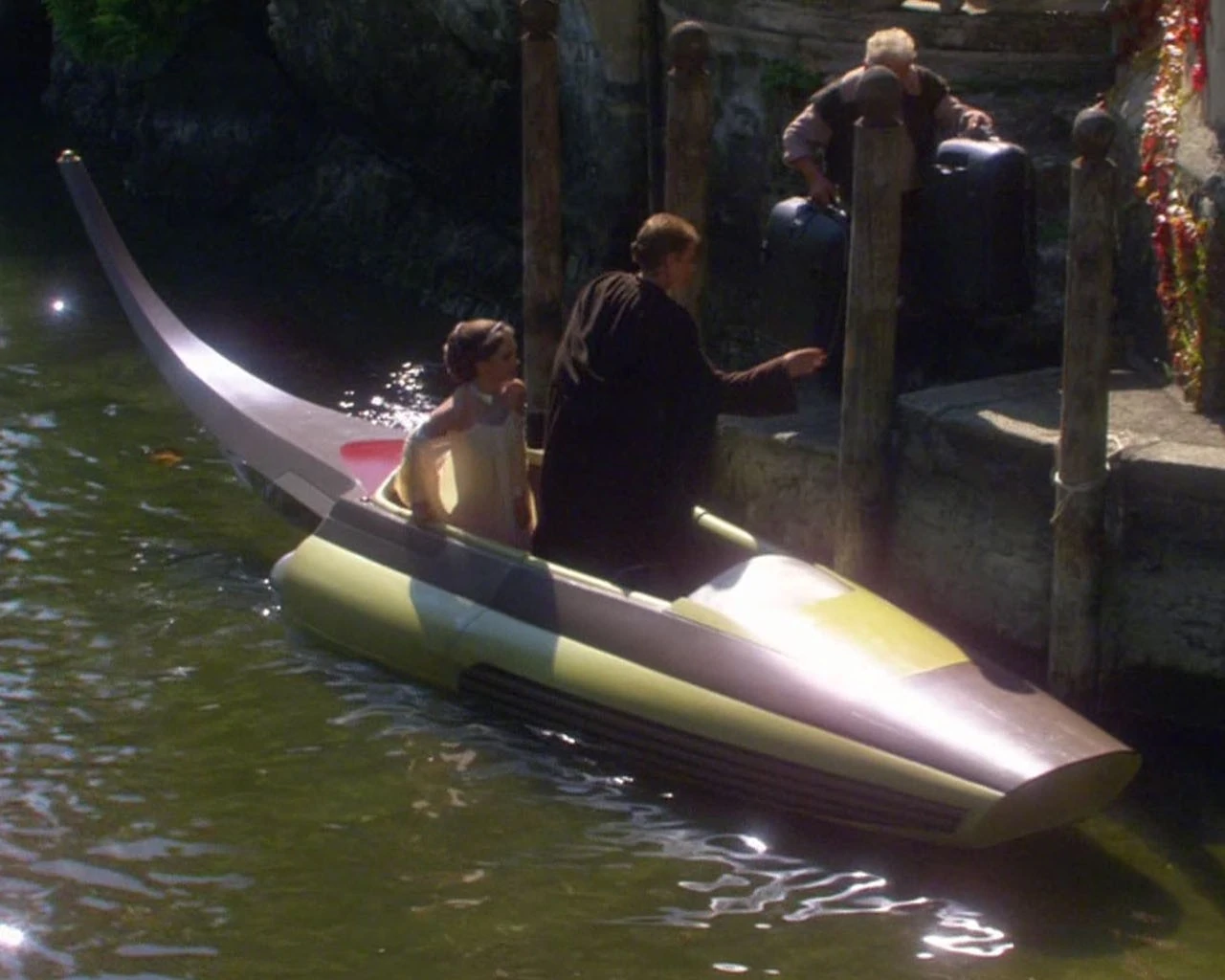 The Gondola Speeder was mainly restricted to Princess Amidala's home planet, Naboo, and was used in the Lake Country to cross vast lakes and waterways. It could carry three passengers, but two passengers made it best for a comfortable trip.
Most Star Wars fans do not know this, but the Legends reveal that this boat had a repulsor lift system. And in case of a leak, this barge could hover over the water instead of floating on it.
In my opinion, this vehicle was built the least for war. Rather, it was not built for war at all. It produced a minor humming noise from the engine, and the elegant and slim build of this barge reflected Naboo's tradition of exemplary design intertwined with a love for nature and environmental consciousness.
Although with a maximum speed of 100 KPH, being used for a relaxed experience, these boats rarely speed up anywhere close to their limit.
Tribubble Bongo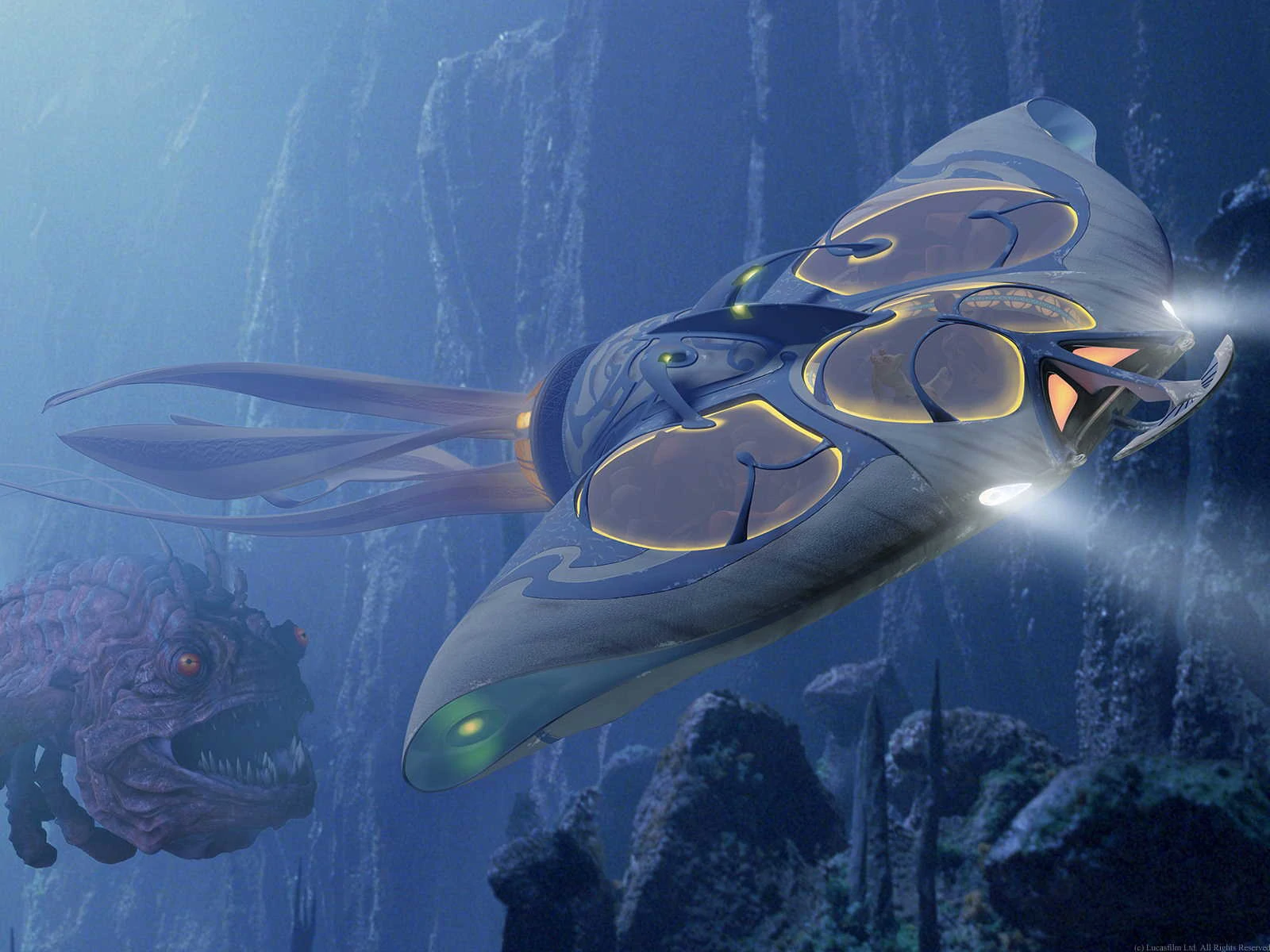 Tribubble Bongo is definitely a fascinating vehicle from the Naboo planet. These submarines were handcrafted by the Naboo sea creatures, Gungans, but were nothing short of any other factory-built piece of machinery. This amazing machine was a marvel of bioengineering with an efficient buoyancy system to make it perfect for traveling on or under the water.
The stingray-shaped vehicle had tentacles at its rear end that acted as those of jellyfish pushing the Bongo forward. But don't take it lightly, as this handcrafted machine could reach a reasonable speed of 85 KPH.
We were introduced to this breathtaking machinery in Star Wars Episode 1. Although I was a bit skeptical when Qui Gon asked the Gungans for transport, when I saw this Bongo maneuvering when a monstrous sea creature chased Qui Gon, Kenobi, and Jar Jar, I was pretty impressed. This also made me realize that Gungans might seem dumb, but they are pretty savvy regarding machines.
The OMS Devil Fish Sub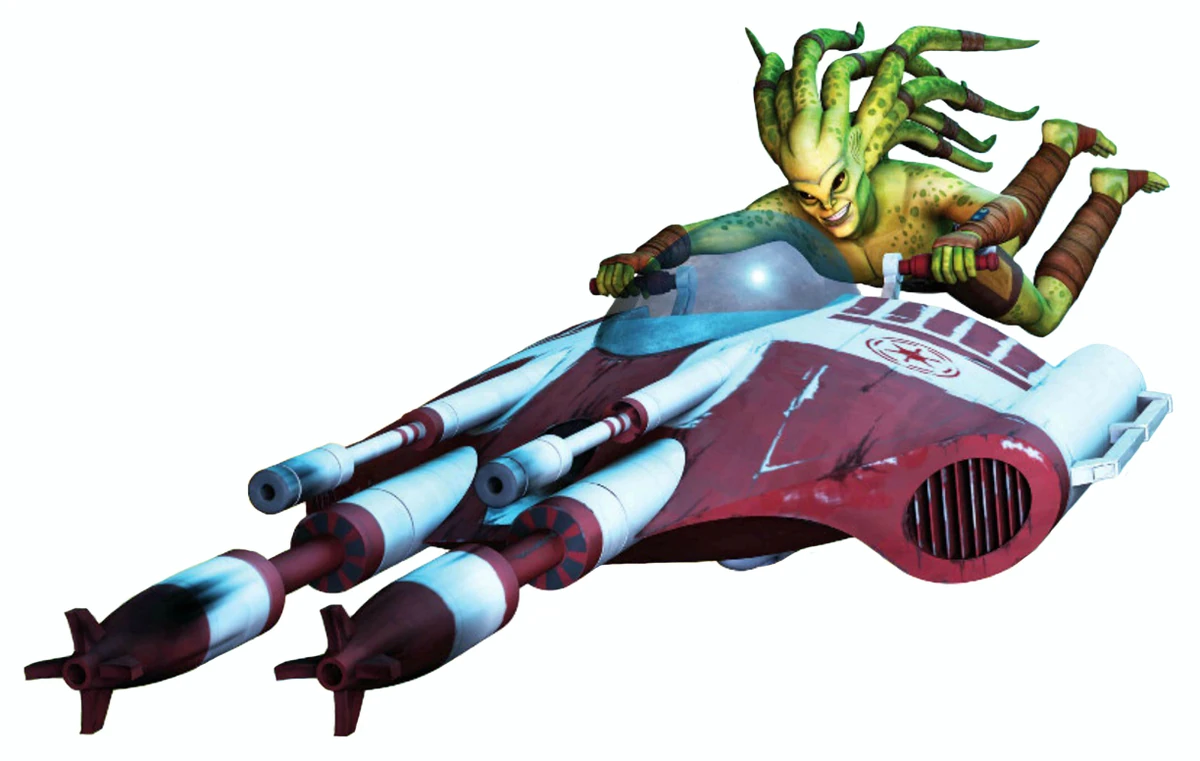 When playing COD MW3 mission Hunter Killer, you might have noticed that the underwater scooter looks familiar. Well, it sure reminded me of this OMS Devil Fish Sub. This submersible scooter was utilized in the battle of Mancala by the Galactic Republic against the Separatist aqua droids.
Although they were referred to as submarines in the Star Wars series, I never felt these open propellers close to a submarine. Still, these one-person underwater scooters did offer incredible speed in the water. Not to mention, unlike our Scuba diving scooters, they had a dual-blaster cannon mounted at their front.
And how can I forget the master strokes of our young padawan Ahsoka Tano? She was pretty instrumental in riding this sub and helping Anakin Skywalker when he was overwhelmed in the deep-sea battle of Mon Cala.
Kamino Submarine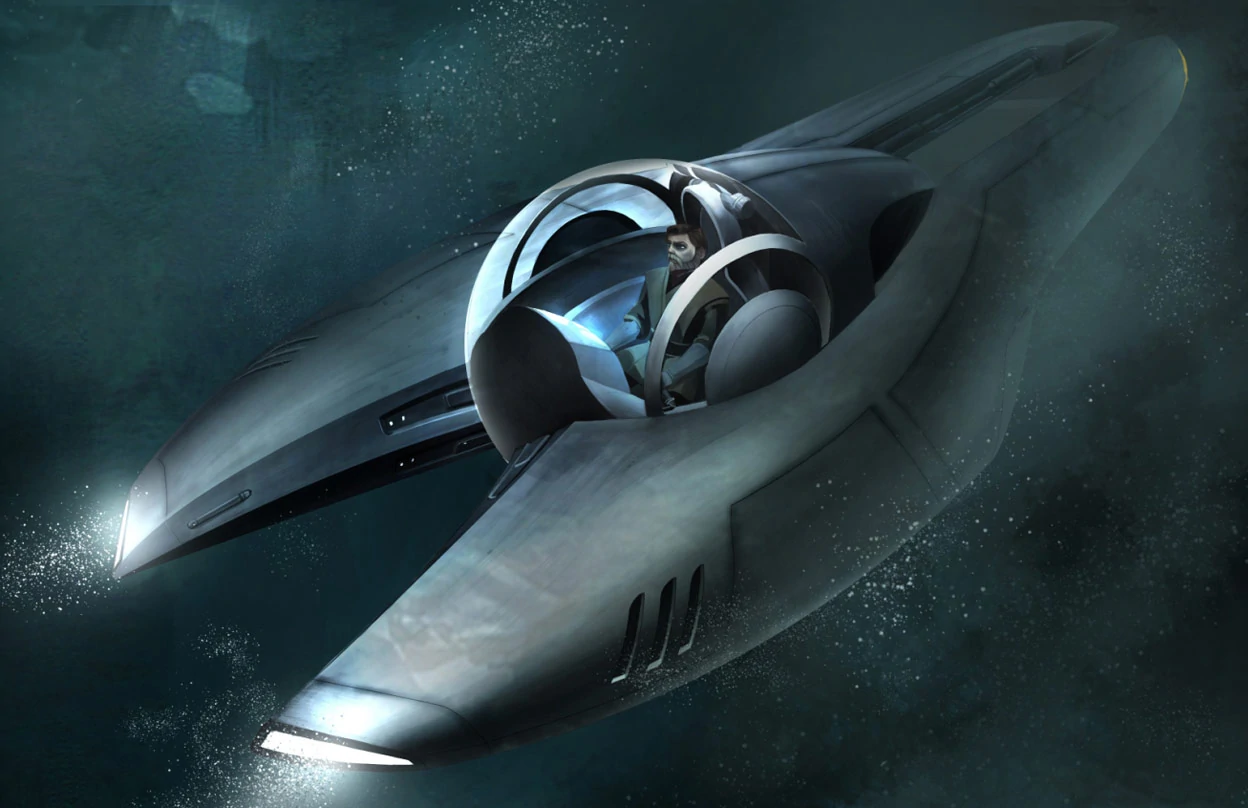 When it comes to Kaminoans, you cannot take elegance away from their productions. A sleek single-pilot submarine found on the clone-making planet of Kamino; the Kamino Submarine resembled a futuristic sea animal not yet seen by human eyes. But, to be honest, with a spherical cockpit placed in the middle of its body, it would seem like a nutcracker if you look at it long enough.
The Kamino seas had no hostile creatures; therefore, this sub had no weapon on board. However, it did have bright headlights at its front to reveal anything that might be hiding there in the deep ocean's vast expanse. Still, it was small compared to the vast seas and could move at a meager speed of 140 KPH.
This Kamino Submarine made its debut in the Clone Wars series. When General Grievous staged an attack on the Kamino planet, it was this submarine on which Obi-Wan Kenobi went to investigate the debris that had fallen into Kamino's seas.
Trident Class Assault Ship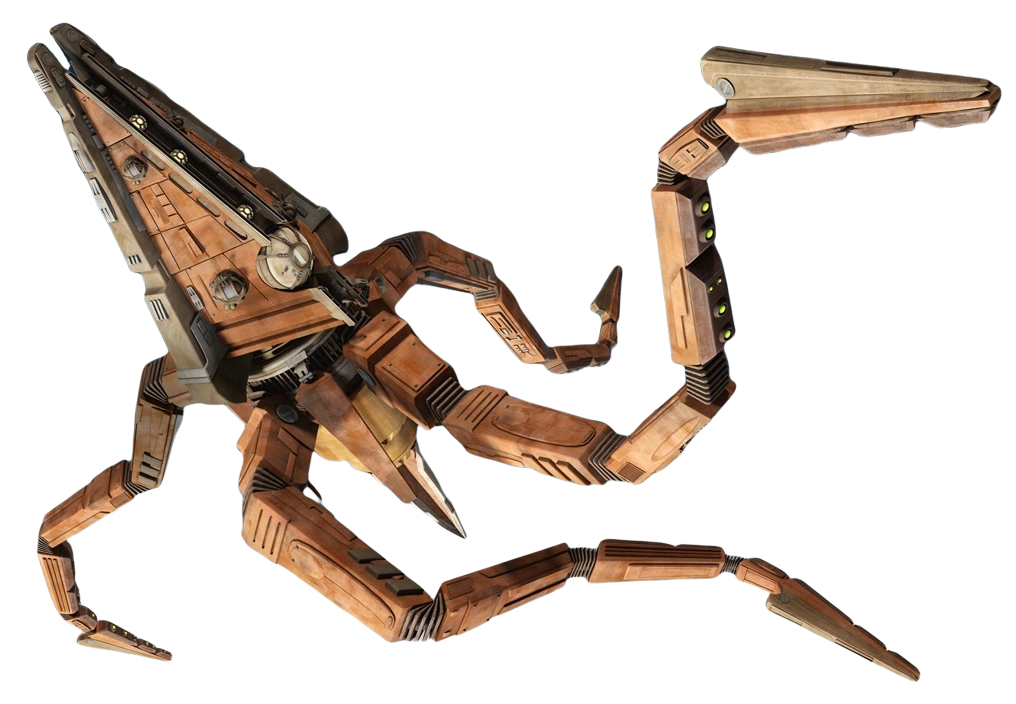 If you ask about the aquatic ship that really scared me, I would always say the Trident Class Assault Ship. This Squid-shaped ship had four steel armored tentacles that could attach to almost any surface. Also, these arms served as nothing short of a weapon; these heavy tentacles would trample anything that stood their way.
One thing that I really liked about this vehicle was that it was among the only few efficient multi-purpose vehicles that blessed the Star Wars universe. Although being an underwater vehicle, this Trident Class Assault ship also worked efficiently in space. Extensively used in the Battle of Kamino under the command of the infamous Nightsister, Asajj Ventrus, these ships deployed droids in the city while also crushing anything that came in their way to make way for the Separatist attack.
But this battle of Kamino did release their biggest vulnerability. Although they were equipped well with a shielding system, they could be easily taken down with portable missile launchers.
Frequently Asked Questions
Question: What is the fastest ship in the Star Wars universe?
Answer: The Millennium Falcon is regarded as the fastest ship in the universe. And, with Han Solo and Chewie in its cockpit, this ship could outrun anything. Modified by Han Solo after winning it in a bet from Lando Calrissian, this ship may look old, but don't let appearances fool you. This ship has enough power to fly you out of any sticky situation.
Question: Can all ships travel at light speed?
Answer:  For hyperspace travel in Star Wars, a ship needs to have hyperdrive engines to be able to engage light-speed travel. While most airships in Star Wars have a hyperdrive, some vehicles are only meant for planetary travel and cannot even be used to leave a planet's atmosphere, which is paramount for any ship wanting to travel at light speed.
Question: Why do vehicles in Star Wars explode so easily?
Answer: Many Star Wars movies and series have accustomed us to dazzling, bright, and explosive scenes when a ship is shot at or crashes. Due to the highly volatile nature of the fuel used in Star Wars ships, if the fuel cells get hit by a blaster, then they can explode quickly like fireworks, and this is the same when a ship crashes, and an expansive cloud of fire is left in its wake.
Slowing Down Engines
With an excess of options, the Star Wars universe offers never-ending marvelous and intricate vehicle designs. Although they may defy all logic, they have indeed made a special place in the realm of science fiction.
From the movies to the series and even novels, it can be hard to grasp all the different vehicles featured in the Star Wars universe. Each vehicle is unique and made to serve a particular purpose. And it can be hard to settle down on one vehicle for all your needs from a galaxy far, far away.
Still, the Star Wars vehicle that always fascinated me the moment I first saw it would be the Tsmeu 6 Personal wheel bike owned by General Grievous. With a walking configuration, this bike could also use its arms to travel on terrain where it would be impossible for the wheels to move. It is also suitable for a quick escape, as shown by General Grievous. But I really hope you have more luck than he did.
And talking about my second favorite, who wouldn't want a pod racer? I mean, the sport itself is a dangerous hobby, but imagine yourself cruising at a speed of almost 700 KPH. Wouldn't that be awesome? However, keep in mind that these vehicles have one of the highest accident rates of any vehicle in the Star Wars universe.
I hope with all the information present on these vehicles, you are now able to command the Imperial Forces. Good luck!
Looking for more interesting readings? Check out: