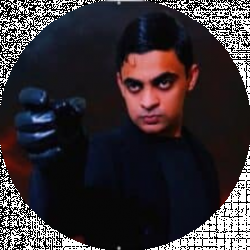 Latest posts by Boo-Ali Khan
(see all)
"Take care of this little one." – Cara Dune.
How thoughtful of Cara to say these words. But while these were intended for our cute little Baby Yoda, they can be perfectly used for the small figures we are about to discuss.
Since Cara Dune's first appearance in the Mandalorian series, due to her muscular build and overwhelming strength, she has been a fan favorite amongst both young and old fans Mandalorian fans alike.
But while her rugged features play a massive role in the storyline, her reassuring looks, charm, and enthusiasm are also something that cannot be ignored.
When it comes to Cara Dune Funko Pops, they allow the hardcore Cara fans to experience all the values she stood for, while also seeing her side that had been lost to brutal fights and narrow escapes.
But, unlike most Star Wars Funko Pops, these Cara Dune Pops are not easy to find in brick-and-mortar stores and online marketplaces. And even if found, they are relatively costly as Funko has stopped their production altogether.
Still, that does not mean these Pops have gone totally extinct. If you are a fan of Cara, I recommend searching for her Funkos on Amazon or Walmart. Not to mention you can also go the used route and try to find these Funko Pops on collectible marketplaces like eBay or Etsy.
In this Cara Dune Funko Pop guide, I will be talking about every Cara Funko Pop that has ever been released, while also sharing some alternatives for the Mandalorian fans. Moreover, I will try to answer some of the most common queries Star Wars fans might have about these marvelous Pops.
So what are you waiting for? Strap in your AT-ST, and get ready for your first bounty hunt.
Bottom Line Up Front
Unlike other Star Wars merch, the Cara Dune merchandise doesn't have a lot of variety, and you only have a handful of Funko Pop options to choose from. Amongst these figures, the one design that really caught my eye was this Cara Dune Funko Mystery Minis Figure from the Mandalorian.
Unlike other options, this Funko Pop symbolizes the fun and comical side of Cara Dune to its fullest. Its tiny build and mix of colors give the figure a memorizing contrast, and the slight witty expression on its face perfectly encapsulates Cara's witty personality portrayed in the series. And its equally small price tag makes it a no-brainer for any Cara Dune fan.
A Brief Rundown of All Cara Dune Funko Pops
Here is a list of all Cara Dune Funko Pops and Funko figurines Star Wars: The Mandalorian franchise has to offer. So, if you are a Cara fan, you should definitely check them out:
Top Cara Dune Funko Pop Picks – Funko Pop! Star Wars: The Mandalorian – Cara Dune Figure #403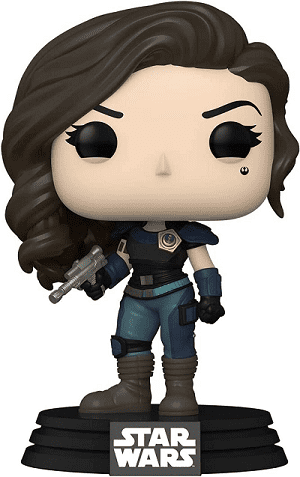 Description
I have to say, this Funko Pop! Star Wars: The Mandalorian – Cara Dune Figure #403 is one of the most empowering Pops I have ever seen on the market. And the vibe it has is certainly one of a kind.
It features Cara Dune standing in a carefree manner with her Blaster Pistol in one hand and an about-to-strike knuckle sandwich in another; a nod to her first appearance in the Mandolarian series, episode "Sanctuary," where she uses it to mercilessly beat Mando during their first meeting.
The pistol also reminds me of the time Cara Dune saved our beloved Baby Yoda by shooting a Klatoonian rider who was about to kill Grogu, instantly giving this Funko Pop another plus from me. This Funko Pop also comes with Cara's wavy hair, something that remained her signature trait throughout the series.
And alongside that, the figure is also seen wearing the uniform of the Rebel Alliance, which even contains the Starbird logo in golden color; further adding attention to detail and showing her commitment to the Alliance even after leaving it.
Pros
This Funko Pop comes with free delivery.
It comes with a Star Wars-themed stand, perfect for displaying the figure on a desk.
Cons
The finish on the Funko can easily be scuffed.
Funko Pop! Star Wars: The Mandalorian – Cara Dune with Gun Exclusive Vinyl Figure #356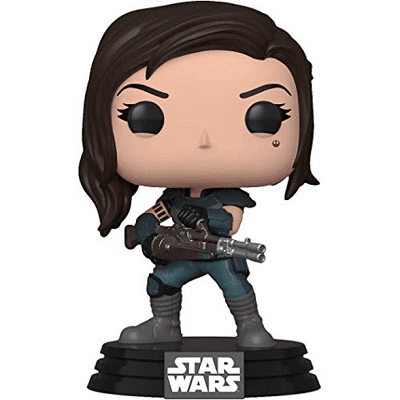 Description
Now when it comes to Cara Dune's character, very few pieces of her merch can justify her brute and assertive attitude, and if you're a fan of such of her traits, there would be no better pick than the Funko Pop! Star Wars: The Mandalorian – Cara Dune with Gun Exclusive Vinyl Figure #356.
This Funko features Cara Dune standing in a dominant way with both her hands holding onto her beloved Drum Blaster.
This is most probably inspired by the episode "A Reckoning," where she used it to wreak havoc on Moff Gideon's army of Stormtroopers. The gun also reminds me of how she quickly ambushed and killed the Death Troopers despite being outnumbered, showing off how resourceful and clever she really is.
This specific Funko Pop also features Cara Dune's iconic outfit: a pair of green arm pads, thick brown boots, and decked-out beat-up armor. However, unlike the #403 Funko Pop, her armor possesses more of a sea-green shade instead of dark blue.
Pros
The Funko has amazing visuals with colors true to the series.
The figure has impressive attention to detail on Cara's Drum Blaster.
Cons
The Funko comes at a really high price.
Funko Pop Star Wars: The Mandalorian – Cara Dune Collectible Figure #327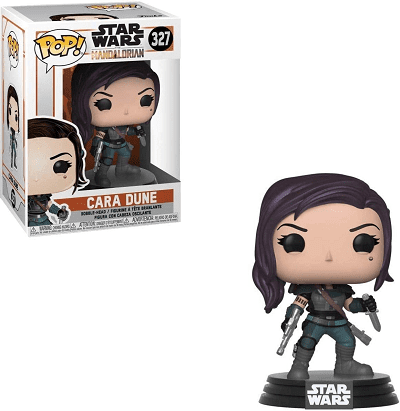 Description
Talking about Cara Dune, there are no better words to describe her than a woman with an unshakable sheer will. And this Funko Pop Star Wars: The Mandalorian – Cara Dune Collectible Figure #327 is another testament to the resolute and fearless character she maintained in the series.
The Funko features Cara Dune standing in a ready-for-combat position holding onto her iconic weapons: the dagger and blaster pistol.
There is also a blaster rifle along her waist, which is one of the first weapons Cara Dune used in her missions with the Mandalorian. I am quite certain that no fan would want to see this Pop drawing rifle from its back; after all, we all know what happened when Cara used the rifle against the massive AT-ST walker attacking the village.
Another unique thing about this Funko is that it features Cara in purple hair, which is quite unusual to see in her other figurines.
The figure also features Cara Dune's iconic stripe tattoo, which can be clearly seen on this Funko Pop's arm, further reminding us this Shock Trooper is not to be messed with.
Pros
The Funko features unique purple hair.
The figure includes all the iconic weapons that Cara Dune used to carry.
Cons
The blaster is made unusually big.
Funko Mystery Minis Figure – The Mandalorian S1 – CARA DUNE (3 inches) 1/12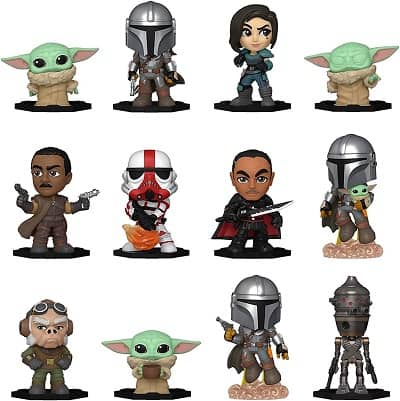 Description
Now, when it comes to Cara Dune Funko Pops, very few can encapsulate her character's fun side in such a relaxed and amusing way. This Funko features Cara Dune's familiar curly hairstyle and her cyan color full body armor with a ready-to-punch pose.
But alongside that, the Funko also displays her beautiful but awkward smile and massive eyes staring right into the enemy's eyes. Huge eyelashes can also be seen on the figure, which always makes me wonder how she could have managed to apply mascara in the battles.
Another unique thing about this Funko Pop is that it clearly displays Cara Dune's iconic teardrop face tattoo, which was actually the symbol of the Rebel Alliance, showing her loyalty to the group and the friends she lost during the destruction of Alderaan.
I should mention here that this figure comes from Funko's Mystery Minis series, and, although not used, its box has already been opened.
Moreover, this Funko is also offered in a set of 12 figures, including characters like Mandalorian, Kuiil, Moof Gideon, and even Baby Yoda, which, for a price of a little over $60, is quite a deal if you ask me.
Pros
The figure comes with a relatively low price.
Unlike other Pops, this figure offers facial features as well.
Cons
The figure lacks detailing.
Other Alternatives to Consider
When it comes to the Mandalorian series, there are a lot of unforgettable characters, each with their own separate story. And seeing this, it's only logical to assume that many people want to collect other Mandalorian Funkos as well.
So, considering the limited options of Cara Dune Pops, for all such fans, I have also included a list of some of the most sought-after Mandalorian Funko Pops available in the market.
Funko Pop! the Mandalorian Glow in the Dark Exclusive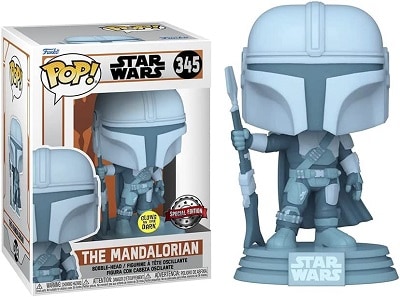 Description
If you want to remember Mandalorian's unique story and plot, what better Funko Pop could you own than this Mandalorian Glow in The Dark Funko Pop? This Pop showcases our main protagonist standing proudly like he just attained total peace in the Galaxy.
And to further prove his point, he is even holding onto his iconic blaster, reminding us of the countless battles he fought and won during his journey – mostly for Grogu, though.
This Funko Pop also showcases Din Djarin's iconic Beskar armor and cape, signifying his life as a lone bounty hunter. And a few scuffs along his knee pads remind us of the countless adventures he went on throughout the Galaxy.
And if that wasn't unique enough, this Funko has a glow-in-the-dark feature, which gives it a mesmerizing look at night.
Pros
The Funko Pop comes with a glow-in-the-dark feature.
The Funko has a very detailed build.
Cons
The color of this Funko Pop feels cheap under normal light.
Grogu Baby Yoda Funko Pop – Mandalorian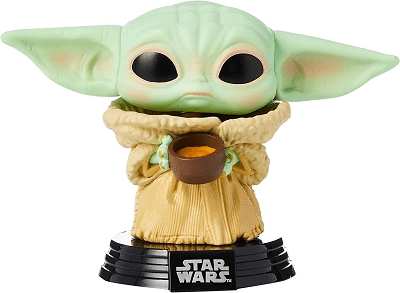 Description
Of course, after the release of the Mandalorian, no Star Wars-themed merch guide is complete without the mention of our beloved Grogu, a.k.a Baby Yoda.
Apart from his cuteness, Baby Yoda has a history and bloodline that makes him one of the rarest species in the Star Wars universe. And with this Grogu Baby Yoda Funko Pop, you can always have this unique specie at your disposal.
But you don't have to extract Grogu's blood unless you want Mando blasting through your door. This figure features Baby Yoda wearing his iconic rugged outfit while using the Force to levitate a metal ball that Din Djarin gave to keep him busy.
Standing 3.25 inches tall, this Funko Pop offers fully detailed facial features of Baby Yoda, which adds greatly to the overall look of the figure. Furthermore, the Funko also showcases Baby Yoda's iconic pointy ears and massive eyes; that never ceases to amaze me how such a cute being can be so powerful.
Pros
This Funko comes at a relatively affordable price.
Unlike other Pops, this Funko has detailed facial features.
Cons
The ball can come off with a little pressure.
Funko POP Star Wars: the Mandalorian – Dark Trooper Battle Droid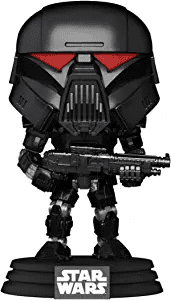 Description
Now, if you're a fan that genuinely praises Empire and wants to collect all its minions, you can safely bet on this Funko POP Star Wars: The Mandalorian – Dark Trooper Battle Droid. This Pop showcases one of the most formidable Imperial battle droids the Star Wars universe had ever seen.
The face of the Funko Pop also has a respirator which almost reminds me of lord Vader himself. And its red eyes seem like they're staring right into my soul, forcing me to join the Dark Side if I want to survive.
And if that wasn't scary enough, the whole thing is coated in a matt black finish, which makes them almost impossible to see during the night. So, if you want to live, I wouldn't suggest you take this Funko out of its box, especially before going to bed.
Pros
It comes with free shipping.
It is relatively light and easy to move.
Cons
The color on the back of the Pop has a poor finish.
Frequently Asked Questions
Question: Why are Cara Dune Funko Pops Discontinued?
Answer: When it comes to Cara Dune merch and Funko Pop specifically, they have been discontinued because the actress playing Cara Dune, Gina Carano, was fired from the cast of the Mandalorian following her controversial statements, and she will not be playing the role of the lone mercenary in the latter seasons of the series.
Due to this change, the manufacturing of all Cara Dune Funko Pops was stopped, which is also why it is so difficult to find them in the market, with their price witnessing a massive hike in recent months.
Question: Where Can I Buy Cara Dune Funko Pops?
Answer: Due to Cara Dune Funko Pop's growing demand and low stock, it is pretty tricky to find them at many retail and online marketplaces, but despite this, there are still some sellers who are providing them at pretty reasonable prices.
You can mostly find these sellers on sites like Amazon and Walmart. You can also try your luck on used marketplaces like Etsy or eBay but remember to check the product pictures carefully to gauge their condition.
Question: Do Cara Dune Funko Pops Increase in Value Overtime?
Answer: When it comes to Cara Dune Funko Pops, their value does change over time, but whether it is going to increase or decrease depends on the trend of the market.
An example of this is Cara Dune Funko Pop #403, which has seen a massive fluctuation since last year and even saw a 600% price hike in November 2022, but again dropped to less than $20 in recent months.
Therefore, there is no guarantee that Cara Funko Pop will increase in value and, thus, might present a significant risk if you buy them as an investment.
Farewell to the Marshal of the New Republic
Seeing Cara Dune's backstory and role in the series, there is no doubt why her character has gotten so much love and attention. And this love is further elevated by her witty and fearless personality, which is perfectly summed up in her Funko Pops.
But while holding one of these Funko Pops is a dream possessed by many, finding and buying them is an entirely different story that is difficult for even the toughest Jedi.
This is mainly because these Cara Dune Funko Pop are vaulted, which also drives up their prices. Still, if you want to get your hands on your favorite Cara Dune Funko Pop, I recommend trying the preowned Pops, which are pretty affordable.
In this guide, I have compiled all the Cara Dune Funko Pops available in the market, but if I have to vote for my personal favorite, it has to be Cara Dune Funko Mystery Minis Figure from the Mandalorian.
This mini figure not only showcases a side of Cara Dune that is not captured by most of her figures or action figures but also comes at a relatively low price range.
So what are you waiting for? Go pack your Cara Dune Funko Pop and head to planet Nevarro before it's too late for the poor villagers.
"Well, let's just call it an early retirement." – Cara Dune.
Looking for more interesting readings? Check out: