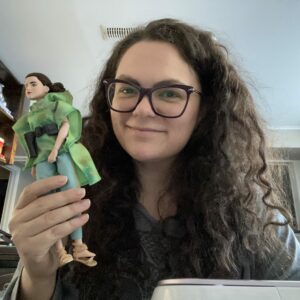 Latest posts by Candace Osmond
(see all)
It seems like we're inundated with Star Wars merch, so it can be hard to sift through everything and find the best designs, quality, etc. That's why I've compiled this master list of the best Star Wars shirts I could find on the internet after many hours of browsing. I'm going to show you shirts for every climate and every kind of fan, Light side or Dark side. I've also put together a quick guide to help you narrow down which Star Wars shirt is the best one for you. Let's get started!
Bottom Line Upfront
I know it's for men, but I don't care. I want the Star Wars Mos Eisley Cantina Tatooine Men's Adult Graphic T-Shirt and sent the link to my husband in hopes he had time to nab it for me for Christmas!
Top 3 Picks
Before we blast off to the stars, I want to show you my top 3 picks for the best Star Wars shirts. I'm going to cover more categories of shirts than these 3 I've listed here, so keep scrolling if you want to see the tank tops and long sleeve shirts, too.
What to Look for in a Star Wars Shirt
When I'm buying a new novelty shirt, there are five major qualities of the shirt I want to consider before clicking the 'buy' button. If you're going to buy a Star Wars shirt for yourself or a loved one, check out the:
Material – Look for a type of material that best fits the weather
Quality – Check for official Star Wars merchandise or look at the materials used to make the shirt
Sizing – Try looking for dimensions to see how the sizes will fit
Pricing – Decide on a budget before buying so you don't overspend
Design – Pick a design featuring a style or character best suited to you or the fan you're buying for
The Best Star Wars T-Shirts
It's time for the main event! I've got a long list of Star Wars shirts to show you, and honestly, that's because there are so many of them available. It's hard to choose the best! If it's time to treat yourself or a fan you know to a new shirt featuring their favorite franchise, then read on, because you're bound to find something you like.
How I Picked My Selections
Comfortable materials
Cool unique designs
Reputable retailers
Something for everyone
When it comes to clothing, the material is always at the top of my list because I'm neurodivergent, and the way my clothes feel on my skin is super important. But I'm betting you don't have to be neurodivergent to feel the same way! So, I searched for shirts that were cotton, fleece, and/or polyester blends.
Star Wars has been around for ages, so you can get merch and apparel pretty much anywhere. But I wanted my selection to be cool and unique, not something that's been seen a thousand times. So, I did my best to include designs that I'd never seen before.
A brand like Star Wars needs to be done right, so buying from reputable retailers is key. Anyone can open an Etsy shop and whip up some knock-off merch. Yeah, sometimes it's cool, but if you're a true Star Wars fan, you're gonna want impeccable apparel.
Lastly, I truly believe Star Wars is for everyone, all genders and all ages. So, I made sure to include a selection that appeals to men, women, kids, and more. There are elaborate designs, as well as simple ones, to suit all tastes, too!
Remember when Leia said, "I love you," and Han said, "I know."? Iconic. This shirt features Han Solo and his audacious quote, which all of us have grown to love.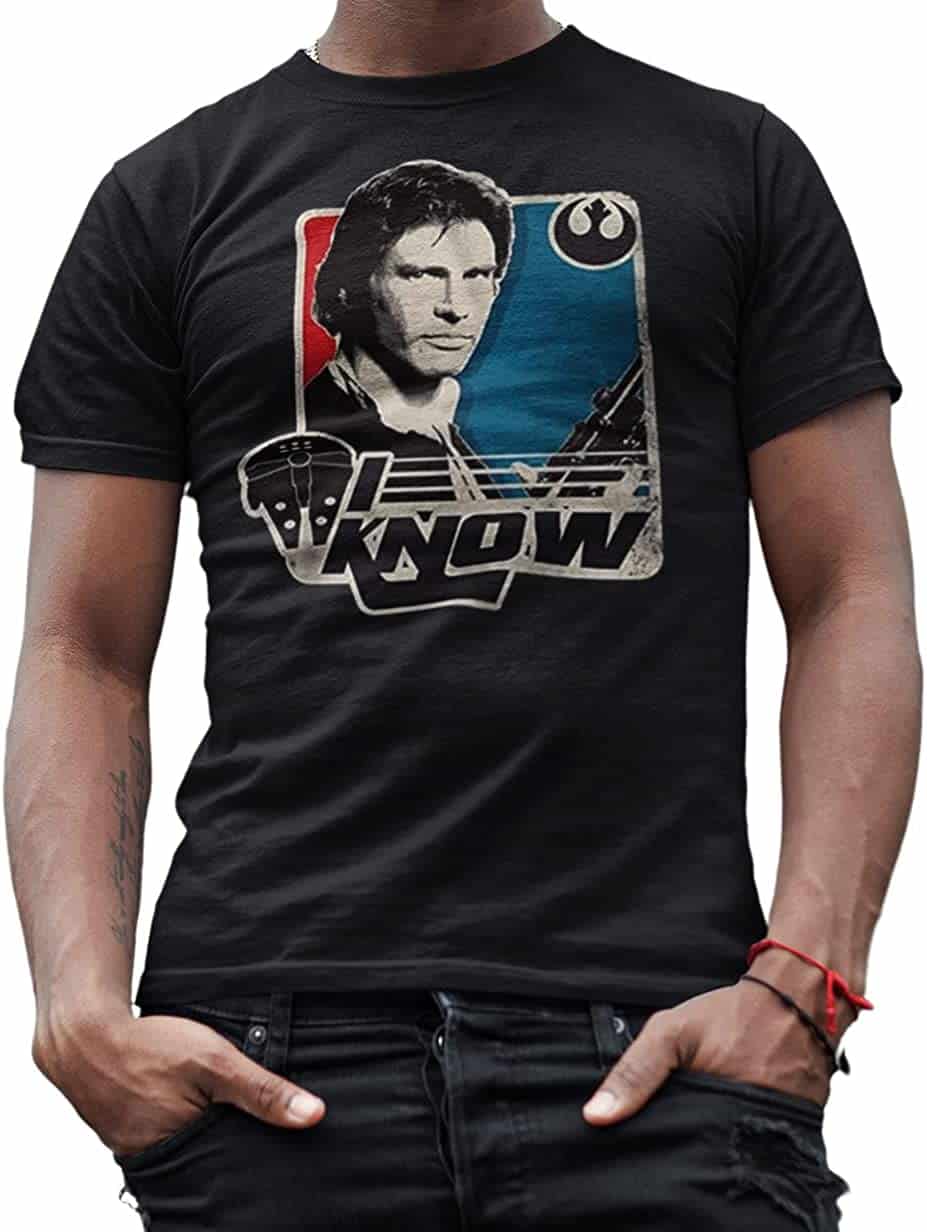 Key Specs
Price Range: $22-$32
Material: Cotton
Design: Han Solo
Han Solo is everyone's favorite quippy, blaster-slinging bounty hunter aboard the Millennium Falcon. Since he's been such a fan favorite, I wanted to put this shirt featuring him first. The color scheme is simple, so I think it's great for fans who don't love lots of bold colors. A tiny Millennium Falcon and a Rebel Alliance Starbird decorate the border of the design, so this one is totally for fans of the heroes.
It's 100% cotton, so I recommend this one for warmer days. Cotton is breathable, so it will keep you cool. I'd also like to mention this shirt is officially licensed Star Wars merchandise, because I know some of you are sticklers for that sort of thing.
Pros
100% cotton keeps you warm
Iconic Star Wars quote
Eye-catching red and blue design featuring Han Solo
Cons
Cotton will shrink in the dryer
All aboard! It's time to take to the stars, make new friends, and outwit the Empire. If you know someone partial to the Light Side of the Force and the hero characters, this could be the gift you're looking for.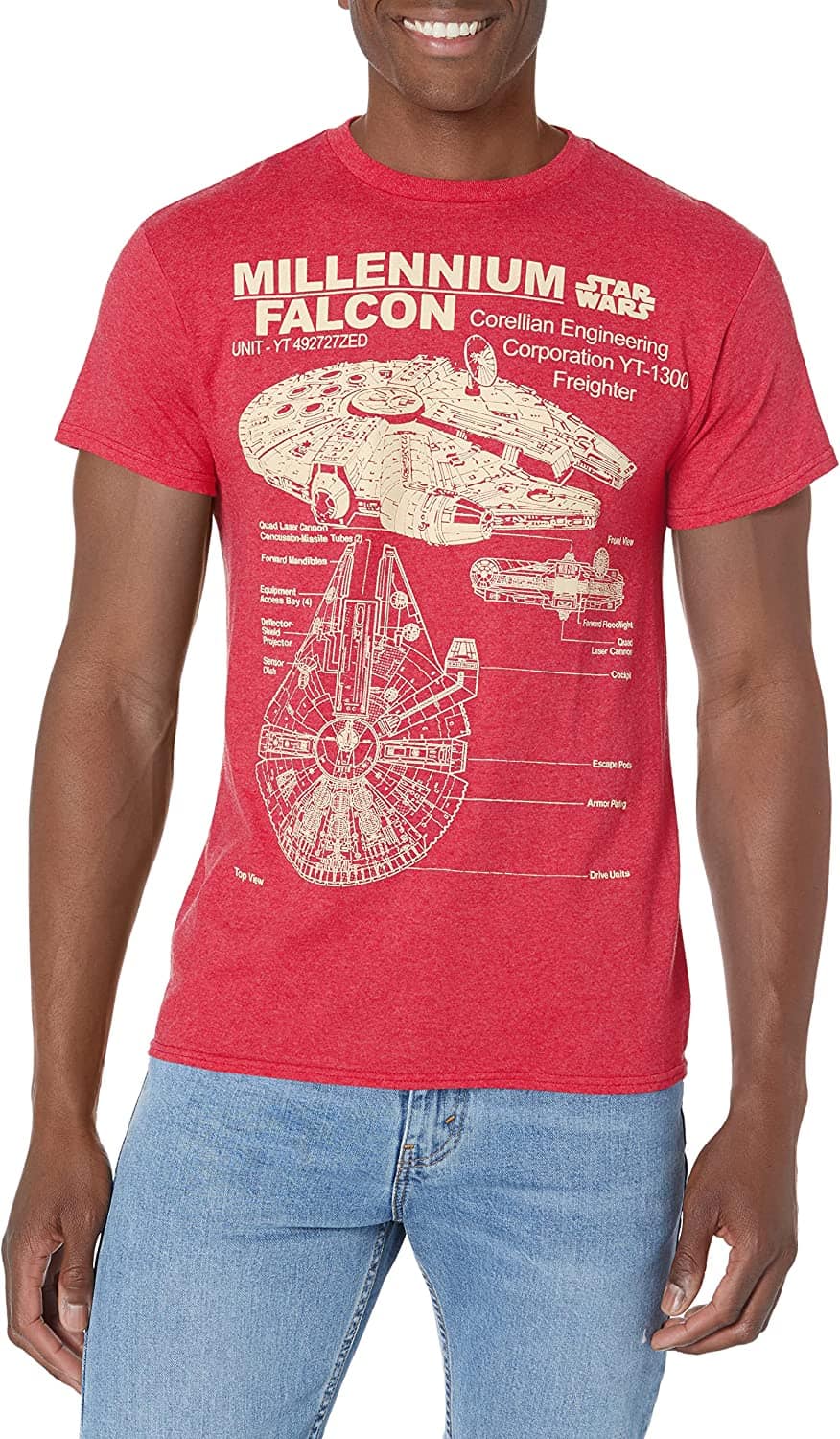 Key Specs
Price Range: $11-$23
Material: 50% polyester and 50% cotton
Design: Millennium Falcon
The Millennium Falcon is the most iconic starcruiser across the Star Wars franchise. If you're repping the heroes who use this ship to get around the galaxy and like wearing bold colors, this could be the shirt you're looking for. My favorite part of this one is how detailed it is. Look at all those tiny lines that make up the blueprint of the ship!
I think the only drawback here (and for everyone it isn't a drawback,) is the bright red color of the shirt. Not everyone likes wearing super bright colors, but for those of us that do, the bright red is a refreshing change from the many black and white Star Wars t-shirts.
Pros
Incredibly detailed design
Eye-catching red shirt
Mix of cotton and polyester is best for t-shirts
Cons
Some fans don't like wearing colors that bright
Who's up for another round of blue milk? You can enjoy drinks, gambling, and getting yelled at by aliens much larger than you down at the Mos Eisley Cantina.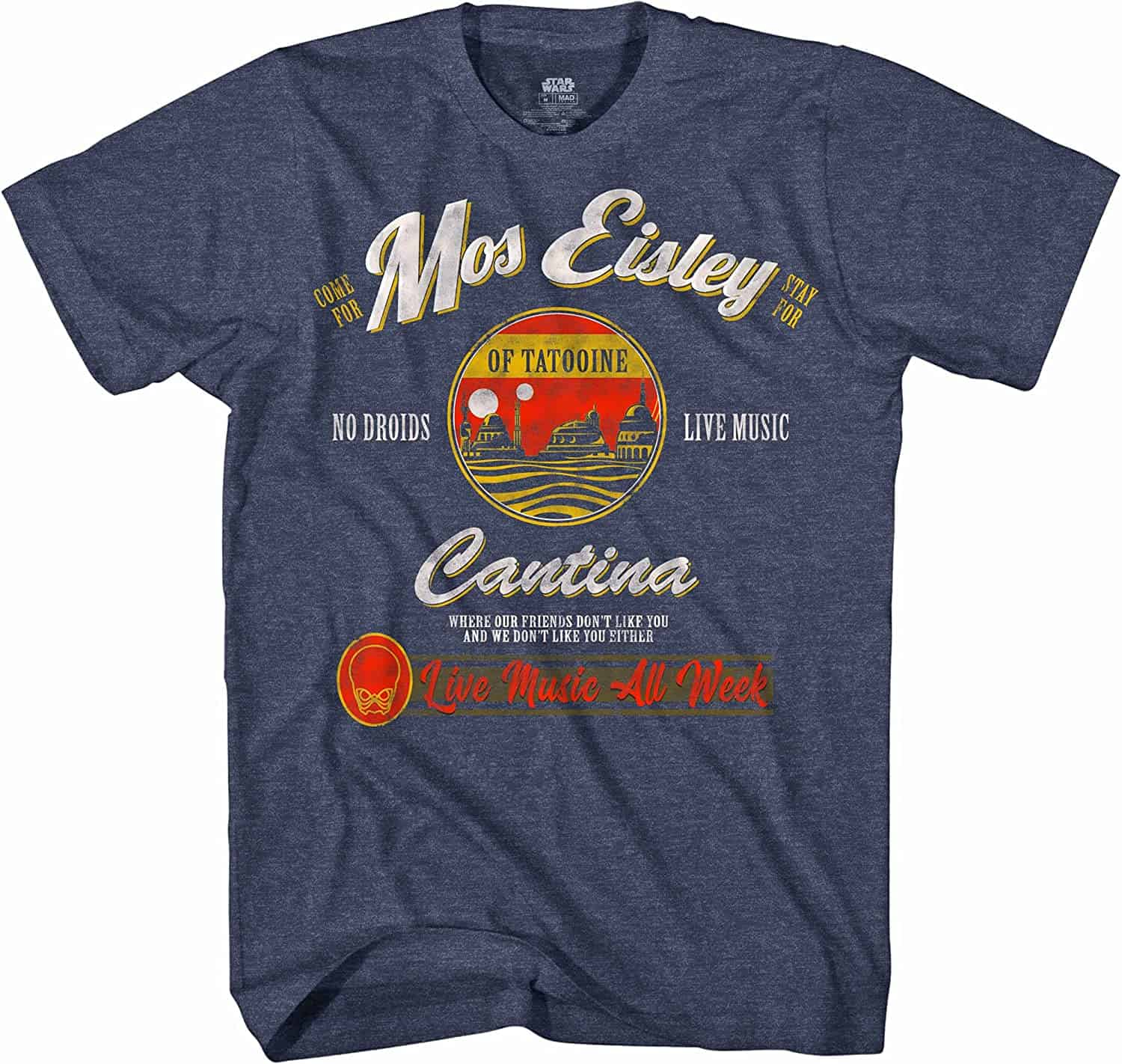 Key Specs
Price Range: $20-$30
Material: Cotton and polyester
Design: Mos Eisley Cantina
This is my absolute favorite Star Wars t-shirt on the list. Mos Eisley Cantina is the iconic location on Tatooine where we find our heroes looking for information and drinks. Mos Eisley first appeared in Episode IV, so fans have known this famous Cantina for a long time. "No Droids," and "Live Music," are printed beside an old-looking picture of Mos Eisley.
The color scheme looks good no matter which background color you pick. You'll get your choice of subtle blue, charcoal, and black. The design itself is white, yellow, and red, which helps give off the desert vibes of Tatooine quite well.
Pros
3 color options
My favorite Star Wars t-shirt design
Features an iconic location
Cons
Subtle design that doesn't look like a Star Wars shirt at first glance
Pew pew! Beep bop! That was droid for, "I love Star Wars!"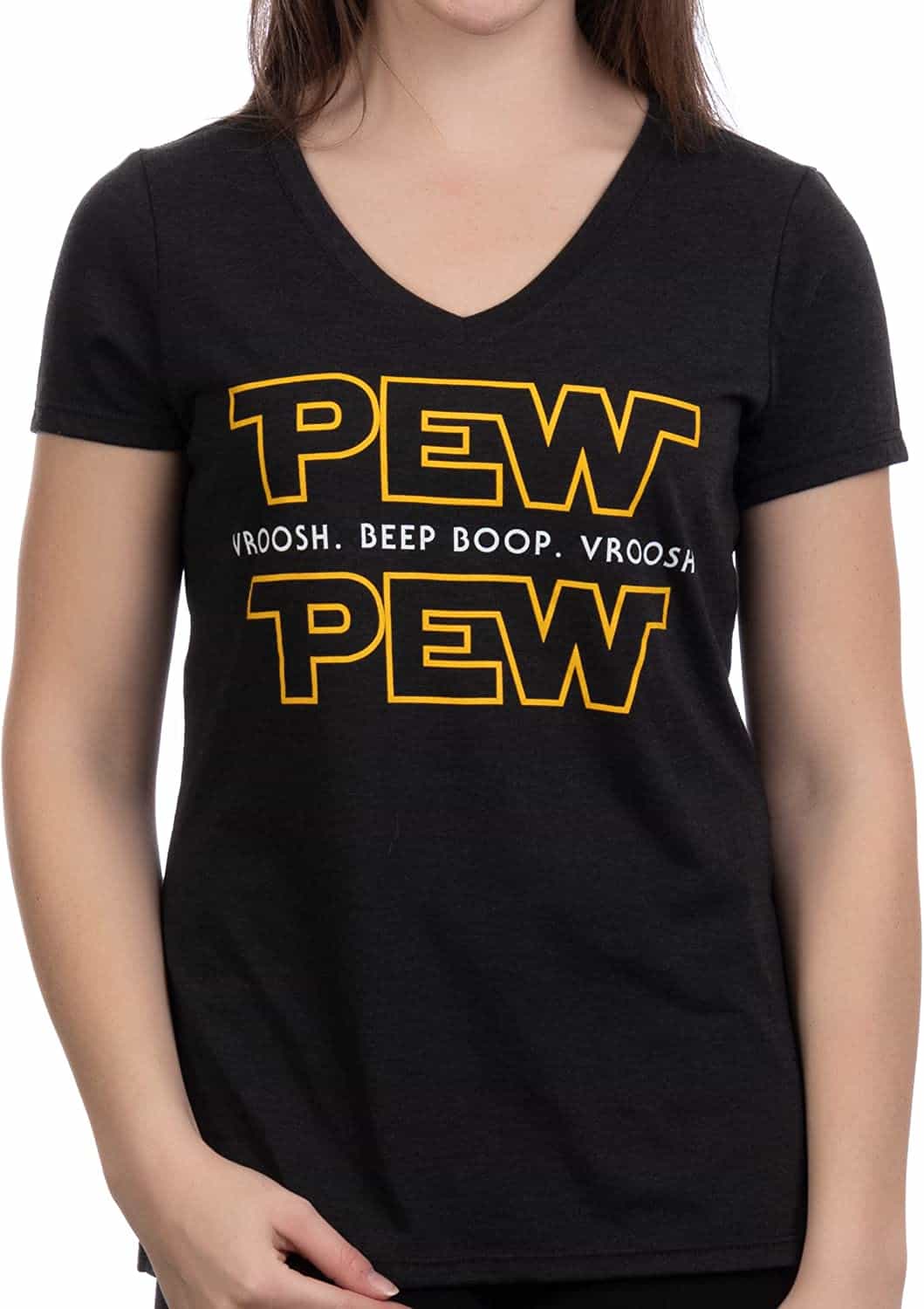 Key Specs
Price Range: $18-$28
Material: 50% polyester, 25% rayon, and 25% combed cotton
Design: Pew Pew in Star Wars font
The way R2-D2 talks may sound like nonsense since none of us speak droid, but at the same time, we totally get him. I think this shirt for women was cute and funny, which sets it apart from a lot of other Star Wars t-shirts. Droid noises are written in the Star Wars font, like "Pew Pew," and "Beep Boop."
I'd recommend this one for people who like a little humor in their outfits. If you're buying for a fashionista, then this may not be the shirt for them, but it's great for a laid-back look.
Pros
Funny
Great gift for women and girls
Font is instantly recognizable
Cons
Not everyone likes wearing funny t-shirts
Some princesses are born tough. If a girl you know is obsessed with Star Wars, I'm sure she can get behind this Princess Leia shirt.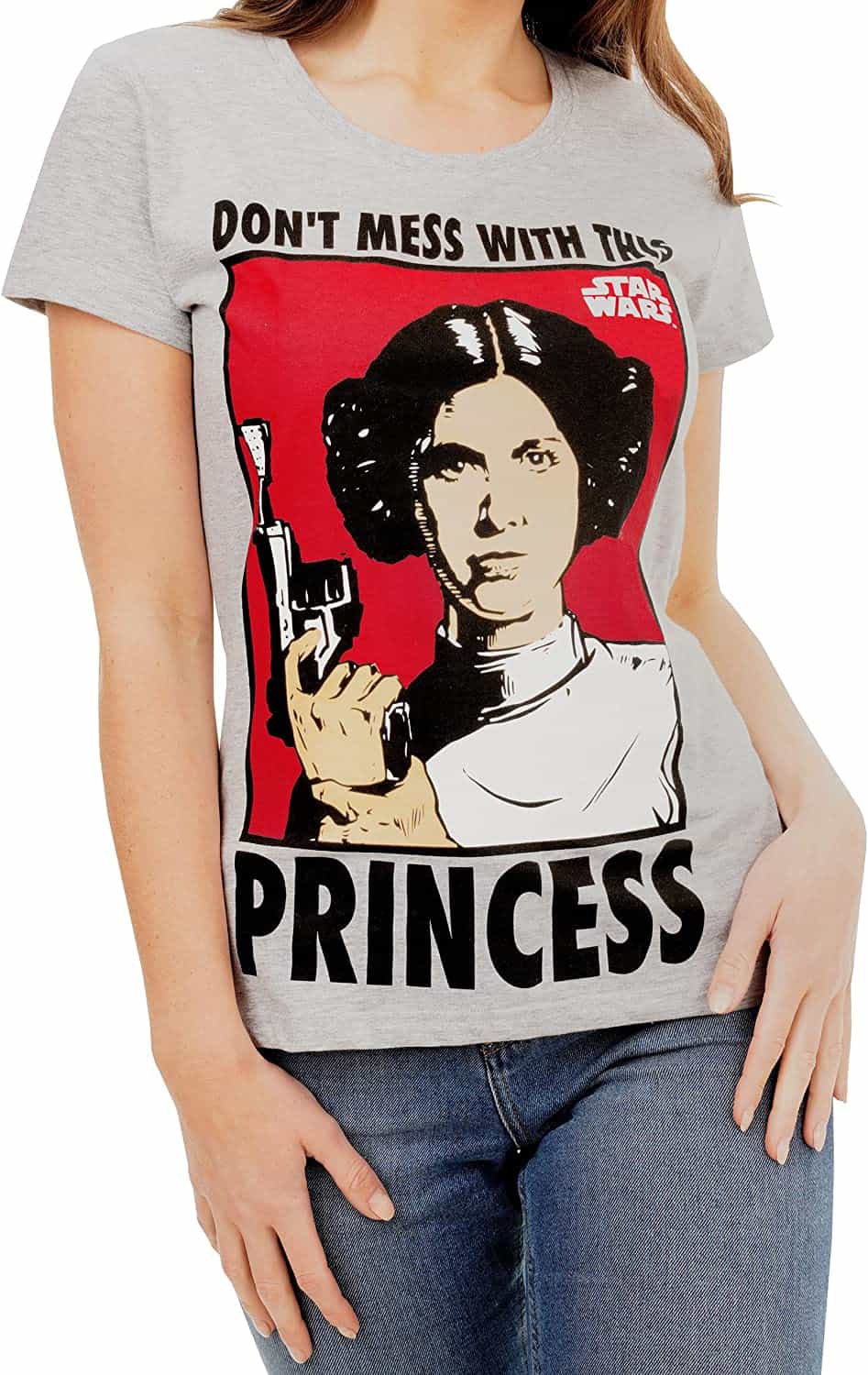 Key Specs
Price Range: $20-$30
Material: 92% cotton and 8% polyester
Design: Princess Leia
Sometimes a boss lady like Princess Leia needs to take all matters into her own capable hands to save the galaxy. I love the attitude Leia's projecting in this design and the words around the border that say, "Don't Mess With This Princess." It's a refreshing feminist design that fits perfectly with the first space princess we all adored.
This shirt is official merchandise, too, so I know the quality is going to be what I want it to be. The only fault I can find here is that some people may not like the bright red background in the design, but that's up to personal preference.
Pros
Mix of cotton and polyester
Perfect for Princess Leia quote
Feminist design and quote
Cons
Shape of shirt not ideal for men
The Best Star Wars Tank Tops
This tank top makes the Dark side look pretty chill. If the fan you know is more partial to the villains than heroes, then I think this tank top would make them smile. I can't get over how hilarious it is that a stormtrooper, a trained soldier meant to wipe out rebellions, was made much less threatening with a Hawaiin-inspired design.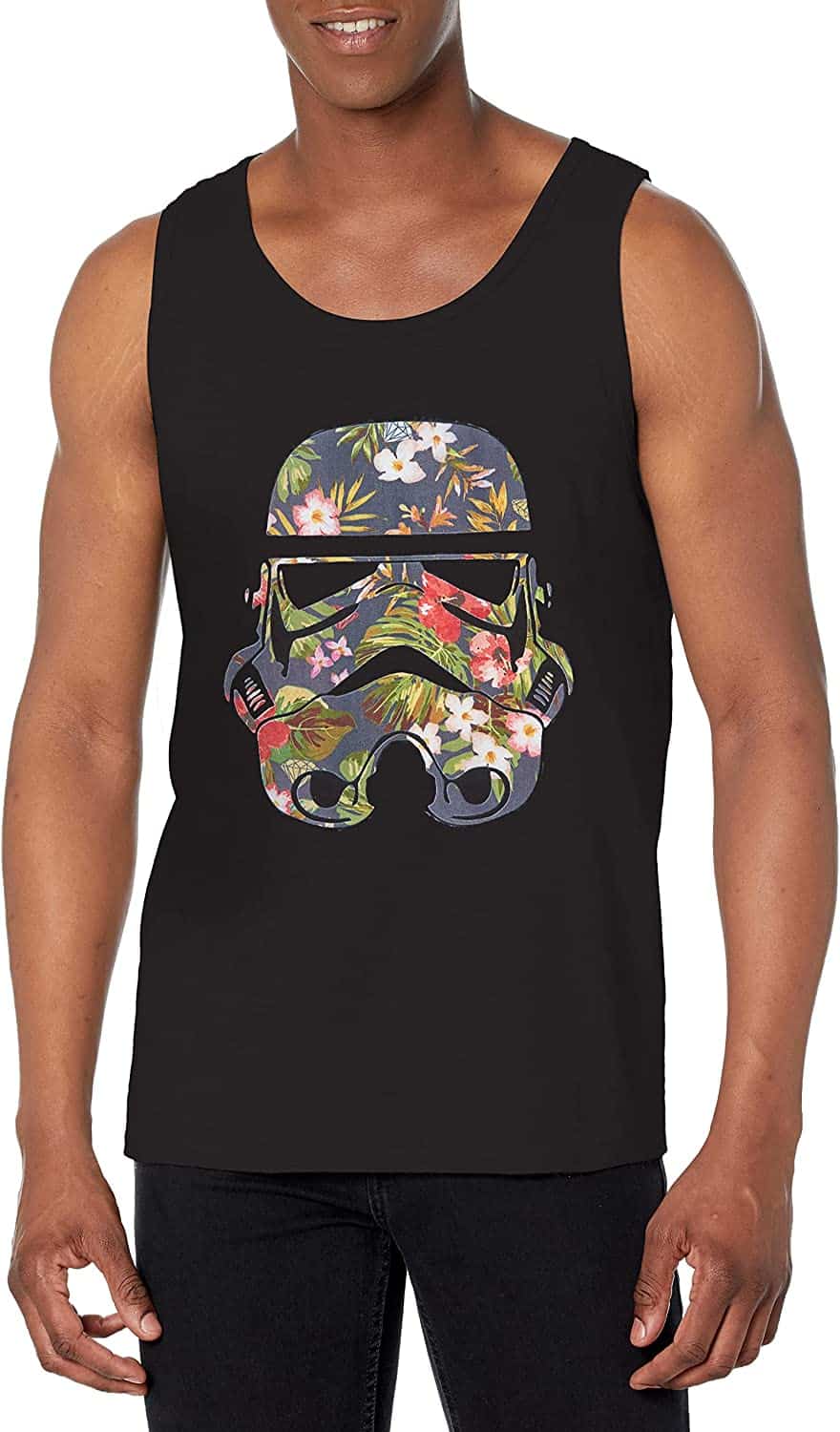 Key Specs
Price Range: $14-$24
Material: Cotton
Design: Stormtrooper helmet with tropical print
I would wear this one is warm climates, because on top of being a tank top, it's made of cotton to keep you cool. There isn't anything I'd change about the construction or design of this one, which is why it's my favorite on the list.
Pros
Summer vibes Stormtrooper design
Breathable cotton to keep you cool
Unique concept
Cons
I'm loving the retro feel of this Millennium Falcon tank top. I can just see everyone lined up in '77 to see Episode IV in theaters wearing colors and designs and like this one. What's cool to me is how the starship has been repeated over itself in different colors, because it gives the design some extra depth.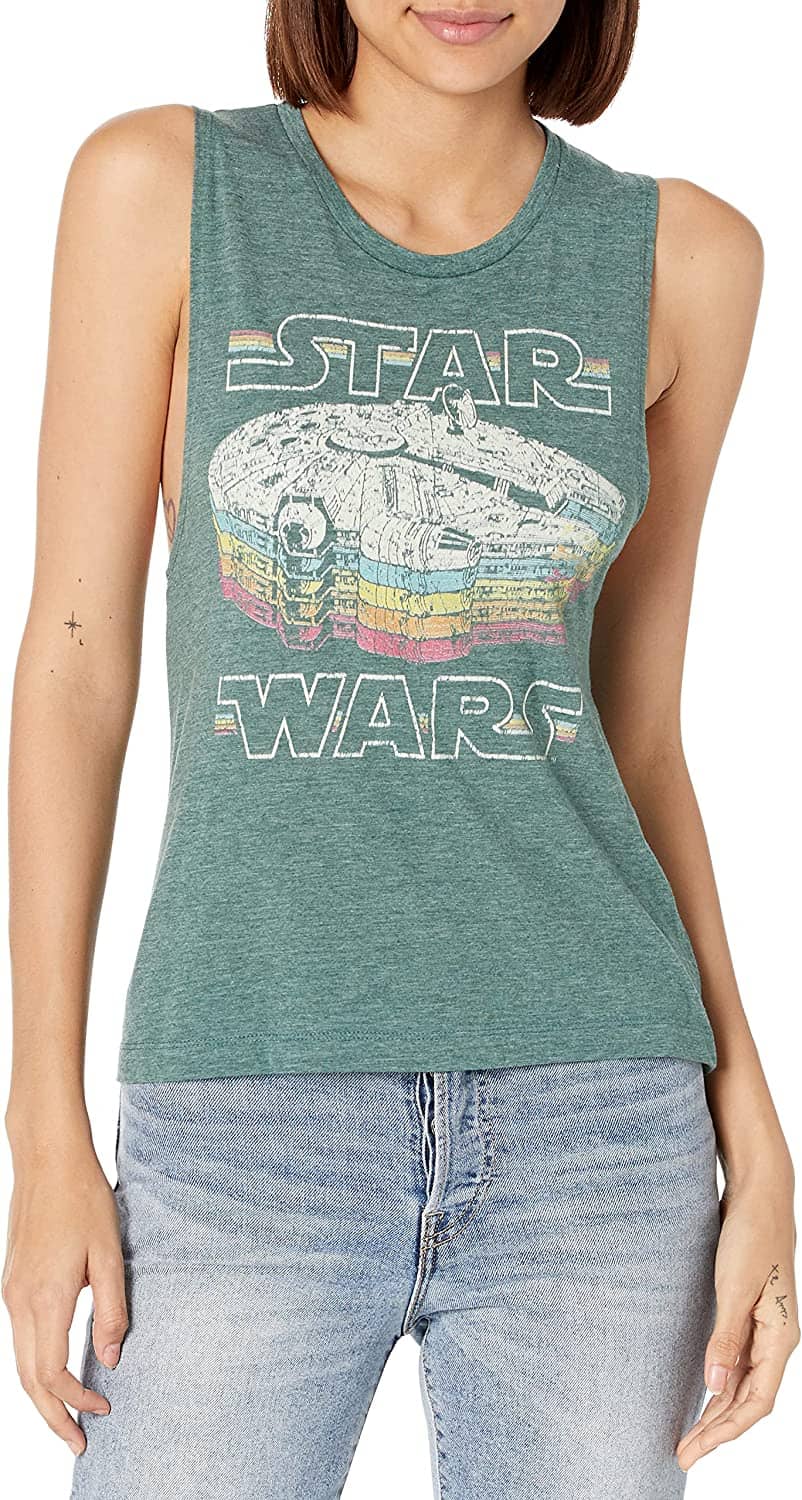 Key Specs
Price Range: $15-$35
Material: 35% cotton and 65% polyester
Design: Retro colors Millennium Falcon
It's made from a mixture of cotton and polyester, which makes the tank top feel extra soft. Still, I think it's best to let this one air dry instead of putting it through the dryer if you want to take the best care of it.
Pros
Retro vibe fits Star Wars franchise
Cool design
Made with eco-friendly ink
Cons
Not as breathable as tank top listed above
There are things I love and hate about this tank top featuring Mando from The Mandalorian, but stay with me! The love outrules the hate. I love the big print of Mando, the 5 different tank top colors you can choose from, and the overall color scheme of the design. I hate that "Bounty Hunter" is printed so big it almost overpowers Mando. Also, I think this one is made with an odd mix of materials, but I like that it's mostly polyester.
Key Specs
Price Range: $5-$35
Material: 66% polyester, 2% spandex, and 32% rayon
Design: Mando
This tank top is meant for juniors, so it's great if you know a younger fan who loves the hit Star Wars Disney+ TV show. Even with the bulky lettering, I still think they'd be thrilled to see Mando.
Pros
Features everyone's favorite bounty hunter from The Mandolorian
Great for younger fans
Can be machine washed and dried
Cons
I wish "Bounty Hunter" wasn't printed so large
The Best Star Wars Long Sleeve Shirts
Tons of Star Wars fans are parents, which means they've got little Jedis, Sith Lords, and bounty hunters toddling around. I think it's so cute when parents dress their kids up in the nerd gear they love, so I had to include this 2-pack of Star Wars long sleeve shirts for toddlers. Henley is a trusted brand for kids clothes that makes shirts with tag-free necklines, so you know these shirts are going to be soft and breathable.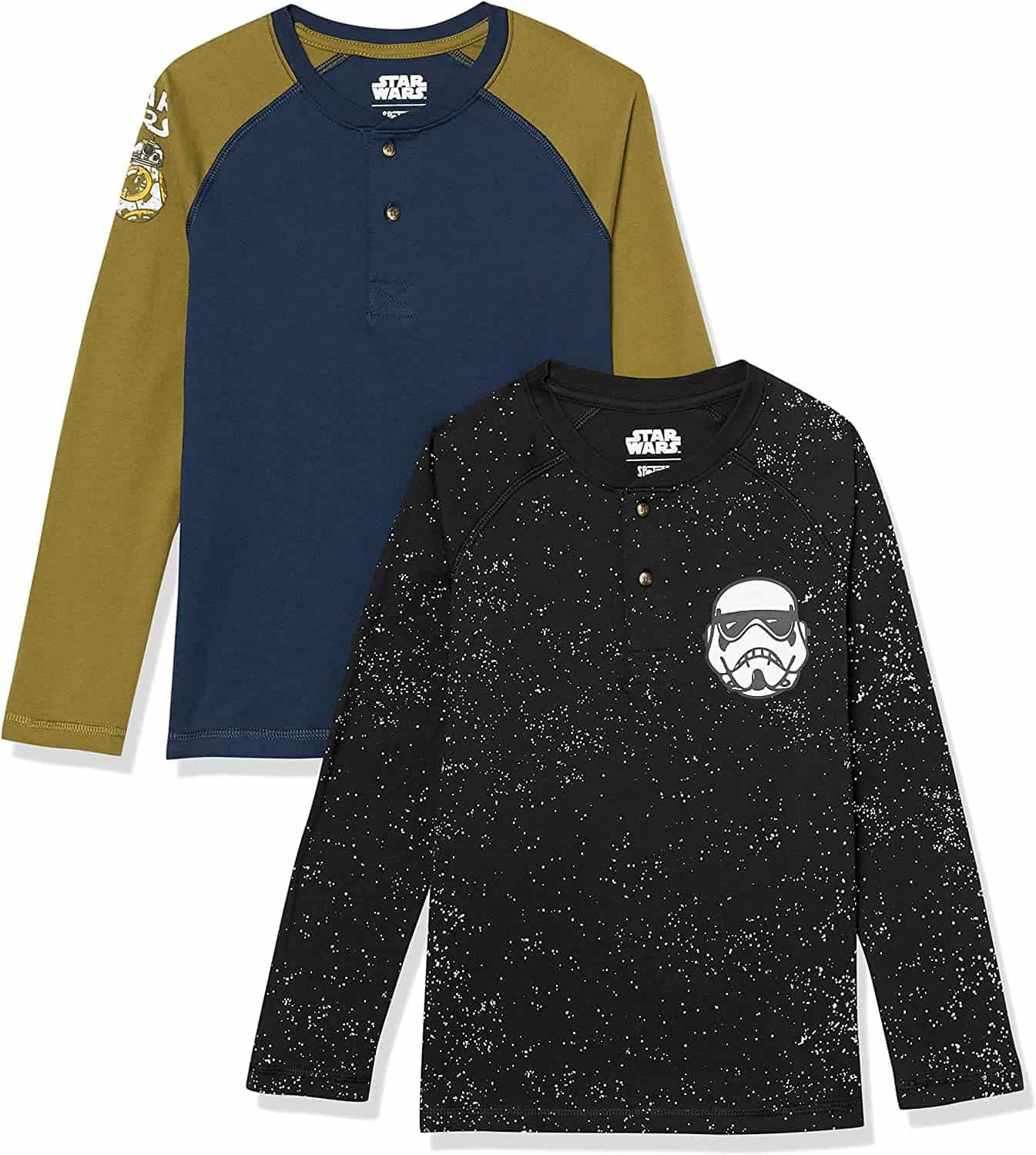 Key Specs
Price Range: $10-$25
Material: Cotton
Design: Stormtrooper
My favorite of the 2 is the black shirt with a white starry print and a stormtrooper helmet on the front. I like it a lot more than the green and blue shirt that doesn't have a design on the front, but does have some Star Wars insignia on the sleeve.
Pros
2 shirts in a pack
Great for Star Wars fans with young children
Cute and bold designs
Cons
1 of the shirts doesn't have a Star Wars design on the front
I wish I could que the Darth Vader music for this one, because this long sleeve shirt is the essence of the Dark Side in an article of clothing. The shirt is black and features a retro design of Darth Vader, stormtroopers, an AT-AT, the Death Star, and just general destruction. I definitely give this shirt kudos for having the best design in the long-sleeve category.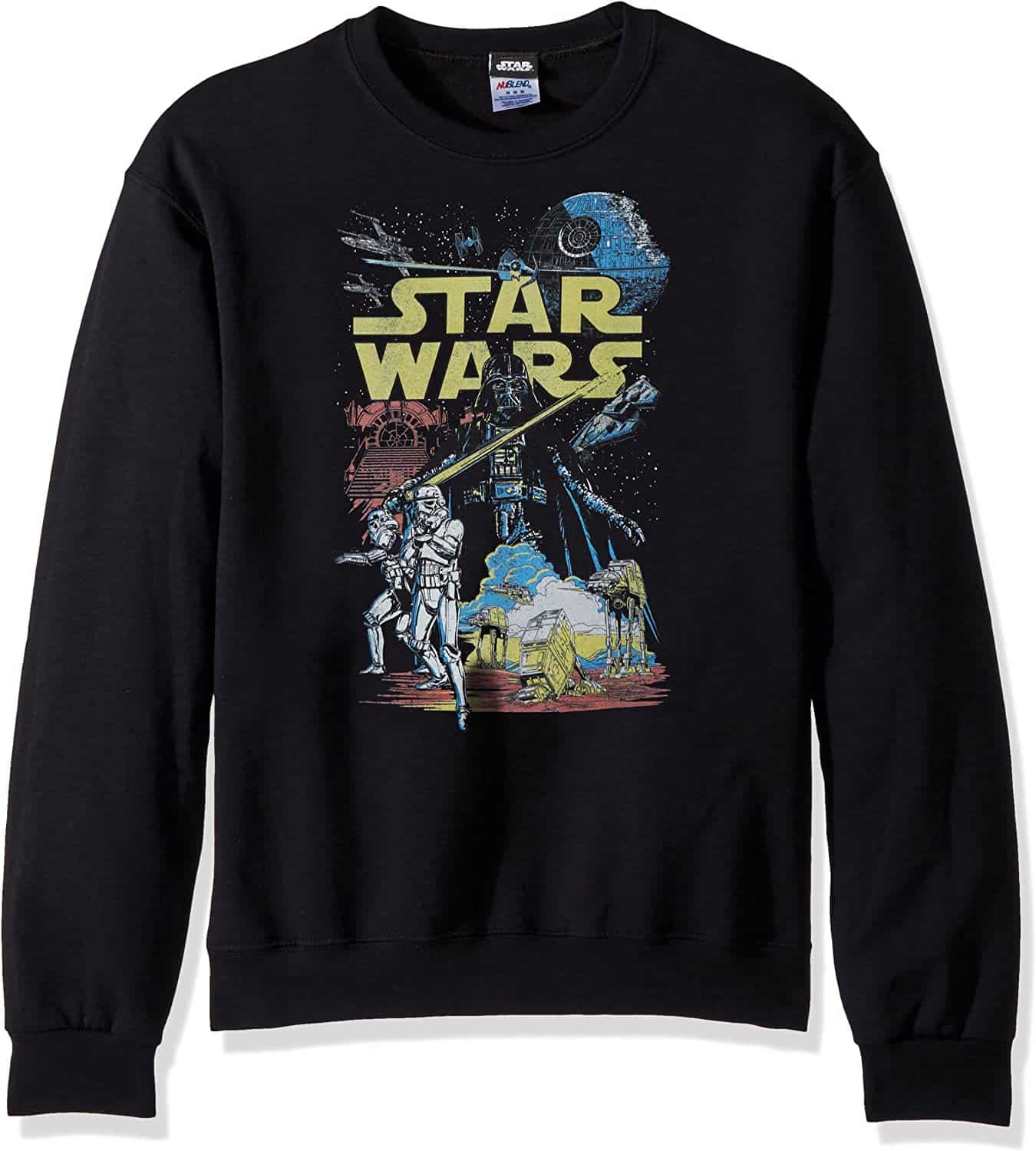 Key Specs
Price Range: $15-$45
Material: 50% polyester and 50% cotton
Design: Dark Side retro graphic
I'd buy this as a gift for Vader fans, but maybe it's not a great idea for fans of the original trio (Luke, Han, and Leia.) It's made from a blend cotton and polyester, so it's great for any climate.
Pros
Awesome for new and old fans of the franchise
Cool retro design
Features Darth Vader, stormtroopers, and other Dark Side signifiers
Cons
Not for fans of the heroes
Calling all Rebels! When you know in your heart that you must fight against the Empire and end oppression across the galaxy, then repping your Rebel pride is a must. If your lightsaber would shine blue or green instead of red, then I think you'll like this shirt. It's lightweight despite being made from polyester as well as cotton, which makes it perfect for fall and spring weather.
Key Specs
Price Range: $15-$25
Material: Cotton and polyester
Design: Rebel Alliance Starbird
The color of the shirt is burnt orange, which fits well with the color scheme of the Star Wars universe, and it isn't extremely bold. Still, if you're buying this as a gift, consider whether the person you're buying for would love or hate to wear orange.
Pros
Clean and simple design
Form fitting
Officially licensed Star Wars merchandise
Cons
Bold orange color isn't for everyone
Despite the general coolness of Mando and his sweet bounty hunter gear, the cuteness of Grogu steals the show on this shirt. This is a cosplay-esque long-sleeve shirt that gives you a printed replica of Mando's armor. Across the front, Grogu is sitting in his little brown knapsack across Mando's chest. I think it would make fellow fans of The Mandolorian say, "Awwww~"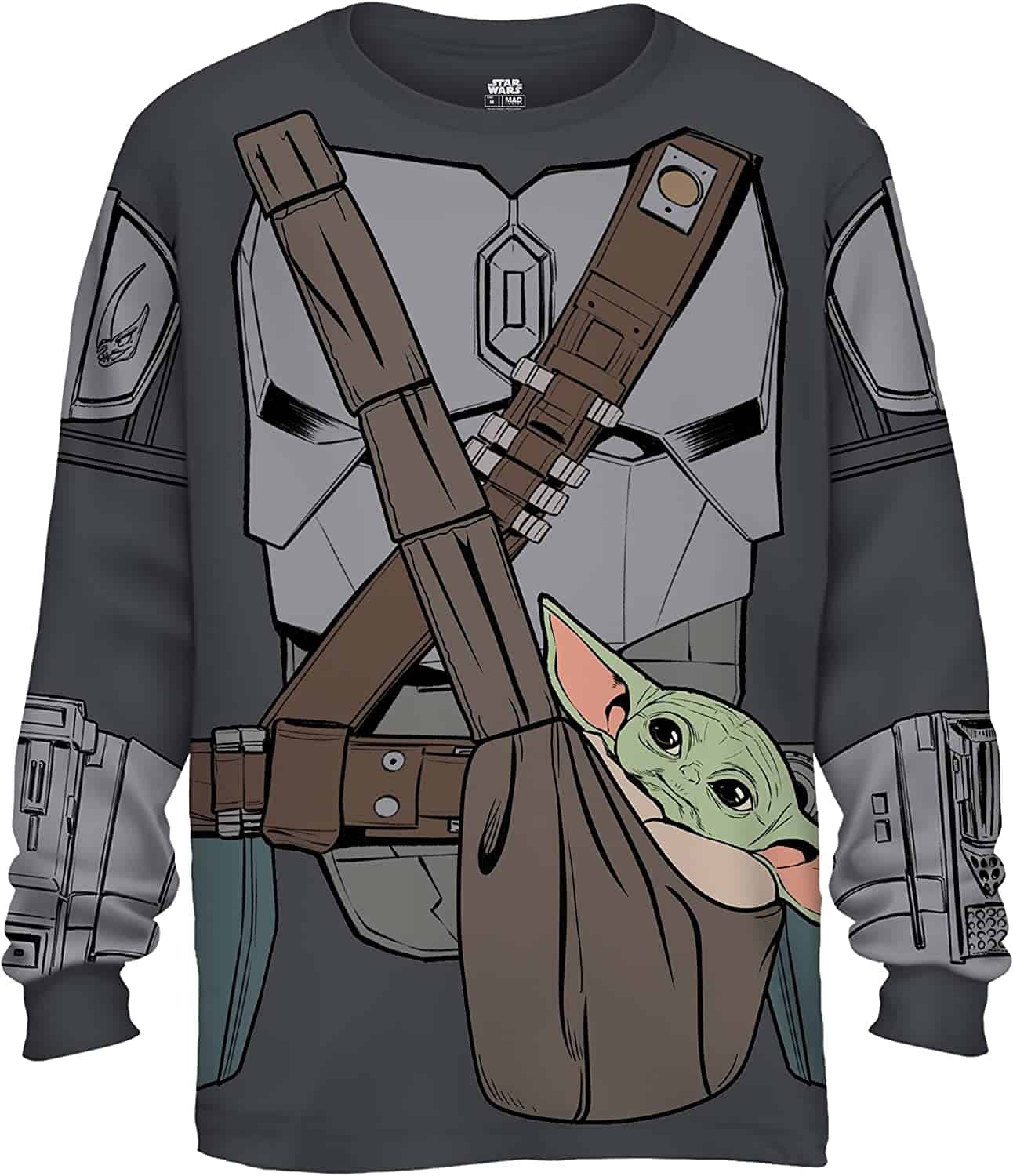 Key Specs
Price Range: $20-$35
Material: 80% polyester and 20% cotton
Design: Mando's gear with Grogu
The description says this long sleeve shirt comes with a zipper, but it doesn't. I think it's good that this shirt doesn't have a zipper, because it would interrupt the design of Mando's armor, but it's weird the description said there would be one.
Pros
Shirt looks like Mando's gear
Cute Grogu
Polyester keeps you warm
Cons
Description lies about there being a zipper
The Best Star Wars Sweaters
These aren't the droids you're looking for… wait. I love the play on this classic Star Wars quote.
This is the cutest Halloween sweatshirt I've seen in a long time. That it features Darth Vader and little stormtroopers with swooshy ghost bodies is even better. "These are not the treat you're looking for," is printed on the front in white bubble letters, so it's got an adorable callback to the first movie.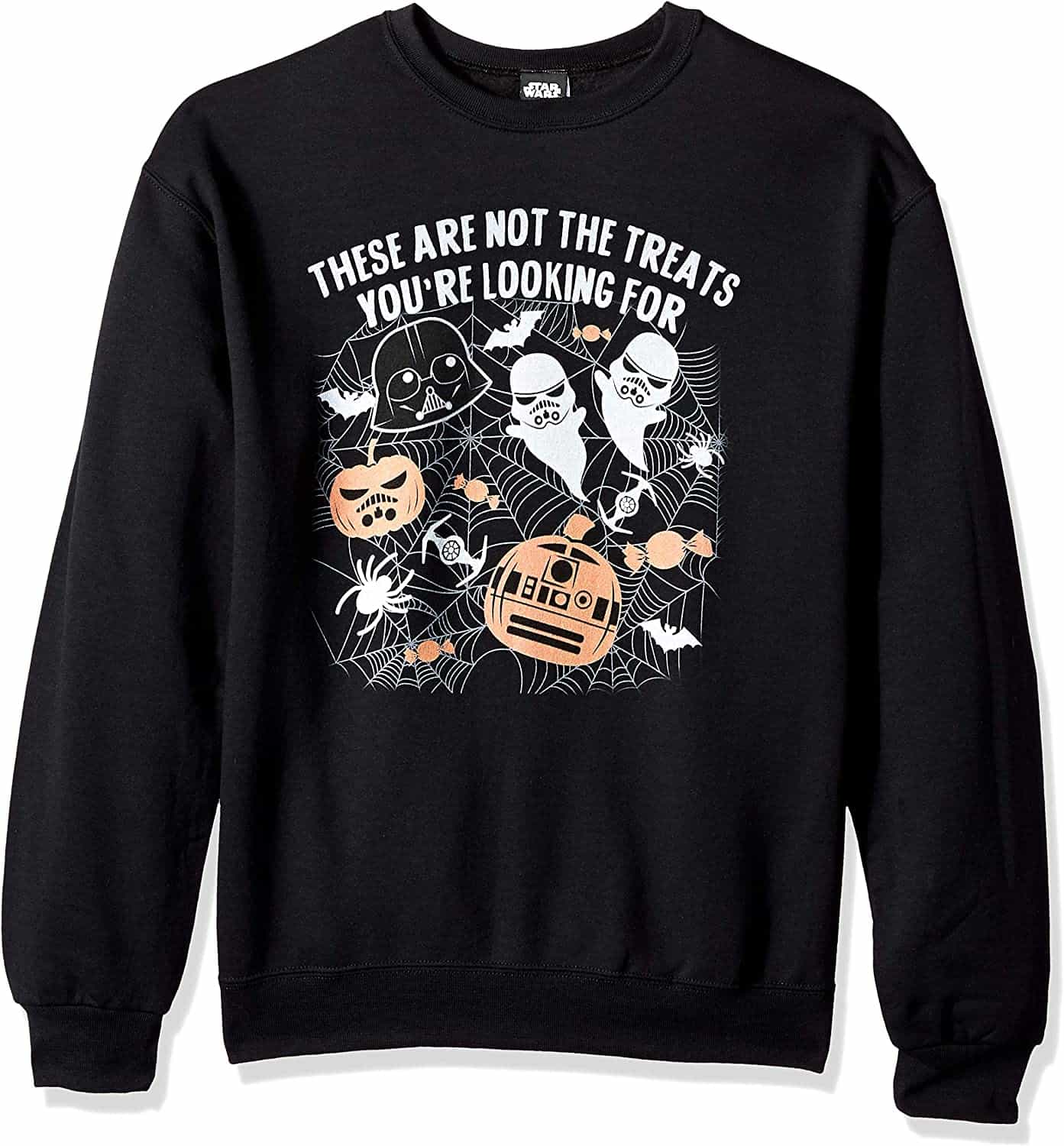 Key Specs
Price Range: $28-$40
Material: Cotton
Design: Dark Side Halloween
I think the solid black color of this sweatshirt is great for everyone. The real question is, would the Star Wars fan you know like to wear something this cutesy? If the answer is yes, you know what you're buying them next Halloween.
Pros
Cutesy design
Halloween themed
Cotton keeps you warm
Cons
Some people may not like how cute the design is
When I want to show off my holiday cheer, I want to do it with the cutest alien in the galaxy. You might win at an ugly Christmas sweater party with this one.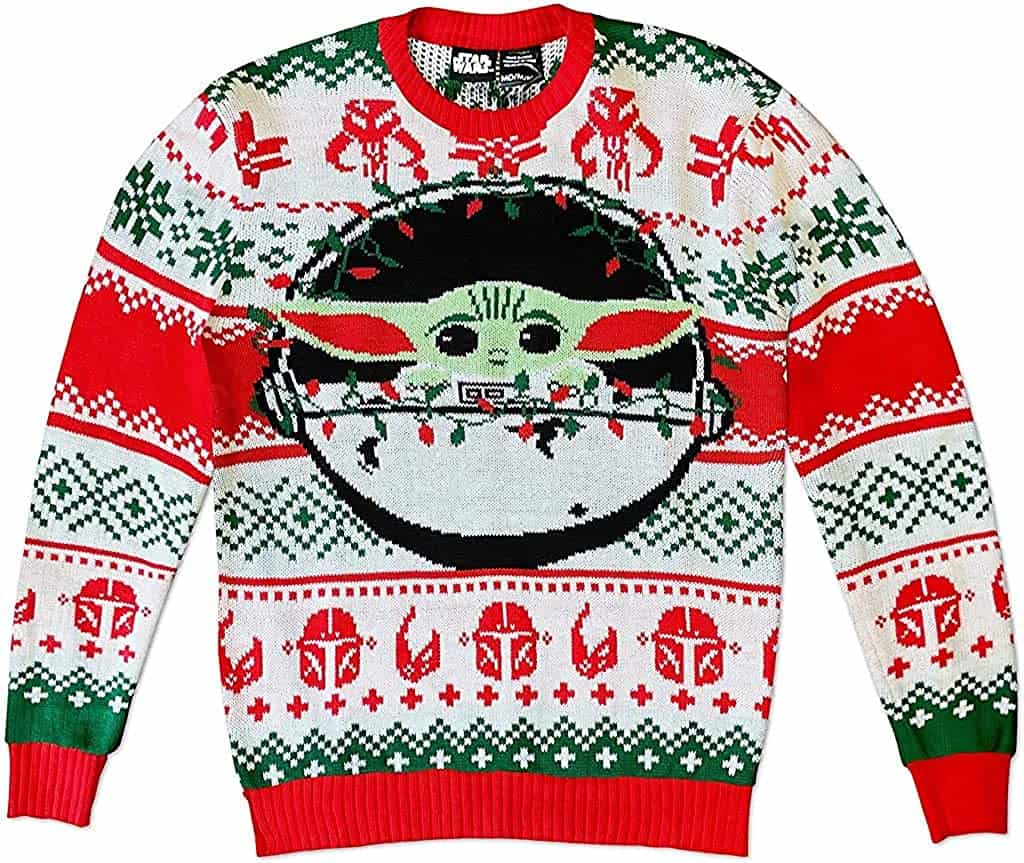 Key Specs
Price Range: $48-$58
Material: 60% cotton and 40% polyester
Design: Grogu Christmas
With the holidays barrelling towards us, it's time for us to show our Christmas cheer. If you're a huge fan of The Mandalorian, then you might want to show off your spirit with a little Star Wars flair. I won't lie-this is one of the priciest shirts on my list. Also, since it's holiday-themed, you'll probably only wear it for a little bit of the year.
The reason I included this one is because, despite the price, I think this sweatshirt is worth it if you plan to attend an ugly Christmas sweater party (or really any Christmas party.) It's made with a mix of cotton and polyester, so it won't get too hot, but it's still very soft.
Pros
High-quality
Adorable Grogu design
Christmas themed
Cons
Who's ready to snuggle up with their favorite intergalactic warlord? Me! Me! Me!
You know when you see some sweaters, and you think, 'That looks so cozy, it makes me want to snuggle up on my couch with a hot cup of tea'? That's this sweater. The fit of this sweater and the minimalistic design feels very modern, and though this is labeled as a mens' sweater, it looks unisex.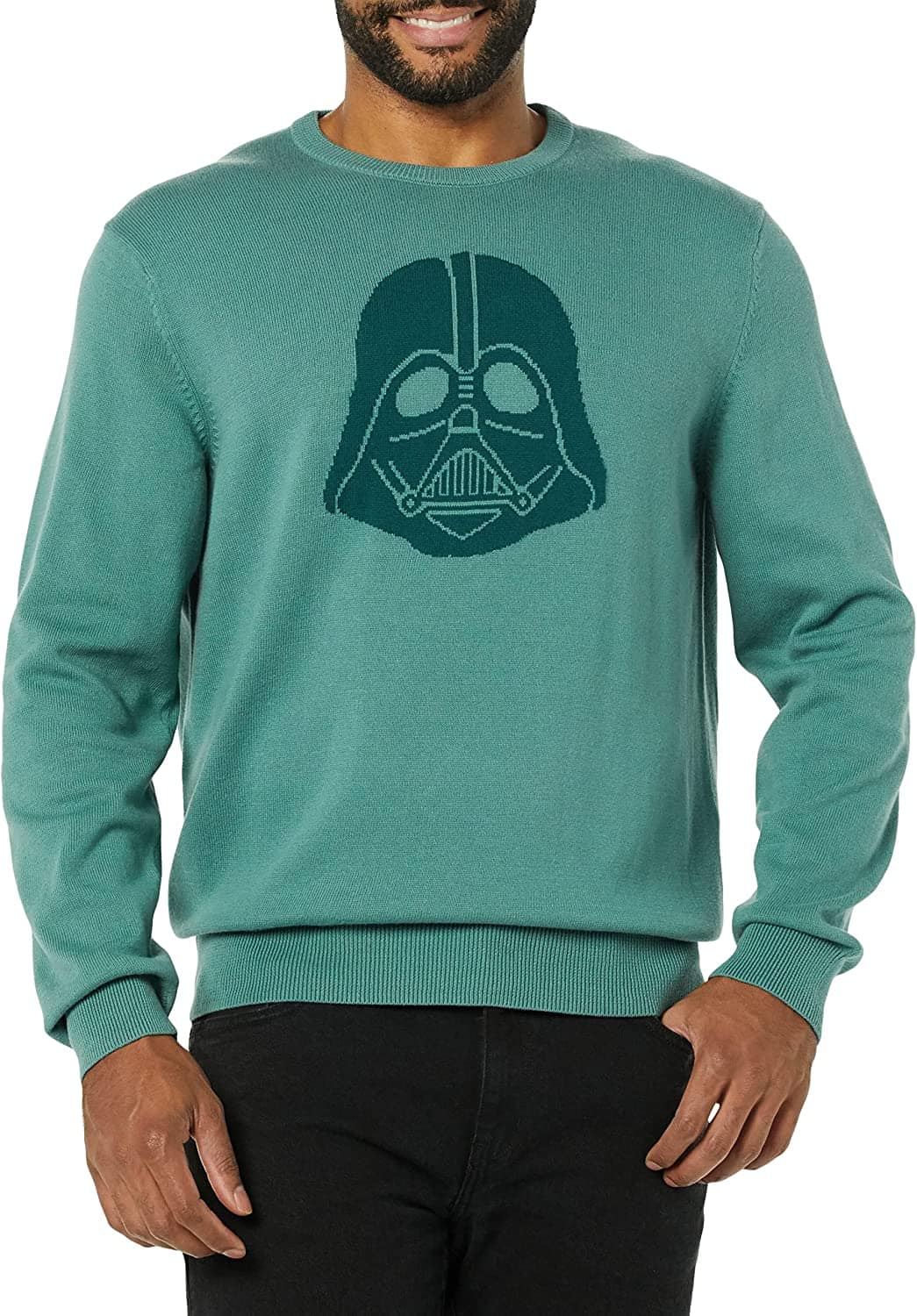 Key Specs
Price Range: $15-$35
Material: Cotton
Design: Darth Vader helmet
I recommend this for Vader fans who like a bit of color in their wardrobe. This sweater shows off two tones of blue that are subtle and fit nicely with each other. I wouldn't change a thing about this one.
Pros
Modern fit
Relaxed design
Darth Vader helmet
Cons
You can't go wrong with the good, old-fashioned Star Wars logo. If the only thing you know about the person you're buying a gift for is that they like Star Wars, this hoodie is a safe bet.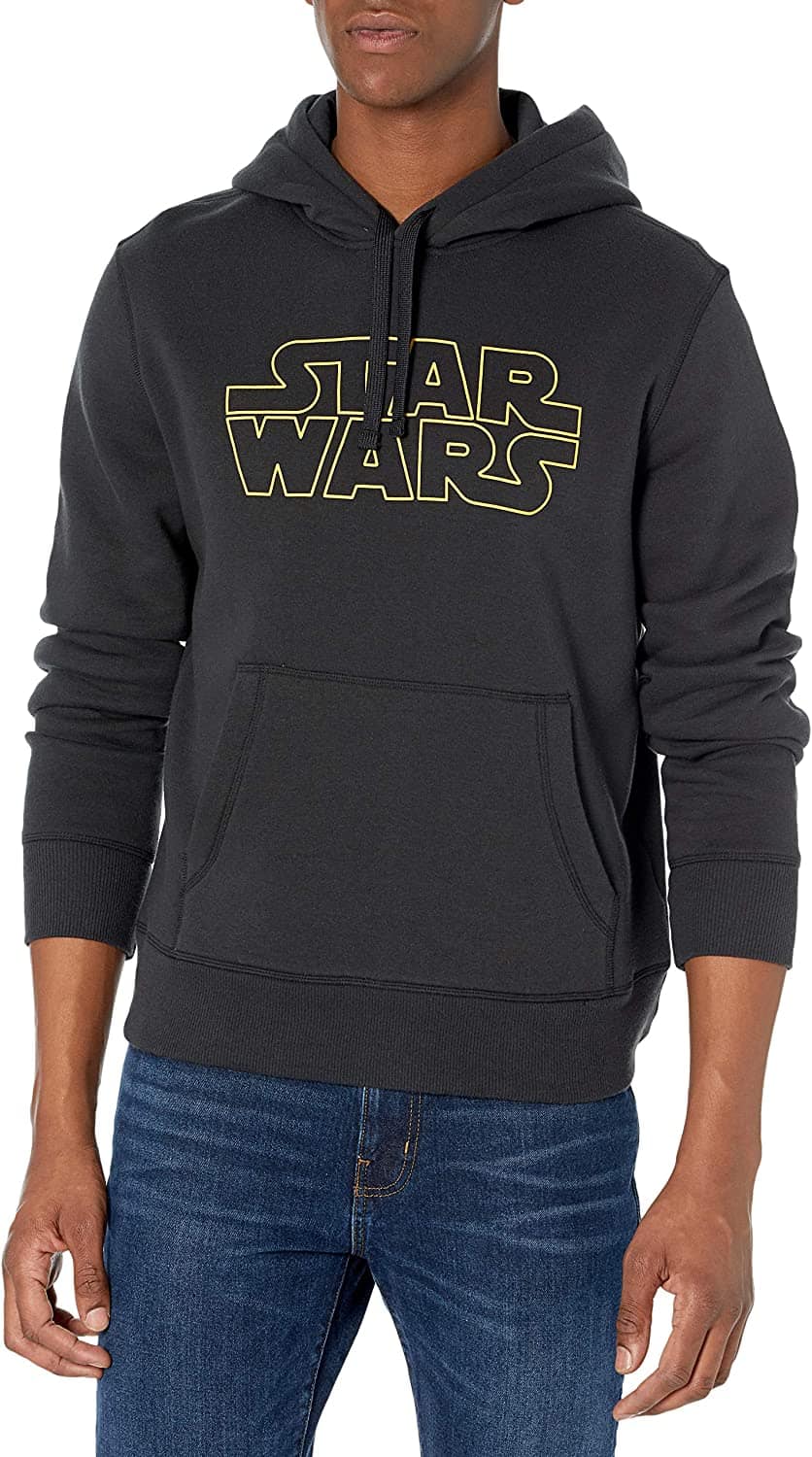 Key Specs
Price Range: $12-$36
Material: 60% cotton and 40% polyester
Design: Star Wars logo
If you were looking for the most basic Star Wars design you can find, then this hoodie is what you're looking for. Personally, I like the simplicity of the Star Wars logo against the dark background. It's a subtle hoodie that would fit well with most outfits for men and women.
I don't have anything to complain about, but I wouldn't say this is my absolute favorite design, either. I recommend it for people who don't like loud designs or bold colors.
Pros
Universally appealing color scheme
Features Star Wars logo
Good mix of cotton and polyester
Cons
Some fans might think the design is boring
The faded design of this old-fashioned Rebel logo makes it look all the more realistic. After all, the Rebellion had been operating for quite a long time.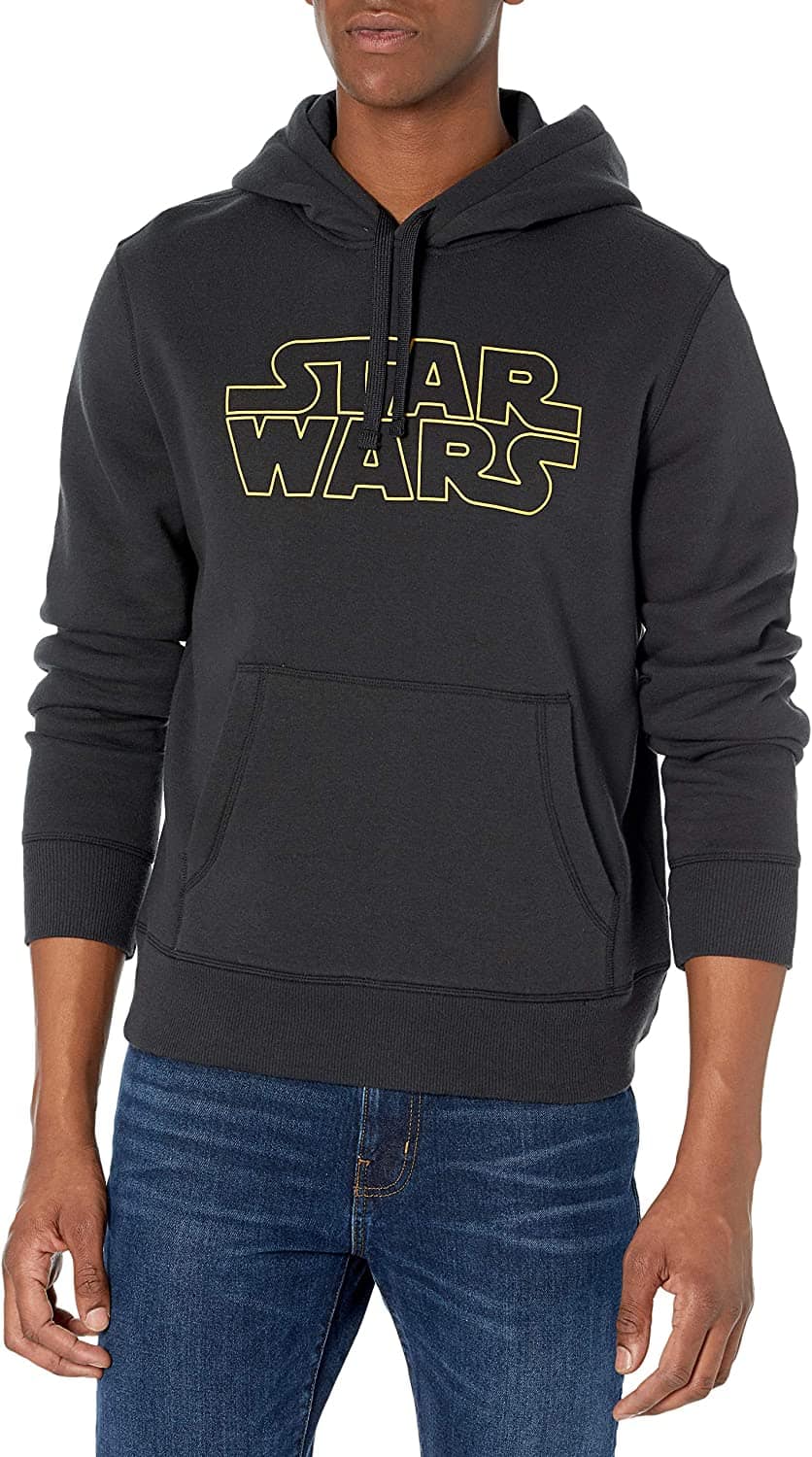 Key Specs
Price Range: $25-$45
Material: 80% cotton and 20% polyester
Design: Rebel logo
I appreciate that this hoodie comes in a huge variety of colors, because choosing a hoodie for someone in their favorite color makes the gift feel extra special. The faded look of the Rebel logo keeps with the Star Wars aesthetic we've come to know and love. Since it is primarily made of cotton, I wouldn't stick it in the dryer. You'll want to hang it up to air dry instead. The design isn't loud at all, so I think it's nice for everyday wear.
Pros
Old Rebel logo
Breathable
Tons of color options
Cons
Not for fans of the villains
Beep bop boop! Maybe if you wear this hoodie, you can successfully disguise yourself as a droid and sneak onto an Imperial starship. Dream big.
Key Specs
Price Range: $25-$35
Material: 95% polyester and 5% spandex
Design: R2-D2
I can't get over how awesome the design of this R2-D2 hoodie looks! I'm a sucker for hoodies with sleeve designs, and this hoodie goes above and beyond in that department. You'll find mechanical parts that look just like my favorite droid's all over this hoodie.
It comes with a zipper, so you can wear it open and layer it. The description specifies you must hand wash this hoodie, which might be something to consider.
Pros
Fun cosplay-esque design
Features fan-favorite droid, R2-D2
Spandex helps make the hoodie stretchy
Cons
Supposed to be hand washed
There is something I absolutely love about taking the Dark Side of the Force and making it cute. This hoodie does that tenfold.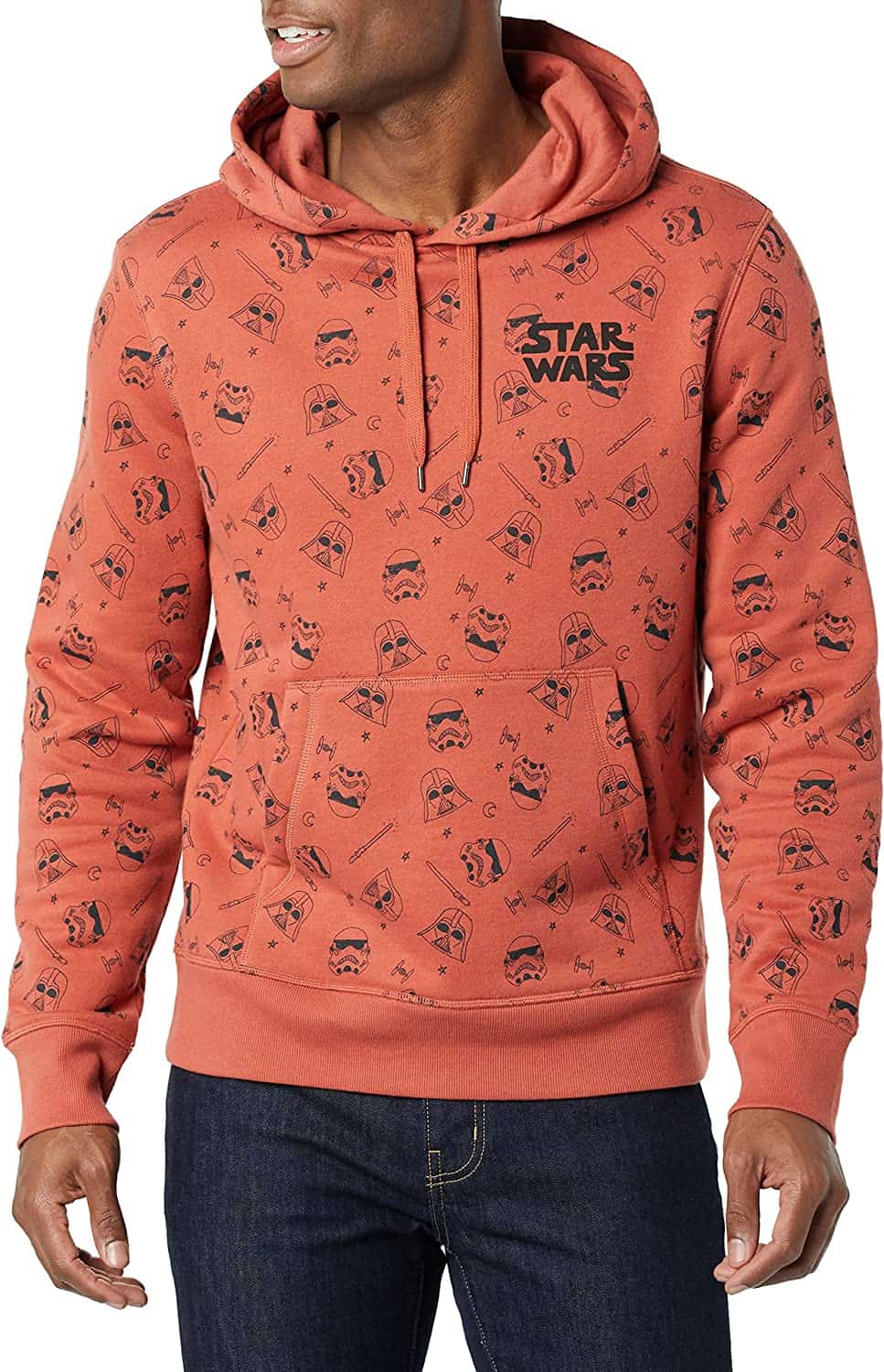 Key Specs
Price Range: 10-$35
Material: 60% cotton and 40% polyester
Design: Dark Side allover print
Darth Vader's helmet and stormtrooper helmets look so adorable in this allover print! The design is minimalistic, which gives it a modern touch. I like the simple crescent moons splashed in there, too.
I love this burnt orange shade, but I know it's not for everyone. Think about whether or not the person you're buying for likes to wear orange or not before buying.
Pros
Fun design
Perfect for Dark Side fans
Soft and breathable
Cons
Burnt orange color not for everyone
FAQs
Stay tuned for the last part, because now your most frequently asked questions about Star Wars shirts will be answered.
Question: Where can I get Star Wars Shirts?
Answer: The answer is almost anywhere they sell shirts. Star Wars is such a popular franchise that you'll find it at the mall, in Walmart, and in some designer stores. Online marketplaces like Amazon and eBay also have a huge selection.
Question: Where's the Best Place to Get Vintage Star Wars Shirts?
Answer: I'm going to have to go with eBay. You can find tons of vintage Star Wars shirts on eBay if you're willing to pay a steeper-than-average price for them.
Question: What's the Best Material for Shirts?
Answer: I think the best materials for shirts are cotton and polyester. Cotton is natural and breathable, while polyester is softer and very warm.
The Final Battle
It's time for the final battle: making your final decision on which Star Wars shirt you thought was best. Leave me your opinion in the comments below! Was it my personal pic, the Star Wars Mos Eisley Cantina Tatooine Men's Adult Graphic T-Shirt ? If you'd like to check out even more helpful reviews and guides on Star Wars merch, come check out our website!
Looking for more interesting readings? Check out: