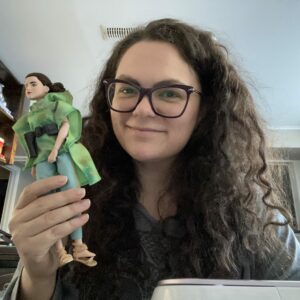 Latest posts by Candace Osmond
(see all)
The Lego Razor Crest has been a hit since it debuted on shelves everywhere, but is it worth the hype? I'm going to explore the pros and cons of this 1,000+ piece Lego set so you can decide whether this is the right Assault ship for you or if you'd prefer an alternative. I'll be covering what Minifigures are included, which interactive elements make this ship a standout, and more. Buckle in, everyone, because we're going forward at lightspeed!
About the Lego Razor Crest
Want a deeper look into the Lego Razor Crest to determine if this set is a good match for you? Today, I'm covering all the nitty gritty details about this Lego set, like how long it takes to build, how big the ship is, and how you can pose the interactive elements. If you're buying this set for yourself or a Star Wars fanatic in your life, stay tuned!
Pros and Cons
Let's start with the basics by going over the pros and cons of this set. Even though I personally like this one, I tried to be as objective as possible when judging the Razor Crest's faults.
Pros

Great for older kids and adults
5 Minifigures included
2021 Toy of the Year Awards Winner
Over 1,000 pieces
12-14 hours of build time
Interactive elements

Cons

Lots of pieces are the same color
Not great for young kids
Key Features of the Lego Razor Crest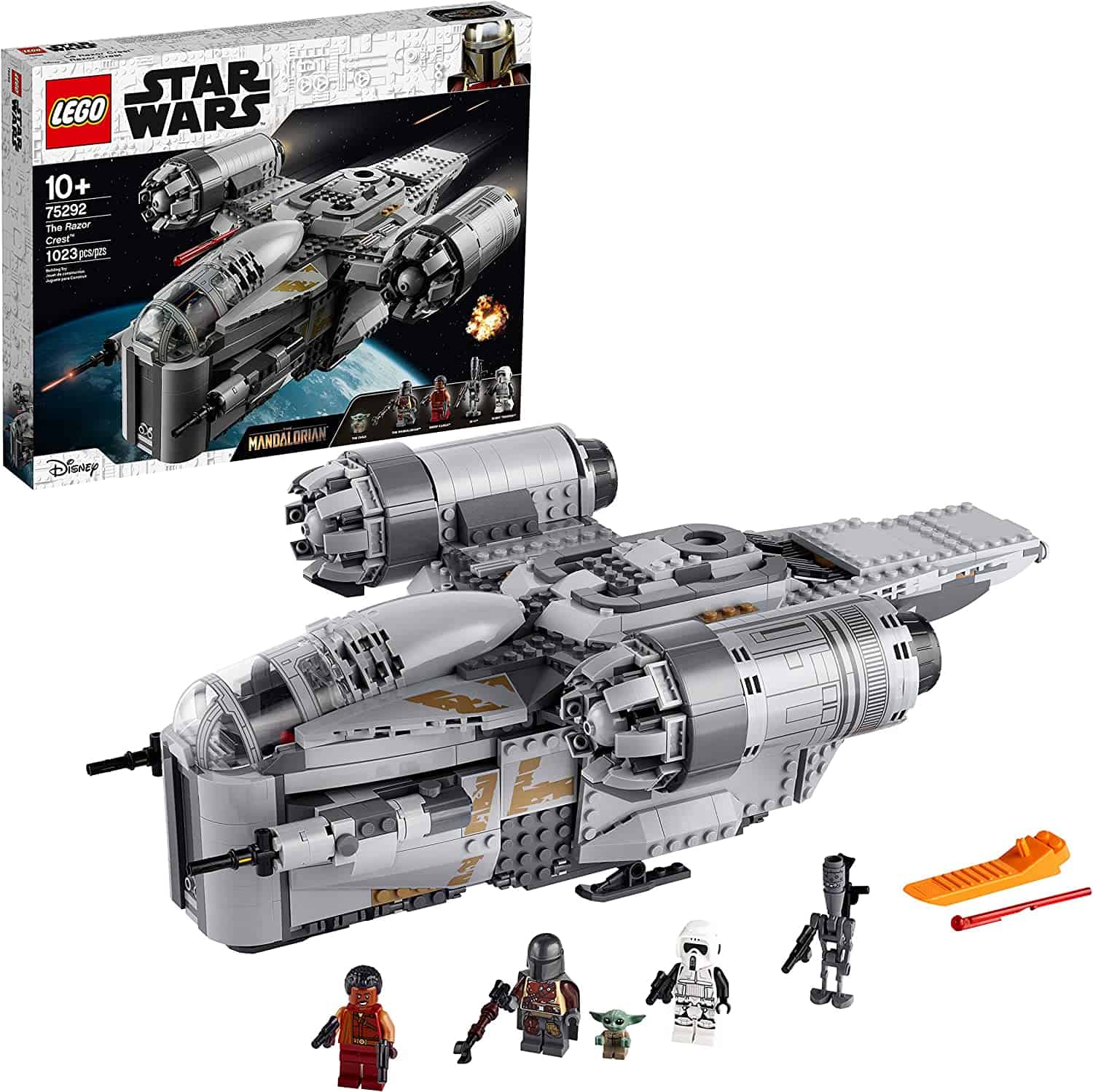 Time for the fun part! I want to talk about what makes the Razor Crest different from all the other Star Wars Lego sets. Knowing how long it takes to build this Assault ship and what interactive elements there are can help you figure out if this would be a good present for a kid or adult you know. If, in the end, you decide this isn't the ship for you, hang in there! I've got 3 alternative sets to show you, too.
How Many Pieces?
There are 1,023 pieces in the Lego Razor Crest set. That's an average amount of pieces for a medium-sized Lego set, but what gives this set an edge is how some of the pieces are intricately shaped. You'll be building a removable cockpit, opening doors, spring-loaded shooters, and other features made from particularly cool-looking blocks. The only con I'll point out is that most of the pieces are the same shade of light gray, making them easy to mix up while building.
Price Range
As a general rule, expect to pay between $125-$165 for the Lego Razor Crest. It's an average-priced Star Wars Lego set for the number of pieces and minifigures you get. Lego may have steep prices sometimes, but I think the hours of entertainment you can get out of medium-sized sets like this makes them worth it.
Age Range
Lego recommends this set for anyone 10 years old and older. If you're buying for a kid and they have a knack for building, you could get away with giving this to a 7 or 8-year-old. This set is perfect for adults, too, because it's something you'll have to work on for a while, whether you're a kid or not.
Assembly Time
Here's the fun part! The Star Wars Razor Crest set usually takes around 12-14 hours to build. If you lose the instructions that come in the box, you can always head over to the Lego website, where there are printable instructions for every set. Oh, and if it takes you a little longer than 14 hours to build this spacecraft? Don't worry. I don't judge.
Finished Dimensions
The Lego Razor Crest is 15" long, 11" wide, and 5.5" tall. It's a medium-sized Lego set that's big enough for interactive elements, so it can be positioned in a few different ways for a display. I think the opening doors and detachable escape pod would be fun for kids to play with, too.
Included Lego Minifigures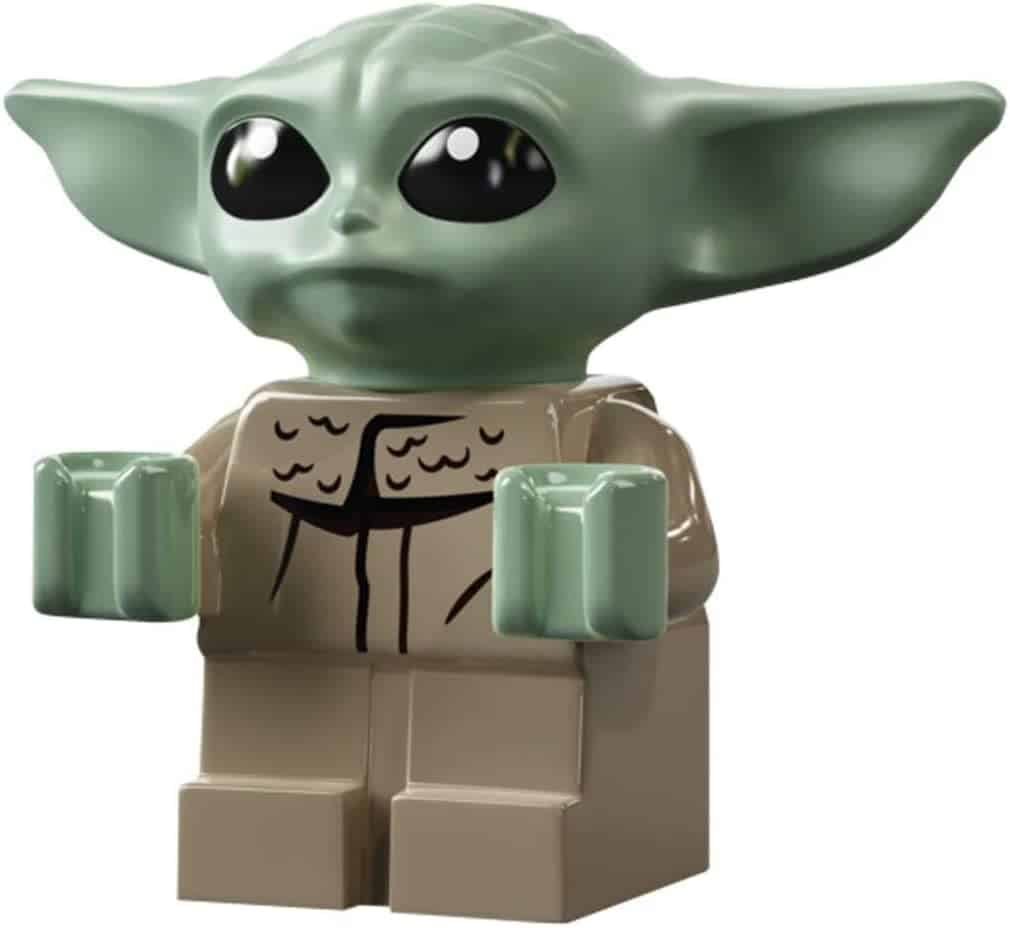 There are 4 (though technically 5) Minifigures that come with the Razor Crest. First up, we have to have Mando and The Child. Though these two counts as one Minifigure, The Child can be separated from The Mandalorian and posed as a standalone figure. Greef Karga, a Scout Trooper, and an IG-11 are familiar faces you'll see on board, too.
Cool Extra Features
Let's go through some of the highlights of the Lego Razor Crest:
2-seater cockpit
Cargo hold with opening sides and access ramps
2 spring-load shooters
Carbonite bounty elements
The cockpit that can seat two Minifigures instead of one is a creative touch! You don't often see that in Lego Star Wars sets. If you've got little ones, I think they'd get a kick out of the spring load shooters, too.
Decision Making Tips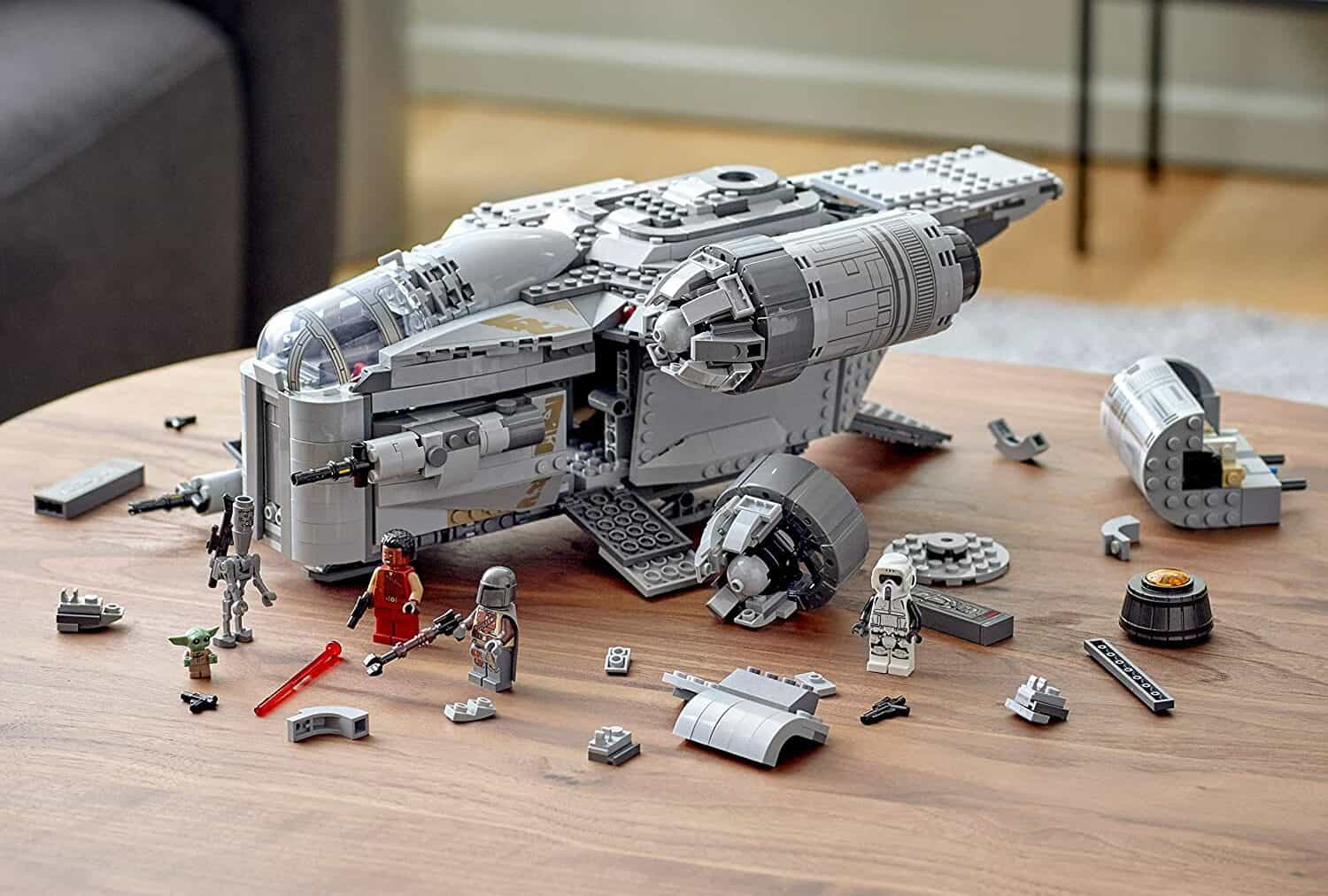 There are so many Mandalorian Lego sets! How do you choose just one? Is the Razor Crest the right one for you or the Mando fan you know?
Difficulty Level
This set is recommended for anyone 10+, but don't be fooled into thinking it's going to be incredibly easy. If you're inexperienced with Lego building, even a set like this can be difficult when building some of the cool extra features we talked about. Luckily, if you get stumped at any point, there are tutorial videos and help guides online that walk you through just about every Lego set known to man.
What Is Your Budget?
As I mentioned earlier, the Lego Razor Crest is going to cost you somewhere between $125-$165. If you were looking for a Mandalorian Lego set under $100, don't worry if this one's out of your price range. Luckily, Star Wars is Lego's biggest seller, so there are tons of slightly smaller (and just as cool) Mandalorian Lego sets you can look at for under $100. Some of the small sets won't even cost you $40.
What's the Most Important Feature of a Lego Set for You?
To decide if this is the right Lego set for you, you have to ask what you want out of a Lego set. Do you want a long project or something that can be done in one sitting? Do you care about interactive elements? Do you have a preference in which Minifigures you get? If this is a gift for someone else, do you know who their favorite characters are/what their favorite ship is? Answering these questions can help you decide.
How Much Time do You Want to Invest in a Lego Set?
If you want a challenge that isn't going to drag on for weeks, then I'd say this is a great Lego set for you. With 12-14 hours of build time on average, then it should take you about a week if you devote a couple of hours every afternoon to the Razor Crest. If you want a Lego set that can be built in one sitting, you may want to check out some of the smaller ones.
Is This a Gift?
If you're buying this for someone else, I think you should ask yourself two key questions:
How much do they like The Mandalorian?
How much do they like building with Legos?
This set is best for people who love the Disney+ Star Wars TV show, The Mandalorian, and like building with Legos or want to start their building journey. If this person is a huge fan of the Star Wars who, but isn't necessarily a builder, I recommend a smaller and less complicated set. Lego has tons of them-especially for The Mandalorian.
Where Can You Buy the Lego Razor Crest?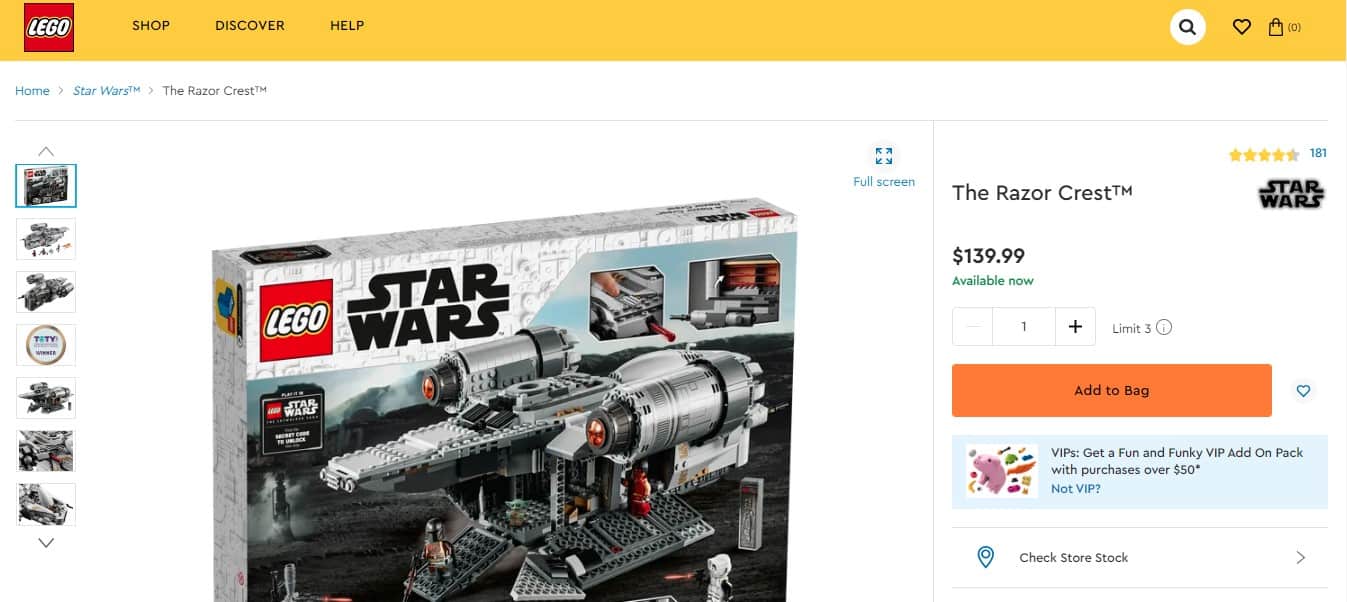 Here's a quick list of places online where you can buy the Lego Razor Crest. Pro tip: If you're going to get one, the sooner the better, because Lego is retiring this set at the end of 2023. If you're interested, check it out at:
Other Alternatives to Consider
I've mentioned that Lego has tons of sets inspired by the characters, ships, breathtaking scenery, and action of The Mandalorian, right? Well, now I want to show you some of those sets so you can consider a few options when buying a gift for yourself or a Mando fan you know. I'll show you three of my favorite alternatives to the Lego Razor Crest.
Best For: Most Lovable Minifigures
This is a set I think kids would really like, because two of the best characters from the show, Mando and Grogu, have been made into Minifigures. Still, adults like us can appreciate building an N–1 Starfighter (particularly one with an interactive cockpit and a springload shooter.) With an average build time of 45 minutes, I'd like to sit down one afternoon and put this together.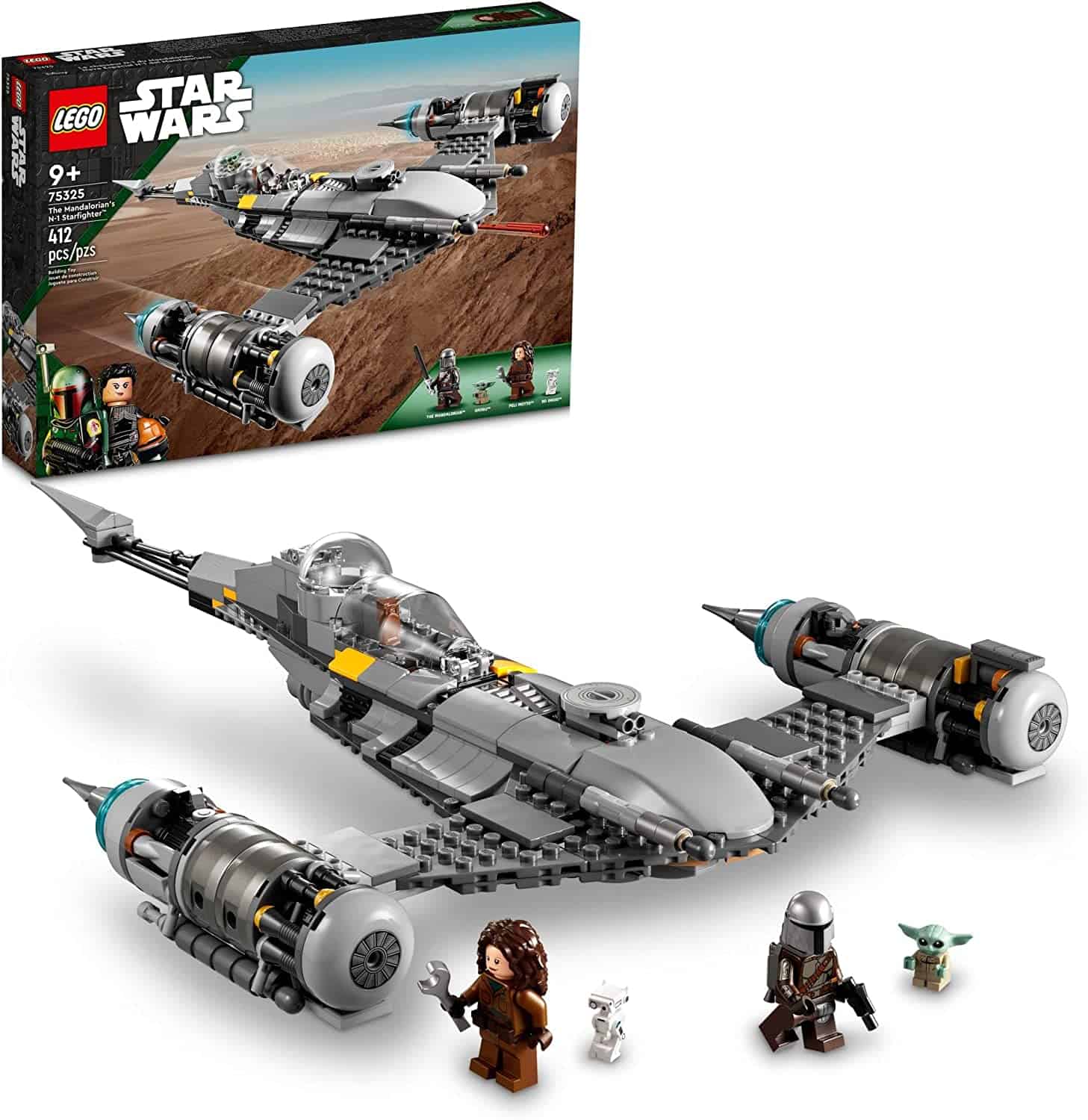 Key Specs
Price Range: $40-$60
Number of Pieces: 412
Age Range: 9+
The design is clean and recognizable. I'm loving that the cockpit door is posable and you can position Minifigures inside, so you can get creative with how you display this set.
Pros
Mando, Grogu, Peli Motto, and BD Droid minifigures
Great for kids and adults
Under $100
Cons
Smaller than the other sets
Best For: Biggest Set
With 1,022 pieces in total, The Justifier is much larger than the other 2 alternatives to the Razor Crest. When you build this replica of The Justifier from The Mandalorian, you'll get to choose whether to display it in flight mode or landing mode. I'm a fan of how you can keep switching up the look of how you want to showcase this one, and how you can pose different interactive features like the jail cell and cockpit.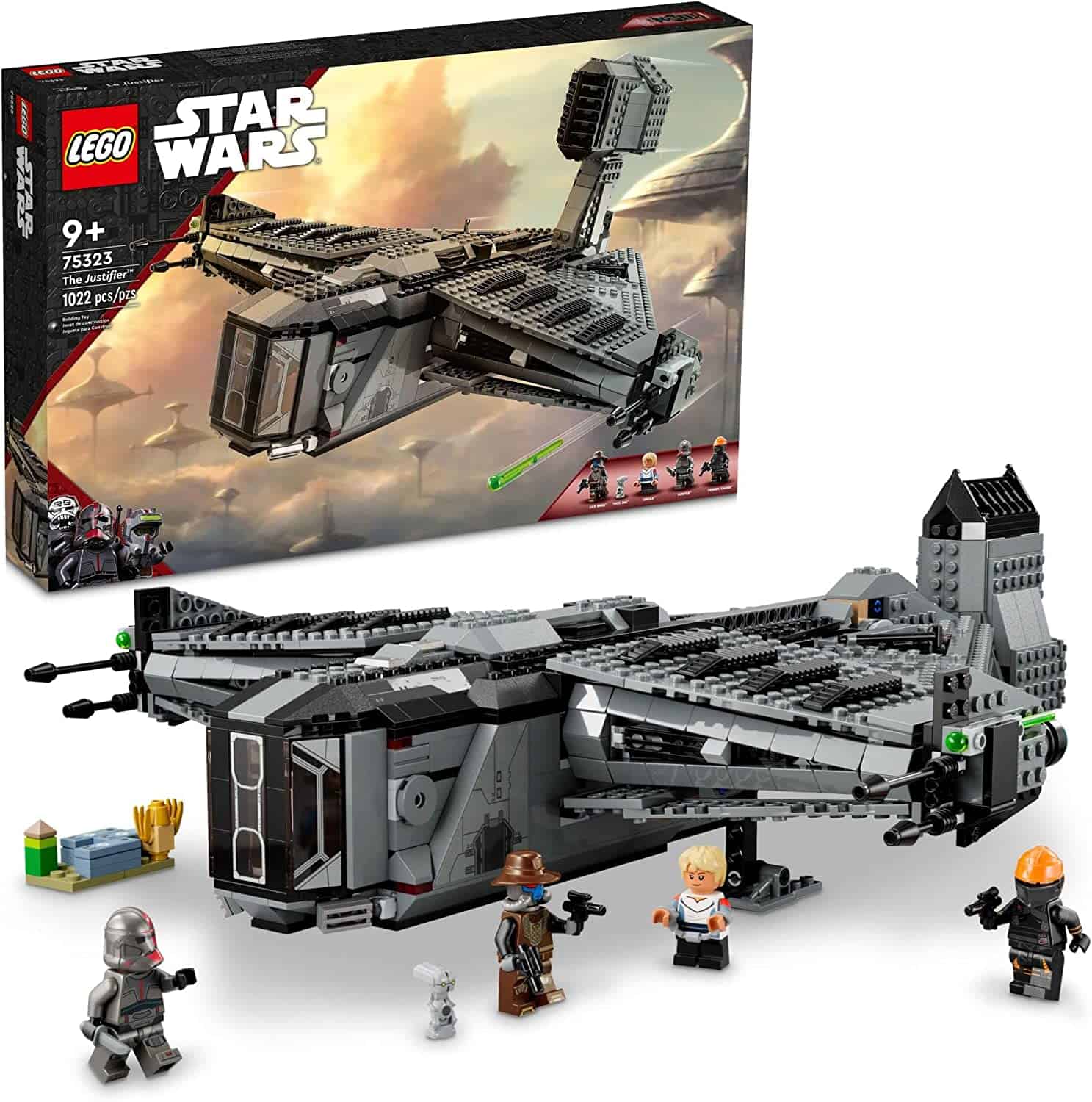 Key Specs
Price Range: $150-$190
Number of Pieces: 1,022
Age Range: 9+
Cad Bane, Hunter, Omega Fennec Shand, and a Todo 360 droid accompany The Justifier. It's fun to pose them in and around the ship, sp get creative with who goes where in your display.
Pros
Large and impressive Star Wars Lego set
Many interactive elements
Flight mode and landing mode
Cons
Best For: Coolest Starfighter
This is the last Starfigher I have to show you, and I'm loving this set's color scheme the best. Breaking away from the usual allover gray and black, this Starfigher introduces some color with 2 vibrant hues of blue. I think it would look nice somewhere in the middle of my Lego Star Wars display for this reason.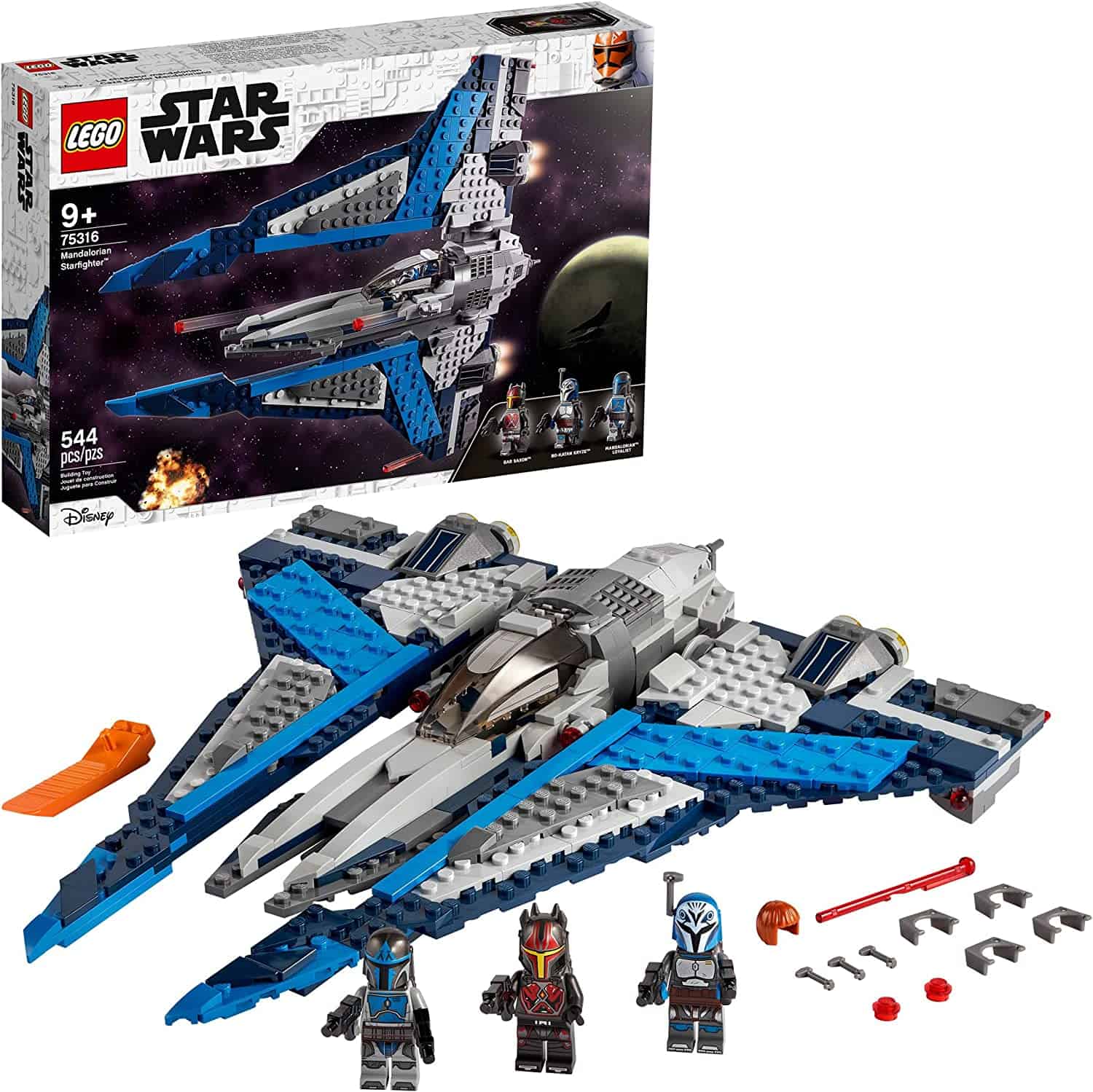 Key Specs
Price Range: $40-$60
Number of Pieces: 544
Age Range: 9+
Gar Saxon, Bo-Katan Kryze, and a Mandalorian Loyalist will be the 3 minifigures you get. They've all got intricate designs and cool helmets, so it's hard to find fault in any of them. You can adjust the wings, open the cockpit, and fire the springload shooters and the stud shooters, so it's got some nice interactive elements, too.
Pros
Cool color scheme
Great for kids and adults
Many interactive features
Cons
Mando and Grogu not included
FAQs
Before zooming off into the stars, I'd like to answer your most burning questions about the Lego Razor Crest set.
Question: Is the Lego Razor Crest Discontinued?
Answer: No, the Lego Razor Crest is not currently discontinued, but keep an eye out! Lego is planning to retire the Razor Crest by the end of 2023. If you want one, it's better to buy one sooner rather than later before you see a jump in price.
Question: Is the Lego Razor Crest Worth It?
Answer: In my opinion, yes. I don't know a single fan of the Mandalorian who wouldn't think this was cool (myself included.) I discuss the pros and cons of the Lego Razor Crest above for a more detailed look at whether this set is worth it or not.
Question: Did Lego Rename the Razor Crest?
Answer: Lego renamed the Razor Crest for a time due to a copyright infringement. For a time, the Razor Crest was known as the Mandalorian Bounty Hunter Transport. Clearly, this name change didn't stick, because on the Lego websites and across other platforms, this set is known as the Razor Crest once again.
Question: How Long Does It Take to Build the Lego Razor Crest?
Answer: It usually takes people 12-14 hours to build the Lego Razor Crest. Of course, those numbers can fluctuate based on you. Are you a Lego-building prodigy? You can probably knock it out in 9-10 hours. Is this your first Lego project? Expect it to take more like 15-17 hours.
To The Stars
It's time for me to send you off on your own adventure through the galaxy aboard the Lego Razor Crest. Enjoy your time with familiar faces from The Mandalorian, and have fun with the process of building a fan-favorite ship from the show. Are you planning on buying this set, or is there another Star Wars Lego set you're dying to talk about? Let me know in the comments below! If you'd like to check out even more reviews of Star Wars Lego sets, come check out our website.
Looking for more interesting readings? Check out: