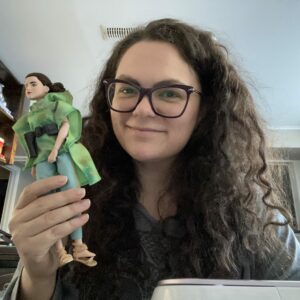 Latest posts by Candace Osmond
(see all)
You're getting sleepy, you're thinking about how relaxing it will feel to snuggle up under the covers, but you feel like you're missing something… It's your favorite set of Star Wars pajamas, young padawan! What would you do without it? Today, I'll tell you where to buy quality Star Wars pajamas and walk you through the best materials for comfortable pajama sets. Then, I'll list the 8 best Star Wars pajamas available online. Ready? Grab a blaster, and let's head out!
Bottom Line Upfront
We got the Lego Star Wars Boys Baby Yoda 2 for 1 Cotton Pajama Set for my son and he loved that there were two options that he could mix and match!
Top Picks
These are the top 8 Star Wars pajama sets for each member of your family. I've chosen each of these sets for their quality, design, reputability, and reasonable price. Before we dive into how to choose the perfect pajamas for you, take a look at these.
Best for Girls: Star Wars Girls' Pajama Set. Does your daughter love Baby Yoda? She'll love this cute, stylized design of her favorite alien baby.
Can You Get Star Wars Pajamas?
Of course, you can get Star Wars pajamas! Besides the official line of Star Wars clothing and official Disney clothing, many independent artists make Star Wars pajamas, too. Some pajamas are significantly rarer than others if they're old, in good condition, and are official merchandise.
Are Star Wars Pajamas Just for Kids?
Star Wars pajamas are for people of all ages. The fact is, generations of people have grown up with Star Wars since Star Wars: Episode IV – A New Hope originally released in 1977. Since so much of the Star Wars fanbase is adults, there are tons of Star Wars pajamas exclusively for adults.
The Best Materials for Pajamas
Where you live and how many blankets you like to sleep under will help determine the answer to this question. I'll list some of the most popular pajama materials with what makes them good for different climates.
Cotton
Cotton is a natural plant fiber. It's popular for clothes because they create a lightweight, breathable material when the fiber strands are woven together. Cotton is perfect for warmer climates and summer weather.
Polyester
Polyester is a man-made material. Unlike cotton, polyester is popular in colder climates and winter weather for how warm it is. Microfiber, which is an incredibly soft fabric, is made from polyester.
Rayon
Rayon isn't as popular as the other two fabrics, but it's the most similar to cotton. This is a synthetic plant fiber. When these plant fiber strands are woven into a fabric, it also creates a lightweight material.
Where Can You Buy Star Wars Pajamas?
Star Wars is such a widely popular franchise that Star Wars pajamas are readily available in tons of locations. Check some of these places:
Amazon
eBay
Overstock
AliExpress
Walmart
Target
Barnes & Nobel
Disney stores
The Best Star Wars Pajamas
These are the best Star Wars pajamas the galaxy has to offer! I've listed pajama sets for people of all ages here so you can find the perfect set for you and someone in need of a gift. With a wide range of popular characters and designs, there are pajamas for Jedi Masters and Sith Lords alike.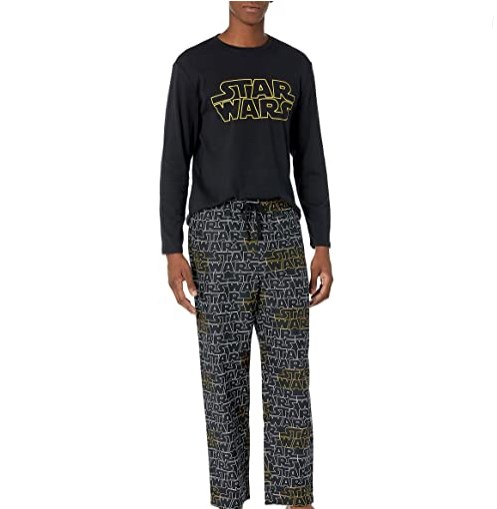 Best For: Men
About
These Star Wars pajamas for men are 100% cotton, so it will feel lightweight and breathable all night. The long-sleeve shirt is black and features the Star Wars logo in yellow. The pants are black with an all-over print of the Star Wars logo in yellow and white.
Material: Cotton
Available Sizes: XS-XXL
Price Range: $28-$38
Design: Star Wars logo
The design is simple, making these pajamas appealing to more people. You'll be able to adjust the pants with the drawstring attached to the elastic waistband.
Care
Since these pajamas are made from cotton, make sure not to dry this in the dryer, especially not at a high temperature! Cotton clothes can shrink when you put them in the dryer, so the best option is to let them air dry.
Pros
Breathable material
Universally-pleasing design
Comfortable fit
Cons
This set could shrink if you put it in the dryer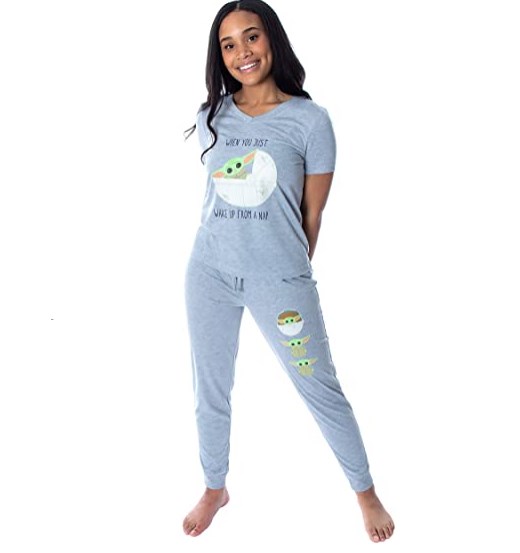 Best For Women
About
These gray pajamas feature a fan-favorite character from The Mandalorian. On the short-sleeve shirt, Grogu is sitting in the Crew Dragon capsule. Around him are the words, "When You Just Wake Up From A Nap." On the long-sleeve pants, 3 Grogu pictures line one leg.
Material: Polyester and rayon
Available Sizes: S-L
Price Range: $51-$61
Design: Grogu, A.K.A. Baby Yoda
There is an elastic waistband in the pant that you can adjust with the drawstrings. This is an officially licensed Star Wars product from Disney, which adds to its value.
Polyester and Rayon Blend
These pajamas are made from a fusion of polyester and rayon. Polyester is a soft material that keeps you warm, but rayon is a synthetic plant fiber that keeps the material breathable.
Pros
Officially licensed merchandise
Adorable Grogu designs
Both warm and breathable fabric
Cons
Not very many size options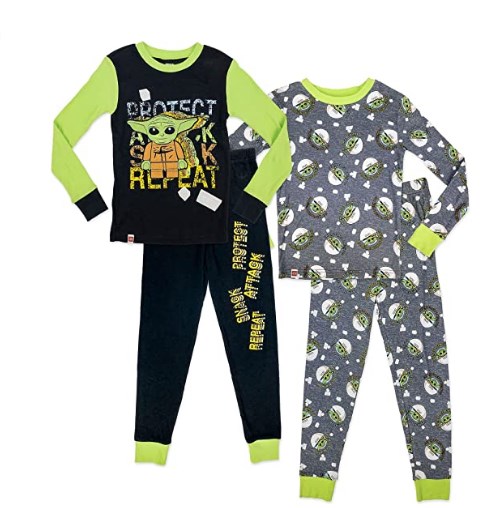 Best For: Boys
About
If your child loves Lego Star Wars and Baby Yoda, you can get 2 long-sleeve pajama sets in one featuring his favorite character with this deal. One set is green and black with the words, "Protect" "Attack" "Snack" "Repeat" on the pants and shirt. Grogu is also printed on the shirt.
Material: Cotton and polyester
Available Sizes: 4-10
Price Range: $25-$35
Design: Lego Baby Yoda
The other gray and white set features an all-over print of Grogu smiling happily in the Crew Dragon capsule with words above him that say, "May The Force Be With You." Both sets are made of a blend of cotton and polyester.
Cotton and polyester
Similar to a blend of polyester and rayon, polyester and cotton together create a warm and breathable fabric. These 2 types of fabric are often paired with each other to balance their warmth and breathability.
Pros
Cons
You have to tumble dry these pajamas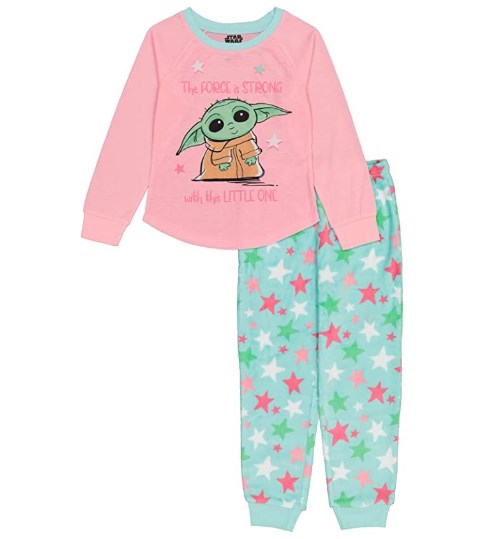 Best For: Girls
About
This would be the perfect set of Baby Yoda pajamas to give your Star Wars-obsessed daughter. This officially licensed LucasFilm Star Wars pajama shirt features an adorable picture of Baby Yoda. Around Grogu are the words, "The Force is Strong with this Little One."
Material: Cotton
Available Sizes: 2T-12
Price Range: $12-$22
Design: Baby Yoda
The shirt is blush pink, and the collar is blue. You'll notice that the blue pants have pink, white, and green stars.  Both the shirt and the pants are 100% cotton.
Warm Weather
Is it summertime? Does the weather stay warm where you live? Since this Star Wars pajamas is made from cotton, it's great for keeping your little one cool even when it's hot outside.
Pros
Officially licensed merchandise
Adorably stylized Baby Yoda
Many size options available
Cons
The pants don't feature anything that has to do with Baby Yoda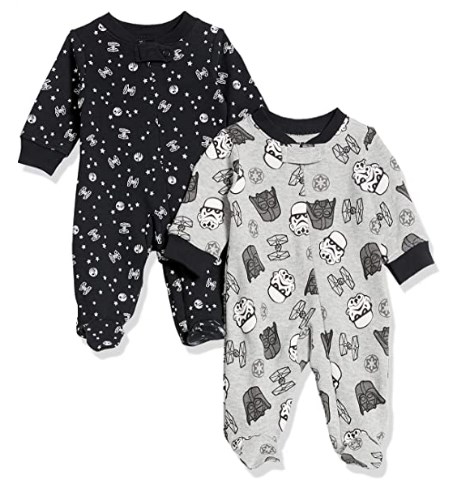 Best For: Babies
About
Okay, so maybe your little one chose the Dark Side of the Force. Fair enough. You can show off their epic Sith Lord powers with this 2-in-1 pajama set for babies. Both are onesies and made of 100% cotton.
Material: Cotton
Available Sizes: Preemie, newborn, 3 months, 6 months, 9 months
Price Range: $13-$23
Design: Darth Vader, stormtroopers, Death Stars, and other Imperial starships
The gray onesie features an all-over print of Darth Vader, stormtroopers, and other Imperial starships and symbols. The black onesie shows mini Death Stars, stars, and other Imperial starships. Aww. They'll be like mini Anakin Skywalker.
Sizing
Babies grow at so many different rates, so if your child is a little bigger or smaller than the average sizes, here are the measurements to keep in mind:
Preemie: Can be up to 17 inches
Newborn: Can be up to 21.5 inches
3 Months: 21.5-24 inches
6 Months: 24-26.5 inches
9 Months: Can be up to 28.5 inches
Pros
Officially licensed merchandise
Adorable, stylish designs
2-in-1 set
Cons
Not for babies older than 9 months old
Best For: Best Unisex Adult
About
This is a Star Wars onesie for adults! The hood features Baby Yoda's face, and the body portion is Baby Yoda's robe. I especially appreciate the detail of Grogu's ears sticking out from the hood. The warm polyester and sherpa fleece ensure you'll be sleeping warm and snuggly.
Material: Polyester and sherpa fleece
Available Sizes: Small/medium, XXL/XXXL
Price Range: $85-$115
Design: Baby Yoda
The zipper on the front makes the onesie easy to take on and off. Being official Disney merchandise, this onesie is a valuable one.
Cold Weather
Do you live somewhere snowy? Is it winter outside? Polyester is the perfect material for keeping you warm through each chilly night. This material is also incredibly soft.
Pros
Officially Licensed Star Wars Merchandise
Great design, especially on the hood
Sherpa fleece sleeves and foldable collar keep you warm
Cons
Not a wide range of sizes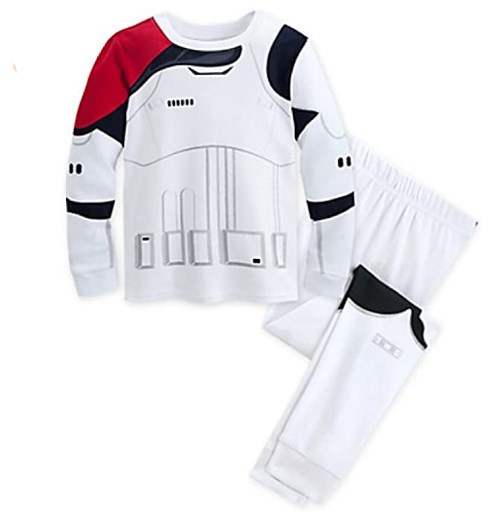 Best For: Best Unisex Kids
About
These are rare Star Wars pajamas for kids. The long-sleeve shirt and pants are made to look like a stormtrooper uniform from, The Force Awakens. The details in the uniform and the pop of red on the shoulder make these pajamas' designs stand out so your little stormtrooper will love them.
Material: Cotton
Available Sizes: Size 4
Price Range: $38-$48
Design: Stormtrooper
This set is made of 100% cotton. Since these pajamas are hard to find, this set only fits kids who are size 4.
Rare
This stormtrooper pajama set only comes in one size because this is a rare pajama set. These stormtrooper PJs are from The Force Awakens collection, which came out in 2015.
Pros
Rare pajamas from 2015
Breathable, lightweight material
Fun design kids will love
Cons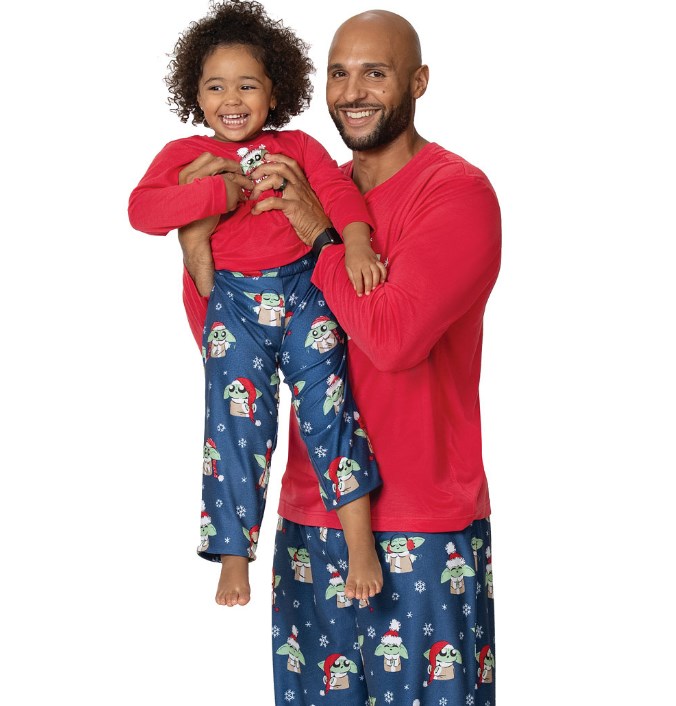 Best For: Families
About
Now the whole family can be one with the Force! These polyester Star Wars pajamas all feature Baby Yoda; however, there are lots of Baby Yoda designs to pick from. One of the best parts is that these pajamas are Christmas-themed, perfect for family holiday cards and Christmas day.
Material: Polyester
Available Sizes: All sizes, including infants and pets
Price Range: Starting at $25-$30
Design: Christmas-themed Baby Yoda
On some designs, Grogu is holding presents, caroling, or looking around with lots of snowflakes. Each design is festive, and having a range of options means everyone can get something a little different.
Matching with the Whole Family  
Find out what size everyone wears before you buy everyone a matching set of pajamas.
Pros
Everyone in the family, including pets, can have a set of these PJs
Adorable Christmas-themed design
Different designs to pick from all in the same theme
Cons
Expensive if you have a big family
FAQ
You've almost reached the end of the article, young padawan! In this last section, I'll answer your most frequently asked questions about Star Wars pajamas.
Question: Where is the Best Place to Buy Kids' Pajamas?
Answer: That depends on what you're looking for. If you want to buy kids' novelty pajamas like Star Wars pajamas, I recommend checking Amazon, eBay, and the official Disney store for official merchandise. You can call ahead at places like Walmart and Target to see if they have novelty pajamas in stock.
Question: Where Can I Get Adult Novelty Pajamas?
Answer: There are many places to get adult novelty pajamas, both in stores and online. You can go to Target, Walmart, novelty stores in the mall, Disney stores, etc. Online, you can get Star Wars pajamas from Amazon, eBay, the online Disney store, etc. You can even find novelty pajamas from independent artists on Etsy.
Question: Why Do My Pajamas Always Shrink?
Answer: If your pajamas are made of 100% cotton, and you put them in the dryer, there is a good chance they're going to shrink. Try to avoid drying your cotton clothes in the dryer and instead let them air dry. The heat is what causes the cotton to shrink.
Nighty Night, Young Padawan
Are you ready to pour yourself a steaming mug of chamomile tea, switch off your lightsaber, and fall asleep in your new Baby Yoda pajamas? Maybe you liked the Dark Side ones for your little one, better?
I hope one of these options works for you. Personally, I love the Lego Star Wars Boys Baby Yoda 2 for 1 Cotton Pajama Set only because I know first-hand the quality and versatility.
Whichever side of the Force you fall under, I hope you enjoyed learning about the 8 best Star Wars pajamas online. We got to go over how to pick out the best pajamas for you and your family, so I hope you feel like a novelty pajama expert! Come check out our website for more great Star Wars merchandise buying guides!
Looking for more interesting readings? Check out: