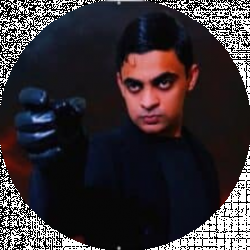 Latest posts by Boo-Ali Khan
(see all)
"I'm Luke Skywalker. I'm here to rescue you." — Luke Skywalker
Are you a die-hard Star Wars fan looking to show off your love for the Last Jedi? Or perhaps you know someone who can't get enough of everything Luke Skywalker-based? Either way, you're in the right place.
As one of the most iconic and beloved characters in the Star Wars franchise, it's no surprise that there is an abundance of Luke Skywalker merchandise available for fans to collect and enjoy. But with so much to choose from, it can be overwhelming trying to find the best stuff. And that's where this guide comes in!
In this best Luke Skywalker Merch guide, I have compiled a list of the top Luke Skywalker merch items out there, covering a wide range of categories and price points. Whether you're looking for something to wear, something to decorate your home with, or a gift for a fellow Last Jedi fanatic, I've got you covered.
And let's not forget, being fully aware that Luke Skywalker is more than just a character – a symbol of hope, bravery, and use of Force – for young padawans, I've also included some insights on the character as well to help them appreciate these items even more.
So, if you're ready to embrace your inner Jedi, grab your lightsaber and join me on this Luke merch hunt. May the force be with you.
My Top 3 Picks from the Luke Skywalker Merch
As you will surely agree, it's not easy peasy lemon squeezy to pick one favorite from all these exquisite Luke Skywalker products. I have, however, managed to narrow my list down to three.
But considering my craze for lightsabers, I will have to pick The Black Series Luke Skywalker Force FX Lightsaber as my ultimate favorite.
In my opinion, it serves as a supreme collectible for any Luke Skywalker fan. In addition to a fantastic finish, this lightsaber even includes light and sound effects. With a metallic hilt, it is an extremely resilient product and comes with a stand to proudly flaunt your precious possession.
Different Categories Included in the Luke Skywalker Merch
Apparel
This category of Luke Skywalker merchandise includes a wide range of clothing and accessories, from t-shirts and hoodies to costumes and footwear. Whether you're looking for something to wear to a convention or a stroll in the park, there's no shortage of options.
Costumes
Luke Skywalker costumes, available in a range of sizes for adults and kids, offer the opportunity to fully immerse yourself into the role of the Young Jedi – or the old Jedi if we consider sequels.
From full robes to Luke Skywalker's wig and beard, you'll find the perfect outfit to showcase your devotion to the iconic hero. Made with high-quality materials and attention to detail, these costumes are guaranteed to bring you to the Light Side.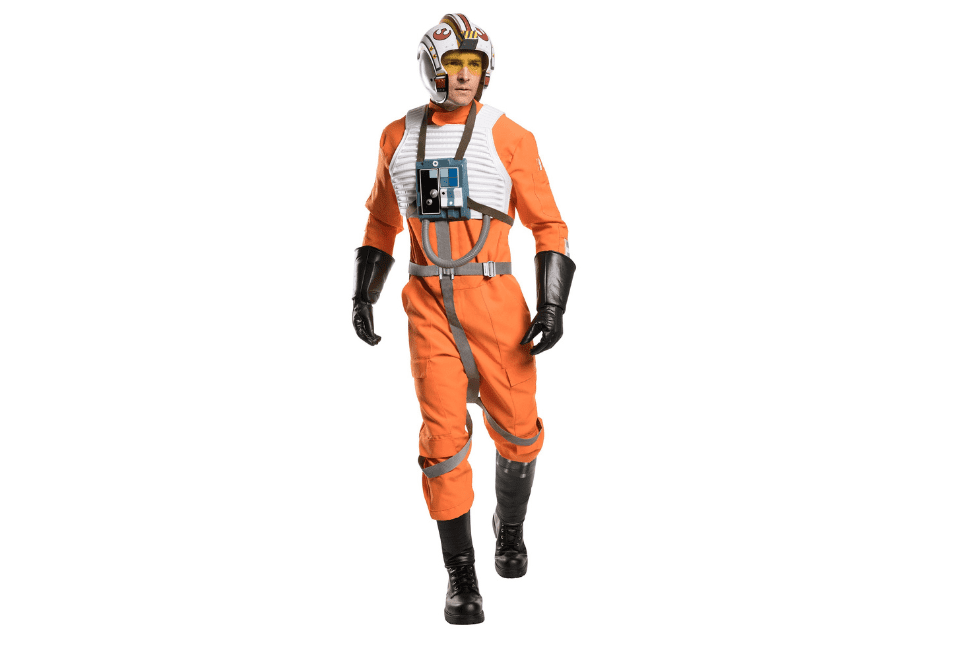 As soon as you put the Luke Skywalker Adult X-Wing Pilot Grand Heritage Costume on, you'll feel like a part of the Rebel Alliance, ready to take on the Empire and save the Galaxy. From a helmet to a pair of gloves, this costume comes with everything you need to transform into Luke Skywalker.
What I liked most about this costume was its marvelous attention to detail – and, yes, multiple pockets as well. Made from 100% polyester, the costume features realistic details like padded chest armor and utility belts. The vest and chest harness add even more authenticity, while the gloves and helmet help complete the X-Wing Pilot look. But to tell the truth, don't expect too much from its helmet.
Although I would advise you to see the size chart before you order, the jumpsuit is a tight fit and may not be suitable for all body types.
Recommendations
T-Shirts
Luke t-shirts are a simple yet classic way to show off your devotion to the young Skywalker. Whether you're gearing up for the original Trilogy or Sequels marathon, or just want to show off your fandom in everyday life, a Luke Skywalker t-shirt is going to let you feel the Force flowing through you.
The selection of T-shirts in this guide features a variety of designs and prints, including classic quotes and iconic imagery of Luke Skywalker. Most of them are fan-made and offer good quality and a comfortable fit.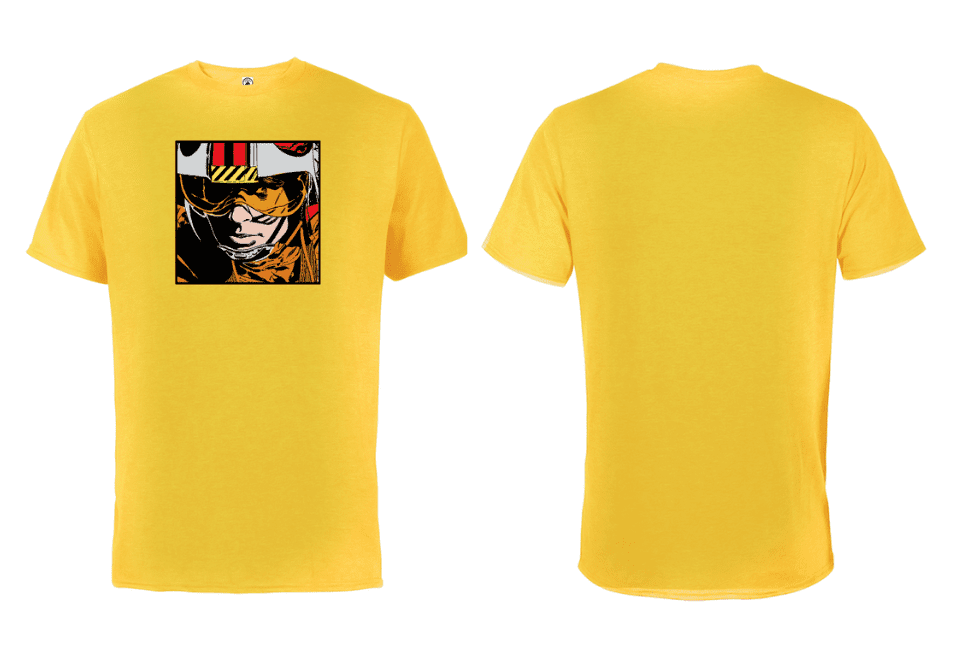 Having a perfectly balanced design, which is not too exuberant, this Luke Skywalker Short Sleeve Cotton T-Shirt is a perfect option for teens and adults alike. Made from soft and comfortable cotton, this shirt is definitely a good pick for everyday wear and is an ideal match for your pajama pants. And don't forget, it is unisex.
The Luke Skywalker cotton T-shirt shirt features an eye-catching design of Luke Skywalker wearing his X-wing helmet and is available in different colors and sizes. And if you ask me, my favorite option would be the Athletic Navy.
While the shirt is definitely a good option in the price with strong colors and solid print, I think I would have liked it better with a bold caption of Luke Skywalker or a memorable quote from the movie.
Recommendations
Hoodies
There's no better way to stay warm and cozy during those cold winter nights than donning a snug hoodie. But if it's adorned with the iconic imagery of Luke Skywalker, it's an unbeatable combo. And being a Luke follower who is quite a fan of his cloaks, I personally prefer these Luke Skywalker hoodies over t-shirts.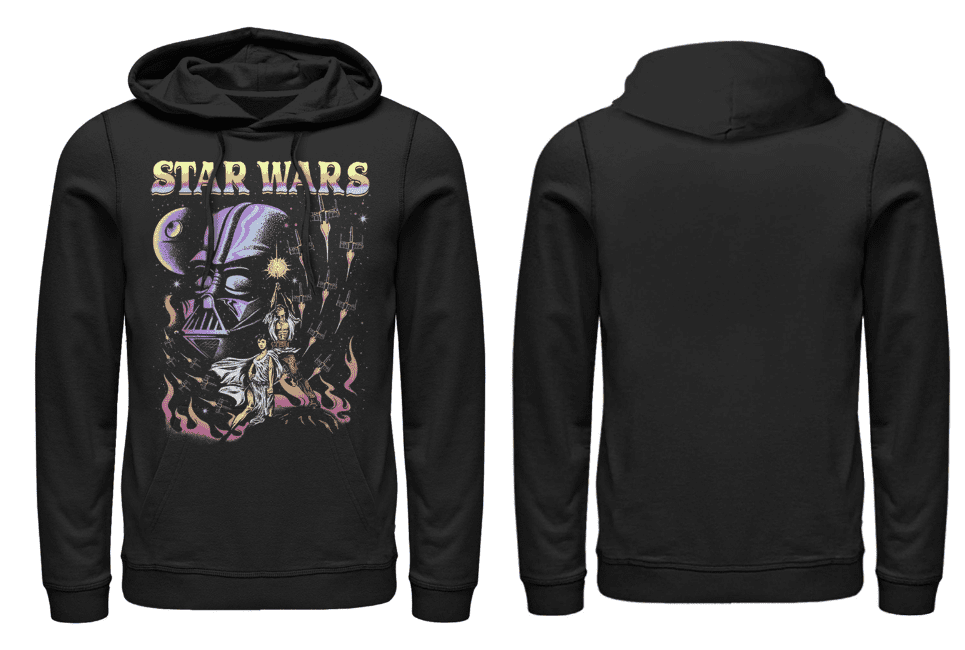 The Men's Star Wars Darth Vader Luke Skywalker Collage Pull-Over Hoodie is a stylish hoodie featuring a collage design with images of both Darth Vader and Luke Skywalker, two of the most revered characters in the Star Wars universe.
I particularly liked the small details, such as the presence of Princess Leia, Death Star, and Rebels' X-wing fighter in the background. But the mere design of this hoodie isn't the only thing that makes it special. The relationship between Darth Vader and Luke Skywalker is a central part of the Star Wars story and is explored in depth throughout the films. So, the emotions behind this retro design are what make any Star Wars fan like me love it.
It is available in six different sizes, all of which are available for the same price tag. Not to mention, the inside of this hoodie is pretty soft as well.
Recommendations
Footwear
When it comes to completing your Luke Skywalker ensemble, the right footwear is always essential. They might not be as plentiful compared to, for instance, the Luke Skywalker costumes, but if you ask me, the rarity is what makes them feel even more special.
So, if you are ready for your Jedi training session, get your hands on a pair of Luke Skywalker shoes. But if they are a little costly for you, you can always go for Darth Vader v. Luke Skywalker socks.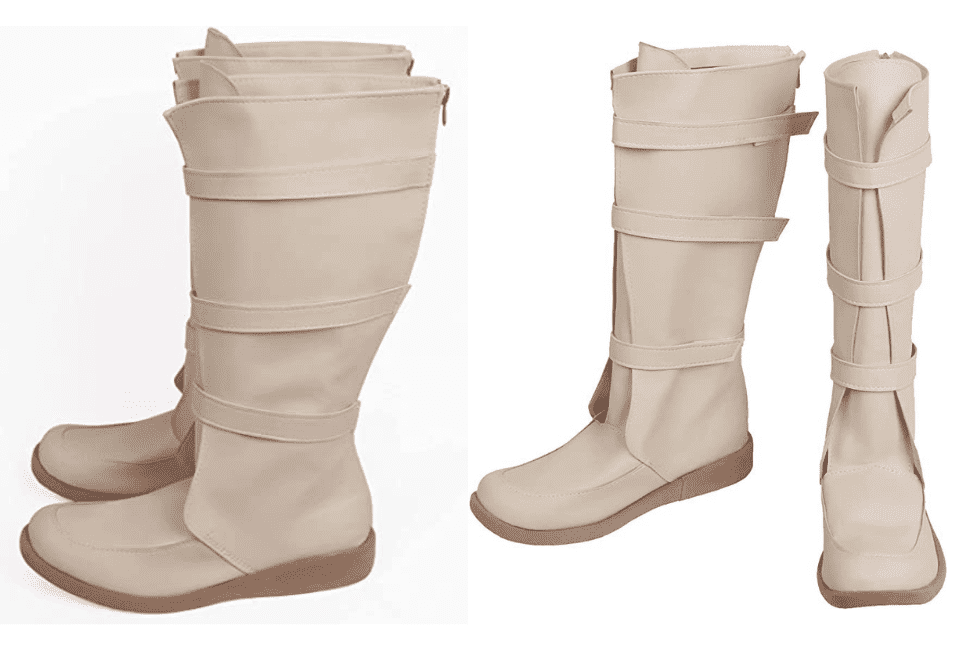 If you are into cosplay, I am quite certain you can easily take your cosplay game to the next level with these durable and high-quality boots. Made from leatherette and available in a range of different sizes for both men and women, these Jedi boots are perfect for long days at conventions or Star Wars events.
Though I never owned them personally, when I first saw them at an event, I was pretty sure that these weren't just for cosplay. The white leather and straps give them a modern, fashion-forward look to complement any outfit. And not to mention how convenient it is to wear them or take them off. Just make sure you don't end up wearing them on a rainy day and get mud all over them.
One more thing; its layers are pretty flappy, so expect its corners to droop over time.
Recommendations
Miscellaneous Wearables
Just like the never-ending Force of Luke Skywalker, there is no end to his merchandise. With a wide range of miscellaneous wearables featuring the famed imagery of Luke Skywalker – from pajamas and rings to glasses and tie clips – you can easily add some subtle yet powerful touches to your everyday connection with Luke Skywalker and the Force.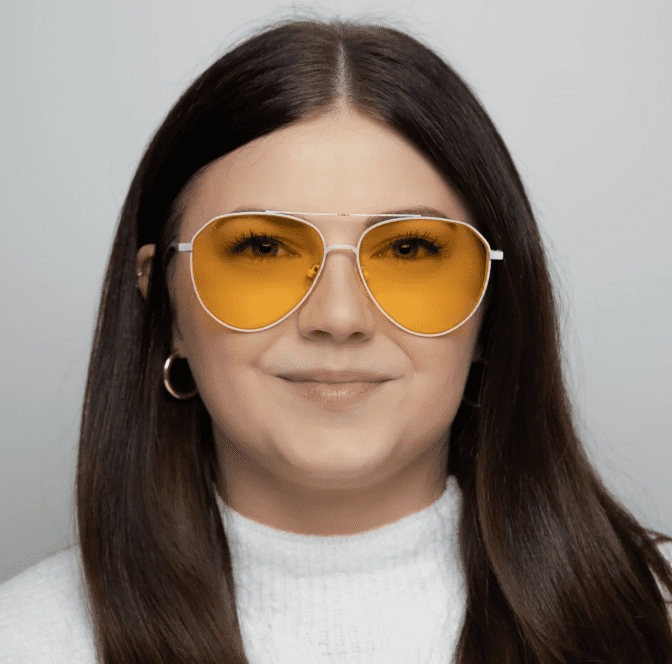 Being a fan of Aviators since childhood, I vividly remember getting my hands on my first pair of Ray-Bans on the pretext that my eyes hurt in the sunlight. Well, I was 8-9 by then, so that was the most ingenious excuse I could have come up with.
If you are up for experiencing the thrill of piloting an X-Wing, the Luke Skywalker™ X-Wing™ Starfighter Glasses is undoubtedly your way forward. These stylish aviator glasses have a sleek metal finish and stainless-steel frame to give them a modern and fresh look, while the polarized lenses provide enhanced clarity and glare reduction.
Well, the look of these glasses isn't the only thing that makes them special in my eyes. The X-Wing and Rebel Alliance logo on the side of the frames is a subtle nod to the heroic actions of Luke Skywalker and the Rebellion against the Empire. And wearing them feels like you are ready to take on anything.
The glasses are unisex, making them suitable for both men and women, and you are going to love the lovely triangle case that comes with them. And let's not forget, you can return this classy pair within 30 days if you are not satisfied with it.
Recommendations
Toys
As one of the strongest Force wielders in the Star Wars universe, it's no surprise that Luke Skywalker toys are in high demand. From action figures and lightsabers to LEGO sets and Funko Pops, there's a wide variety of options to choose from for fans of all ages.
Action Figures
Luke Skywalker action figures generally range from 4" to 10" in size. These detailed and highly poseable figures allow you to recreate your favorite scenes from the movies, or even come up with your own adventures with Luke.
Although these action figures do not cost much, with the likes of Hot Toys figures, a highly detailed Luke action figure can easily cost a couple of hundred bucks.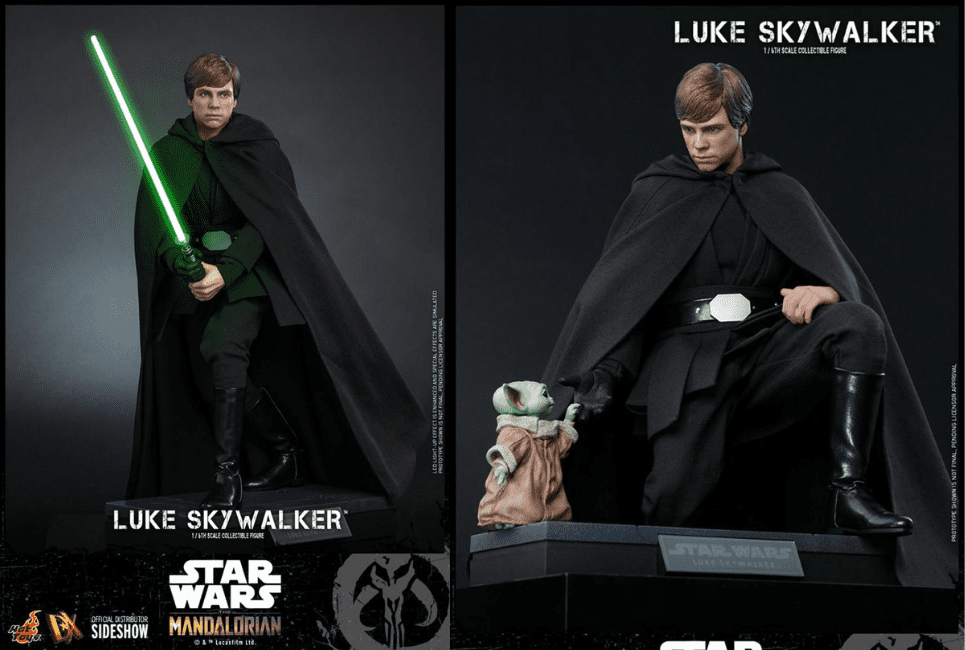 Before you rebuke me for suggesting such a pricey action figure as my favorite, let me tell you that this Luke Skywalker Sixth Scale Figure is a work of art.
Standing at a majestic 11 inches tall, this highly detailed and accurate figure captures every aspect of Luke's iconic appearance. From his costume to his facial expressions, everything seems so realistic.
And the fun doesn't stop there – this figure also comes with a battery-operated lightsaber, so you can recreate all your favorite lightsaber scenes from the saga. Moreover, it also has a miniature Grogu figure.
Although I can write pages on this amazing figure, I am leaving it for you to explore. After all, we all like discoveries, don't we?
Recommendations
Lightsabers
There's no denying the appeal of a lightsaber – they're sleek, powerful, and quite intimidating. And when it comes to finding the perfect lightsaber, there is no denying Luke Skywalker's lightsaber.
The Luke lightsabers have an array of options. The replicas are the most highly detailed picks, which often come with built-in sound effects and LED lights for an authentic experience. But do keep in mind they are quite costly.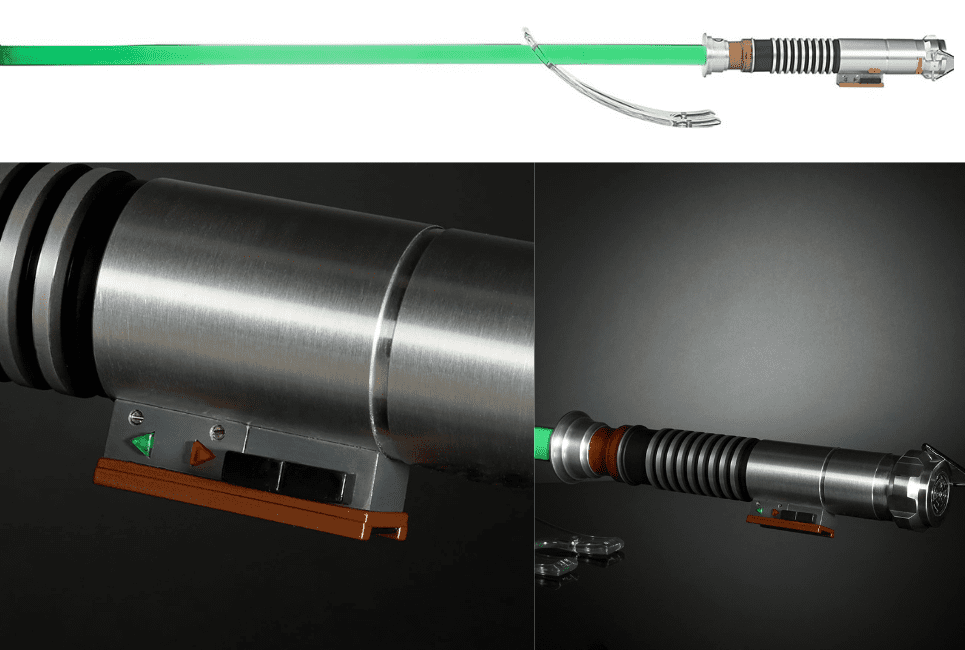 Well-built, bright, and sturdy; this Black Series lightsaber is definitely on my Star Wars wish list. With the collector's grade Luke Skywalker Force FX Lightsaber, you can embark on your Jedi journey straight away.
Whether you're into lightsaber duels or simply want to display it as a fan-favorite piece, it's hard to go wrong with this option. The real highlight of this lightsaber is its stunning LED blade. With a bright and powerful light, this blade is sure to bring out any room from the darkness of the Dark Side, not to mention the variety of sound effects that really bring the lightsaber to life.
But before you start slicing through the heavy metal door, remember; its blade is not made of plasma, but rather plastic. So, you might want to limit your heavy blows while playing with it.
Recommendations
Lego Sets
LEGO sets are a classic choice for fans of all ages, and when it comes to Luke Skywalker, the options never cease to amaze us. From miniature sets featuring Luke's X-wing and his helmet to elaborate playsets, such as Luke's Landspeeder and Hoth battle scene, these brick sets always provide a very creative experience.
With the release of new sets, most of Luke's Lego sets are no longer in production. Still, if you are lucky enough, you can find them on places like Amazon and eBay.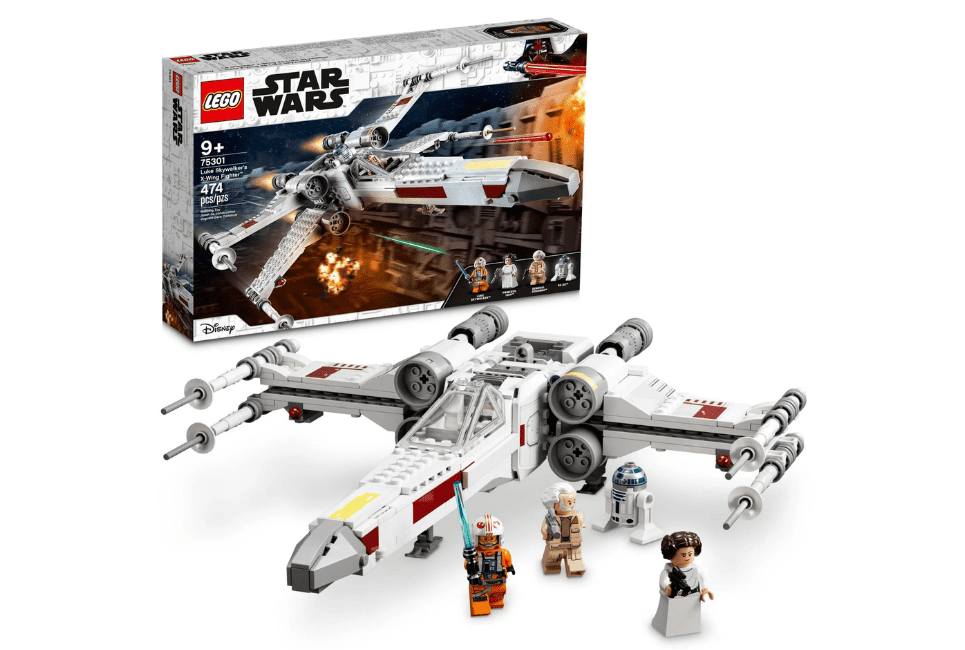 For all Lego nerds, who also happen to be Luke's admirers, this amazing Luke Skywalker's X-Wing Fighter Lego set is sure to provide hours of fun and creativity.
With 474 pieces, this set allows you to build your very own X-Wing Fighter, complete with all the intricate details so you would never miss any chance to take the one-in-a-lifetime shot at the Death Star's core reactor.
The set comes with a variety of cool accessories and features, such as retractable landing gear, wing-mounted cannons, and an opening cockpit to provide a very interactive experience. Moreover, the set includes Luke Skywalker and R2-D2's mini-figures, along with two of the most respected leaders of the Rebel Alliance, Leia Organa and General Dodonna.
The best thing I like about this set is that, for its price, it is pretty sizeable than most of its counterparts.
Recommendations
Funko Pops
The Luke Skywalker Funko Pops are mostly Bobbleheads and feature a wide range of designs, from classic looks to unique variations that are sure to stand out in any collection.
Although most of these Funko pops are light on the pocket, some of them may cost more than a hundred bucks.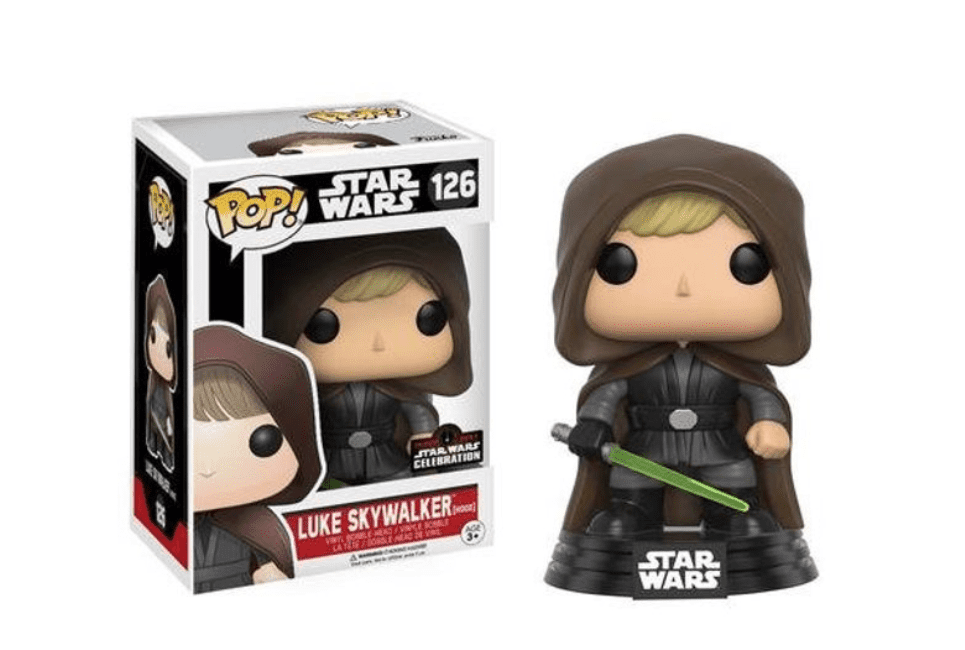 This Exclusive Funko is a lot more expensive than most Luke Funko Pops. Still, the value it provides to any Luke collection is unparalleled. Standing at almost 4 inches tall, this Luke Skywalker Hooded vinyl figure is the ideal pick to watch over your collection and keep it safe from any troublesome Stormtroopers.
But don't let the small size fool you – this little guy is packed with character and detail. From his hooded cloak to his determined expression, every inch of this figure captures the essence of Luke Skywalker. Plus, his green-blade lightsaber and mechanical hand make it further fascinating.
Recommendations
Home Décor
If you're looking to bring your home under the protection of a great Jedi to ever exist, then you can't go wrong with some stylish Luke Skywalker home decor. From wall art and posters to bedding and beyond, there's a wide range of options to choose from to add some intergalactic flair to your space.
So, whether you want a touch of young Skywalker on your wall or an entire room themed on Luke, there are enough Force-sensitive items in the market to turn your house into a Jedi Temple.
Wall Art And Posters
If you're looking for exquisite wall art or canvas print to display on your room's wall, Luke posters can never be a bad choice. And with their colorful and quite illustrative imagery, they are quite a collectible, even if you are not a Luke fan.
However, make sure to carefully ascertain that the poster matches the color scheme and visual aesthetic of your room before you bring one home.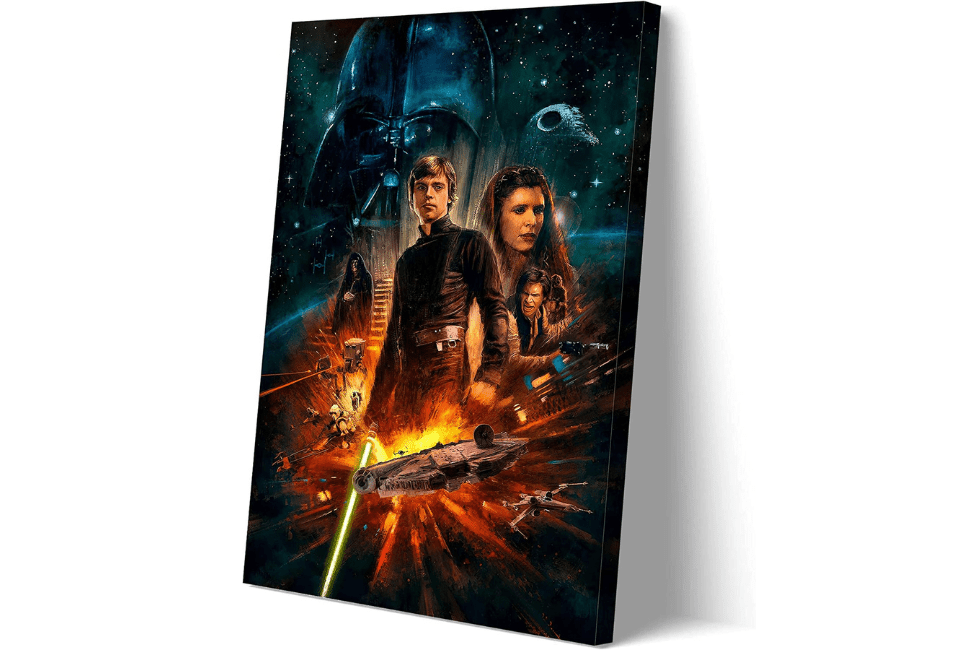 Being a secret lord Vader follower, the Luke Skywalker poster that really caught my eye is this Canvas Print Art. The print showcases a larger-than-life image of Luke Skywalker, wielding his signature green lightsaber, surrounded by other beloved characters and iconic elements from the Star Wars universe, such as Princess Leia, Han Solo, Chewie, and Luke's signature X-Wing fighter. Moreover, this print also shows the whole Imperial army, including Darth Sidious, Darth Vader, and Death Star as its backdrop.
It is lightweight and easy to hang, and the vibrant colors and high-quality canvas material give this poster a professional and high-end look. And don't forget that there are 4 different canvas sizes available, and you can also choose between a framed or unframed canvas.
Recommendations
Bedding
Want to snuggle up with a comforter featuring Luke Skywalker and his trusty lightsaber or sleep on sheets adorned with iconic Star Wars elements? The Luke Skywalker merch has got you covered.
While the bedding options featuring Luke Skywalker may be limited, they're definitely not tawdry. With intense imagery and vibrant colors, you can easily find one that matches your energy.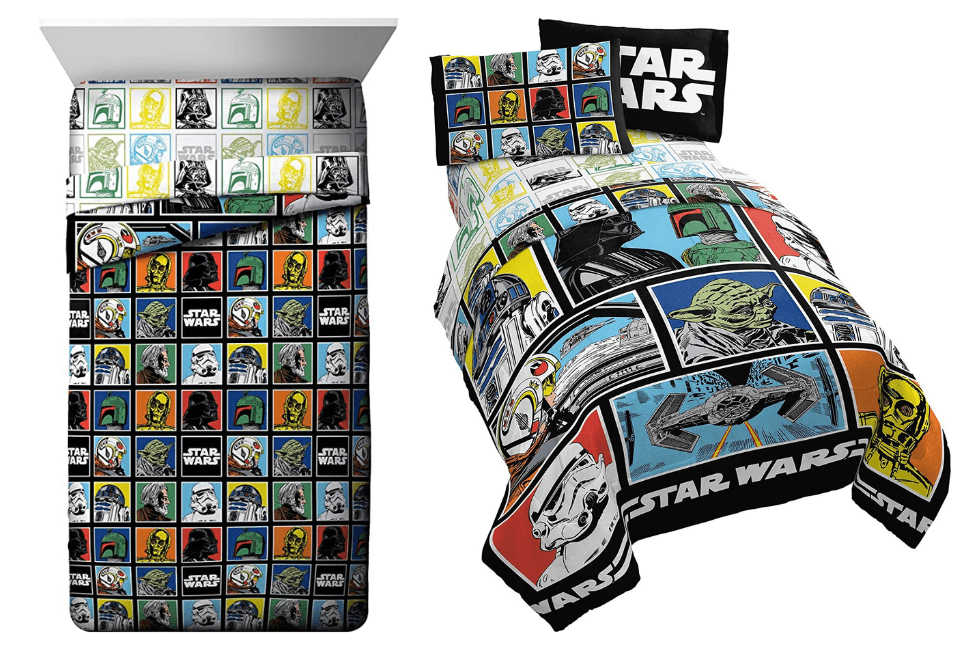 Before you say anything about it being a piece of general Star Wars merch, let me tell you that having references to Luke's X-wing, his droid R2-D2, and his dogfight on Hoth, this officially licensed Star Wars Classic Grid 4 Piece Twin Bed Set, is pretty much Luke specific.
This bedding set includes a reversible comforter and sheet set, featuring different characters and elements from the classic Star Wars trilogy. Moreover, the set is made from super soft and fade-resistant microfiber, ensuring a comfortable and long-lasting addition to your bedding collection.
Also, the reversible comforter allows you to switch up the look of your bed whenever you want, providing even more versatility. And to top it all off, you also get a fitted sheet and a pillowcase. All in all, if your kid is a Luke fan, this bedding set is one of the perfect gifts you can ever give him.
Recommendations
This is where you'll find all of the unique and fun items that don't quite fit into the other categories. From exotic collectibles to practical everyday items like backpacks and keychains, I've got a little bit of everything in this section.
Exotic Collectibles
If you're looking to add some truly unique and special Luke products to your collection, the exotic collectibles category is here to help. From wearable helmets to stunning statues, you can get your hands on some rare Luke Skywalker relics in this section. But remember, most of these collectibles cost a little extra.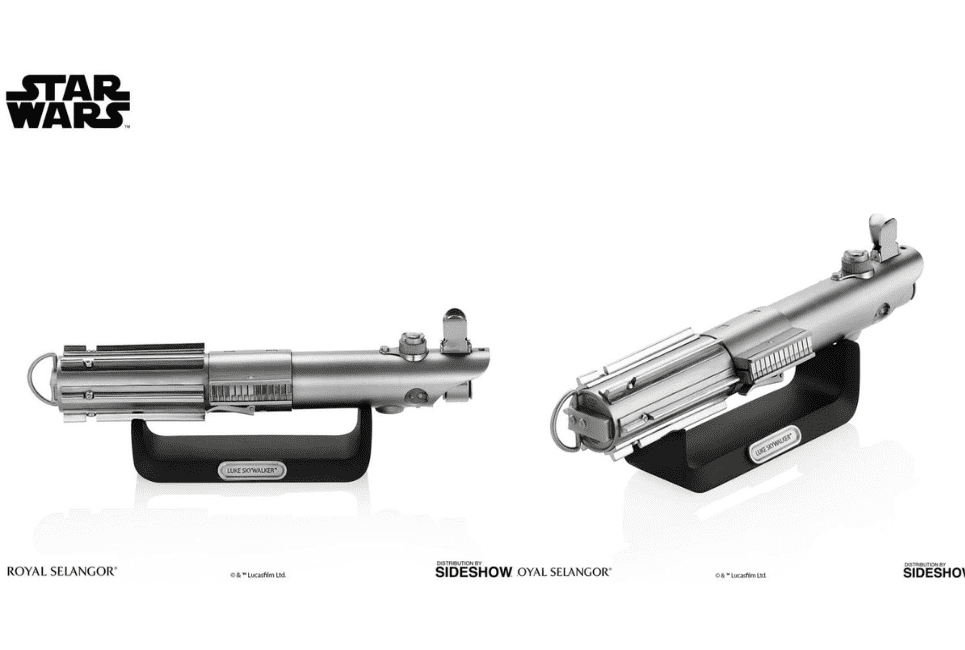 You probably have enough Luke collectibles at home, but what if you need the Force with you at the office as well? If that's the case, you are going to love Luke Skywalker Lightsaber Document Holder!
This document holder is perfect if you have a plethora of documents lying on your table. But don't let its practicality be the only super thing – it is brimming with style. With its sleek and stylish design, it looks just like Luke Skywalker's lightsaber hilt and even measures the same dimensions.
Complete with all the intricate details and features, this metal-based document holder weighs almost two pounds, which enables it to withstand any intergalactic office battles you might get in. But don't take my word for it too seriously; hurling it at somebody might cause more damage than a lightsaber.
Recommendations
Backpacks And Bags
I don't think there is a better way to carry your belongings than with a Luke Skywalker backpack. Whether you need a practical backpack for school or work, or a cute and casual tote bag for everyday use, from minimalistic options to flaunting designs, these Luke bags offer multiple options to choose from.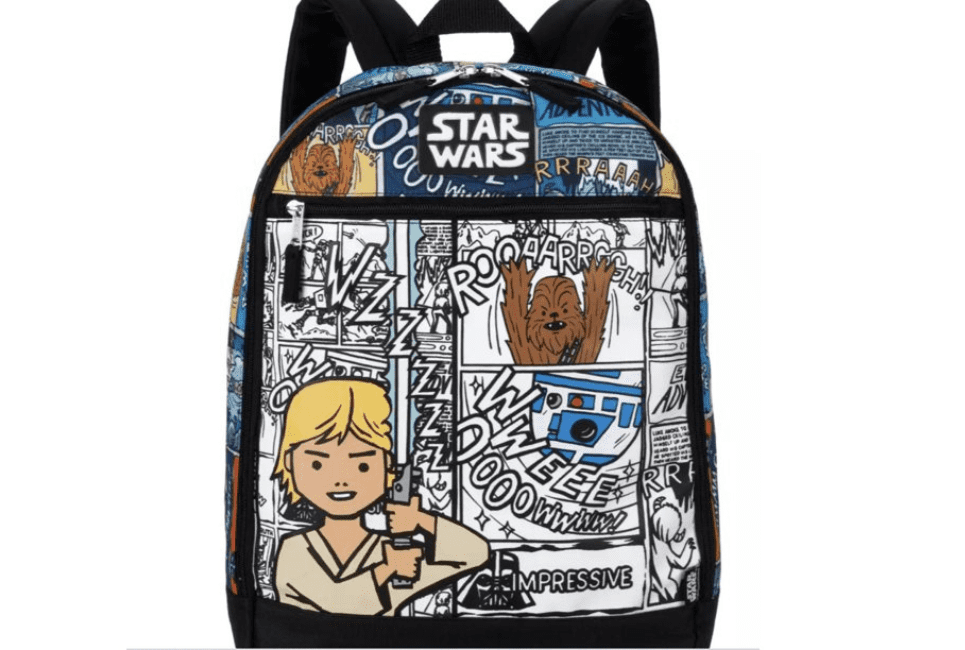 Thank God my school is over. But if you are someone who is still trying to make it to school every day, you can make your time enjoyable with this Luke Skywalker Comic Art Backpack.
Measuring 16 inches tall, this backpack is fairly spacious and is perfect for holding all your textbooks, notepads, and other school supplies. Moreover, because of its durable material, it is built to withstand all the wear and tear of the school year.
Not only this, the backpack is also packed with a Force-sensitive personality. With its colorful and bold comic art design, it's destined to turn heads in the hallway. And don't forget, the use of UV ink gives it a new look when you take it out in sunlight.
Recommendations
Keychains
I believe we all can agree that no one says No to a good keychain. So, what better way to ensure the protection of your house or car keys than with Luke Skywalker, or his lightsaber, keychains?
These keychains usually measure 2-3 inches and don't really cost much.
Are you the kind of person who thinks keychains are pretty useless? Well, you are going to change your mind with this pick. Modeled after Luke Skywalker's lightsaber from Return of the Jedi, this Bottle Opener Keychain is sure to come in handy whenever you need to crack open a cold one.
I was pleasantly surprised to see that the bottle opener function wasn't just a showoff. In fact, it does an extremely good job of opening any kind of bottle. Still, being primarily meant to be a keychain, I personally think that it is a little too big for an ordinary keychain.
Recommendations
School Supplies
This category is specifically for young padawans. So if you are in need of a new notebook for your class or a lunchbox for your midday meals, with these amazing Luke Skywalker-themed school supplies, you can have a strong connection with the Light Side.
These products are attuned to school-going kids; however, college students can also make use of Luke-themed notepads and pens, etc.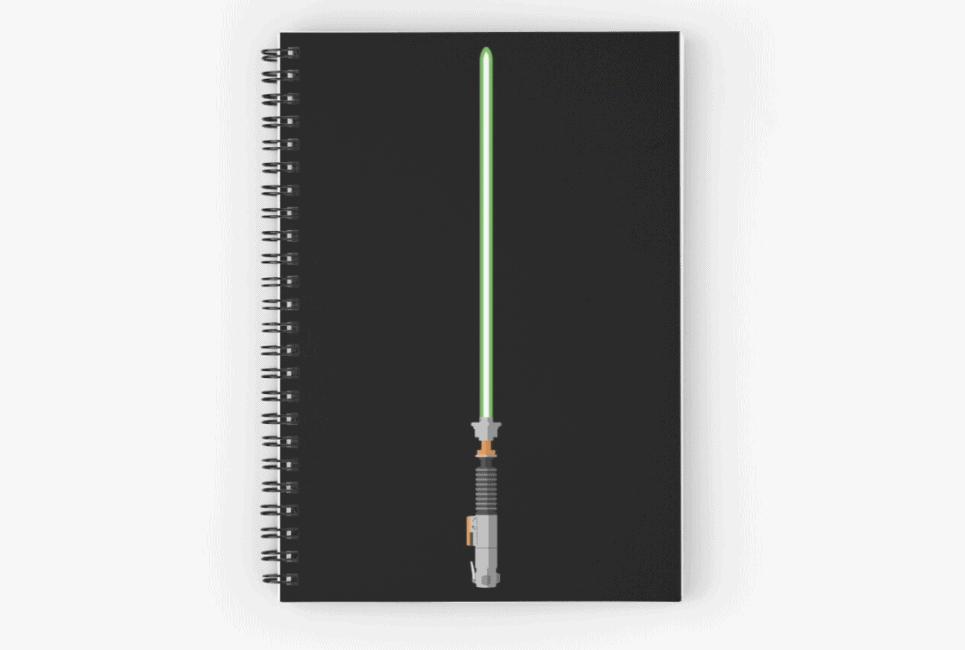 Having constant thoughts about who is right, the Jedi or the Sith? Get ready to jot down your notes and ideas in style with the Luke Skywalker Lightsaber Spiral Notebook!
Featuring intricate detailing and stunning artwork, this notebook is sure to survive the rise and falls of empires. The cover of the notebook showcases Luke's iconic green lightsaber that he held for most of his life. Not to mention the space at its backdrop perfectly captures the essence of who Star Wars series.
This notebook can be ordered in ruled line or graph print. And it also has a pocket to keep your secret notes.
Recommendations
Frequently Asked Questions:
Question: Is the Best Quality Luke Skywalker Merch Only Available Online?
Answer: Not necessarily; you can also find high-end Luke Skywalker merch in physical stores. However, don't forget to check out local conventions or events. Sometimes, you can find unique items there, or even a Luke figure offered at half-price.
Question: How do I Know if the Merchandise is the Right One?
Answer: Buying Luke Skywalker merch from an official Star Wars retailer or licensed seller is one way to ensure that you're getting a high-quality product. Such products are typically made with higher-quality materials and are subject to more stringent quality control measures.
Question: What Should be my Budget for Luke's Merchandise?
Answer: Well, that's totally up to you. With a range of exotic collectibles, the price of various high-end items can go up to thousands of dollars. Still, most of the items are available under $100.
The Force Will Be With You, Always.…
From apparel, toys, and collectibles to home décor and beyond, there are so many different products of Luke Skywalker merchandise available in the market. However, before starting your search for a perfect item, I would first suggest you to select a category, then go for the product that falls within your budget.
As lightsabers have forever been my favorite Star Wars products, my personal favorite item from Luke's merch would be The Black Series Luke Skywalker Force FX Lightsaber.
While it may seem a little overpriced, I believe it is worth every penny. With realistic sound and light effects and a robust design, it is definitely one collectible you don't want to miss.
In the end, although collecting Luke merch can be a bit overwhelming, if your trust your gut, the Force is always there to guide you. Good luck!
Looking for more interesting merch? Check out: