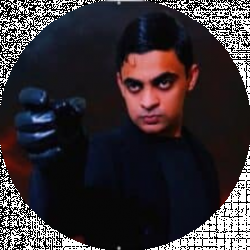 Latest posts by Boo-Ali Khan
(see all)
When it comes to the Mandalorian, this series is unlike any other Star Wars production. With the inclusion of selflessness, love over strength, and a warm heart behind a warrior's face, the Mandalorian is one of the very few Star Wars series that is also appreciated among people who are not even Star Wars fanatics.
Being a die-hard fan of "baby Yoda" and his big friend, "Mando," it is hard for me to distance myself from anything that would let me relive the Mandalorian moments.
It's not just me; every Mandalorian fan shares the same passion of getting close to their favorite characters, and what better way it can be than having one's favorite Mandalorian action figure by their side table!
So, allow me to present the ultimate guide to the Mandalorian action figures, a way forward from a Mandalorian aficionado for fellow members of the creed. Here you will find detailed reviews of some of the most famous action figures, from the classic armored Mandalorians to the mysterious Child, Grogu.
In this writing, I will also be discussing the pros and cons of every figure, along with some tips you should keep in mind before you start your hunt for your favorite Mandalorian figure.
I am pretty sure this best Mandalorian action figure guide is going to be your one-stop shop for all your Star Wars: The Mandalorian collection needs.
Bottom Line Up Front
Although, like most Mandalorian fans, I have a special place for Mando and Grogu in my heart, when it comes to lightsabers, I am always blinded by their charisma. Therefore, Star Wars: The Black Series 6″ Moff Gideon is my favorite action figure for no other reason than the Darksaber this action figure holds.
This figure shows Moff Gideon with a scowl on his face, with his suit done in incredible detail. This villainous action figure also includes a blaster gun for a fun playtime.
My Top 13 Picks
My Criteria for Choosing these Figures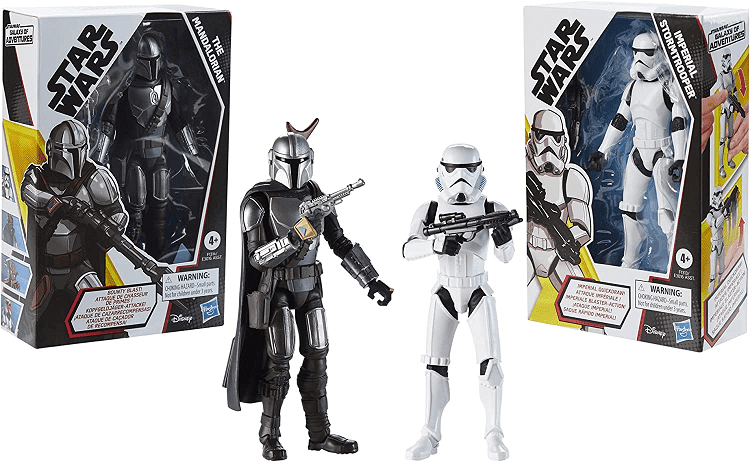 They are easily found at most retail stores.
They come with a variety of accessories to enhance playtime.
Each figure is meticulously crafted to capture details of our beloved Star Wars characters.
Most of them have a reasonable price, which is affordable for everyone.
Some Buying Tips to Save You the Trouble
Do Some Research Before Finalizing Your Order
Check reviews and pictures of the figure to ensure whether it is the right fit for you. And also, look for any other variants offered in the figure.
You might even discover some action figures at incredible discounts, such as the Morak action figure offering almost 40% off on its purchase. Not to mention, If you are planning to purchase multiple figures, many retailers offer special discounts and bundle deals.
Always Look for Reputable Sellers
When purchasing Mandalorian action figures online, make sure the seller has a good rating. The better the reviews, the more confident decision you can make when ordering from an online store.
However, this does not mean you should overlook the seller with one or two bad reviews or who does not have a full 5-star rating. As a rule of thumb, purchasing from a seller with a 4-star rating and above is a safe bet.
Calculate the Shipping Cost and Estimated Delivery Time before Making a Purchase
The worst part of an online purchase is the waiting period. And if it is sourced from an international seller, the patience test gets even worse. I still remember waiting more than a month for my General Grievous figure, which eventually made me run for the door whenever there was a doorbell.
So, ask the seller about your parcel's delivery time before you hit the order button. Also, don't forget to calculate the shipping costs as well. Sometimes, due to expensive shipping costs, it is not worth it to order internationally sourced products, and it is better to settle for a locally produced action figure instead.
The Best Mandalorian Action Figures in My View -Star Wars: The Vintage Collection Bo-Katan Kryze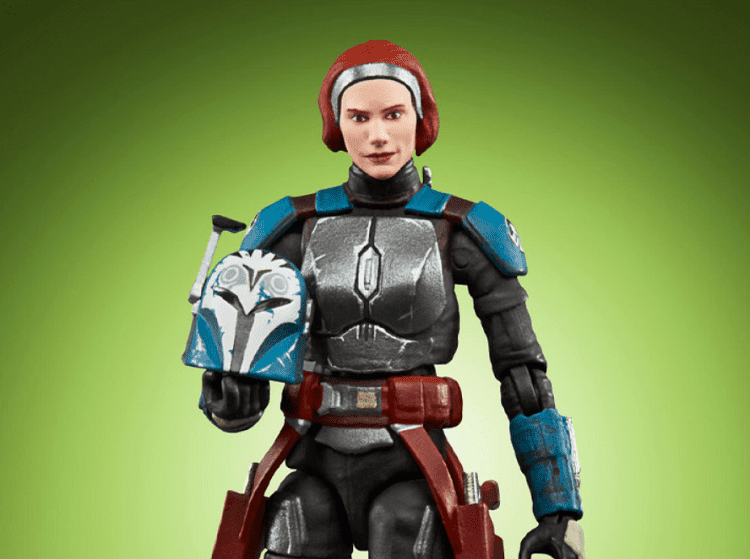 Description
Although Star Wars fans share some old memories of Bo Katan from the Clone Wars, she was first introduced in the Mandalorian series when a trio saved Mando and Grogu from the Quarrens' treachery.
With fantastic attention to detail, this action figure perfectly captures the iconic look of the legendary Bo-Katan Kryze, who is on a quest to repopulate the Mandalorian planet.
The armor is intricately detailed, down to the painted creases and scratches, giving it a realistic and rugged look. Also, this action figure can maintain its balance in different poses despite any stand.
With two blaster rifles and a removable helmet included, this figure is also a perfect option for any Star Wars fan looking for the Clone Wars collection.
Pros
It has a detachable helmet, which can be used to create a variety of poses.
The scratches and blemishes on its coat add more realism to this action figure.
Cons
Small blaster rifles can present a choking hazard for younger children.
Star Wars: The Black Series Cara Dune Toy, 6″ Scale, The Mandalorian Collectible Action Figure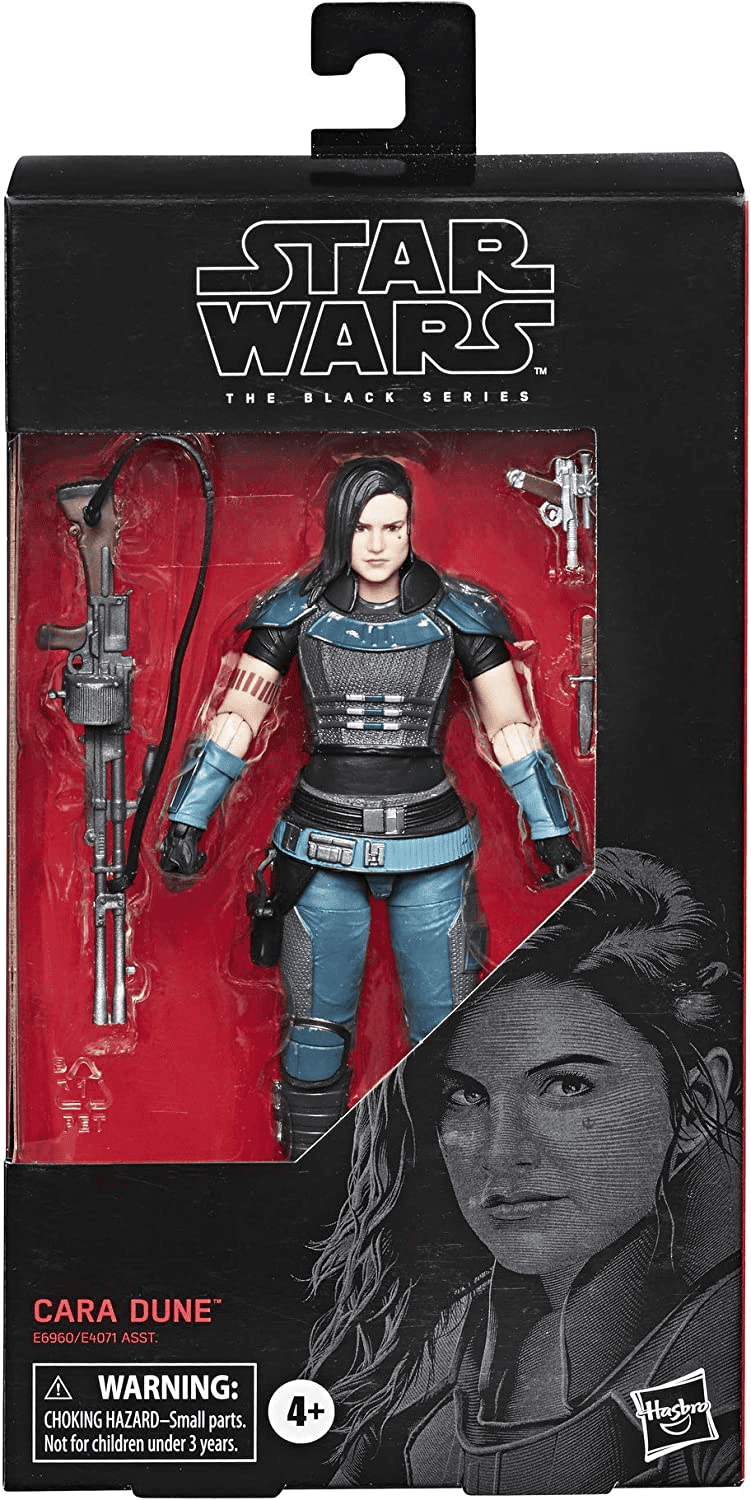 Description
Our favorite Mando and Grogu were introduced to Cara Dune when they flew to a far-flung planet called Sorgan in a bid to hide from the guild hunters. Although skeptical of their arrival, Cara became one of the true companions of the duo, fighting many battles by their side.
This action figure shows Cara in her signature dark-blue outfit, along with her large yet very handy drum blaster gun, a smaller blaster gun, and a dagger. With flexible joints, this action figure can be placed in several positions according to one's personal preferences.
And if you ask me, except for her face, every part of this action figure is crafted well in detail. From her shoulder armor to her shin armor, everything looks just perfect. Even the ammo belt shows the expertise that is put into its making.
With its official production being discontinued, no one knows for how long this action figure will remain available. So, if you are a true Cara fan, you do not want to wait anymore to get a hold of this masterpiece.
Pros
It is from a discontinued line, which means its value will increase dramatically once it is officially out of stock.
The armor is very detailed.
Cons
The shoes of the figure offer a very washed-out color.
It is pretty costly compared to other action figures of the same quality.
Star Wars: The Black Series, 6-inch Deluxe Cobb Vanth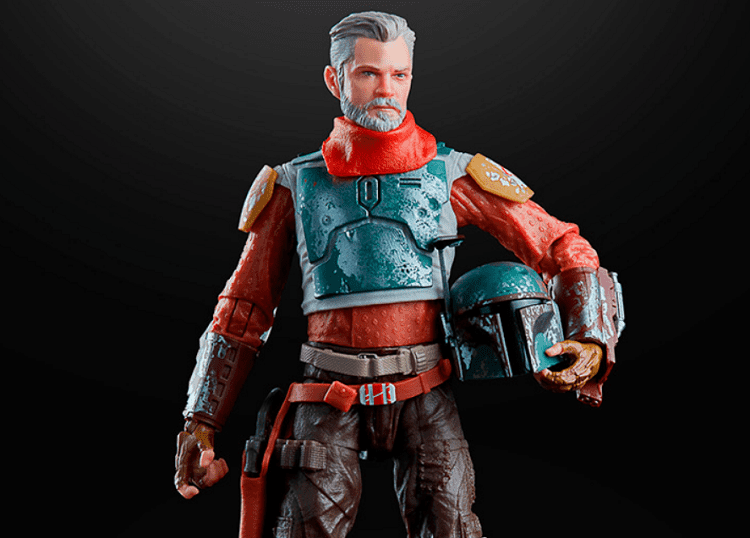 Description
When Bobba Fett lost his armor, it fell into the hands of a sheriff of a small Tatooine town called Freetown, who used it to maintain law and order aptly. This action figure captures one of the few moments when Cobb Vanth, the sheriff, remained in possession of one of the most famous armors, or infamous for some fans, of the Star Wars universe.
This action figure shows "Marshal" in a Mandalorian suit, with a jetpack on his back. The set also includes a blaster and rifle along with a detachable helmet, making it easy to simulate a variety of scenarios of the series.
Although, in my opinion, the jetpack is made a bit more colorful, giving it a childish look, the detailing on his chest armor and helmet is one of a kind. Not only is their color pattern unique, but the marks of blaster shots are also very evident, a testament to the fact that this armor has been through some of the worst-case scenarios.
Pros
This figure offers extraordinary colors.
This action figure is a perfect option for both Boba and Vanth fans.
Cons
The blaster gun is not detailed as it should have been.
Magistrate Greef Karga Action Figure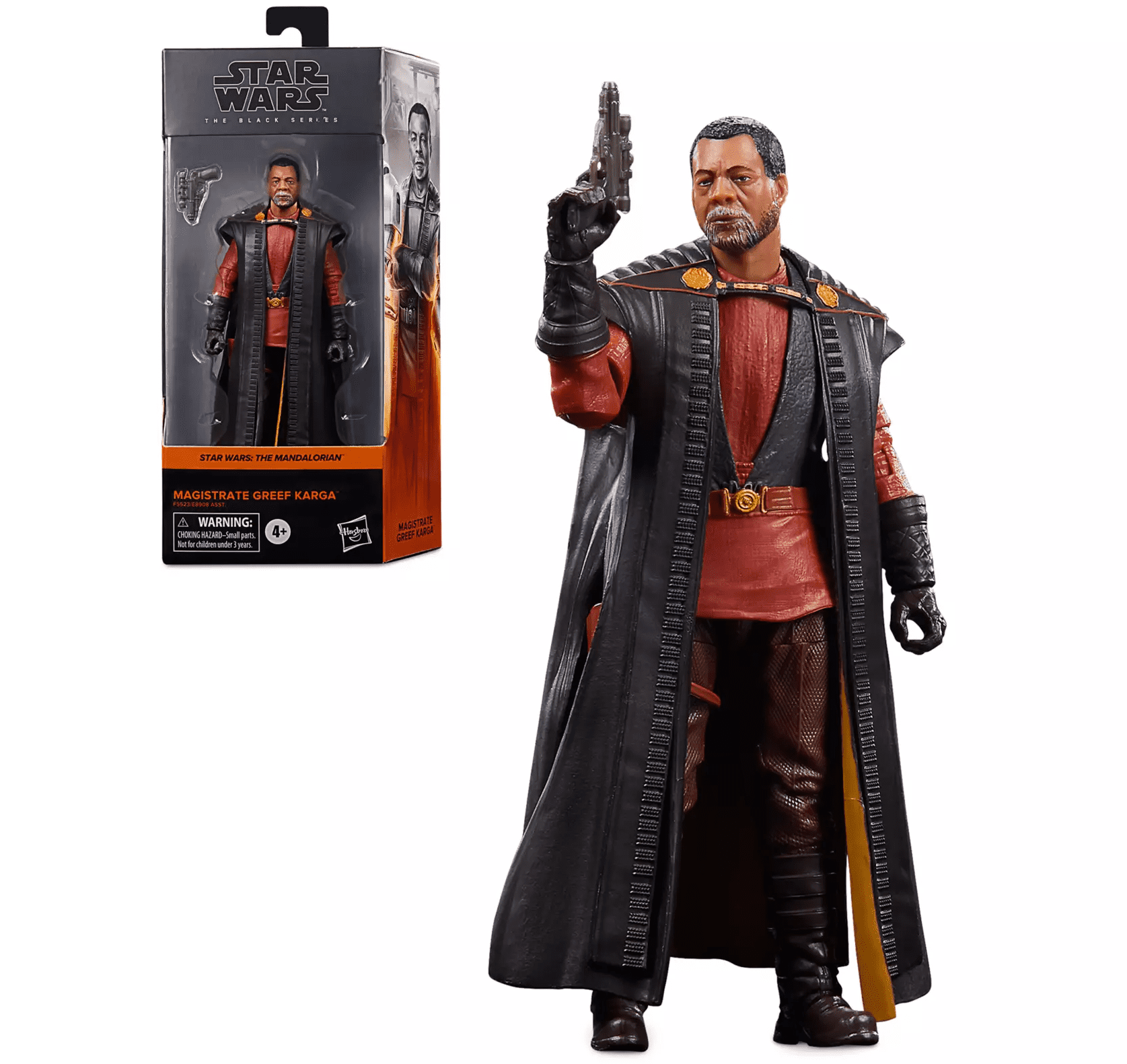 Description
Greef Garga, the leader of the Hunters Guild, would have remained an ordinary side character in the Mandalorian series, but with his redemption, he became one of the fan favorites. This action figure shows this mysterious and often vague character in a coffee-colored coat that flows down to his feet.
With different Greef Karga action figures in the market, some with a purple cloak while others with a caramel-colored coat, this Black Series action figure feels like a real-life mini statue of Greef Karga.
From its hair to its beard, from its body structure to its attire, everything is just perfect. And I have to specifically credit its face, which is exceptionally exquisite for its price.
This action figure also comes with Greef's iconic blaster, which, except for its scope, looks like a mix of a six-shooter and an M1911, or maybe it's just me who thinks so. Anyhow, this figure is a perfect reminder of authority and atonement for any Mandalorian fan.
Pros
It is the most accurate figure of Greef Karga under 30 bucks.
This figure is officially licensed.
Cons
The elbow joints of this figure do not have smooth cuts.
Star Wars: The Vintage Collection the Mandalorian and Grogu (Maldo Kreis) Action Figures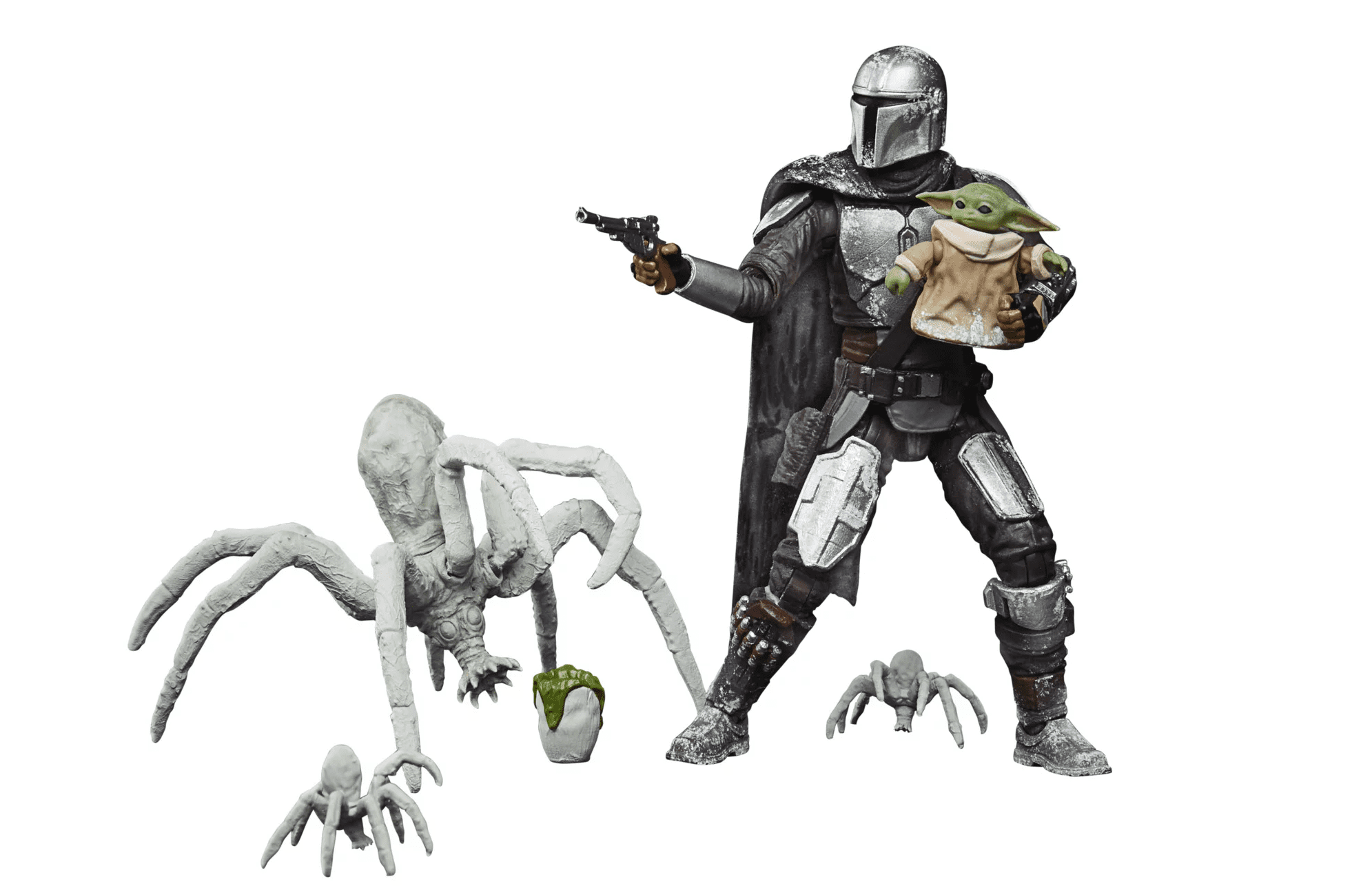 Description
For most fans, the creepiest element of the Mandalorian series was when the white spiders appeared in Maldo Crisis. Grogu, curious as always, messed with one of the spider's eggs in an ice cave, and we all know how that went. Not only the whole swarm of spiders came to life, but it almost led to the destruction of the Razor Crest.
This figure set perfectly captures the duo's adventure on Maldo Kreis. It features Mando and Grogu along with three spiders: a big one, presumably the queen, alongside two smaller spiders. Not to mention the egg that Grogu touched and Mando's blaster are also included in this pack for realistic playtime.
Mando's armor offers a nice look of snow on it, showing that the duo is not on some desert planet this time. You can place Grogu in Mando's arm and put the blaster in his other hand to recreate the scene where he fights these weird spiders off in a struggle to get to his ship.
If you ask me what makes this set one of the best options in my book, it is the inclusion of multiple characters – most of them having different articulation points – at quite an affordable price tag of under 20 dollars.
Pros
It contains multiple characters at a low price.
The snow detail on Mando's costume makes it different from the rest of his action figures.
Cons
This action figure pack might be scary for small children or those with Arachnophobia.
Kuiil Action Figure by Hasbro, Star Wars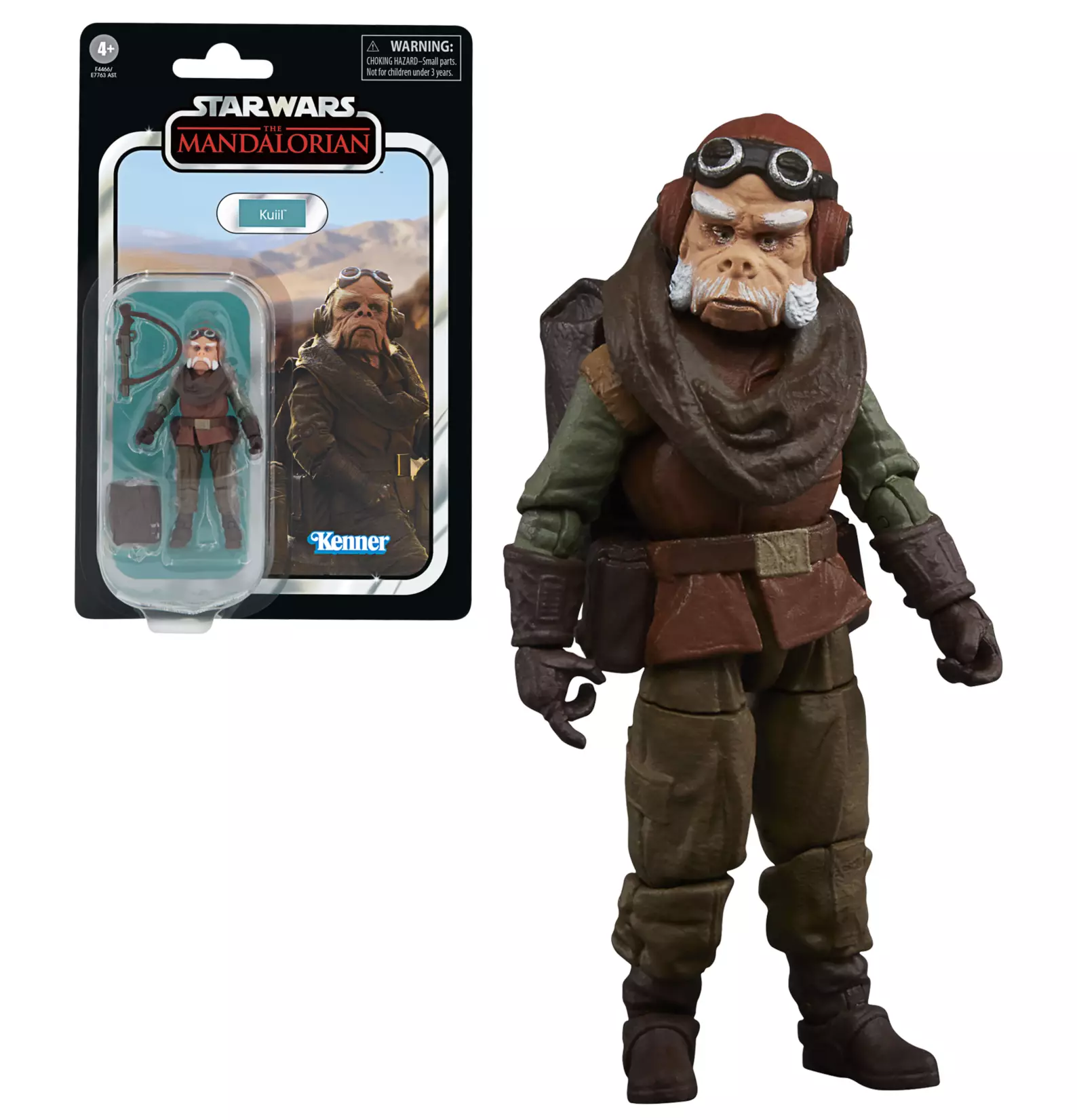 Description
One of the more tragic characters in the Mandalorian was that of Kuiil, an Ugnaught seeking solace on Arvala-7. Although a soft-spoken farmer, he proved to be quite helpful to Djinn Djarin, aka Mando, when his ship got vandalized by the Jawas.
The Kenner company – now defunct – excellently portrayed Kuiil in its vintage action figure series. The figure offers his signature brown clothing that blends perfectly with the dusty planet he stayed on. Moreover, it also comes with the blaster rifle which Kuiil carried on his back.
Made in a vintage manner, this action figure looks aged and is an excellent collectible for experienced collectors at an affordable price. And let's not forget his goggles which will always remind any Mandalorian fan of the courageous sacrifice he made to protect Grogu.
Pros
Despite being a product from a defunct company, this figure offers a good price.
The texture of this action figure enhances its vintage style.
Cons
This action figure comes with only one playable accessory.
Star Wars: The Black Series IG-11 Droid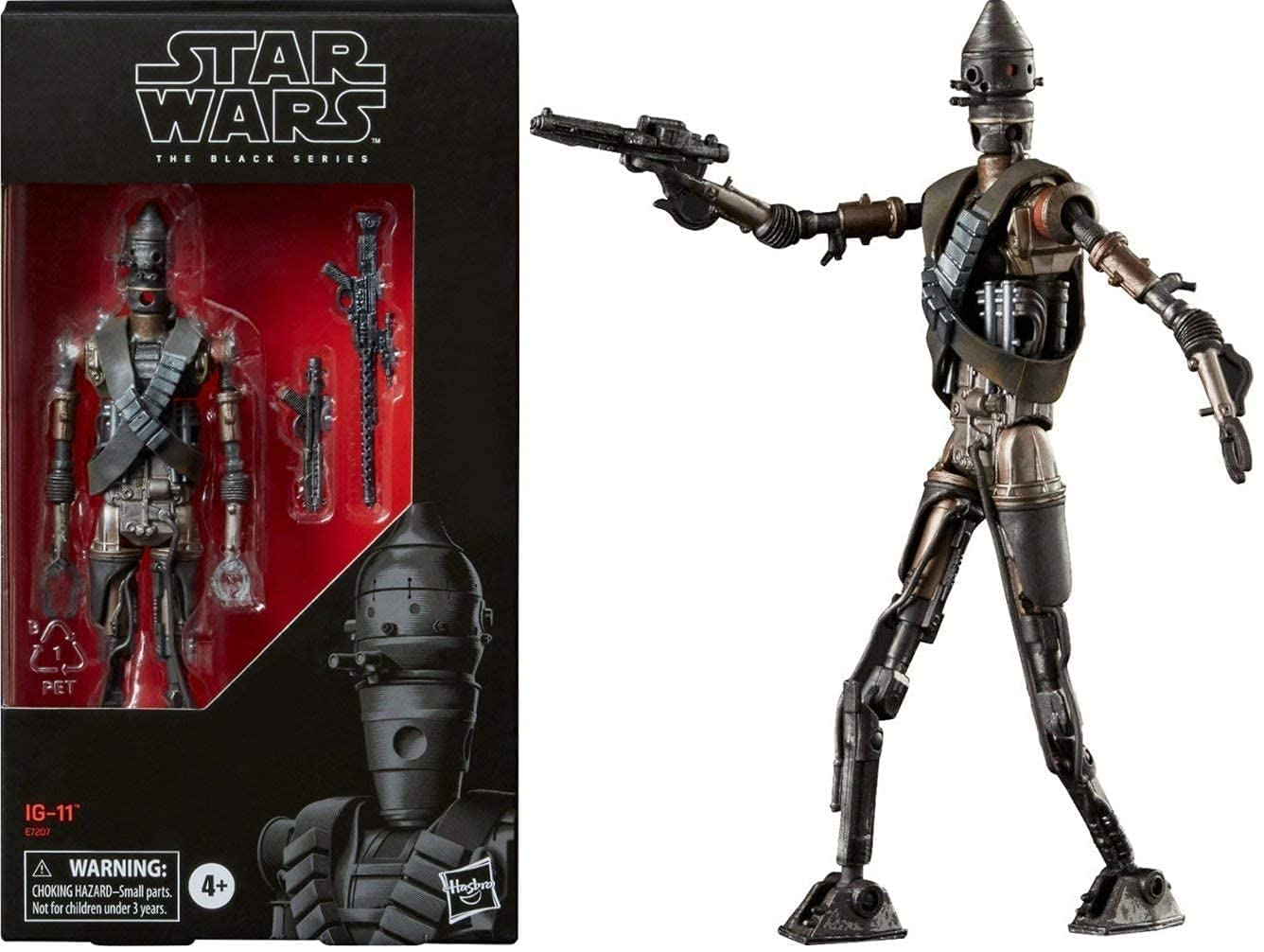 Description
Star Wars is famous for its unique and exciting droids, and IG11 is no exception. A Mandalorian droid loaded with a lot of history, IG11 played a remarkable part in rescuing both Grogu and Mando from the villainous Moff Gideon, even after the death of his master Kuiil.
This action figure has been made with extreme attention to detail, down to the rugged and old look of the droid, making it feel like one of the most sophisticated action figures of the Mandalorian series. Being an assassin droid, this figure of IG11 also includes two blaster guns that he mostly carried with him.
It might look like this figure is made up of some metal, but in fact, it is plastic based. However, the premium quality ensures that it lasts long and maintains its pristine condition even after extensive use.
For me, apart from providing exciting and fun playtime, this figure is a constant reminder of a great lesson, i.e., No sacrifice is too great in the line of duty, something that IG11 practically demonstrated when he initiated self-destruction in order to protect Grogu from the Imperial forces. In the words of IG11, "There is nothing to be sad about. I have never been alive."
Pros
Offers a more sophisticated look than other action figures.
This action figure comes in a decent size – 6" – for its price.
Cons
Because of its slim shape, it cannot maintain balance when placed in certain poses.
Moff Gideon from Star Wars: The Black Series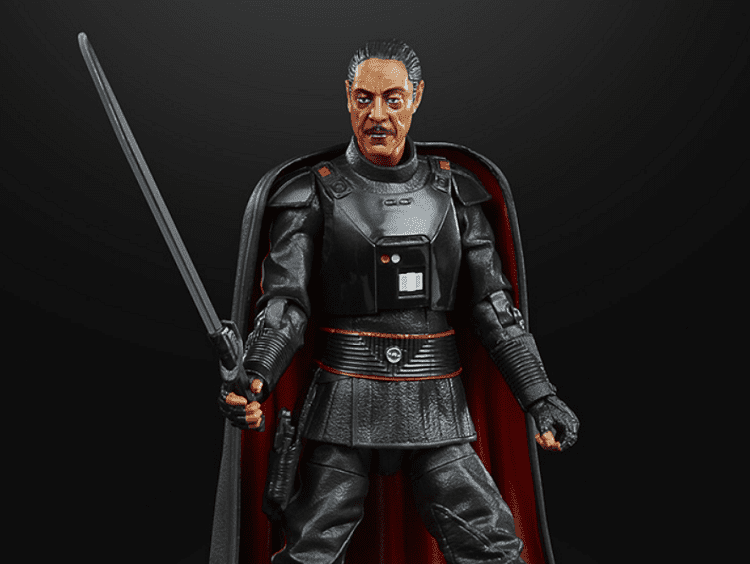 Description
Now, talking about my favorite piece from the list, this action figure evokes sinister memories of Moff Gideon's violent antics to get our favorite Grogu back from Mando.
Standing 6" tall, with incredible attention to detail, this figure captures Gideon's character in a very illustrative way. Apart from Moff's signature cape and Darksaber, the facial expressions of this figure are enough for any new Star Wars fans to know that Gideon is not someone to be messed with.
This action figure also comes with an Imperial blaster, but it looks a little smaller as compared to the overall figure. And as far as its Darksaber is concerned, I only wish it could light up for a truly immersive experience.
Anyhow, if you ask me, this action figure would not be a bad option for "Better Call Saul" fans as well, who could not find any memorabilia for the "Chicken Man."
Pros
Despite its big cape, this action figure remains stable in most poses.
The figure set also comes with Darksaber, which is nothing short of a collector's item itself.
Cons
The color of the Darksaber easily fades with time.
The size of the blaster is smaller than the rest of the figure.
Star Wars: The Vintage Collection 3.75-inch Articulated Action Figure Exclusive Collection (Koska Reeves)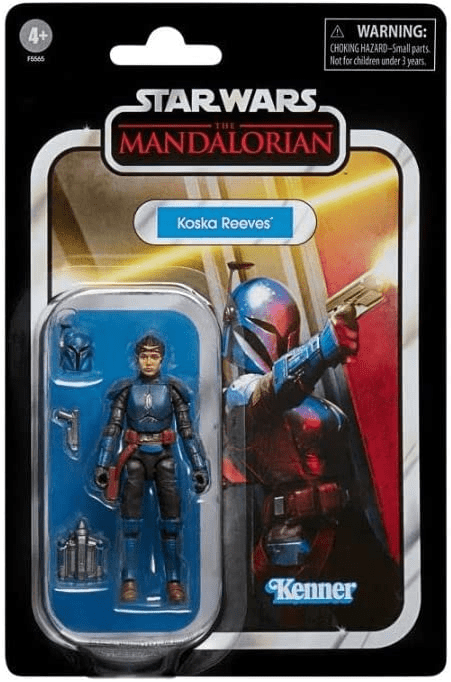 Description
Although Koska Reeves did not get much screen time in the Mandalorian series, if I were to make a list of the most outstanding female Mandalorians, she would be hard to ignore. Not to mention, it would not be wrong to say our favorite Grogu owes his life to this compassionate and fearless warrior.
A loyal sidekick to Bo Katan, this action figure shows Koska in the blue Mandalorian armor from the series. The figure set also includes a jetpack, a detachable helmet, and a single blaster, which can be used in many creative ways.
The scratches and dents add a more realistic view to this action figure, not to mention her skin color, which is perfectly nailed by the manufacturers.
One might argue why I have included a side character in my list of the best Mandalorian action figures. Well, when Mando was trapped inside Quarren's monster cage, I don't recall anyone else jumping into the water to save Grogu from the sea monster. Do you?
Pros
It has a detachable Mandalorian jetpack and helmet, which are collector items as well.
The wear and tear are excellently depicted on this action figure's armor.
The hair job is also intricately done on this figure.
Cons
This action figure comes from a defunct vintage collection and can get out of stock anytime.
The Mandalorian Action Figure by Beast Kingdom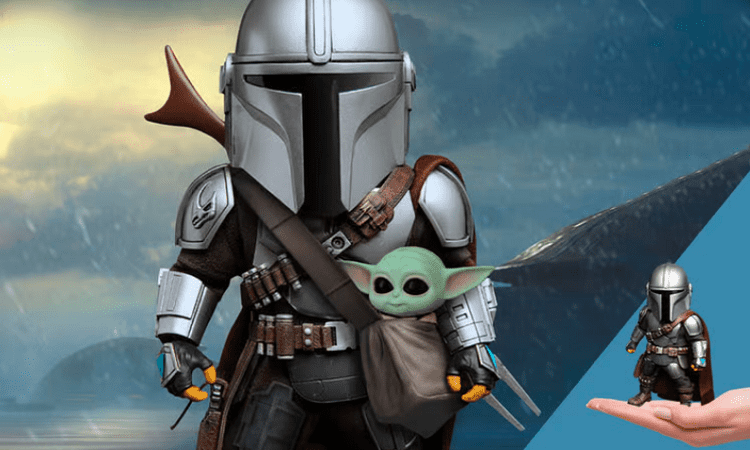 Description
The Mandalorian action figure introduces the titular character of the space-western series in a spectacular form, i.e., a 6-inch pop with several articulation points.
This Nendoroid-like action figure will definitely bring the world of the Mandalore to your home. With its premium sculpting, I am pretty sure this figure will be the centerpiece of your collection and make a perfect gift for your friends and family; after all, who can say no to the Mandalorian and our lovely Baby Yoda?
Available with a removable jetpack, a blaster, Mando's famous blaster rifle, and Beskar steel bar, this action figure is destined to provide hours of action-packed fun. And let's not forget the three pairs of hands that also come with this action figure.
With its unique and intricate detailing and with a real cloth cape, this figure is sure to make any other Mandalorian fan envious.
Pros
Highly articulated joints allow for a wide range of motion.
It also comes with a Grogu figure, making it a two-in-one action figure.
Cons
The cartoonish and big head design might be too childish for OG fans.
Star Wars: The Mandalorian 5-inch-Scale Figure 2 Pack (Mando and a Stormtrooper) with Fun Blaster Accessories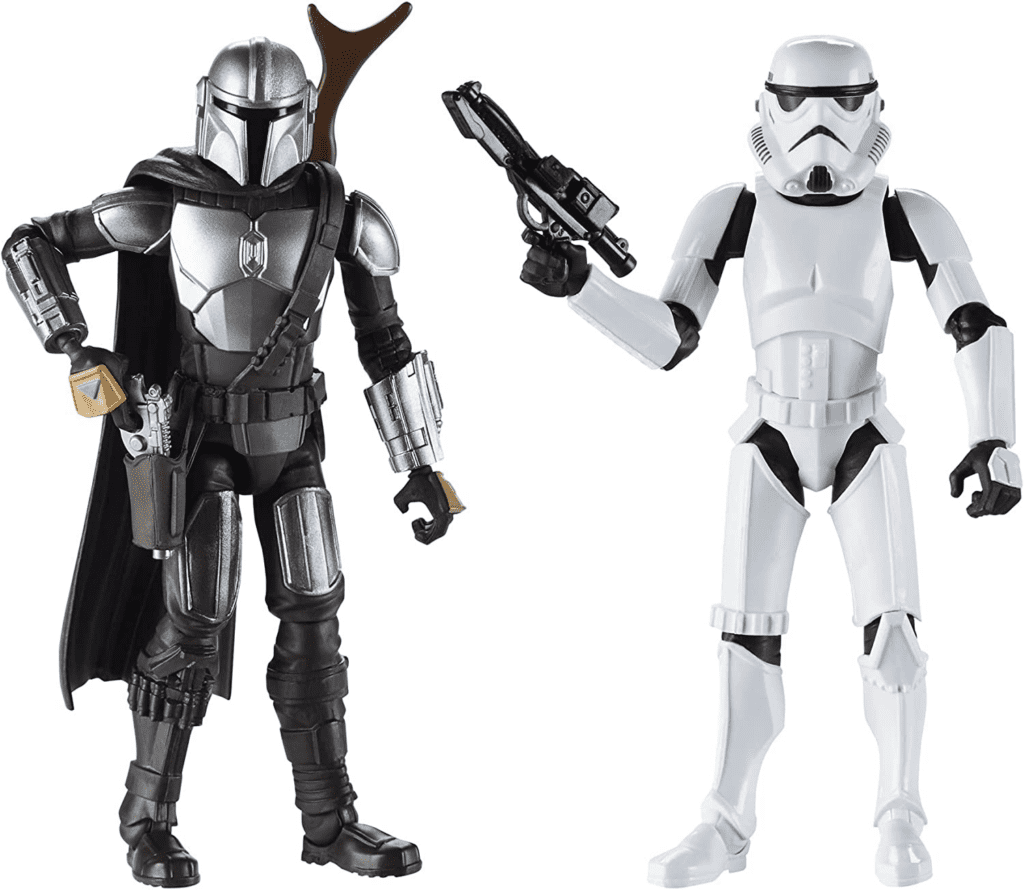 Description
This twin pack contains both the Mandalorian (Din Djarin) and Stormtrooper action figures, a perfect reminder of all the events during which Mando managed to outrun the Imperial forces at his back.
One thing that I really like about this deal is that it offers two different packagings, one for each action figure. The Mando's action figure comes with the long blaster rifle he used to carry before getting his jet pack and a blaster. Moreover, his iconic Beskar steel armor is also done nicely, giving the figure a shiny look.
Similarly, the Stormtrooper is depicted in his characteristic full-white armor, holding an imperial-issue blaster so that he won't "miss a shot." I also love the quick draw feature offered in both of these action figures' arms; after all, you never know when a fast draw will be needed to settle things.
For the price of one action figure, this offer is surely a great deal not to be missed.
Pros
An affordable deal offering two action figures at the price of one.
The figures have a quick draw feature to settle things once and for all.
Cons
These action figures are very lightweight and can be easily blown by a fan.
Star Wars: The Black Series 6-inch Deluxe Dark Trooper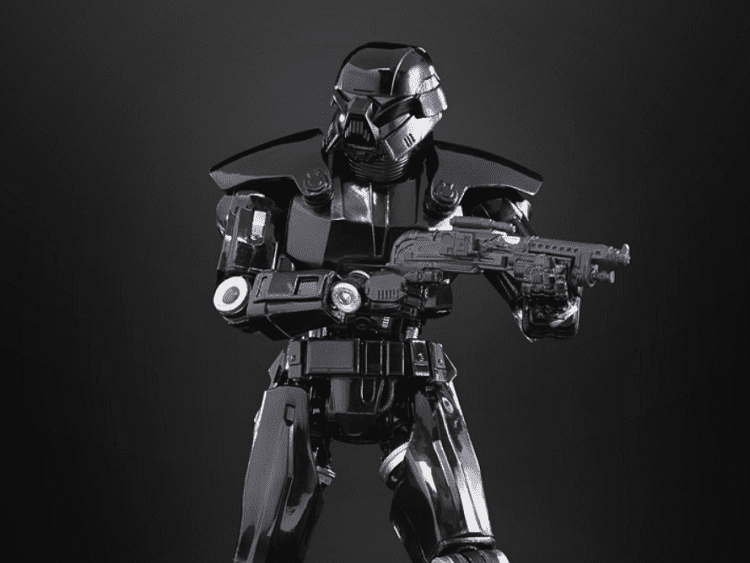 Description
Dark troopers were among the most powerful droids featured in the Mandalorian. With one of them engaging in a brutal fight with Mando, these droids remained very resourceful and dangerous to Grogu's survival, and this intimidation has been magnificently copied in this action figure.
Despite being made of plastic, this action figure is pretty shiny and has a metallic look. In addition to the blaster gun, which can be placed in its hands, this figure also includes blaster effects that can be attached to the bottom of its feet.
These effects will definitely make one wonder if this Dark Trooper might fly away when no one is looking at it. Furthermore, an extra pair of hands is also included in the box, which will definitely be helpful if you want to bring your Dark trooper to unarmed combat.
I have to say, for any Star Wars fan looking for a Droid or a Mandalorian collection, this action figure is not to be overlooked at.
Pros
The blaster effects simulate flight.
A highly detailed sculpt that magnificently recreates the character from the show.
Cons
The action figure's surfaces can be easily scratched.
The blaster rifle gives a weathered look.
Star Wars: The Black Series: Migs Mayfeld (Morak)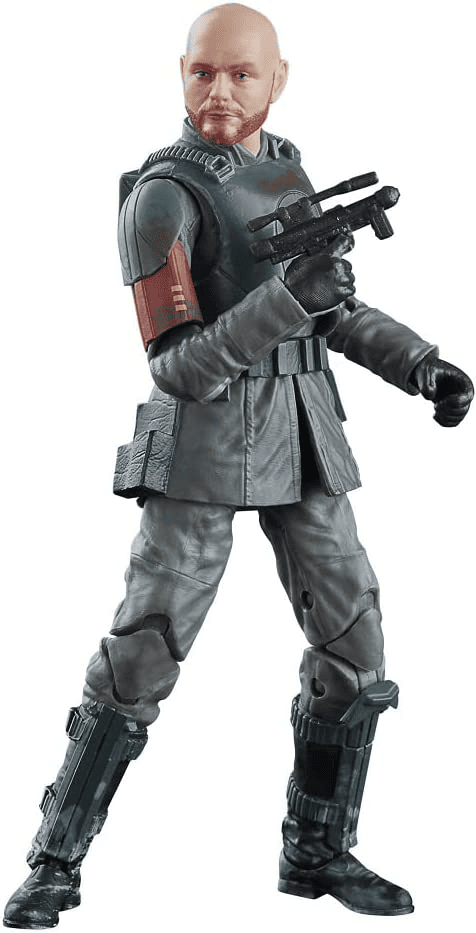 Description
If you want to experience the criminal underworld, the Migs Mayfeld action figure can be a good bet. This highly detailed 6-inch action figure perfectly recreates the look and character of the talented former Imperial sharpshooter and mercenary Migs Mayfeld, aka Morak.
This action figure contains a detachable helmet and a single blaster to help Morak escape any sticky situations. Also, the washed-out color of its attire gives a sufficient reminder that the criminal world is nothing new for Mayfeld, and one should not mistake him for his apparently calm demeanor; after all, he was almost successful in betraying Mando.
If you are anything like me, who is not a big fan of the New Republic, get this action figure today, and channel the dangerous yet heroic mercenary to bring order to the Galaxy.
Pros
This action figure is available at a fair and affordable price.
The head is sculpted in great detail, giving the figure a realistic look.
Cons
The small blaster can become a choking hazard for kids under 4.
Frequently Asked Questions
Question: Are All Characters from the Mandalorian Available as Action Figures?
Answer: Most of the major characters, such as Mando, Cara Dune, and The Child, have a variety of action figures. However, this cannot be said about every other character in the series. Still, if you are lucky enough, you might find an action figure of your favorite side character as well.
Question: Does the Mandalorian Merchandise also Offer Realistic Figures?
Answer: Yes, with sophisticated and modern technology, unlike vintage figures, contemporary action figures have increased detailing and attention to detail. This makes them look quite realistic, and some even look like real-life mini-statues of the characters from the series.
Question: Do Mandalorian Action Figures Require Assembly?
Answer: Most of the Mandalorian action figures come pre-assembled and ready to display or play with. However, with an array of accessories available with almost each action figure, your required customization might need some assembly beforehand.
Wrapping Up
With the Mandalorian series getting famous with every passing day, there is a significant increase in the demand for its action figures. However, every fan should consider the following tips to make sure their buying experience remains smooth and pleasant.
When ordering Mandalorian action figures online, always conduct proper research and look out for discounts before clicking the order button. And don't forget to go for reputable sellers with good ratings. Also, check for shipping costs and delivery to make sure a figure is worth your time and money.
If I have to choose a favorite action figure, it will be none other than Star Wars: The Black Series 6″ Moff Gideon. This figure flawlessly captures the most intimidating villain of the Mandalorian series. Not to mention, the Darksaber, with its menacing look, adds a fearful aura to the action figure.
From classic-armored Mandalorians to mysterious outlaws, this guide offers everything for any Mandalorian action figure collector. With a range of accessories to enhance playtime, these action figures will keep any Star Wars fan occupied for hours.
So, whether you're a fan of the show or are just looking to add a few more figures to your Star Wars collection, this is the way!