Latest posts by Ben Kitchen
(see all)
If you're looking for the best Star Wars-themed hoodies, you've come to the right place. I've compiled a list of some of my top picks on this page, having scoured the net far and wide so you don't have to.
I know there are so many different things you might be looking for in a Star Wars hoodie. Some of you might want a simple poster-style graphic. Others might fancy clever artwork based on a popular character like Darth Vader or Grogu. You could be after a purely aesthetic synthetic hoodie, or perhaps you're looking for something that doubles up as a substantial winter layer, too.
On this page, my sole focus is on hoodies that would excite any true Star Wars fan. Of course, they must also be high quality and authentic to the genre. You can read more about my selection criteria by scrolling down a little. Overall, I feel a Star Wars hoodie should be both worn out and about and at home. This means I generally prefer more subtle designs, although I've included some more out-there options too!
There is an incredibly daunting amount of Star Wars merchandise out there, including hoodies. I've gone through as many stores as I can, searching for products that are unique and attractive in their way. However, I'm sure I've missed some due to the sheer volume. If you own or come across Star Wars hoodies that you think should be on this list, please let me know by posting them in the comments!
That said, let's begin.
Bottom Line Up Front
Considering Star Wars aesthetic, material, cost, and so on, my top choice is this awesome custom airbrushed hoodie of General Grievous. For a genuine fan, it showcases one of the series' most iconic characters without being too outrageous.
The Etsy seller, ExoticGamerGearBySid, takes special care when producing each hoodie individually. This means they're long-lasting, durable, and special care is paid to each product.
My Top Picks at a Glance
Tips Just for You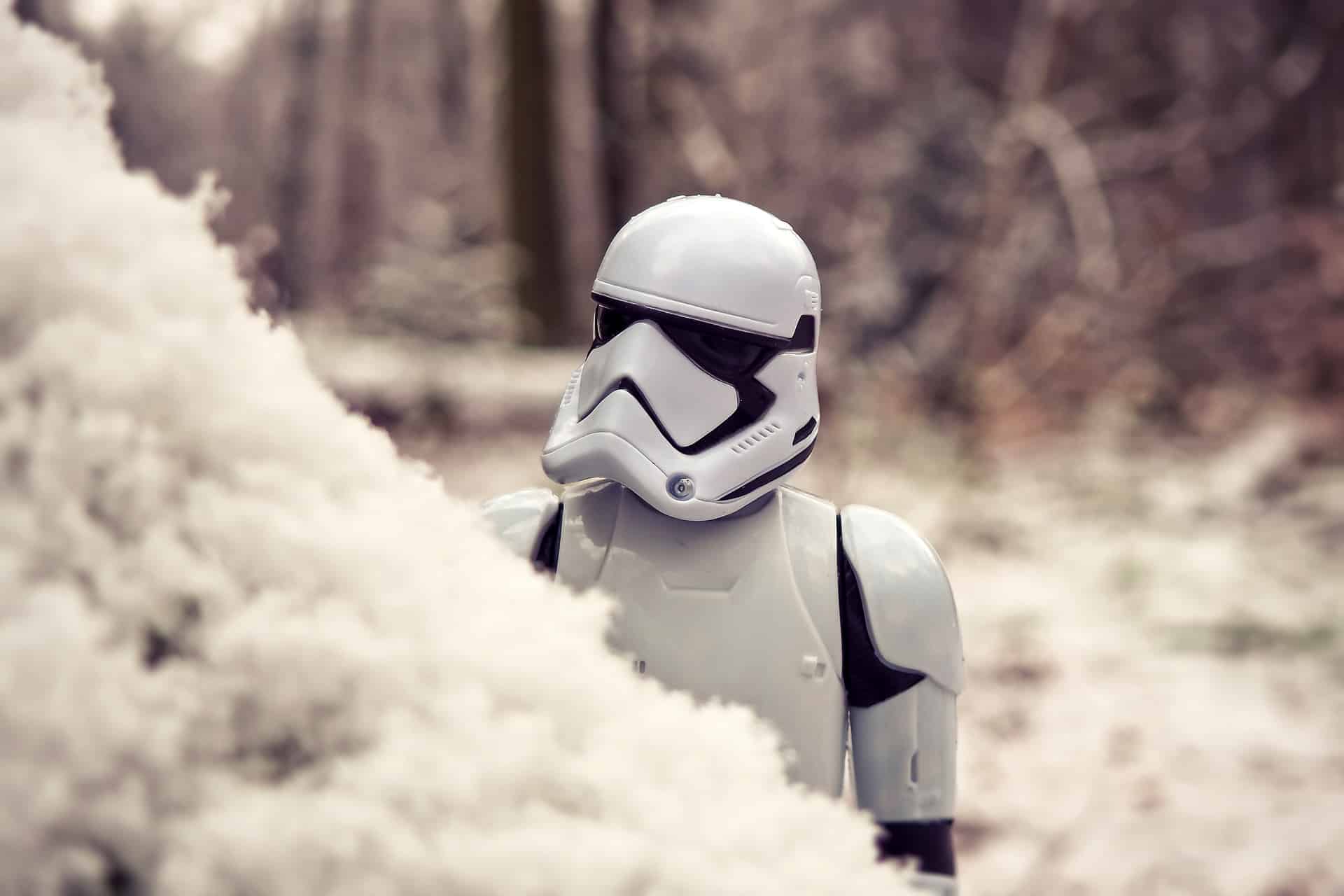 So, you're looking for the best Star Wars-themed hoodies. I've learned a fair few things in my many hours of research and merch-searches. I hope you find them helpful as you search for a hoodie of your own.
There are a lot of options out there – if you simply search for "Star Wars hoodies", you'll be presented with literally hundreds of thousands of hoodies. It's worth searching for a more specific product so you can narrow the results down. For example, you might look for "white, warm, cotton Mandalorian hoodies".
It's not necessarily a bad thing, but most Star Wars hoodies on the internet are the same item of clothing, just with a different image printed on them. These are generally the cheaper hoodies. They might suit your budget and your taste. If so, fantastic! But if you want something of slightly higher quality, look for items that are less mass-produced and cost a little more.
When it comes to materials, the most common choices for hoodies are synthetic materials, cotton, or a cotton/polyester blend (usually around 50/50). Each of these has unique properties that may make them more suited to you, so as you're looking through the list I've put together, make sure to bear the material in mind too. Synthetic materials are lightweight and often warm but lack the breathability of the cotton. 100% cotton is light, breathable, better at holding prints, and completely hypoallergenic, but the material itself is less durable than a polyester blend.
Most of these products include either printed graphics or sensitive fabrics, so you should always check the specific cleaning instructions for each product. Some will need to be washed on cold and the "handwash" setting on your washing machine. You'll be able to tumble dry some but not others. To keep your hoodies in good condition, it's vital to stick to these guidelines wherever possible.
Selection Criteria
As I mentioned in the introduction, my selection for Star Wars-themed hoodies is mainly focused on instinct. As a fellow Star Wars fan, I know what's likely to make you tick – and what's not. These hoodies aren't just the first ones I've found on Amazon or a copy of another website's Top 10. They're all products I've found through extensive searches.
So, there's that. Also, to qualify as one of the best Star Wars-themed hoodies, it can't just be something anyone could whip up on a "make your own" website. It must be a high-quality print. Not all the products I found were unisex, too, so watch out for that. Finally, I also considered cost and fabrics when it came down to it.
For clarity, when it comes to materials, I've included synthetics as a "con" in the below list. This is because I'm looking for the highest quality hoodies, and I feel spandex/polyester blends can't quite match the feel of cotton and cotton blends. However, these materials often allow for greater flexibility and longer-lasting designs and prints.
Product List
This is my top pick for the ultimate Star Wars hoodie. It's one of five items on this list that come from Etsy.
This hoodie has a custom-drawn artwork piece of General Grievous on the front. It's carefully made by a small company with an 80/20 cotton/polyester blend. It weighs around 8.5 ounces (240g) – warm and comfortable as a midweight item. You can add a custom shoulder patch if you wish.
In my opinion, the design is outstanding. It highlights one of Star Wars' most villainous and well-known characters without being too outrageous and would be perfect to wear on any occasion. Including sitting down for a Revenge of the Sith or Clone Wars evening.
The airbrush finish means you can wash this hoodie more freely than many fabrics. However, treating it gently will help the image and material last even longer. Finally, you'll receive this hoodie along with a goodie box, including a drawstring bag. Outstanding customer service to go along with an exceptional product!
This General Grievous hoodie "will make a fine addition to your collection"… well, I had to, didn't I?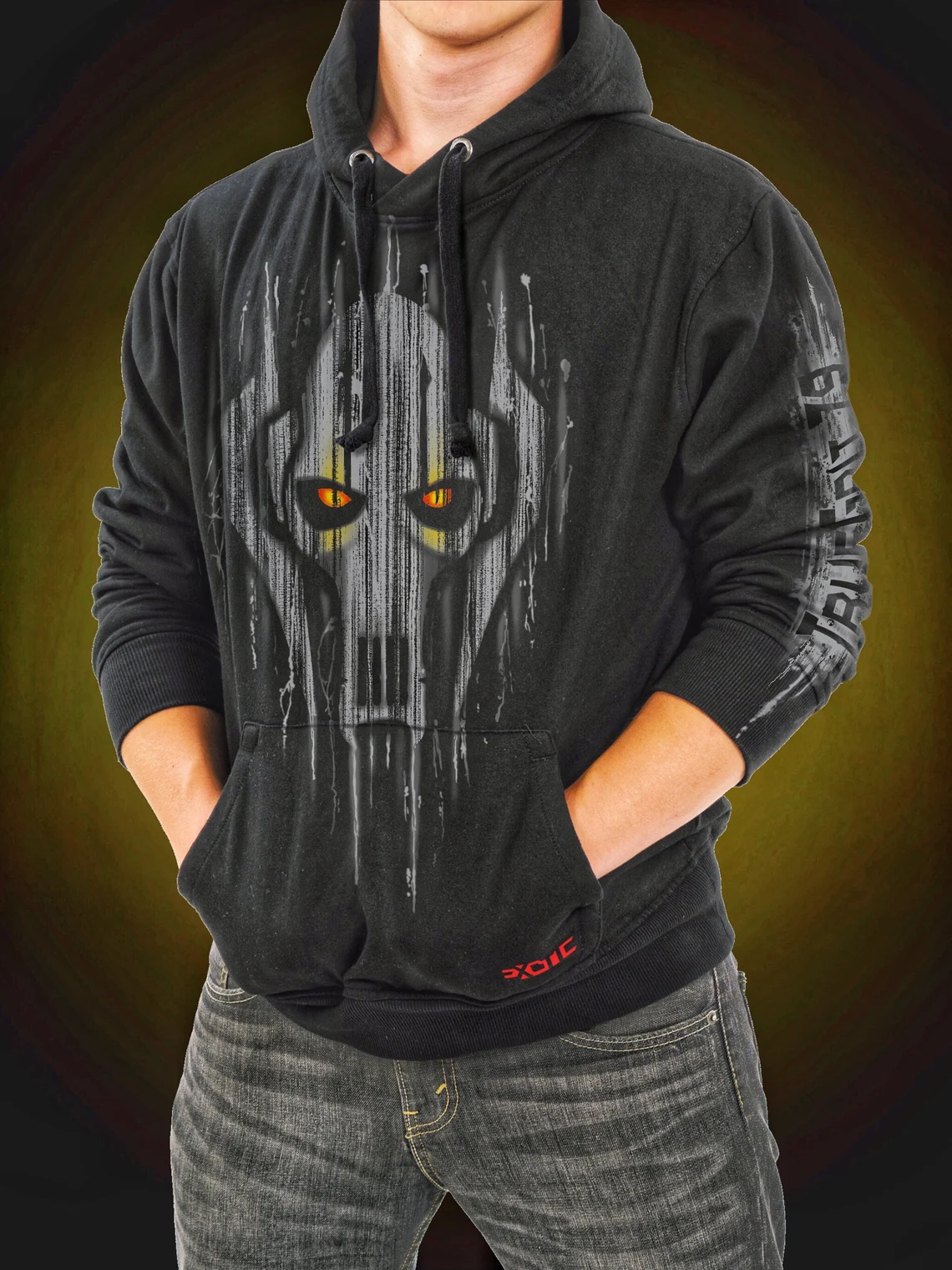 Pros
Carefully designed and printed.
Makes a statement without being too outrageous.
High-quality material.
Less complicated to wash than some alternatives.
Great customer service.
Cons
A little on the expensive side.
General Grievous' intimidating face maybe a little… much.
"This is the way" is the way of saying "get over it" from the galaxy far, far away. I confess I've used the phrase more often than I care to admit since first watching The Mandalorian.
I liked this hoodie for its simplicity. Although you can get it in various colors, I prefer the plain white and black versions. Coming in at 13 ounces (370g), it's a slightly heavier one, and the cotton/fleece polyester blend should be particularly warm. It's made in Canada, so I know they know what they're talking about!
The silhouette of Din Djarin plastered with the infamous "This is the way" is a fantastic way to let people know you're a Star Wars fan.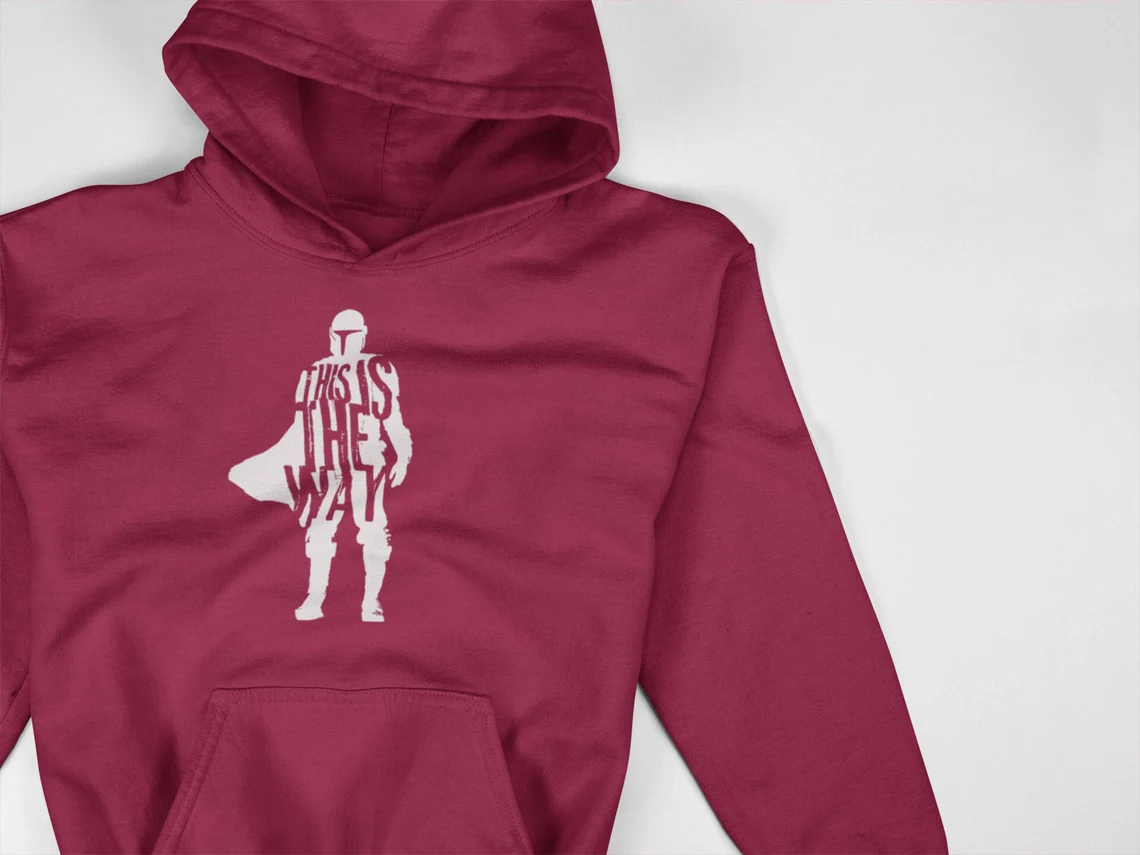 Pros
High-quality, warm material.
Simple print.
Cons
Print might be a little too dull for some.
Galen Marek, better known as Starkiller or Darth Vader's Secret Apprentice from The Force Unleashed, is – from my point of view – the only mainstream character who can pull off a hoodie. Although he has several costume options as you play through the game, he can wear a hood in costumes reminiscent of the Assassin's Creed trilogy.
Okay, I'll admit, this one is a little more outrageous. It's a full cosplay costume and, as such, costs significantly more than a standard hoodie. However, if you're a die-hard Star Wars fan, I feel obliged to list it here for you. You could wear this as a hoodie around the house, although I expect you might get a few strange looks if you were to pop it on for a grocery shop. I'd mainly recommend it if you attend fan conventions such as Comic-Con or enjoy trips to Disneyland.
This entire costume is handmade to order in the Netherlands. It's fully customizable, and the seller, AvalondesignsNL, will let you pay in installments if you want.
Overall, this option certainly isn't for everyone. I suppose it technically isn't even a hoodie – but it does have a hood! Maybe, just maybe, it might be for you. I've included it for that reason.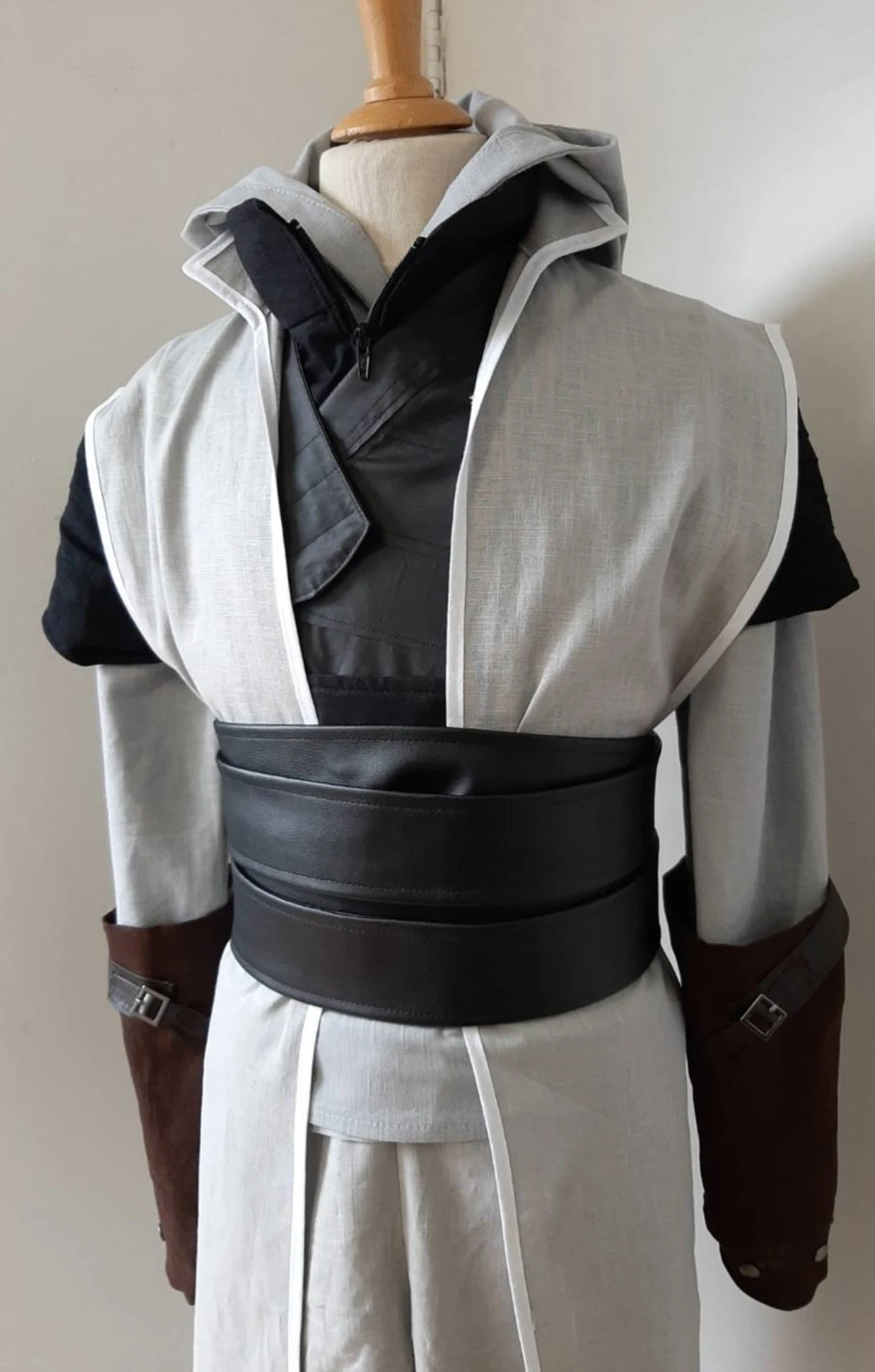 Pros
Actual Star Wars costume from the franchise.
Extremely high-quality materials.
Handmade to order.
Cons
You may need to skip the month's rent.
It could take a while to arrive (but this goes hand-in-hand with the superior quality).
Not for wearing when grocery shopping or picking the kids up from school.
"Hello there." "This is going to be easy." "Another happy landing." "So uncivilized." Only Obi-Wan Kenobi could pull these lines off in the otherwise reasonably serious world of Star Wars.
This men's hoodie features an Obi-Wan Kenobi graphic based on his animated Clone Wars film and series appearance. By now, it's an image that Star Wars fans will have become all too familiar with – although I would have preferred a live-action picture of Ewan McGregor or Alec McGuinness, personally.
It has a drawstring hood and one traditional hoodie-style pocket. Importantly, you'll be able to machine wash this one, although always check the specific instructions!
As most of these hoodies, it's a cotton/polyester blend, giving you an excellent, long-lasting design. In my opinion, this one would work exceptionally well in summer. The light blue lightsaber color makes it stand out particularly well in the brighter months.
I chose to add it to this list as a good-quality tribute to Obi-Wan Kenobi.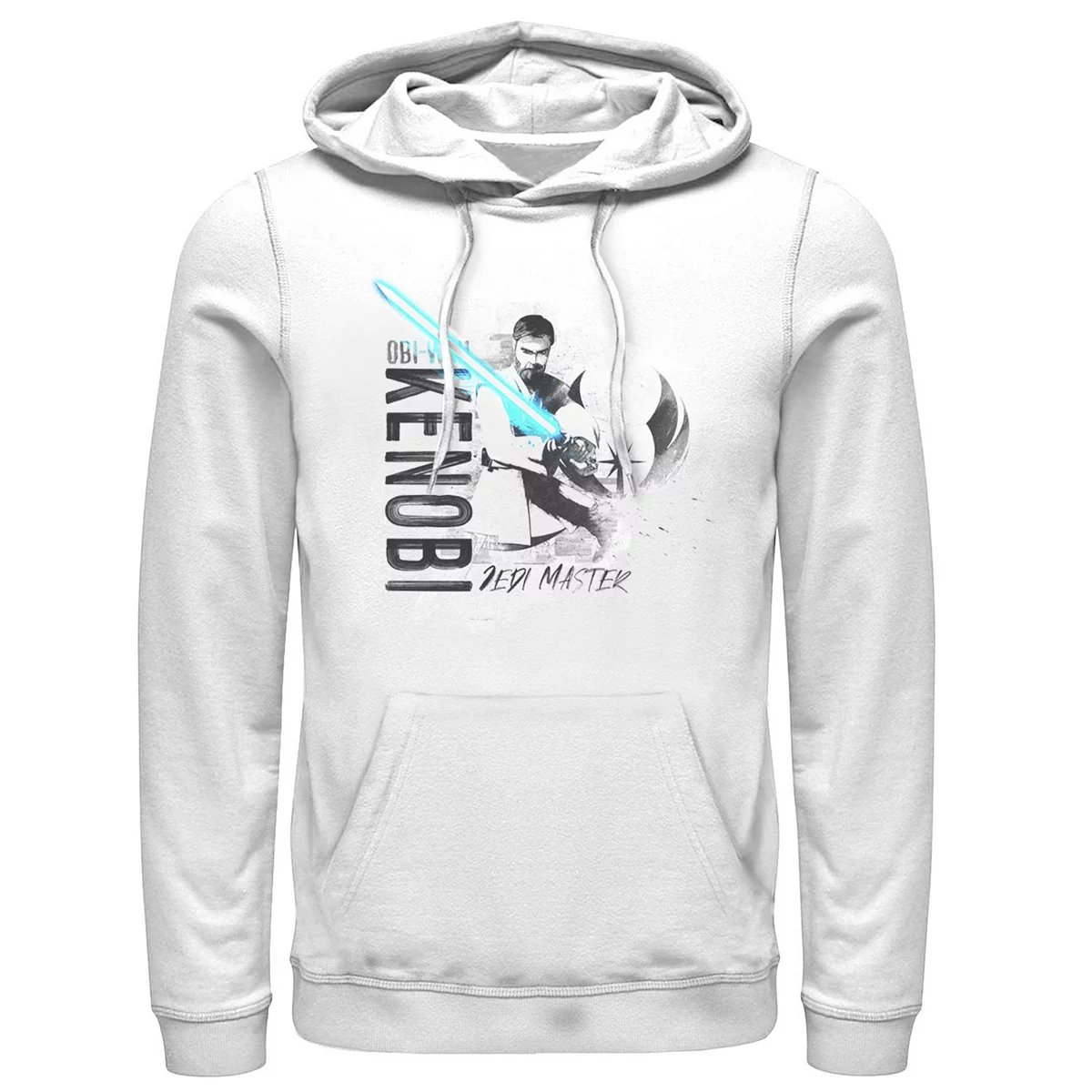 Pros
Great hoodie for summer.
A splash of color, but not too much.
Features Obi-Wan Kenobi (Clone Wars).
Machine-washable.
Cons
I'd prefer Ewan McGregor or Alec McGuinness, but younger/newer fans may be used to Obi-Wan's Clone Wars appearance.
When The Mandalorian first came out, the entire world seemingly jumped on the bandwagon. And I understand exactly why – so did I! In the first series, the Mandalorian – whom we now know as Din Djarin – first realized there was something different about the Child (Grogu) when fighting a mudhorn. These vicious rhino-like creatures proved too much of a match even for Djarin. He was saved by the Child using the Force. The mudhorn eventually became the Mandalorian's crest.
This hoodie features that crest. It's a subtle-enough reference that only true Star Wars fans will understand its significance. It'll look like a simple, pleasant graphic on a hoodie to most of the world. But now and then, be prepared for fellow enthusiasts to whisper "This is the way" as they pass you.
It's a lightweight unisex (see the listing for specific sizing advice) hoodie made of a cotton/polyester blend with ribbed cuffs. It has the standard kangaroo pocket, and you can get it in a few different color options. I'm all about the black hoodie with gold accents.
Pros
Simple design.
Mandalorian mudhorn crest only shouts Star Wars to fellow fans – so you might feel comfortable wearing it on more occasions.
Budget option.
Cons
Some might prefer a more artsy design.
Be careful when washing.
In bright red, this Star Wars hoodie from the Disney Store is specifically cut for women. The print is modern and attractive, but the most striking feature is arguably the quote running along with the hood: "Wherever he goes, I go."
It's the ultimate loungewear-type hoodie with a drawstring hem and ribbed cuffs. Made of a cotton/polyester blend (59%/41%, respectively), you can expect it to be a superb balance of durability and comfort.
The relationship between Din Djarin and Grogu is there for all to see and take note of. This hoodie celebrates that connection in a great way.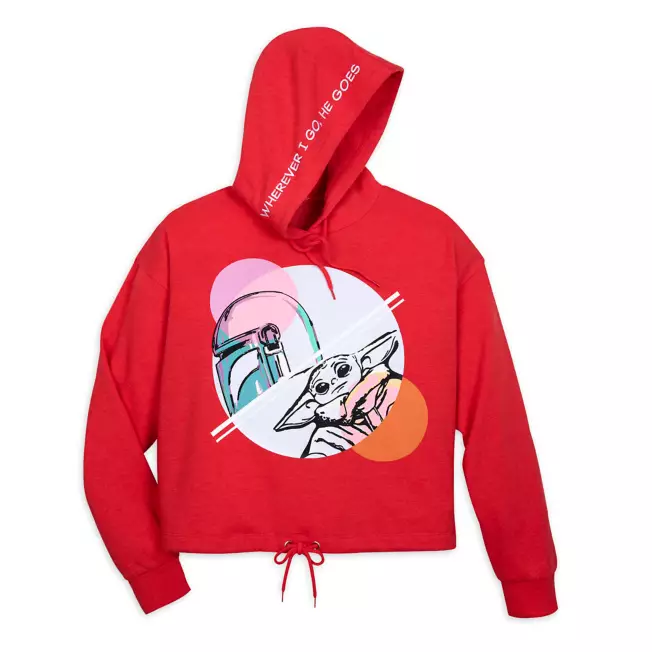 Pros
"Wherever he goes, I go." Aww.
Long-lasting.
Official Disney merch.
Budget option.
Cons
I'm not too sure about the red, personally.
There are much higher-quality options available.
Ghost Moment Star Wars Hoodie – link
Hands up, who likes lightsabers? Everyone? Thought so.
The lightsaber and the Jedi are the backbone of Star Wars and, for most people, the most exciting and attractive part of the series as a whole. This hoodie showcases a green lightsaber (my favorite, just saying!) against a smoky background.
I chose to put it on this rather exclusive list purely for the feels: it reminds me of that scene at the end of The Mandalorian Season 2, where Luke Skywalker appears out of the mist, destroying the seemingly unstoppable dark troopers, green lightsaber whirling through the air and carving the bad-guys up. After the almost universal disappointment at what Disney chose to do with his character, this episode was a turning point.
The design of this quality hoodie reminds me of that moment, and that's why I think it's one worth having in your collection. It's made of 95% polyester and 5% spandex.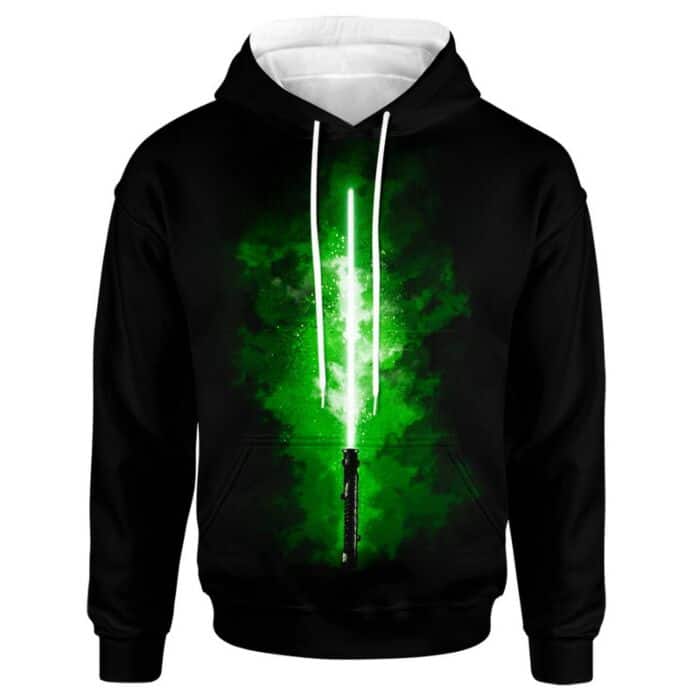 Pros
Simple, eerie lightsaber print.
Reminds me of Luke Skywalker at his best.
Cons
Polyester/spandex blend might be uncomfortable to some.
I feel it would look even better if the lightsaber went diagonally across the hoodie (rather than straight up).
Darth Vader is the face of Star Wars, particularly for older fans who saw the Original Trilogy when it first came out. The fallen Jedi, Anakin Skywalker, consumed his Dark Side self, led every surviving Jedi to believe his redemption was impossible. Only his son, Luke Skywalker, disagreed, showing himself able to offer the ultimate compassion and self-sacrifice. Thus, he redeemed his father and destroyed the Sith.
As such, no list of the best Star Wars-themed hoodies would be complete without a graphic of the infamous Sith Lord. The red illumination of his lightsaber produces a nice effect that isn't overbearing to the eye.
This synthetic polyester/spandex blend is printed and sewn to order. While this material is excellent for activewear (and comes with the necessary wicking qualities), it's easy to overheat while wearing it since it's not breathable, like cotton.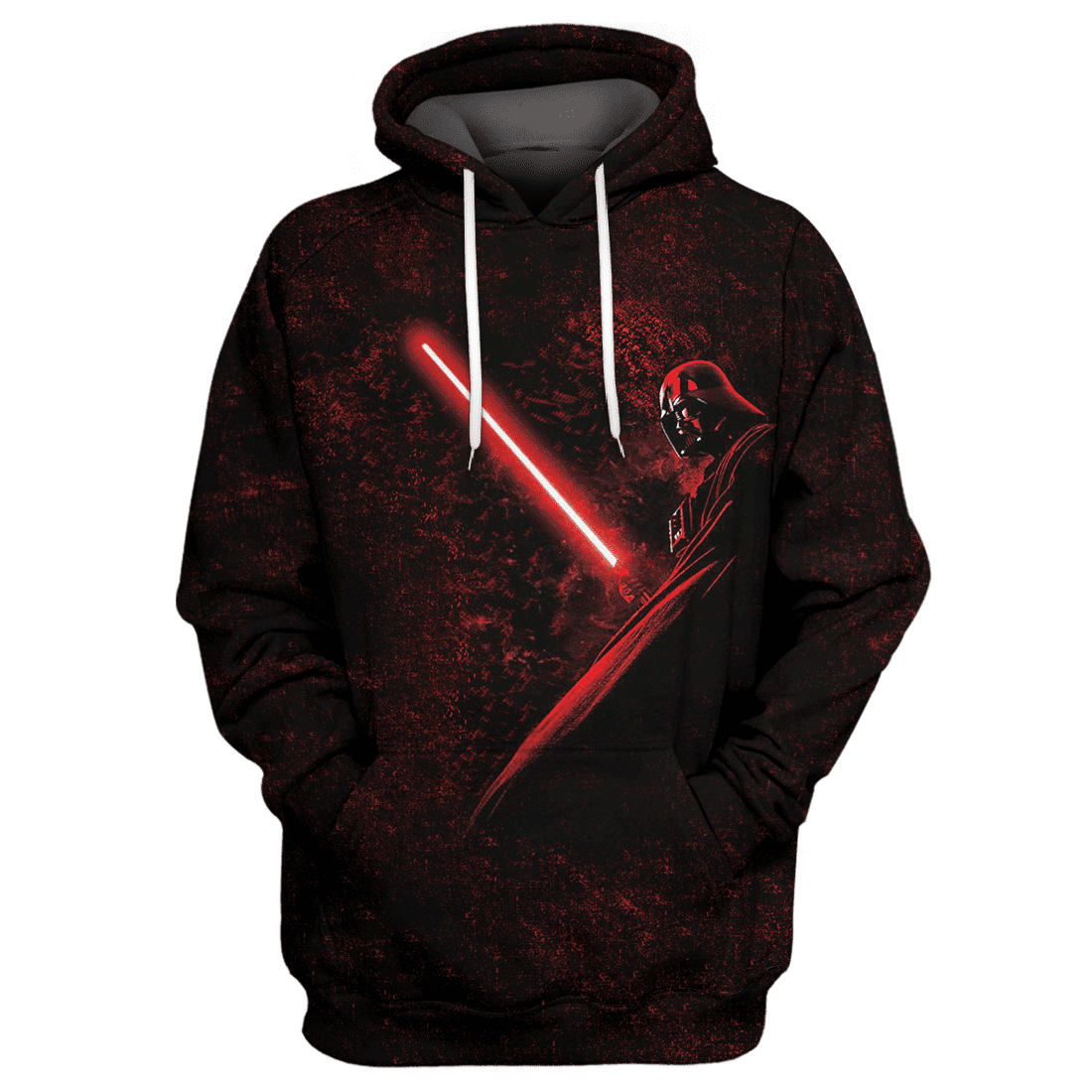 Pros
Darth Vader *insert mask breathing noises here*.
Fairly comfortable.
Cons
Polyester/spandex blend might not suit everyone.
The design might be considered a little "out there".
As one of the most obsessed-over characters in Star Wars, Boba Fett deserves a special mention. I feel that this hoodie does an incredible job of highlighting his action-packed adventures in an aesthetically-pleasing, artistic way.
I chose this hoodie because I wanted to include at least one option for those who prefer a more colorful design. With his iconic green armor and regular comic book appearances, Boba is the perfect choice for this type.
Made of a spandex/polyester mix, you can expect this synthetic hoodie to be easy to wear, resistant to wrinkling and shrinking. This blend is usually used for activewear. It's great, but the material might stick to your skin if you get too hot (which can happen since it's not naturally breathable) – so be aware of that.
Pros
Colorful graphics and design.
Great for physical activities.
Cons
The spandex/polyester blend isn't for everyone.
The design will be too much for some people.
First seen in Return of the Jedi, Scout troopers are one of the most popular stormtrooper classes. In the video games following this, they often functioned as enemy snipers and were brought back into popularity with the LEGO Star Wars game in 2005. The Mandalorian spent a long time focussing on two random troopers for comedic effect at the end of Season 1.
At the bottom of my list, I've selected this scout trooper hoodie. A pen drawing is painted onto the front, celebrating the helmet's long association with Star Wars fans. With an 80%/20% cotton/polyester blend, you'll get all the comfort of cotton along with the durability of polyester.
I like it for its simplicity. It makes a statement without being overbearing about it, and I think that's spot-on for hoodies.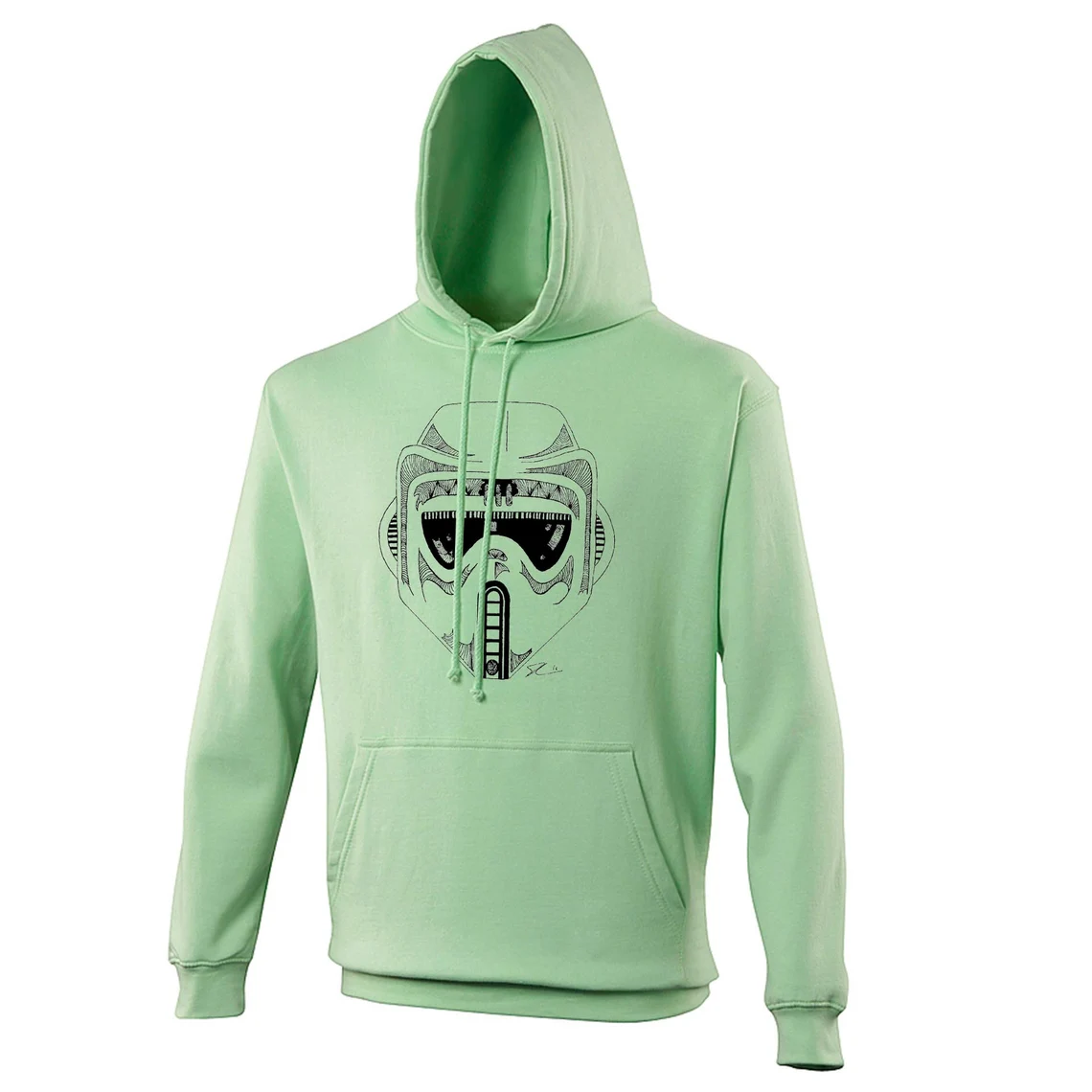 Pros
High-quality material (cotton/polyester in 80/20).
Pen drawing.
Cons
The print is arguably too basic.
Reasonably long delivery time.
FAQs
Question: How should I wash a Star Wars-themed hoodie?
Answer: Every hoodie will, of course, come with its own set of washing instructions.
As a general rule, don't expect to dry clean any. They come with specific dyes and prints that will leak (or otherwise be damaged) by dry cleaning.
When you put the hoodie in the washing machine, use a cold wash that isn't too intensive and flip it inside out. If it's colored, follow the usual rules and wash with like colors, avoiding your whites.
After the cycle completes, hang dry it if possible. If you need to use a tumble dryer, set it to the most delicate setting. You might need to put it through a couple more times.
Finally, you might like to iron your hoodie depending on the material. If you choose to do this, turn it inside out first. Again, this stops any damage to the prints or dyes.
Question: Is it worth getting a budget Star Wars-themed hoodie?
Answer: That's a very personal question. It depends on what you're looking for. Budget Star Wars-themed hoodies might well meet your expectations – if so, great! However, don't expect them to be exceptionally comfy or enjoyable to wear. Sellers make their money by trying to force you into impulse buys – think of those Facebook ads that promote a massive saving that ends in 15 minutes, that kind of thing.
Budget Star Wars hoodies are made by quickly printing whatever design you choose onto a hoodie. As such, the producer inevitably takes less care than a hand-produced version.
If you're looking for the best Star Wars-themed hoodies, I wouldn't suggest going the typical route. I think a higher quality product is better value for your money. Look for closer weaves, a higher cotton percentage, and evidence of good stitching. Of course, reviews are always a good sign, too. There are some sound examples on this page.
Question: Where is the best place to look for a Star Wars-themed hoodie?
Answer: In my searches, I found that Etsy was probably the best place to find high-quality Star Wars hoodies. That doesn't mean every Etsy store has the best products, naturally – but if you find the right corners of the website, you'll see individuals that prepare their hoodies with genuine care and concern.
These are certainly the best ones I came across. It also helps to contribute to people more directly, rather than purchasing a mass-produced and mass-printed product that only fills massive corporations' wallets.
Conclusion
Of the ten hoodies in this Star Wars-themed list, my favorite is the product listed at #1 – the General Grievous hoodie. Its made with the superior quality compared to many other clothing options and comes with above-and-beyond personalization options and customer service. General Grievous is one of the best characters in Star Wars, and this hoodie showcases him perfectly.
That's my opinion, though, and you might well think differently. What are your thoughts? Do you prefer simple backgrounds and subtle designs? What about the artistic Boba Fett hoodie or the full-blown Starkiller costume? Let me know in the comments.
That said, thank you for reading this article all the way through! I hope it's helped you narrow your search down, allowing you to find the best Star Wars-themed hoodie for you.
Looking for more interesting readings? Check out: