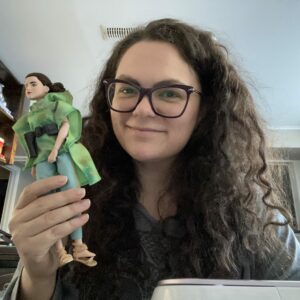 Latest posts by Candace Osmond
(see all)
Hey there, fellow Star Wars fanatics! Want to add a unique piece of memorabilia to your collection? Of course you do, we all do, LOL! Darth Vader has such a huge range of Funko Pops I thought I'd share them all with you so you can scoop up your favs.
As one of the biggest Star Wars fan around here, my guide will show you where to get the coolest and most detailed Darth Vader Funko Pops available. You won't even believe some of these unique designs! Let's dive in!
Bottom Line Upfront
I kinda want all the Pops on this list, but I know…that's a little overboard! So, I'd settle for my fav pick, the Darth Vader (Gold Chrome) Galactic Convention, because it's so unique and cool. It'd be like a shiny trophy on my shelf.
Top 3 Picks
Darth Vader Funko Terminology
People buy Darth Vader Funko Pops for various reasons. The Star Wars franchise fans see him as an iconic figure and know their collection is incomplete without one. Collecting is very popular now, with people loving to showcase their artistic side through carefully selected items.
The colors, design, and recognizable character make Darth Vader Funko Pops particularly sought after – they bring something unique and special to the figurine world.
But since it can confuse a non-Funko owner to shop for a figure with so many specific terms and denominations, I wanted to clarify a few.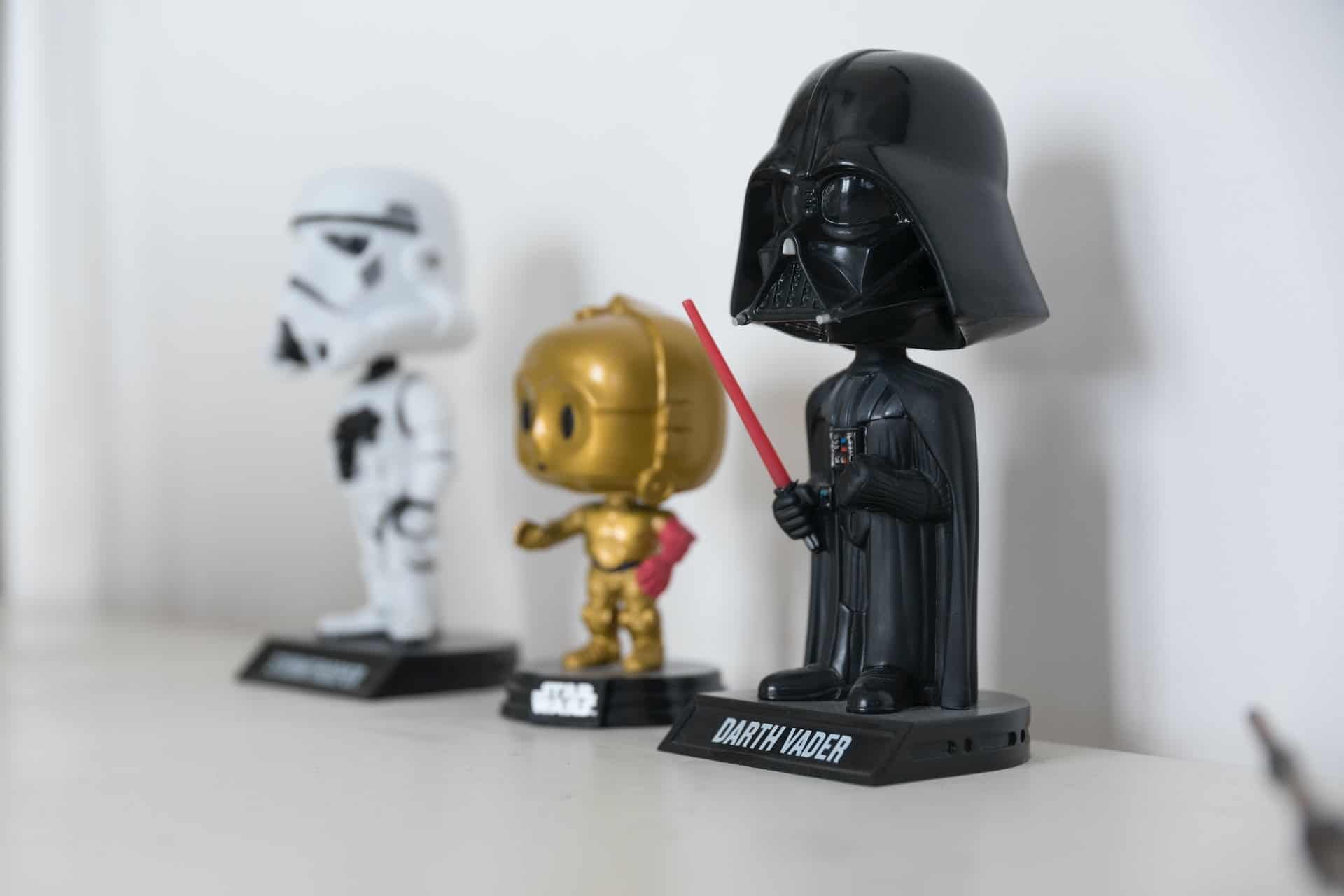 Metallic
Metallic figures have an appearance comparable to that of their regular counterparts; however, certain paints have a metallic sheen. It's also possible to give these the appearance of sculptures by painting them with metallic paint of a single hue.
Chrome
Perfect for any Funko Pop collector, chrome figures feature a chrome finish instead of the standard vinyl coloring. They are highly sought after and incredibly shiny.
Bobblehead
A bobblehead Funko is an item with a hollow interior and a head connected to the body with a spring.
Exclusive
Exclusive Funkos are limited figurines sold by specific vendors. For example, if a Darth Vader Funko is Amazon Exclusive, you can only find it on Amazon.
Glow-in-the-Dark
It's possible that you won't be able to tell the difference between this variant and another version of the same character immediately because of how similar they look. After it gets dark, you'll be able to see the figure begin to glow.
Some figures glow all over, while others only have certain parts of their bodies illuminated, making for an intriguing silhouette when viewed in the dark.
Chase
A Chase Pop is an uncommon version of a standard Funko Pop figure, and its design deviates only a little from the figure upon which it is based.
It is possible to identify a Chase Pop by the one-of-a-kind golden sticker placed on the front of the box and the distinct visual distinction between it and a standard Pop.
The Best Darth Vader Funk Pops
First, let's establish some criteria here. For each one I added to this epic list, I asked myself a few things.
Will Star Wars fans love this?
Is this affordable?
Is it unique?
I had to make sure each Darth Vader Funko was not only super cool to collect but also fell in an affordable range for cost. As collectors, we tend to go overboard when it comes to budgets. (I mean, WHAT budgets, really? Am I right?) I also made sure that each one had at least one unique quality, making it worthy of collecting.
With that being said, let's get to it!
The Darth Vader Funko Pop is a great way to express your love of the Skywalker saga. The iconic figure of the Sith Lord wielding his signature red lightsaber is an instant classic, a symbol of power and menace, and is sure to stand out in any collection.
It shows your appreciation for this beloved franchise and will also look great on your shelf or desk as a conversation starter. For any Star Wars fan, the Darth Vader Funko Pop with a lightsaber is the perfect collectible item!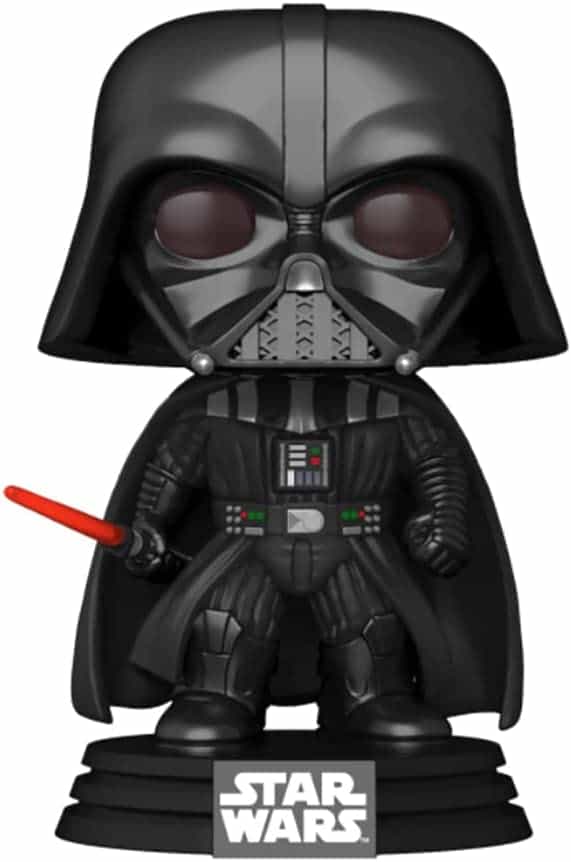 Key Specs
Price Range: $20 – $30
ID Number: 539
Special Feature: Star Wars stand
The Darth Vader Funko Pop looking like a snowman with a carrot nose is an adorable figurine that will make any Star Wars fan smile. It's a fun and quirky way to bring the iconic villain into your home while still showing off your love of the franchise at the same time.
Its unique design and classic detailing will stand out from other collectibles in your collection and provide years of joy as you look at it proudly on display. It also makes for a perfect gift for any Star Wars enthusiast – after all, who wouldn't want an unmistakable Darth Vader snowman/carrot-nose combo?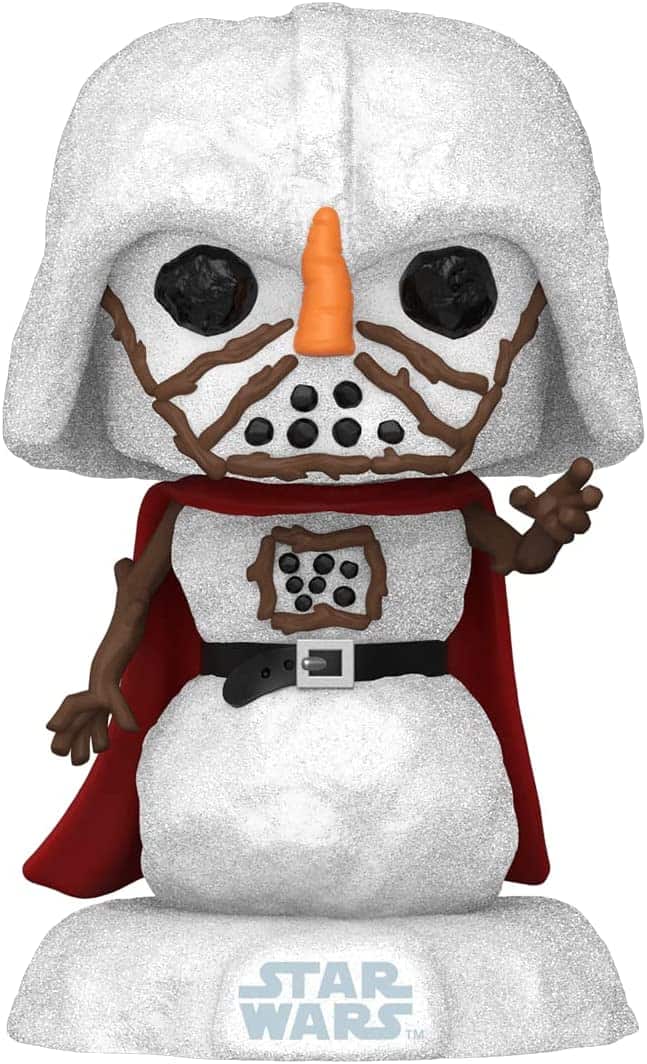 Key Specs
Price Range: $10 – $20
ID Number: 556
Special Feature: snowman appearance
The Darth Vader Funko Pop in his meditation chamber is a perfect way to pay homage to the Dark Lord and his iconic symbol of power. The meditation chamber was featured in Episode 3, Revenge of the Sith, and was depicted as a place where Vader would seek solace between missions.
I love how this Funko Pop accurately captures this moment, making it a must-have for any Star Wars fan. Its detailed design and unique posture bring Vader's signature look to life, allowing fans to relive memorable scenes from the franchise.
Key Specs
Price Range: $20 – $30
ID Number: 365
Special Feature: Darth Vader's meditation chamber
The Darth Vader Funko Pop painted in blue camouflage is the perfect way to show off your fandom uniquely and stylishly. This limited edition figure captures the Sith Lord's most iconic look during his time as an Imperial Agent – with a striking blue camouflage paint job that makes him stand out from other Darth Vader collectibles.
As well as being eye-catching, this figure is also rendered with great attention to detail, with realistic features and textures that bring Vader's menacing presence to life. A must-have for any Star Wars collection, this Funko Pop is a powerful reminder of the Dark Side of the Force!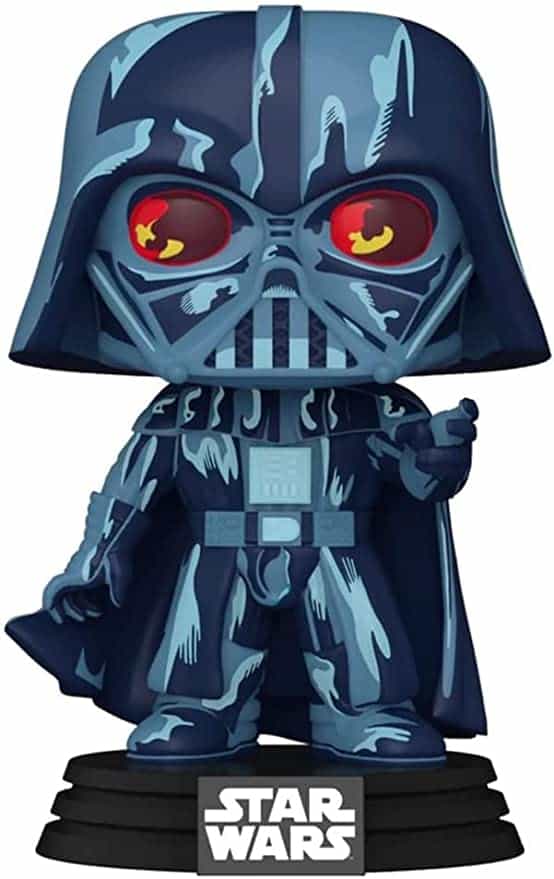 Key Specs
Price Range: $20 – $30
ID Number: 456
Special Feature: blue-painted figurine
The Darth Vader Funko Pop without his mask is a must-have for Star Wars fans that want to capture the iconic villain's most intimate moments. Without his signature mask and uniform, Vader appears vulnerable and humanized — qualities that can often be overlooked in his more aggressive roles.
This figure allows fans to explore the softer side of Vader and appreciate him for who he is underneath all of the armor. A unique addition to any collection, this Funko Pop provides an up-close look at Darth Vader, making it a great conversation starter for any sci-fi fan!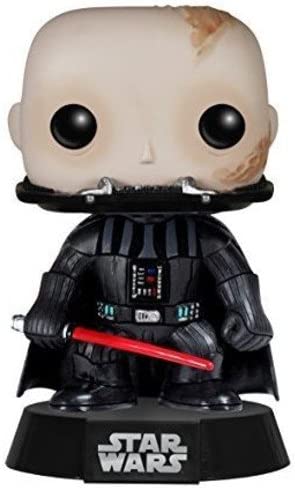 Key Specs
Price Range: $20 – $30
ID Number: 43
Special Feature: unmasked Darth Vader
The Darth Vader Endor Funko Pop is a great way to showcase your love for the iconic villain in style. This limited edition figure features Vader dressed in his commando outfit, complete with his signature helmet and cape.
Perfect for any Star Wars enthusiast, this figure perfectly captures the Sith Lord's menacing presence while retaining the sense of vulnerability seen in Return of the Jedi.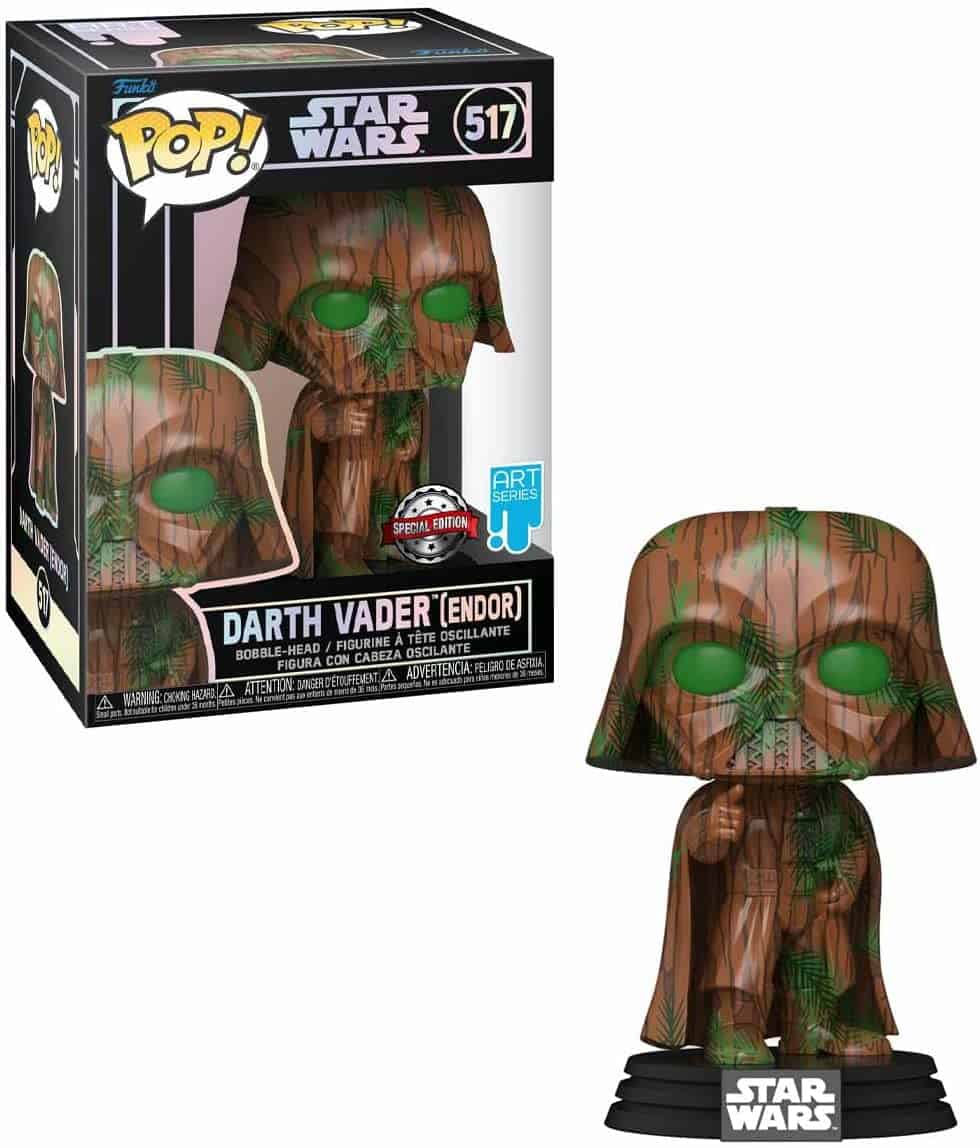 Key Specs
Price Range: $30 – $40
ID Number: 517
Special Feature: tree-bark paint
Who wouldn't want their own Galactic Convention Amazon Exclusive gold chrome Darth Vader Funko Pop? It's an awesome collectible made from plastic, featuring all the minor details of the iconic villain from Star Wars.
Who knows – maybe buying this pop will make you as powerful as Darth Vader himself! In any case, it's a great thing to buy, making it an awesome choice for your collection.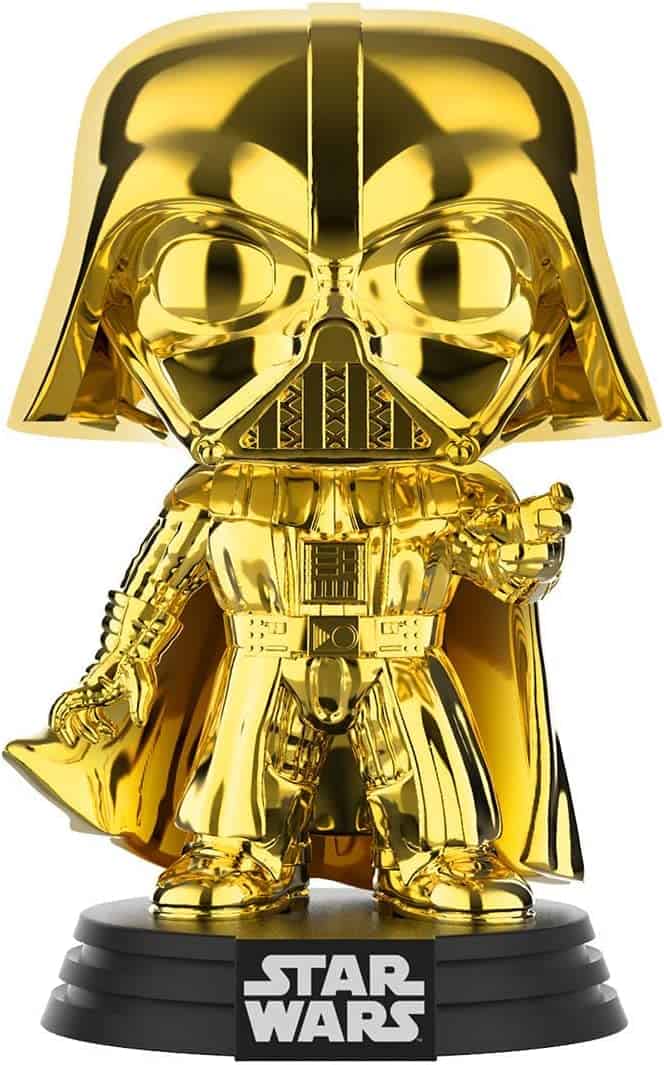 Key Specs
Price Range: $40 – $50
ID Number: 157
Special Feature: gold-painted Amazon Exclusive
Everyone loves special edition Star Wars items! The BESPIN Darth Vader Funko Pop is special edition material. Just look at how cool it is, with light beaming through the floor grates as Darth Vader stands atop them.
I love special edition collectibles like this one, and I think this vinyl figure would make a great part of anyone's collection.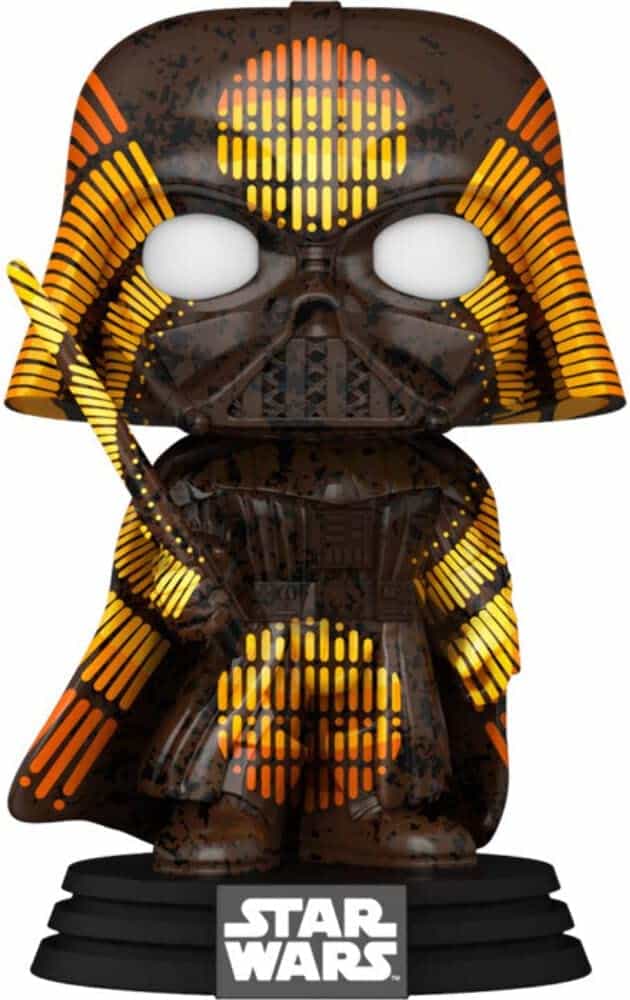 Key Specs
Price Range: $30 – $40
ID Number: 518
Special Feature: unique paint job
The Electrocuted Darth Vader Funko Pop is a great way for fans to show their reverence towards the iconic villain, as it captures the moment when he was electrocuted in Revenge of the Sith.
This Funko perfectly shows one of the most important moments in the series, which is why it's such an iconic collectible. The details include actual electricity bolts piercing the Sith Lord and a stand for your figurine.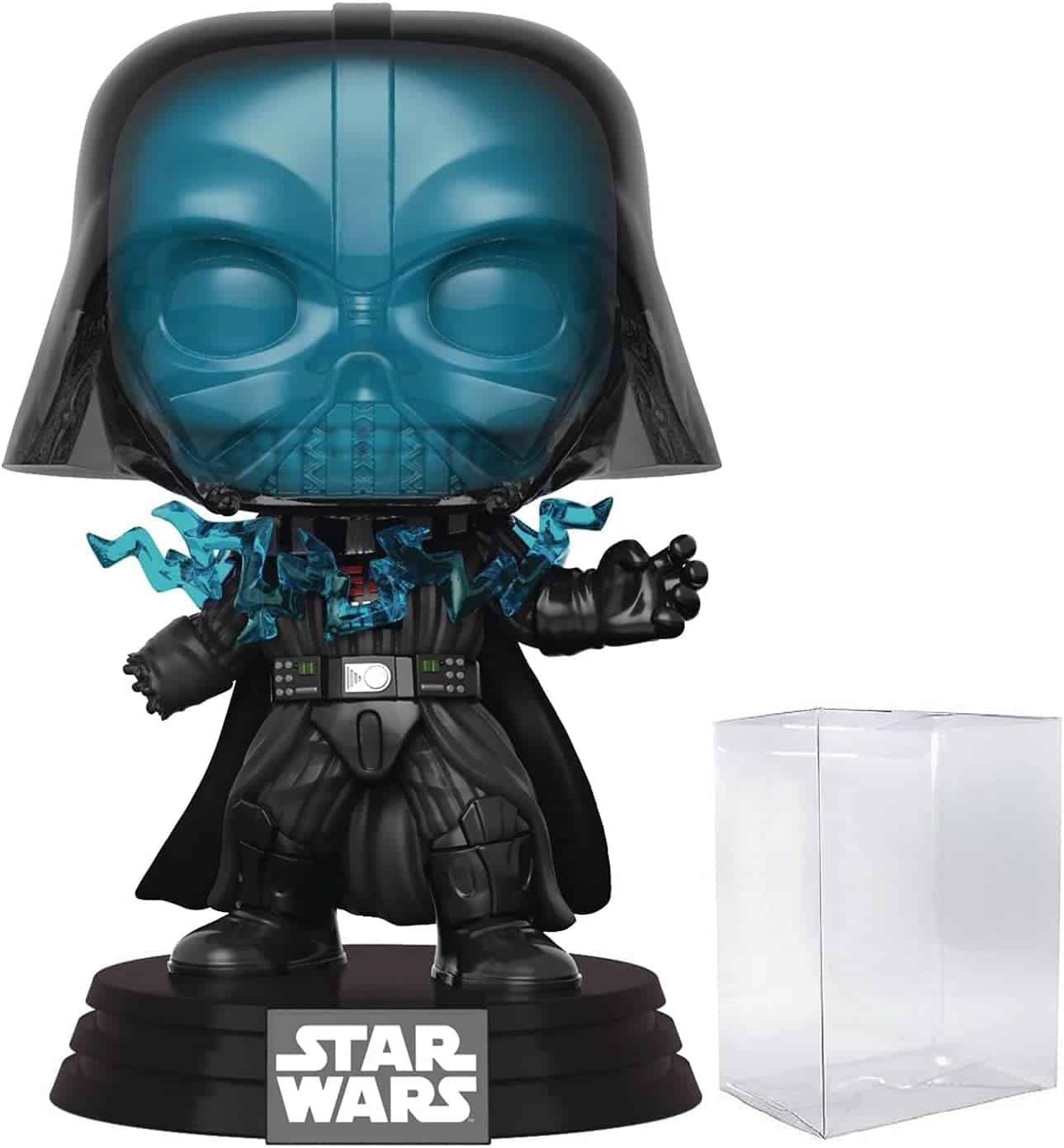 Key Specs
Price Range: $20 – $30
ID Number: 288
Special Feature: electrocuted design
The Darth Vader Funko Pop of him holding a candy cane is a unique and whimsical piece that makes an ideal gift for any Star Wars fan. Not only does the figure feature the menacing Sith Lord himself, but it also features him with a festive candy cane.
I love how this Funko adds a bit of fun to your collection. This version allows you to display Darth Vader in a different light – one that shows his softer side, which is something not often seen. Whatever the occasion, this Funko Pop will surely put a smile on any Star Wars fan's face!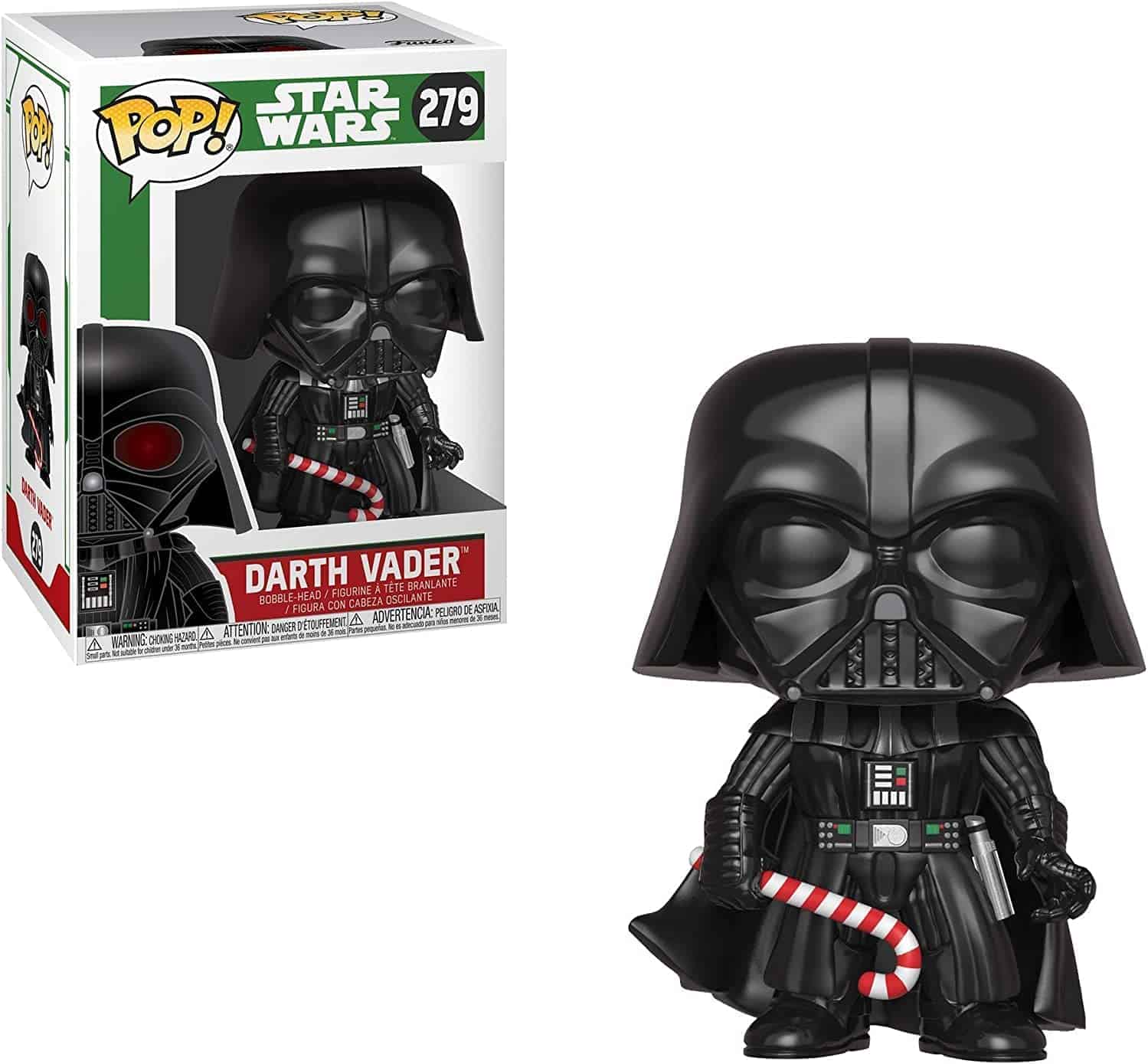 Key Specs
Price Range: $20 – $30
ID Number: 279
Special Feature: candy cane weapon
Mustafar is a volcanic planet located in the Outer Rim Territories of the Star Wars galaxy. It's a powerful reminder of the destructive nature of The Force, as it is where Anakin Skywalker and Obi-Wan Kenobi had their fateful duel that resulted in Skywalker's transformation into Darth Vader. It is also known as the castle of Darth Vader.
With the iconic, intimidating black helmet and volcanic-style paint job, the Mustafar version of everyone's favorite Sith Lord is a great way to bring mystery and coolness.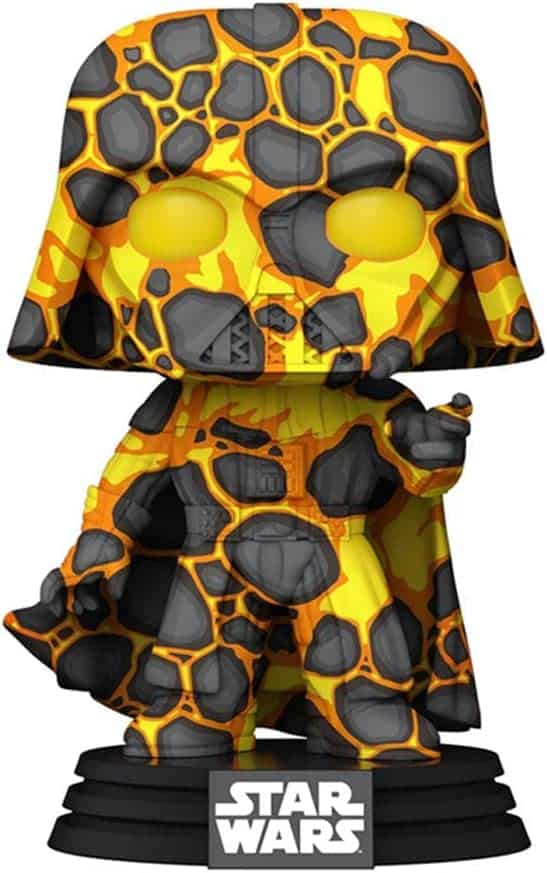 Key Specs
Price Range: $30 – $40
ID Number: 515
Special Feature: volcanic paint
If you're a collector or die-hard Star Wars fan, you have to check out this Darth Vader bobblehead. It's only 3.75 inches tall, but it glows in the dark and has intricate details like being able to look closely and see the texture of Vader's armor and helmet structure.
I think there's something special about holding this classic character in hand that makes it desirable among collectibles and loyal fans alike. Plus, the bobblehead is nostalgic in its own way, reminding many of the first bobbleheads created in 1998, which can still be found at Disney parks even today.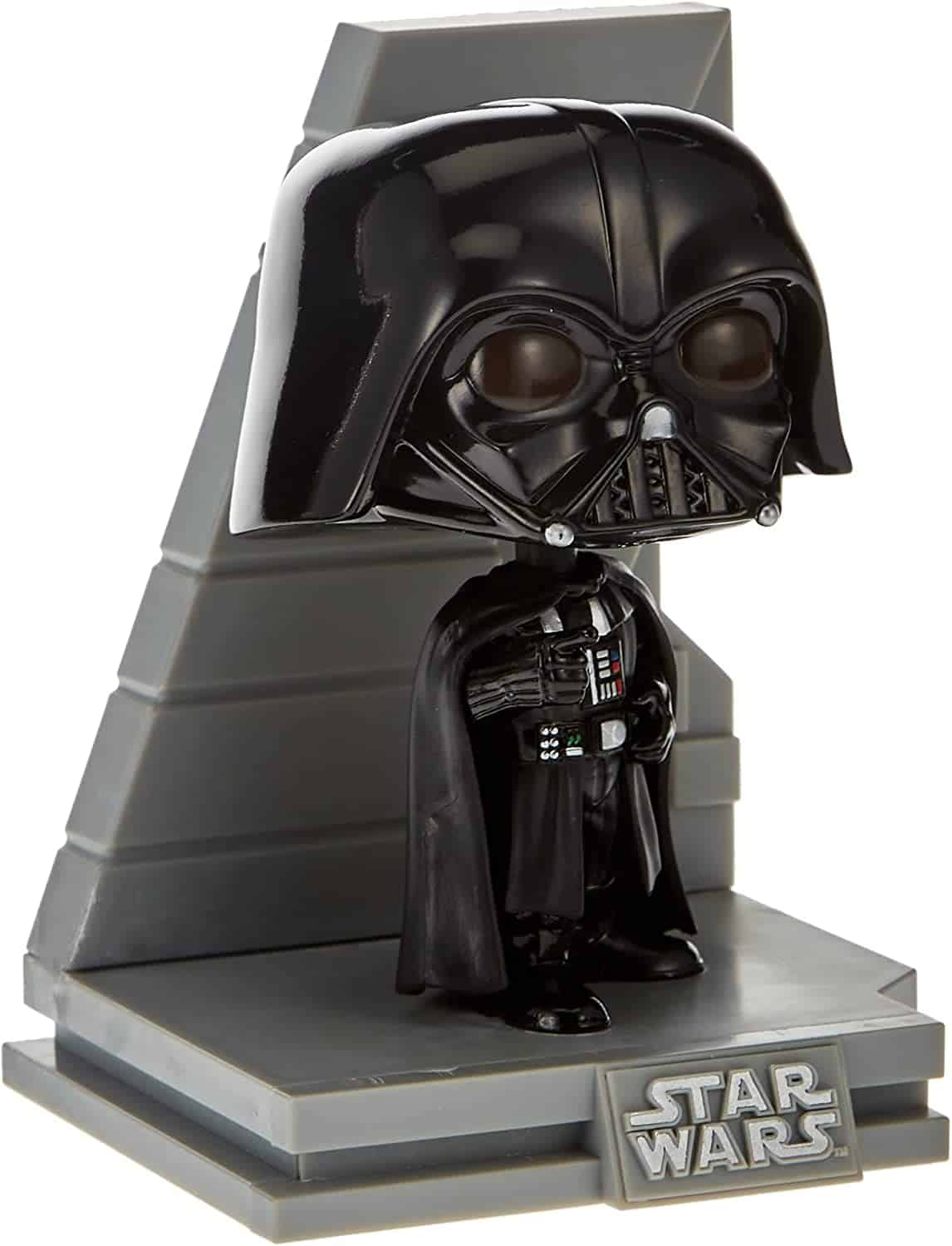 Key Specs
Price Range: $10 – $20
ID Number: 442
Special Feature: GameStop exclusive
What makes Darth Vader on TIE Fighter Funko Pop incredibly desirable among collectors and Star Wars fans? Well, it's officially licensed by Funko and captures Darth Vader's character in great detail.
I love that it features him within a TIE fighter, something you don't too often have the chance to see visually represented. It's also highly detailed, reflecting Darth Vader's iconic look in the Star Wars universe.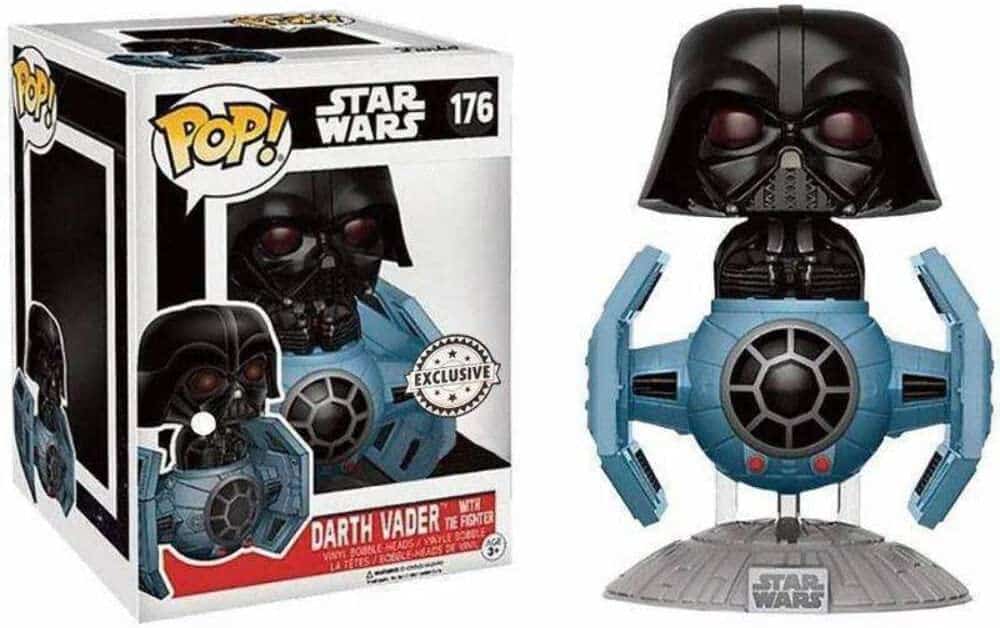 Key Specs
Price Range: $50 – $60
ID Number: 176
Special Feature: TIE fighter included
Lo and behold, the red chrome Darth Vader Funko Pop appears on the scene – and oh, what a sight it is! This shiny little figure has all the markings of an exclusive item. Even if you're not a collector, it's hard to resist its plastic charm.
I adore this style of Funko Pop, as red chrome simply screams "collect me!" – which is why it stays highly sought after among Star Wars fans.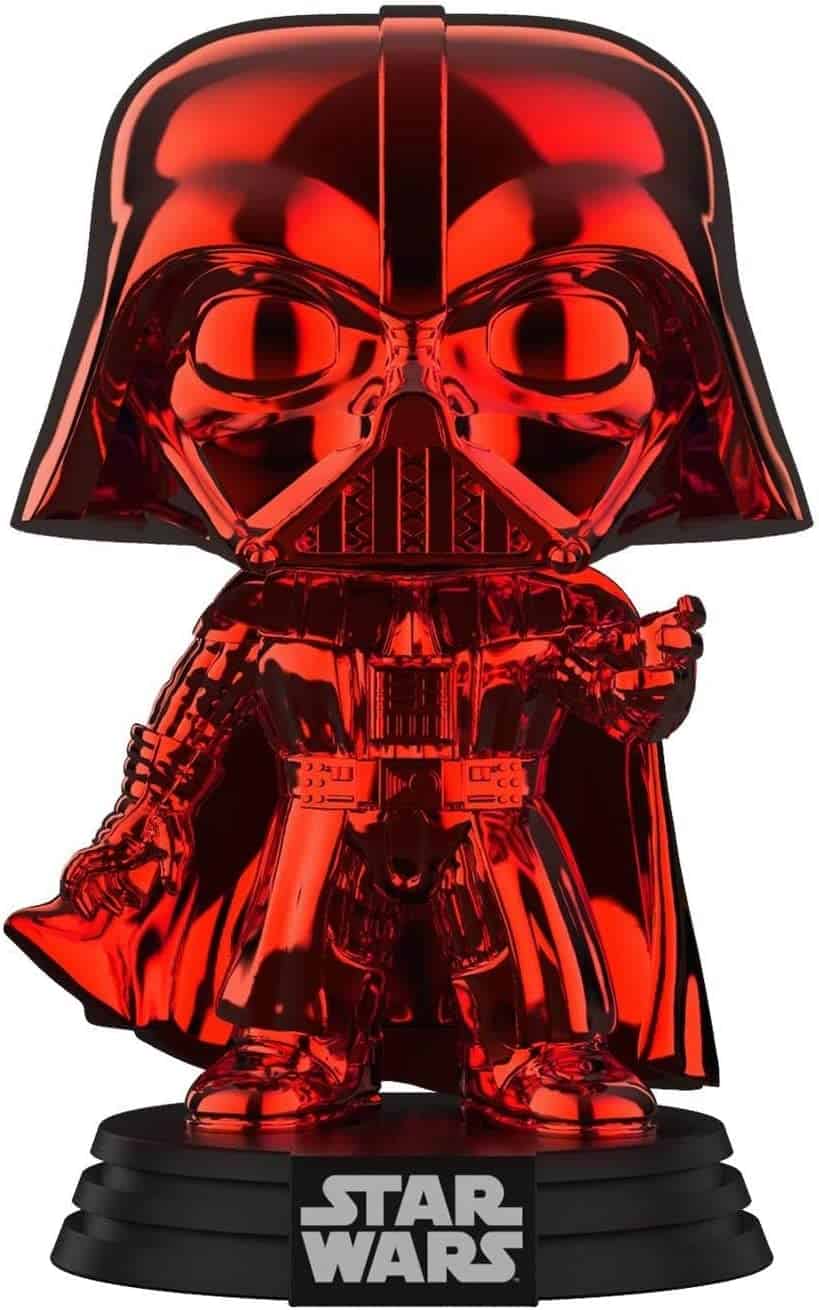 Key Specs
Price Range: $40 – $50
ID Number: 157
Special Feature: red chrome
If you're a Star Wars fan looking for a 3.75-inch-tall sidekick, look no further than the Darth Vader Funko Pop. This little guy comes with all the bells and whistles one might expect from a powerful Sith Lord – including lights and sounds.
He lights up when activated and even holds his own lightsaber – what's not to love? Add this 3.75-inch replica of Darth Vader to your Funko Pop collection and become the envy of everyone in the galaxy!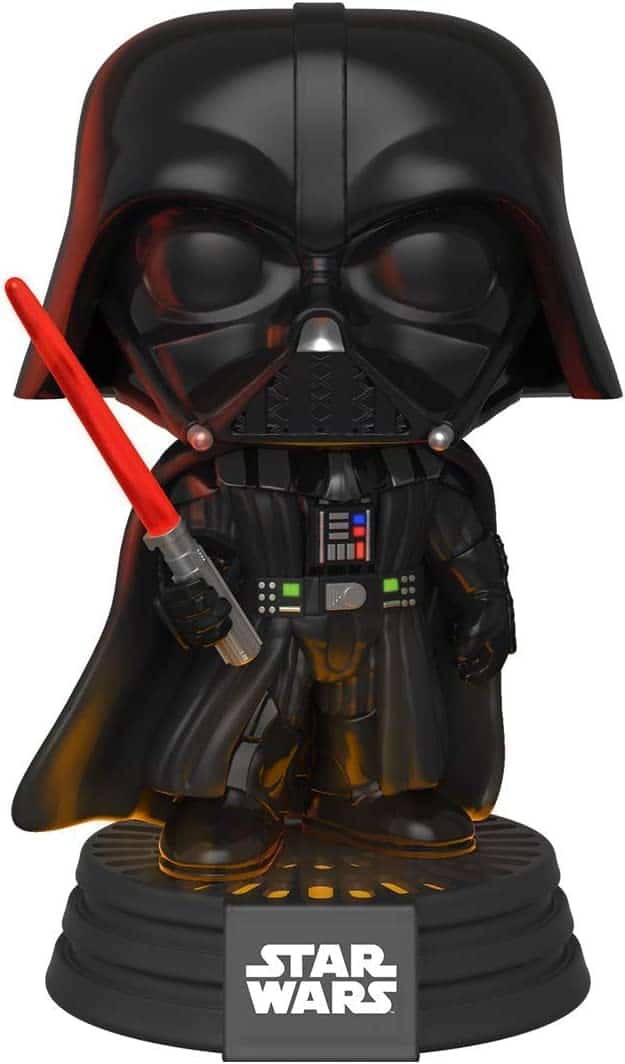 Key Specs
Price Range: $20 – $30
ID Number: 343
Special Feature: lights and sounds included
The Battle at Echo Base from Star Wars might sound like chaotic space combat to the untrained ear, but for fans, it's beloved for its spectacular integration of FX and character development. Whether you root for the Rebel Alliance or are intoxicated by the dark side, the iconic battle is an undeniable classic from the galaxy far far away.
Here is your chance to add part of that battle to your memorabilia with this Darth Vader Funko. It even includes a Stormtrooper to make the scene more authentic!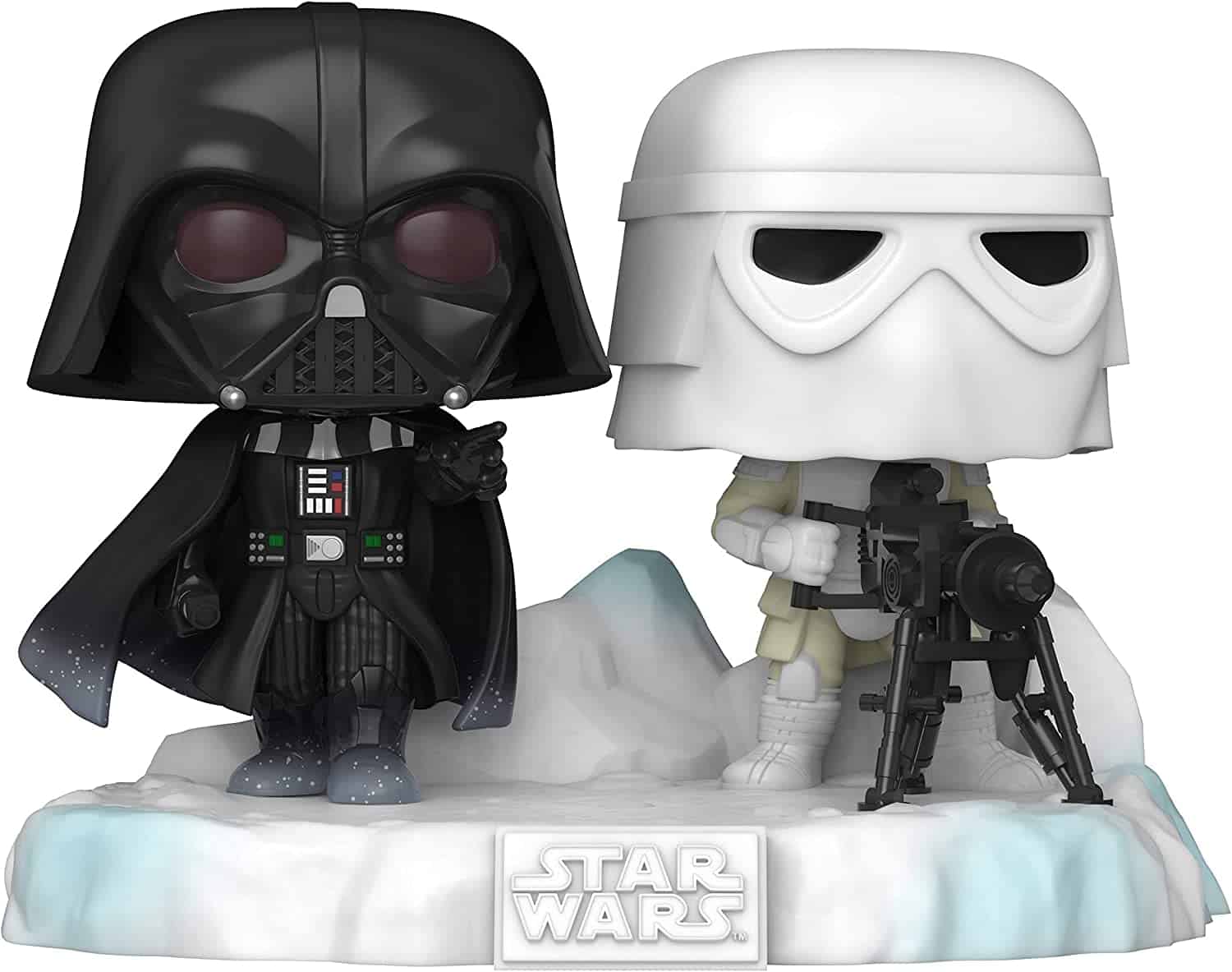 Key Specs
Price Range: $60 – $70
ID Number: 377
Special Feature: Stormtrooper included
Even if you don't have the same allegiance to Darth Vader as his troops, there are still plenty of reasons you might want a collectible Alternative Vader Funko Pop for yourself. It can be a conversation starter that will keep anyone talking!
Also, die-hard Star Wars fans will enjoy showing off this unique look at an iconic character. On top of all that, these Alternate Vader Funko Pops look great, just chilling on your shelf – adding a certain flair to any room.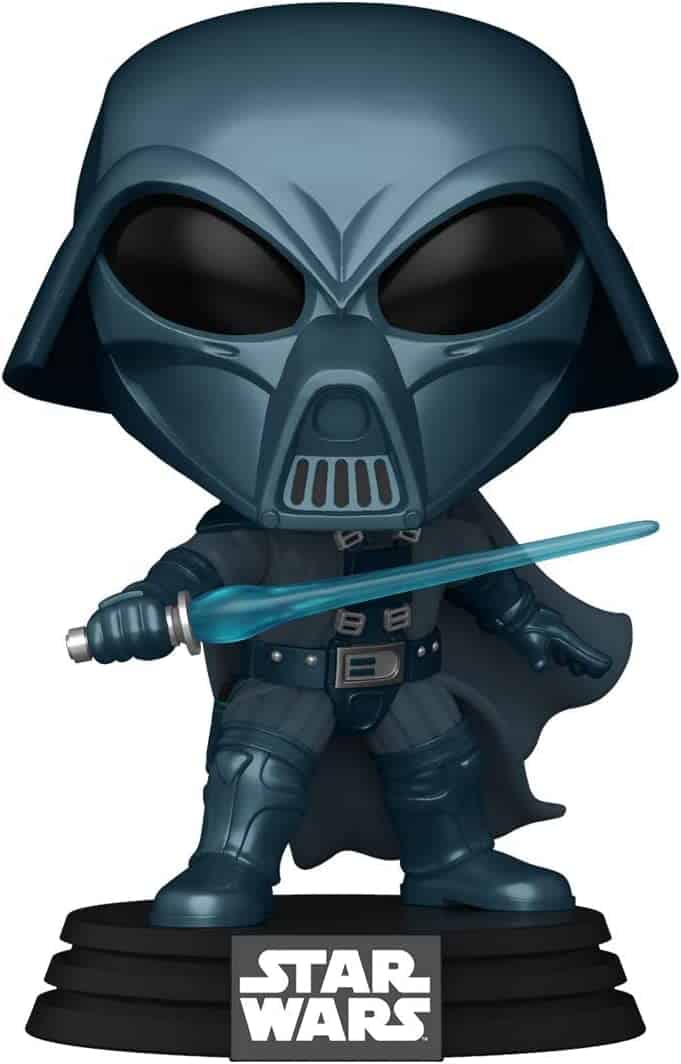 Key Specs
Price Range: $10 – $20
ID Number: 426
Special Feature:
For all the Star Wars fans (and potential force-users!), 4 inches of Metallic Chrome Darth Vader is exactly what you need. Not only does it come in a limited series, so you know you've got something rare and special, but it just looks amazing.
I mean, how can you not love it? It's shiny and sleek with a hint of menacing vibes due to the lightsaber he holds in one hand. Plus, no matter who takes over your desk at work or home office, 4-inch Metallic Chrome Darth Vader is here to stay!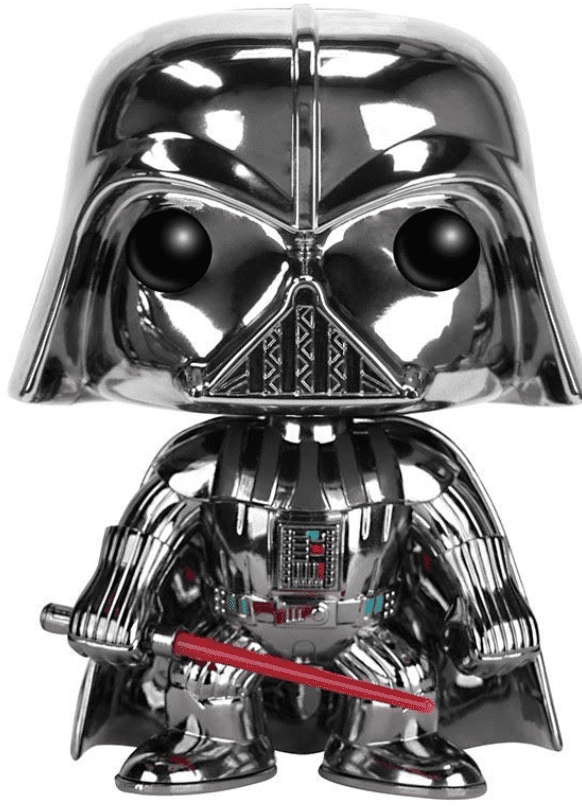 Key Specs
Price Range: $40 – $50
ID Number: 01
Special Feature: metallic chrome
Hoth, in Star Wars lore, is the remote icy planet. It's a place of beauty and menace, as remote conditions don't lend themselves to inhabitants who are exactly rolling out the welcome mats. So while it doesn't get to host intergalactic royal balls any time soon, Hoth is an unforgettable experience for those bold enough to venture there.
This Hoth-themed Darth Vader is a classic piece with on-point paint colors to suggest the coldness of the place and of Darth Vader as a character.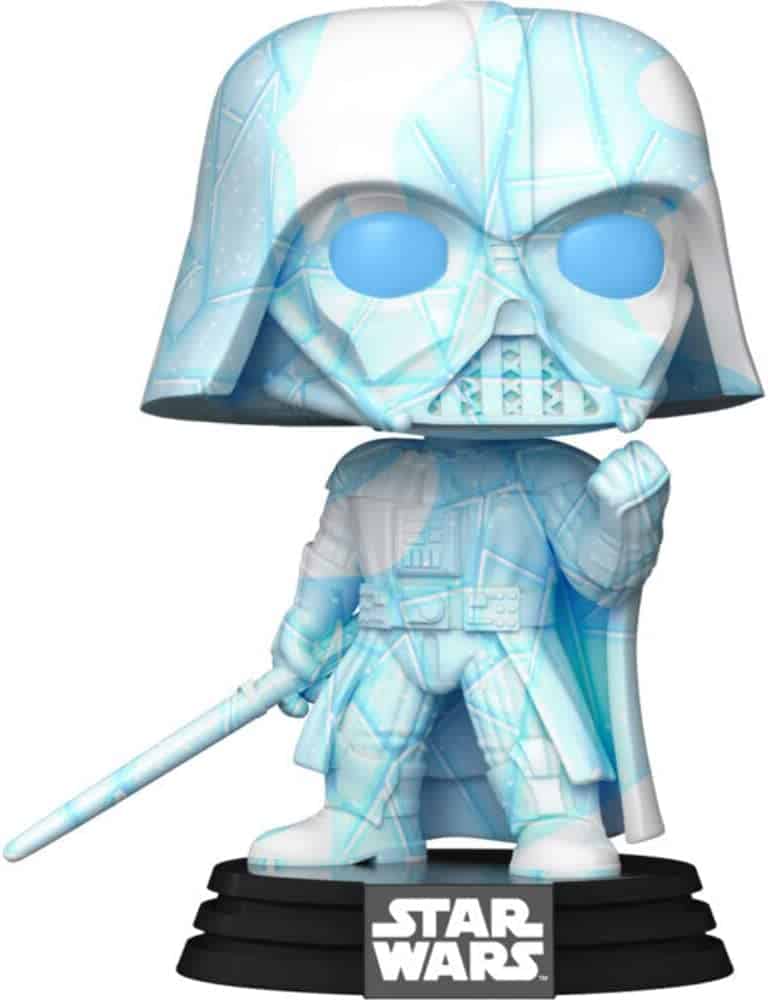 Key Specs
Price Range: N/A
ID Number: 516
Special Feature: Hoth-themed paint colors
For those unfamiliar with Futura's work, he is an American graffiti artist well-known for his abstract street work. This rather unusual collaboration makes this particular Funko more desirable.
It takes your usual Darth Vader Funko and turns it into a real art piece designed to impress anyone who is a fan of the movies.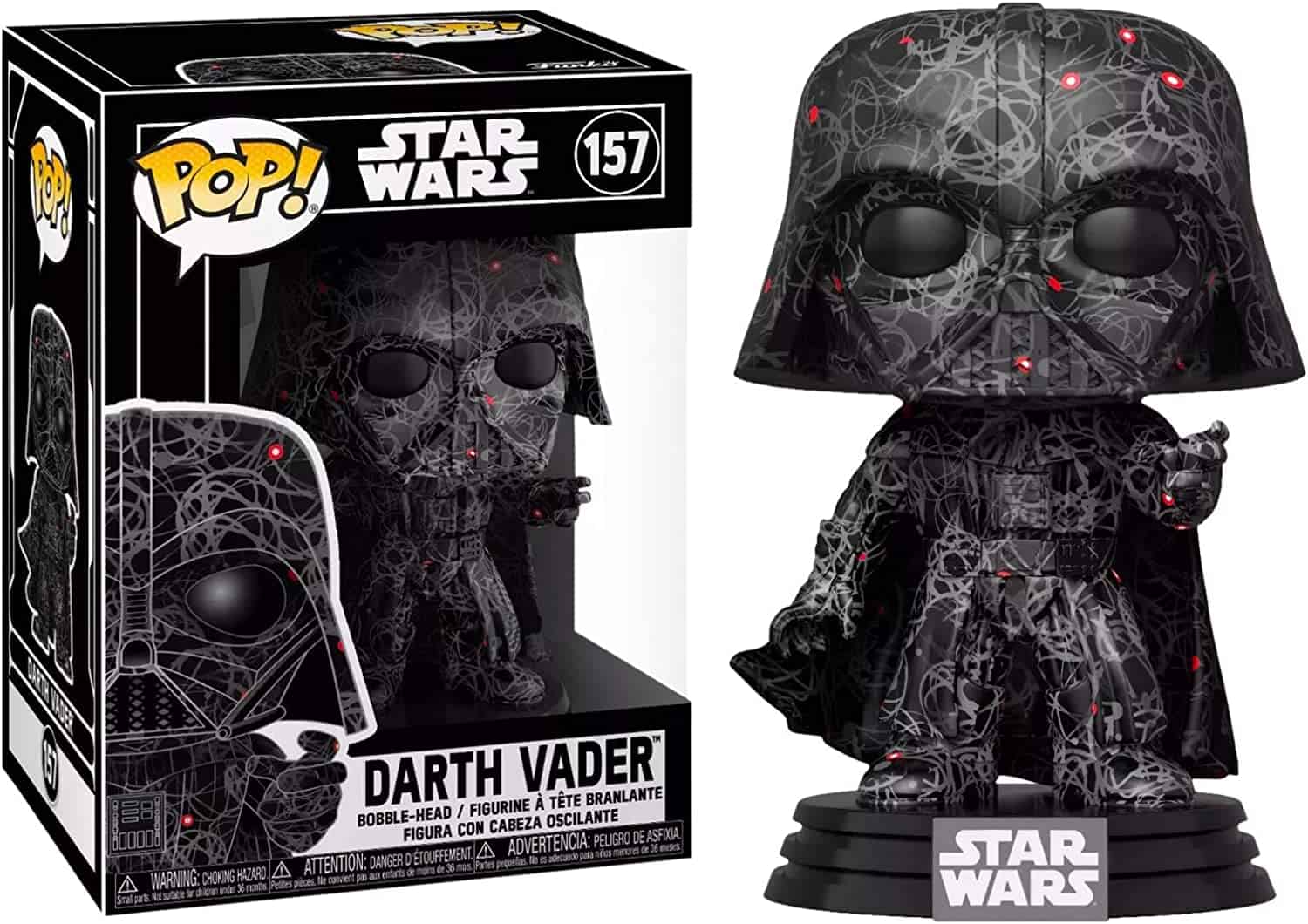 Key Specs
Price Range: $40 – $50
ID Number: 157
Special Feature: special collab with Futura
With his iconic black mask and deep, booming voice, Darth Vader has become one of the most popular characters in movie history. The Empire logo printed all over him gives it a unique look that's bound to impress your fellow geeks. But more importantly, the Empire is the sinister organization that Sith Lord Darth Vader belonged to in Star Wars.
Their ambition was to expand their power through military might and impose their rule on the galaxy. For those die-hard Star Wars fans looking to add a true symbol of evil to their home, buying a Darth Vader Funko Pop with the Empire logo printed all over him is the ultimate way to show everyone which side you're on!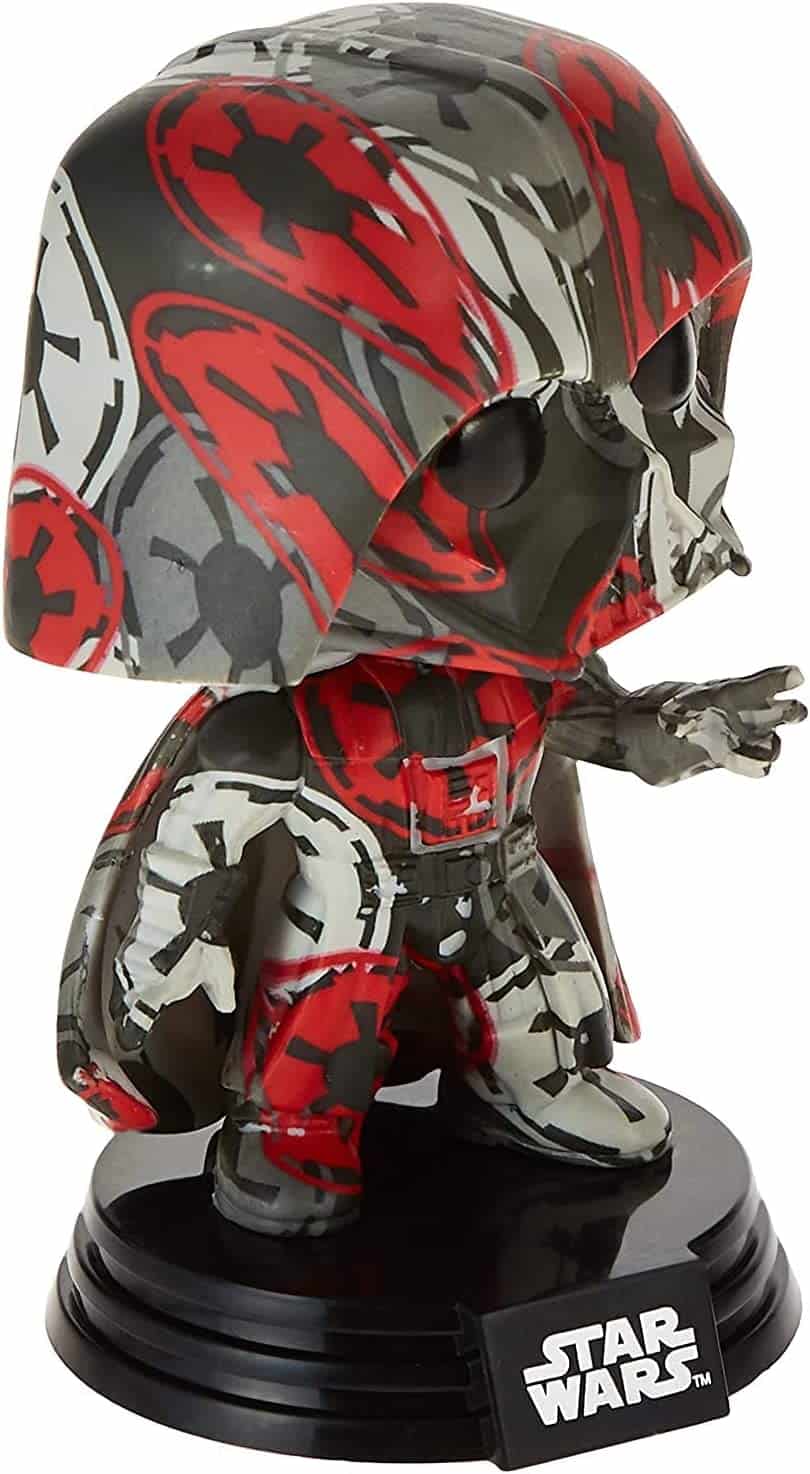 Key Specs
Price Range: N/A
ID Number: 535
Special Feature: Empire logo design
Why would anyone want to buy the hilarious combination of a protective Darth Vader Funko Pop painted pink and clutching a heart-shaped box of chocolates? Well, it's the perfect way to show your dark side this Valentine's Day! Whether for yourself or for that special someone in your life, this unique gift is sure to spark conversation and admiration.
Not only is it surprisingly cute, but if you're a Star Wars fan like me, you can't help but say "I love you" with two of the most iconic characters in pop culture history. It's a great way to show off your sense of humor while surprising your loved one with big softies like Vader and chocolate!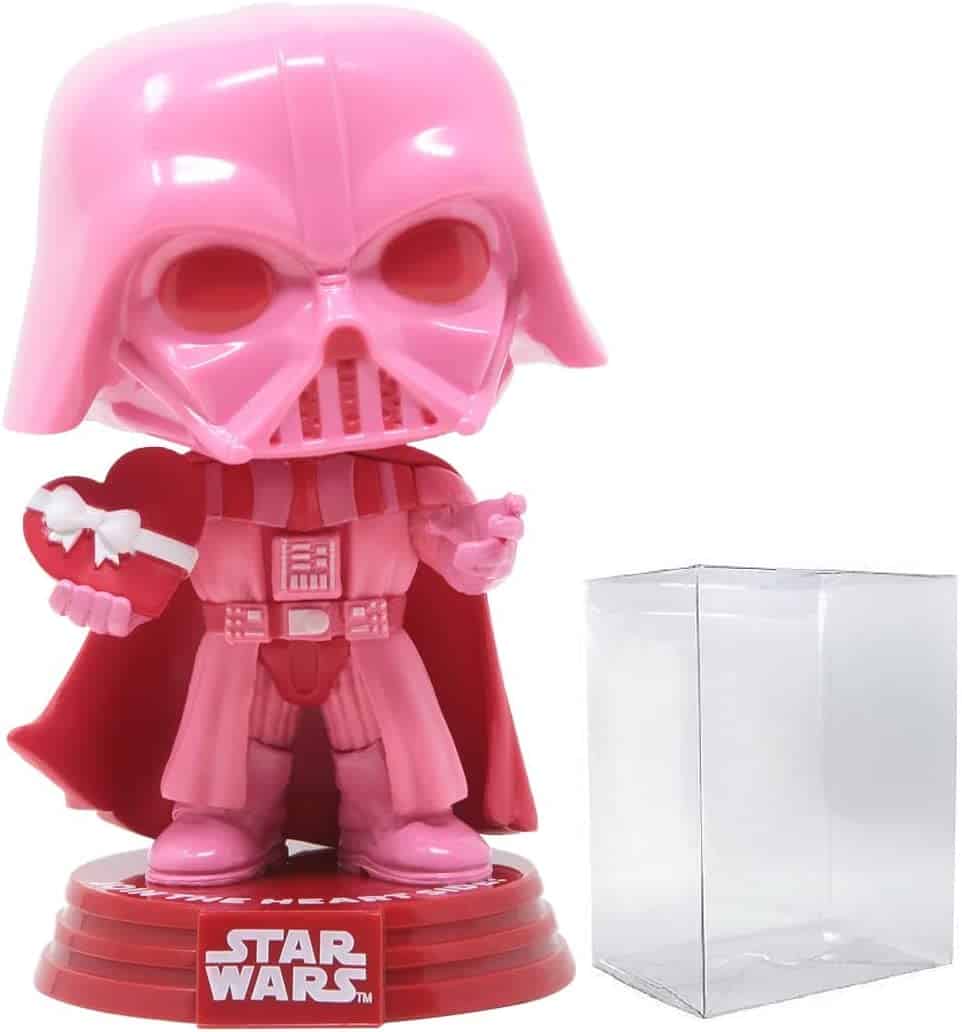 Key Specs
Price Range: $20 – $30
ID Number: 417
Special Feature: Valentine-themed colors
FAQs
Question: What's the Most Valuable Darth Vader Funko Pop?
Answer: The most valuable Darth Vader Funko is currently the Holographic Darth Vader, sold for $790. Wowza.
Question: What's the Rarest Darth Vader Funko Pop?
Answer: The Holographic Darth Vader is also the rarest, as it is an SDCC Exclusive.
Question: Where's the Best Place to Buy Darth Vader Funko Pops?
Answer: Some of the best places to buy Darth Vader Funko Pops are Funko's official website, Amazon, Walmart, Pop in a Box, and others.
Question: How Many Darth Vader Funko Pops are There?
Answer: There are currently 91 Funkos of Darth Vader, including variations of the Sith alone or in combination with some other Star Wars characters.
Welcome to the Dark Side
Darth Vader Funko Pop figures are the perfect gift for anyone who's a Star Wars fan – especially if that fan has a slightly wicked sense of humor. Gifting someone one is like handing them their own piece of galactic greatness that can proudly stand amidst any other collectibles in the room.
If you want my suggestion, pick the Darth Vader (Gold Chrome) Galactic Convention for something cool and different. Want more cool Star Wars merch recs? We've got a ton on our site, so check it out!