Latest posts by Ben Kitchen
(see all)
Is your wall looking a little bare? Could you use some artwork? Or maybe you need a gift for someone that has some taste? Looking at my picks for the most iconic Star Wars posters, this article could be your solution. If you're a big Star Wars fan, look no further. Various designs are available, from gripping story summaries to modern art.
I love a good Star Wars poster. For me, it doesn't get much better than the various possibilities highlighting the emotional turmoil of Revenge of the Sith. The classic fighting stance between Obi-Wan and his fallen friend, Anakin, is haunting and mesmerizing all at the same time.
You might have seen that the rarest Star Wars Poster – the Artwork Style B poster with limited print – recently sold for £13,000 (about $16,650). This was in support of the DEC Ukraine Humanitarian Appeal. However, you don't necessarily need to break the bank like this to have some iconic artwork on your wall, even if it is for a good cause.
Thank you so, so much to everyone who helped to promote, share and bid on our final charity lot! All £13,000 of the hammer price will be going to the DEC Ukraine Humanitarian Appeal & hopefully make a difference to those that need it. #CinemaPosterLiveAuction @HildebrandtGreg pic.twitter.com/6TbW6YZYr2

— Propstore (@propstore_com) March 24, 2022

In this article, I've tried to compile reasonably widely available posters that all fans can enjoy. If you're more interested in collectors' items, I've included a few links at the end of this article.
Before we get started, here's a quick disclaimer. Most posters are available in many stores throughout the country and the world, online and in-person. Feel free to shop around rather than following the links I provide! You might come across them for less than the links alongside the images so remember to shop around! Well-treated second-hand options can be a fantastic option to watch out for, too.
If you decide that big wall posters aren't really your thing but you still enjoy artwork, check out this coffee table book on Amazon. It displays the most iconic posters from the movies. 
My Favorite Iconic Star Wars Posters Up Front
Of all the movies, my favorite poster comes from Revenge of the Sith. I can almost feel the words "You were my brother, Anakin!" tearing through my mind.
In terms of adjacent artwork, I love my pick for Attack of the Clones. Not everyone's favorite film, I know, but the simple design brings out the internal rift tearing Anakin apart – the foundation for the both the galaxy's darkest hour and its salvation.
Movie posters side, my top picks are the minimalist posters you can find lower in the article. These tend to be better for a wider variety of rooms. If you live with others, these aren't so imposing either, so they're perhaps more likely to be happy to let you hang them up.
Both the Original Trilogy set and the Force Awakens poster highlight a particular aspect of each film. As I look at them, I'm reminded of specific scenes. Plots, lines, and sounds echo through my mind. To me, that's what art should do. It's not just the quality of the piece itself – it's what the colors and styles make me think about.
I also love the collection of Star Wars helmets from Displate, particularly the standalone version of Captain Rex.
The one I'd have in my house above all others? Rex's helmet. The one I think would work best in the average person's home? The minimalist Original Trilogy artwork.
I love all the picks I've chosen for this list but, for me, these just about trump the rest.
Criteria – What makes an iconic Star Wars poster?
For my list of selections for the most iconic Star Wars posters, I've selected my top five movie posters. I've then included some adjacent artwork for some of the films, along with a few extras. As mentioned, you'll also find links to some collectors' websites at the end, so if that's what you're looking for, feel free to scroll down.
Here are my criteria for making this list.
Iconic 

– sorry to state the obvious, but iconic Star Wars posters must be… well, iconic! They must be reasonably famous in terms of how they advertise(d) their respective film. For newer films, such as the Sequel Trilogy and the many series on Disney+, I've gone with posters that best highlight the overall message. That's what I would look for.

Artistic impression

 – art is subjective. What I like, you might find strange, and vice versa. However, there's not much I can do about that! Art isn't always about how something looks (although that's also important); it's about how it makes you feel. Regarding Star Wars posters, it's about how they make me feel concerning the overall plotline.

Price 

– overall, Star Wars posters are generally good value for money. That depends on what you are willing to spend, of course. Since most are so iconic, you should be well aware of what you're getting. Collectors' items, listed towards the end of this article, will cost a little more.
There's now such a variety of posters from different vendors, it's almost difficult to not find something suitable for your needs. You might want to purchase specific collectors' editions or just get something to liven up a bare wall. These posters would be a great gift to any Star Wars lover.
That said, I've listed a considerable variety of options in this article. Thus, I hope you find at least one thing you like the look of.
My Top Picks From The Classic Cinema Posters:
These are iconic for a reason. The original cinema posters all have some merit to them. Each film has its highlights, and the artwork I've chosen brings these out along with the movie's tones.
We'll start with my top 5 favorites for the movie posters.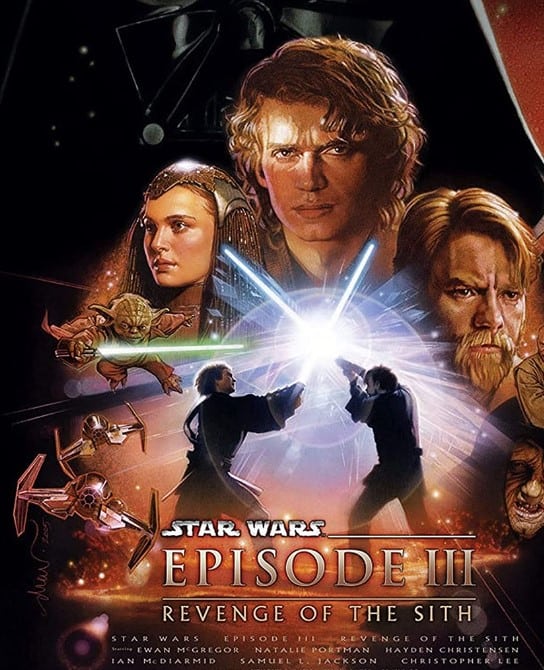 This poster thematically is fantastic. It shows that amazing scene with the duel between Obi-Wan and Anakin – it's the best in all of Star Wars, by my vote.
The artwork sums up the entire movie perfectly. Anakin is the center, but you have the helmet of Darth Vader looming in the background – the impending threat.
It's widely agreed that Revenge of the Sith is the strongest of the Prequel Trilogy. It has better pacing (fewer politics) and the remarkable clash between Obi-Wan and Anakin (still my favorite lightsaber duel in the whole of Star Wars). This poster shows all these highlights and is visually stunning.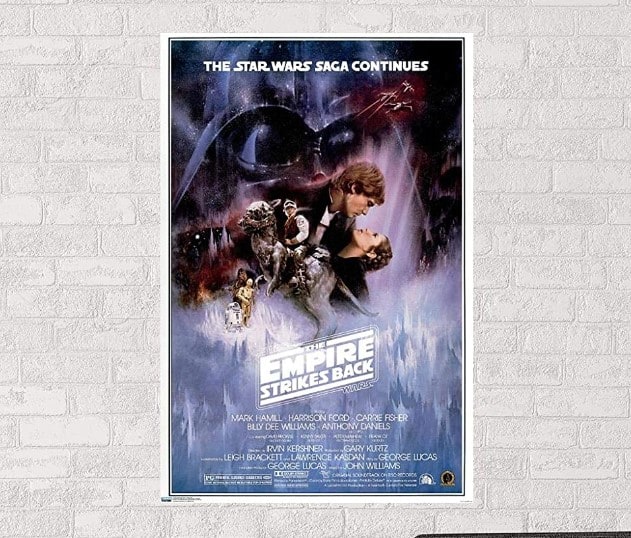 This is most die-hard fans' favorite film. It was undoubtedly the darkest of the Original Trilogy. You can see this sinister lack of light coming through here. Despite the overwhelming darkness in both the movie and the poster, a sliver of light shines through: the hope still to come.
Significantly, Luke doesn't draw the eye so much as Han and Leia – even though he's in the forefront. I find this fascinating because he's the main character, yes, but at this point, he's very much still a boyish child. Han and Leia, the more mature of their group, are less impulsive. In contrast, Luke flies off in his X-Wing and walks straight into a trap. It's all about him… but he's not ready yet. In the meantime, Han and Leia are the real heroes of the Rebellion.
I'd love to put this one on my wall because it's pretty simple. Yet with that simplicity comes a threatening background presence.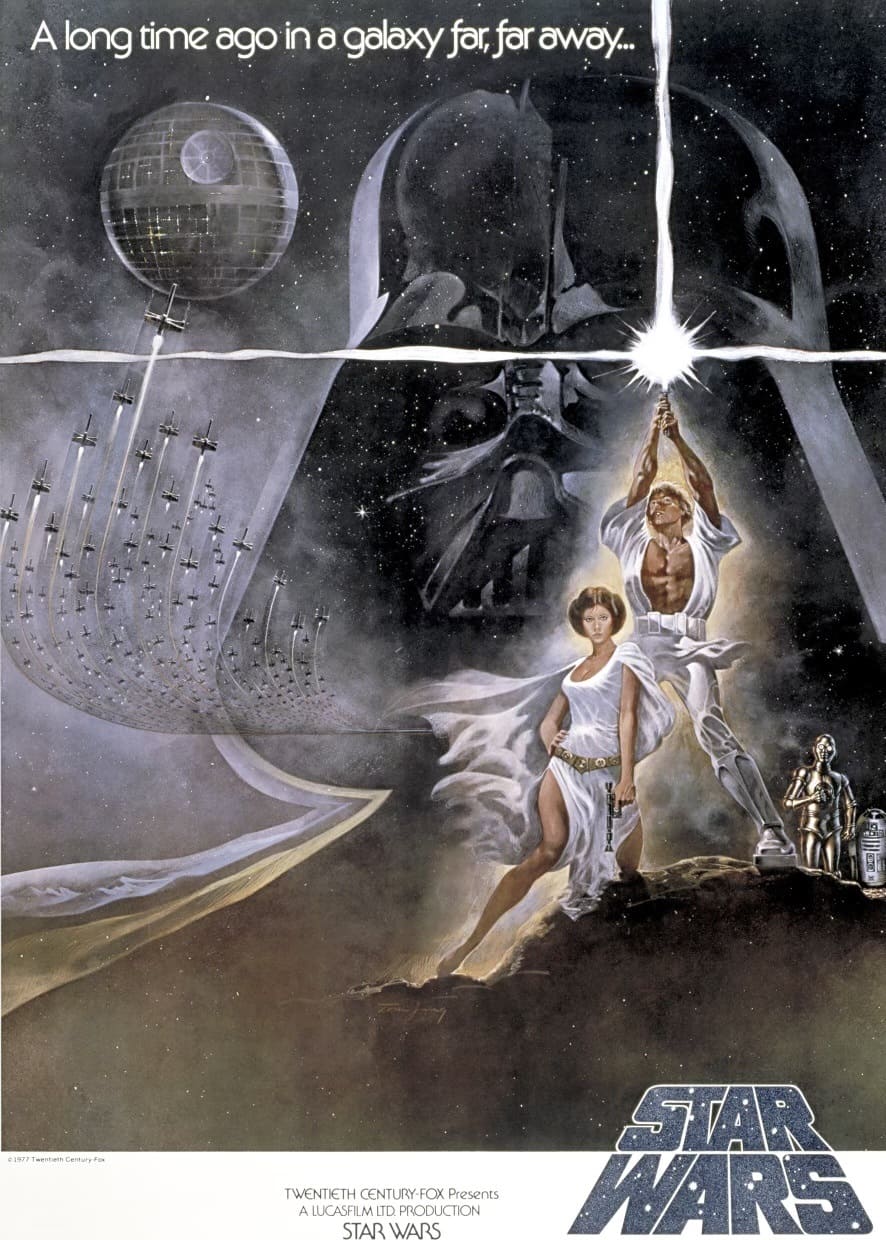 The Style A has less color than the Style B. This I find to better represent the galaxy's enshrouding darkness. Luke is also looking up and Leia is holding the blaster in her left hand, as you can see. In the Style B, Luke gazes forward, defiantly, while Leia's blaster switches to her right hand.
It's iconic for a reason. The original Star Wars film ignited the most popular worldwide fandom ever. Since its release, the story has encompassed thousands of years of complexly interweaving plot points.
I prefer the original Style A to the newer Style C poster. The Tom Jung artwork is so iconic. The poses and the giant space station-sized head of Darth Vader shows that he's a formidable threat. The X-Wings' assault on the Death Star gives off the hint of the space opera that we are about to witness. It all ties together with a well-designed retro vibe.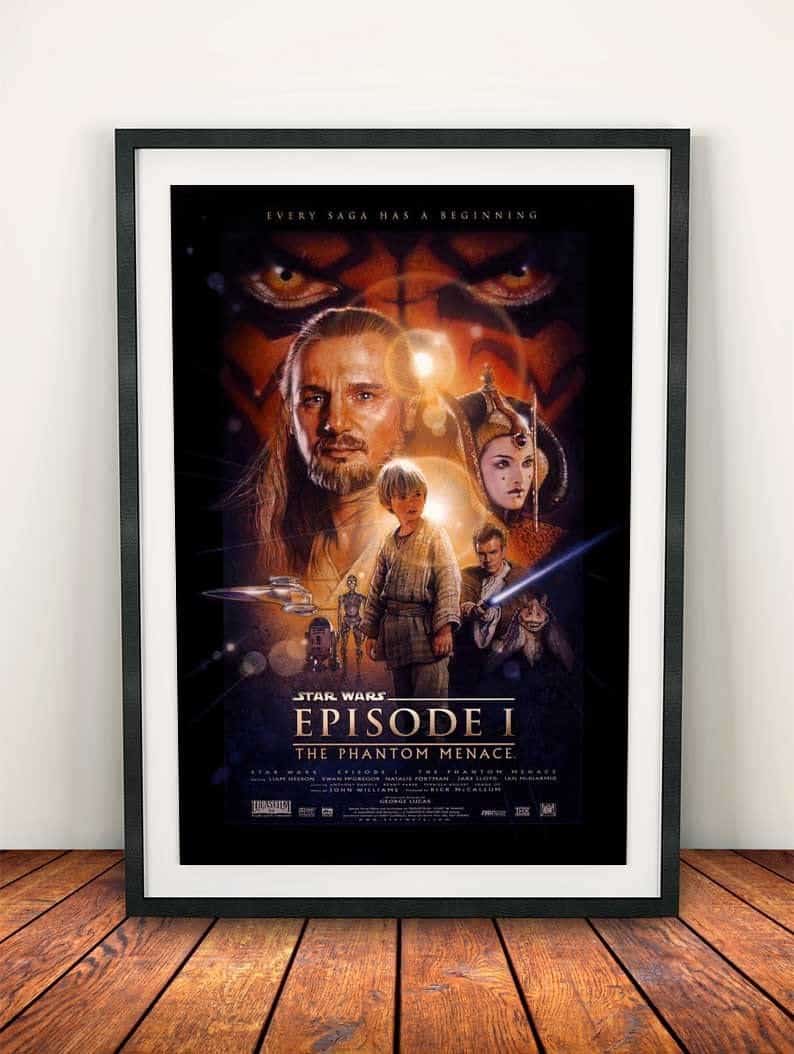 This poster does an excellent job of focusing on a young Anakin, putting him front and center. The Prequels were all about how Anakin's relationships developed, particularly with Obi-Wan, the Chancellor, Padme, and the Jedi Order as a whole. Here, though, he's a young, inquisitive boy, yet to become either the infamous Jedi Knight or the dreadful Darth Vader.
It also has that trace of Darth Maul as the direct threat, with his presence in the background. Whether you enjoyed the space politics in the film or not, we can all agree Darth Maul was pretty cool. That's something I'd want on my wall.
As a glimpse into the film, I love it, although you may have to ignore the Jar-Jar in the bottom right…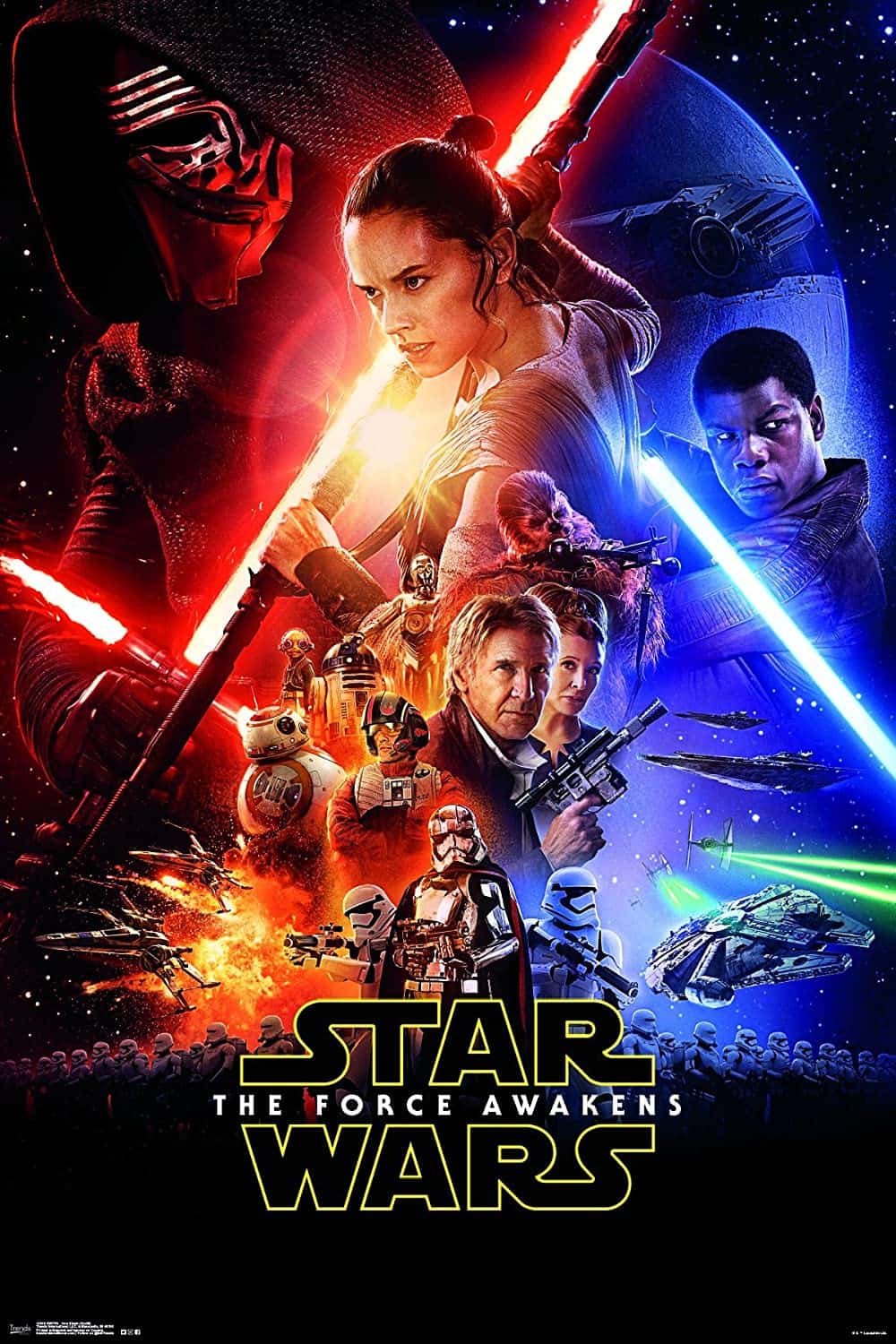 No matter what you might think about the Sequel Trilogy, the posters are incredibly well done. It's well designed but fairly simplistic, thematically. The solid blue/red split shows the ongoing struggle between Light and Dark.
You could argue it's a bit busy, and I'd go with you to some extent. But I think the madness portrayed in the poster represents the state of the galaxy. When the First Order rises from the ashes of the Empire, it obliterates the New Republic. Before we even really know what it is, in fact. Thus, chaos ensues. In that vein, this poster is perfect.
Further Original Artwork Posters:
Each film came with multiple promotional artworks. These are beside the classic movie posters. Below are some highlights and select artwork that look great on your walls. They're still considered official posters, and – crucially – they're certainly iconic!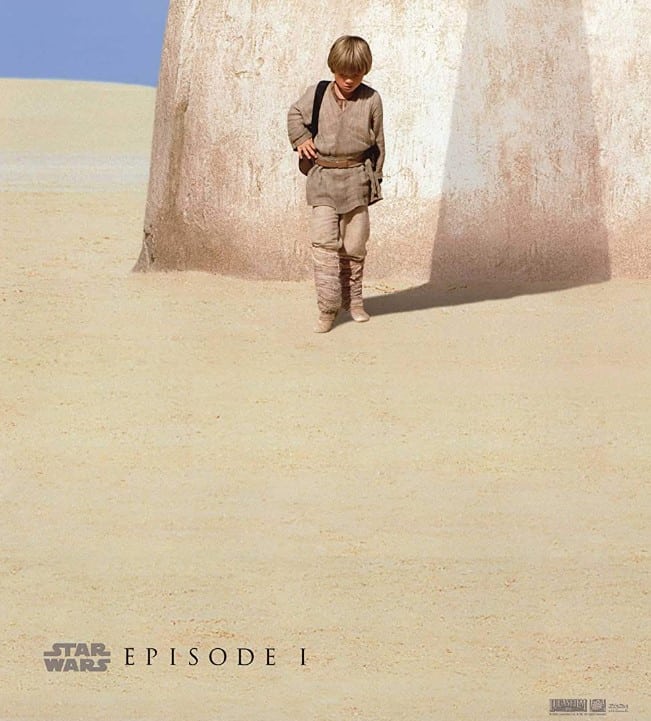 This is the teaser poster for The Phantom Menace from 1998. Seeing the simplicity of the design, with the subtle hint of what the prequel trilogy promised, you can see why there was such hype when the movie came out. People were eager for the return of the Star Wars universe to their big screens after a long 16-year gap. With promotional images like this, it's understandable.
To me, though, The Phantom Menace is an understatedly clever film. Sure, you might not be a fan of Jar-Jar or emotionless debates about trade unions, but there's a purpose to it all. It fits into the broader story with such thematic precision, and for that, it deserves all praise.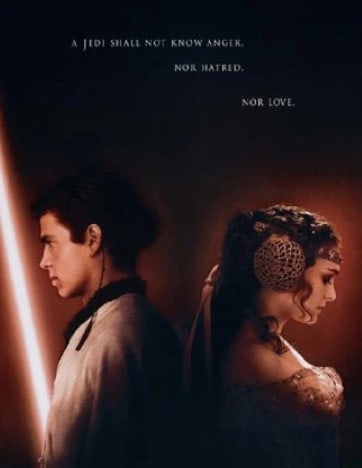 This poster showed us how Anakin was starting to slip away from Jedi ways. It reveals how the audience is supposed to keep track of Anakin's emotions throughout the film. Importantly, it displays the struggle and choice tearing Anakin apart: whether he stays on the path of the Jedi and puts aside his feelings or wavers and gives in to those internal desires.
Note the beam of light on the left-hand side. It alludes to a red lightsaber, but the more monochromatic palette makes it less apparent. As such, we weren't sure if Anakin's fall would be in this film. It's a subtle nod to the volatility and insecurity surrounding him.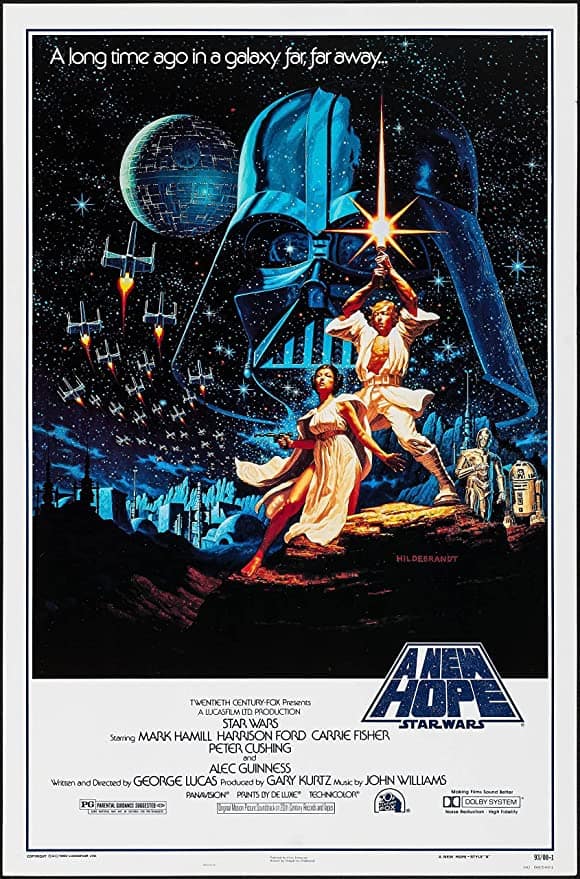 This is the most recognized Artwork for A New Hope. Tom Chantrell's artwork is far more character-focused. I am unsure why they moved away from the Style A poster, but it started the trend of layering the characters with more action pieces, including the starfighters and the Death Star. Luke, Han, and Leia take front and center, and it's a sound introduction to the series. You might argue that it feels slightly more cluttered than the other artwork.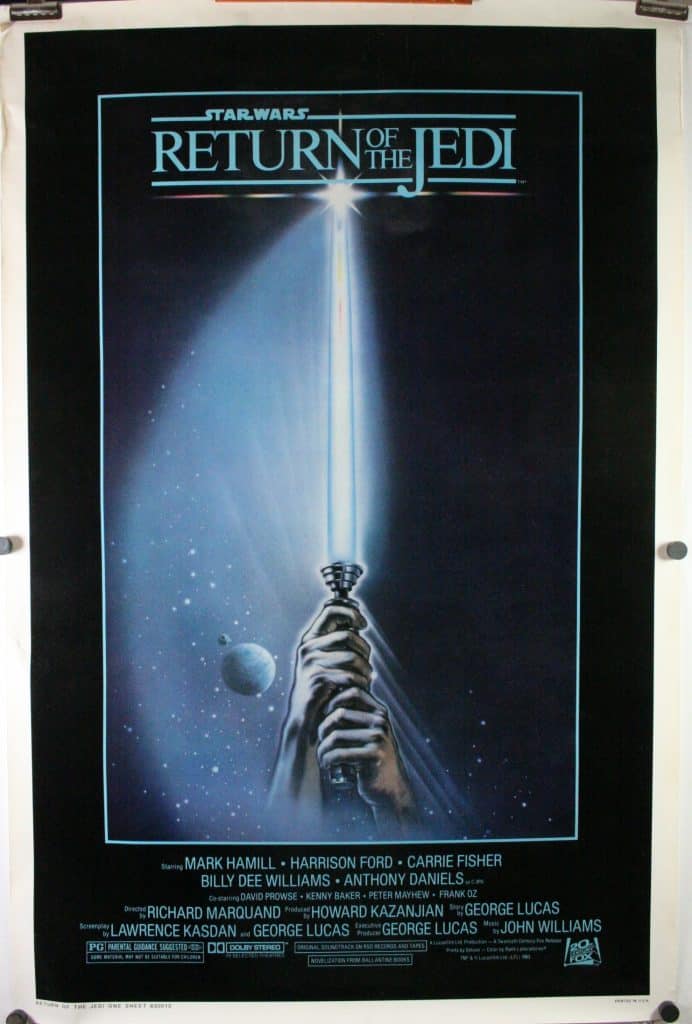 You might notice how I prefer simplistic designs and minimalist posters. This removes the busyness of some of the others, focusing solely on the lightsaber. Bonus points if you knew that these were George Lucas' hands.
It is a little strange that the lightsaber is blue. In Return of the Jedi, Luke builds his own lightsaber. Naturally, you'll know it's green. You'll find the answer to this conundrum in the FAQs. However, the color difference aside, as a standalone poster, it's aesthetically incredible.
Episode 7: The Force Awakens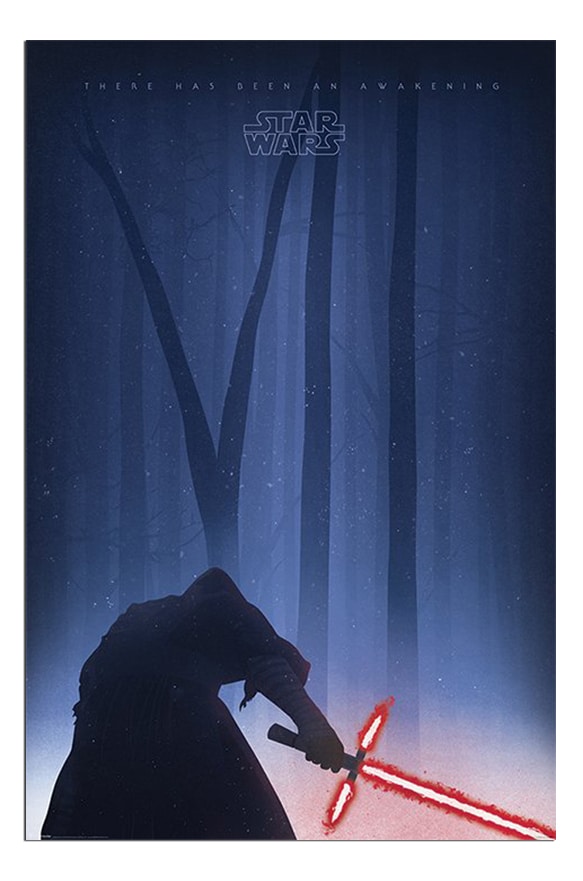 There was a lot of anticipation for the Sequel Trilogy. But the trailer's highlight was Kylo Ren's appearance in the forest, igniting his saber with the dangerous, unclean lines before the crossguard pieces jutting out. It gave us fans the familiar feel of Darth Maul's double-sided saber switching on, and the excitement of seeing a new type of lightsaber on the big screen was real. This poster portrays that moment with VII in the background, blending into the trees.
I like how simple this poster is and yet how strangely ominous the undertones are. Without knowing the context of the movie, you could almost slightly modify this artwork to make it into a Christmas card with cheery, festive vibes. In reality, Kylo has just murdered his father and is set on obliterating Rey. Again, it's a hint of turmoil hidden just beneath the surface.
Kylo has clearly studied previous battles and determined losing hands is common in lightsaber battles. So, he included a crossguard in his saber. Who says he didn't learn anything from his grandfather or uncle?!
Episode 8: 
The Last Jedi
, 2017
This poster was my preferred artwork promoting The Last Jedi. Interestingly, it's pretty different from the classic movie posters. It calls back to the Style A and B posters of A New Hope but with a twist. And, as we'll all know and have a controversial opinion on, that "twist" is exactly what Disney and Rian Johnson were going for.
Although The Last Jedi may not be your preferred Star Wars movie, everyone can appreciate the artwork here. Rey's struggle is shown as she toes the line between the Light and the Dark Side. There's also that change in lightsaber color as it gets higher in the frame, from blue to red. (Contrast that to the blinding white in the A New Hope poster.)
I have another one to share with you. from The Last Jedi. This image is also intentionally unclear about Luke's role – whether he would be the hero we remember or a more sinister character. Note his position on the poster. Usually, the villain is looming over the top in the background. His hooded appearance and the blue and red lighting highlight his struggle. Looking back with hindsight, this probably represents the past clash between Luke and Kylo Ren. We see it from two perspectives but are unsure which is more accurate.
The visually stunning scene on Crait with the V-4X-D Ski Speeders hinted toward the bottom of the poster is definitely a highlight. Despite the vast range of opinions on the story in The Last Jedi, I think the cinematography was excellent. This comes through in the poster designs, but it doesn't itch my nostalgia bone as the classic posters do.
Episode 9: The Rise of Skywalker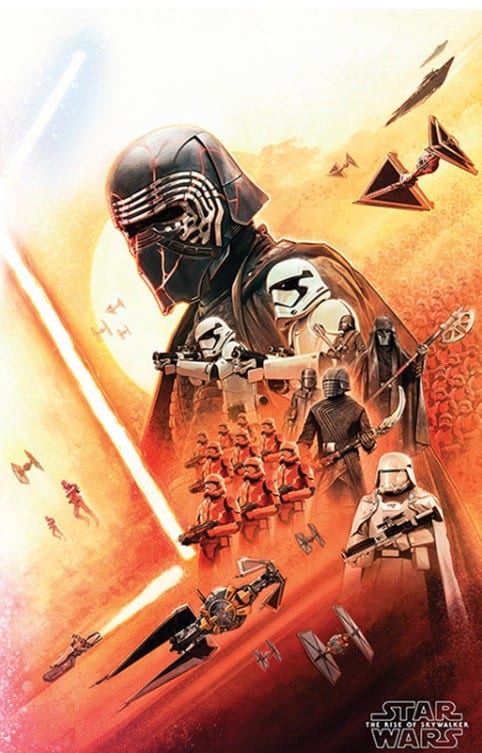 When The Rise of Skywalker was released, they did a two-part poster. One highlights the Light Side and the forces of good, and the other shows the Dark Side. Putting them together, you get visually stunning artwork showing that ongoing clash.
Kylo's helmet has been repaired in a reminiscent style of kintsugi, making him look more sinister. I think it's showing his fractured psyche and how it's now being held together with the Dark Side. There's no hint of redemption to come. 
Again, we see the contrast between the Jedi and the Sith through the red and blue coloration. It makes me think of the ultimate clash between the two sides. Palpatine hovers ominously overhead, hinting that this is all orchestrated by him like some evil puppet master. 
Anthology Posters
Star Wars has since expanded, and there's more content than ever – starting with The Clone Wars and running to Obi-Wan. More is soon to come.
I especially enjoyed the artwork promoting Obi-Wan Kenobi and The Mandalorian. Each encapsulated the feel of each series well.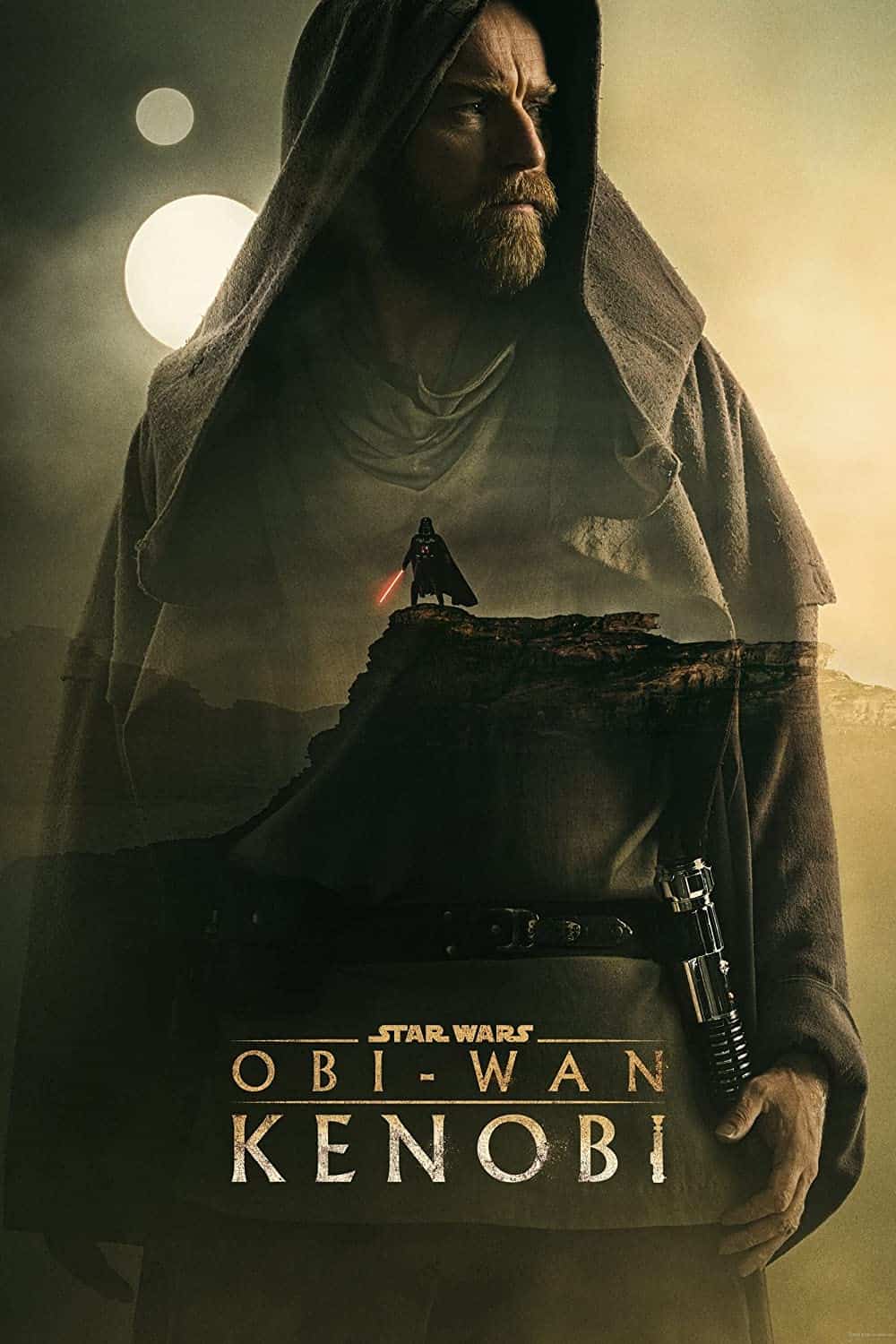 The poster for Obi-Wan Kenobi showed the hermit nature of Obi-Wan, but crucially the internal struggle he faced losing and fighting his beloved friend-turned-enemy. It highlights Vader's position right in the center, close to Obi-Wan's heart. Finally, Obi-Wan's hand, resting on his lightsaber, seems to be hesitating. He is losing hope and doesn't want to fight, but ends up with no choice (and thus is redeemed). That's a very subtle nod to the overall storyline.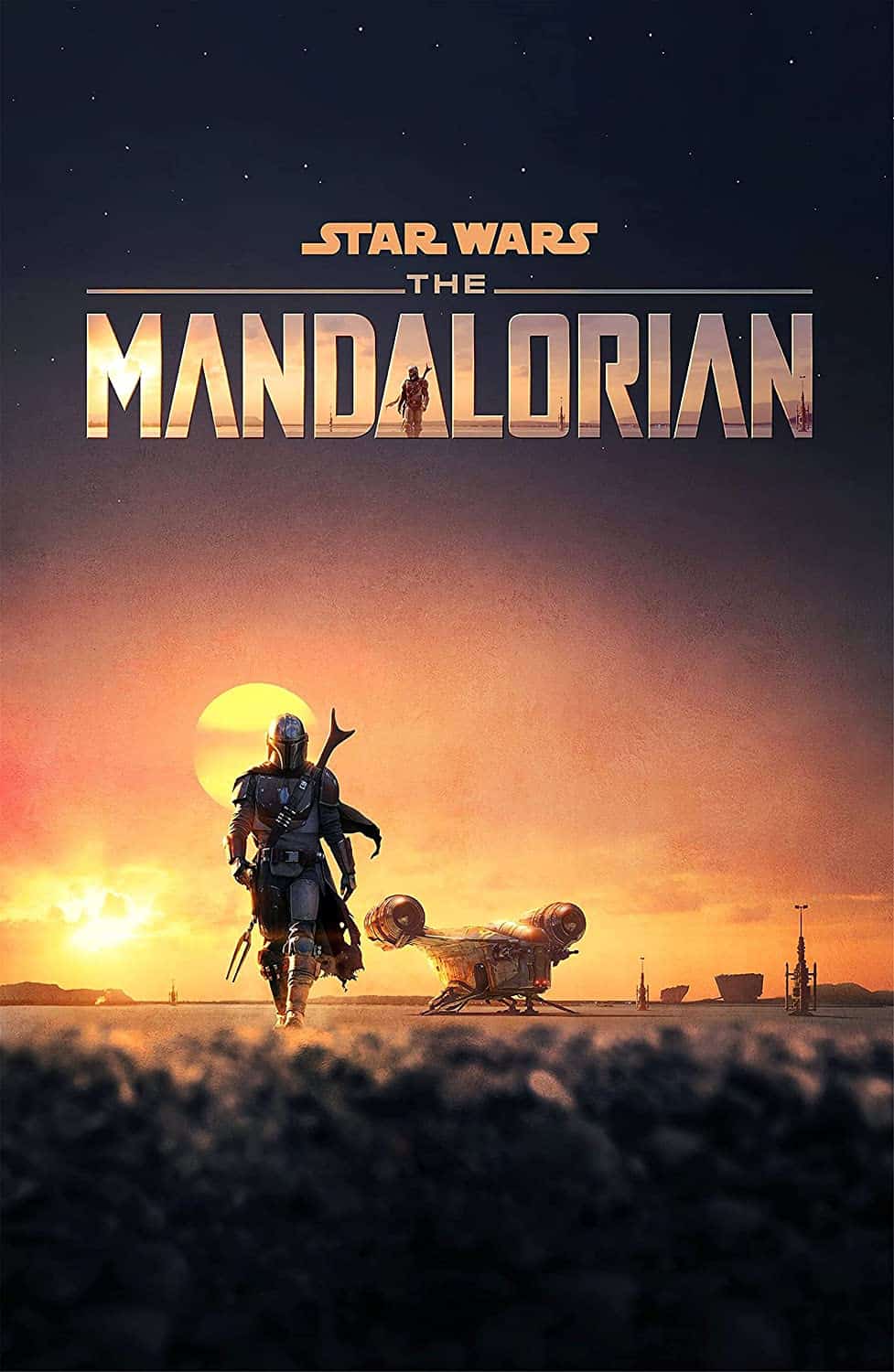 This artwork for The Mandalorian calls back to those western roots of Star Wars and gives off a lone ranger vibe. For loving fans of the Original Trilogy, The Mandalorian intentionally calls back to that genesis. You'll have seen this poster all around, but I feel it'll look great on any wall.
Minimalist artwork
If you're like me and prefer more minimalist artwork, you'll find a lot of third-party artwork available on several different sites. Art is subjective, so pick a piece that fits your needs. Check out sites from Etsy to Amazon. I'm sure you'll find something. You can even color-match artwork like this to your wall tints or furniture themes at home.
Here are some choices you may enjoy.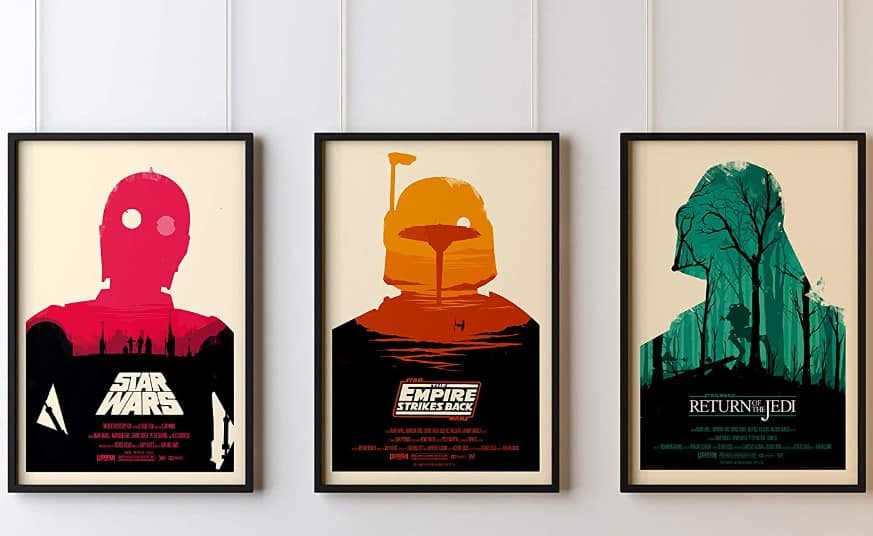 STAR WARS IV, V, VI Original Trilogy Set US Movie Wall Art Posters Print 

https://amzn.eu/d/6Wzh8Lr

Star Wars Minimalist Retro Travel Poster 3 Picture Print Wall Art Poster Painting Canvas Posters Artworks Room Aesthetic 12x18inch(30x45cm) 

https://amzn.eu/d/iXzlsjb
Schematics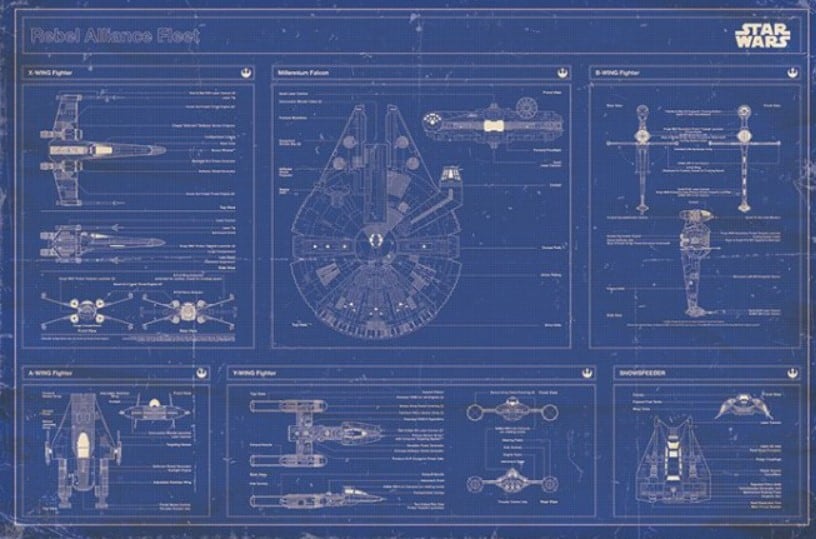 Do you fancy yourself a space engineer? Or maybe you're just more interested in the ins and outs of how things work in the Star Wars universe? Well, look no further. From the Light Side and Dark Side ships of the Original Trilogy to K-2SO from Rogue One, there are so many options in the artwork adjacent to the main movie posters.
I've picked those posters to highlight in this list. Of course, there are much more available.
Displate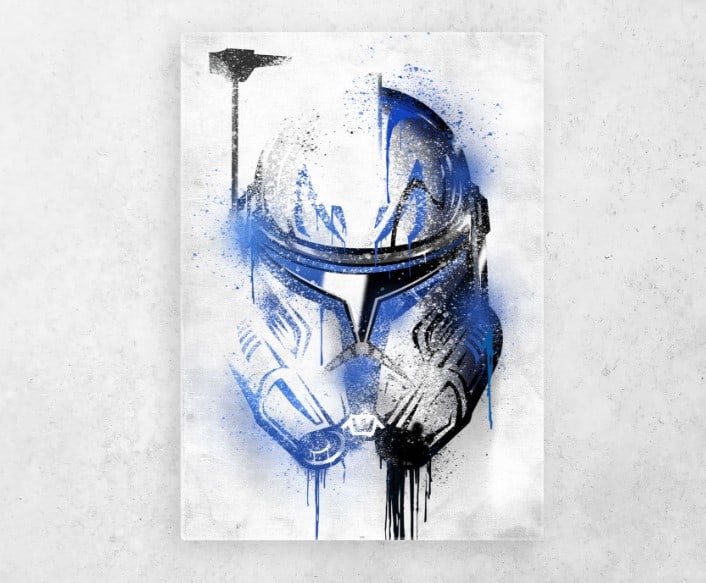 Displate creates easy-to-mount, stunning metal wall features. You could class them as posters at a push. Check out their fantastic range of Star Wars options by following the link. Personally, I love how visually intense many of them are. If you're thinking of purchasing one, might I suggest ordering several similar pieces? Since Displates are so easy to move around, don't be afraid to make a collage-style feature wall.
Of course, remember that they aren't paper. That might make transportation a little more complicated.
Of everything to choose from – and there's a lot – I've zeroed in on the helmet and lightsaber collections. These posters are artier next to the cleaner look of the movie posters. If you only wanted one, my favorites are Rex's helmet and Obi-Wan's lightsaber. Who else?
Collectors' Editions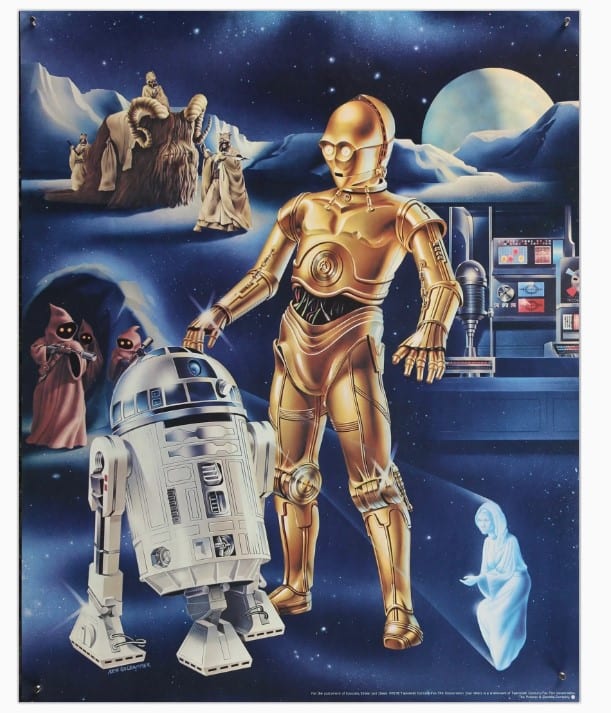 Here are some websites if you are looking for some original Star Wars artwork. Be warned – they are on the pricier side! However, these are great places to start if you're after some genuine collectors' items.
What do I think is the most iconic Star Wars poster ever?
My choice would be the minimalist artwork of all the iconic Star Wars posters. However, I've barely scratched the surface of what is available! The durability and artistic flair of Displate's metal artwork is really tempting.
That's just my opinion, though. I hope you have found something you like the look of, or at least found dipping your toe into the bottomless lake of Star Wars artwork mesmerizing. Comment below your preference, or let me know what I have missed – I am always interested to see new pieces!
Thanks for reading, and I hope you've found something of interest! If you are still looking for Star Wars memorabilia or a gift for someone else, you may want to try these articles:
Frequently Asked Questions
Question: What is the best Star Wars poster?
Answer: Well, that's an incredibly subjective question. We all like different things. However, I'd suggest that the Revenge of the Sith movie poster is one of the most iconic and intrinsically linked with the emotional plot. The Style A poster for A New Hope is also well up there.
Question: Should I buy an authentic original print Star Wars poster?
Answer: If you're a collector, this could be a worthwhile investment. As much-desired things get older, their values increase. However, it needs to be well looked after. As such, for most people, it doesn't make much sense.
If you do decide to buy an "original poster," be very careful to check for forgeries. It can be difficult for anyone to tell, so you might need to bring in an expert.
Save yourself a load of money by purchasing authenticated replicas instead of the originals. You can hang these on your walls without ever worrying about fading, creases, or wear and tear. I'd say they're much more enjoyable to own and cost a fraction of the price.
Question: Why is Luke's lightsaber blue in the Return of the Jedi Lightsaber poster?
Answer: Luke's lightsaber color was actually changed midway through production. It was initially going to be blue, but it was realized that the light color would be difficult to see in the bright open sands and doubly-bright suns of Tatooine. Green was chosen as a suitable replacement, but the poster had been released by then. Oh well, it still looks incredible!