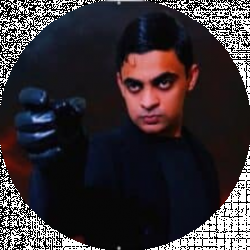 Latest posts by Boo-Ali Khan
(see all)
All Jediphiles and Padawans would agree that, with Jedi Master's wisdom, behind-the-curtain scheming, lightsaber fights, C3-PO's insight, and R2-D2's bravery, Star Wars is a universe of its own. However, whether you belong to the Light side or pretend to be on the Light side while mastering the Dark side, you wouldn't want to step outside in freezing cold without a good pair of shoes, right?
Talking about the current situation, when we look at the continuous struggle of the Rebel Alliance against the war-mongering evil, the Galactic Empire, there is always one message, do not lose hope. And if you ask me, just like having a lightsaber by your side, wearing a good pair of shoes would never let you lose hope. Therefore, this guide is dedicated to all those Star Wars fans who are on the brink of losing their spirit due to the unwavering effects of the never-ending intergalactic war.
Being a sneakerhead and a Star Wars fan is not an easy job, as new collections are released one after another, making it almost impossible to keep a tab on them. But if you believe in the Force, you will find a perfect pair in the end.
Therefore, in this guide, I am going to talk about everything I know about these kicks while also talking about some of the pairs I have collected. So, brace yourselves for the hyperspace travel, as I am going to take you to the best Star Wars-themed shoes Star system to help you find the best pairs for yourself.
Bottom Line Up Front
My favorite shoes from all the Star Wars shoes are indeed these Men's Star Wars™ | DC Shoes Manteca 4 Skate Shoes. These shoes are based upon the color scheme of Boba Fett's armor. In my opinion, they have the right amount of cushioning on their tongue and collar. Moreover, they have a minimal design which I always adore. Not to mention the rubber sole that prevents them from getting scratched easily. If you are a true fan of bounty hunters, this product is a must-have.
My Best Picks:
Buying Tips
Comfortability
Shoes are always meant to bring comfort to our feet. None of us would ever like to wear something which bothers us, no matter how pretty it is or to whichever merch it belongs. So, before buying Star Wars shoes, check your comfort level and your preference for the types of shoes available. In my case, I always dread shoes with laces, as I do not like tieing them again and again.
The Right Fit
Online buying can be a bit tricky, and especially when you are buying shoes, the stakes even become higher. You cannot just practically fit a shoe just from looking at its picture; even the same size under different brands may also differ. So, take your time and consult a shoe size chart to determine the right size for your feet.
Also, check if the brand offering your favorite Star Wars shoes does or does not have a return policy, as you may have to reconsider your size choice after receiving your parcel.
Don't Wait For The Sale
Buying themed shoes can never come cheap; it indeed takes a toll on our pockets. I would have recommended you to wait for sales to buy your favorite shoes, but the problem with Star War-themed shoes is that they always are limited edition and are produced in limited stock, and they might run out if you wait for a sale. So, get your hands on them as soon as you can.
Tackling With Knockoffs
Knockoffs can be a major problem even when buying Star War-themed shoes. Well, the Force has got you covered. The feeling you have about a product is always essential. And if a pair is giving you a bad feeling, then instantly back off.
There are also other tips like looking at the quality of material, finishing of the product, excessive glue on edges, unequal stitches, and some minor details with the logo design to see if they are legit. Nonetheless, I recommend you always buy from official websites to avoid scams.
My Top 10 Star Wars Shoe Recommendations
Sneakers
Sneakers, the slim shoes with a flat outsole, are the most famous kicks these days. They are ideal for court games and day-to-day affairs and go well with semi-formal dresses. And with the most comfortable shoes being themed on Star Wars, there is always new energy that surrounds you. These Star Wars shoes are based upon characters ranging from the heroes of the prequels to the villains of the trilogy.
#01 MEN'S STAR WARS™ | DC Shoes Manteca 4 Skate Shoes
We all love skate shoes, don't we? And if our favorite shoes are combined with our favorite movie character, it surely is a match made in heaven. Thanks to DC for making this dream come true. These Boba Fett-inspired shoes are a must for every Star Wars fan who wants to leave a legacy behind, just like Boba.
The shoe design is inspired by the camouflage featuring Boba Fett's armor. The laces, collars, and tongue's black color add to the product's overall appeal. Not to mention, the tongue features a TK number as well, so you don't get lost among other Stormtroopers.
These shoes are made of suede leather, making them comfortable to wear. Furthermore, the rubber sole is abrasion-free and also provides great comfort to the heel. And don't forget, despite being skate shoes, they can also be easily worn in daily life.
I would recommend every Star Wars fan to get their hands on this product if they are a true bounty hunter and want to walk in the style of Boba Fett. Moreover, the shoes also come with an additional treat, a key chain featuring an EE-3 blaster to shoot down your enemy.
Pros
They are made of good quality suede and are stain resistant.
They offer a balanced color scheme.
They are pretty comfortable.
Cons
They are not a good choice for formal wear.
#02 MEN'S STAR WARS™ | DC Shoes Manual Shoes
DC shoes, along with their great fit, offer two more options to satisfy both sides of the Force. These typography-inspired sneakers come in white and black colors, featuring the Light and Dark sides of the Force, respectively. They also feature Aurebesh, the basic Galactic language, written at the lateral sides of the shoes.
Talking about their construction, they come with the upper part entirely made up of canvas with no padding on the tongue or collar. The Insoles provide much-needed cushioning, not to mention the broad laces that perfectly complement the shoe design. But their most amazing feature, in my view, is their outsole. With a completely flat and treaded outsole, they are a knight in shining armor for a clumsy soul like me who has a bad habit of falling over.
Both of these pairs also come with an additional set of key chains. And don't forget, these similar but not the same shoes offer a unique option for you and your nemesis or even two different sides of your personality.
So, what are you waiting for? Not in a good mood? Wear the dark pair and make your enemies regret themselves.
Pros
The secret code written in Aurebesh appeals to every Star Wars fan.
These are made of soft canvas material, making them easy to wear.
They come with a Star Wars box, which in itself is a collectible.
Cons
These shoes are not waterproof.
#03 MEN'S STAR WARS™ | DC Shoes Court Graffik Shoes
Who doesn't love a pair of white sneakers? Well, everyone does. These DC Grafik shoes offer an excellent choice for those who don't like wearing conventional black or brown shoes. With their sleek design, they can be worn for different occasions. The DC logo combined with Aurebesh offers a unique choice for collectors.
The shoes feature an upper portion made up of leather. And with their puffiness and a medium-sized outsole, they are the gentlest options for your feet. Along with the designs of the Galactic Empire's nefarious Death Star blueprints,  they have the right amount of ventilation through their meshy tongue. These sneakers also have a cup sole making them pretty durable.
I would definitely recommend them to athletes looking for something they can wear for practice on hot summer days while also wanting to show off their love for Star Wars.  Did I mention they also come with an Imperial insignia keychain?
Pros
This pair is pretty airy and padded.
These sneakers are made up of leather and are water resistant.
Cons
They are heavy.
Due to their white color, they can easily become dirty.
#04 MEN'S STAR WARS™ | DC Shoes Kalis Mid Mid-Top Shoes
If you are a Star Wars fan who is into minimalistic designs, these sneakers are definitely for you. These DC shoes feature a logo of the new Rebel Alliance on the back of the heel. Moreover, the grey color of the shoe is highly complemented by streaks of red color that share an uncanny resemblance to the red stripes that run along the length of the X-wing. Pretty cool, right?
The upper portion of the shoe is made up of nubuck leather. While the collar on the back side is slightly cushioned, on the sides, it is highly cushioned with mesh. The most interesting feature of the shoe is its tongue which is highly padded along with a secret pocket having a zipper. Can you believe it? A shoe with a hidden pocket! Don't take the Force that easy…
As the shoe is mid-top, it reaches slightly above your ankle. The insoles have impact get, providing extra cushioning and comfort. Furthermore, the outsole is made of rubber, preventing it from getting scratched, while the bottom recessed tread offers extra traction.
With their excellent traction, they can also be used for running, and they are just perfect for all weathers. Moreover, they go exceptionally well with semi-formal dresses.
Pros
The minimal design offered is perfect for those who do not want something flashy.
These sneakers come with a hidden pocket.
Cons
They are a bit expensive.
#05 Sarlacc Pit Samba Shoes
These Sarlacc-inspired kicks are indeed a treat for Star Wars fans. With more than a dozen appearances in the Star Wars movies, Sarlacc surely was a hideous yet interesting creature. But don't worry, these shoes are anything but hideous.
The color scheme of the shoes is inspired by the creature's own color, the primary color being savanna. The heel of the shoe also has Sarlacc's tentacles taking the personalization to the next level. These tentacles always remind me of Luke, Leia, and Hans' miraculous escape, from Jabba the Hutt.  And let's not forget the insoles that also offer a great illustration of Sarlacc. But don't worry, it's not going to bite. Not to mention, these shoes also feature iconic Adidas stripes
The shoes feature a suede upper with a medium-sized tongue that is not well padded. However, the leather-based collar is relatively padded, making it easy to wear shoes without even pulling up the laces.
These pair of Samba shoes, just like any other pair of Sambas, offer great traction on hard floors and artificial tuffs and can be worn in almost every type of weather. Honestly, I like them as they are not expensive compared to the other shoes offering the same features.
Pros
These iconic Sambas are easy to wear.
They are affordable.
They are best for summers and winters alike.
Cons
If you are looking for a smoother texture or something waterproof, their suede finish is not for you.
The narrow shape does not fit people with broader feet.
#06 VANS SLIP-ON: Star Wars a New Hope
These pairs of vans are a part of a special collab between Vans and Lucas films in 2016. The print on the shoes pays homage to the original Stars Wars movie, A New Hope, featuring all the main characters in action, such as Luke Skywalker, Princess Leia, Darth Vader, etc.
These shoes are made of canvas, and the poster is digitally printed. They have a padded collar with a stretchable tongue due to the elastics attached to it. However, their midsole is pretty hard. The outside of these sneakers offers a classic Vans waffle outsole, featuring the zig-zag pattern of a waffle, something that adds significantly to their traction.
I would recommend these shoes for everyday usage. They might not come in handy for running or working out in the gym, and they can also be tricky to wear on rainy days. Still, for me, these are a great choice for the summer season. Not to mention, they are also a great option for students.
Pros
These sneakers offer the original iconic A New Hope poster print.
They are almost weightless.
With no laces, they are just so hustle-free to slip in, making them perfect for people who are always running late.
Cons
They are pretty expensive.
These shoes are not for winters.
Running Shoes
Want to run in Star Wars style? If yes, then I have got you covered. Star Wars running shoes usually come with a thick and highly cushioned outsole, and in some cases, with midsoles as well. They are highly treaded to provide you with the extra grip any Jedi might need and also provide additional protection to your feet. They are best for outdoor activities but can also be used for day-to-day affairs.
#01 Bossk NMD_R1 Spectoo Shoes
The red-eyed reptile friend of Boba Fett, Bossk, is surely one of our favorite bounty hunters. Despite being an ugly bounty hunter, from his love for getting paid to his famous dialogue, you got a problem with Boba, you got a problem with me, he was loved equally by all. And these shoes are a perfect tribute to him.
These kicks are inspired by Bossks' iconic jumpsuit and come in three different colors: night cargo, orange tint, and cloud white colors. To be honest, their colors are pretty cool as I do not find such color schemes being used for shoes.
The upper portion of the shoes features a close-knitted design with leader sides. However, the tongue and the collar of the shoe are not padded. With the famous Adidas NMD midsole, they provide extra cushion and support to your feet. These shoes also feature a rubber outsole. Although the tread is not good at the heel, they still provide some traction.
In my opinion, if you are looking for something for running, these shoes are not meant for you. And I would recommend these shoes only for daily routine tasks. However, they can still be used for a light gym workout.
Right now, these shoes are on sale. So, wait no further, and add them to your Star Wars collection ASAP!
Pros
They offer a stretchable upper portion.
These shoes come with an extra midsole for added comfort.
They have a modern design that appeals to the young audience.
Cons
Due to less treading at the heel, they are not great for running.
#02 Nike Air Presto Mid Utility Star Wars Darth Vader
Do you know the power of the Dark side? If not, then behold, such power is about to be revealed. These Nike Air Presto are one of the best top sellers out there. Despite the fact that they are grim in their appearance, just like Vader's black suit, these shoes are warm and comfortable.
If you are looking for something comforting for winter, you just hit the jackpot. These shoes will keep you warm due to their well-padded inner liner while also giving your ankle a sock-like feel. They also come with a zipper on the sides, making them easy to put on or off. Moreover, their stretchable top also makes wearing them effortlessly. I have to say, with their extra comfort because of a mid-sole and rounded laces, these kicks will surely become your top choice.
I highly recommend these shoes for athletic people who always seek an excellent grip. Moreover, they are highly water resistant, so you can easily wear them on rainy days. In short, they will get your every job done, just like a true Sith apprentice to the Dark Lord.
Pros
These shoes are warm and water resistant.
They are highly cushioned and best for athletic activities.
Cons
These shoes are a bit heavy.
They do not come cheap.
Slippers
Some people might not even consider slippers shoes. But they sure are the most commonly used indoor shoes. The best thing about the Star Wars slippers is that they are within budget and offer unique designs, a perfect option for house chores and summer days.
#01 Star Wars Slippers
Need something intimidating to wear at home? Well, Star Wars has got you covered again. Honestly, no one like to wear hefty joggers or laced sneakers at home, and that's where these slippers come in. With their softest material, cushioned insoles, and stripped outsoles, these Star Wars slippers are an all-favorite choice. They will surely make you feel like you are walking on clouds.
Due to their soft 3-D design and no sharp-edged knobs or buckles, they are safe to go around with kids. As they are lightweight and made of breathable material, you can wear them for as long as you like. Moreover, it might be interesting to know they provide more grip than most home slippers.
If I were you, I would not wait a single moment and just click on the link to buy these cuties. With comfort, they are a sign of you being a true Star Wars fan. And don't worry, if the Darks side is too intimidating for you, you can also have these slippers in other character designs such as Master Yoda, Mandalorian, Chewbacca, etc.
Pros
These slippers offer both comfort and cuteness.
They are safe for kids with no pointy edges.
These shoes are available for both kids and adults.
Cons
These slippers offer a pretty loose fit.
They work terribly in water.
#02 Star Wars Logo With the Child From the Mandalorian Scenes Sandal Slides
Nothing beats a pair of slippers with Grogu chilling around on a hot summer day. This pair of slippers features different screen prints from the Star Wars Mandalorian TV series, wherein we can see our favorite bounty hunter and baby Yoda hanging around on various adventures. If you are a die-hard fan of the love and compassion between Din and Grogu, I am pretty sure you can never overlook these slippers.
The slippers feature a padded strap to provide the utmost comfort to your feet. And, if you get the right size, you won't feel any kind of irritation while walking. The outsole is made of vegan rubber and comes in a medium size, reducing your chance of spraining your ankle, something I learned the hard way when I used to wear big-size slippers. Not to mention, the vegan rubber will also satisfy your conscience for not harming a living being.
I have to admit, you can always catch me walking around the house in these slippers. Or, if you are lucky enough, you can also find me in my favorite slippers on a quick run to the grocery store.
Pros
They are pretty lightweight.
They are affordable.
Cons
As they don't offer much grip, you must be careful while walking on wet surfaces.
These slippers don't come in small sizes for kids.
FAQs
Question: Are the Star Wars-themed shoes only for men?
Answer: No, most of these shoes are unisex and can be worn by both men and women. However, the sizes given on most of the websites are those for men. So, I recommend you to look into that closely. Usually, a number or a number and half less than your actual size number will do great for women.
Question: Are the Star Wars shoes expensive?
Answer: Yes, compared to other options available, they are a bit expensive. Moreover, you cannot wait for sales as they are always produced in limited stock. Nonetheless, if you are a true Star Wars fan, money is nothing compared to the joy you will feel wearing them. So, if you can afford them, they are a perfect option for shoes as well as collectibles.
Question: Are these shoes only for Star Wars fans?
Answer: No, they are not only for Star Wars fans. The shoes are designed to be worn by anyone and everyone. If you are a sneakerhead, they will be a great addition to your collection. And if you are working on building your stamina, a little push by the Force in your running shoes can always come in handy.
Question: What if these shoes run out of stock? Will they be restocked?
Answer: There is very little chance of them being restocked. But if you have missed the chance and want a pair for yourself, there are people out there who are reselling their pieces, mostly due to size issues. They can be found on websites like StockX. However, if you are worried about the condition of the shoe, then worry not. Most of these shoes are not used, and even if they are not new, they are in first-class condition.
Wrapping Up
Films and series are a place where we find an escape from our tiresome routines. But sometimes, we just do not want to return to reality. For all Padawans, Star Wars-themed shoes provide a perfect option to get in touch with our favorite characters who we truly love.
The recommendations I made in this guide were based on the affordability and variety the Star Wars merchandise has to offer. However, if you want to get your hands on your favorite pair, beware of knockoffs and always opt for official websites. Whether you want sneakers, running shoes, vans, or even slippers, don't wait for the sales to commence. Being a limited-stock option, they may run out of stock.
If I were to talk about my favorite pair of shoes, they surely are Boba Fett-inspired DC shoes, as they won't get dirty that easily. Moreover, they are just perfect in terms of inner cushioning and the width of their outsole.
So, what are you even waiting for now? Just click on the link and grab a pair for yourself before it gets out of stock. Happy shopping!
Looking for more interesting Star Wars merchandise? Check out: