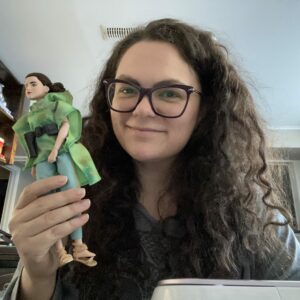 Latest posts by Candace Osmond
(see all)
Are you obsessed with Star Wars like me? Looking for awesome merch that's functional? Then you've come to the right place. With so many collectible items out there, it's easy to buy cheap, poor-quality knock-offs that illicitly bear the Star Wars logo. Loungefly, on the other hand, is authorized to sell Star Wars products and does it in style! Let's find out why their products are so awesome.
Bottom Line Upfront
I adore Loungefly. They always have the best merch for the fandoms I'm part of, like Star Wars. And, from this list of goods, I have to say I NEED THE STORMTROOPER LENTICULAR COSPLAY MINI BACKPACK NOW.
What Is Loungefly?
Loungefly is an awesome brand and online presence that offers merch of all kinds from popular fandoms. It is a collectible fashion and accessory brand owned by Funko. Yes, it's the same Funko that makes the collectible figurines we all love so much.
What Does Loungefly Sell?
They sell everything from apparel to keychains and toys. I love their mini backpacks the most! However, you can get one-of-a-kind shoes, clothing, and more. Everything is fully licensed and made with high quality, so you never have to worry.
A Guide to Loungefly Star Wars Merch
Let's check out the main categories of Star Wars merch from Loungefly.
Crossbody Bags
Those who carry bulky stuff will find comfort in using crossbody bags because they offer easy access to whatever is inside. The modern straps that are used for crossbody bags are designed to help keep the purse in place while the wearer is moving around.
Crossbody bags for women are frequently used as fashion accessories because of their ability to carry a variety of vital items that are too large to fit in the user's pockets. As a result of the fact that students may put them to both trendy and practical use, they are quite popular among this particular buyer's category.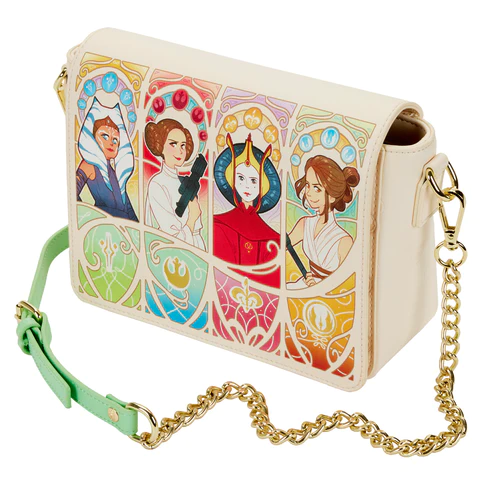 The ladies of the Rebellion in Star Wars are a formidable adversary to the evil that the Galactic Empire represents. They serve as rebels, rulers, and royalty. Participate in their cause and carry them with you at all times, thanks to this Exclusive Ladies of the Rebellion Crossbody Bag. The photographs have been crafted in an art nouveau manner that is both elegant and flowing.
Price Range: $50 – $100
Material: polyurethane
Size: 7" W x 7.25" H x 2.75" D
On the back is a motif of their insignia that has been debossed on a cream-colored background. This accessory is the perfect touch to add a touch of class to any Star Wars getup.
Pros
Crafted in an elegant design.
Semi-adjustable strap.
Officially licensed product.
Cons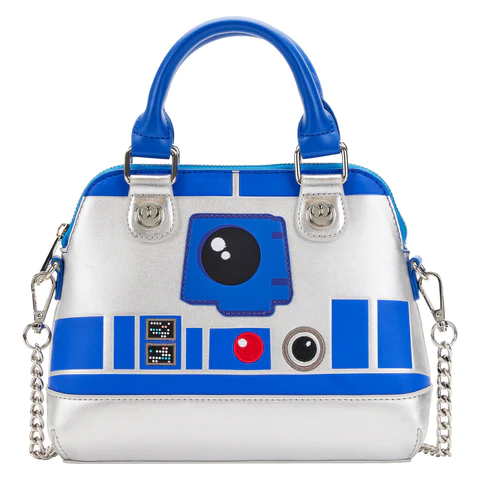 Thanks to this crossbody bag, you can put the brave and trustworthy droid R2-D2 to work for you. R2-D2 has managed to win over the imaginations, and the affections of Star Wars fans all over the world because of his extraordinary bravery and his talents as a starship technician and assistant.
Price Range: $50 – $100
Material: polyurethane
Size: 9.5" W x 8" H x 5" D
The bag is designed with specific silver hardware and colors that resemble R2-D2 so that everyone will recognize who you're supporting. The bag is vegan leather and has a chain metal shoulder strap.
Pros
On-point R2-D2 design.
Very durable.
Semi-adjustable shoulder strap.
Cons
Enamel Pins
These miniature pins made of metal are highly customizable and can feature any design. Some examples of possible designs are quirky pictures, company logos, and anything else you can think of. People's personalities can be extended through the use of enamel pins, which also provide the opportunity to personalize and embellish items such as jean jackets, purses, bags, hats, etc.
Pin makers and creatives all around the world have begun to develop profitable internet businesses by turning their one-of-a-kind designs into enamel pins. These creatives and pin makers range from graphic designers to clothing masterminds to large merchants.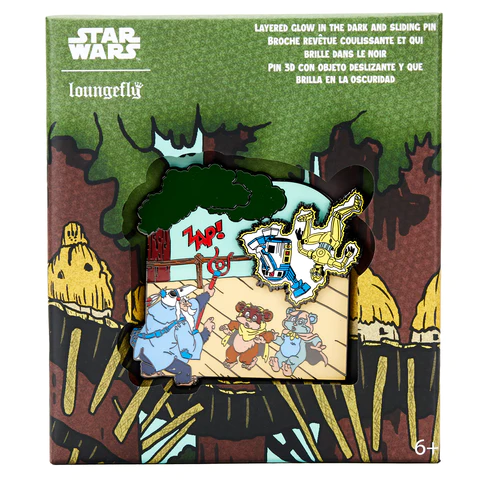 These droids are the ones you've been looking for all along! Find a way to save R2-D2 and C-3PO while playing the Star Wars Ewoks and Droids Glow in the Dark Sliding Pin game. Both R2-D2 and C-3PO have been inverted, glow in the dark, and appear to be able to move vertically as if by magic.
Price Range: $20 – $30
Material: metal
Size: 3 inches
This Star Wars pin is 3 inches in diameter and is the ideal addition to any fan's collection. This pin contains sections that may slide and hardware that is gunmetal colored. The limited edition of 600 pieces is noted by an embossed crown on the back of the figure, which also features the trademark crown debossing that Funko and Loungefly use on their products.
Pros
Intricate design.
Great collector's item.
Signature Loungefly debossing.
Cons
Only 600 pieces are available.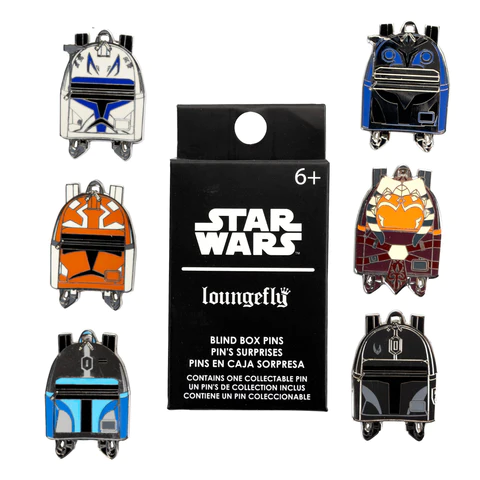 These pins will let you travel in style to all of your favorite spots in a galaxy far, far away. Each lapel pin is shaped like a backpack and includes a unique stormtrooper helmet from the Star Wars universe.
Price Range: $10 – $20
Material: metal
Size: 1.5 inches
Each pin is sold individually, so you have to collect all 6 of them for a full collection. There is a 1/12 chance that you will locate a unique helmet for Ahsoka that lights in the dark. If you do, congratulations! Each 1.5-inch pin features hardware that is bright silver and a crown embossing that is a signature of Loungefly.
Pros
Licensed Star Wars product.
Suspenseful mystery purchase.
Some pins are glow-in-the-dark.
Cons
You can't choose which pin to buy.
With this epic Star Wars Darth Vader Lenticular Pin, you can demonstrate your devotion to the dark side of the force. This pin takes the form of the recognizable helmet worn by Darth Vader, and when viewed in the right light, it reveals the artwork from the poster for Star Wars: Episode III – Revenge of the Sith.
Price Range: $20 – $30
Material: metal
Size: 3 inches
This pin features lenticular details, and the hardware is gunmetal colored. It's a limited edition with just 1,000 pieces and is noted by an embossed crown on the back, which also features the signature crown debossing from Funko and Loungefly on the card's reverse side.
Pros
Hidden poster art.
Licensed Star Wars product.
Signature Loungefly debossing.
Cons
The dark color makes it barely visible on dark clothing.
Lanyards
Lanyards are ornamental pieces of cloth that are worn around the neck and have clips and other attachments that make it possible for the wearer to have identity passes or security passes readily available to them.
However, lanyards are more versatile than that and can be used to hold your keys, phone pouch, pen, or any other object that has a loop that can be fastened to and carried easily, making it conveniently available. This makes them an extremely versatile and adaptable accessory.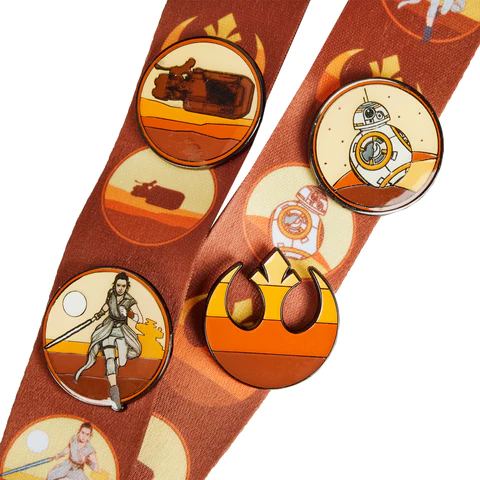 With the Star Wars Lands Jakku Lanyard with Card Holder and 4 Pins, you can channel the grit and determination of the famous scavenger Rey. Not only will you receive the lanyard but also four adorable collector's pins that match the design of the polyester material.
Price Range: $20 – $30
Material: plastic, metal, polyester
Size: 1.5" W x 16" L
The cardholder is made of translucent plastic and has a hole for keeping your identification card. The background of the cardholder features artwork depicting the planet Jakku.
Pros
four pins included.
Durable polyester material.
Pins have the Loungefly crown debossing.
Cons
Only one design/color option.
Mini Backpacks
Suppose you're having trouble deciding between a messenger bag and a regular-sized backpack. In that case, you could find that a tiny backpack gives you the advantages of both options in a single, convenient package. It offers the portability of a backpack while also providing the storage space of a messenger bag.
A little backpack won't make you look bulky, and it won't be an issue if you want to keep your energy levels up as you explore new regions. There is no need to compromise on comfort, portability, or functionality while carrying one of our compact backpacks. These excellent bags are more fashionable than ever before because we have entered a time and era in which carrying less enables you to do more.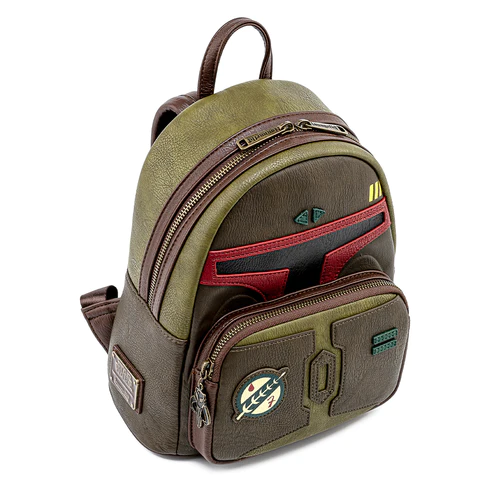 The Boba Fett Cosplay Mini Backpack from Loungefly is the perfect accessory to elevate both your Star Wars collection and your wardrobe to the next level. This miniature backpack has pieces of Boba Fett's iconic helmet and armor, as seen in the excellent series around the galaxy far, far away! It is a fun item for Star Wars enthusiasts to have, and it is an excellent addition to a costume or outfit that is based on Boba Fett in any way.
Price Range: $50 – $100
Material: polyurethane
Size: 9" W x 10.5" H x 4.5" D
Vegan leather is used to construct the Boba Fett Cosplay Mini Backpack. The bag contains shoulder straps that can be adjusted, robust metal hardware, and a variety of decorations, including molded metal, embroidered patches, debossed designs, printed patterns, and metal zipper charms
Pros
Adjustable shoulder straps.
Intricate designs and details.
Boba Fett's name is printed on the inside lining fabric.
Cons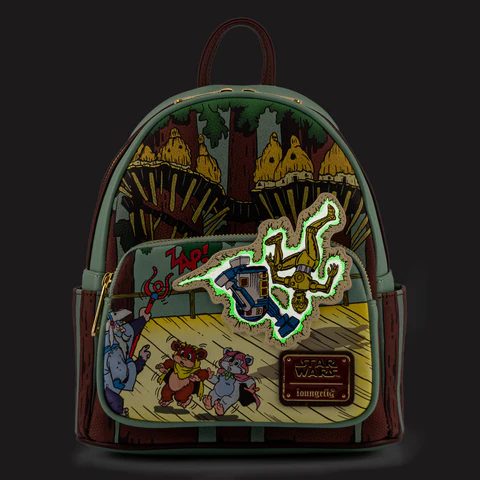 These droids are the ones you've been hunting for all along! With this mini backpack, you can help R2-D2, and C-3PO get out of trouble. The droids R2-D2 and C-3PO are inverted and shine in the dark as if by some sort of magic.
Price Range: $50 – $100
Material: polyurethane
Size: 9" W x 10.5" H x 4.5" D
After their run-in with the shadowy, masked figure on the left, the two Ewoks down below are understandably terrified. The style of this bag is reminiscent of times gone by, and it is an eye-catching accessory that is guaranteed to put a smile on the faces of Star Wars fans.
Pros
Intricate design.
Spacious front pocket.
Adjustable shoulder straps.
Cons
The colors feel a bit pretentious.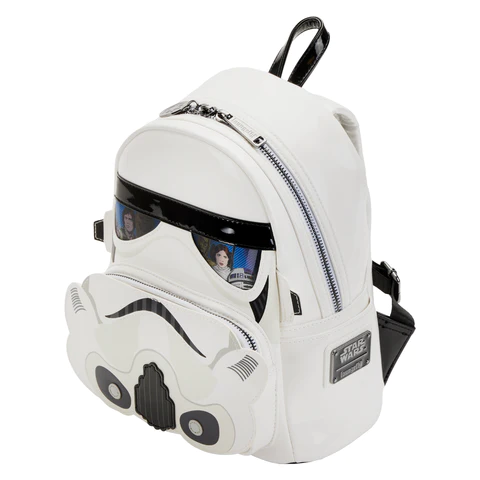 Equipped with this mini backpack, you may take on the challenges of the day with the assistance of a Stormtrooper from Star Wars. The white helmet and face of a Stormtrooper are incorporated into the backpack's design, which features a front pocket with a zipper.
Price Range: $50 – $100
Material: polyurethane
Size: 9" W x 10.5" H x 4.5" D
The three characters, Princess Leia, Chewy, and Han Solo, are visible in a different perspective thanks to a lenticular screen that has been included in the design.
Pros
Lenticular design with hidden Easter Eggs.
Concealed front pocket.
Includes side pockets.
Cons
The white design is a dirt magnet.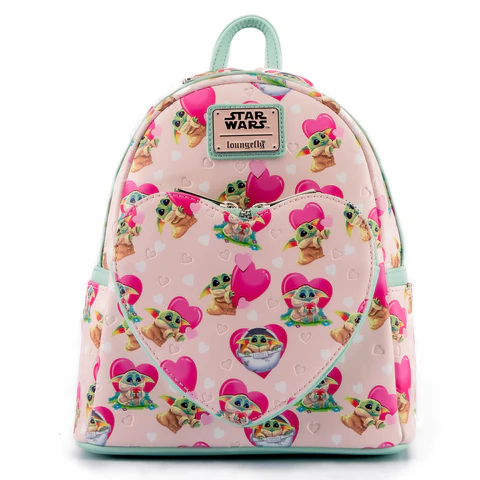 Even those who never saw a minute of Star Wars in their lives know about The Mandalorian. It's now time to spread the love with this adorable themed mini backpack. The all-over print features a range of different stances for the adorable young Grogu, as well as pink and white hearts in various sizes.
Price Range: $50 – $100
Material: polyurethane
Size: 9" W x 10.5" H x 4.5" D
The pink and cream colors of the bag are accented with a light green color on various parts of the bag, such as the trim and straps. Additionally, the front pocket is in the shape of a heart! It has a charming design that is perfect for giving as a present and would be a welcome addition to any Grogu collection.
Pros
No two pieces are identical.
Adjustable shoulder straps.
Heart-shaped front pocket.
Cons
The wallet in the picture is sold separately.
Wallets
Wallets of the modern-day have evolved to the point that many people view them as unnecessary accessories. The straightforward designs that were used to create wallets several centuries ago gave rise to the more complex styles that are used today.
Because of developments in society and technology, as well as the myriad other factors that have contributed to the transformation of our lives, wallets have had to progress to meet the requirements of the modern person.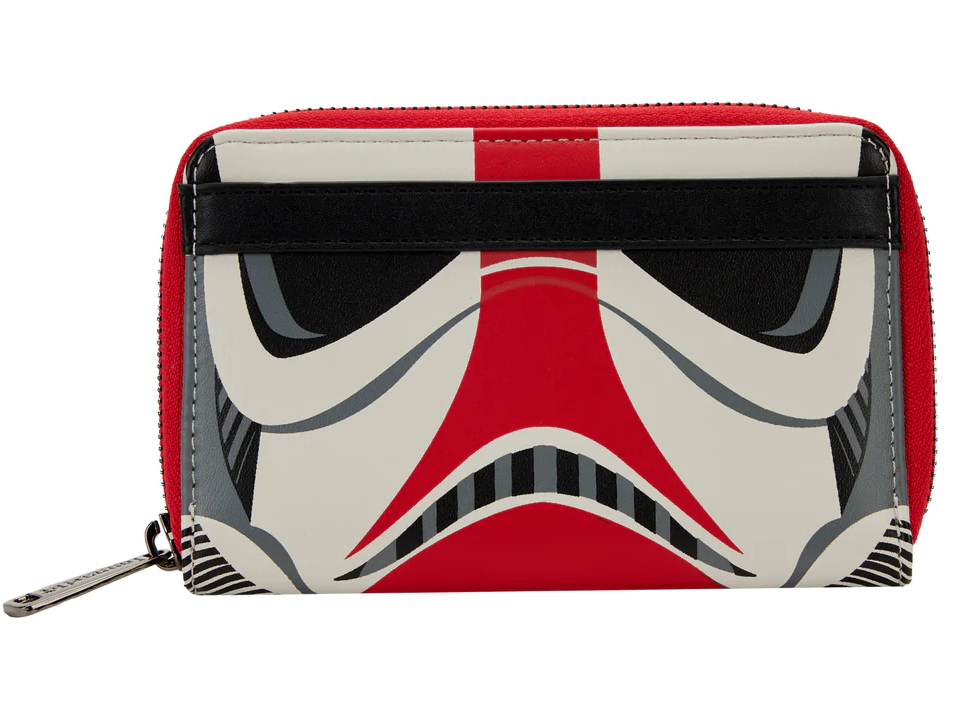 Take on the day in a fashionable manner by carrying this wallet with you. A visage of an Incinerator Trooper, adorned with the unit's identifying red marking, can be seen on the front of the weapon. On the back is printed the symbol of the Incinerator Trooper, which also features a flickering flame above it.
Price Range: $40 – $50
Material: polyurethane
Size: 6" W x 4" H
The wallet is vegan leather and contains gunmetal hardware, space to store up to 4 cards, a clear hole for carrying your ID, and intricate accents.
Pros
Intricate design.
Quality zipper closure.
ID slot.
Cons
Only has room for four cards.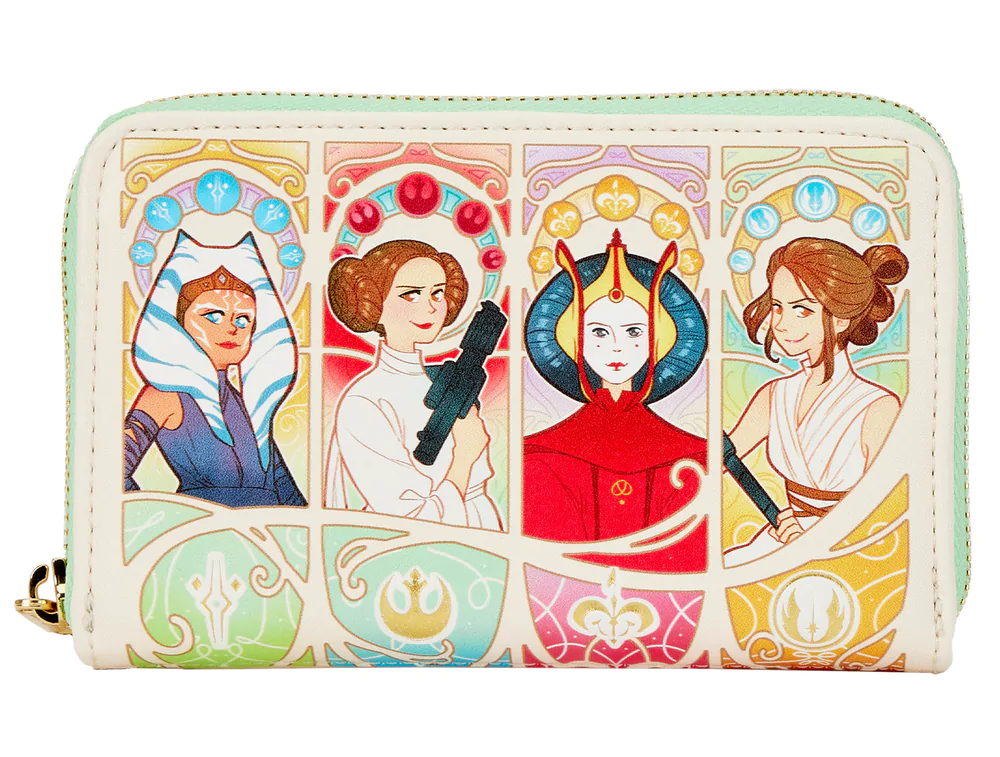 If you loved the Ladies of the Rebellion crossbody bag, you have to look at the matching wallet! Featuring a zipper enclosure, this bifold wallet is designed with a die-cut window that allows your ID to be visible, four slots for holding your cards, and gorgeous shiny metal hardware.
Price Range: $40 – $50
Material: polyurethane
Size: 6" W x 4" H
You have to get this to match if you're getting the bag, too. I mean, it may or may not be in my cart already.
Pros
Matches the Ladies of the Rebellion bag.
Quality zipper closure.
Clear sleeve for an ID card.
Cons
Only has room for four cards.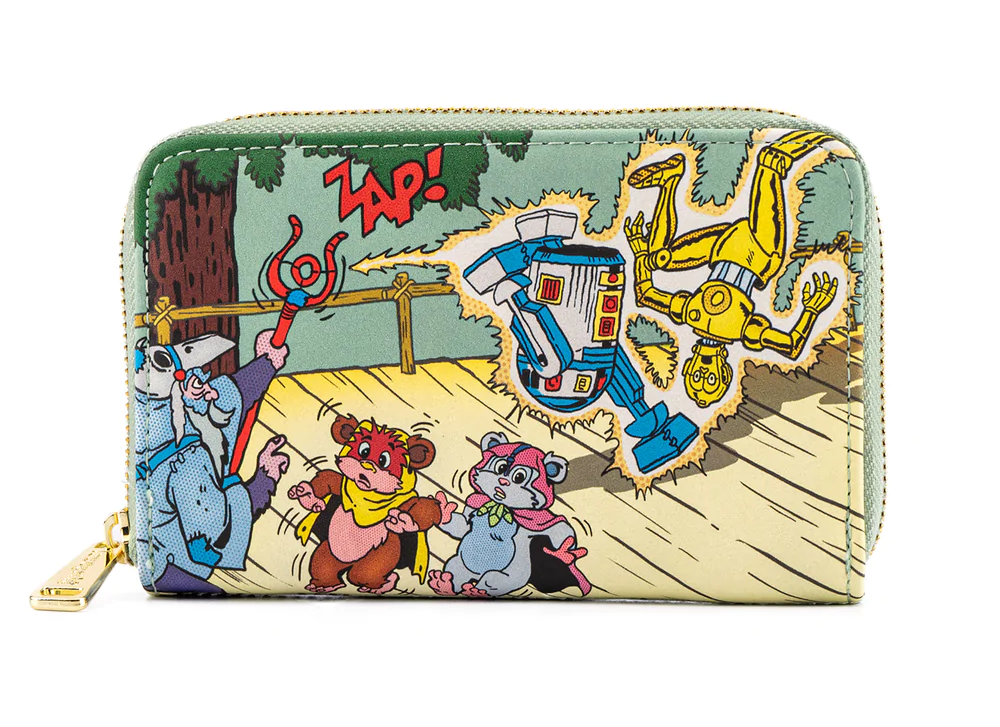 If you like the Ewoks and Droids pins and backpack, it's time to get a wallet that matches them both! Stay true to the universe of Star Wars with a gorgeous wallet for people who are Ewok fans.
Price Range: $40 – $50
Material: polyurethane
Size: 6" W x 3.5" H
In terms of specifications, you can expect the same details as with the other wallets we've shown you today, including the clear ID slot and four slots for your cards.
Pros
Glow-in-the-dark details.
Quality zipper closure.
Printed on both sides.
Cons
Smaller than other wallets.
FAQ
Question: Is Loungefly owned by Disney?
Answer: Funko is the company that owns Loungefly. Amongst a variety of other licensed products, they also have Disney-themed merchandise.
Question: Why are Loungefly bags so expensive?
Answer: Loungefly bags and other products are expensive because they have an official license to use the logos and designs of the franchises they embed in their products. They are also expensive because they are limited edition products, and collector's items will always be more expensive.
Question: Is Loungefly good quality?
Answer: Because they work with so many different large franchises and brands, Loungefly can't afford to make poor-quality items. Their products are sturdy and durable.
Final Thoughts
The Star Wars saga is not limited to the film franchise that significantly influenced contemporary pop culture; instead, it also chronicles the continual production of products. Not only did George Lucas revolutionize the process of negotiating licensing agreements, but his Star Wars toy line also brought about a shift in the conventional design of action figures and sparked a collecting obsession that is still going strong today.
And if you want a reliable source of themed fashion items and accessories, Loungefly is the place to shop! I highly recommend the Stormtrooper Lenticular Cosplay Mini Backpack, too. Grab it, then pop by our site to check out more cool Star Wars merch!
Top Picks at a Glance
1. Best Crossbody Bag: Star Wars Celebration 2022 – R2-D2 Cosplay Crossbody Bag
2. Best Enamel Pin: Ewoks and Droids Glow in the Dark Sliding Pin
3. Best Lanyard: Star Wars Lands Jakku Lanyard with Card Holder
4. Best Mini Backpack: Stormtrooper Lenticular Cosplay Mini Backpack
5. Best Wallet: Exclusive – Ladies of the Rebellion Zip Around Wallet
Looking for more interesting readings? Check out: