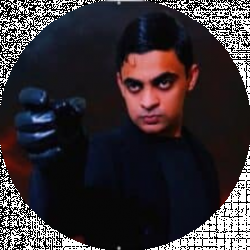 Latest posts by Boo-Ali Khan
(see all)
The adventures of a galaxy far, far away have inspired countless fans over the years. And to get closer to the Force, be it the Dark side or the Light side, every fan tries to get a hold of any collectible that they find most captivating. I still remember getting my lightsaber as a child as a birthday present. And if I am being honest, I literally felt some sort of energy flowing through me whenever I held it.
And just like every other Padawan, I instantly got hooked to Star Wars when I first saw the prequel. And since then, I have amassed a lot of Star Wars memorabilia that I proudly display. However, with its never-ending merchandise, there still are a lot of collectibles that I have my eyes on. So without wasting time, let us explore this guide to Star Wars collectibles together.
Bottom Line Up Front
Being a big fan of Baby Yoda, nothing gives me more pleasure than The Mandalorian ArtFX Mandalorian & The Child Statue. This Statue set includes a scene of the Mandalorian defending Grogu, as he holds a blaster in hand while the Child hides behind him. The best thing about this statue is that you can move our lovely gifted Child and place him in any position you want.
My Top Picks:
My Reasons For Choosing These Collectibles:
They are quite famous among Star Wars fans.
They are items that may increase in value over time.
They are done in great detail.
They are viable for even older fans of the series.
Buying Tips
Prefer To Shop In-store
If you have the opportunity to purchase Star Wars collectibles in-store, go for it rather than ordering online. When doing online shopping, there is a risk that you may get something that might not be up to your expectations. So, if you find your favorite Star Wars collectible in a physical store, don't hesitate to go for it.
Try To Search For Different Vendors
Even if you are going the online route, before buying any Star Wars collectible, do some research by comparing prices from different sellers. This way, you can get the best out of any offers or deals that these vendors may have, which can save you quite some bucks.
Check The Reviews
While shopping your favorite Star Wars collectible online, never forget to read the review section of the product listing. The customer reviews will able you to find out whether the product is actually what the details mention or not. Not to mention, you can also find the details that might have been missed in the description.
My Top 13 Picks
Life-size Busts
A life-size bust is a realistic, made-to-scale figure of a Star Wars character done in great detail, and it looks almost straight out of the movies. Star Wars busts are sought after by many avid collectors, but they never come in cheap.
Chewbacca, a fan favorite, is one of the weirdest yet most interesting characters from the Star Wars universe. This bust is incredibly detailed, with dense hair that looks pretty real.
Chewie cannot speak and only communicates through grunts, which Han Solo and later Rey can understand. But if you pay close attention to its bust, you may understand what he is trying to say. Did I mention you can also comb its hair?
It is also available in two head options. With a neutral look on its face and its mouth slightly opened, this bust looks much more approachable, and you may even hear a soft grunt from his lips, or maybe it's only me whose ears ring whenever I see Chewbacca. The other head option is a bit scary, and I won't recommend it for kids. It has Chewie's mouth wide open, roaring with his fangs exposed, while his eyes give a killer look.
This bust is definitely pretty expensive, but it is worth every penny.
Pros
The wooly fur on this bust is very well-detailed.
It is available in two head options to choose from.
Cons
The open-mouth head option with fangs can be scary for younger kids.
This bust is one of the most expensive collectibles.
One of the most infamous villains in cinematic history, Darth Vader, is probably the most conflicted character in Star Wars. And that's why he has such a huge fanbase. This bust shows him in his signature costume with no details left. And I have a feeling you might hear his hoarse breathing sounds if you bring your ears close enough.
The shiny black color of this bust gives a perfect reminder of how Anakin Skywalker got corrupted by the Dark side and became the merciless Sith lord. The cape hangs majestically behind the bust, and if placed in a room with an overhead fan, it can be seen gracefully blowing gracefully.
The chest area of this bust shows the intricately designed Darth Vader suit that keeps him alive. The fiberglass build of the bust gives it a premium feel, and the muted pattern of black and silver stripes offers a nice contrast to each other. But having such a bust is not cheap, and you may have to break the bank for this.
Pros
This bust is pretty famous and will be an excellent addition to any Star Wars collection.
This fiberglass and polymer build makes this bust pretty realistic.
Cons
The cape of the bust has a below-standard fabric used.
Stormtroopers frequently appear in many Star Wars films and series, and their obedience remained a fan favorite even when they were taken over by the Dark lord. This bust captures the bucket heads in their white armored uniform with a helmet that looks just breathtaking.
This Stormtrooper bust is a perfect addition to any Star Wars fan like me who lost hope of becoming a Jedi. This bust also has an adjustable neck for different poses. The helmet features piercing black eyes with breathing filters at the bottom of the mask, just like a trooper helmet should be. The thing that I particularly like about this bust is its finish. Even though it's a mat finish, it still gives out a captivating sheen.
Pros
It has an adjustable neck that can be adjusted for different poses.
The vendor offers a payment plan, allowing you to get this bust for small installments.
Cons
This bust is quite heavy, around 46 pounds, which makes it hard to move around.
Lego sets
Star Wars Lego sets are one of the most hot-selling brands of Lego. These plastic building blocks that are used to construct assorted items and characters are famous among children and adults alike.
First shown in the original trilogy, this Lego set maintains the same charm and awe as the original ATATs from the series. At 1000 pieces, it can be challenging for younger kids to put together. But if you are up for the challenge, you can work on this Lego set alone or with your kids to help them out.
When assembled, it can create a movie-accurate ATAT during the battle of Hoth in the Empire Strikes Back. This set includes a small Luke Skywalker with his lightsaber and five characters from the battle. The best thing about this set is that the ATAT reveals the cockpit and even speeder bikes for a quick escape. However, this set can be tricky and will take some hours to put together.
Pros
This set includes Luke Skywalker along with five other character pieces.
The cockpit of the ATAT reveals the pilot and stormtrooper inside with space for a speeder bike.
Cons
Because of the small pieces, this LEGO set is recommended for children ten and above.
Now let's talk about one of the most intimidating collectibles on the list. Large enough to hold a battalion of ships and infantry, the Star Destroyer's appearance spelled doom for any rebels around.
For an expert Lego collector, this Lego set contains more than 4500 pieces; a great challenge that needs teamwork, or I should say, a collective effort of the troopers. Moreover, with a length of about 43 inches, it does need a sizeable display area. After all, you would not let any rebel kid accidentally destroy your Star Destroyer.
This warship comes with a stand that allows it to hover in the air while an imperial officer and crew members stand guard at the base. I love the blue hue on the engine exhaust, which seems like the ship is ready to launch into hyperspace.
But remember, if you want to become the admiral of this ship, you should be willing to spend over 700 US dollars, not the Republic credits.
Pros
This ship is incredibly detailed and will keep you occupied for a long time.
Includes a stand that makes the ship appear to hover in the air.
Cons
The color scheme of this gigantic lego set seems bland.
Who can forget Luke Skywalker's wing fighter, that was instrumental in the destruction of the Death Star? It had a long history of saving Luke from nearly impossible situations before finally being buried under the ocean in The Last Jedi.
This Lego set is a tribute to the ship that every fan like me loved in the movies. This collectible perfectly captures the red streaks that run along the fighter, a great reminiscence of Luke Skywalker's well-coordinated plan with his X-wing fighter in A New Hope.
This 474 pieces Lego set also includes mini figures of Luke holding his lightsaber, his droid R2D2, Princess Leia, and General Dodona, the general behind the daring plan to destroy the Death Star. The wings can be set in an attack position or idle position. Moreover, it also has two functioning blasters that can even shoot out plastic lasers.
Pros
This set offers a lot of functionality, e.g., shooting spring-loaded lasers and retractable wings.
This collectible is available at a pretty reasonable price.
The collectible also offers four iconic Lego characters from the series.
Cons
The smaller pieces may present a choking hazard to younger kids under 9.
Statues
Statues are realistic depictions of the Star Wars characters done in great detail. Sometimes, they even include movable arms and legs to help pose them in different ways.
Ahsoka Tano, Anakin Skywalker's Padawan, was a fierce warrior, first introduced to us in The Clone Wars. This statue depicts her with her signature two lightsabers in a fighting stance like she is ready to duel any resistance she might meet on the way.
She stands on a semicircle of hot and molten ship debris, which means she must have cut her way through using her lightsabers. And I must say that her fierce look tells me this is no young Padawan, but a fully trained Jedi Knight.
This statue brings back many memories of our very Snips. But with two lightsabers in her hands, it really makes me sentimental to see the progress she has made so far, becoming a tough guy just like her Master.
This figure, with almost 10 inches height and highly detailed features, is surely a memorabilia for all Ashoka's fans.
Pros
A perfectly detailed figure.
The base offers a cool depiction of a recently used lightsaber.
Cons
The base seems like a cut in half that does not look good when seen from behind.
The Mandalorian series introduced us to a beautiful journey of Din Djarin, a Mandalorian, with baby Yoda. This statue includes both the Mandalorian and our favorite Force Child. And why not? After all, these two are inseparable.
The statues are made with great detail, and the Beskar steel armor on 'Mando' shines like the real one. Mando is depicted in a shooting stance while Grogu is taking cover behind him. However, the Child is mobile and can be placed anywhere on the base.
You can also see scorch marks at the end of  Mando's cape that is shown blowing in the air, a perfect reminder of the dangerous work a bounty hunter has to do. This statue even includes a jetpack on Mando's back. Perfect for a quick escape, this jetpack also shines just like the Beskar steel.
Pros
This statue includes both the Mandolorian and Grogu, an emblem of love and compassion.
The Child statue can be placed in various poses.
Cons
The shiny metal gloss can lose its shine when exposed to direct sunlight.
With his quirky personality and gold color, this droid easily stands out from the rest of the Star Wars droids. After all, he is C-3PO, human-cyborg relations. And this statue is a classic gift for all intelligent Star Wars fans, no matter their age.
With articulated joints, this statue can exactly mimic the movements of Threepio. Another interesting fact is that C3P0 has one silver leg. And this detail is something that even some fans did not notice in the Star Wars movies.
This figure has touch-activated lights in the eyes of the droid that light up when tapped softly on the head. Also, this C3PO statute comes with a Death Star communicator, and a base is also provided to keep it standing straight.
Pros
The color quality of the figure is pretty good.
This figure has movable joints that allow getting a real-life experience of Threepio.
Cons
This 12-inch statue for around 250 USD seems a bit costly.
Apparel
With a never-ending universe, the Star Wars costumes never cease to be captivating. Every fan wants to dress like their favorite character, be it from the Dark side or the Light side. Therefore, these cosplays or costumes are counted among some of the most popular collectibles among Star Wars fans.
Darth Vader may be from the Dark side, but that doesn't mean young kids don't want to dress like him. After all, the Dark side is always tempting. And just like what Master Yoda said, if a Jedi walks the path of the dark side, the dark side is always in their heart; once your kid gets a hold of this Darth Vader costume, there is no leaving behind.
This suit comes with a belt with buttons to playback some of Vader's widely known phrases. This costume is a complete package with a detachable cape, gloves, and the famous Darth Vader mask. However, I believe it would have been best if it also included shoes. But still, it is too much to expect from an under 60 USD collectible.
However, you have to take a little extra care of this costume, especially the belt with a speaker on it; try not to wash it as it is prone to water damage. Perfect for Halloween, this costume will definitely stand out and make any child look intimidating.
Pros
This is a full cosplay costume, perfect for Halloween dress-ups.
It has a belt that plays some of Vader's common phrases.
An affordable collectible for all young Star Wars fans.
Cons
The cape offers a pretty cheap quality.
Rey was a great Force-sensitive female character introduced in the Star Wars sequel. Being the only Jedi left, Rey also developed a massive fanbase after becoming the last Skywalker, which prompted many fans to gather anything related to her.
This costume is just like Rey's apparel in The Force Awakens. And the best thing is, it is available at a pretty affordable price. This costume has elastic waist pants, a top, and a belt with a pouch.
Before placing your order, be sure you check the size chart to get the perfect fit for your body. This costume is made from 100% polyester. However, if I am being honest, I would not recommend expecting too much from this costume. After all, we are looking at a 60-70 USD product. Still, it can be a good option for people looking for an affordable collectible.
Pros
This costume is available at a fair price.
The elastic waistbands in the pants guarantee a comfortable fit.
The costume is present in multiple sizes.
Cons
.The quality is not great.
Lightsabers
A lightsaber is a futuristic take on swords. Made of a metal hilt that powers up a plasma laser out, there is no Star Wars fan in the whole universe who does not want to get a hold of a lightsaber, making it a perfect collectible item.
I always had my spidey sense tingling about Leia; after all, she was also a Skywalker. While in the original trilogy, Leia Organa didn't have a lightsaber, her lightsaber, at last, appeared in the last movie of the Rey trilogy. And how could that amazing revelation not be captured as a memorabilia!
This collector's item produces realistic sound effects when moving in the air, allowing you to have an excellent time playing with it. However, I wouldn't recommend dueling like a Jedi, as the blade can be a bit fragile.
For an even more realistic experience, it has buttons on the side that play out different lightsaber effects, such as a lightsaber cutting through something, a blaster deflecting effect, and even the iconic sound when you light it up. As a bonus, it also comes with a stand that you can use to display this lightsaber. And don't forget, the blade of this lightsaber can be removed from the hilt to make it much more manageable.
Pros
This lightsaber has sound effects that enhance its experience.
With great realistic detail, this lightsaber is just like the movies.
The built quality is fabulous.
Cons
Unlike other lightsabers on the market, it is pretty expensive.
Kylo Ren, the lost son of the son of Han Solo and Leia Organa, was always an interesting character. This flaming red lightsaber toy is a perfect tribute to Ben Solo, who, before turning to the Dark side, had a bright future as a Jedi.
This sith lightsaber is a great toy for kids who are tempted by the Dark side. It is made from plastic and glows red when you turn it on, something that I feel quite captivating. And just like the previously mentioned lightsaber, it also produces great sound effects that make the experience much more enjoyable. And don't forget, it comes at an affordable price for any young Star Wars fan.
This lightsaber offers a cross-hilt blade that looks very original to what Kylo Ren had. I love how it also comes with a belt clip, so one can easily carry the lightsaber to combat. But don't use this lightsaber too hard, as it may not stand heavy blows.
Pros
This lightsaber is one of the most affordable collector's items for Kylo Ren's fans.
This lightsaber is an exact replica that extends to around three feet.
Cons
The blade can sometimes come off or even break when you hit something hard.
Discontinued Collectibles
Star Wars has been around for more than four decades and has vast merchandise that exists out there. However, a lot of pretty famous collectibles are no longer in production now. But the hearts of the pioneer fans of the series still beat with such collectibles. So, if you are a fan of the vintage Star Wars collection, you can get them on eBay or brainstoy. However, these collectibles are usually pre-owned.
Some of the most famous vintage collectibles include:
Hasbro Star Wars Rocket Firing Boba Fett 3.75-inch Action Figure: A 1979 Boba Fett action figure with a rocket firing mechanism on the jetpack. This action figure has decades' worth of history, and even the box is from the since-defunct Kenner Company.
WB Hasbro Collectibles-Star Wars Vintage Han Solo: This Han Solo Funko-sized action figure depicts Han Solo in Endor wearing a leather coat and holding his blaster. It is closest to what Hans fans can get to their hero.
Frequently Asked Questions
Question: Are Star Wars collectibles too expensive?
Answer: Well, most of them. Star Wars is an old franchise that has been around for more than 40 years and thus has one of the massive fanbases around the world. So, to quench the thirst of its exotic fans, the brand produces some high-end and sophisticated collectibles which cost thousands of dollars. However, there still are pretty affordable collectibles as well. But don't expect much quality from them.
Question: Are Star Wars collectibles a good investment?
Answer: Yes. If you are collecting limited edition Star Wars memorabilia, they can increase in value over time. This, however, should not be done as a money-making venture but rather as a hobby. Otherwise, you will miss all the joy these collectibles bring with them.
Preparing Engines For The Hyperspace
The Star Wars Universe has spawned so many series and movies that it can be hard to choose a favorite moment. It is a whole universe that has influenced science fiction in a theatrical manner and has never-ending merchandise, becoming one of the most profitable franchises to date.
If you are on your way to getting the best experience, try to buy Star Wars collectibles from a physical shop. However, if you have to go the online route, always try to compare the prices to get the best deal. Also, make sure to check the reviews under the product description.
If I have to choose one, my favorite collectible would be the Mandalorian and The Child Statue. This set offers both Mando's and Grogu's statues. The Beskar steel armor shines brightly on Mando's statue, which looks pretty intimidating. Even the jetpack on Mando is depicted expertly. The thing that I love most about this collectible set is the Grogu's piece, which is movable and can be placed anywhere on the base.
I hope this guide has helped you find the best piece for your collection. May the Force be with you!
Looking for more interesting readings? Check out: