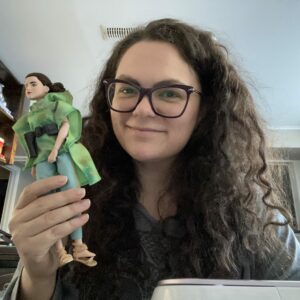 Latest posts by Candace Osmond
(see all)
Today I get to rave on about an oldie but a goodie in the Lego Star Wars Universe: Lego set 10030, or the Imperial Star Destroyer. Even though this Lego set was retired in 2008, you can still find it brand new online. Be warned, young padawan: You get what you pay for. If you want a humongous Impstar that stopped gracing Target shelves almost 15 years ago, you're going to have to shell out a pretty penny for it. Let's discuss this so you can decide if this ship should be the next piece in your collection.
About the Lego Star Destroyer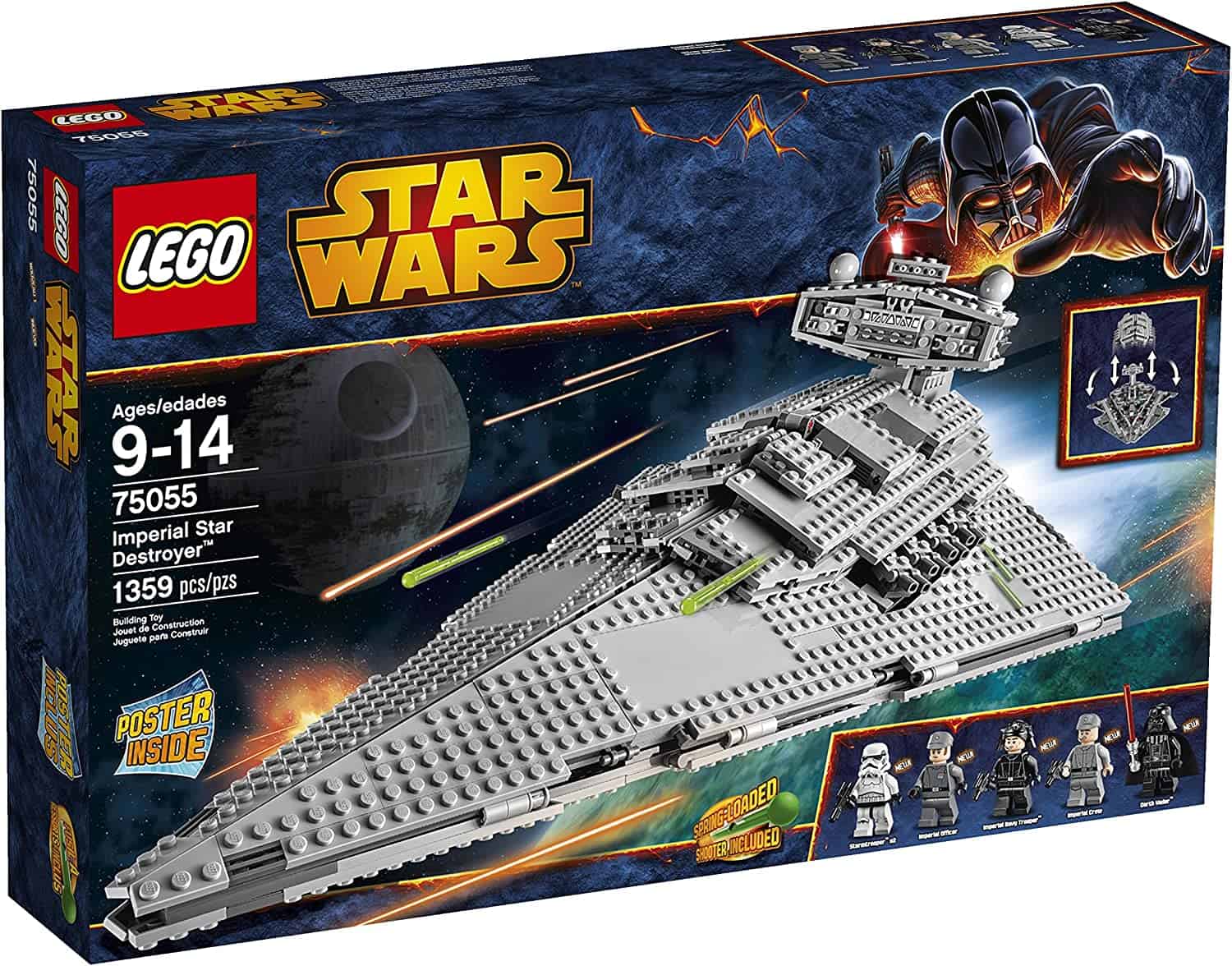 Remember 2002? Back when the Winter Olympics were held in Utah, and people were lining up to see the first Spider-Man movie in theaters? Lego dropped its first Imperial Star Destroyer that same year, following the release of the movie Star Wars: Episode II – Attack of the Clones.
Not only was this Star Destroyer a huge sellout, it also broke records. 20 years ago, 10030 was the largest set Lego offered. Other sets have dethroned the Impstar since its release, but come on. It's still a large and impressive ship with over 3,000 pieces in it.
Pros and Cons
I like to break down whether or not I'm going to buy a pricier Lego set like this one by outlining some pros and cons of the product. I've done that for you here, so take a look at what makes this set great and not so great.
Pros

Vintage
Interactive
Enormous
Challenging
Great for older teens and adults
Many hours of build time
Newer versions have blocks with a bluish tint
Iconic ship from series

Cons

Hard to find
Pricey
Older versions don't have blocks with a bluish tint
Not meant for young teens and small children
Lots of pieces are easy to lose
Key Features of the Lego Star Destroyer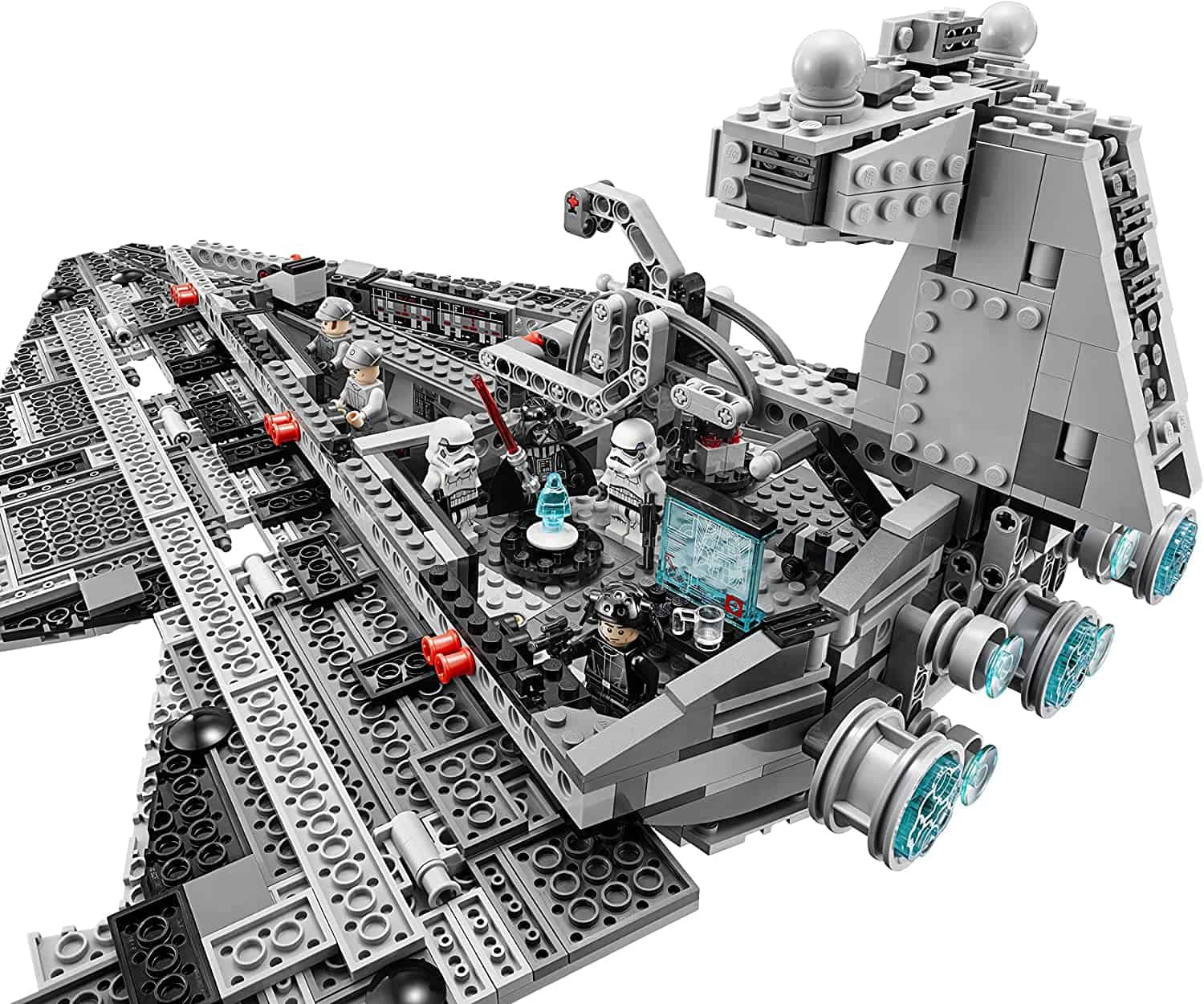 Analyzing the cool features of what this set has is the fun part of a review, right? Just what makes this Star Destroyer so different from the other 8 Star Destroyers Lego makes? Let's dive deep into the details to find out.
How Many Pieces?
Depending on how much you like building with Legos, you're either going to be thrilled or exasperated with all 3,096 pieces in this set. You heard me right. There are almost 4,000 pieces in this Star Destroyer. Pro: This ship has tons of detailing and small features because of how big it is. Con: I don't recommend it for children because it's very complex.
Price Range
I'm not going to lie to you-this Lego set is pretty expensive. We're talking hundreds. To give you a rough estimate, expect to pay more than $500 for the 10030. Keep in mind this set was retired in 2008, which is part of the reason why it's so expensive. There are less pricey Star Destroyers you can buy, but the lower-cost sets don't have as many details.
Age Range
Lego recommends the Imperial Star Destroyer for builders 16 years of age and up. Since it's such a huge, hulking ship with an interior that can be difficult to build and sides that are tedious to put together with the older-style instructions, it's complicated. Honestly, I'd only recommend the 10030 for hardcore Lego Star Wars fanatics or fans who want a serious challenge.
Assembly Time
If you're skilled with Lego building, you can expect the Impstar to take you around 16-18 hours to finish. If, for some reason, you want to suffer and have the 2002 Star Destroyer be the first Lego set you put together, I'd say you're probably going to be building for 20+ hours. I can't lie; I'm a fan of how many hours of build time you can get out of this set. It's costly, but the amount of entertainment you get out of it will make the set worth it to some fans.
Finished Dimensions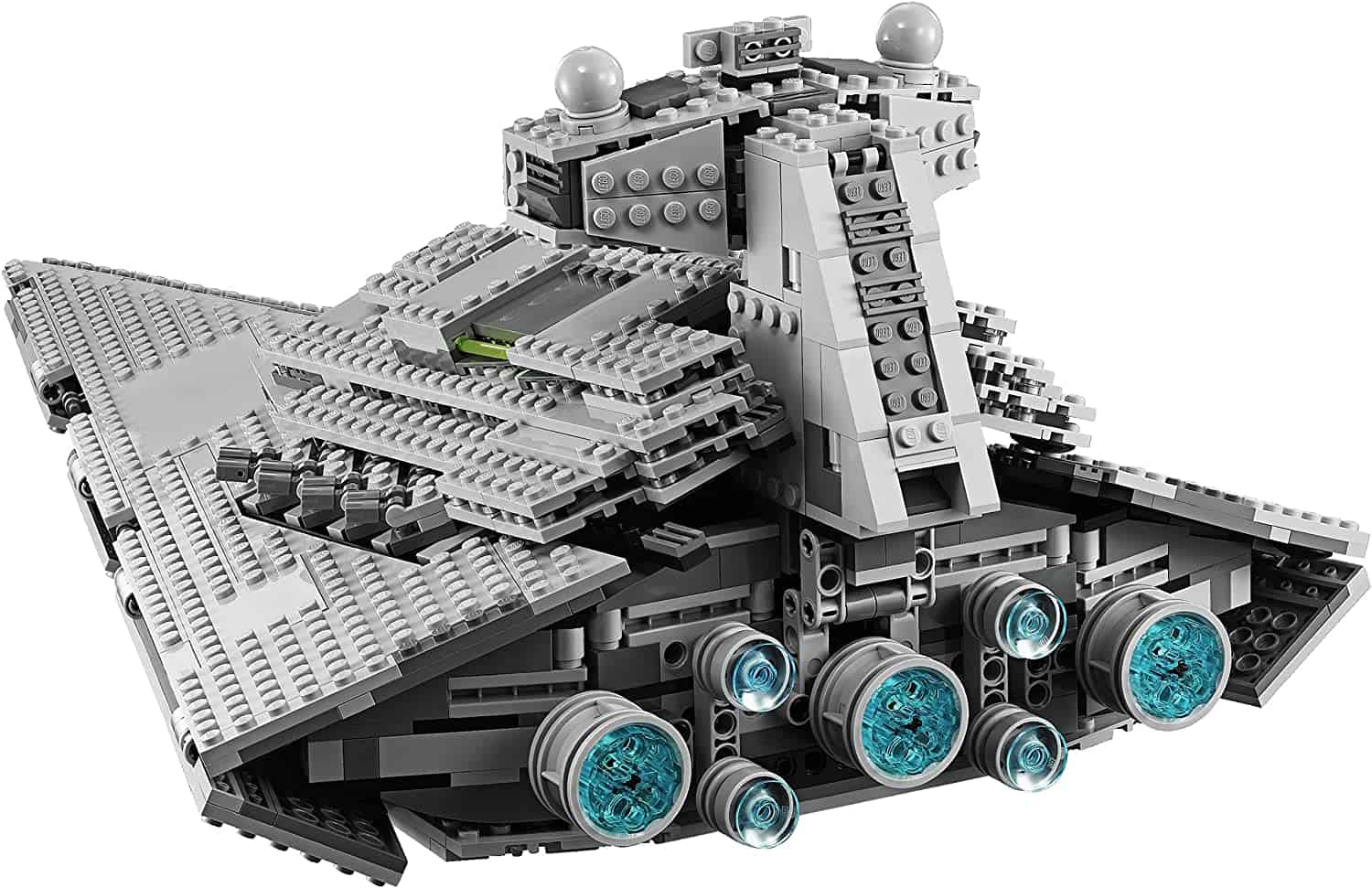 When you're done assembling this beast, the Star Destroyer should measure 23.2" X 19.9" X 8.4". It isn't as big as the Lego Star Destroyer 75252 (which I'll show you below,) but it comes close. If you're using the Star Destroyer as a display piece, you might want to plan out how much space you'll need and what smaller pieces you'll want to position around it.
Included Lego Minifigures
I don't love that the 10030 Star Destroyer set doesn't come with any Minifigures. It isn't meant for children, so I suppose Lego thought including Minifigures wasn't important. Still, I think Minifigures are an essential part of any good set, so I wish there were at least two. Some of the updated Star Destroyer sets do have Minifigures.
Cool Extra Features
This ship doesn't have an interior that you can open up and play around in by positioning different Minifigures inside. Again, since the Star Destroyer was made for adults, Lego wasn't considering playability when they made this. Still, there are some cool interactive features on the 10030, such as gun turrets that move in a circle or side to side. There aren't any interactive blasters, escape pods, or anything like that, which makes this set great for displays and not so great as a toy.
Decision Making Tips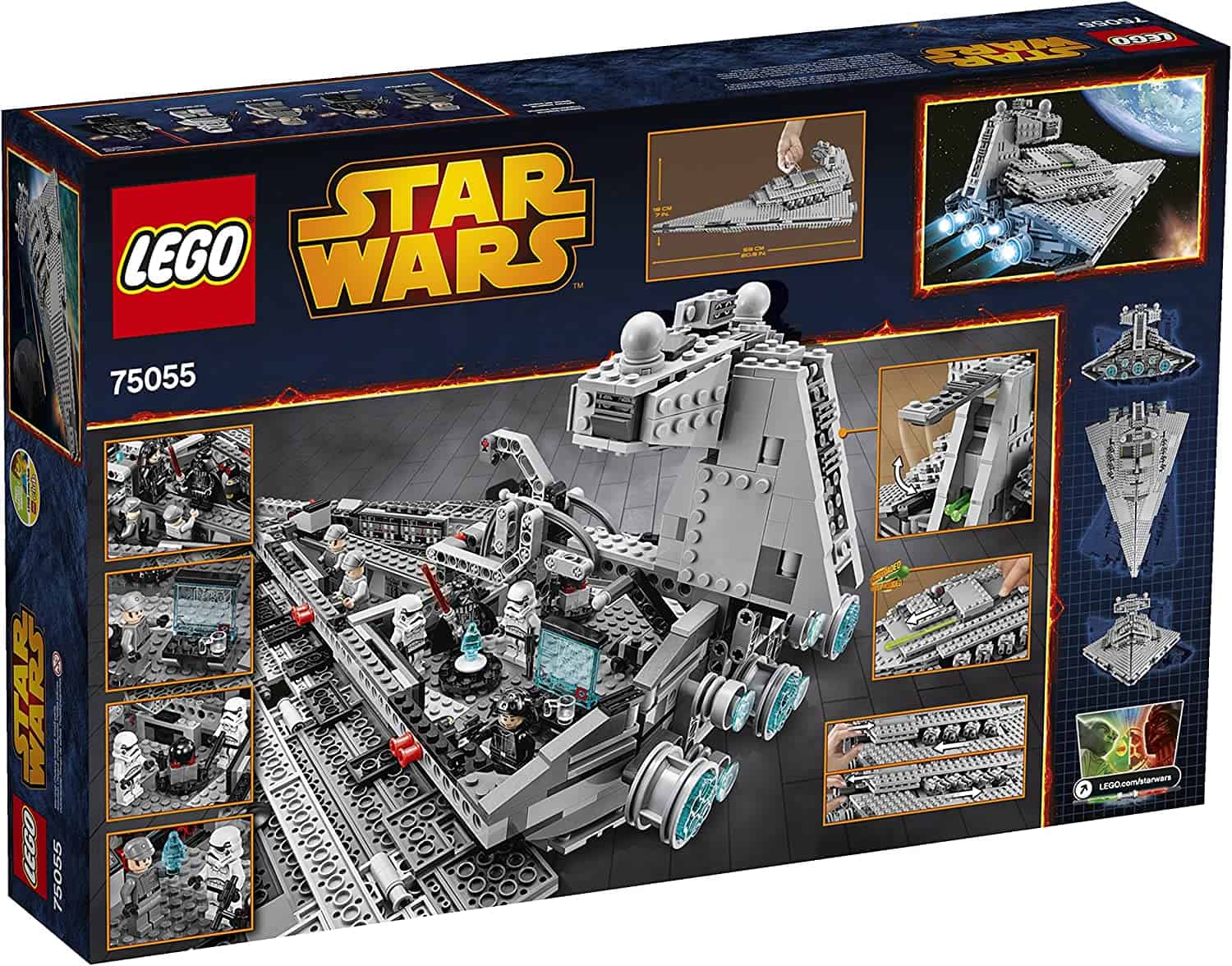 I want to help you break down whether or not this is the right Lego set for you/the person you're buying a gift for. There are tons of Lego Star Wars sets you can buy, and even 9 different Star Destroyers, so it can be hard to pick one that's just right. Let's get into why or why not this might be the vintage classic you've been looking for.
Age Range
For good reason, 16 is the minimum age Lego recommends for the Star Destroyer. Is the person you're buying this for younger than that? I'm going to show you 2 Star Destroyers that are for builders 9 and up, and both are still made of over 1,000 pieces, so stay tuned for those. If you're buying for an adult who loves building with Legos, then I do recommend this one as a classic and a fun challenge.
What is Your Budget?
If you're working with a tight budget, I'm going to show you two cheaper Star Destroyers down below. Don't forget the 10030 Star Destroyer is upwards of $500, so it's a pricey investment. If you aren't working within tight financial constraints at the moment and have been dying to treat yourself, I say go for it. If you really want this Star Destroyer, it's better to get one sooner rather than later (because the price is only going to keep getting higher.)
What is Your Favorite Star Destroyer?
If you're wanting to build a replica of the Star Destroyer that smashed into the Death Star in Episode V, then I recommend the 75252. The 10030 is a general Star Destroyer (of which the Imperial Navy had over 25,000,) but it was also Lego's first Star Destroyer. Weigh whether you want a vintage classic, an accurate Super Star Destroyer replica, or a cheaper option before making your final choice.
How Much Time Do You Want to Invest in a Lego Set?
Are you the type of Lego builder who's dying to be challenged? Been wanting to get your hands on one of the older Star Wars Lego sets for a change? If that sounds like you, the 10030 Star Destroyer was made for you. If you don't want to devote almost a full 24-hour period to building a Lego set, then I'm sorry to say, this ship just isn't for you.
Is This a Gift?
Take all of the questions you just asked yourself above (apart from the money one,) and apply them to the person you're buying a gift for. Are they crazy about vintage Star Wars toys? Do they spend their money on Legos? Would they be excited about a long project they could take on? Think carefully about these answers when buying for someone else.
Where Can You Buy the Lego Star Destroyer?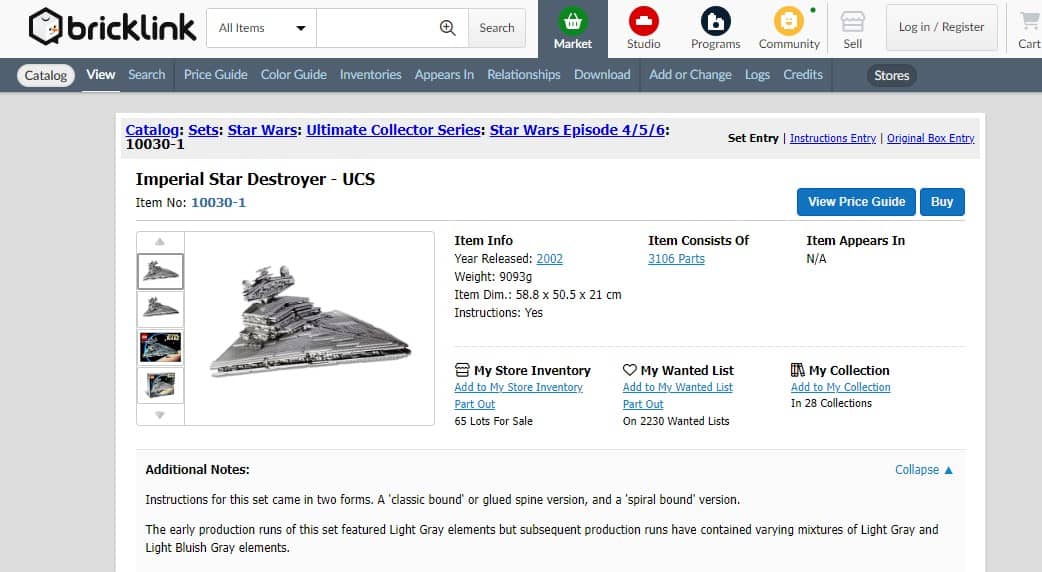 You'll have to do a little hunting online to find the 10030 Lego Star Destroyer, but here's a list of places you can look:
Other Alternatives to Consider
As I've touched on above, the 10030 is not the only Imperial Star Destroyer Lego offers. I've got 3 more Lego Star Destroyers to show you, so you'll want to stick around. One of these ships is the largest Star Destroyer Lego offers, while the other 2 are better for tighter budgets. Let's see if any of these lucky Star Destroyers are the vessel of mass destruction for you!
Best For: Best Design
This Star Destroyer, the Super Star Destroyer, has been quite the impactful ship since its debut in The Empire Strikes Back. It's the most detailed Star Destroyer Lego has graced us with, and the design is cleaner than the 10030. What Lego builders love and hate about this ship is how long it will take you to build its many features. That is, expect to spend around 16-20 hours working on this monster of a model.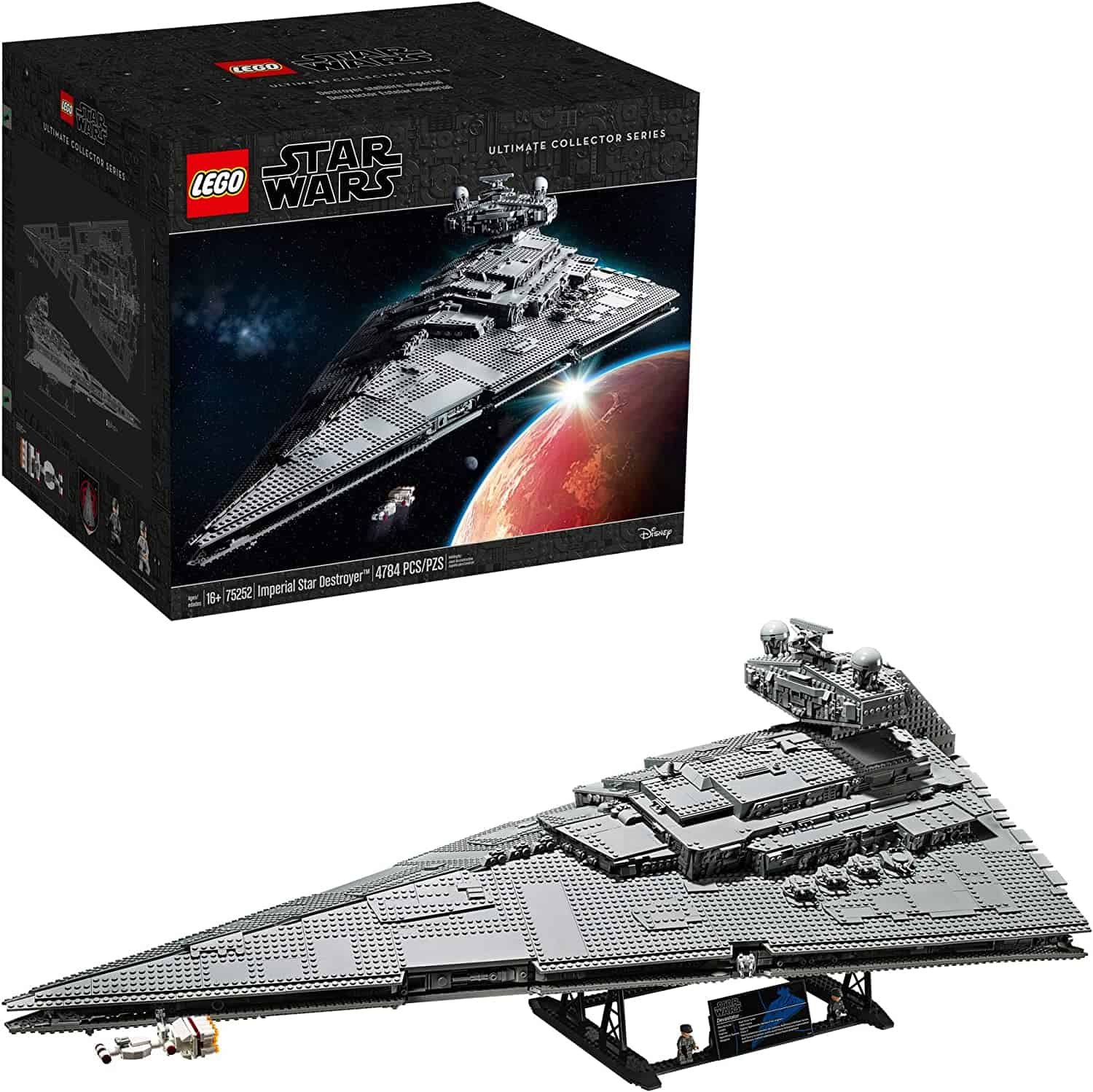 Key Specs
Price Range: $1,200-$1,300
Number of Pieces: 4,784
Age Range: 16+
You'll only get 2 Imperial minifigures with this set, so don't expect any major characters to come with this. That being said, it isn't very expensive to buy extra Star Wars Minifigures of main characters separately if you wanted them. Keep in mind this one isn't for the kiddos-this one belongs in your collection.
Pros
Based on an iconic Star Destroyer
Highly challenging
Impressive display piece
Cons
Best For: Best Budget Option for Adults
Not in the mood for putting together a Lego set that's got thousands of pieces? I can't blame you. This Star Destroyer, 75055, has a more manageable 1,359 pieces. It's a lot more suitable for kids, too.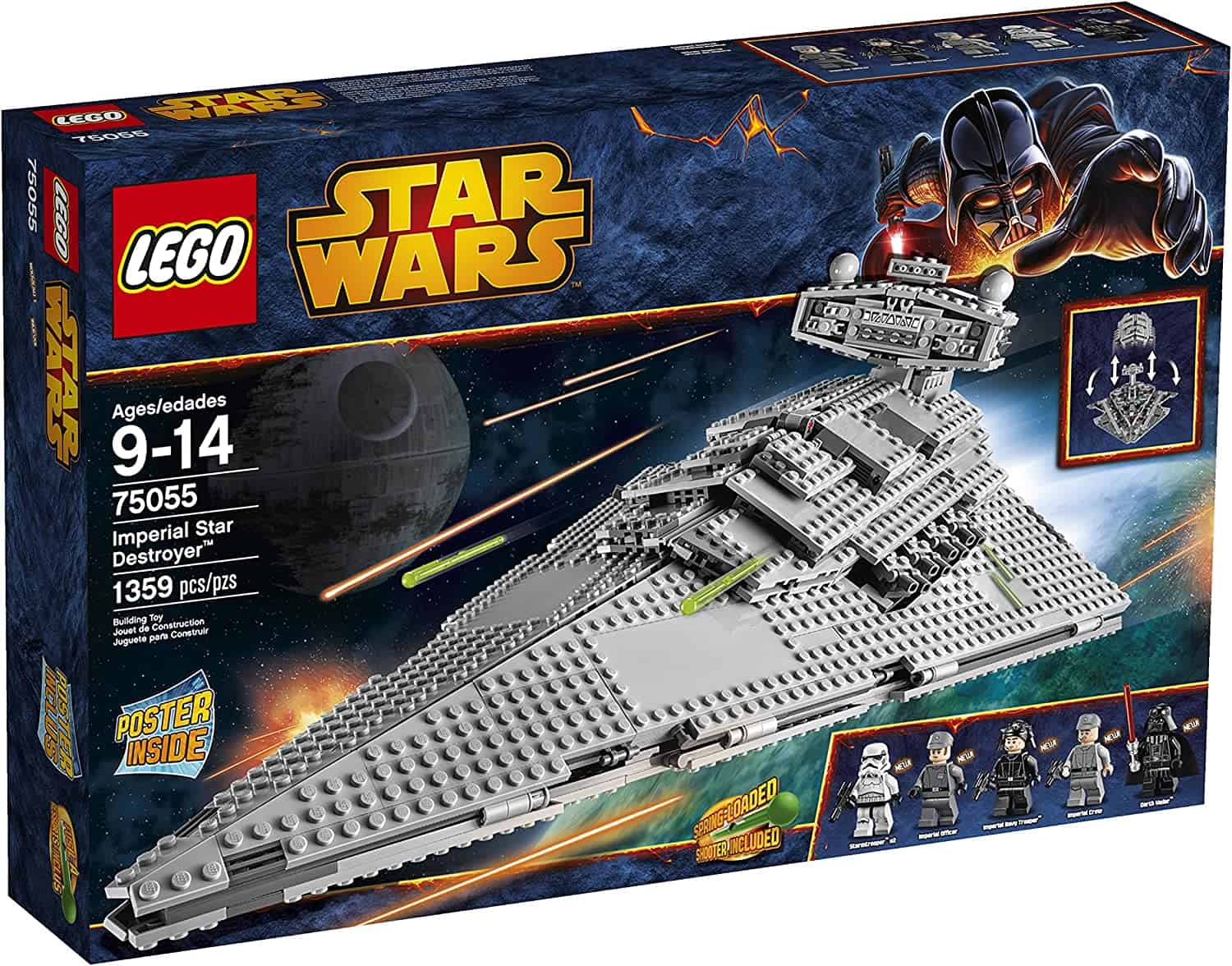 Key Specs
Price Range: $480-$580
Number of Pieces: 1,359
Age Range: 9+
I like that you can position this Star Destroyer differently depending on whether you want an open or closed look. It's got two blasters and two blaster rifles, so it has options for interactive play. My only complaint is that the colors of the pieces could have been more exciting-I don't want to see plain gray all over.
Pros
Minifigures of iconic character like Darth Vader
Great for kids and adults
Interactive features
Cons
Mostly plain gray without definition
Best For: Best Budget Option for Kids
Here's another alternative Lego Star Destroyer that's going to be your best bet on a budget. While not as big as the 10030 or the 75252, this ship is still a sizable one. I recommend it for kids because it isn't too big to pick up and play with, but it is big enough to be challenging to build.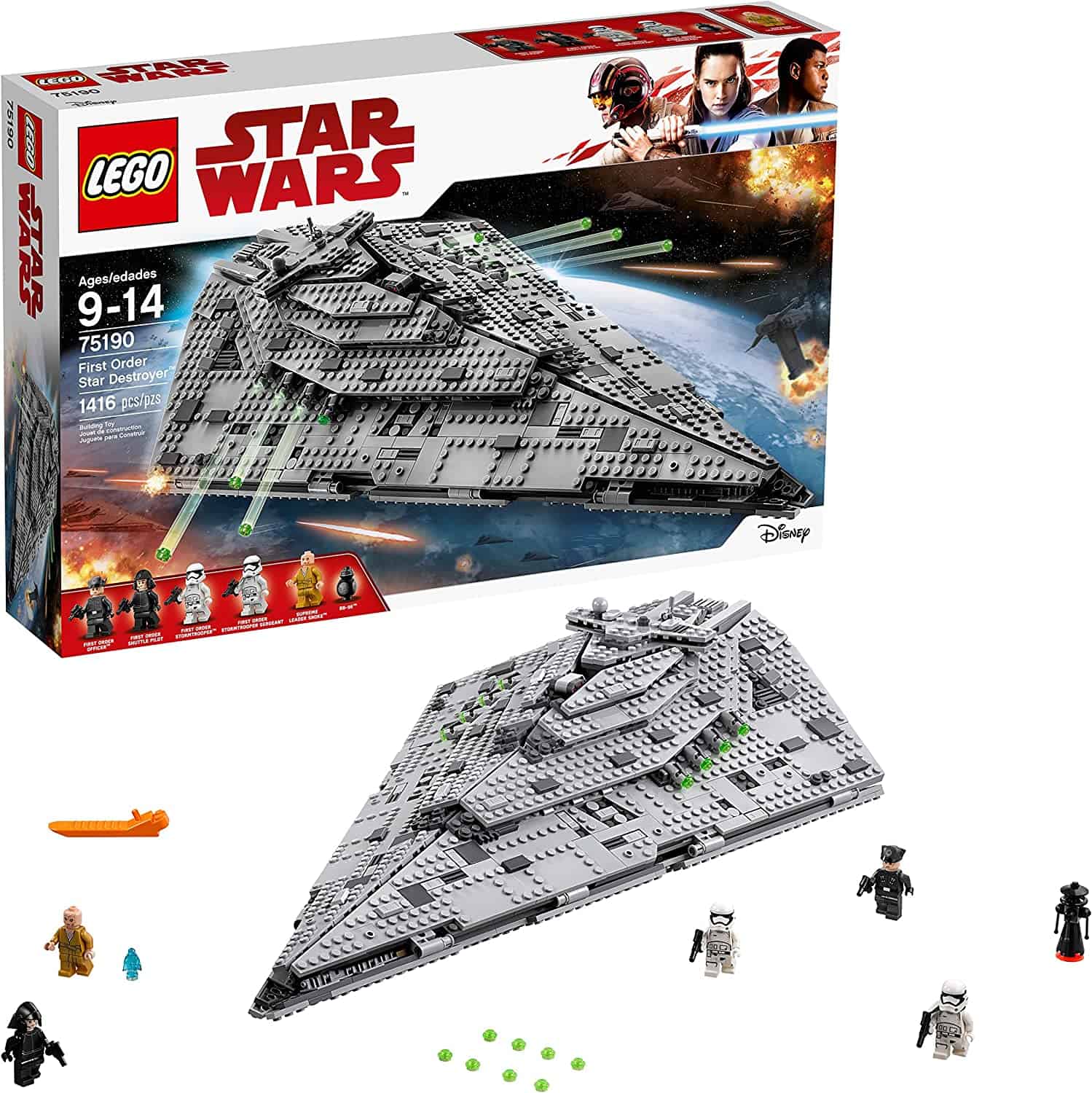 Key Specs
Price Range: $380-$500
Number of Pieces: 1,416
Age Range: 9+
This Star Destroyer has been inspired by The Last Jedi, so the Minifigures you'll get with it will be BB-9E, Supreme Leader Snoke, a First Order Stormtrooper Sergeant, a First Order Officer, a First Order Shuttle Pilot, a First Order Stormtrooper, and some buildable Medical Droids. I like that you can position them inside and outside the Star Destroyer in many different ways because of how open this version of the Impstar is.
Pros
Great for kids and adults
Cheapest Star Destroyer option
Lots of Minifigures included
Cons
Not as large and impressive as some other models
FAQs
Time for your pressing questions about the many Lego Star Destroyers to be answered.
Question: Is the Lego Star Destroyer Retiring?
Answer: The 10030 Lego Star Destroyer we've been discussing was retired in 2008. It first came out in 2002, so it's no wonder it isn't being mass produced anymore. That being said, you can still buy this Star Destroyer on Amazon, eBay, etc.
Question: How Many Lego Star Destroyers Are There?
Answer: I guess one just wasn't enough. There are 9 Lego Star Destroyers in total, so I wouldn't be surprised if we see more of them in the future.
Question: How Much is the Original Lego Star Destroyer Worth?
Answer: 10030 is the original Star Destroyer. It's around $500+, so it's definitely a bigger investment. If you consider yourself a Lego Star Wars fanatic, I'd still consider this an essential set to have.
Question: What Is the Biggest Lego Star Destroyer?
Answer: Lego Star Destroyer 75252 is the biggest Impstar Lego has ever made. With 4,784 pieces in total, this ship is obscenely huge. It comes with its own plaque and display stand.
Ready Your Lightsabers!
Building a Star Destroyer can be a smashing good time, so what did you think? After learning about the features of the 10030 Lego Star Destroyer, do you think you'll get one of your own? Let me know which Star Destroyer we've gone over today has been your favorite in the comments below! For even more Lego Star Wars buying guides and reviews, head over to our website!
Looking for more interesting readings? Check out: