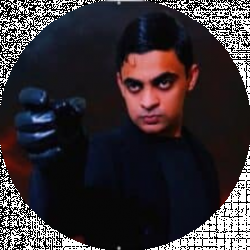 Latest posts by Boo-Ali Khan
(see all)
"I like firsts. Good or bad, they're always memorable." — Ahsoka Tano
The Mandalorian – a story of a fearless bounty Hunter and a youngling traveling across the galaxy – is one of the most successful Star Wars series ever produced. The father-son relationship they shared captured our hearts and made us all fall in love with them. Not to mention, who can say "No" to the fearless characters, the action-packed story, and the cutest little frog-loving baby Yoda?
This popularity of the Mandalorian projected itself into the creation of one of the most intriguing and finest merchandise, which obviously includes toys. So, whether you are a Mando fan or the Child's adorer, these Mandalorian toys have got you covered. And I have to say these toys are one of my most prized possessions, and I would not mind sharing my little secrets with you.
If it's your first time buying Mandalorian toys, this guide is here to make your experience a memorable one. From first-hand tips and tricks to some of my top favorite recommendations, this best Mandalorian toys guide has it all for you.
Get your Jetpacks ready folks; this is the way!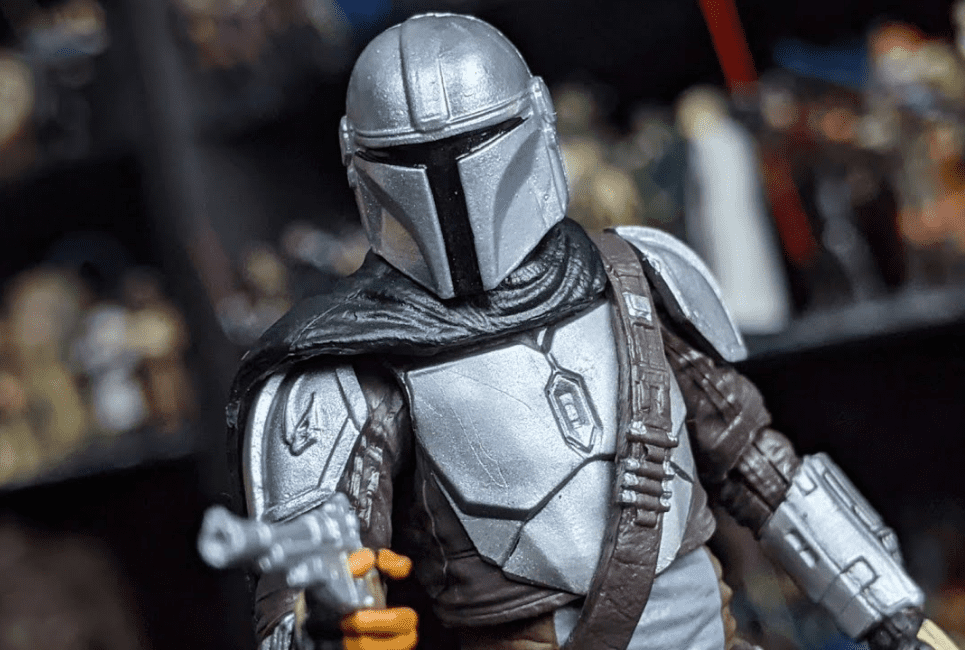 Bottom Line Upfront
In order to fulfill the void in the hearts of the Mandalorian fanatics, most of the toys offer supreme quality and build, not to mention the attention to detail, which further draws the fans closer to their beloved series.
Out of this vast collection, my absolute favorite is Funko Pop! Star Wars: The Mandalorian – Mandalorian Flying with The Child. Firstly, it's Funko pop, so you know the quality is good. Secondly, this specific pop captures the essence of my favorite scene from the series beautifully. With Mando holding the Child in his arms while flying with his jetpack, this pop reminds me of the selfless and caring relationship they both shared.
My Top Picks
My Selection Criteria for These Toys
I might be biased when it comes to baby Yoda, but trust me, my reasons for picking these toys aren't clouded by my love for him. I have done my research and have had my fair share of scams. So, out of that experience, I have picked most of my favorites based on the following criteria.
The attention to detail is immaculate. Accurate referencing from the series makes these toys even more special.
Even though not all the prices are very affordable, the quality justifies them.
The universality of Star Wars needs no introduction. Its merchandise is widely available. You can easily find these toys on gazillions of websites online, or you can look out for them at your nearby stores.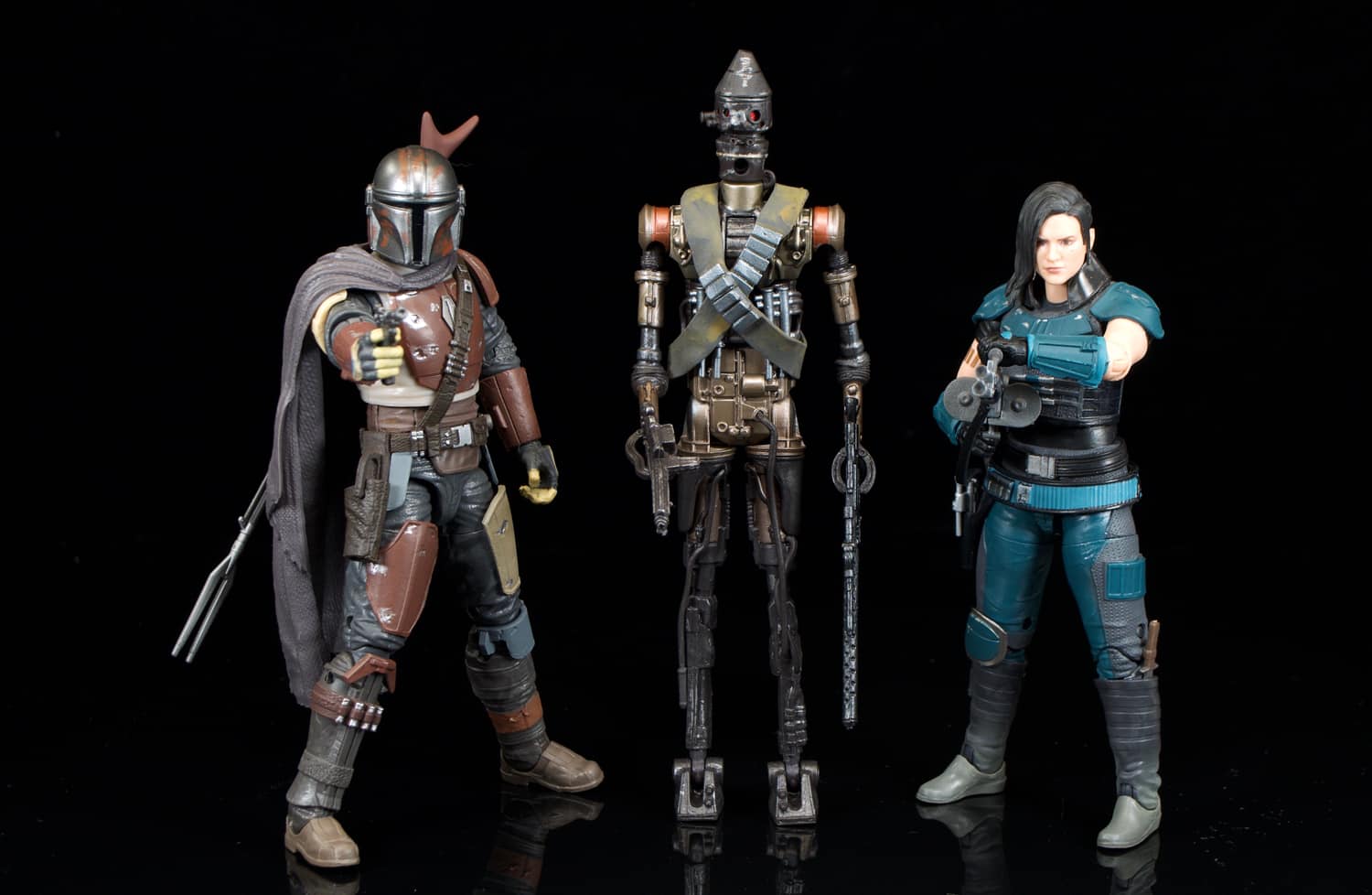 Some Buying Tips from a Mandalorian Fanatic
Most of the time, buying online is like buying things blindly. It's all fun and games until a fake product lands in your hands, and you start regretting every life decision. Trust me, seeing your hard-earned money going down the drain is never a pleasant sight.
But don't sweat it; this is where the space travel experience of a Mandalorian fanatic pop in. If you want to protect your bucks, here are some tips I recommend you follow while buying Mandalorian toys.
Only Buy from Reliable Sources
Mandalorian toys are famous across the world, and you might be overwhelmed while looking them up online. So, I'd suggest you buy only from authentic sites. Though distinguishing a reliable site from a fraudulent one is difficult, with due diligence, you can notice its legitness.
Although it varies from case to case, some indicators of a fake site include a poor homepage, too-good-to-be-true offers, fake addresses, incomplete information in the About-us section, drop-shipping products, etc. Not to mention, most of them have a number of good reviews that are very generic and are often repeated.
Another thing you can do is ask your friends, who share your love for Mandalorian, whether they have ever placed orders with these sellers or not. And don't forget, asking the Reddit or Quora community is not a bad option as well.
Look Out for Product Reviews
I cannot stress this enough but checking product reviews is the key to a successful online shopping experience. Look out for reviews with pictures attached as they give a better idea of real-life product feel and quality. But be wary of the fake and repeated "good" reviews on a website.
Start Saving Some Bucks
Your love for Mandalorian and the Child might be heavy on your pockets, but it's all worth it. Some of these toys are expensive, and you might need to save up a little.
Prepare a budget and take your time to decide which products you actually want. Make a list of pros and cons and do a price evaluation. Remember, different sites are selling the same products at different price ranges. So, compare your options before finalizing your purchase. After all, a little research never hurt nobody!
My Top 10 Mandalorian Toys Picks:
Star Wars: The Black Series 6″ Moff Gideon (The Mandalorian)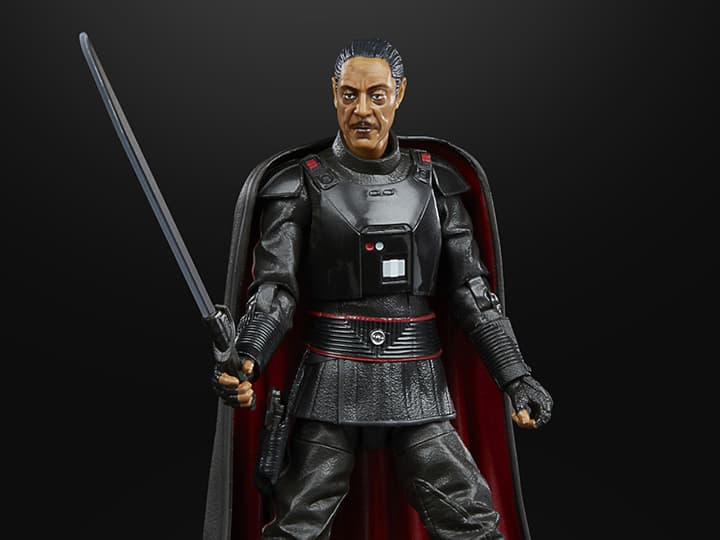 "A friendly piece of advice: assume that I know everything." – Gideon Moff
A narcissist by nature and an Empire loyalist-cum-criminal by profession, Moff Gideon was undoubtedly the most hated character in the Mandalorian. I mean, who would like a man trying to hurt our baby Yoda?
This Moff Gideon action figure from Star Wars: The Black Series depicts Moff in his true essence. With his grey hair slicked back, his black armor with red accents adorned, and a Darksaber in his hand, his appearance from the series is brought to life. Even for a character like Giddeon, the detailing of his facial expressions takes the cake. You can move his arms and legs however you want to recreate your favorite scenes from the series.
It also comes with a detachable Darksaber and a Blaster pistol to make the experience even better. The best part is that this action figure is made by Hasbro, so you know the quality isn't compromised. It's 6 inches tall and is made of premium quality plastic.
The good thing is that it's also very pocket-friendly, so you don't need to worry about your budget. All-in-all, it's a great package, worth every penny, and a perfect addition to your Star Wars collection. But remember, it's a choking hazard, so you might need to keep it away from children under three.
Pros
The seller offers 30 days easy return.
The shipping charges are also very minimum.
Cons
Presents a choking hazard.
The Darksaber can easily break if not handled carefully.
Grogu Cuddleez Plush – Star Wars: The Mandalorian – Large 23"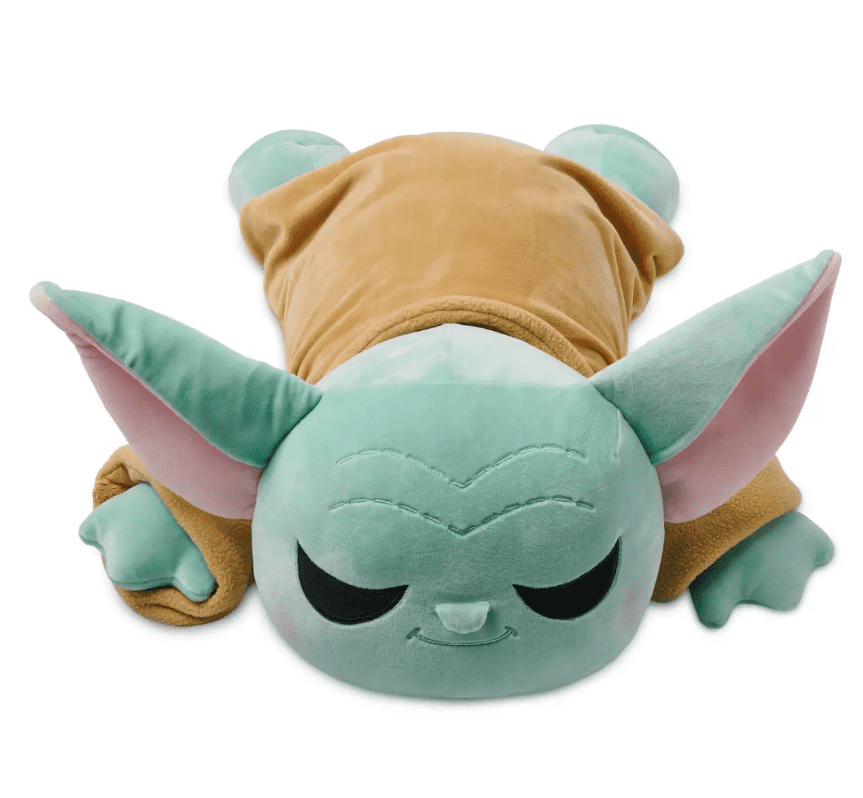 You might disagree with me, but Plush toys make for the best toys and Christmas gifts. Having a Grogu, a.k.a. baby Yoda, a plush toy to cuddle with, a good night's sleep is always guaranteed. Not to mention, Grogu, hands down the cutest creature in Star Wars Universe, this plushie depicts his adorableness in all its essence.
This Grogu Cuddleez large-sized plush toy is made from polyester/elastane and is approximately two feet tall. However, it can't stand on its own; but what good would you get from making this baby stand on its feet? It's a cuddle-buddy, remember?
The pastel color palette is an eye-soother, and the embroidered details make one fall in love with him even more. Although you might feel like he is giving you an evil smirk but remember, he's just a baby! The beige robe adorned by Grogu is another cutest little addition to it.
It is a bit expensive for a plush toy, but the premium quality fabric makes up for it. It has spring foam and doubles as a pillow or a cushion.
Disclaimer, it might become your kid's – or even your – new obsession!
Pros
The seller offers free shipping for this product.
A sizeable cuddle partner.
Made from super soft fabric.
Cons
A bit pricey for a plush
Prone to wear and tear.
Star Wars: The Vintage Collection Wave 35 Set of 6 Figures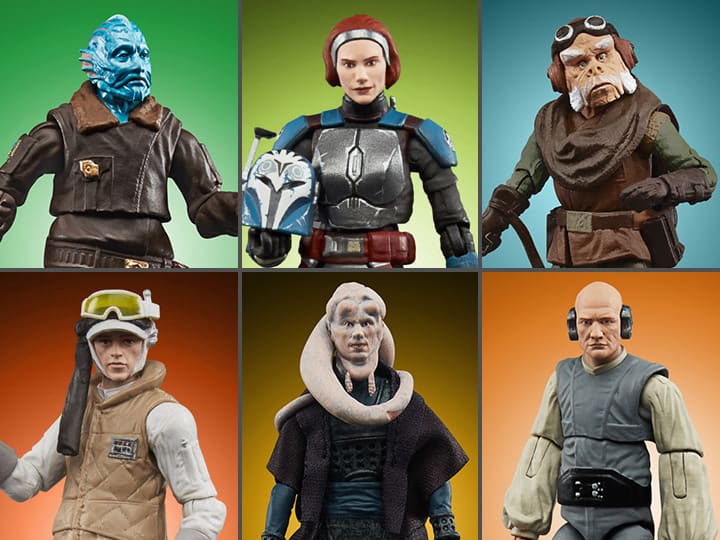 What's better than an action figure of your favorite Star Wars character? Well, 6 of them. I have always been a fan of packages that come with multiple things, and this Star Wars: The Vintage Collection set of 6 figures has rightfully made its way to my list. Whether you are a Bo-Katan fan or have a soft heart for weird-looking blue-skinned Mythrol, this action figures set is for you.
These mini-action figures are made of plastic and are approximately 3.75 inches tall. The set includes the figures of a female Mandalorian Bo-Katan, Mythrol, Bib Fortuna, Kuiil, Lobot, and a Hoth rebel soldier.
All of these figures are of good quality and are a true depiction of their characters from the series – except for Bib Fortuna, who is sculpted a lot slimmer. The detailing and the inclusion of little accessories, like a blaster, a hologram, or even goggles with each figure, show how much effort has been put into designing these. What intrigued me most about these is how their facial expressions are carved into perfection. The skin texture, the shocked face, the innocent eyes; what a piece of art!
Pros
The set offers individual packaging for each action figure.
For a pack of 6, the pricing is also reasonable.
Cons
These are vintage figures, so younger fans might not like them.
Funko Pop! Star Wars: The Mandalorian – Mandalorian Flying with The Child Grey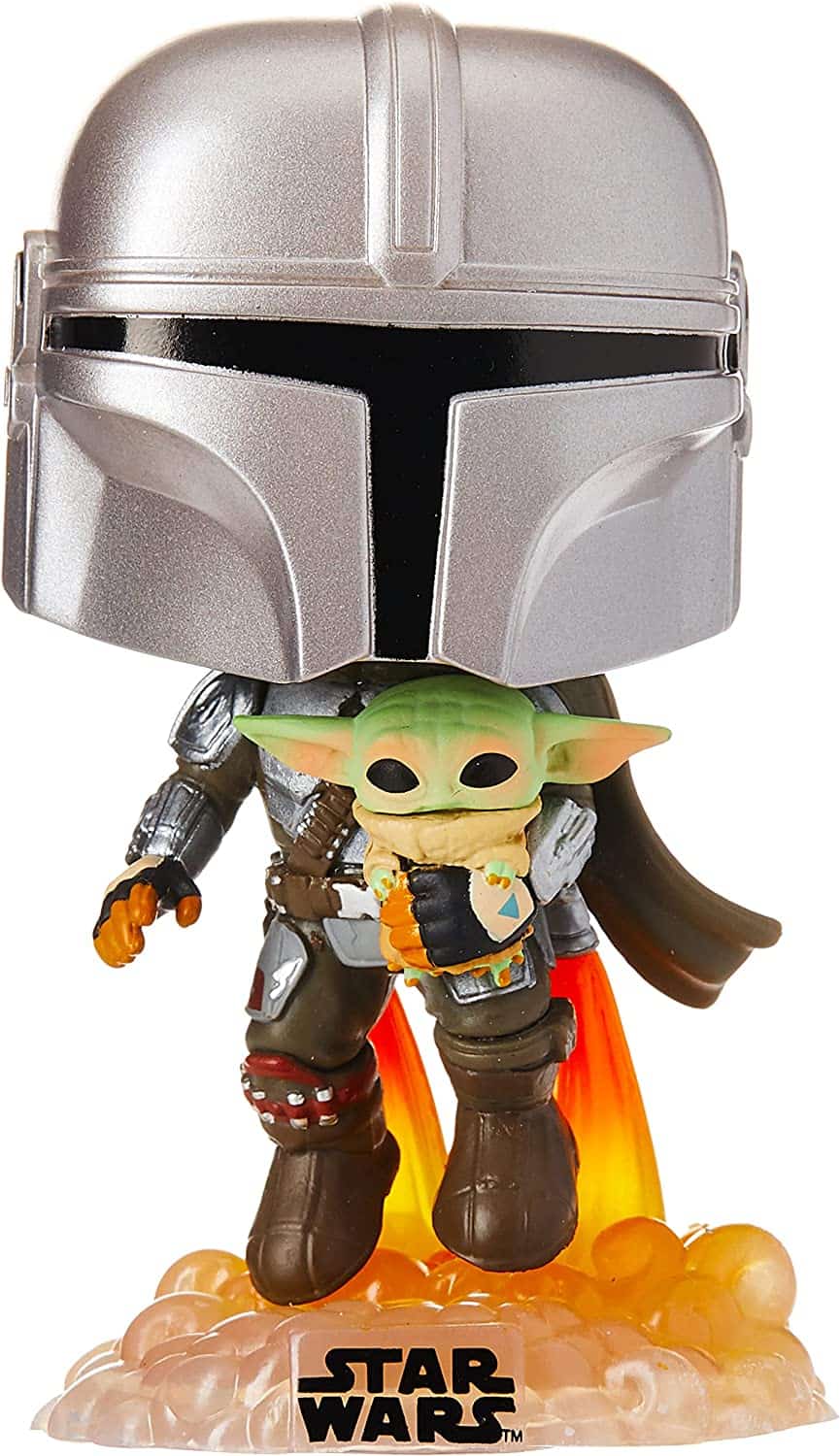 If you ask me which toy you should definitely buy if you are a Mandalorian fan, I'd always suggest this Mandalorian Flying with the Child Funko Pop.
With Funko always keeping us surprised with its ideas, this Pop beautifully captures the essence of the whole series. Mando is holding the Child and is soaring in the sky with his jetpack on, while the Child is having the time of his life flying in the winds. It's a beautiful reminder of the relationship they shared – one is offering protection, and the other, well, enjoying being protected.
This vinyl-made Pop is approximately 3.75 inches tall, like most Funko Pops. However, any Star Wars collection would be incomplete without this magnificent and illustrative figure. You can place it on your bedside table or office desk to give it extra character.
Also, this Pop is very reasonably priced; you can get this set for under 15 bucks. Trust me; it's a steal. So, If you are looking for a perfect gift for your fellow Mandalorian fan, which is not heavy on your pocket, now is your chance.
Pros
A two-in-one figure for both Grogu and Mando fans.
Comes at a low price.
Cons
The finishing is not as good as other Funko pops.
The color seems out of place at some points.
Swoop Bike™ Sixth Scale Collectible Vehicle!
Remember the Mandalorian sailing against the wind on the desert planet of Tatooine with tiny Grogu in his bag on a bike? A vehicle made for spectator sport and used by Djarin to run away from enemies, this swoop bike has fascinated young Mandalorian fans since the day Mando showed his feats on it. And let's be honest, all of us wished for a ride on this badass bike, right?
This swoop bike sixth scale by "Hot Toys" is a creative masterpiece. The accuracy with which it is made brings the action scenes from the Mandalorian to life. It has mechanical structures with finely articulated parts like grip, foot pedals, steering vanes, multiple cargo pouches, a sculpted seat, and a diorama display base, adding up to approximately 23 inches in length, 5 inches in width, and 10 inches in height.
It would definitely take up quite some space on your table but trust me, it's worth it. Even if it's not big enough for you to ride, it would make a great addition to your already long list of collectibles and would definitely be a head-turner.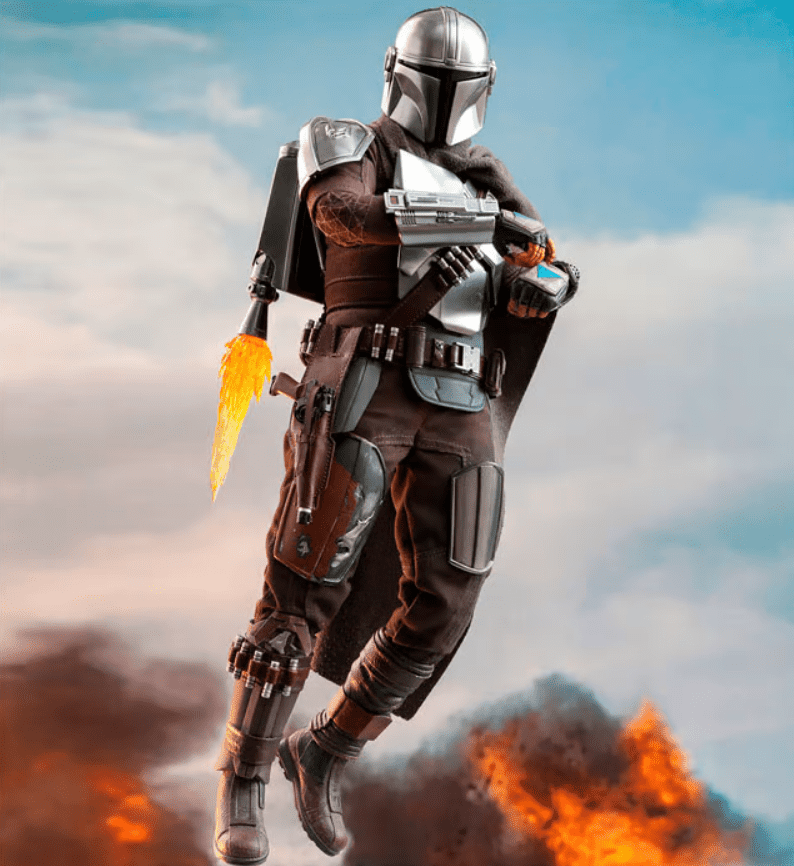 Despite it being a masterpiece as a whole, if you ask me, the best thing about it is the mini sixth-scale Grogu figure. With his eyes wide open and his ears pointing upward in the air, it brings back the memories of several adventures that Grogu and Djarin shared together. And don't forget, you can pair this vehicle set with the Mandalorian sixth scale figure, and voila! Your favorite duo is complete.
Owing to quality, sizing, and detailing, it is a bit expensive. With a price tag of about three Benjamins, excluding the Mando figure, this is not a very budget-friendly option if you are new to collecting Mandalorian toys.
Pros
A monthly installment payment option is available for this one.
The seller offers a 30-days guarantee.
Cons
A bit too expensive for a toy.
Funko POP! Star Wars: The Mandalorian – Cara Dune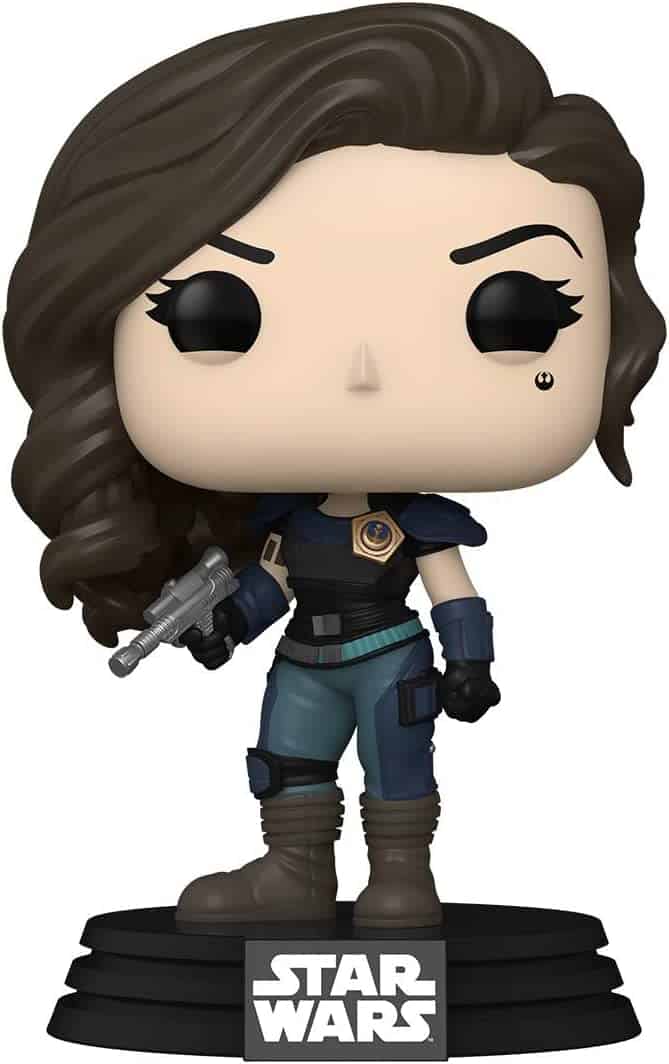 "According to records, you're quite a soldier."
Indeed, she was quite a soldier. I have been a Cara Dune fan since the Mandalorian came out. A woman in armor fighting against the evil men, with every battle resulting in a victory; what a sight! I can confidently say your Mandalorian toy collection would remain incomplete without including this one hell of a woman. So, allow me to present Cara Dune Funko Pop.
Funko really outdid themself with this Cara Dune Pop. Like all other Pops, this one is also made of Vinyl and is approximately 4.5 inches tall. The attention to detail is quite impressive, making this Pop pretty intimidating even if it lacks a face.
Her navy-blue outfit with a blaster in her hand, side-parted hair, and the signature mole-like Rebel Alliance tattoo on her cheek; all deserve appreciation. The figure stands on a platform made with similar material and comes in class Funko packaging, which is slightly bigger than ordinary Pops' packaging.
It's fairly priced for a pop figure and would make for a perfect Christmas gift for younger girls; after all, they'd have someone to look up to!
Pros
Immaculate attention to detail.
The seller offers free shipping and easy return.
Cons
It doesn't offer any warranty.
Star Wars: The Black Series Boba Fett (The Mandalorian) 1:1 Scale Wearable Helmet (Electronic)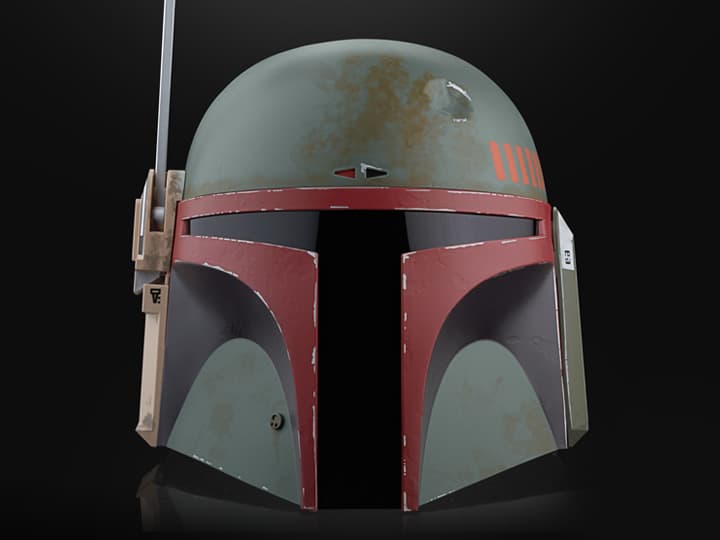 I don't know if it is just me or Boba Fett has haunted the dreams of many Mandalorian fans as well. I mean, who else could have escaped the Sarlacc Pit? Being one of the most feared bounty hunters across the galaxy, whenever he came on the screen, I knew something epic was bound to happen.
My story with this Black Series Boba Fett Wearable helmet dates back to my brother's birthday. Although it was his present, I feel no shame to say that it was me who had the honor of opening it and trying it – almost – for the first time.
This magnificent helmet is battery-operated. It has interior padding to protect your head, an adjustable fit, electronic lights, and sound effects to make it look even more intimidating than it already is.
The attention to little details on this one is also remarkable. The faded/scratched green and red colors and a dent on the helmet give it realistic touches. And you'd feel like you have been to many battles with this helmet.
It's a part of the Star Wars: The Black series, so the quality is guaranteed. This Boba Fett helmet would be a head-turner at any Halloween or cosplay. But it's another highly-priced item on my list, so you might need to save up a little for this one, too. Still, the toy itself is worth it.
Pros
The quality and finish are epic.
Shipping rates are low.
Cons
A bit pricey for young Mandalorian fans.
The batteries are not included in the package.
Star Wars Mission Fleet the Mandalorian the Child Razor Crest Outer Rim Run Deluxe Vehicle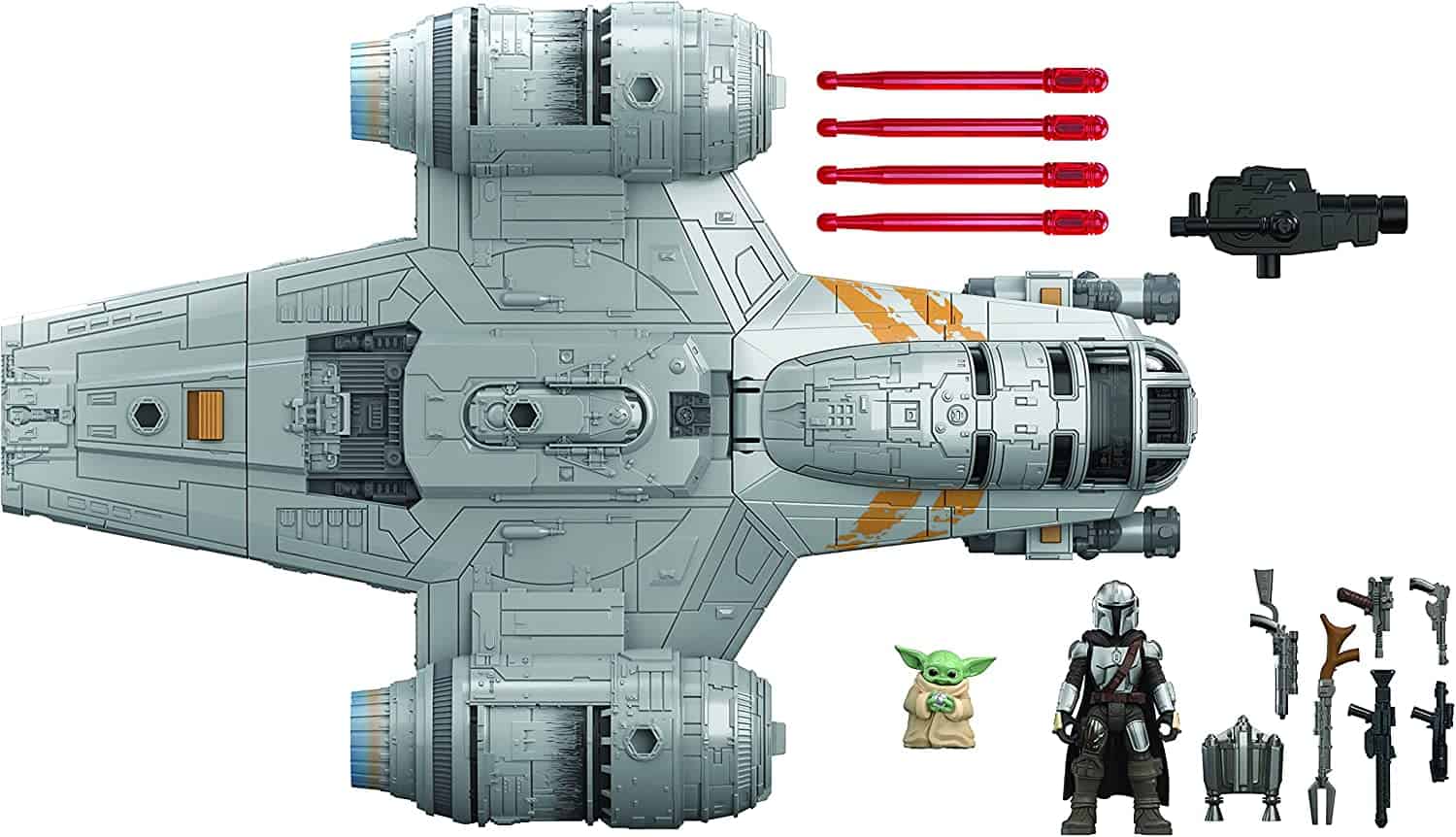 For the outer-rim rides and fugitive-catching – bounty-hunting, to be exact – endeavors, Mando used his mighty Razor Crest most of the time. With Grogu on his side, this iconic ship also became his living quarters.
You can be a part of Mando's action-packed rides across rocky planets with this Star Wars Mission Fleet Razor Crest toy. The Crest itself is made of plastic. The attention to detail and additional accessories make for a fun experience for kids above the age of 4.
This toy set comes with a detachable jetpack and six blaster accessories, a 2.5-inch-scale Mandalorian action figure, a miniature Grogu figure, and whatnot. The best feature is that it has a removable top cover that uncovers additional area, a weapons locker, and a double-seated cockpit for both Mando and Grogu. Not to mention the opening doors, projectile launchers, and a repositionable double-projectile launcher.
Even the tiny action figures have lots of detailing on them. Mando can be seen adorning his armor while Grogu is in his little robe with all his cuteness. If it can't be yours, this toy set will definitely be your kid's new favorite toy.
Another good thing about this toy is its price. You can get this good quality set for under 30 dollars. And let's not forget that the seller also offers an easy return/exchange policy. So, don't think twice; place your order today and get ready for all the crazy fun rides that lie ahead!
Pros
The set includes a lot of accessories.
The ship is customizable.
Cons
Small parts present a choking hazard to children under 3.
The ship might be too heavy for small children.
Theory11 Mandalorian Playing Cards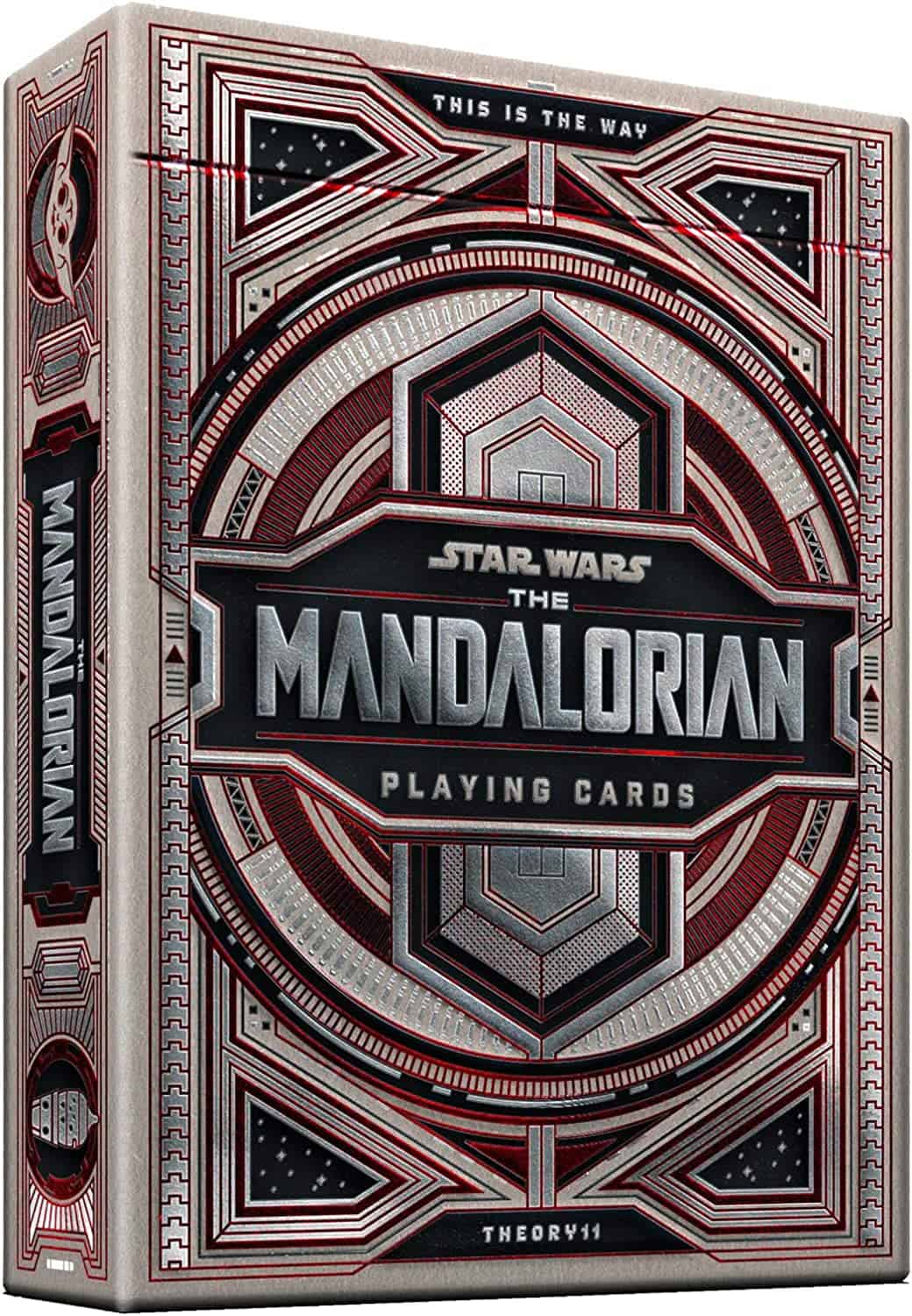 For the long winter nights, a bunch of friends and cousins, some good coffee, card games, and movies have remained my requisites of quality time. However, I always missed having a deck of cards that would increase my chances of winning. And I would be lying if I said my game improved quite a lot after getting a hold of the Mandalorian playing cards.
These Mandalorian cards are a definition of perfection. With Silver, red and black hues and a 3D embossing of The Mandalorian helmet, the outer packaging is enough to get your attention.
"This is the way," the famous Mandalorian tagline written on the box, and a baby Yoda sticker adds the final touches to an already magnificent packaging.
The card themselves are another story. The Aces, Jokers, and card design bring the series to life. The fine printing on premium-quality paper will make the experience even better.
Each card is approximately 3.5 inches tall and 2.5 inches wide. Reasonable pricing is another factor that drew my attention to these cards. After all, you don't get to see such a quality deck for under ten bucks. Buy these, and your winter night plans are sorted.
Pros
Worldwide shipping.
Easy return policy.
Cons
The paper used is not waterproof.
LEGO Star Wars the Mandalorian Helmet 75328 Creative Building Kit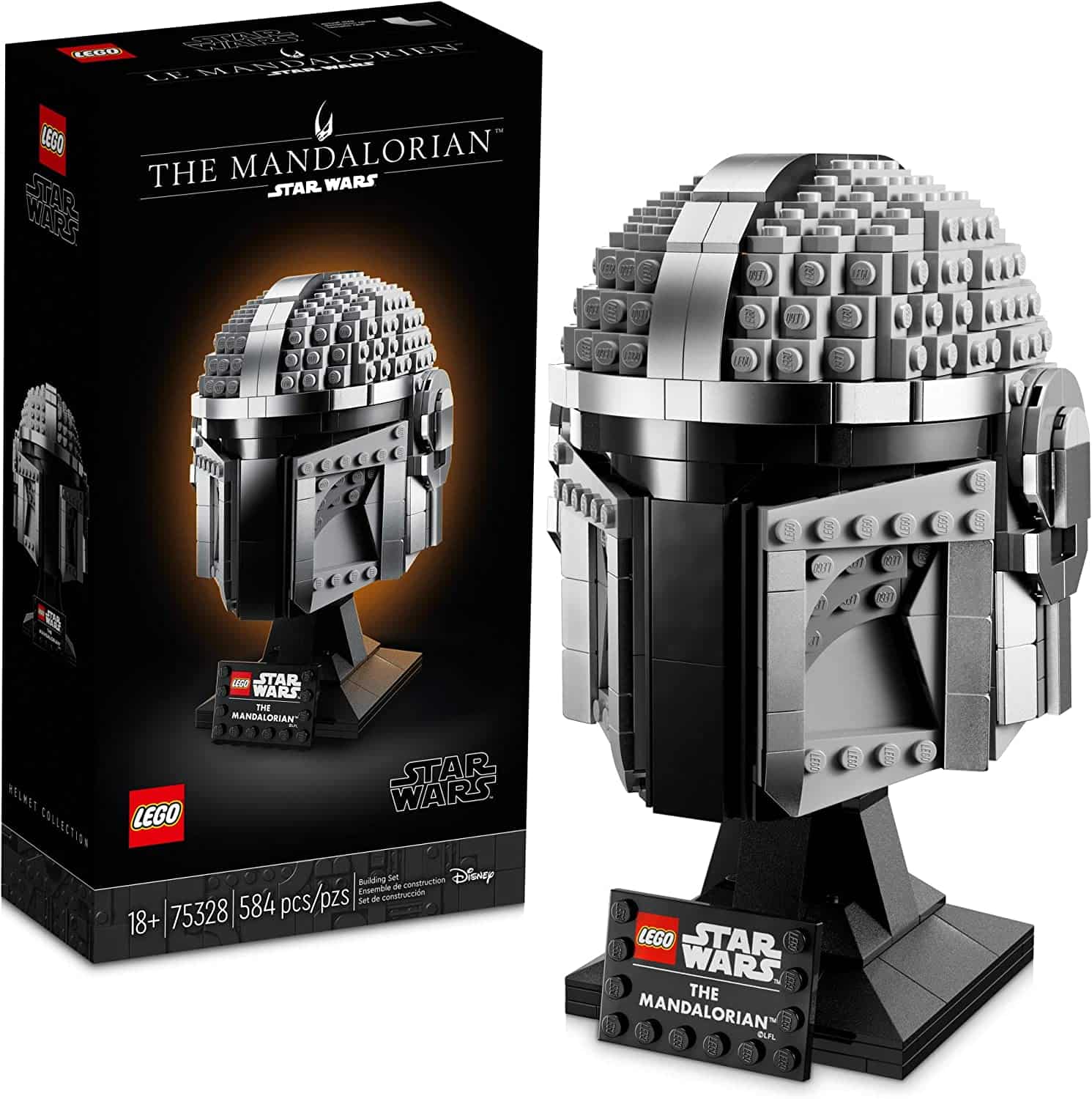 Which toy guide would have been complete without a set of Legos? Certainly not this one. Legos are classic and eternal. The idea of building something with your hands and the satisfaction you get from placing those tiny bricks together step by step is unparalleled. Just be careful and don't step on them; the rest of the experience will be great.
With the helmet holding great significance in the Mandalorian creed, The Mandalorian Helmet building kit is a great way to celebrate our beloved hero. This brick-built display stand, with a nameplate at its base, would definitely be the center of attention in your room.
This LEGO set includes differently shaded grey and black bricks of various sizes to form the perfect Beskar armor helmet. But it's a 584-piece set, so you would definitely need a manual for that. Still, if you want to bring out your creative side, all I can say is good luck!
This LEGO kit is not as affordable as some other toy options mentioned in this guide. So, if you are low on budget, you might need to start saving from now onward, but it will be worth every dime. After all, a helmet forged in Beskar steel is not a common sight.
If you want to keep your kid busy and have some creative time, I am pretty sure this would make for a perfect birthday or Christmas gift.
Pros
The seller offers 90 days return.
Comes with free shipping.
Cons
This toy is not for kids.
FAQs
Questions: Are these Mandalorian toys safe for toddlers?
Answer: Although many of these Mandalorian toys are made for a bit mature fans, some options for your little ones are also available. I'd suggest you go for plush toys like Grogu Cuddleez Plush, or you can also look out for some Funko pops of your kid's favorite character. They are not only child-friendly, but your kids can start off on their Mandalorian journey quite early.
Questions: Do the Mandalorian toys come with a warranty?
Answer: Many of these Mandalorian toys come with a one or two-year warranty. Also, most sellers have great return and exchange policies. If you don't like what you bought or receive a broken/faulty product, you can always avail yourself of any of these options.
Questions: What should be my budget for a Mandalorian toy?
Answer: Good quality Mandalorian toys are a bit expensive. So, keep your budget a bit high, about 40-50 dollars.
Although cheaper alternatives are also available, their quality is not up to the mark. Therefore, I suggest you invest only in good quality products, as spending some extra is always better than wasting on low-quality products.
Wrapping Up
The Father-son relationship that the Mandalorian depicted instilled our hearts with so much warmth and joy. And thankfully, most of the Mandalorian toys lived up to that feeling. They are not only of premium quality, but each holds a meaning only a true fan would understand. The detailing, the art, and the story each hold are a source of sheer joy.
With all the Mandalorian toys, choosing one as a favorite is difficult. So, considering many factors, my number one has to be the Funko Pop! Star Wars: The Mandalorian – Mandalorian Flying with The Child Grey. With Din Djarin holding the Child and soaring in the sky, this Funko Pop magically sums up the whole series. Not to mention, the quality is brilliant, and its price is pretty affordable as well.
I hope this guide helped you traverse the rocky path of choosing the best among million toys. With some of my tips and tricks, I am pretty positive you will not get stranded in your hunt for your favorite Mandalorian toy. So, do some research, save a little, and prepare a budget; you will be good to go.
"I'll see you again. I promise." — The Mandalorian.
Looking for more interesting readings? Check out: