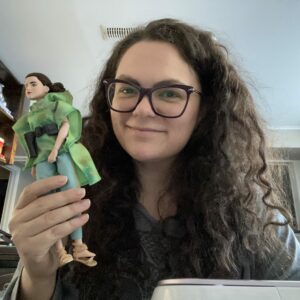 Latest posts by Candace Osmond
(see all)
Did you know Darth Vader is the #1 most popular character in the Star Wars universe? Yeah… We know the guy's got his faults, but we can't help but love him anyways.
In fact, some of us are such mega fans, we'd like to get a tattoo commemorating the Sith Lord that left a lasting impression on us. Today, I've got 20 Darth Vader tattoo ideas to show you in a wide variety of different art styles. If you're looking for inspo for your next tat, read on.
Bottom Line Upfront
I'm just itching to get some new ink. I already sport my love of books on my skin, so maybe it's time to show my obsession with Star Wars and my fav daddy villain. I'm not big on flashy tattoos with lots of detail and color, I'd much rather line art designs, so I'll be going with something like this linework design.
Top 3 Picks
To reel you into the Dark Side, I want to show you some of the top-tier Darth Vader tats from my master list.
I know some people are vehemently against tattoos with color, some love adding color, and some don't care either way, so there's something here for everyone. Take a look before we take a deeper dive into what makes their designs spectacular.
Ink is Forever: Consider These Tips Before the Needle Goes In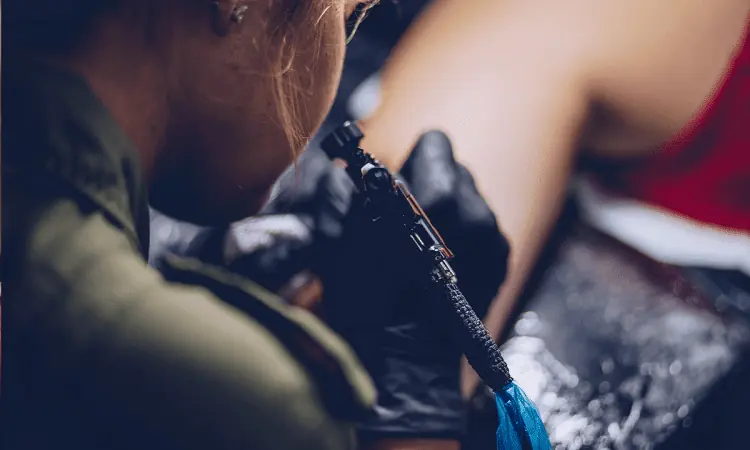 My very first tattoo was decided on a whim while I sat half-drunk in a chair as my friend got a back piece done. I was there for hours and got bored, so I let one of the apprenticing artists ink a cluster of stars on my shoulder as practice for them.
Yes, I'm happy with it, but it could have been so much worse. Never make a decision as permanent as a tattoo without giving it some thought.
Style
Two people can love the same fandom but might have drastically different tastes in style. Where one person might prefer a hyper-realistic Vader on their skin, you might fancy something a little more refined or done in the signature style of a certain artist.
All Black or Color
One thing you should know about all tattoos is that they fade over time and require touching up. However, color tattoos fade more quicker than black, so keep that in mind when planning your Vader tattoo.
Lots of Detail or Linework
Personally, I love linework tattoos. They're simple, elegant, and timeless. But I've seen some killer ink that had endless hours poured into it that looked out of this world.
Remember, the more detail, design, and color, the longer you sit in that chair. If this is your first tattoo or you're not one for long periods of tolerable pain…lean toward linework.
Size and Placement
I prefer smaller tattoos placed in discrete locations on my body. To look at me, you wouldn't think I have any tattoos, but I actually have five, and they all range from small to medium in size. If you feel the same, then cool! Pick smaller designs and places like your back, undersides of your arms, torso, etc.
However, if you want to show off that gorgeous art, then opt for larger designs or even a full sleeve. Just remember that time factors into cost, too. So, the larger the tattoo, the longer it takes and the more it will cost.
Also, larger pieces will most likely require several sessions to complete. So, factor that into your budget and schedule.
Finding an Artist
This might be one of the hardest parts of getting a tattoo if you ask me. I'm what you'd call a picky person, especially when it comes to what's on my body.
After my first tat, I put some thought into my second one. I checked out a few local artists, narrowed it down to one that showed a consistent style of designs I loved, and booked a consultation.
This is also an important step if you're doing a cover piece. Not all artists can do cover work well or at all. So be sure to shop around your local ink masters and find one that understands the project at hand.
The Best Darth Vader Tattoo Ideas
There's a lot of inspiration for Darth Vader tattoos all across the internet, but we all know some tats are, ahem, better quality than others. That's why I wanted to compile a list of tattoos with expert shading, clean lines, cool concepts, and some unique designs.
Darth Vader has been a long-time love of mine since I was as young as Anakin in Episode 1, so here's to doing the most complex character in the galaxy some justice.
Selection Criteria
If you're serious about getting a Vader tattoo, then this list of ideas is exactly where you need to be. But, to make things even easier, I divided my ideas up into categories; simple designs, big designs, and unique ideas for out-of-the-box thinkers.
Also, each idea on the list had to live up to a certain criterion.
Each tattoo on this list is unique from the next, and you won't find two designs that are too similar. Lots of variety for everyone!
Fit into one of three categories; simple and small, big and bold, and unique.
Vader front and center. I wanted to ensure the theme was evident as soon as you look at it.
Quality work. I dunno about you, but I can tell the difference between professional ink and amateur. I tried my best to include top-notch work.
The Best Simple Darth Vader Tattoos
I'm a minimalist ink kinda gal, so I knew I had to include a few ideas for those just like me.
Insidiously Good Linework Idea
You like the modern look of clean black lines and intricate details? Yeah, I like them, too. I was absolutely blown away by the depth in this tat's shading and how precise each of the lines are.
Vader's helmet looks in-cred-i-ble. Do you see how it looks like the light is reflecting off of it? That's the mark of a talented tattoo artist. A tat designed longways like this one would look great on your arms, legs, or even on your sternum or back.
A Simple, Respectable Vader
If you want a small tattoo, I thought this was a great example of a simple Vader tat done exceptionally well. It's made entirely with black ink, which keeps the design looking clean.
What's always going to be tricky about getting a Vader helmet done is getting the shading right so that the light reflects off of the small details correctly. This tattoo shows how you don't have to go nuts with the shading to get the right effect.
Dark Minimalism
Want something cool that you could get done in probably less than two hours? A minimalist tat like this one might be the way to go (particularly if you're on a budget.) I'm not a huge fan of the lines around Vader's helmet, but you can customize the lines to go wherever you want or forego them altogether.
Even though this is a small tattoo, the shading was done really well. Since it is so small, it's something that can fit pretty much anywhere on your body you might want it.
Star Wars – Classic Style
These lines are so clean you could eat off of them. Classic-style tattoos that actually hold up over time must have precise linework. I like that this Vader tat has a red glow around the outside.
It adds dimension and feels fitting, considering the color of our Sith Lord's lightsaber. A little filigree helps add that classic touch, but you can be creative with what it is. I.E. You could make filigree stars or planets instead of leaves.
A Neoclassical Take on Vader's Helmet
Neoclassical tattoos have become popular because they use linework similar to classic tats, but the colors are vibrant. Modern tattoo artists have access to way more colors than artists back in the day had.
This one has a glossy melting effect on top of Vader's helmet, which helps give the design depth. What's cool about using ideas like these for a base is that it's easy to customize by changing the color scheme to be what you want.
Half and Half
Half of the tat shows Vader's iconic mask, and the other half, heartbreakingly, shows us a younger version of Anakin we're all familiar with. Dude, artsy tattoos calling back to Anakin's past get me every time. I like that this tattoo was kept black and white because it suits the sketchbook style well.
Classic Vader Tattoo for Women
Obviously, this tattoo isn't just for women. I just thought it looked elegant and stylish, so really, anyone would probably like this one.
This version of Vader was done in the classic tattoo style with simple lines and basic colors. I think the burning Death Star adds a nice touch, partially because tattoos with flames done well always look cool. Even though the lines are simple, the design has a lot of depth through shading.
Luke/Darth Vader
This half Luke Skywalker half Darth Vader tat is one of my favorite ones I've seen in the classic style. My favorite part might be the Tatooine detailing.
Putting a Tatooine building behind Luke was genius because the design is more interesting to look at, and it adds some need umph to Luke's half of the design. Vader's helmet being cracked open to reveal Luke's side was a nice touch.
Red Watercolor
Like vibrant watercolor tattoos? Maybe you want to add a deep swatch of red to your Vader design like this tattoo has.
You don't necessarily have to use the Vader helmet design in this tattoo if you want to be more original, but you could take inspiration from how the watercolor art looks behind it.
Darth Vader but Elegant
Who knew a Darth Vader tattoo could look this pretty? Highlighting Vader's helmet with stark white makes the lines of his mask pop against all the black.
I like that the plant filigree stands out with lots of white ink that contrasts Vader. Overall, this is a simple, modern, and fairly inexpensive design depending on who you get it done from.
Imperial Totem Pole
Of course, Vader sits at the top of the totem pole. I like this one for its unique design. I can honestly say I've never seen Imperial helmets stacked on top of each other to make a totem pole until now. It sounds weird, but somehow this tattoo pulls the out-of-the-box concept off.
Cutesy Geometric Vader
Maybe you're just looking for something simple and cute. Well, something like this would likely cost you under $100, and I can't imagine it would take any longer than an hour or so to get done.
It was clever to make Vader's helmet and the two lightsabers into a skull and crossbones design. I've never seen anyone do that before.
Big Ideas, Big Designs
Whether you're going for a sleeve, full leg, or a massive back tattoo, these ideas are perfect.
The Imperial Back Tat
When your love for our Imperial overlord is as strong as Vader's call to the Dark Side, maybe you want a big Vader tat. Huge, all-encompassing back tattoos are not for the faint of heart-believe me, you're going to feel every needle.
That being said, what has Vader taught us if not that strength is born from pain? I'm a fan of the vintage shading style this one in particular has.
Black and Red for the Dark Side
I like tattoos that have a splash of one solid color. That's why I think this forearm tattoo would look cool, particularly if you have other tats with a single bright color, like red or blue.
The red shading in Vader's helmet looks absolutely sick. The red streaks down into blood splatter over an Imperial insignia, because, you know, Vader's known for doing one thing, in particular, better than anyone else.
Hyperrealism Darth Vader
This tattoo is so crazy detailed, I didn't think it was real the first time I looked at it. How is every line so seamless? How does Vader's helmet look real on human skin? Why are tattoo artists so much more talented than I am?
If you're going to get a hyper-realistic tat like this one, please heed my advice: Do your research! Seriously, research all the 5-star tattoo artists in your area and review their profiles via social media. I just want to save you from oh-so-expensive tattoo regret.
Black and White Vader and Death Star
If you're going for simple, black and white, and with a classic style of shading, you might want this tat for inspiration. It's a decently-sized tattoo that I think would look good on an arm or a leg.
Vader is posed above the Death Star, and my only issue here is that some of the lines making up Death Star panels could have been cleaner. If you want something more elaborate, this design could be a cool one to build off of.
Slick Chromatic Shine
How some artists are talented enough to make human skin look like it has a vibrant chromatic shine is beyond me. And yet, here it is in all its Dark Side glory.
I think the choice to make half of Vader's helmet red and the other half blue adds depth and makes it more interesting to look at than if they'd only used one color. Also, don't forget Vader has wielded both a red and a blue lightsaber, so the color choice was very much intentional.
Darth Vader in Color
You are going to be sitting in a tattoo artist's chair for a long time if you want something as big and detailed as this, but holy crap, the results are so worth it. I feel Vader's eye staring into my soul from this guy's arm. That's impressive.
The splash of color from the break in Vader's mask is like a stark reminder that someone is alive inside that dark, genocidal suit of death. IMO, this is true art that invokes real emotion.
The Toils of Wars
It looks like Vader is reminiscing back on a war that left an impression on him. I can't get over how awesome tattoos with two images in one have the potential to look.
This one was done really well, because it's blended so that it's hard to tell where Vader begins and where the skyline with the stormtrooper ends. The only complaint from me is that some of the lines (like where Vader's mask meets the stormtrooper's arm) could have been cleaner.
Darth Vader Can Cover Your Mistakes
It's always interesting to see creative cover-ups. I thought this one of Vader covering a dark tattoo with lots of line work is an expert example of what cover-ups can do for people.
Not crazy about having your ex's name plastered across your arm? Got a sketch tattoo from an artist without credibility? All hope is not lost. Vader can save you.
Coming At You In 3D
Que in some lightsaber sounds here. Darth Vader, the terror of the galaxy, has challenged you to a duel. Are you ready? I wouldn't be.
This tattoo is intimidating in a good way. It looks like Vader's red saber is about to jump off this guy's arm and slash you. Choosing to only highlight Vader's saber with red and leaving the rest black makes the lightsaber stand out, too.
The Burning Wrath of Vader
Nothing conveys what Vader's feeling on the inside quite like fire and war. Maybe you can relate. This is a modern art style with advanced shading techniques on Vader's helmet. Below him, you'll find Vader locked in a duel with Luke while the world burns around him. It's pretty awesome.
Amazing Darth Vader Arm Tat
This is one of my favorite Darth Vader tattoo designs I've ever seen. The gorgeous, deep shade of blue making up the sky, Vader's lonely yet powerful pose, and a broken Death Star flying overhead are breathtaking.
This one is a watercolor design, so if you want something like this done, make sure the artist you're going to has a long portfolio full of other watercolor art.
Anakin Skywalker's Descent to the Dark Side
This tattoo captured that brief space of time when Anakin Skywalker had chosen the Dark Side, but he wasn't quite Darth Vader, yet. I like that it isn't just a portrait tat, either.
The lines around Anakin's face make it look like he's a broken piece of your arm (or wherever you want to put it.) You don't see many tattoos trying to show Dark Side Anakin as opposed to Darth Vader, so I think the concept here is pretty unique.
Intricate Black and White Imperial Tat
This is the last black and white tattoo I'm going to show you, so I had to end it on a bang. This outline of Darth Vader has some of the coolest linework.
The lines on the side of Vader's helmet make the design look reflective, which can be a challenge within this minimalist-inspired style. You could get this design smaller or bigger depending on where you want it.
Force Grip
We all know you'd better watch out if Vader looks at you and starts angrily closing his fist. Now you, too, can cement the image on your body of Vader about to unleash his Dark Side fury. I thought it was unique that this tat was done almost exclusively in red.
Something Different
If you're the resident weirdo in your friend's group, then you're probably after something above cool and unique.
Dark Anakin Skywalker
Anakin doesn't look like himself anymore, and his physical change was as drastic as his psychological one.
This picture is haunting in the best way. I feel Anakin's emotion-or lack thereof, which creates an emotion in us, through the set of his face and the hardness of his eyes. Realism like this takes serious talent.
Knock Knock! Who's There? Not Anakin.
The scrappy, talented kid who liked to hit the race track on Tatooine is no more, but at least we like what remained. Vader's quote on this tattoo is iconic, which is why I appreciate the artist and tattoo-ee placing it in a cool red script.
The quote is incredibly meaningful, so I thought it would be great for a sentimental tattoo if you want something serious. Vader's exposed eye almost looks melancholy, doesn't it?
Watercolor but Dark
You don't see many pure black tattoos that play around with techniques used in watercolor tattoos, but every now and then, you'll find a really sweet one.
The linework here is so clean but still gives off the feeling of being weathered. With Vader's clenched fist, he looks ready for some throat-gripping action. Honestly, I have nothing bad to say about this one, other than it might be too big for a first tattoo.
The Man Behind the Mask
Not to be a downer, but this tattoo reminds me that Vader must be a very lonely guy. I think the guy wandering in Vader's eye in this tat is himself, alone, endlessly wandering through the galaxy without Padme at his side.
Vader's blown-up Death Star is like a living reminder of his failure. This concept is dark, but some of us are on the hunt for something serious with real meaning. Maybe this tattoo speaks to you in some way.
Vader, Our Lord and Savior
Ah, yes, praise be to Vader for keeping our skies in order and our intergalactic taxes high. I thought this was a pretty funny tattoo that replaces Jesus with Darth Vader.
I know this kind of humor isn't for everyone, but besides the irony, this tattoo gives a great example of classic style shading done right. Even though all of Vader's helmet and suit are black, the lines are clearly defined.
Warped Cartoon Vader
Realism, minimalism, and classic tats are not really your thing? Maybe you want to look into artists in your area that has a cartoon or comic book style.
I like this one because the linework is so clean, and the style is specific to the artist. The chunky proportions somehow make Vader look (don't kill me, Dark Lord) cute. This one reminds me of a western-style chibi Vader.
Pray to the Sith Lord
This tattoo font is giving me nostalgia for a time period I wasn't even a part of. That's how old-school it is, but I think that's what gives this one its charm. Vader is making prayer hands, and it looks like there are lots of flames behind him. All around, this one is sick.
Come to the Dark Side
Come to the dark side! We may not have cookies, but we do have Darth Vader. Did you notice how thin the linework in this tattoo is? Yeah, that's hard to do.
You'll need someone really talented to pull that off. The Death Star is much less intricate, but I think it looks awesome behind Vader. You could choose to leave out the pops of red if color isn't your thing.
FAQs
Don't fire your blaster until you know what planet you're standing on, I always say. In other words, stick around to hear the answers to the most frequently asked questions I get about tattoos before rocketing up to go get one.
Question: Where Is the Best Place on Your Body to Get a Tattoo?
Answer: There is no particular "best" place, but I'll tell you where you might not want a tattoo. Rib tats, stomach tats, neck tats, and head tats hurt the most. Also, a lot of artists won't let you get tattoos on your hands, face, or neck if you don't already have other tattoos.
Question: Does Getting a Tattoo Hurt?
Answer: Yes. I have tattoos, and you know what? Getting needles repeatedly jabbed into my skin for 30 minutes to hours at a time kind of sucks. My first tattoo artist described the feeling as being like cat scratches on a sunburn. That's super accurate. Still, I think the end result is worth the sensation.
Question: How Big Should My Tattoo Be?
Answer: That is entirely up to you. Deciding where on your body you want your tattoo will give you a better idea of how big it can be/you think it should be. If you're getting your first tattoo, I wouldn't recommend getting a huge one.
May the Dark Side of the Force Be with You
Choosing a tattoo is as serious a commitment as choosing the Dark Side, so make sure you pick a design you'd be happy with forever. I hope you have more ideas as to what you want your Vader tat to be after viewing my master list.
I wanted to include a huge variety of art styles so there was something for everyone. But if you're leaning toward something unique and simple, go for a linework design. If you'd like to check out even more awesome tattoo ideas, please check out our site!
Looking for more interesting readings? Check out: