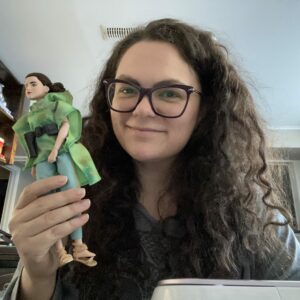 Latest posts by Candace Osmond
(see all)
You've been tasked with defending the galaxy; there are planets at stake, but… what are you going to do without a high-quality lightsaber at the ready? Never fear, space adventurer, because today I'm going to show you the popular, extremely durable Neopixel lightsabers from NEO Sabers.
You can either pick up a replica of your favorite Star Wars character's lightsaber or customize one that's entirely your own. Are you ready to learn what makes Neopixel lightsabers so great? Strap on your blaster and start the engine, because we're forging ahead at warp speed!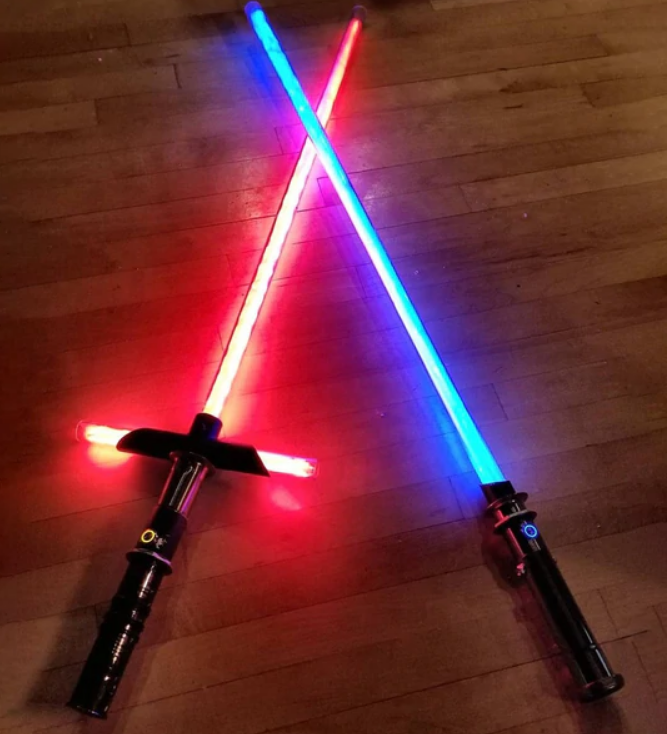 Ever heard of NEO Sabers? You've been missing out if not, so let me fill you in. NEO Sabers is a company wholly devoted to selling lightsabers and every lightsaber accessory you could need. Their lightsabers are of excellent quality-many can even withstand being run over by a car! That's because NEO Sabers doesn't skimp when it comes to the Force. Here are some key details about what NEO Sabers is and who runs it.
Created by Star Wars Superfans for Star Wars Superfans
Michael, the creator of NEO Sabers, has been a passionate Star Wars superfan for as long as he can remember. He's said that all throughout his childhood, his clothes, the shows he watched, and even the stationary he wrote on was influenced by his love for nerd culture. It turns out his dad is a Star Wars mega-fan, too.
Doing Justice to the Lightsabers in the Franchise
Michael had a problem with the lightsabers already available to him: they just weren't doing the lightsabers in the Star Wars franchise justice. Michael believed he could create lightsabers that have not just the look, but also the feel, of the real thing. His customers would say he's succeeded there.
Ethics of NEO Sabers Company
NEO Saber does not keep anyone in the company who has problems with misbehavior or hidden agendas. Michael doesn't want his company to fall into the Dark Side of the Force, which is why he understands his teammates as individuals. NEO Sabers' zero-tolerance policy for misconduct or any offensive behavior makes this shop an ethical one Luke Skywalker would approve of.
What NEO Sabers Offers
NEO Sabers' focus is to deliver customers some of the best quality lightsabers available. You'll be able to buy single-bladed lightsabers, double-bladed lightsabers, darksabers, and much more. There are replicas of lightsabers you know from the Star Wars franchise, but you also have the option to customize your own lightsabers with fun colors like orange and pink.
Every product NEO Sabers offers relates to lightsabers. Even the accessories, like lightsaber displays and hilt wrappings, are all about the legendary space weapons from a long time ago… in a galaxy far, far away.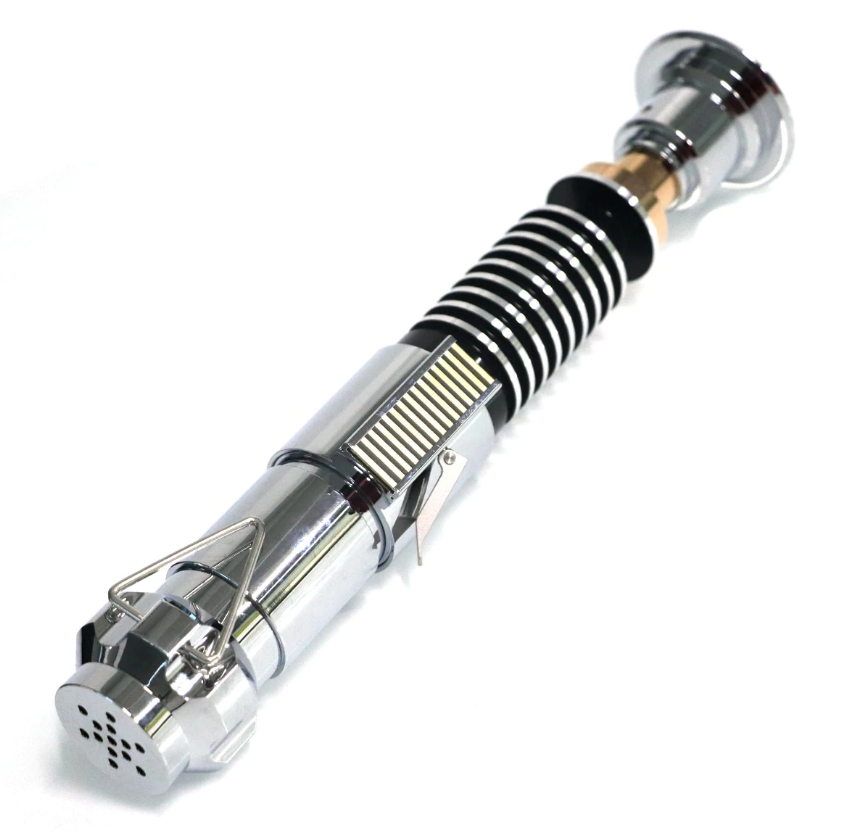 Pros and Cons of NEO Sabers Lightsabers
Perhaps you'd like to weigh your options before deciding if a Neopixel lightsaber from NEO Sabers is right for you. That's understandable, which is why I've put together this list of pros and cons.
Pros

NEO Sabers is a reputable brand
Made from high-quality materials
Strong warranty protection for defective equipment
Large variance of price ranges
Tons of lightsaber varieties with customizable features
Replicas and original lightsaber designs
Lighting and sound effects included

Cons

There are some typos on the website, which makes some descriptions confusing
The best quality lightsabers, Emerald and Diamond, are very expensive
Some lightsabers are over $500
Types of Lightsabers You Can Get from NEO Sabers
NEO Sabers offers a huge amount of lightsaber colors and types. You can buy replicas of the lightsabers your favorite characters wielded, or you can customize your very own lightsaber. Let's get into all your options for defending (or destroying) the galaxy right away because you've got a lot of them.
Neopixel Lightsabers – These lightsabers can alternate between lots of different colors with the press of a button. They light up from neopixel LED strips that run along the length of their blades.
LED Baselit Sabers – This kind of lightsaber has a single, highly powerful LED light placed in the hilt. This single light can illuminate the entire blade of the saber.
Double-Bladed Lightsabers – You'll feel just like Darth Maul with this kind of lightsaber. Just like the Sith apprentice's saber, these lightsabers have 2 blades coming out of each end of the hilt.
Dueling Lightsabers – These lightsabers were created especially durable! Meant to take impacts, you can actually hit these lightsabers off of things pretty hard without breaking them.
Lightsaber Replicas – These are lightsabers that look just like the ones you saw on screen being wielded by your favorite characters. You can buy replicas of Kylo Ren's lightsaber, Rei's, Luke's, Darth Vader's, and so on.
Force FX Lightsabers – This is another type of lightsaber that has LED lights contained within the blade. People like these kinds of lightsabers for how realistic they look.
Dark Sabers – Just like the sacred darksaber kept by the Mandalorians, you can buy replicas of the darksaber on NEO Sabers. The darksaber is made with neopixel lights.

Features of NEO Sabers
Curious about what NEO Sabers lightsabers have to offer? Here's a list of great features you'll get to enjoy as a NEO Sabers buyer:
Custom base light or lights in the blade
Sound effects
Motion sensitivity
Lighting effects
Easy on and off button
Extreme durability
Ironclad warranty protection
Colors Available
Many NEO Sabers lightsabers can alternate between different colors, but some only glow one color. If you're searching for a single-color lightsaber, you'll be able to find:
Blue
Green
Red
Yellow
Purple
Magenta
Orange
Cyan
Pink
White
Sometimes, you can also customize the color of the hilt. Black and silver are popular hilt colors.
The Customization Process
Some of us would like a fully customized lightsaber that feels purely our own. Luckily, there are lots of lightsaber models on NEO Sabers that allow you to customize every aspect of your weapon of choice. These options are:
Blade colors
Hilt colors
Blade shape
Light in the hilt or within the blade
Sound effects
And more!
Price Ranges
Alright, get your bank account ready. You'll have to shell out hundreds of dollars for one of these lightsabers, but the quality makes them worth the price. If you can buy one of these lightsabers during a sale, you might not have to pay more than $150-$200. Normally, most lightsabers are $250-$500.
Quality
Besides the precise detailing that makes these lightsabers look as close to the real thing as you can get, I'm a fan of how durable they are. In one video on NEO Sabers' website, you can see someone running over a Neopixel lightsaber with their car. The lightsaber didn't take any damage from that at all-it wasn't even dented!
Warranty
On the NEO Sabers About page, you can find their warranty information. NEO Sabers says that if there is any deformity or problem with your lightsaber at all, you'll be covered under their iron-clad guarantee. One of their knowledgeable team members would be happy to work out any complaints you may have and provide you with a fully functional, flawless lightsaber.
Accessories They Offer
What accessories could you possibly need for a lightsaber? I'm glad you asked. You can buy hilt grip fabric in a variety of colors to make your lightsaber easier to grasp. NEO Sabers offers an acrylic lightsaber stand to display your intergalactic weapon, and a lightsaber belt clip cover tech ring so you can wear your lightsaber at conventions and such.
Alternatives to NEO Sabers Lightsabers
Maybe you'd like to weigh your options to make sure you buy the best lightsaber for you. In that case, here are 3 high-quality alternatives to the NEO Sabers lightsabers. Each of these was created by reputable brands with 5-star reviews and a large fan following.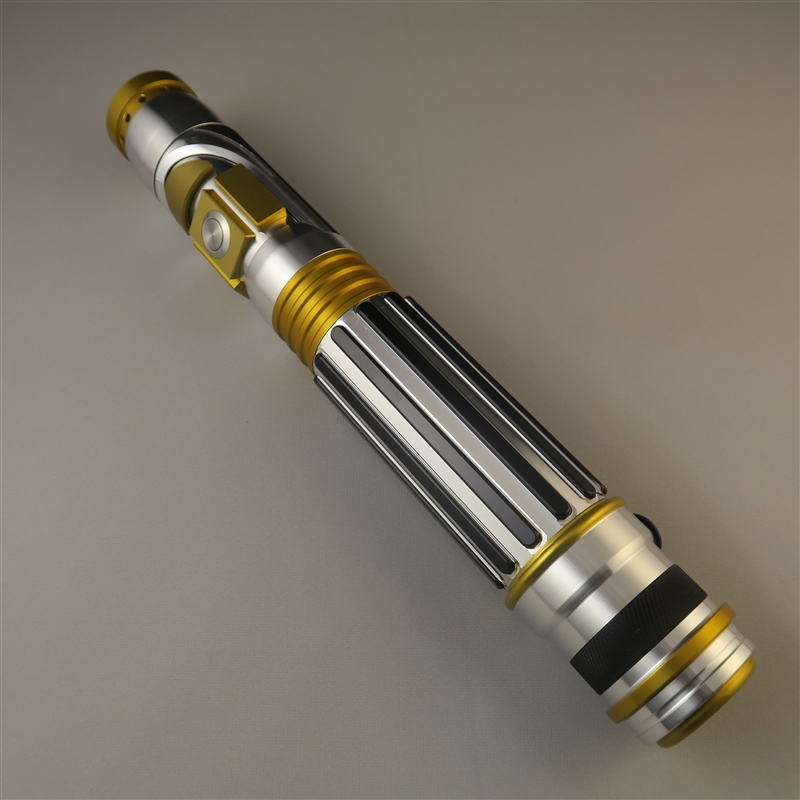 Best For: Customization
If you'd like to build your own lightsaber with some of the highest quality lightsaber parts available, let me introduce you to Ultra Sabers. With Ultra Sabers, you'll get to create your own single or double-bladed lightsaber.
Price Range: $50-$150 per lightsaber piece
Colors Available: Red, green, yellow, blue, purple, and more
Warranty: 1-year limited warranty for parts that fail due to defective craftsmanship
There are thousands of options for blades, colors, sound effects, lighting, hilts, emitters, and more. This website doesn't sell replicas and instead focuses on offering customers the best customization for one-of-a-kind lightsaber combinations.
Pros
Huge amount of lightsaber parts with seemingly endless combinations
Fully customized lightsabers
You can build your own single- and double-bladed lightsabers
Cons
No replicas of the lightsabers from the movies already put together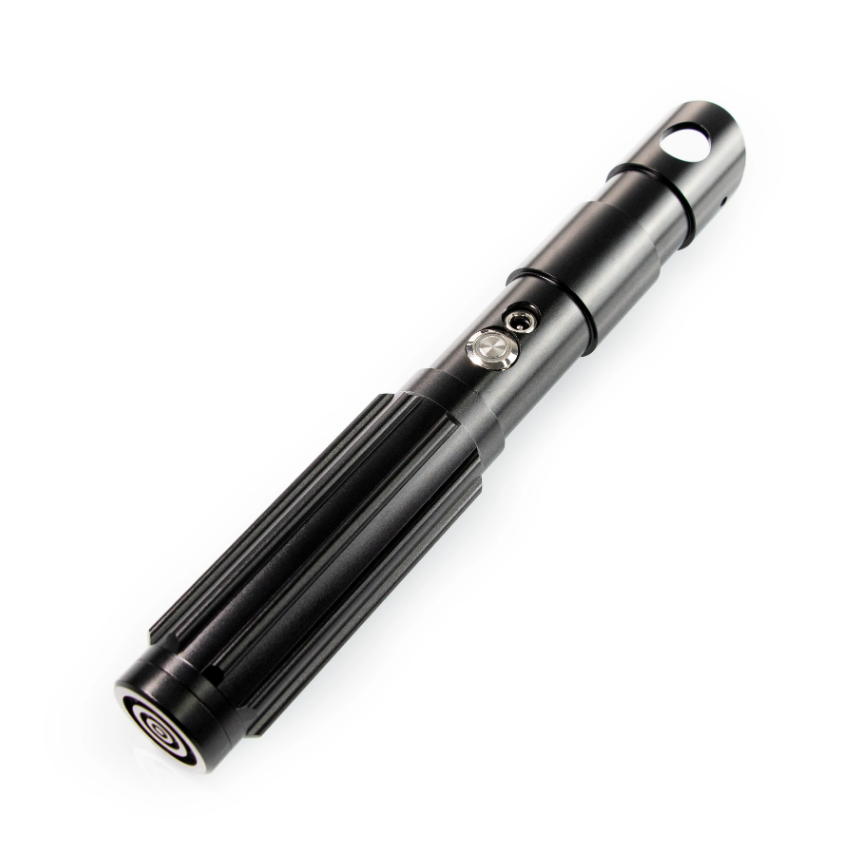 Best For: Price
Saber Hutt sits right in the perfect spot between affordability and quality. These high-tech lightsabers aren't quite as expensive as their competition. I recommend Saber Hutt if you want to buy a replica lightsaber and you don't want to pay a fortune for it.
Price Range: $90-$450
Colors Available: Red, yellow, green, blue, orange, purple, pink, darksaber, etc.
Warranty: 1-year limited warranty for product defects
Most lightsabers from Saber Hutt are around $100. Even though this is the store for replicas, you'll still get to customize features like whether you want a base light or xenopixel lights in the blade. Colors you don't see in the movies like orange and pink are offered, too.
Pros
Some of the lowest-priced high-quality lightsabers
You can buy replicas or create your own lightsaber
Single and double-bladed lightsabers
Cons
While still high quality, the quality isn't quite as good as the other options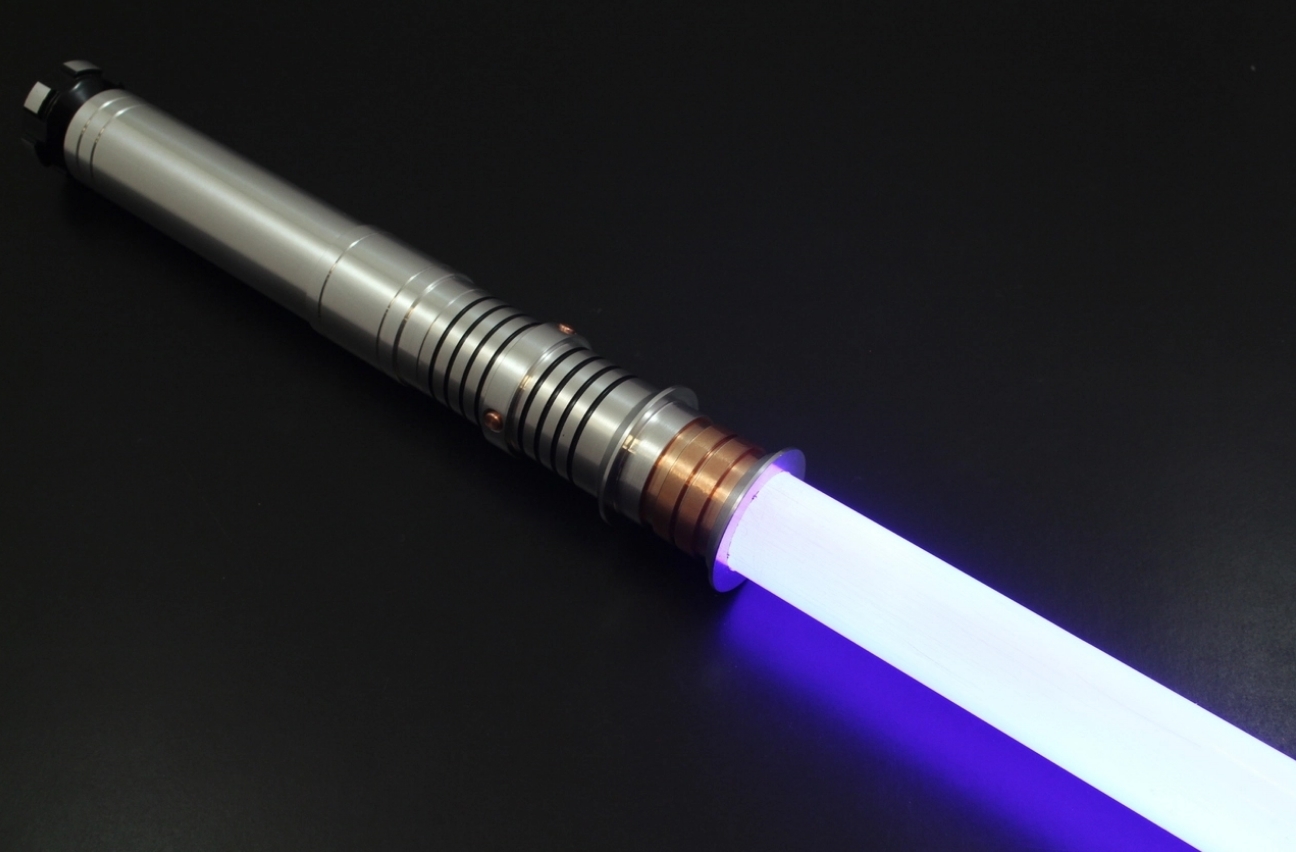 Best For: Quality
A great option for those who have money to burn and want something epic. Either for a personal collection or a top-of-the-line cosplay, Vader's Vault is the place to be.
Price Range: $350-$700
Colors Available: Blue, cyan, green, red, purple, pink, yellow, orange, etc.
Warranty: 1-year limited warranty for product defects
Lightsabers from Vader's Vault may be pricey, but it's hard to beat the quality. Yes, most lightsabers are around $500, but this is the list of options you'll get to customize when you make the expensive choice:
Blade lighting
Shroud metal
Shroud inlay
8 segment pixel bar graph
Main switch outer bezel
Main switch inner button
Lighted switch insert
Main switch insert engraving pattern
Auxiliary switch
Grip inserts
Leather wrap color
Weathering
Covertech wheel
Shipping insurance
Heavy Grade Blade Upgrade
Soundboard choice
Pros
Extremely high-quality lightsabers
Lightsabers and blasters offered
You can customize your own lightsaber or buy a replica
Cons
Amazon Alternative
FAQ
Before you go off on your own adventures across the galaxy with your new lightsaber, I'd like to answer your most frequently asked questions about NEO Sabers. Please leave your questions below if you have any more questions about Neopixel lightsabers.
Question: What are Neopixel Lightsabers?
Answer: Neopixel lightsabers are lightsabers originally created by NEO Sabers. These high-quality lightsabers offer maximum durability, a huge host of customizable options, and lights within the blades. Some replicate Star Wars characters' lightsabers, and some are original designs.
Question: Are Neopixel Lightsabers Legit?
Answer: Yes, Neopixel lightsabers are legit. NEO Sabers is a popular lightsaber company. By checking out what other customers have had to say about their Neopixel lightsabers, you'll see there's no shortage of 5-star reviews. Neopixel lightsabers are made with incredibly durable materials, too.
Question: How Much is the Neopixel Lightsaber?
Answer: That depends on which Neopixel lightsaber you want. NEO Sabers offers an entire collection of Neopixel lightsabers with its own features. Customizable elements will affect the price, too.
Final Thoughts
Well, that's a wrap! After learning about high-tech Neopixel lightsabers from NEO Sabers, do you feel inspired to customize your own? Is there a character's lightsaber you like the most? Let me know in the comments below! For more helpful Star Wars product guides, check out our picks for the best Star Wars toys!
Looking for more interesting readings? Check out: