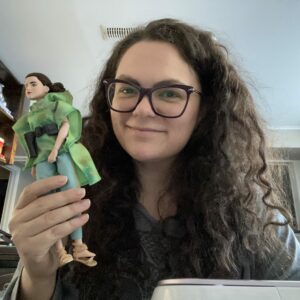 Latest posts by Candace Osmond
(see all)
Ready to get your hands on the huge Nerf Amban Pulse-Phase Blaster? Got a kid at home who's obsessed with The Mandalorian and just has to have their own replica gun?
I have to admit, the overgrown kid in me wants this so bad. I can definitely see how I could have a ton of fun with my kids if we each had one, too.
I will show you all the features of this sleek, speed-shooting toy from the Star Wars franchise. Then, I'll give you 3 action-packed alternative Star Wars Nerf guns that I think are equally awesome. Load your ammo, and let's get started!
Bottom Line Upfront
All in all, I would say the Mando Nerf gun is definitely worth the money. Not only does it look hella cool, but it's also Nerf, so you're sure to get the same quality fun you always get. This would make a great gift for your kid, an addition to your Star Wars collection, or an accessory for a Mandalorian cosplay.
Pros and Cons
I know you want the best toys for your little one (or maybe yourself) so let's dive into the pros and cons. I think what makes the Nerf gun great outweighs what makes it not so great, but let's see what you think.
Pros
Replicates one of Mando's blasters
Official Star Wars merchandise from Hasbro
Large Nerf gun over 50 inches long
10 Nerf darts are included
Packaged using sustainable packaging
Cons
You may need replacement ammo over time
One of the pricier Nerf guns
Key Features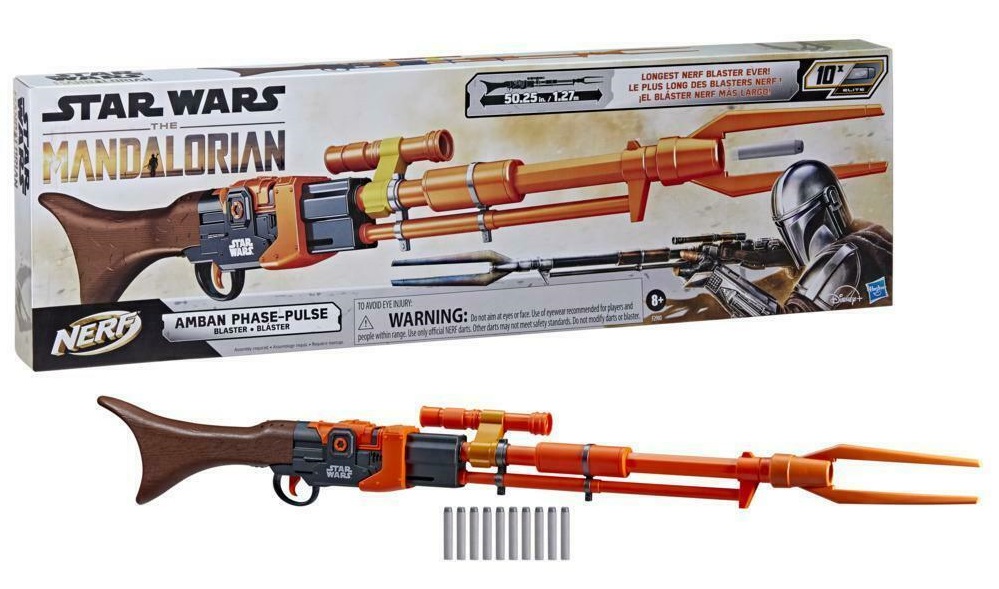 With a general sense of what this toy is all about, it's time to dig a little deeper. I'll take you through the key features of the Nerf Amban Phase-Pulse Blaster, so you'll know what makes this toy unique. Here's a link to this Nerf gun so you can comb through the product description at your leisure.
What's Included
When you buy this galactic Nerf gun, you'll notice 10 official Nerf darts are included. All you need to have fun with a Nerf gun is the toy gun and the ammo, so this is a pretty straightforward gift set.
How Many Pieces

You'll get 11 pieces in total with the Nerf gun and darts. You could always buy more Nerf darts online or in stores if you need extras. Those little things are always getting lost.
Materials
Every piece of the Pulse-Phase Blaster is made from plastic. I think that's ideal because kids can get hurt on harder materials like metals. The Nerf darts are made from plastic and foam. The darts are pretty squishy, so it doesn't hurt when you get hit with one of them. Just be sure not to hit someone in the face with a dart.
Extras
Did you know this toy is an Amazon exclusive? You can't be able to buy it new anywhere else, from what I can tell. Amazon offers frustration-free packaging when you buy the blaster from them, which is great because kids don't want to deal with a million layers of tape and twisty things on their birthday or the holidays.
Price Range
You might have noticed that this Nerf gun has a heftier price than some others. That's because of this blaster's impressive size and Star Wars branding. Still, loads more Nerf guns are way more expensive than this one. Expect to pay anywhere from $50-$60 for the Amban Pulse-Phase Blaster.
Skill Level
This blaster is recommended for kids 14+, partially because it's more difficult to shoot than some other Nerf guns. Very young children might have trouble reloading the gun and aiming it. Not to mention, this Nerf gun might be bigger than your child. This Nerf gun is a little over 4 feet long, so it will be hard for elementary school children to pick it up and fire it.
Colors
The Amban Pulse-Phase Blaster features eye-catching colors like bright orange, yellow, and blue. The colors used here are the same colors used for Mando's blaster in the T.V. show. No other color choices are available.
Warranty
After receiving the product, you'll have a full 30 days to take advantage of Amazon's free returns policy. Since this is an Amazon exclusive, you'll have to remember this is the only warranty policy.
Decision Making Tips
Is the Amban Pulse-Phase Blaster the best choice for your child? Or for you, if you're an avid Star Wars fan? If you're on the fence about this toy, this last section explaining who this toy is for might help you decide whether to buy it or not.
Age Range
The minimum age Nerf recommends for this Star Wars gun is 14 years old. Why 14? Well, kids will be kids, and younger kids are more at risk of getting hurt by either hitting each other with the blaster or firing it at someone's face. Not to mention, very young kids aren't big enough to pick it up.
Size
To be exact, the Amban Pulse-Phase Blaster is 50.25 inches long! That's a little over four feet, which is why this Nerf gun isn't for small children. You need to be nearly an adult just to hold and fire the thing. The awesome size is part of what makes this toy so fun. If you have Star Wars toy displays, this will be a noticeable piece.
Safety
Read the safety information and instructions before attempting to use the Nerf gun. If this toy is for your child, make sure they know to never, ever shoot someone in the face. It's also important your child knows to only fire at others if they are part of the game. I make my littles wear protective eyewear when having a Nerf fight.
Getting More Ammo
It's easy to get more ammo if your child loses some of theirs and the couch cushions come up empty. Anywhere you can buy Nerf guns, you can buy Nerf ammo. Look at the Amban Pulse-Phase Blaster packaging to be sure you're picking up the right type of ammo, because there are loads of different kinds nowadays.
Where Do You Buy The Mandolorian Nerf Gun?
Though this Mandalorian Nerf gun is an Amazon exclusive, you can find it on eBay, too. Other customers have bought this blaster from Amazon, and some may sell it to you for a cheaper price on online marketplaces. Check out OfferUp and Facebook Marketplace, too!
Other Alternatives to Consider
While the Mandalorian Nerf gun is already awesome by itself, you may also want to look over some alternative Star Wars Nerf guns. Star Wars has taught us that assessing your options is crucial before making a rash decision, so let's take a peek at your other options. Who knows? Maybe you'll find a few different Nerf guns you'd like to pick up for your or your child's collection.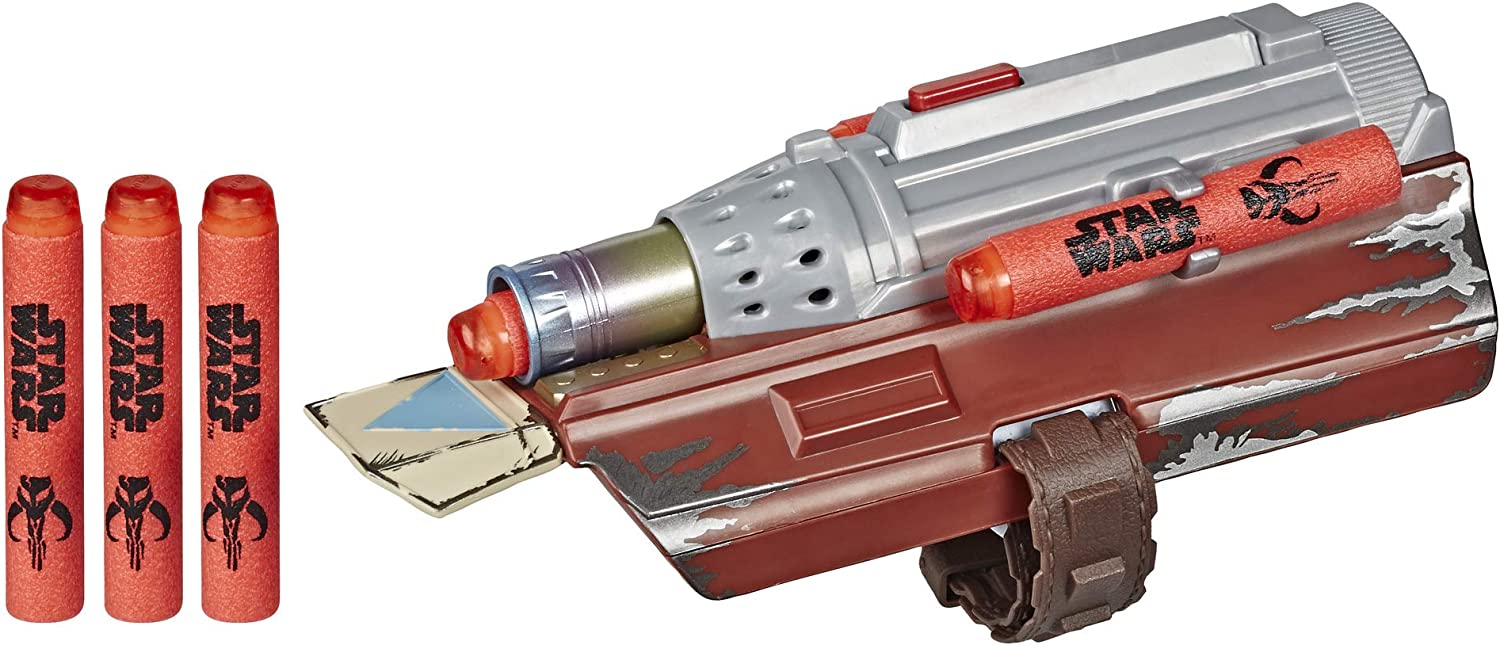 This awesome Star Wars Nerf rocket gauntlet fits on your arm and fires with the press of a button! What I really love about this design is how Nerf painted cracks and scratches onto the gauntlet. It makes the toy feel more weathered like it really has seen battle across the galaxy. The Nerf Elite Darts that come with this rocket launcher is much larger than normal Nerf darts. That's part of what makes this one fun, right?
Specs
Price Range: $50-$60
What's Included: 1 rocket gauntlet and 6 NERF Elite Darts
Skill Level: Ages 5 and up
Pros
6 Nerf Elite Darts are much bigger than regular darts
Kids of all ages can play with this one
Fits on the arm just like Mando's armor
Cons
No lights and sound effects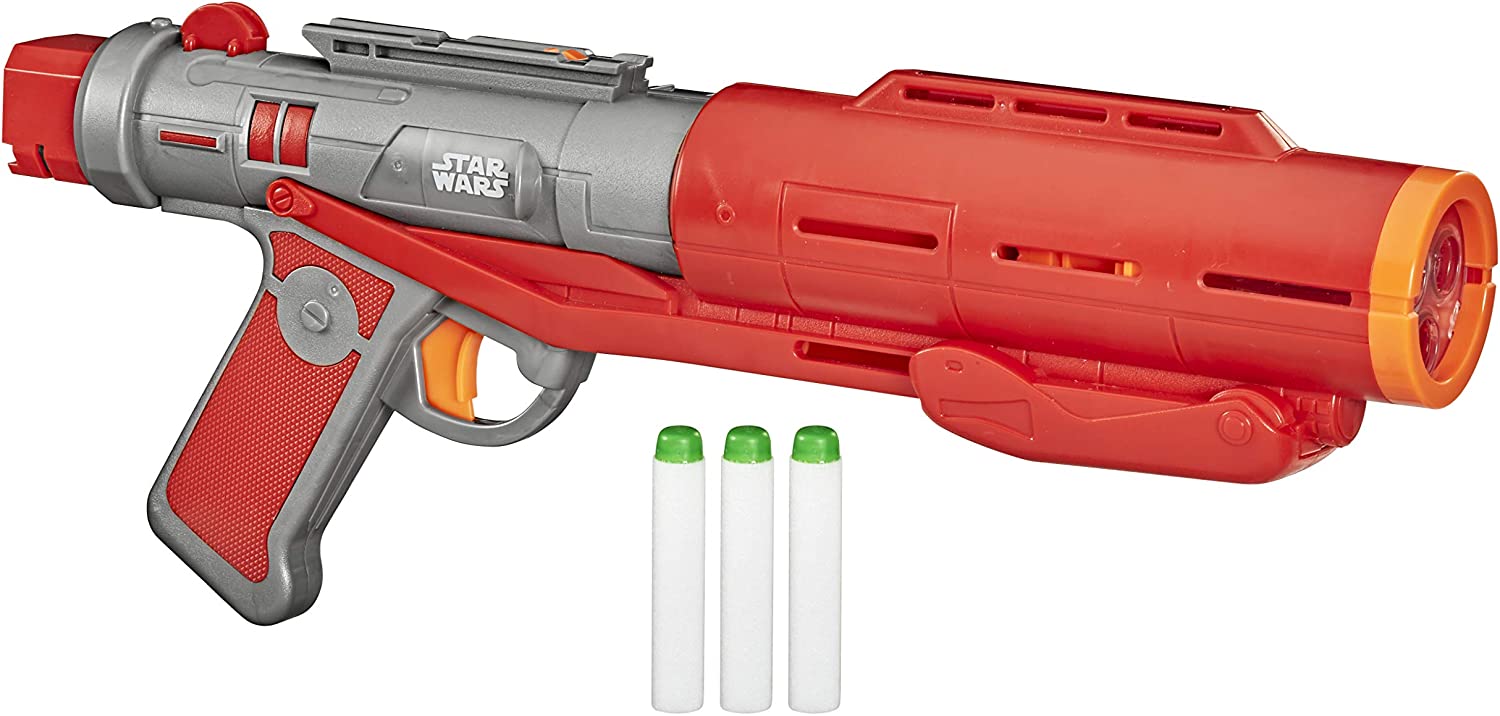 Boom! Fire! This Star Wars Nerf gun has lights and sound effects that transport you to the heat of battle. Oh, and because this one is all about the extra cool features, did I mention the Nerf darts glow in the dark? At least that means they'll be easier to find again later.  Measuring at 17 inches long, the large barrel on this Death Trooper Deluxe Dart Blaster is an impressive size. It's also quite affordable.
Specs
Price Range: $30-$40
What's Included: 1 Nerf gun and 3 Nerf GlowStrike Foam Darts
Skill Level: Ages 8 and up
Pros
Least expensive alternative option
Nerf Darts glow in the dark
Makes blaster sounds and light effects
Cons
Requires 3 AAA batteries that aren't included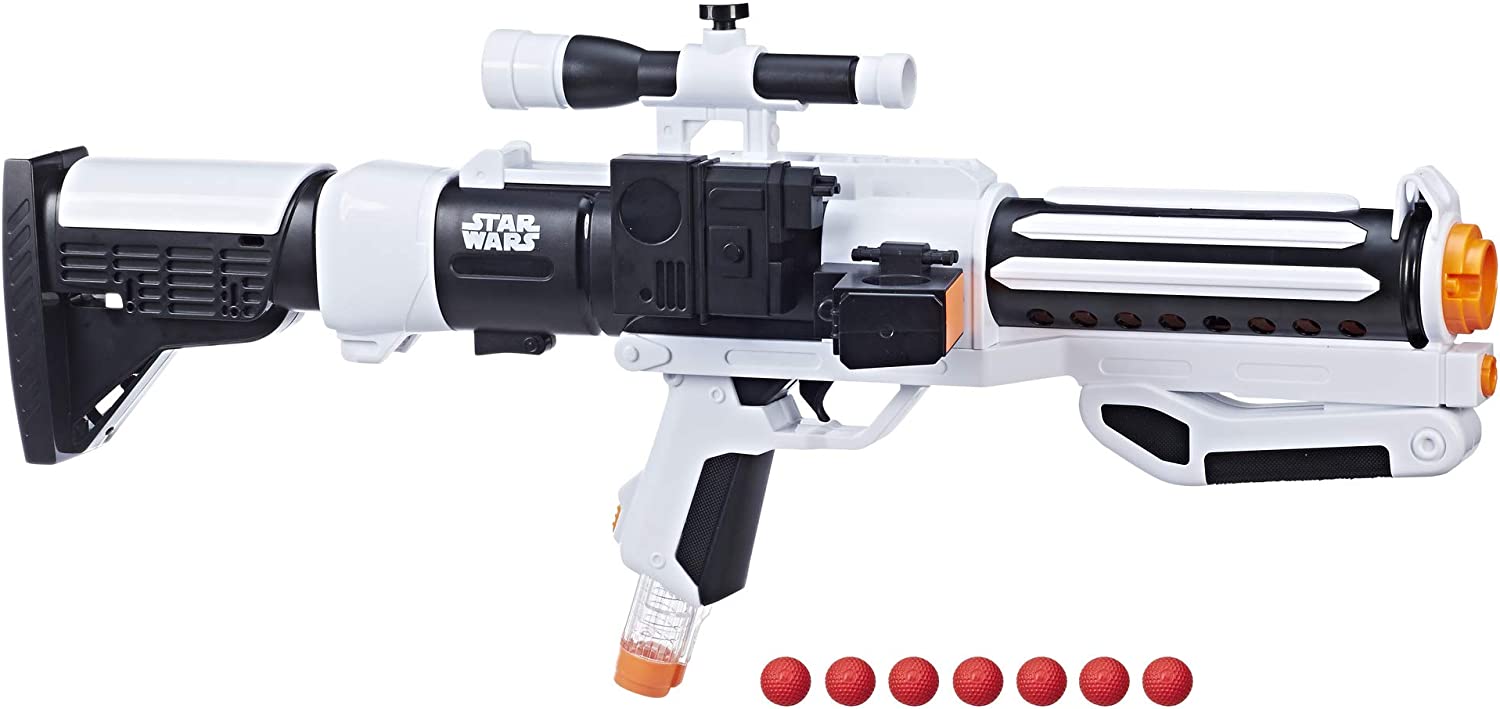 This may be the most expensive Nerf gun I have to show you today, but it also has the sleekest design. It has a scope like a real gun, too, that you can actually use. This option looks the most like the actual guns used in the Star Wars movies, so I think it's the most believable replica. At 32 inches long, this one is also pretty big. The darts that come with it are higher quality than your standard Nerf dart.
Specs
Price Range: $185-$215
What's Included: 1 Nerf gun and 7 High-Impact Nerf Darts
Skill Level: Ages 14 and up
Pros
Highest quality option on the list
High accuracy with a working scope
Spring-action mechanism for rapid firing
Cons
Most expensive alternative option
FAQs
Now that today's article is almost done, I want to answer your most frequently asked questions about Star Wars and Nerf guns. Got another question on your mind?
Question: Is There a Mandalorian Nerf Gun?
Answer: There are several Mandalorian Nerf guns you can buy! In addition to the Amban Phase-Pulse Blaster, I review 2 other Mandalorian Nerf guns above. Check them out to find a Nerf gun that you or your child would like best!
Question: How Do You Use the Mandalorian Nerf Gun?
Answer: The good news is that the Mandalorian Amban Phase-Pulse Blaster doesn't require batteries! It will be fully assembled as soon as you take it out of the box. To use this Nerf gun, you must load the darts in the chamber and fire by pulling the trigger.
Question: What Is the Mandalorian's Rifle Called?
Answer: Mando's trusty rifle is the Amban Phase-Pulse Blaster, which looks like the Nerf gun we've discussed. Sometimes it's called the Amban Sniper Rifle, too.
Let's Blast into Action!
Did you have as much fun learning about the Nerf Star Wars Amban Pulse-Phase Blaster as I did? Did one of the 3 alternatives catch your interest? Let me know what you think in the comments below! If you'd like to get recs for even more detailed Star Wars toy guides, please come check out our website!
Looking for more interesting readings? Check out: