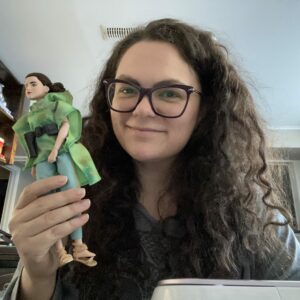 Latest posts by Candace Osmond
(see all)
Since rugs bring a homey, personalized aesthetic to a room, we Star Wars fans want a rug showing our favorite characters. Want a fluffy, plushy Chewbacca rug in your bedroom? Maybe a BB-8 bathmat to liven up your bathroom? It's all possible.
I'm going to go over the 8 best Star Wars rugs so that you can get inspiration for transforming your home into the starship of your dreams. I'll also give you my best tips for picking out a quality rug, so your new rug doesn't fall apart on you. Ready? Let's blast off, Rebels!
Bottom Line Upfront
If I could, I'd have a Star Wars rug in every room of my house. But I landed on the Star Wars Death Star Area Rug because it's an iconic piece and is going to look awesome in our family game room! I can't wait for it to get here.
Top Picks
These are the 8 best Star Wars rugs on the internet. Check some of these out before we get started! I've provided a detailed analysis for each of these rugs further down in the article if you'd like to know more. But I chose these based on their overall design, quality of construction, and size.
Are you a Rebel? You're going to want this huge, detailed Millennium Falcon area rug with pops of red.
Han Solo is frozen in carbonite! This product features your favorite bounty hunter trapped in your rug for all time.
Are you a huge fan of The Mandalorian like me? This round area rug uses black and gray to show off Mando's helmet.
Let Yoda welcome you home after each day with a distinctively Yoda-like saying.
Home sweet home! Nothing says it quite like a giant reminder of the Galactic Empire's long history of Sith Lords sitting on your floor.
Along with the iconic quote from Han Solo, this design incorporates the Millennium Falcon.
With this bath mat, you get the best of both worlds: adorable Baby Yoda and soft tufted cotton.
Kids will love this awesome area rug with HD graphics featuring Chewbacca, BB-8, R2-D2, C-3P0, Kylo Ren, Captain Phasma, and stormtroopers!
Can You Get Star Wars Rugs?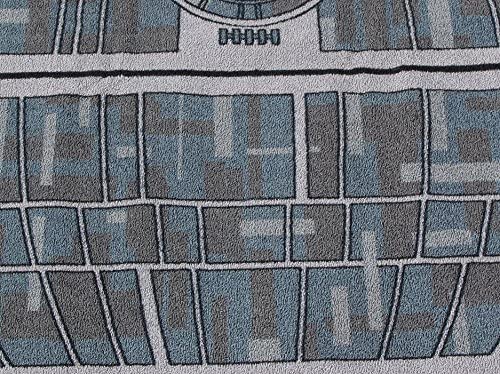 Oh, there's no shortage of Star Wars rugs. It may sound ridiculous, but because Star Wars is such a hugely popular franchise (and has been for decades), lots of different Star Wars rugs have been made. You can buy Star Wars area rugs, play rugs, bathmats, and more. I'll go over some of these rug types further down.
Where Can You Buy Star Wars Rugs?
One great thing about Star Wars is that it's so popular merchandise can be found almost anywhere. Since rugs are a narrower niche than products like Star Wars figurines, Lego sets, and costumes, try checking out:
Amazon
eBay
AliExpress
Overstock
Etsy
Wayfair
Walmart
Target
Different Rugs to Consider
I will help you visualize which kind of rug would be the best fit for your home by giving you details about the most common types. You can buy Star Wars rugs for any room in the house, but some are better for big, small, inside, or outside spaces.
Runner Rug

– These rugs are long, rectangular rugs. Typically, they work well in hallways and large rooms.

Play Rug

– This is a rug for kids. Basically, it's just an area rug that's much more detailed and usually features a location or learning tools. 

Area Rug

– These rugs can be circular, square, rectangular, or any other shape. Literally, "area rug" just means a rug that covers a partial area.

Entry Rug

– Also known as a welcome mat or doormat, an entry rug is tough, withstands the elements, and usually has an inviting phrase splayed across the front.

Bathmat

– These rugs are placed in front of the shower or bathtub, so you have somewhere dry to step when you're done bathing or showering. Usually, these rugs are very soft.  
What Type of Rug Should You Get?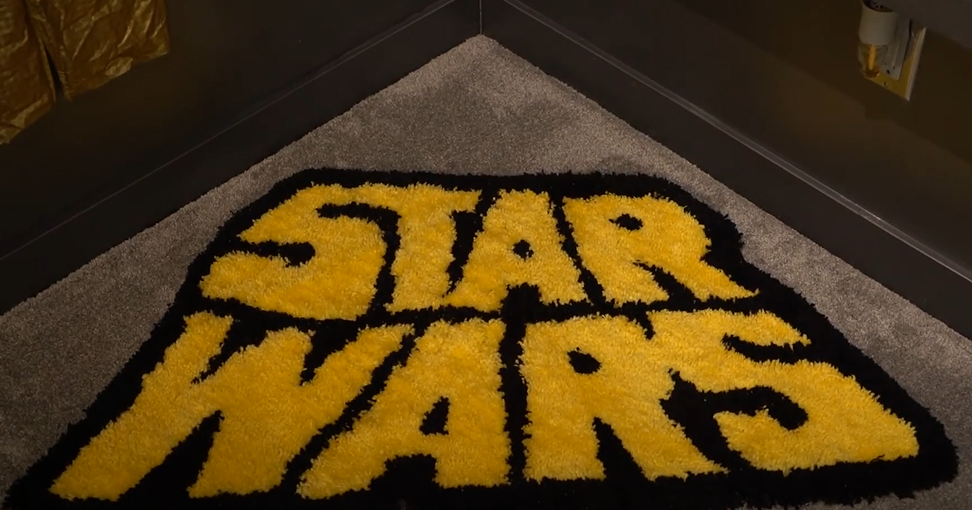 After going over the kinds of rugs, I'd like to get technical and tell you about the different ways rugs are put together. How a rug is constructed plays a big role in how soft or durable it will be. Some rugs shed more than others, too.
Hand-Knotted Rug – These are handmade rugs created by tightly weaving fibers together on a special kind of loom.
Hooked Rug – This type of rug is made by pulling fabric through a sturdy base to create loops. Each looped fabric ring creates a small piece of the design.
Hand Loom Rug – You can make these rugs by weaving small fiber strands very tightly together by hand.
Flat Weave Rug – Fibers are woven horizontally and vertically to keep themselves in place. You can use a machine to make these kinds of rugs or craft them by hand.
Machine-Made Rug – This stands for any kind of rug that has been made by a machine instead of by hand.
What to Look for in a Star Wars Rug
It's in your best interest to investigate before clicking "buy" on your favorite Baby Yoda rug. After all, some rugs are better quality than others. Below, I'll give you some useful tips to keep in mind for the next time you're browsing for that perfect Vader mat.
Size
Where do you want to put your rug? Consider the dimensions of the room you want your rug for before buying one to ensure you get a rug that fits. For example, area rugs come in all shapes and sizes, but runner rugs are usually big and wouldn't fit in a small room.
Pile
Here is a quick way to understand "rug pile".
Short Pile
Doesn't shed
Not always soft
Fibers are densely woven together
Short fibers
Long Pile
Sheds more frequently
Soft
Loose fibers
Long strands
Type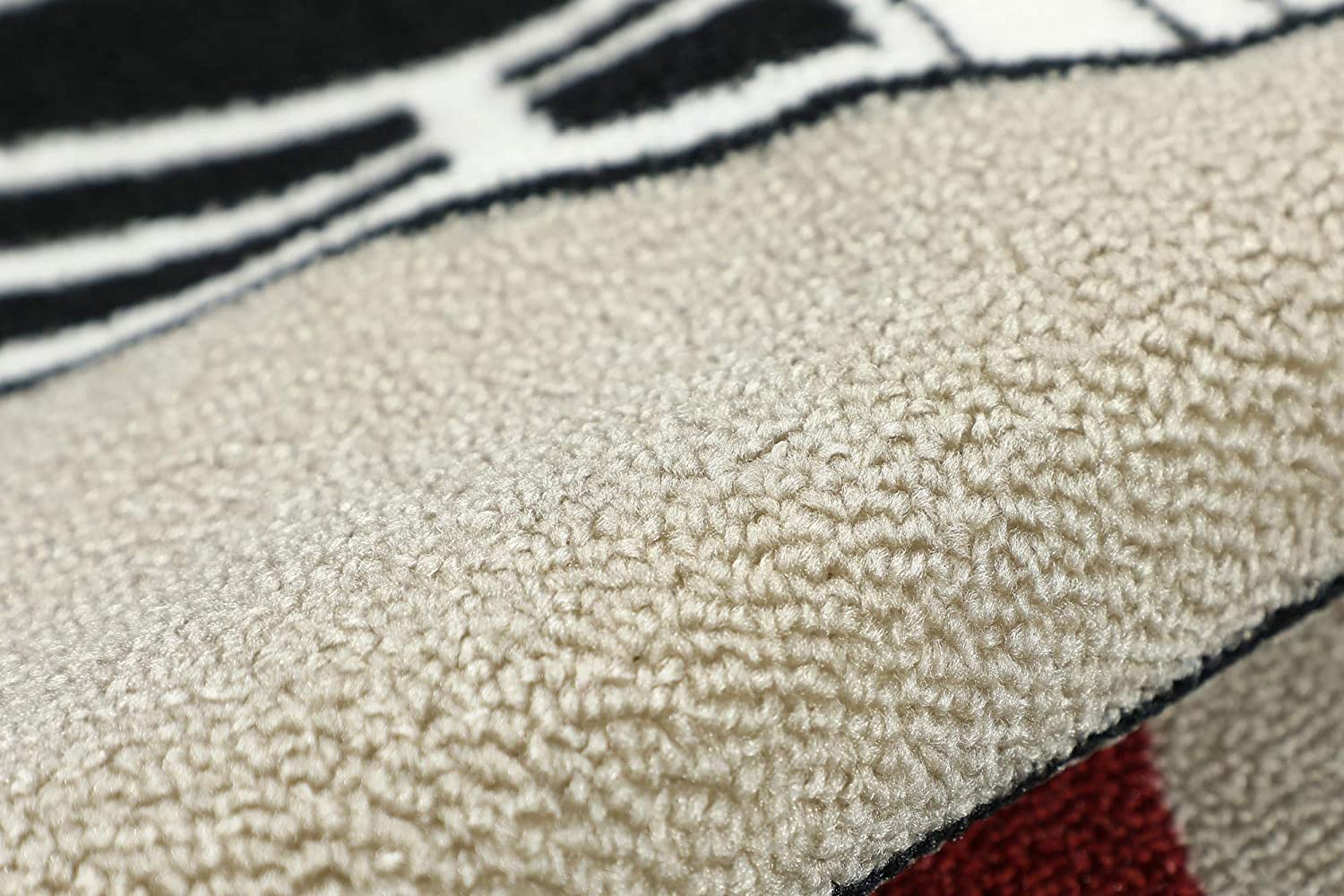 To review what we went over earlier, decide if you want a:
Runner rug
Play rug
Area rug
Entry rug
Bathmat
Next, think about how you want your rug to function when deciding if you want a:
Hand-knotted rug
Hooked rug
Handloom rug
Flatweave rug
Machine-made rug
Price
Star Wars rugs will cost you a little more money than your average rug. You're paying not just for the rug but also for sweet little Grogu's face. Small rugs are usually around $25-$45, medium rugs are $45-$65, and big rugs can be well over $100.
Quality
If you want to be confident of your rug's quality, you can always buy officially licensed Star Wars merchandise. This way, you know the rug is up to authentic Star Wars merchandise standards. If you want to buy from a small company, that's totally fine! Just do a little research the company beforehand.
Design
When it comes to rugs, design is practically everything, right? If you're buying a Star Wars rug as a gift for someone else, make sure you know which characters are their favorite. There will be rugs with their favorite characters, creatures, and starships on them.
Best Star Wars Rugs
Roll out the red carpet! These are the best Star Wars rugs you can find online. I've included rugs with characters and themes across different movie trilogies and T.V. shows, so there's something for every fan.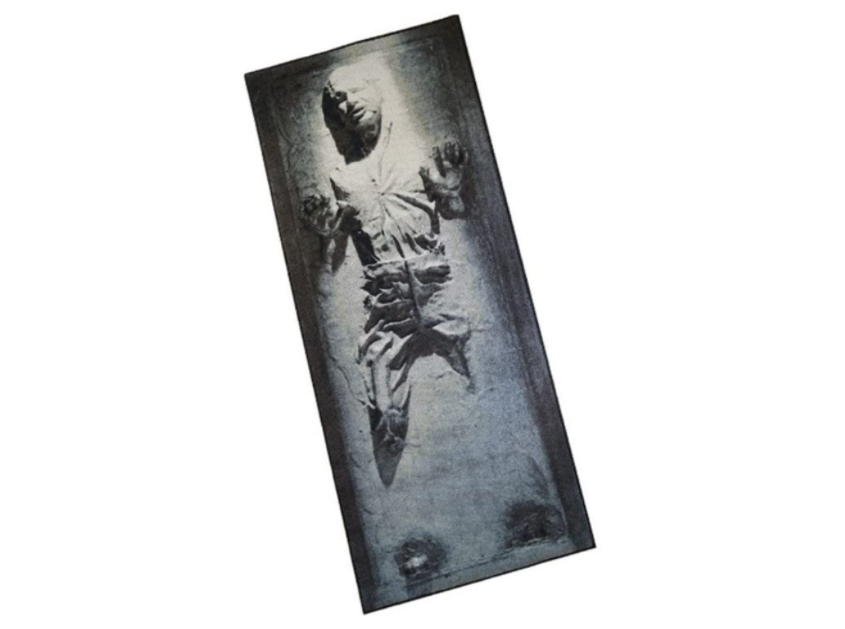 Best For: Best Unique Design
About
Help! Han Solo's been trapped in carbonite! If you want to immortalize this iconic scene of Han Solo's stony imprisonment on your floor, well, you can. Honestly, this is a hilarious rug to buy for Han Solo fans, and they're sure to appreciate it. This is a runner rug, so I recommend it for hallways and other long spaces in the house.
Material: Polyester
Price Range: $85-$95
Warranty: 30-day free returns policy
Best Feature: Iconic design of Han Solo trapped in carbonite
Type of Rug: Runner Rug
Dimensions: 39" X 91"
Pros
Design captures iconic moment when Han Solo is encased in carbonite
Large runner rug perfect for big rooms and hallways
Officially-licensed Star Wars merchandise
Cons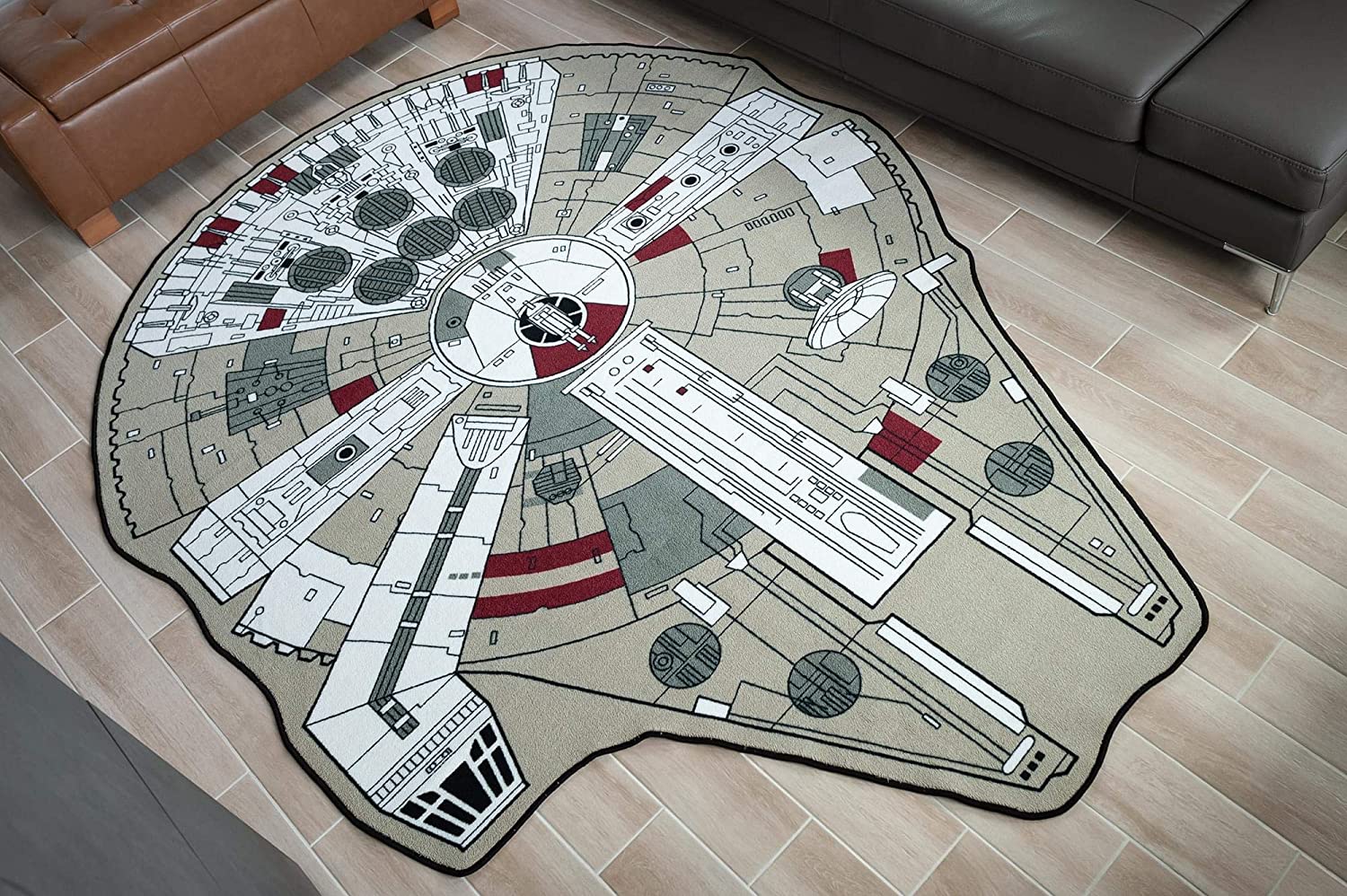 Best For: Best Overall
About
This is the mother of all Star Wars rugs! This white, black, and red Millennium Falcon area rug is huge, making it perfect for a master bedroom or living room. Since the rug is so intricately designed, I think it works great as a play rug. If you notice how the edges are bound, that's done because it helps reinforce the stitching and makes the rug more durable.
Material: Polyester
Price Range: $140-$160
Warranty: 30-day free returns policy
Best Feature: Intricate design and large size
Type of Rug: Area rug
Dimensions: 104" X 79"
Pros
Officially-licensed Star Wars merchandise
Huge, intricately detailed Millennium Falcon design
Pops of red add color
Bound edges offer a long-lasting durability
Cons
Not meant to be very soft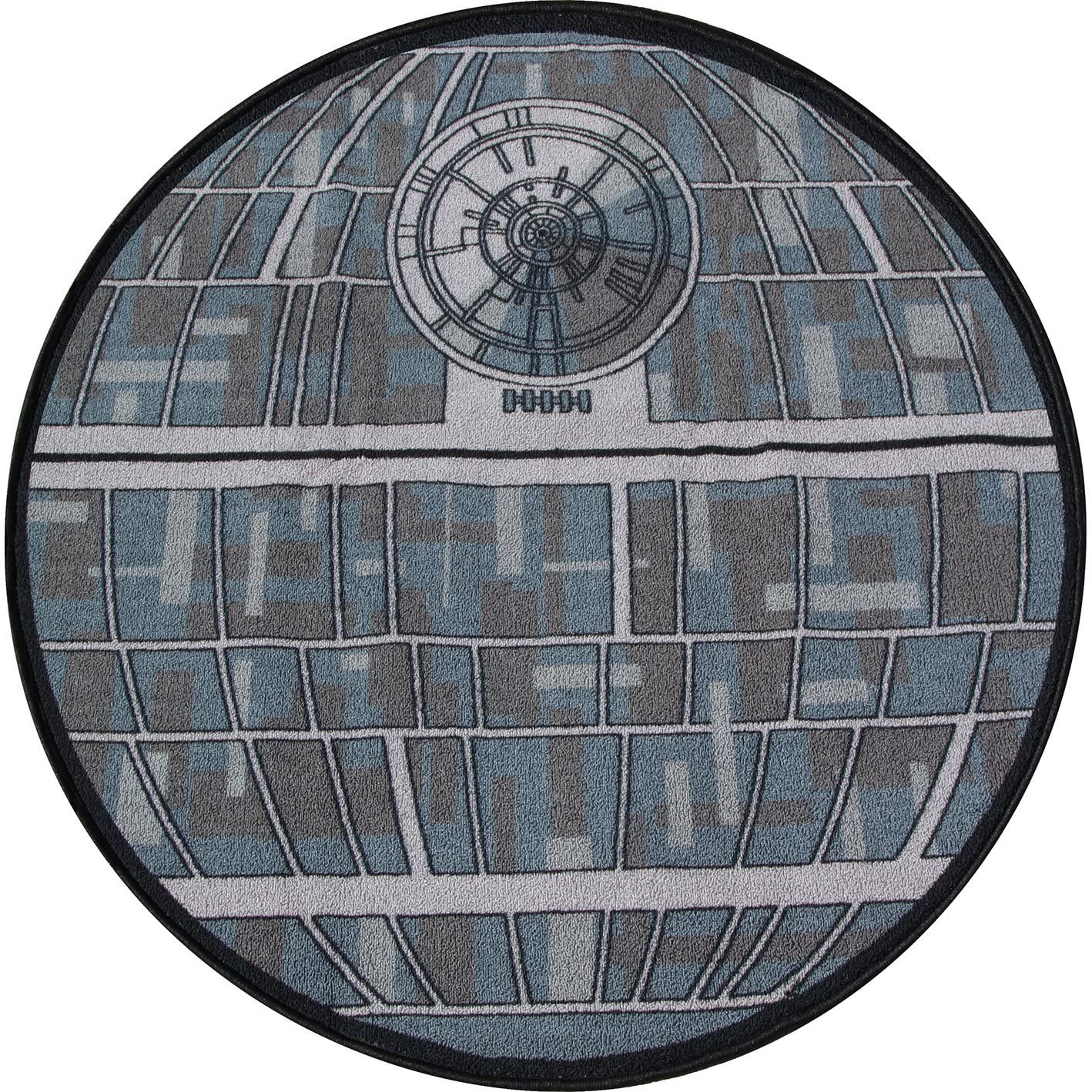 Best For: Best Area Rug
About
Fans of the Dark Side characters and plot arcs will love this. It's their favorite starship on an area rug! Much like the Millennium Falcon rug above, this is an area rug featuring one of the most memorable ships from Star Wars; however, this one is half the size. Being made from polyester pile makes it feel soft.
Material: Polyester pile
Price Range: $55-$65
Warranty: 30-day free returns policy
Best Feature: Large, neutral-toned Death Star
Type of Rug: Area rug
Dimensions: 52" X 52"
Pros
Large, detailed Death Star design
Pops of neutral color with muted blue
Officially-licensed Star Wars merchandise
Durable, bound edges
Cons
Fans who don't like Dark Side characters wouldn't want this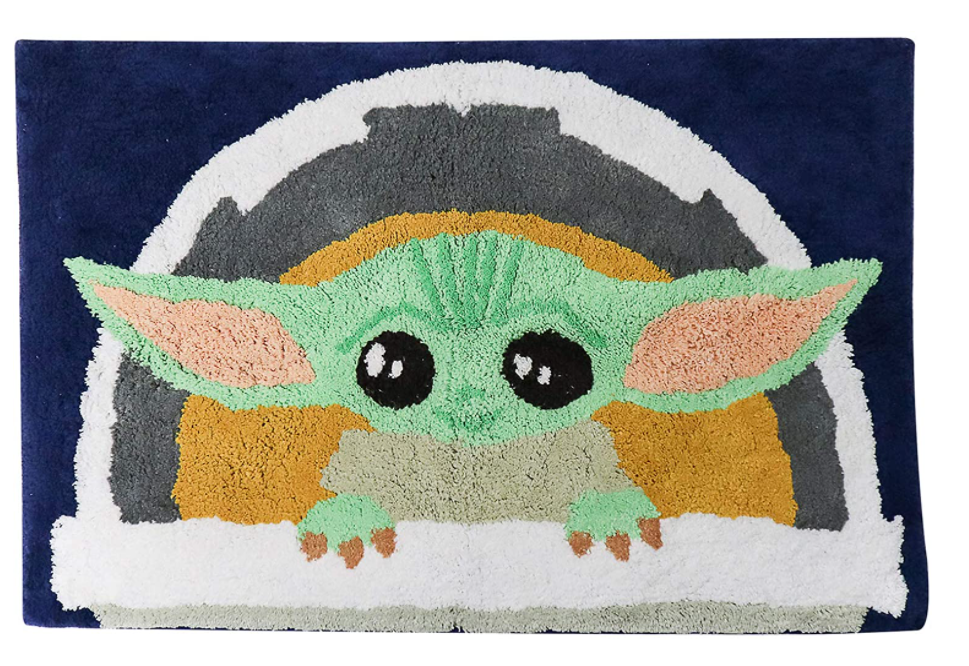 Best For: Best Bath Mat
About
Awww! Can a bath mat get cuter than this? This bath mat features an adorably cartoonish version of Grogu (A.K.A. Baby Yoda.) The mat is made from cotton that's been tufted to give it an incredibly soft feel. This is considered a long pile rug, so the fibers are long.
Material: Cotton
Price Range: $20-$30
Warranty: 30-day free returns policy
Best Feature: Extremely soft, tufted bath mat
Type of Rug: Bath mat
Dimensions: 30" X 20"
Pros
Adorable Baby Yoda design
Super soft tufted cotton
Made by a small company
Cons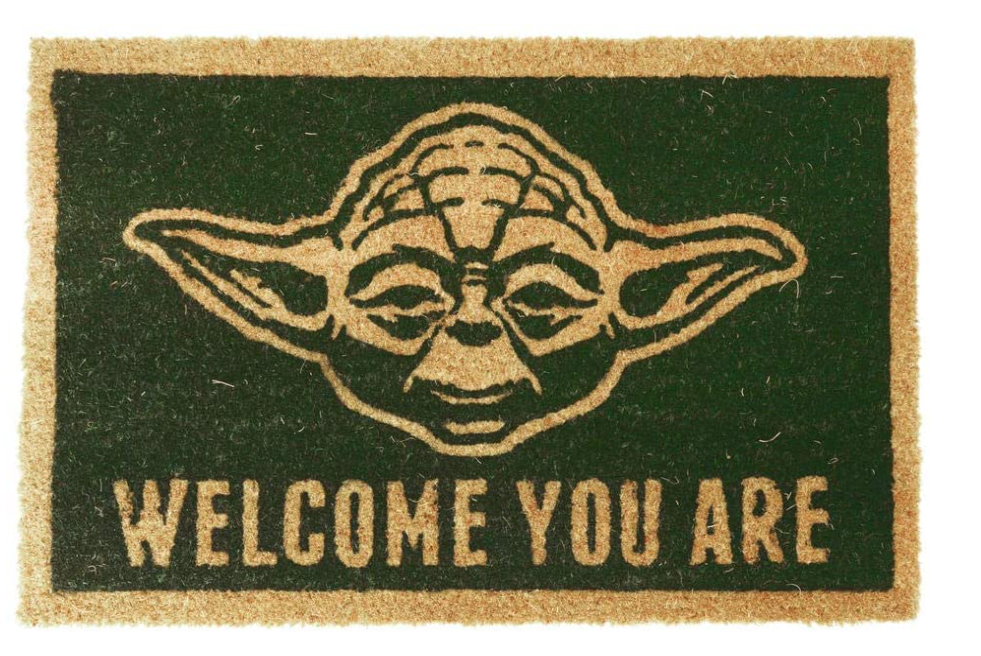 Best For: Price for Value
About
Welcome everyone into your home with the particularly Yoda-like phrase, "Welcome you are." This entry mat is made from incredibly durable polyvinyl chloride, which is perfect for withstanding the weather outside. Yoda fans will appreciate that the pop of color is green.
Material: Polyvinyl Chloride
Price Range: $28-$38
Warranty: 30-day free returns policy
Best Feature: Highly durable
Type of Rug: Doormat
Dimensions: 23.62" X 15.75"
Pros
Highly durable polyvinyl chloride composition
Cute and funny Yoda-like phrase
Green provides the needed pop of color
Cons
While extremely durable, polyvinyl chloride isn't the most attractive material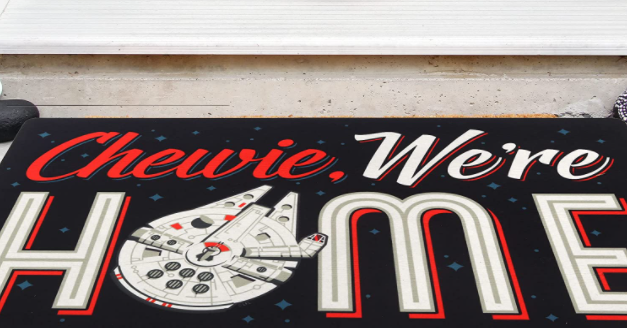 Best For: Best Door Mat
About
This is a rubber entry mat made for fans of Han Solo and the bounty hunter's trusty best friend, Chewbacca. The mat is black with blue stars. There are white and red letters. A small Millennium Falcon makes up the "O" in 'home', which is what really sells this design. This rug is simple, charming, and distinctively Star Wars by featuring a memorable quote from Han.
Material: Rubber
Price Range: $33-$43
Warranty: 30-day free returns policy
Best Feature: Cute, welcoming design with quote
Type of Rug: Doormat
Dimensions: 28" X 17"
Pros
Iconic quote from Star Wars franchise
Cute design including the Millennium Falcon
Official Disney Star Wars merchandise
Cons
Eventually, the rubber could crack and take away from the design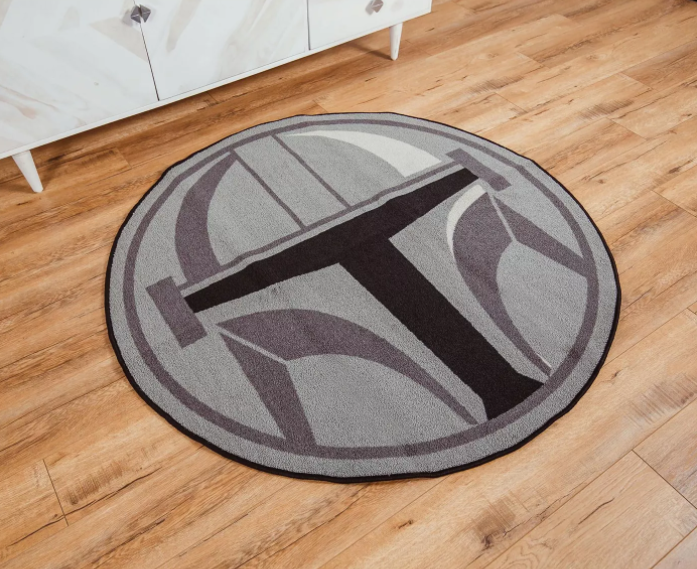 Best For: Best Minimalistic Design
About
If you don't like loud designs in your home, this is the Star Wars rug for you. Fans of The Mandalorian will appreciate that this circular area rug looks like Mando's helmet. Gray, black, and white make this a rug that blends in well with most room themes. Since the rug is made from a polyester pile, it will be a soft rug that doesn't shed much.
Material: Polyester pile
Price Range: $55-$65
Warranty: 90-day free returns policy
Best Feature: Minimalist color scheme and design
Type of Rug: Area rug
Dimensions: 52" X 52"
Pros
Official Star Wars merchandise
High-quality, neutral-toned design of Mando's helmet
Soft polyester pile material
Cons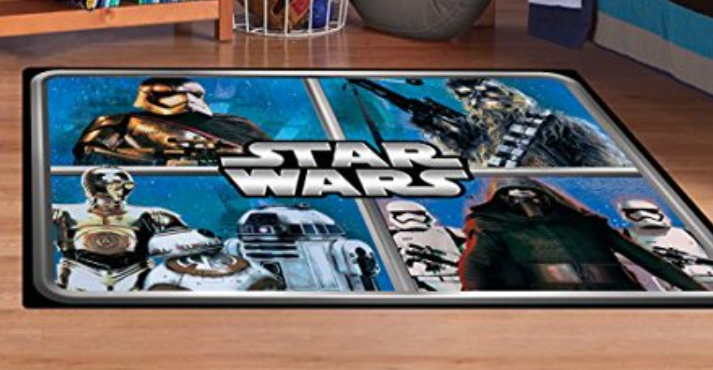 Best For: Kids
About
Kids will love that this area rug features some of their favorite characters from the latest Star Wars movie trilogy. Good guys like Chewbacca, R2-D2, and BB-8 make an appearance, but so do the fearsome Kylo Ren and Captain Phasma. This rug is official Star Wars merchandise, and it has HD graphics, so it's worth the heftier price.
Material: Polyester
Price Range: $88-$98
Warranty: 90-day free returns policy
Best Feature: Epic HD graphics
Type of Rug: Area rug
Dimensions: 40" X 56"
Pros
Cons
Some people may think the design looks busy
FAQ
We've almost finished our journey learning about quality Star Wars rugs, young padawan! To finish up, I'll answer your most frequently asked questions about rugs.
Question: What Kind of Rug is the Softest?
Answer: When it comes to novelty rugs like Star Wars rugs, usually polyester pile and cotton are the two softest materials you'll find. Cotton tufted rugs are incredibly soft. The polyester pile is a soft material, too, because it's manmade for the best feel.
Question: What Do You Call a Non-Fluffy Rug?
Answer: Sometimes, non-fluffy rugs are called short pile rugs. A rug's "pile" is determined by its fiber density. Shaggy rugs are long pile rugs, while flat rugs are called short pile rugs. Welcome mats that are made from polyvinyl chloride aren't fluffy, either, because the material is incredibly coarse.
Question: What Kind of Rug Doesn't Shed?
Answer: Short pile rugs won't shed as much as long pile rugs. Short pile rugs, which are also sometimes called flat-woven rugs, are made with fibers that are more tightly woven together than the fibers in long pile rugs. Many of the Star Wars rugs I've listed up above are short pile rugs, so check them out!
Wrapping It Up
You've completed the battle and learned all there is to know about Star Wars rugs! Park your X-Wing Fighter, pour yourself a glass of blue milk, and relax on your new Star Wars-themed rug. I hope you enjoyed learning the ins and outs of novelty rug buying.
Do you have a favorite out of the 8 rugs I showed you? Let me know which one was your fav! Mine is obviously the Star Wars Death Star Area Rug because it's just so iconic! For more great information about buying Star Wars merch, check out my list of the best Star Wars helmets!
Looking for more interesting readings? Check out: