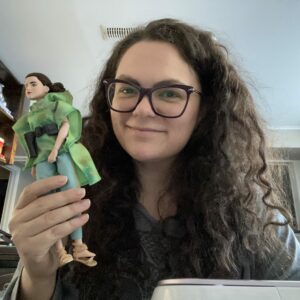 Latest posts by Candace Osmond
(see all)
Did you know there are so many types of Star Wars helmets you can buy? You can buy novelty helmets for sports like skateboarding and cycling. There are even high-tech cosplay helmets with lights, sound effects, and voice changers!
Today, I'm going to show you some of the best Star Wars helmets out there. I'll also give you some pro tips about picking out a quality helmet for yourself. Ready? Let's start!
Bottom Line Upfront
Choosing a Star Wars helmet comes down to its intended use and your fav character. So, for me, it's a no-brainer. The Star Wars The Black Series Boba Fett (Re-Armored) Premium Electronic Helmet is my choice from this list. And with geek convention season approaching, I just added it to my cart.
Top Picks at a Glance
These are the best Star Wars helmets you can find online regarding design, price, quality, and more. There are many different helmet types to pick from, so I've included a variety of helmets for bikes, skateboarding, cosplay, etc. Take a look before we deep dive into each product!
Are All Helmets the Same?
All helmets are not the same. Some helmets are made to protect your head against much harder impacts, like motorcycle helmets. A bicycle helmet doesn't have the same padding and doesn't have to be made to fit the same safety specifications as motorcycle helmets do. I'll explain more about helmet types below so you can buy the right one.
Different Types of Helmets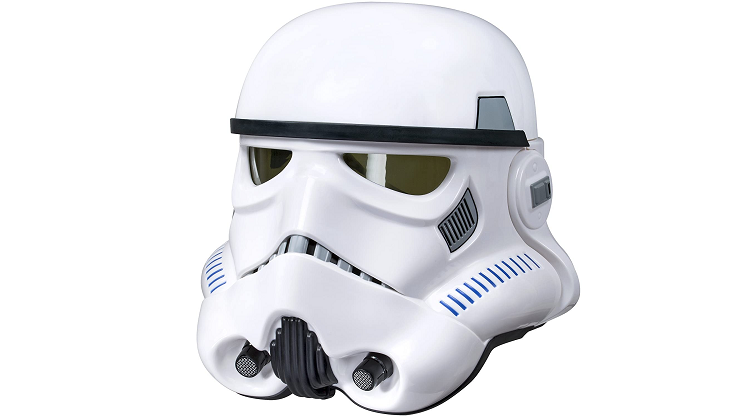 When you're buying a Star Wars helmet with your favorite character from the franchise, you want to make sure you're buying the right helmet type. I've listed some of the most common helmets here along with what makes them unique.
Bike Helmet
Helmets for bike riding need to fit securely, provide lots of ventilation through holes on the top, and completely cover the back of your head. These kinds of helmets should be adjustable with straps that fit under your chin. They should feel lightweight, too, since they are filled with foam.
Motorcycle Helmet
Helmets for motorcycling are built to withstand much harder impacts than bike helmets or skateboard helmets. Motorcycle helmets cover your entire head, and they offer protection with their hard outer layer.
Skateboard Helmet
Unlike bike helmets, skateboard helmets can take multiple impacts instead of just one. They also have a harder protective layer than bike helmets.
Cosplay Helmet
These helmets are made to replicate helmets that characters wear. For example, you can buy a stormtrooper helmet that looks just like the stormtrooper helmets in the movies. Some Star Wars cosplay helmets will even change your voice, too.
Are Novelty or Themed Helmets Good and Safe?
Novelty and themed helmets can be completely safe! It's worth doing your research about a particular product or brand if you're unsure about the brand's credibility. Many novelty helmets are of great quality, and since Star Wars is so popular many high-quality helmets based on the series are available.
What to Look for in a Star Wars Helmet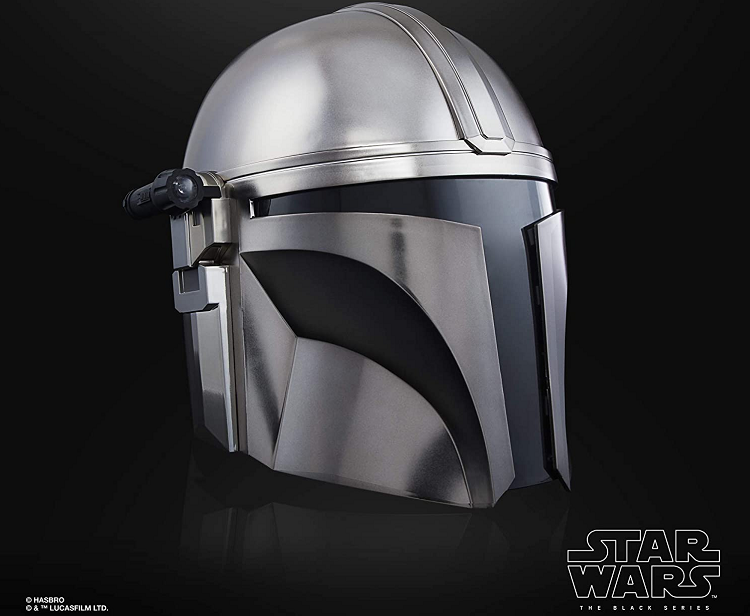 Now that we've covered the different types of helmets you can buy, I want to get specific about what to look for in a quality helmet. Helmets can be vital for your safety, so it's worth taking a second look at any helmet you're considering buying.
Design and Style
Helmet safety always comes first if this helmet is for sports, but… I'm not about to discount design and style. Your new helmet should be printed or painted with crisp, clean lines. You can choose from a huge variety of different characters and symbols with how vast the Star Wars universe is, so you can afford to be picky.
Size
By measuring across your forehead horizontally with a measuring tape, you can find out what helmet size you are! Honestly, it's that easy. Some helmet sizes, like for bikes, come in standard sizes like:
Toddler
Child
Youth
Adult
Type
When picking out the right helmet for you or the Star Wars junkie you know, first figure out what the helmet is for. Is it for a particular sport, like cycling or skateboarding? You may want a cosplay helmet instead for a convention or other fan activity.
Price
The price of your Star Wars helmet will vary based on its type, size, brand, etc. Don't be shocked that most quality Star Wars cosplay helmets go for over $100 or even $200. Bike helmets, skateboard helmets, and motorcycle helmets are usually much cheaper.
Warranty
Some helmets, particularly pricey cosplay helmets, will come with a warranty protection plan. Check out the warranty plans from the store or seller you're buying the helmet from because there is often a 30 or 90-day time limit for returning products.
Quality
This is how you can check to make sure the Star Wars helmet you're buying can withstand jumps through hyperspace (but not literally):
See if the product has mostly 5-star reviews
Research the company's reputation
Check what materials the helmet is made of
Certifications
While decorative helmets featuring Darth Vader striking a pose in front of the Death Star look flashy and cool, their main purpose is to keep you safe. Make sure the company you're buying your helmet from has the proper certifications for selling safety gear if you're buying your helmet for sports.
The Best Star Wars Helmets
These are the best Star Wars helmets you can find. I've got a great mix of cosplay helmets and sport-oriented helmets in this list, so there is something for everyone. Did I mention that some change your voice? Tell me that isn't cool.
Star Wars: The Force Awakens Adult Kylo Ren 2-Piece Helmet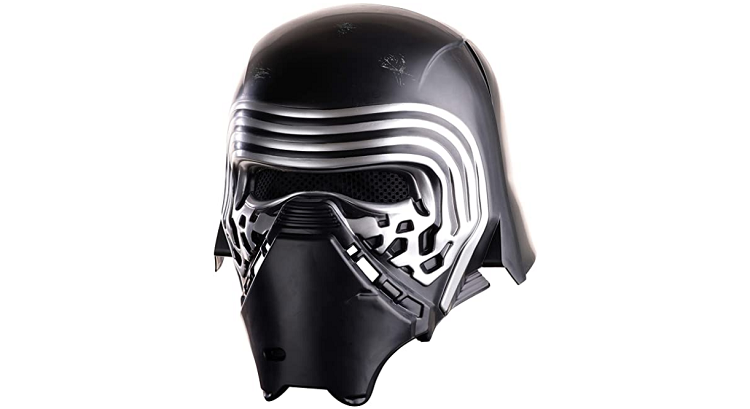 Best: Price for Value
About
Are you a fan of Kylo Ren, too? Well, this helmet was made just for us. This Kylo Ren cosplay helmet is official Star Wars merchandise, and it's easy to snap into place.
The helmet is made up of 2 pieces- the front and back- which click together when you want to put it on. You can even see the detailing where Kylo's helmet was damaged in The Force Awakens, making this a special find.
Price Range: $35-$45
Warranty: 30-day free returns policy
Best Feature: Low price for a quality cosplay helmet
Fun Fact
Ben Solo's original lightsaber was a beautiful shade of aquamarine. Being a blue lightsaber-wielder meant he preferred to fight with the physical aspects of the Force instead of the metaphysical.
Pros
Inexpensive for a cosplay helmet
Officially licensed merchandise
Battle damage detailing on helmet
Cons
Since this helmet is one size fits all, it won't fit everyone and can't be adjusted
Star Wars The Black Series Luke Skywalker Battle Simulation Helmet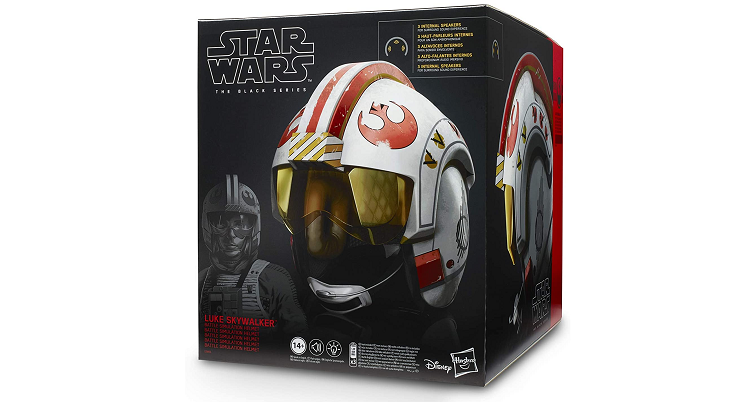 Best for: Best Overall
About
This one's for the heroes! This cosplay helmet is a replica of the one Luke Skywalker wore into the Battle of Hoth and the Battle of Yevin.
The coolest part? You can change the lights and sound effects inside the helmet to replicate either the Hoth or Yevin conflict. This helmet deserves a spot in your Star Wars display with a plushy interior, adjustable straps, and accurate detailing.
Price Range: $190-$210
Warranty: 30-day free returns policy
Best Feature: Light and sound effects from 2 different battles
Fun Fact
In a deleted scene from Return of the Jedi, you can watch Luke Skywalker building his green lightsaber!
Pros
High-quality, officially licensed product
Light and sound effects to simulate battle
Comfortable interior
Precise, accurate detailing
Cons
Star Wars The Black Series Boba Fett (Re-Armored) Premium Electronic Helmet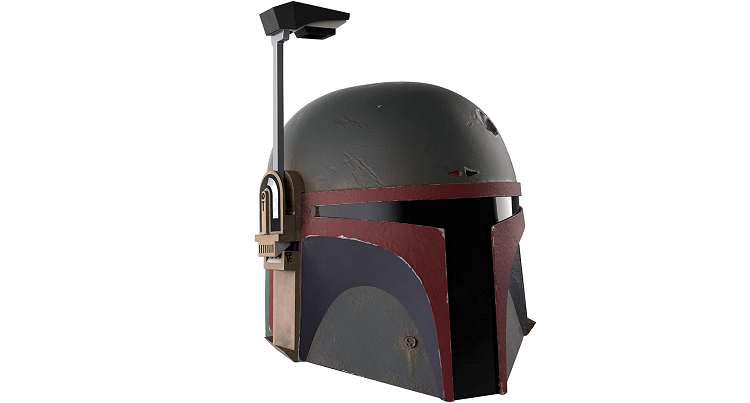 Best for: Light-Up Features
About
Where are my bounty hunters at? If you're a fan of Boba Fett, this electronic cosplay helmet is perfect. Boba Fett's armor is scratched in the same places in The Mandalorian.
There are flashing red LED lights and white LED lights to mimic Fett's redesigned armor from the show. You can adjust the helmet to be the size you need, which is another reason this is worth the investment.
Price Range: $115-$125
Warranty: 30-day free returns policy
Best Feature: Red and white LED lights
Fun Fact
Did you know that Boba Fett's original debut was in a special holiday cartoon? It's true.
Pros
Cons
Star Wars The Black Series The Mandalorian Premium Electronic Helmet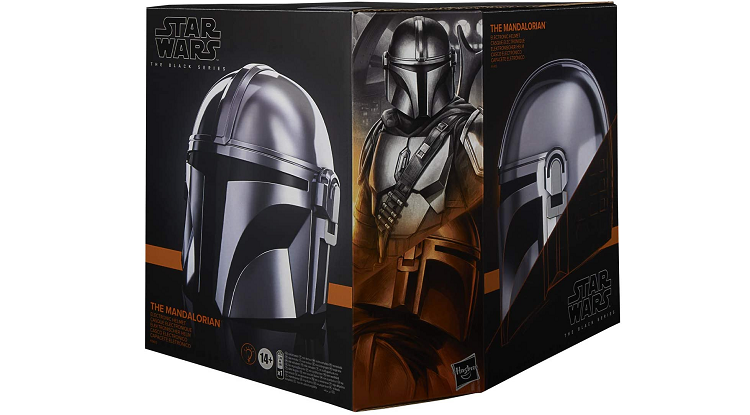 Best for: Design
About
This cosplay helmet is a replica of Mando's from The Mandalorian. All the details match Mando's helmet to a T. Buying Star Wars helmets from The Black Series means you're buying officially licensed products, which is a huge plus for some fans.
You can remove the tactical light on the helmet's side and check out the red lights inside the helmet, which activate when upside down.
Price Range: Please contact seller directly
Warranty: 30-day free returns policy
Best Feature: High-quality detailing
Fun Fact
Each episode of The Mandalorian takes about $13,000,000 to make!
Pros
Cons
Star Wars The Black Series Rogue One: A Star Wars Story Imperial Stormtrooper Electronic Voice Changer Helmet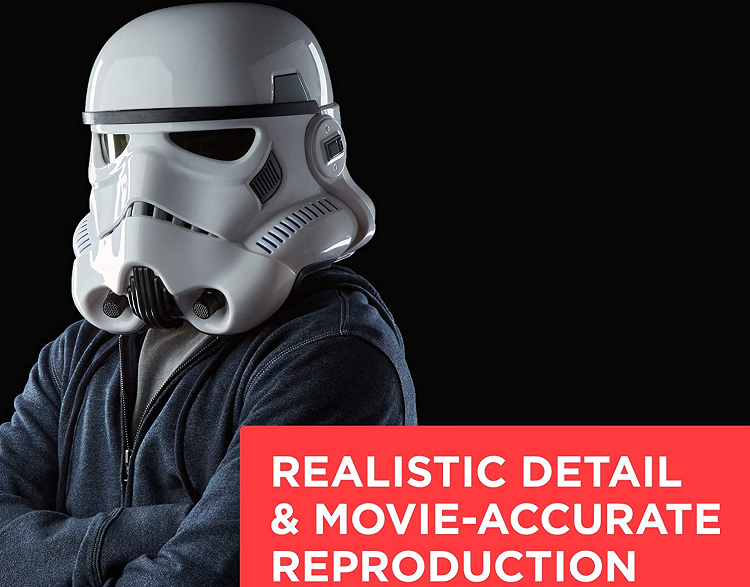 Best for: Bonus Features
About
Get ready to sound just like a stormtrooper! Remember, the Empire needs you. All jokes aside, the coolest and most unique aspect of this helmet is that it completely alters your voice, so you sound like a stormtrooper.
This is another adjustable cosplay helmet from The Black Series, so it's worth the price for the collector-grade quality. These helmets are replicas of the ones worn by stormtroopers in Rogue One.
Price Range: $134-$145
Warranty: 30-day free returns policy
Best Feature: Voice changing feature
Fun Fact
Rogue One: A Star Wars Story was the first standalone film not part of a trilogy in the Star Wars movie franchise.
Pros
Cons
BELL Star Wars The Mandalorian Child Bike Helmet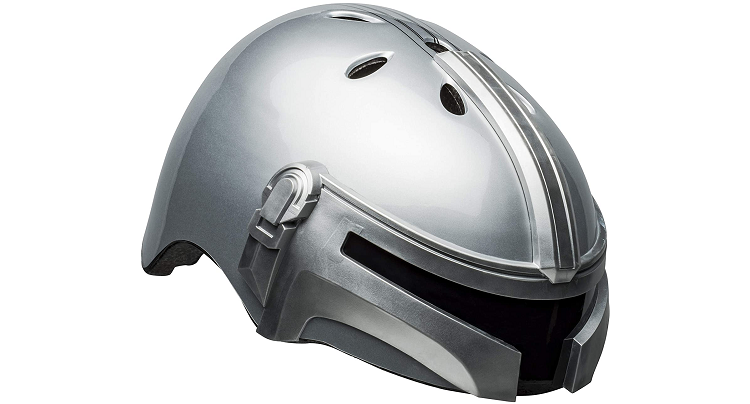 Best for: Kids
About
If your kid is somewhere between 5 and 8 and they love The Mandalorian, consider this bike helmet. This helmet looks like the top part of Mando's helmet, even with accurate ear compartment details.
The straps make it easy to adjust. I highly recommend measuring your kid's head to make sure this helmet would fit because it's dangerous to ride a bike with a helmet that doesn't sit right.
Price Range: $20-$30
Warranty: 30-day free returns policy
Best Feature: 3-D side ear compartments that look like Mando's
Fun Fact
Pedro Pascal doesn't have just one stunt devil for his role of Mando in The Mandalorian. He has 2!
Pros
Vents on top of helmet
Fits U.S. CPSC Safety Standards for Bicycle Helmets
Easy to adjust
Cons
Only for kids 5-8 years old
BELL Star Wars BB-8 Child and Toddler Bike Helmet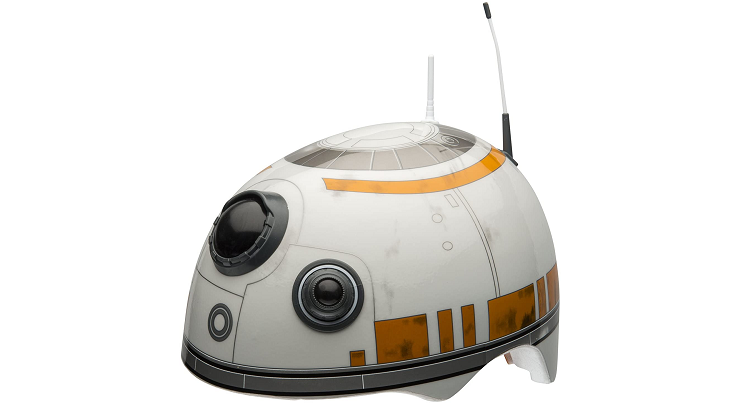 Best for: Toddlers
About
Do you have a tiny Star Wars fan in your house? This Star Wars helmet featuring the beloved droid, BB-8, will keep them safe as they explore the galaxy from their bike.
Price Range: $14-$28
Warranty: 30-day free returns policy
Best Feature: Complies with the major U.S. safety standards for sporting helmets
Keep in mind that this helmet is made for toddlers, so it's best for kids between 3 and 5. Safety comes first, so you'll be happy to know this helmet follows all safety regulations for:
U.S. CPSC Safety Standards for Bicycle Helmets
U.S. ASTM Safety Standards for Multi-Impact Skateboard Helmets
Fun Fact
J.J. Abrams took inspiration from soccer balls when he was coming up with BB-8's design.
Pros
Follows U.S. safety regulations
Top and rear vents
Adorable design
Cons
Not for kids older than 5
Star Wars The Child/Baby Yoda Child Bike Helmet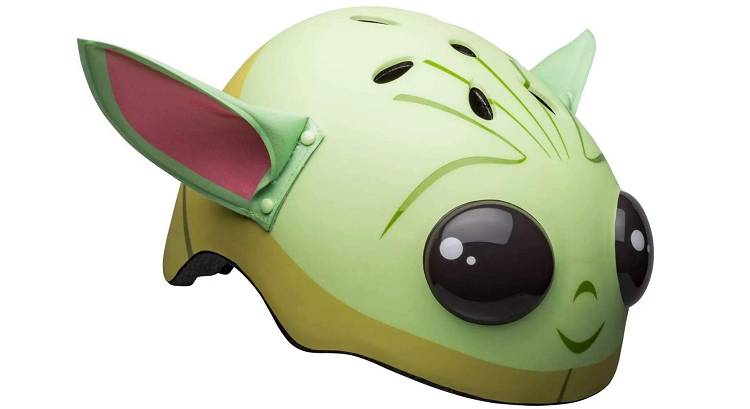 Best for: Cuteness
About
Baby Yoda fans 5-8 years old are going to love how this cute, cartoon-style version of their favorite character looks on their new bike helmet. His trademark green ears stick out of the sides of the helmet, and his eyes stick out of the top.
Vents on the top will help keep your little one cool. Straps on the side make it easy to adjust. This is a safe helmet, too, being CPSC-certified.
Price Range: $20-$30
Warranty: 30-day free returns policy
Best Feature: Cute design
Fun Fact
Even though this cute alien character has been given the widespread nickname "Baby Yoda," he is referred to as "The Child," in the T.V. show. His real name is Grogu.
Pros
Cute, eye-catching design
CPSC-certified
Easily adjustable
Cons
BELL 7071185 Star Wars 2D Darth Vader Youth Multisport Helmet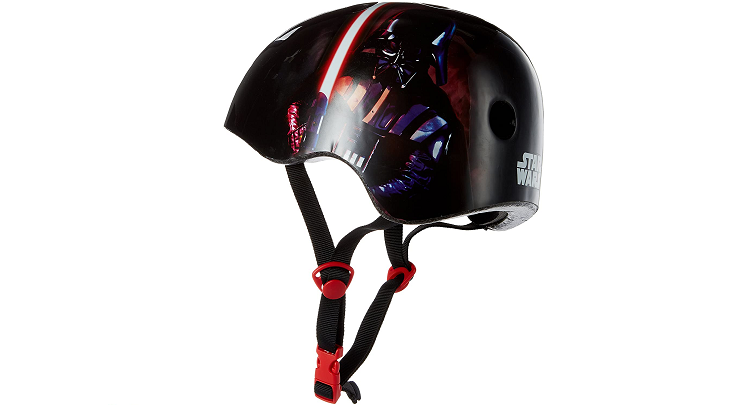 Best for: Multisport Helmets
About
This Darth Vader helmet for kids 8-14 is CPSC-certified and ASTM-certified, which means it's been tested and proven to be safe for cycling and skateboarding.
If your kid is one with the Dark Side of the Force, they can appreciate that this helmet features their favorite Sith Lord and the interior of the Death Star. The black and red adjustable straps match Darth Vader's style, too.
Price Range: $14-$24
Warranty: 30-day free returns policy
Best Feature: Multifunctional
Fun Fact
If you listen closely during Star Wars prequels, you'll notice Darth Vader's theme song is used during moments of foreshadowing.
Pros
Safe to use for bike riding and skateboarding
Awesome design of Darth Vader and the inside of the Death Star
Very breathable with vents in the top and back
Cons
FAQs
Your most frequently asked questions about Star Wars helmets will be answered in this last section! Many Star Wars characters wear helmets, so there are quite a lot of replicas you can buy.
If you have any other questions about helmets besides those below, please leave me a comment so I can answer you!
Question: How Do I Choose the Right Helmet?
Answer: When you're trying to choose the right helmet, know:
• What you want the helmet for
• The size of the helmet you want to buy (toddler, child, youth, young adult, adult, etc.)
• If the brand you're buying from is reputable
Question: How Do You Size and Buy a Helmet?
Answer: To make sure you're buying the correct size helmet when you need exact measurements, simple:
• Pull out measuring tape
• Measuring horizontally, wrapping the tape around your forehead
• Use that measurement for your helmet size
Question: Is It Worth Buying an Expensive Helmet?
Answer: It's completely worth it when it comes to collecting Star Wars helmets, particularly some of the electronic voice-changing helmets. While some of these helmets are expensive now, if you keep them in pristine condition, they'll be worth much, much more in the future should you ever resell them.
Finale
Do as Darth Vader does by snapping your helmet into place and venturing out onto a harrowing adventure! Well, I hope your adventure is a little less harrowing. I also hope you learned everything you needed to about buying novelty helmets.
After seeing the 9 best Star Wars helmets online, do you have a favorite? Did you pick my personal fav, the Star Wars The Black Series Boba Fett (Re-Armored) Premium Electronic Helmet ? Let me know in the comments below! Come check out our website for more great Star Wars merchandise!