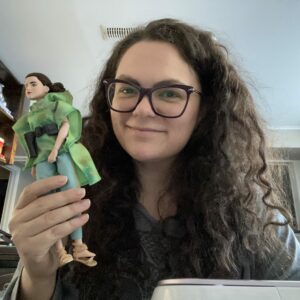 Latest posts by Candace Osmond
(see all)
What could be cozier than cuddling up under a throw blanket shaped like the Death Star as you reminisce on our Sith Lord's past conquests? Okay, maybe you're more of a Porg or Baby Yoda kind of blanket-lover.
The point is, there is a Star Wars-themed blanket for everyone, no matter who your favorite character or creature may be. In this guide, I'll show you how to spot quality blankets and how to care for them properly. I'll also give you my suggestions for the 7 best Star Wars-themed blankets I'm already jealous of. Let's begin!
Bottom Line Up Front
There are so many great Star Wars-themed blankets to choose from. But my personal choice would be the Star Wars Classic Grid 5 Piece Full Bed Set for its cool design but also because it's a full bed set! I would have loved to have this set when I was a kid!
Top 3 Picks
First, let's go over the 3 best blankets on the list. In terms of quality, design, and price while also taking into consideration character popularity, these are the best picks on the list. Check these out before we do anything else!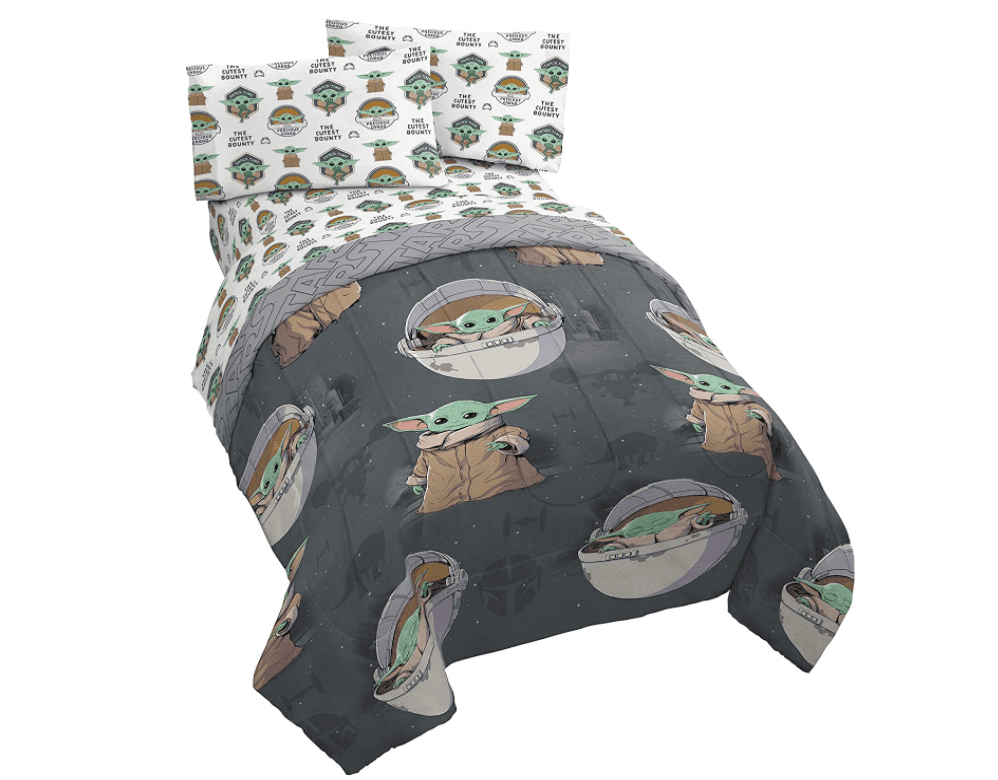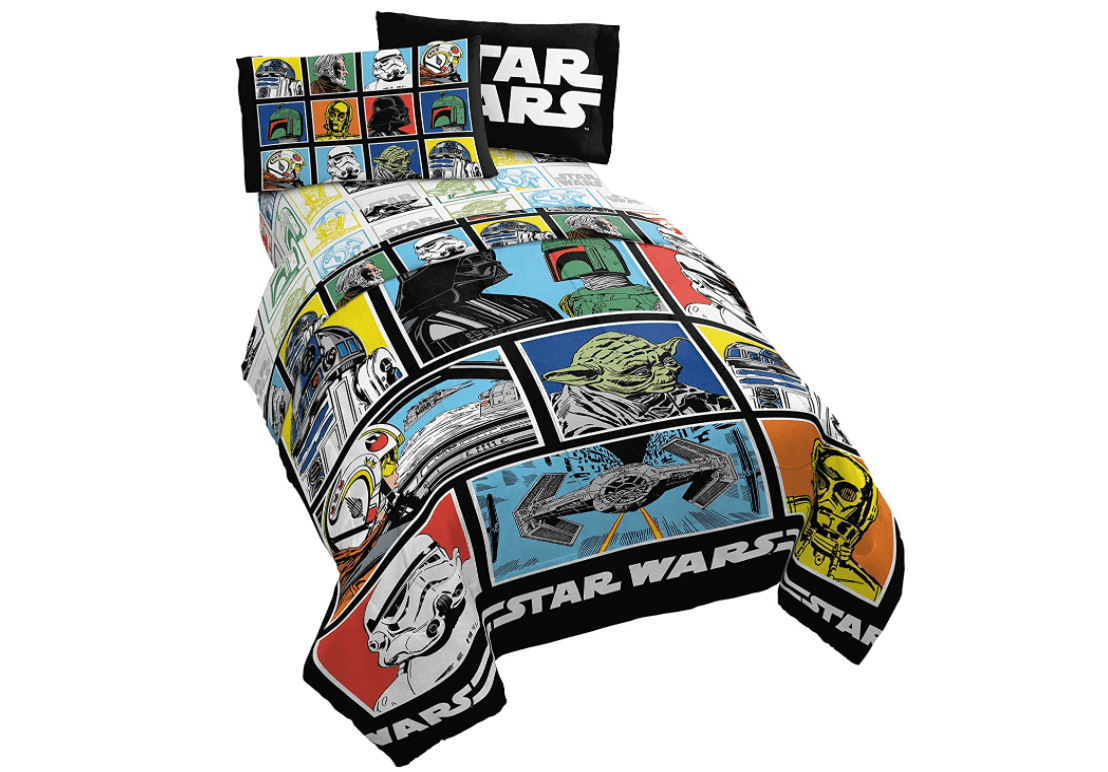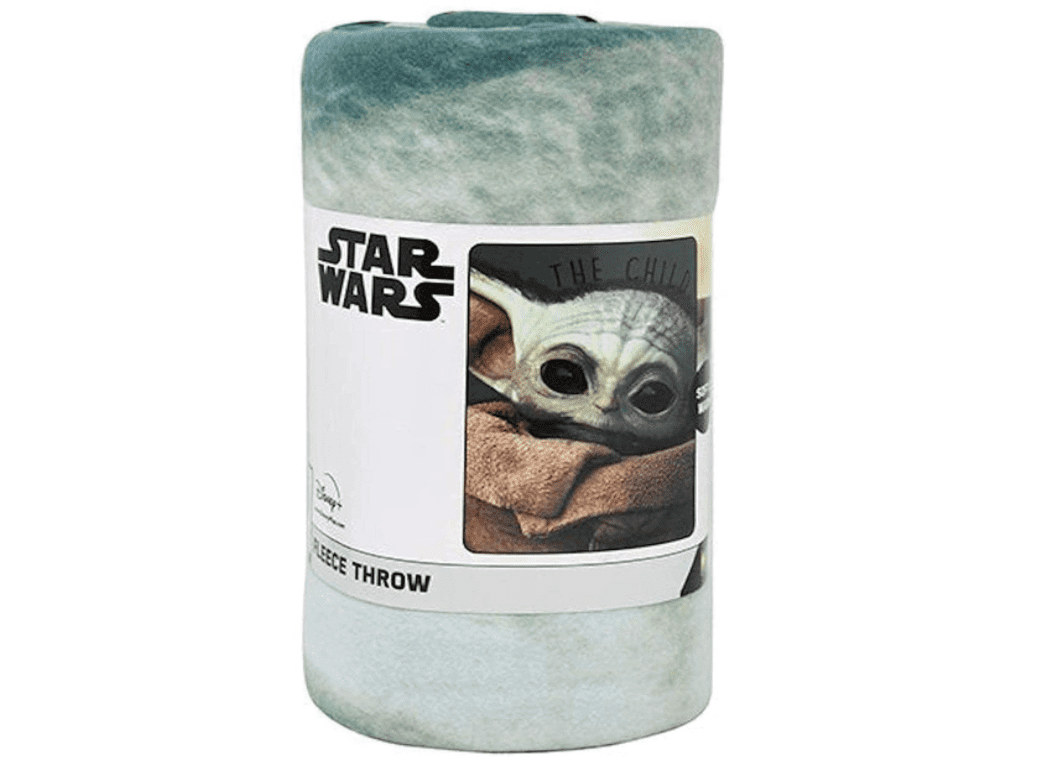 What is the Best Material for Themed Blankets?
There is a big debate over this. The truth is different materials are good for different people. Also, certain materials are better for either warmer or colder climates. Look at these quick charts to see which blanket material would be the best fit for you.
Cotton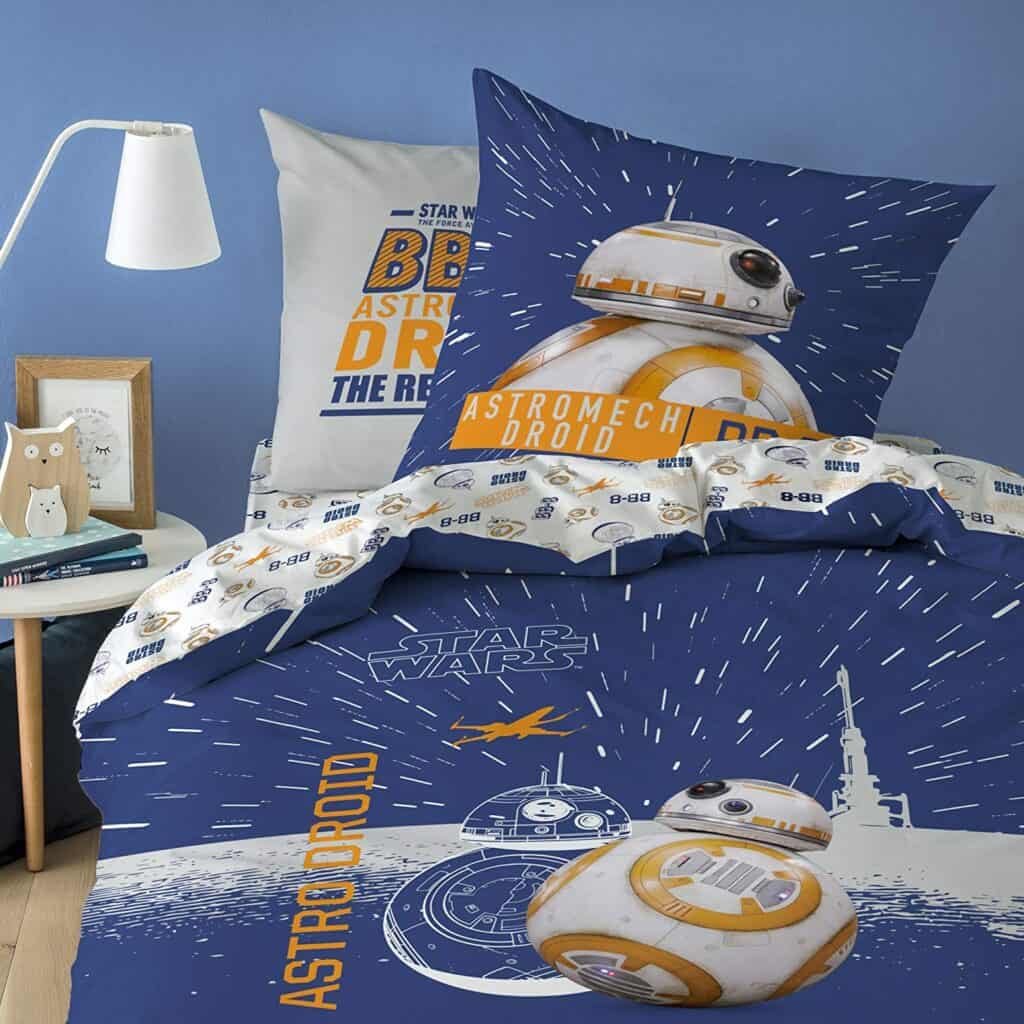 This is the material that's best if you live in a hot climate since cotton is very breathable. Cotton is a natural product, so some seek it out for an eco-friendly choice.
Pros
The most breathable fabric

Doesn't overheat

Soft material
Cons
Not moisture-wicking

Not the best for cold climates  
Cotton Fleece
Cotton fleece is made of cotton, but sometimes synthetic polyester is used in this material, as well. Fleece is made by weaving and fluffing thin cotton fibers together. This makes a super soft, fairly breathable fabric.
Pros
Retains heat better than regular cotton

Does not get as hot as polyester

Softest material
Cons
Polyester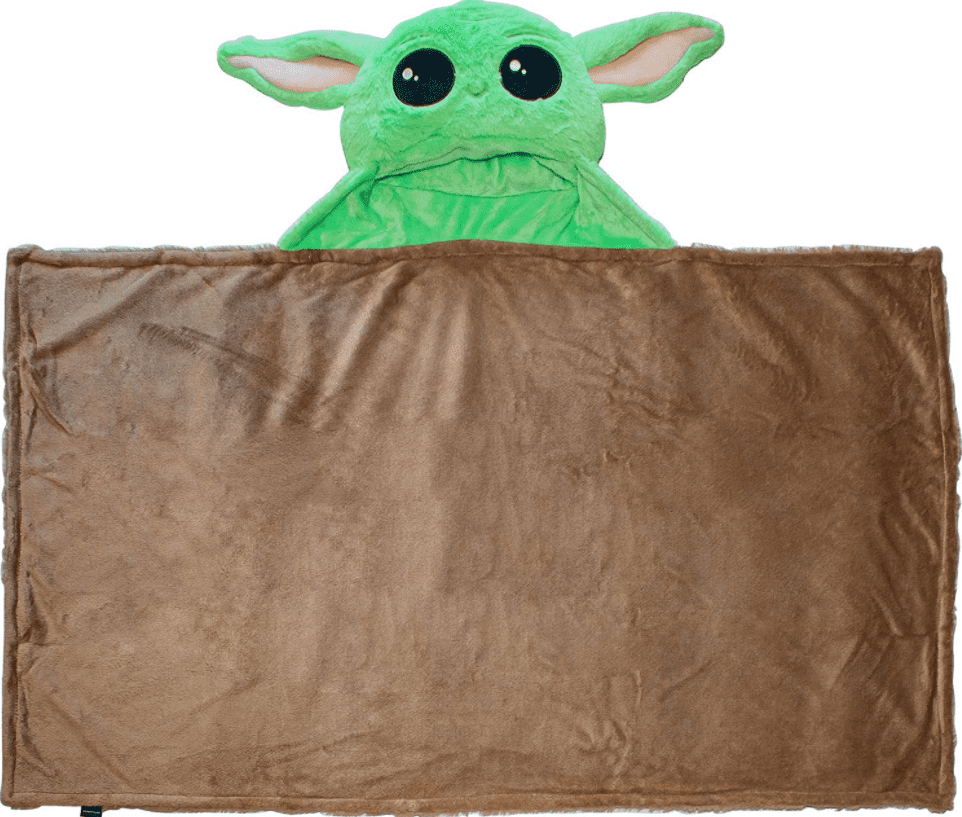 If you live somewhere cold, a polyester blanket is the best choice. Polyester retains heat better than cotton, and it's moisture-wicking. An added bonus is that polyester is generally a cheaper material than cotton since it's manmade.
Pros
Moisture-wicking

Retains heat the best
Cons
Gets too hot in warm climates

Sometimes isn't as soft as cotton
What to Look for in a Star Wars Themed Blanket
This is the criteria I used to make the product recommendations in this guide.
Size
Blankets come in all sizes to fit all types of beds. Before buying a Star Wars-themed blanket for yourself or someone else, consider where the blanket is going to go. Will it lay on the couch as a throw blanket? In a crib? On a bed? What size bed?
Usually, there will be an option when you're buying a blanket online to choose the size you want. If you're going to buy a throw blanket, aim for a blanket that's 50" X 60".
Price
The price of a blanket is going to fluctuate a lot based on factors like:
Does the blanket come in a set?
Is it a throw blanket, or is it meant for a bed?
Is it an official Star Wars product?
Generally, you don't want to pay less than $15 for a fleece throw blanket or more than $95 for a comforter set.
Material
The most popular materials for blankets, comforters, and duvet covers are:
Cotton is natural while polyester is man-made. Polyester stays warm while cotton is breathable. Fleece made of either one of these materials will be softer than the original material.
Washability
Be honest with yourself. How much work do you want to put into the upkeep of this blanket? What I mean is, washing a simple duvet cover is much easier than taking care of a blanket with sequins, beads, and heavy dyes.
If you're buying a blanket for yourself, go wild! Get a blanket with all the bells and whistles! If you're buying a blanket for a kid, go for a blanket that's easy to wash, like polyester.
Warranty
Sometimes, the Star Wars-themed blanket you want will come with a warranty. If you're not sure that the Rebellion blankie you've been dying for includes a warranty, check the description box or ask the seller directly through an email!
Price vs Worth
This is a tricky one. Depending on how old the blanket is (whether it's vintage or not,) what manufacturer made the blanket, if it's a limited edition blanket, and a whole lot of other factors can determine the price of an item.
If you're checking out an Obi-Wan blanket with a price that looks a little too high, check the price of that same blanket in other places online. Does it go for the same price on eBay? Overstock? AliExpress?
Common Characters and Themes Found on Star Wars Blankets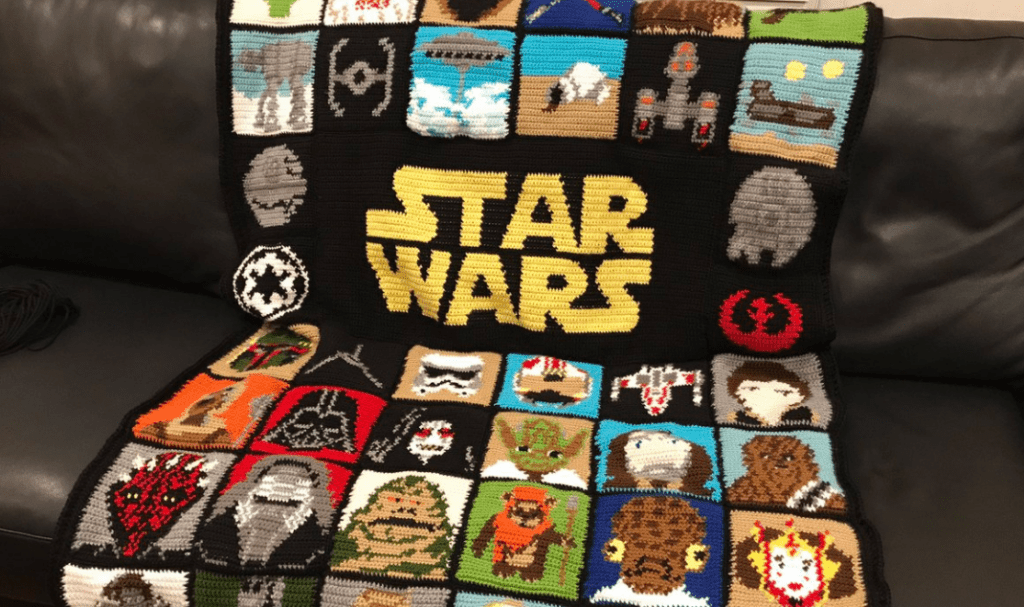 This list may shock you. For Star Wars to be a series about heroic people putting their lives on the line for the fate of the galaxy, this list does not indicate that. Hey, I'm just here to report what the people want. These are some of the most popular/most marketed characters.
1. Grogu A.K.A. The Child A.K.A. Baby Yoda
Yep, Baby Yoda takes the #1 spot on the list. No one can get enough of Grogu, and they want him on everything.
With how cute and squishy Grogu looks, it's no wonder he's selling lots of blankets. Blankets themselves are soft, cute gifts.
2. Darth Vader
The longstanding most popular character in Star Wars takes second place. I would say shame on all of us for parading a villain around as our champion, but his design! His power! His command over the Force! How could we not?
If you're buying a blanket for someone who rallies with the Dark Side over the Jedis, you can't go wrong with Darth Vader. Everyone who likes Dark Side characters likes Anakin.
3. Porg
Ryan Johnson had no idea how well his idea of turning island birds into CGI porgs would pan out for him. For a while there, we all saw porgs on pieces of merchandise as often as we saw minions (and minions had a chokehold on novelty items and kid's toys like Vader had a chokehold on the galaxy.)
Porgs are small, cute, penguin-like avian creatures that everyone wants to take home with them. Yes, there are tons upon tons of porg blankets.
Tips for Washing Themed Blankets
Some blankets are easier to care for than others. A lot of polyester blankets and duvet covers can be popped in the washer and dryer just like clothes. Cotton blankets should be washed with cold water and dried using medium heat, but they can be taken care of easily.
This section covers how to care for blankets with extra features. Buying an extra-fancy blanket doesn't mean you have to put it on display and never touch it again if you follow these easy steps for keeping blankets clean.
Heavy Dyes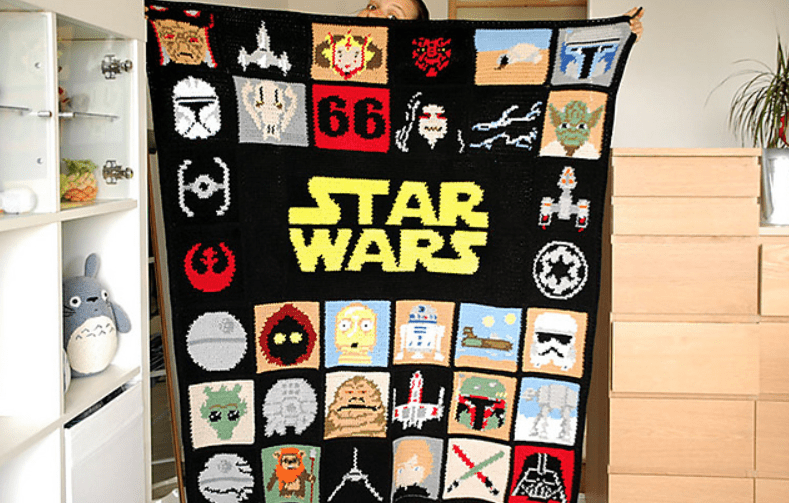 Always always always wash heavily dyed blankets in cold water. Here's why:
Coldwater keeps fibers taunt and tightly closed
Hot water opens fibers and loosens the dye
By washing in cold water, you'll keep each blanket fiber tightly closed, which prevents dye from seeping out. Avoid ever using bleach, too.
Metallic Threads
If your Star Wars-themed blanket has a picture of the Millennium Falcon or Death Star made of metallic threads, I highly recommend hand washing your blanket. Hand washing metallic threads ensure they won't be pulled out of place by the roughness of a washing machine or dryer.
Let a blanket with metallic threads air dry after you've washed it. For the best results, I recommend hanging your blanket somewhere that prevents it from touching any other fabrics as it dries.
Sequins
Handwashing is the way to go for sequins, too. Sequins are notorious for falling off or being ripped out of fabric when washing and drying them in a machine. That's why you should let this type of blanket air dry, too.
Types of Blankets to Choose From
There are 3 basic types of blankets to choose from: throw blankets, comforters, and duvet covers. Each one is very different, so here I run through them all very briefly.
Best Star Wars Themed Blankets
Someone play the intro music! Let's look at the 7 best Star Wars-themed blankets created to make your fellow fans jealous. If someone you know has got a favorite character from the galaxy far, far away, stay tuned!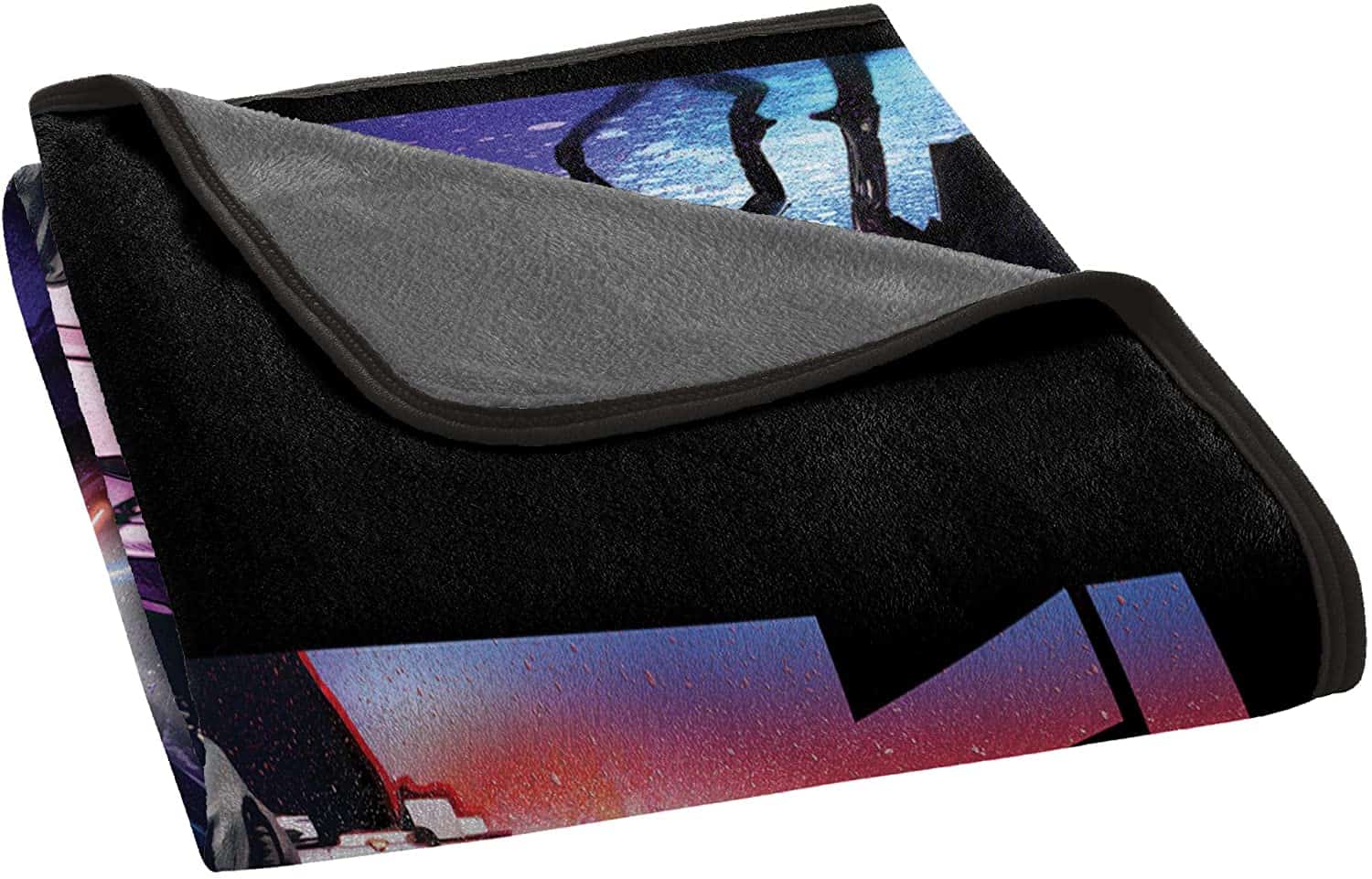 Best for: Old School Fans
About
Lovers of the original trilogy, unite! This is a plushy polyester microfiber throw blanket with a retro image of Darth Vader fighting Luke. A larger, more ominous Darth Vader holding a red lightsaber stands strong in the background. The fabric on the other side is gray.
Size: 46" X 60"
Type: Throw blanket
Price Range: $15-$25
Material: Polyester microfiber
Care
Polyester microfiber is 100% safe to be washed in the washing machine and dried in the dryer! Yay! No hassle! You can wash and dry this blanket the same way you do your clothes.
Pros
Features one of the most beloved characters
Retro design
Soft polyester microfiber
Cons
The design does not extend all the way to the edges of the blanket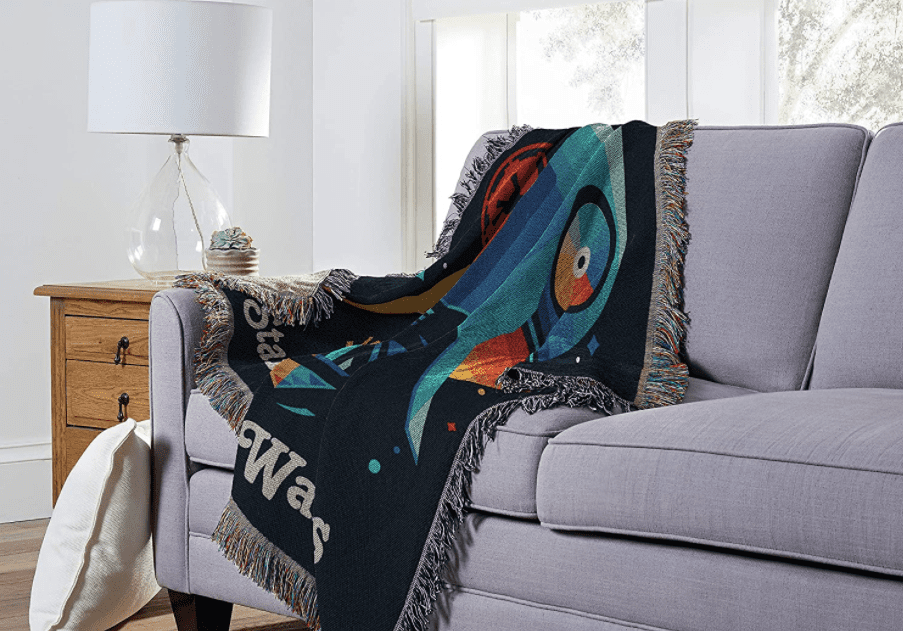 Best for: Unique Design
About
This blanket shows us a colorful, geometric take on Darth Vader and the Death Star. You could almost call it cheerful. While this blanket is thin, it is made from polyester which means it does a great job at keeping you warm. The colorful fringe on the ends adds a retro, eye-catching pop.
Size: 48" X 60"
Type: Throw blanket
Price Range: $18-$28
Material: Polyester
Care
Since this blanket has fringe around all the edges, you'll want to buy a mesh laundry bag when it's time to wash and dry it. A mesh laundry bag keeps your blanket separate from everything else in the wash. It also keeps the fringe from getting tangled together.
Pros
Features a wildly popular character
Unique design
Colorful fringe
Cons
You'll need a mesh laundry bag to wash and dry it properly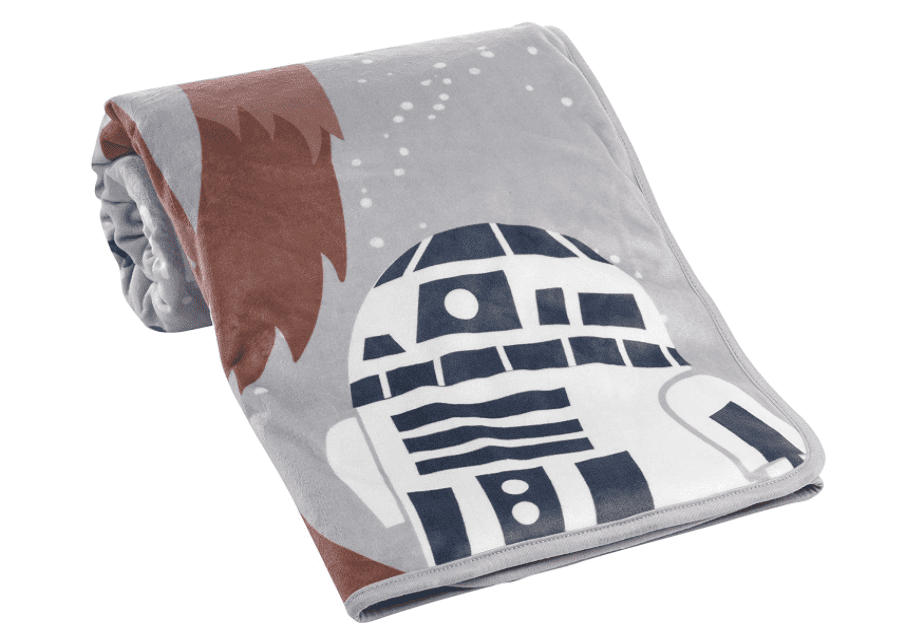 Best for: Babies
About
Sherpa is a super soft material that's perfect for your tiny rebel. With a cutesy picture of R2-D2, C-3P0, and Chewie, your kid will have a whole crew to take on the galaxy with. Above the 3 familiar heroes are the words, "The world needs more rebels!"
Size: 30" X 40"
Type: Baby blanket
Price Range: $22-$32
Material: Sherpa
Care
Sherpa should be taken care of the same way as fleece. Always make sure to wash a sherpa blanket in cold water, and always use a mild detergent. Remember this above all things: sherpa and fabric softener do not mix.
Pros
Adorable pictures of 3 characters
Perfect size for strollers and cribs
Sherpa is very soft
Cons
Sherpa is slightly harder to care for than cotton and polyester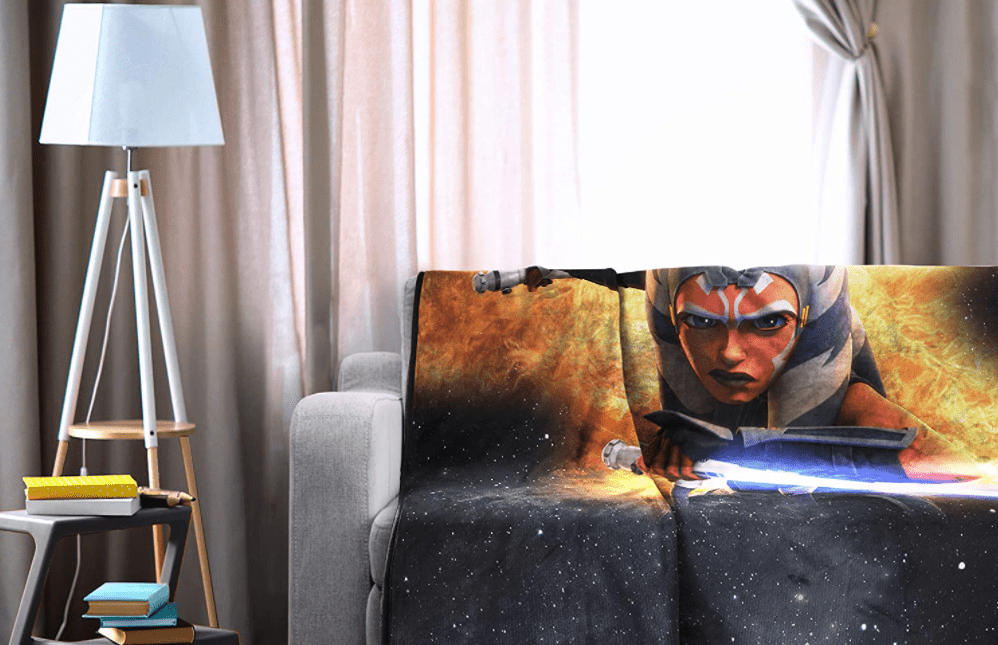 Best for: Kids
About
If you're a stickler for official merchandise, this is an official Star Wars product. This super soft fleece blanket features Ahsoka Tano, Anakin's beloved padawan from the show Star Wars: The Clone Wars. This blanket is bigger than a throw, making it the perfect size for kids' beds.
Size: 62" X 90"
Type: Throw blanket
Price Range: $18-$28
Material: Fleece
Gifting Ideas
Does a kid you know love the Star Wars: The Clone Wars animated series? There are tons of novelty gifts from the show! In addition to this blanket, you can buy other merchandise from The Clone Wars, like:
Posters
Pajamas
LEGO sets
Collector's books
Pros
Perfect for fans of Ahsoka Tano
Official Star Wars merchandise
Fade-resistant
Cons
Should be air dried or tumble dried on low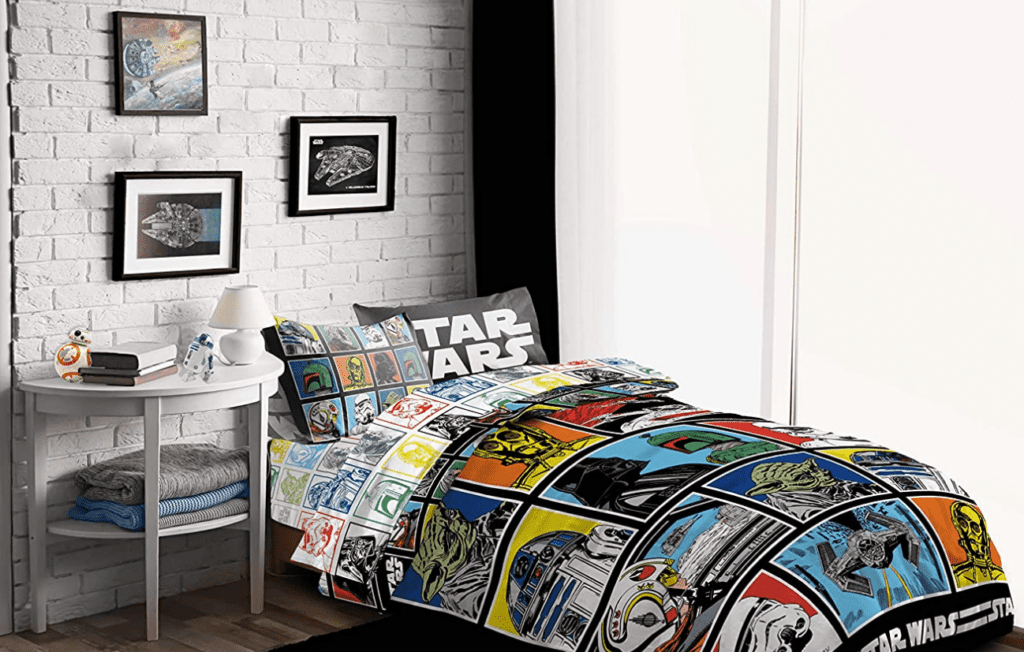 Best for: Design
About
Fans of the original Star Wars movies will love this comic book-esque, grid-style Star Wars comforter set. I love that the comforter is reversible, so you get two distinctive designs on both sides. Since the comforter is made out of microfiber, you can be sure it's uber soft.
Size: Full
Type: Comforter set
Price Range: $65-$75
Material: Polyester
What's Included?
In this 5-piece set, you'll receive:
1 reversible comforter
1 fitted sheet
1 flat sheet
2 pillowcases
Pros
Complete set
Comforter is reversible and has 2 designs
Official Star Wars merchandise
Cons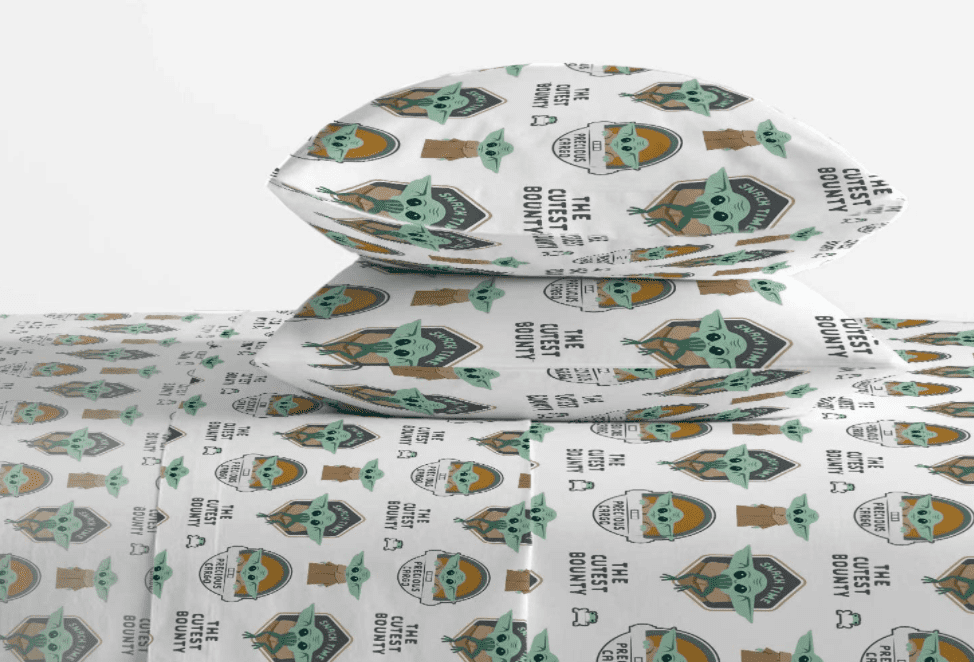 Best for: Quality
About
If you love Baby Yoda, this is the official Grogu comforter set you've been searching for. It's an official Star Wars product, too. This is a complete comforter set, so you'll get everything you need to redo your bed. It's made of microfiber that keeps you very toasty.
Size: Full
Type: Comforter set
Price Range: $75-$85
Material: Polyester
What's Included?
In this 5-piece set, you'll receive:
1 reversible comforter
1 fitted sheet
1 flat sheet
2 pillowcases
Pros
Features a wildly popular Star Wars character
Made of microfiber for extra softness
Official Star Wars merchandise
Cons
FAQ
Don't go anywhere! In our last section together, I answer your most frequently asked questions about Star Wars-themed blankets! Don't see your questions answered below? Leave a comment or question below and I'll get back to you.
Question: Are Star Wars Themed Blankets Valuable?
Answer: Star Wars-themed blankets are valuable, particularly if a blanket is an old or limited edition. Like all Star Wars merchandise, Star Wars blankets gain monetary value with age and restriction of supply.
Question: Where Can I Buy Star Wars Themed Blankets?
Answer: Everywhere! Star Wars-themed blankets are sold on Amazon, eBay, AliExpress, Overstock, Etsy, and lots of other places online. You can easily find them in popular stores like Walmart and Target. Every Disney store has Star Wars-themed blankets, too.
Question: How Big is a Themed Blanket?
Answer: Star Wars-themed blankets come in all different sizes. You can get baby blankets, throw blankets, and even California king-size comforters.
Draw Your Lightsaber
It's time to venture out into the world of Star Wars-themed blanket-buying on your own, young padawan. You've learned what type of fabric is the best fit for you and how to spot a high-quality blanket from lightyears away.
And like I mentioned before, my personal pick would definitely be the Star Wars Classic Grid 5 Piece Full Bed Set. Tell me which of the 7 Star Wars-themed blankets is your favorite! For even more great Star Wars merchandise guides, come check out our website!
Looking for more interesting readings? Check out: