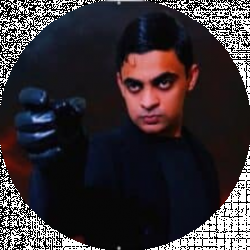 Latest posts by Boo-Ali Khan
(see all)
Always pass on what you have learned. – Master Yoda.
With this Adidas Star Wars Guide, I'm trying to do just that!
Over the years, I have tried learning everything about the Star Wars series. The deeper I dug, the more I felt lost in the 'galaxy far, far away! 'The characters, the storyline, the cinematography, the CGI, everything in the Star Wars world is just beyond imagination. I must say, being a movie geek and a nerd, I always found solace among these galaxies.
We all want to get close to our favorite heroes by having something that always reminds us of them. Adidas, one of the most iconic international brands, collaborated with LucasFilms and Disney to release a spectacular array of products to satisfy intergalactic fans. The world of Star Wars and Adidas are so beautifully amalgamated in these products that it leaves everyone in awe.
Be it shoes, apparel, or anything, Adidas outdid itself with this collab. Particularly for sneakers fans, this collection is heaven. The designs, the functionality, the attention to detail, everything is just spectacular and worth all your bucks!
So, in this best Adidas Star Wars guide, I am going to take you through an intergalactic walk, showing you the best this collection has to offer.
Disclaimer: the collection is so vast that you might feel overwhelmed. But don't worry; I will be helping you with tips and recommendations based on my own experiences so that you make the best choice for yourself instead of getting lost in the Outer Rim.
Gear up, trooper; this journey might be a tough one.
Bottom Line Up Front
Although I love everything Adidas came out with in collaboration with Star Wars, my favorite one has to be Adidas X Star Wars Zx 2k Boost Han Solo Core Black Shoes. The design and colors of these shoes are the perfect tribute to the iconic and forever charming Han.
The brown belt detail takes it to another level. With his face over the tongue of the shoes, and the Adidas BOOST technology used, this pair is the perfect all-rounder running shoes for every fan. Not to mention, these are also unisex.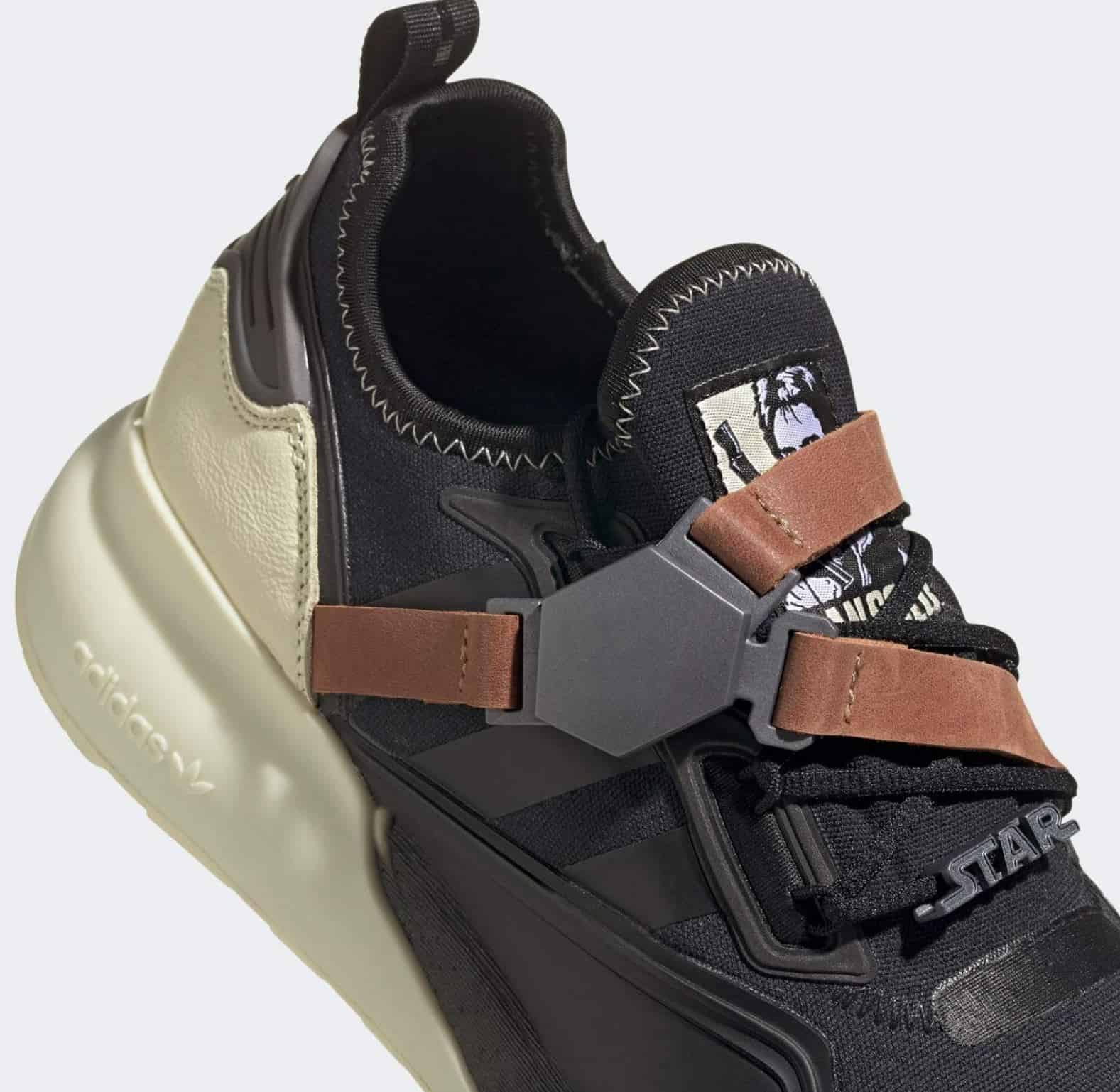 My Top Picks
My Criteria for Choosing These
Being a Jediphile, there is a high chance I might be biased when it comes to the show. But I can assure you that the recommendations I made in this guide are free from outside influence. If you are wondering what made me choose these particular ones, here are my reasons:
The collection is so popular that it sold out within minutes. So, I made the difficult decision to include only those which are still in stock.
They are high quality and comfortable to wear. The Adidas experience is going to be the same!
The ones I have picked are quite popular among Star Wars fans.
The collection beautifully captures the vision of Star Wars. The Jediphile in me was satisfied with the accuracy of references!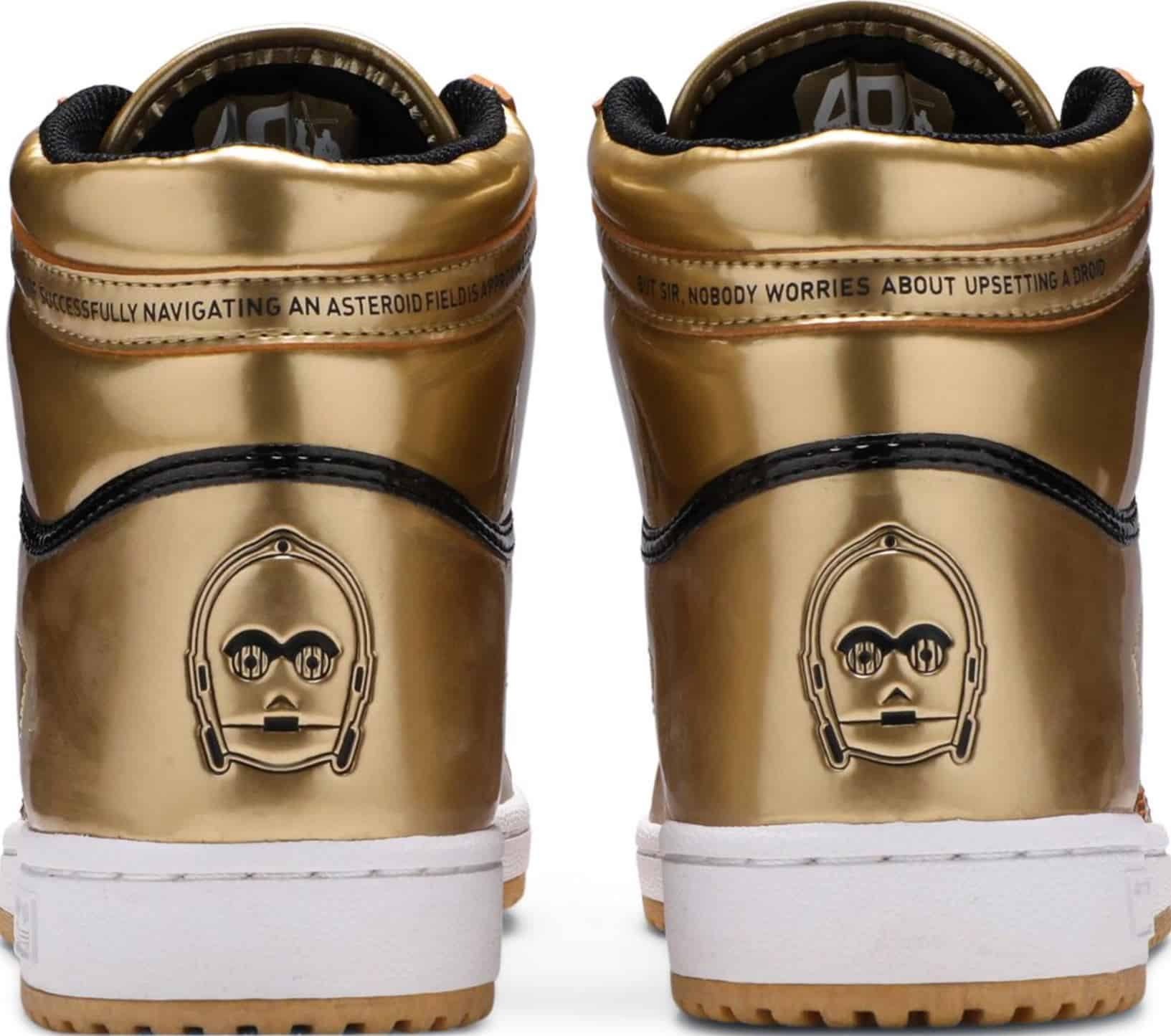 Tips and Tricks to Make Your Shopping Safe!
Only Buy From Authentic Sites
Considering how big of a brand Adidas is and how popular the Star Wars franchise is, it is no surprise that there are thousands of websites selling dupes for these products.
Finding the original Adidas Star Wars product is going to be a difficult task for you. So, I would suggest buying from Adidas' official website or Amazon.
There are other sites selling authentic Adidas as well, but you have to be pretty careful about them. You'll have to dig deeper on those sites and might need to go full Sherlock to see if they are selling originals or not.
Check the Sizing
Before buying shoes or any apparel, checking the size is a must. Never miss the size guides that the company provides on its websites. Shoes, especially, are tricky to buy online as you never know if they will fit your feet from all sides and would be comfortable. So, you have to be extra careful with that.
Also, check the seller's refund and exchange policy before placing an order, so you can change it anytime if it doesn't fit you. Adidas itself offers an efficient refund and exchange policy.
Prepare a Budget
It would be an understatement to say that Adidas is expensive. These are like once-in-a-while investments, so you have to budget accordingly. In my case, I save up for three months to get my favorite pair.
Budgeting and planning is the key to a successful shopping experience. Always plan out what you want and what you don't. You can also wait for the sales to buy your favorite product. But do remember that doing so may lead to your favorite product getting out of stock. So, play your cards carefully.
My Top 10 Pick from Adidas Star Wars Collection:
Running Shoes
Adidas Star Wars running shoes are one of a kind. The Boost and Ultraboost technology make them super comfortable and lightweight. Also, they are stylish and pay tribute to the most iconic characters in the Star Wars universe in the most unique way!
Adidas X Star Wars ZX 2K Boost 'Han Solo'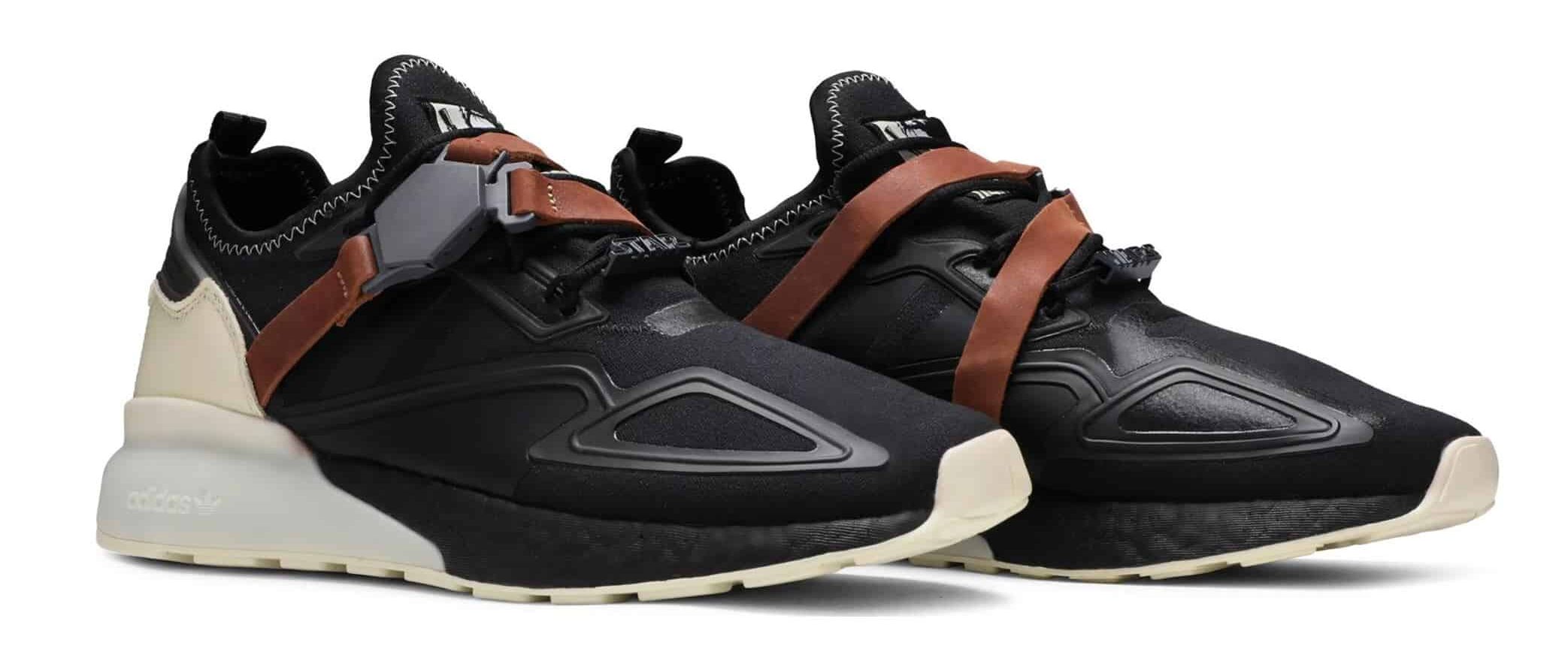 "You Know, Sometimes I Amaze Myself"
Well, you amaze us every time you come on screen, Ford (I mean Han Solo!) One of the most beloved actors of all time playing one of the most iconic characters to ever exist is a treat we all deserved. He was a scoundrel you couldn't help but fall in love with!
Han Solo is undoubtedly one of my favorite characters in Star Wars Galaxy. When I heard that Adidas, in collaboration with Lucas Films, is going to pay tribute to Han, I knew what I had to do. Save money, duh!
Right off the bat, these Han Solo shoes are the coolest to look at. The black mesh+leather design on the front of the shoe, a brown hexagon-buckled belt overlaying it, just like the one Han had, and a cream leather patch on the back make this one stand out. Putting it simply, the design and color scheme resembles Han's outfit in the series.
Like other Star Wars-themed shoes, this one also has Han's picture and a scene from the movie printed on the tongue of the foot. You might not be able to do the Kessel Run in under twelve parsecs like Han, but trust me, these are the running shoes you need!
Pros
It has responsive Boost cushioning running through the midsole, making it more comfortable and lightweight.
It is unisex.
Cons
A bit pricey even for a bounty hunter.
Adidas Originals Ultraboost DNA x Star Wars Yoda, Trace Cargo-core Black-raw Khaki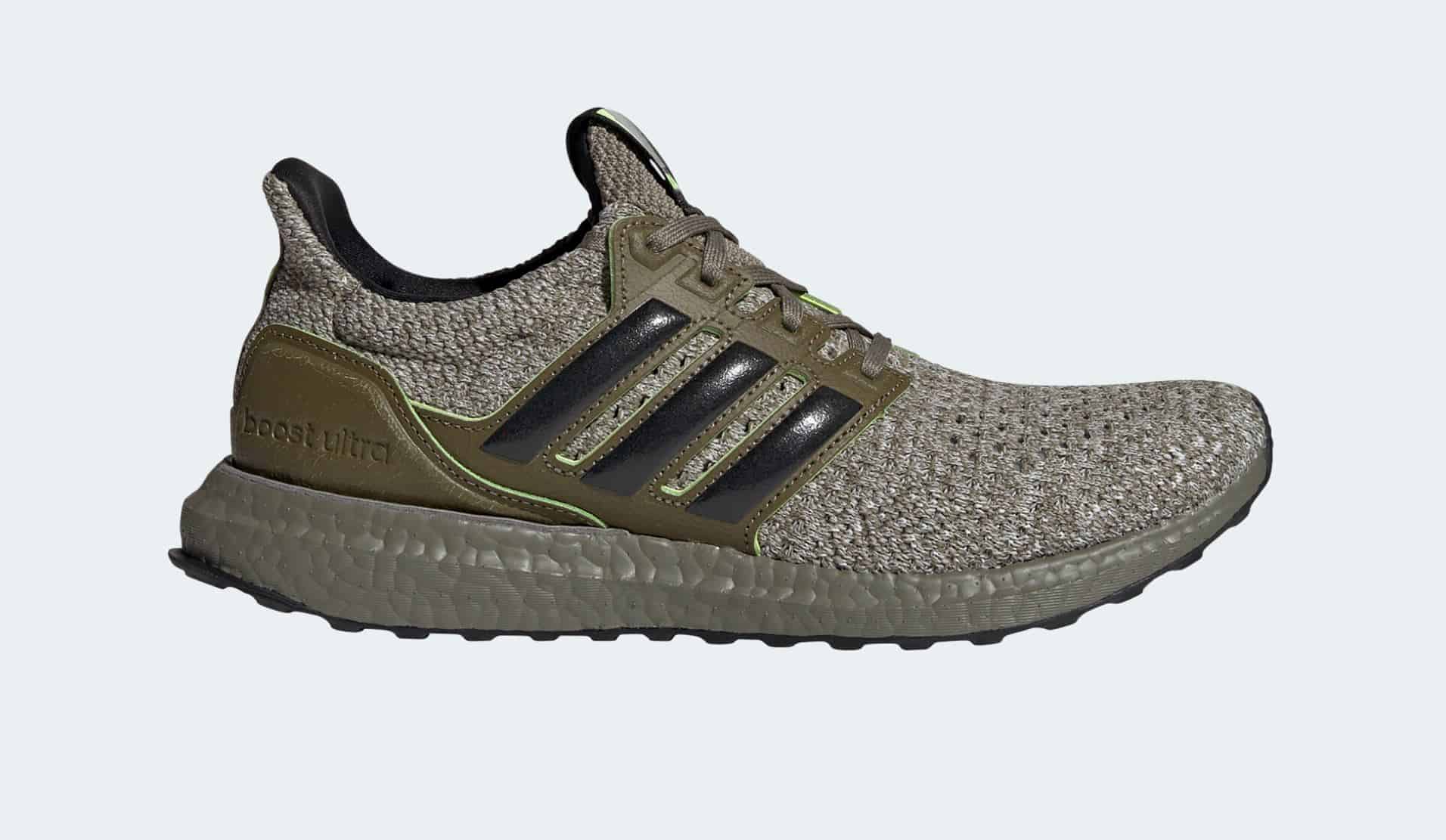 I am not old enough to remember when The Empire Strikes Back came out, but I certainly remember when I first saw it on DVD. It was magical, or should I say, magical, it was, that introduced me to my favorite character to ever exist, Master Yoda. His wisdom and Jedi skills blew my mind off and were just phenomenal, just like these Adidas Star Wars Yoda shoes.
When I saw this shoe for the first time, I couldn't believe it; it was a perfect tribute to the Jedi Master. The green rustic detailing on the khaki-colored shoe was just breathtaking. Not to mention, the top is made of breathable and moisture-soaking yarn to avoid sweating and swollen feet.
Talking further about its appearance, I really liked Master Yoda's picture with his green Lightsaber on a glow-in-the-dark tongue label, giving off real Jedi vibes that Master Yoda deserved. Even the insole commemorates the 40 years of this masterpiece. I don't know if it's just me, but these shoes do look like something Master Yoda used to wear during his training.
These kicks are the perfect multipurpose running shoes you can ask for. You can easily style them with any of your tracksuits, even if you are up for a quick run through the galaxies. But don't get your hopes up right now, as we all know space travel is never cheap!
Pros
This Adidas Ultraboost range has the most popular and comfiest running shoes.
The shoes are lightweight.
Cons
These shoes are unavailable on the original website and come at a pretty hefty sum on other sites.
NMD_R1 Boba Fett Spectoo Shoes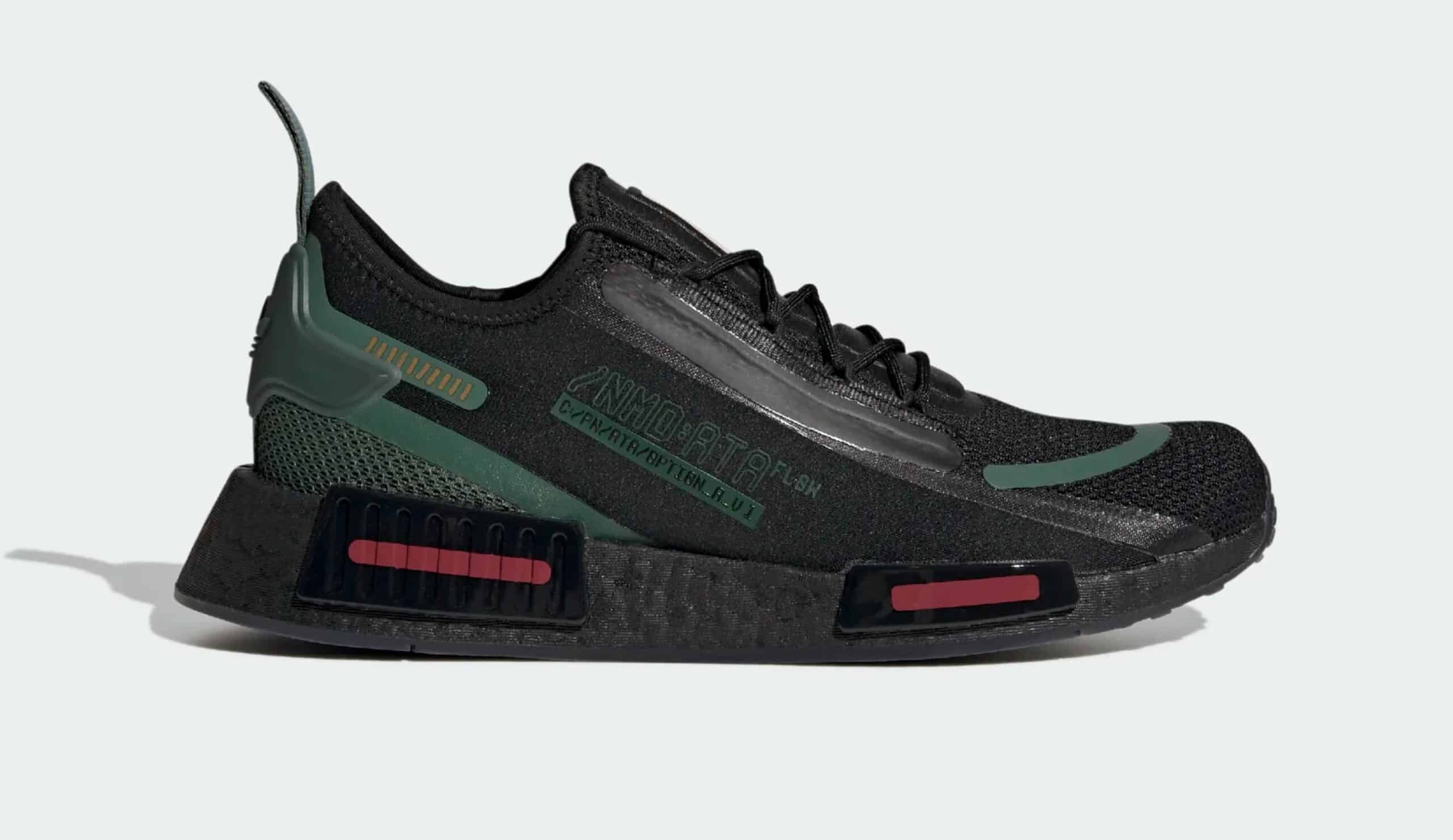 Boba Fett is a character you just can't decide whether you love or hate. His armor and deadly yet charismatic weaponry always amazed me. The powers he possessed were fascinating and scary at the same time; I mean, who else could have survived the terrifying Sarlacc Pitt?
I remember asking for a Boba Fett armor for Halloween, but sadly, I never got it. But when I saw these Boba Fett shoes online, I immediately placed the order as I couldn't take any chance of them going out of stock.
The color palette of these shoes exactly reflects the colors of Boba's armor. The heel of the shoes depicts Boba Fett's jet pack, while Boba Fett's clone number is printed on one side of the midsole. Not to mention, the Mandalorian symbol printed on the tongue feels like a cherry on the top.
These shoes are very lightweight and comfortable. They are a part of the Adidas Boost collection, so you don't have to worry about wearing them out with that extra mile. Trust me when I say these kicks won't leave any sign when you are up for another bounty run!
Pros
The Adidas official site offers 60 days of free size exchange.
They are available for both men and women.
Cons
Not enough size options are left on the official site.
Adidas Originals x Star Wars NMD R1 V2 Boost Lando Calrissian FX9300 Black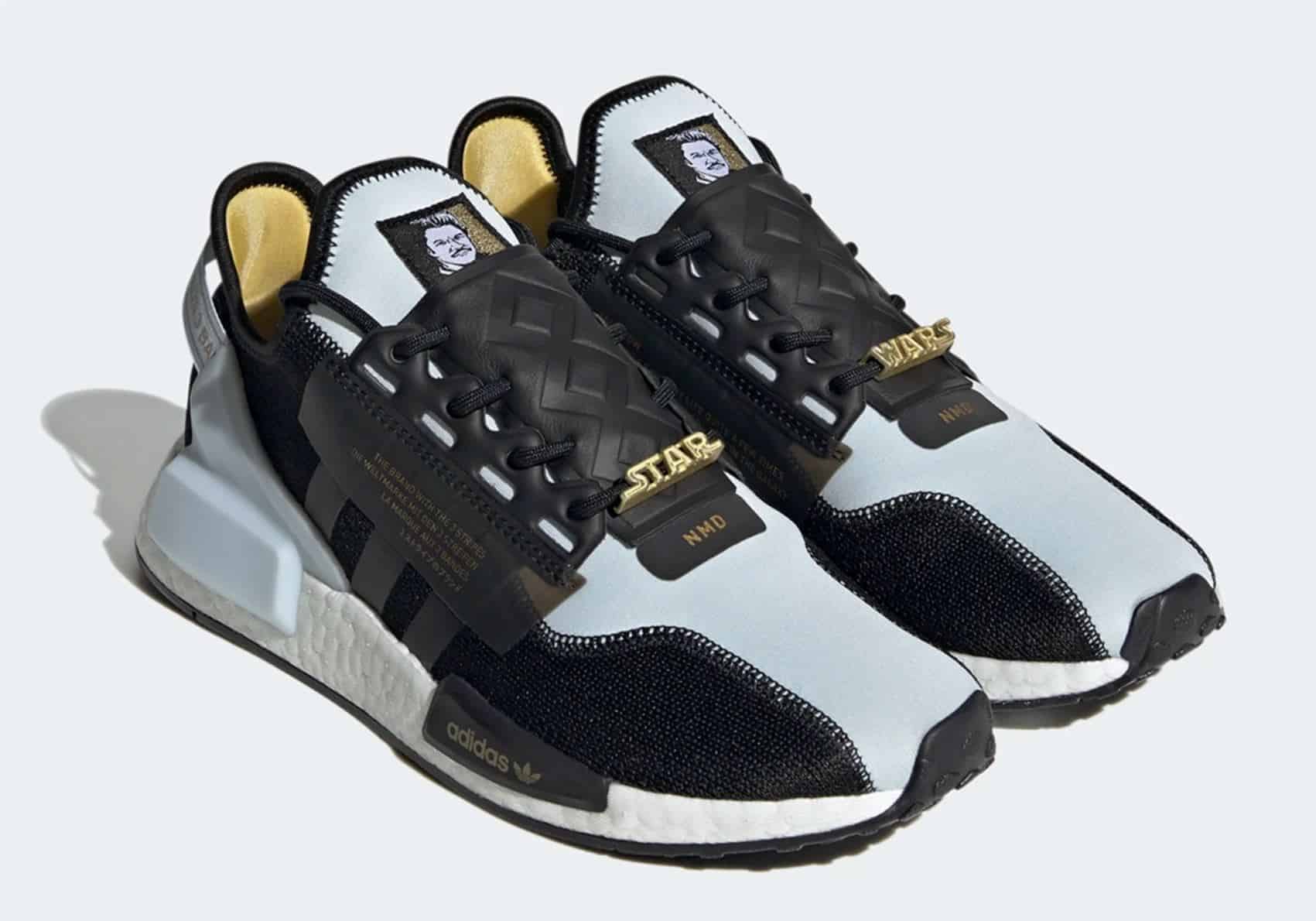 If I can't smooth-talk you into loving this shoe, I am sure Lando Calrissian himself can. Lando was undoubtedly one of the most iconic characters in Star Wars. A member of the rebel alliance, an old friend of Han Solo, and a Mr. Do-it-all, he indeed was a bad-boy- turned-good! I am glad to say that the best of his character is highlighted through these shoes!
These NMD Boost Lando Calrissian shoes are a part of the Adidas X Star Wars collection to celebrate the 40th anniversary of The Empire Strikes Back. Lando's costume in the movie inspired the black and white outer and golden inner lining on this shoe. Don't forget, the tongue of the shoe has his picture on it, while one of his most famous quotes is written on the side, making sure it's his shoe.
The pair has a textile upper with distinctive lace closure for adjusting according to the fit of your foot. Even the inner lining is printed with the Star Wars logo.
So what are you waiting for; wear these and make your run a lot smoother!
Pros
They are lightweight and ideal for long runs and casual wear.
Black, white, and gold colors accompany each other perfectly.
Cons
The white rubber sole is difficult to clean.
The seller is New York-based and doesn't offer worldwide delivery.
Bossk NMD_R1 Spectoo Shoes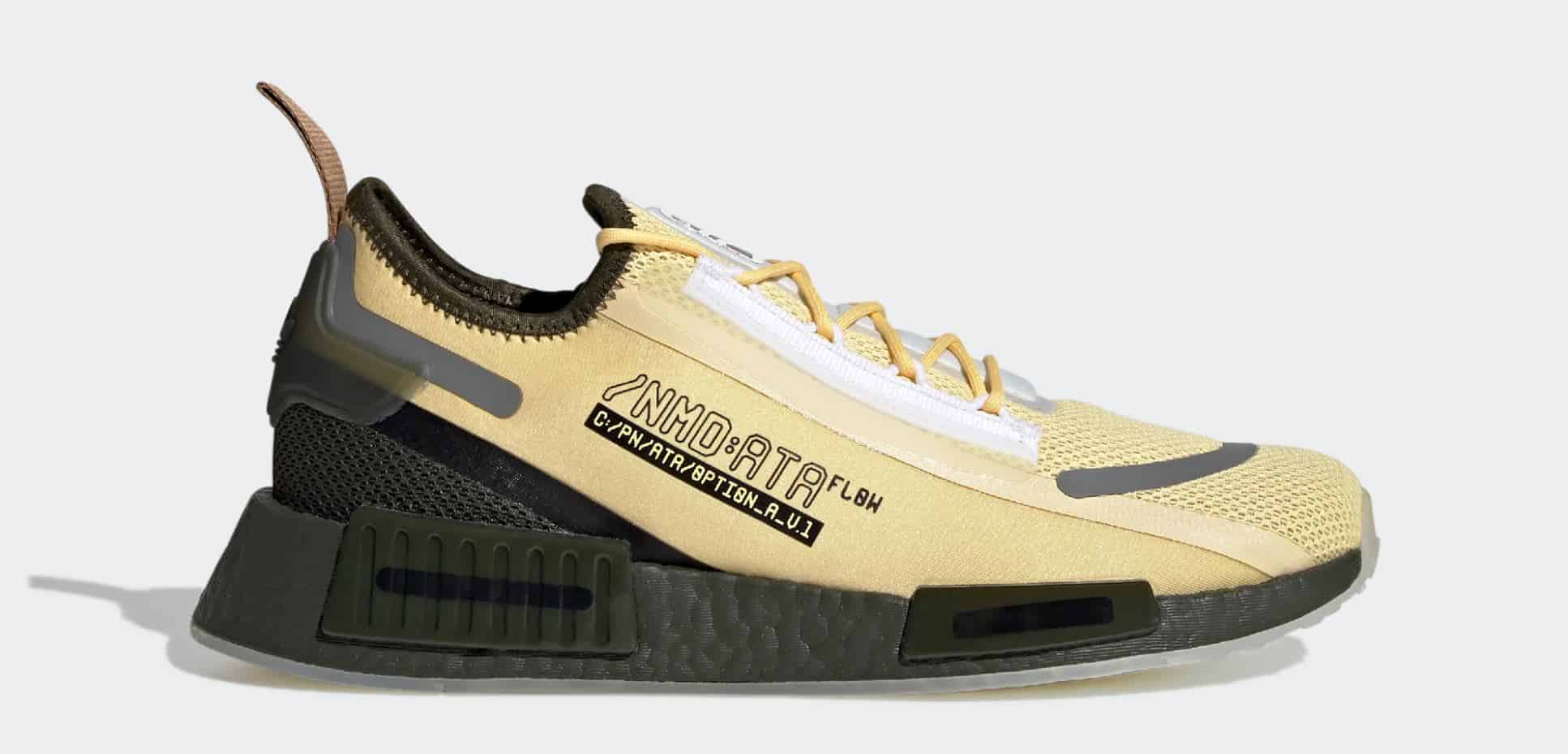 If there was one character that scared me as a child, it was Bossk. I always thought he was wearing a mask and would take it off someday. Sadly, it wasn't Scooby-Doo, and that day never came. He was relentless, fearless, and just scary, to say the least. These Adidas Bossk shoes undoubtedly reflect these aspects of his personality.
The skin, olive, and black color of the shoes exactly represent Bossk's appearance in the series. The tongue of the shoe has a logo inspired by his suit, while the sock liner has his portrait printed over it. The green and black detailing on the mid and outer sole really catches one's eye.
If you are on the lookout for comfy running shoes and also want to scare others, this one is for you. It has a stretch knit upper and lace closure, allowing your feet to sit perfectly. Wear these if you don't want people to disturb you during your run!
Pros
They are currently on sale.
Cons
The sizing options are limited.
The tread at its heel does not offer much grip.
Sneakers
What's better for Star Wars fans than having the funkiest Star Wars Sneakers in their wardrobe? They are fun, comfortable, and head-turners. The attention to detail on each one of these is remarkable. Don't believe me, just look at Star Wars Chewbacca sneakers, and you'll know what I'm talking about.
Adidas Top Ten HiStar Wars C-3PO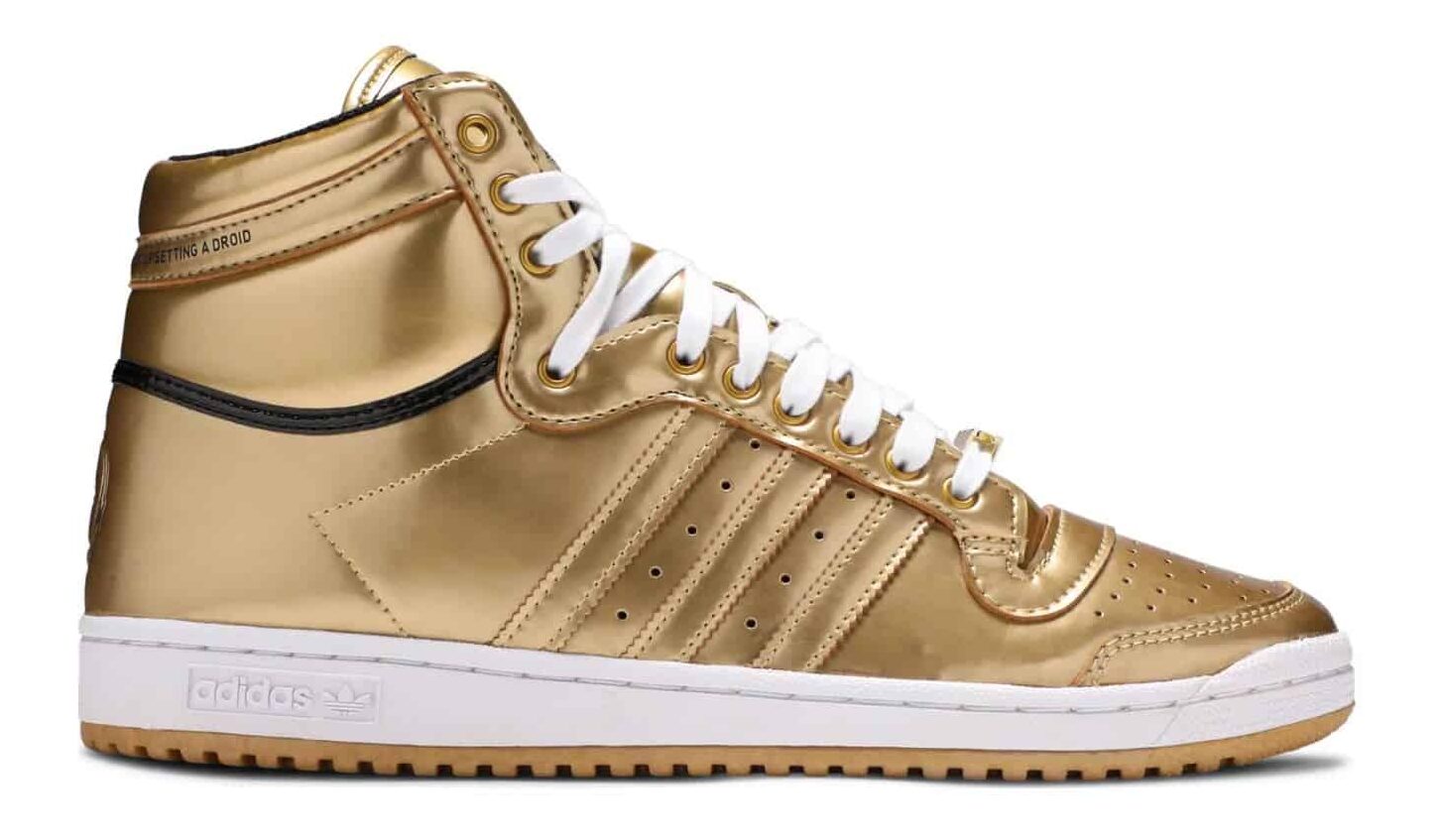 If you are still wondering where are the flashy sneakers, then wait no more—presenting you with the Golden sneakers that can translate every language!
But Sir, nobody worries about upsetting a Droid – A literal Droid.
Well, if you ask me, the only person I care about, not upsetting, is this very Droid. The C-3P0 and Astromech R2-D2 are, by far, my favorite duo in the entire series. What's there to not love about C-3PO? He saved the queen, behaved well, and could communicate well.
What else do you want from a droid? He's Perfect, as Padmé Amidala said, and an all-rounder, just like these Adidas Star Wars C-3P0 Sneakers. I bought these as a gift for my little cousin, and she is thankful to me to date.
The list would have been incomplete without including this piece of art. The metallic gold-colored, futuristic-looking sneakers are the perfect tribute to our Threepio. With black and white accents, C-3PO printed on the tongue of the shoe, his fae embossed and his famous quote written on the back, this shoe takes all the brownie points.
The inner lining has the Star Wars logo on it. These might not be your average everyday sneakers, but they are the style statement you need to make.
Pros
They are water resistant.
The metallic gold synthetic leather might look cheap, but they are pretty durable.
Cons
These sneakers are too ostentatious for some fans.
Sarlacc Pit Samba Shoes

I remember having the craziest nightmare after watching the Sarlacc Pit in Star Wars: Return of the Jedi. After all, I am no Boba Fett, so I knew I had no chance of surviving it. When I saw these Sarlac Pitt Samba shoes, it only brought back the horror and nightmares. That's how good of a depiction these sneakers are! Just kidding.
The light brown suede outer with three iconic Adidas stripes in dark brown leather material truly brings out the essence of the mighty Sarlacc. The brown stripes on both sides of the shoes remind me of the horrendous tentacles of the monstrous creature from which only a few could survive.
The detailing on these sneakers is spectacular. I know you are not a Sarlacc fan, but if you love Boba, which I hope you do, these ones are for you. Boba Fett's name is written on one side, while Sarlacc is written on the other. The most intriguing part is how the scary Sarlacc Pit story is illustrated through printing on the inner lining.
The debossed rubber sole in brown color is also a plus, taking the Sarlacc pit's intimidation to another level. These Adidas Samba Shoes are already the best sellers. For Star Wars fans who love Adidas, it is a true litmus test to see if you truly trust the Force and let your feet into these sneakers.
Pros
These sneakers are one of the detailed Star Wars kicks on the market.
Considering the quality, they are pretty affordable.
Cons
The color scheme might be too bland for some sneakers lovers.
Rivalry HI Star Wars Chewbacca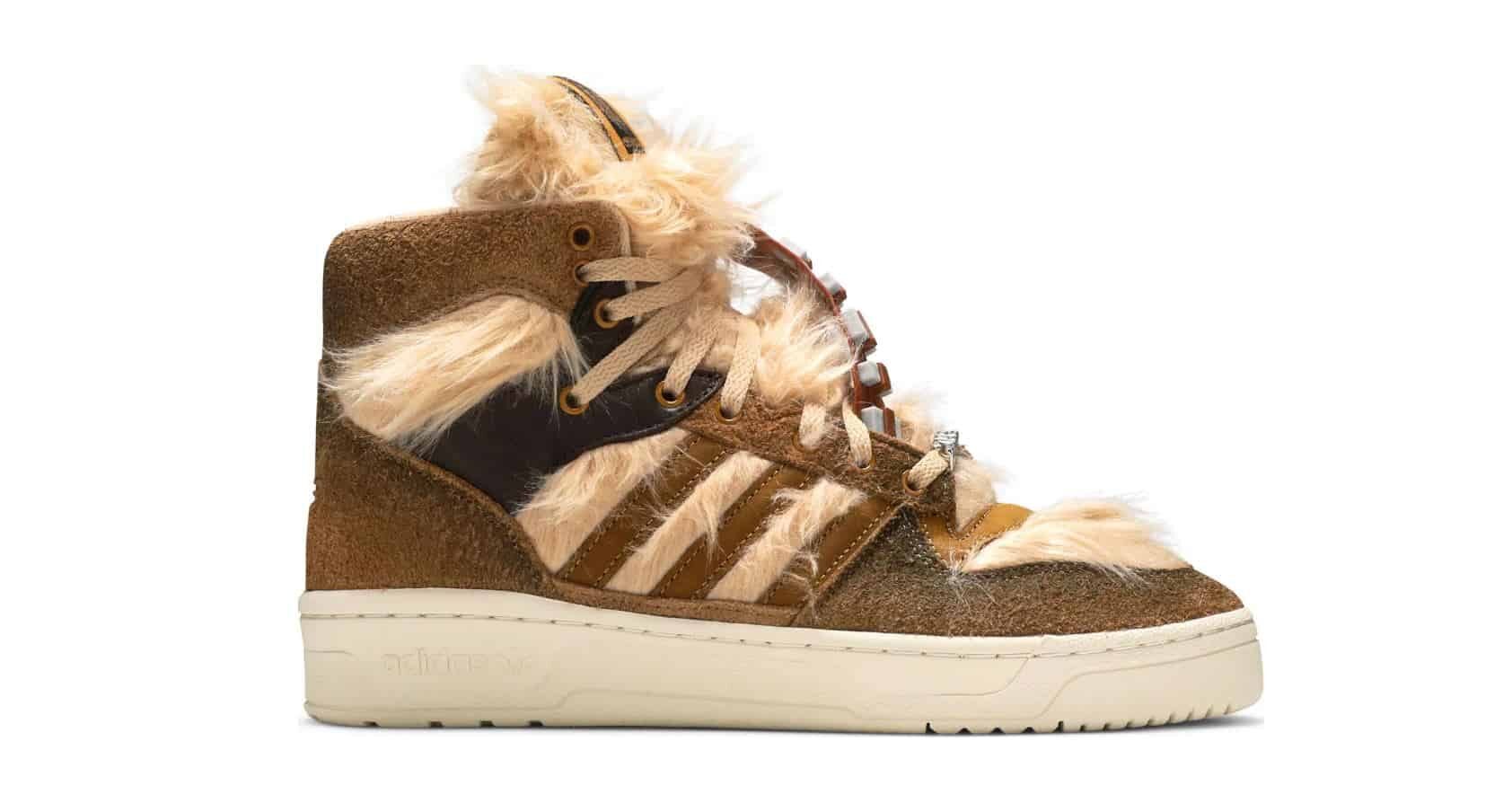 Laugh it up, Fuzzball!
I think the most recognizable character after Master Yoda is our very Wookie. With his body covered in light brown hair from head to toe, Chewbacca was one of the fascinating characters that Star Wars had to offer.
His loyalty had no match, and he was truly a friend you could even go to war with, only if you managed not to irritate him. This essence of Chewbacca's personality, quite literally though, is brought to life with these funkiest Chewbacca-themed sneakers.
These sneakers are a part of the Adidas X Star Wars collection as a homage to the 40th anniversary of Star Wars Episode V: The Empire Strikes Back. The outer of the shoes are covered with brown suede and beige faux fur, just like Chewbacca.
The midsole is made of rubber covered in cushioning to keep your foot comfortable while walking and also to keep you warm. Chewies' belt is also placed horizontally on the tongue of the shoe, with the sock liner having his face printed over it. In short, the quality and comfort it provides are excellent.
You can actually wear these and shoot a bowcaster, maybe with a little training, of course. They may not last as long as Chewbacca did (190+ years!), but they sure are durable. These are the perfect tribute to Chewbacca and are definitely a style statement for those who don't even know about Star Wars.
Pros
The box comes with a special packaging that includes lace jewels and a poster.
Cons
The suede material on the outer is not very efficient against water and dirt.
They don't come cheap.
Star Wars T-Shirts
Adidas Star Wars T-shirts are the comfiest you can find on the block. They are made of premium quality material, making them breathable and just the right fit for summer. Available in different prints, these shirts allow you to shout your love for Star Wars out loud.
Adidas Men's Star Wars Mandalorian Graphic T-Shirt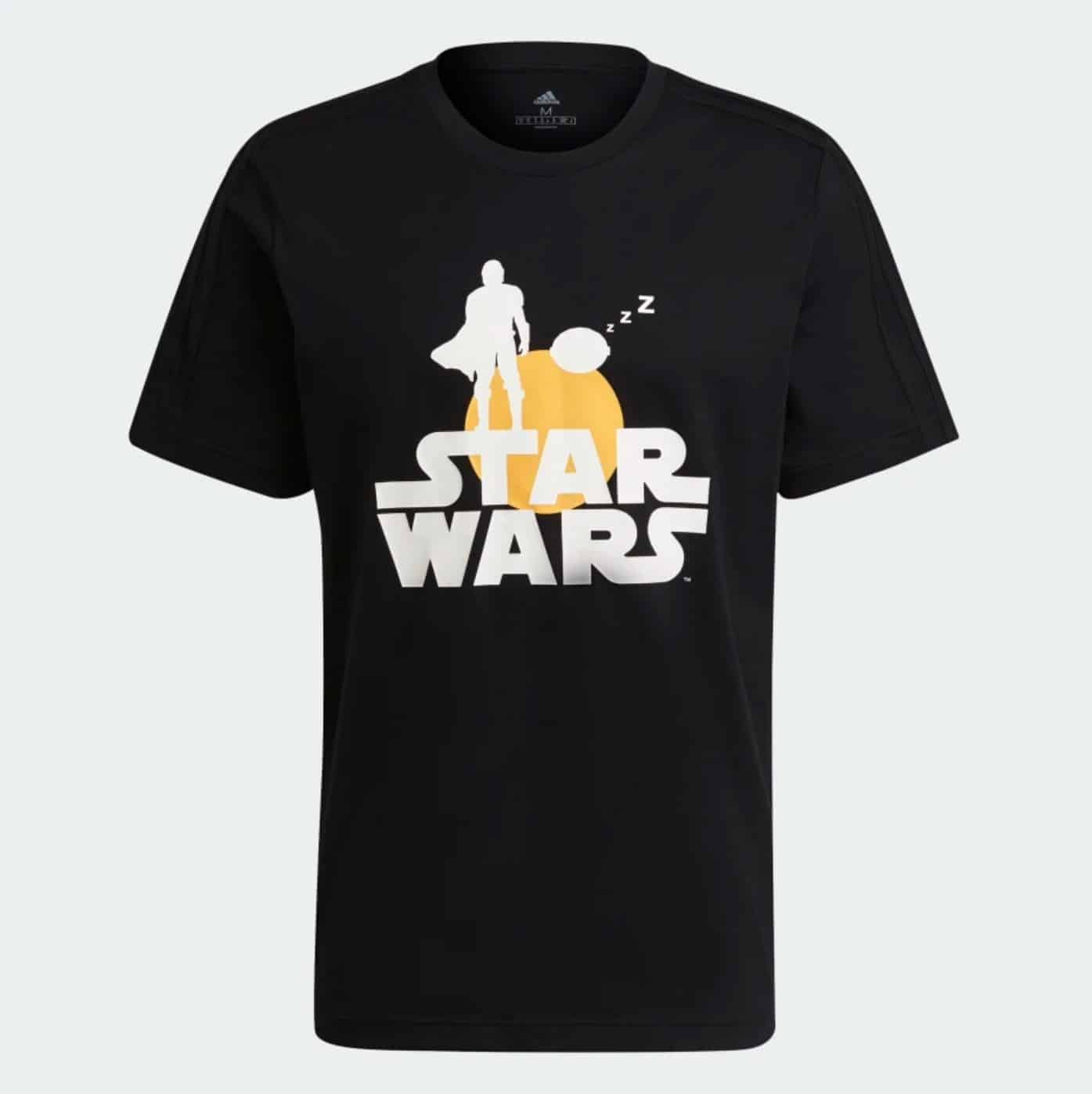 This Adidas Men's Star Wars t-shirt is like a package from space for Star Wars fans, especially the Mandolorian fans. Who doesn't love Baby Yoda? I ordered two of these, one for myself and my little brother, swearing never to leave each other's side; a lesson well taught by Din Djarin!
This black t-shirt features the Star Wars logo rubber-printed over it in a classic white color. The tee is made of soft cotton jersey material, which makes it super comfortable. It is half-sleeved and has a crew neck, and you can wear it any place you like.
For those who can be easily tempted by the Dark side, this shirt is also available in white color, making it a perfect all-rounder.
Pros
It is available in different sizes.
It is reasonably priced for a t-shirt of this quality.
Cons
The rubber print is difficult to iron and comes off after multiple washes.
Adidas Star Wars™ Yoda Box Logo Tee Men's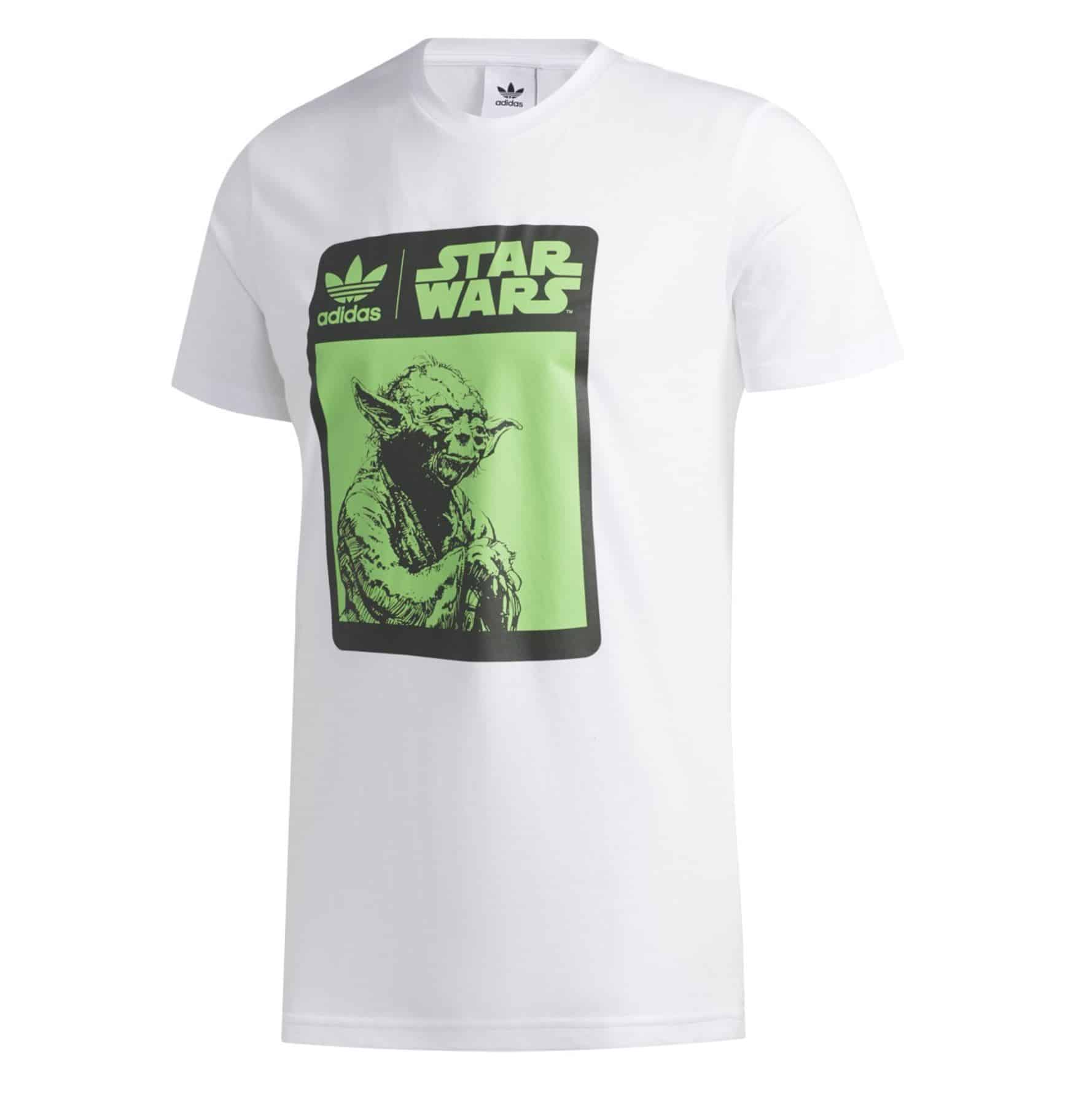 Size matters not!
Well, not for Master Yoda, but if you are looking for t-shirts, it does. If you want the Jedi Master's wisdom transferred to you while also looking cool, this t-shirt is the right choice.
This plain white t-shirt has a green and black box print featuring Master Yoda in all his seriousness, I mean wisdom. It almost looks like he is ready to spew the words of wisdom toward you, a problem all old folks share, I think. The print also has Star Wars and the Adidas logo on it.
The shirt itself is made of jersey cotton material and feels super soft. However, it has a ribbed crewneck that might not feel comfortable against the skin. But you will get used to it after a few wears.
Wear this one and show the world that Force is with you!
Pros
This shirt's jersey cotton material is premium in quality.
It is fairly priced for an Adidas Shirt.
The printed on the shirt is durable and can stand multiple washes.
Cons
No other color option is available.
FAQs
Question: Where can I get the original Adidas X Star Wars collection?
Answer: Finding the original Adidas X Star Wars collection can be a bit tricky. I suggest buying from Adidas's website. If your favorite products are sold out there, you can check other sites like Amazon and Goat. You should always check if the website is legit before trusting it with your hard-earned money.
Question: What should be my budget for Adidas Star Wars?
Answer: The Adidas Star Wars collection is on a bit expensive side. If you are on the lookout for top-of-the-line sneakers, you might need $200 to $300. T-shirts are comparatively affordable, so $30 to $50 will do.
Question: Are there any unisex Adidas Star Wars T-shirts?
Wrapping Up
The world of Star Wars and Adidas has been brought together many times. Safe to say, it has never disappointed. The iconic three-striped brand combined with a galaxy that lies far, far away created something extraordinary that never disappointed any Star Wars fans like me.
With this guide, I tried to convey the best of my knowledge to my fellow Jediphiles and Padawans. I have enlisted a few tips and recommendations to make your stroll through the galaxy of shoes and apparel easier. Always check the legitimacy of the site you are ordering from. Prepare a budget, and do not forget to check reviews and sizing.
My favorite Adidas Star Wars collection is Adidas X Star Wars ZX 2K Boost Han Solo Core Black Shoes. They were released as a tribute to the iconic scoundrel, and I can safely say Adidas didn't fail us with this one. Advanced Adidas Boost technology is used to make them comfortable and lightweight. The detailing and color scheme are also perfect. Although they are a bit pricey, trust me, it's worth all your money.
Now, brace up for the journey across the galaxy and pick what Adidas product suits you the best. May the Force be with you!
Looking for more interesting readings? Check out: