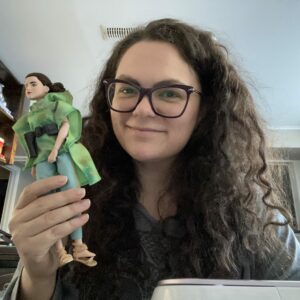 Latest posts by Candace Osmond
(see all)
Do you want to feel as decked out as Queen Amidala? As gilded in riches as those who dwell in Canto Bight? You get the picture. This ultimate Star Wars-inspired jewelry guide will help you navigate the pitfalls of buying novelty jewelry. You'll learn how to spot quality jewelry from cheaply-made jewelry, and then I'll give my suggestions for the 7 best pieces of Star Wars jewelry.
Bottom Line Upfront
I adore all the items on this list, but I have to say, the PANDORA Star Wars, The Child Charm is my all-time fav because my husband got it for me for Christmas. And PANDORA is such good quality.
Top 3 Picks
There are 7 unique Star Wars jewelry pieces I have to show you, but let's view these 3 first. If you're picking out jewelry for yourself or someone else and doesn't know where to start, these 3 are my best recommendations.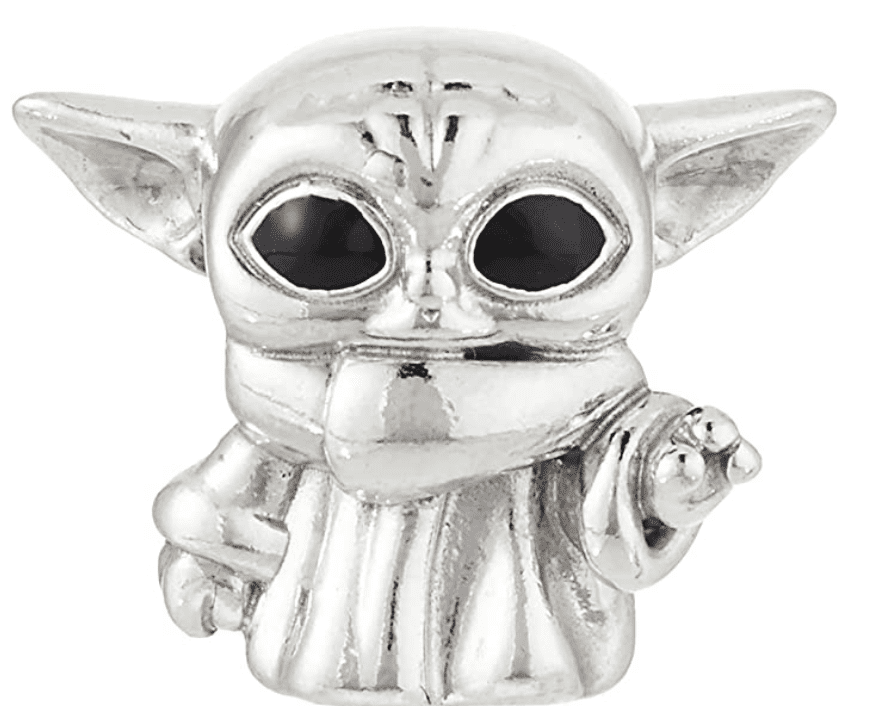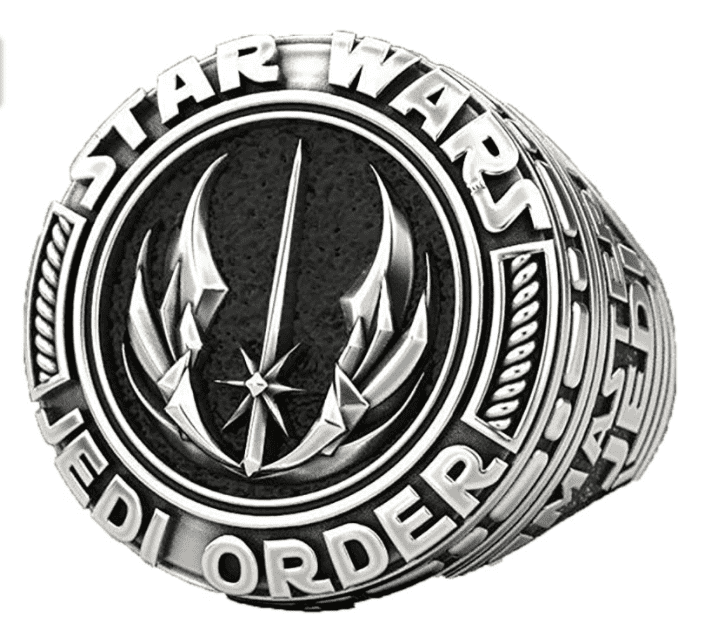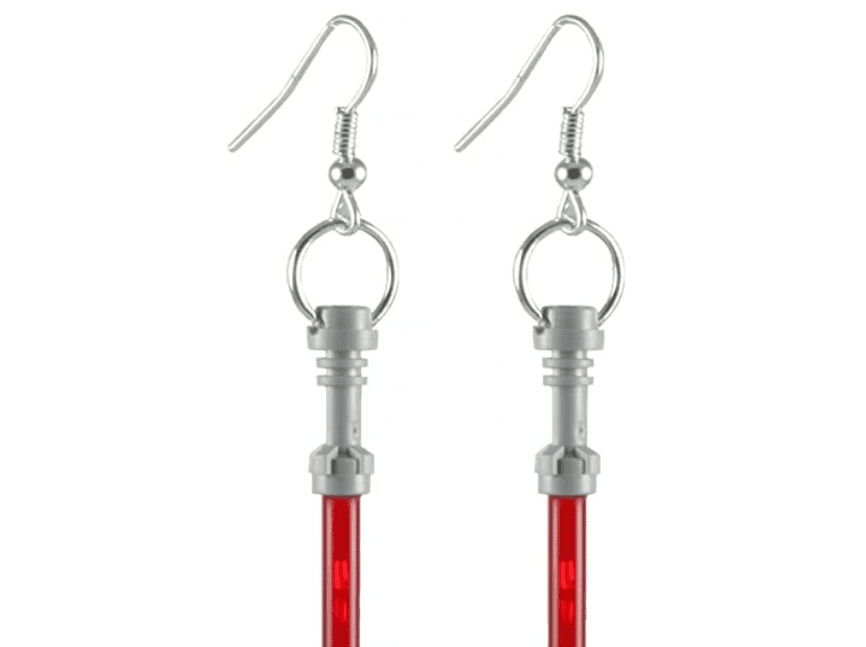 Things to Consider Before Buying Star Wars Inspired Jewelry
This section briefly covers what to watch out for when you're buying Star Wars jewelry. Since Star Wars is a massively popular franchise, there is a lot of jewelry out there with characters and symbols from the movies. You should definitely buy something that is built to last.
Metal Allergies
Some people are allergic to certain types of metal. The type of metal that people are most commonly allergic to is nickel, so it's best to avoid this material if you're unsure about someone's allergies. When it doubt, you can't go wrong with:
Sterling silver
18-karat gold
Quality
Check out what kind of metal a jewelry piece is made of to check the quality. Stainless steel is popular for Star Wars jewelry, and it's a great material because it doesn't rust. It rarely bothers people with metal allergies, too.
Authenticity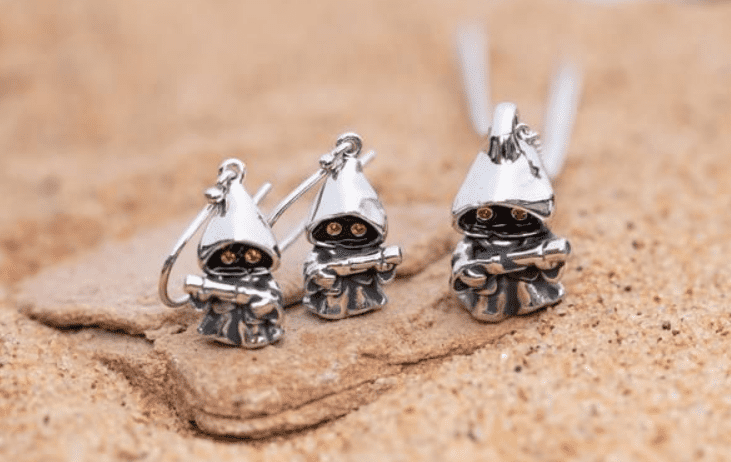 Buying authentic Star Wars jewelry is easy! An item's product description should tell you if it is officially licensed or not. There are fakes out there, so make sure to do your research. Compare a picture of the product you want with a picture of the product on an authentic site, like Disney.
If you want to buy official Star Wars jewelry, check the tags to make sure it is:
A licensed Star Wars product
Or a licensed Disney product
Price
Price is… tricky. If some kind of jewelry is less than $10, I say don't buy it. A big portion of what is making jewelry pieces like this worth much of anything is their affiliation with Star Wars. At least aim to buy jewelry that's around $15.
What Kind of Star Wars Jewelry Can You Buy?
Earrings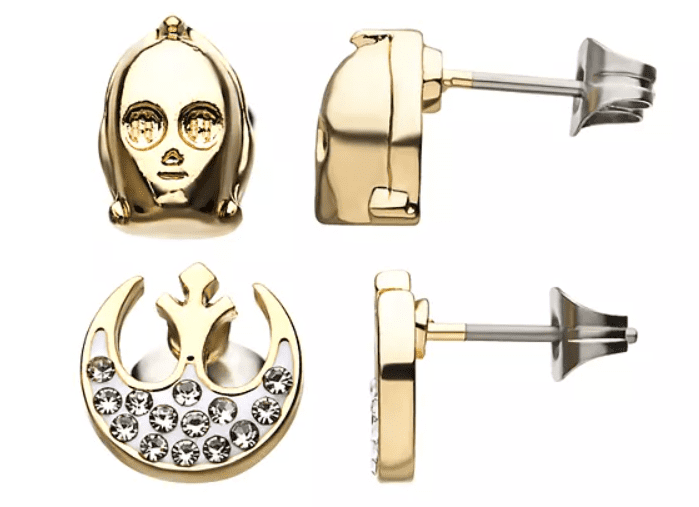 There is a ridiculous amount of Star Wars-inspired earrings for you to buy, and a lot of them are officially licensed. There are earrings shaped like lightsabers, Darth Vader's helmet, the Jedi Order insignia, and just about everything else you could think of.
Before you gift a pair of earrings to someone else, make sure that:
Their ears are pierced
They don't have new piercings
Necklaces
Necklaces make for a wonderful gift, but not everyone is a necklace-wearer. Before you buy someone a necklace, make sure they already wear necklaces regularly.
Bracelets
Did you want a wraparound bracelet that looks like a lightsaber? How about a silver bracelet with mini charms that look like Chewbacca's face? Well, you can have them.
Before buying someone else a bracelet, consider:
Does this person have a small wrist or a big wrist?
Does this person wear wrist accessories regularly, like bracelets and watches?
Rings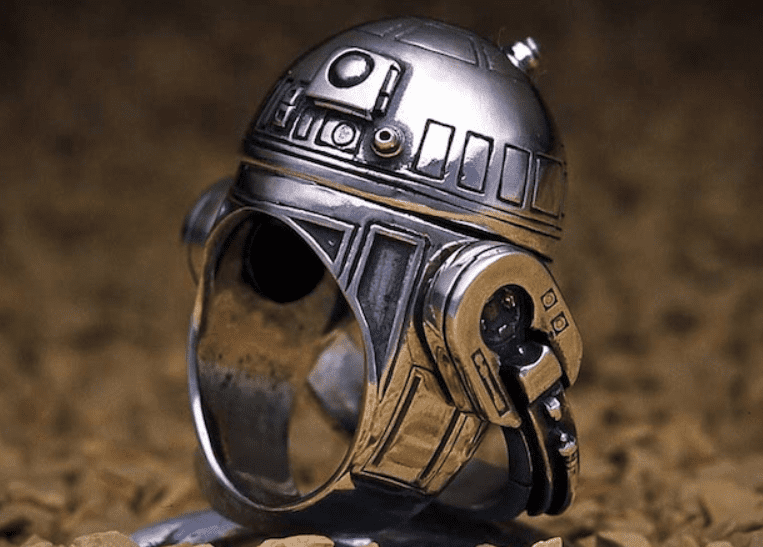 Everyone loves rings! Well, usually. First, make sure the person you're giving this ring to actually likes wearing rings.
If you can, try to know before you gift someone a ring:
What their ring size is
What fingers do they like wearing rings on
Types of Metal Used for Jewelry
Sterling Silver
Sterling silver is one of the pricier metals you can buy, but the long-lasting qualities of sterling silver make it worth it. This shiny material doesn't turn green and doesn't bother people with allergies.
Pros
Long-lasting and doesn't rust
Hypoallergenic material
Relatively inexpensive
Cons
Soft metal that may retain scratches
Cast Metal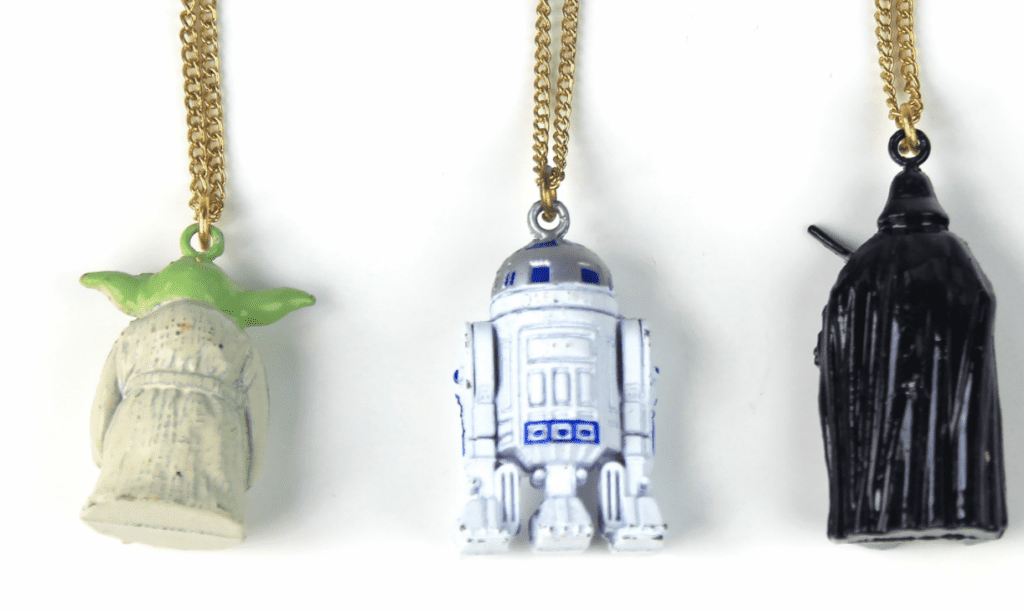 Cast metal is the most popular material used for making novelty jewelry like Star Wars jewelry. While it does tend to bother people with allergies, you won't have to pay a hefty price for it.
Pros
Created using a mold, which ensures uniformity
Very popular material that's easy to find
Inexpensive to make and sold at a low price
Cons
Not as high-quality as stainless steel or sterling silver
Stainless steel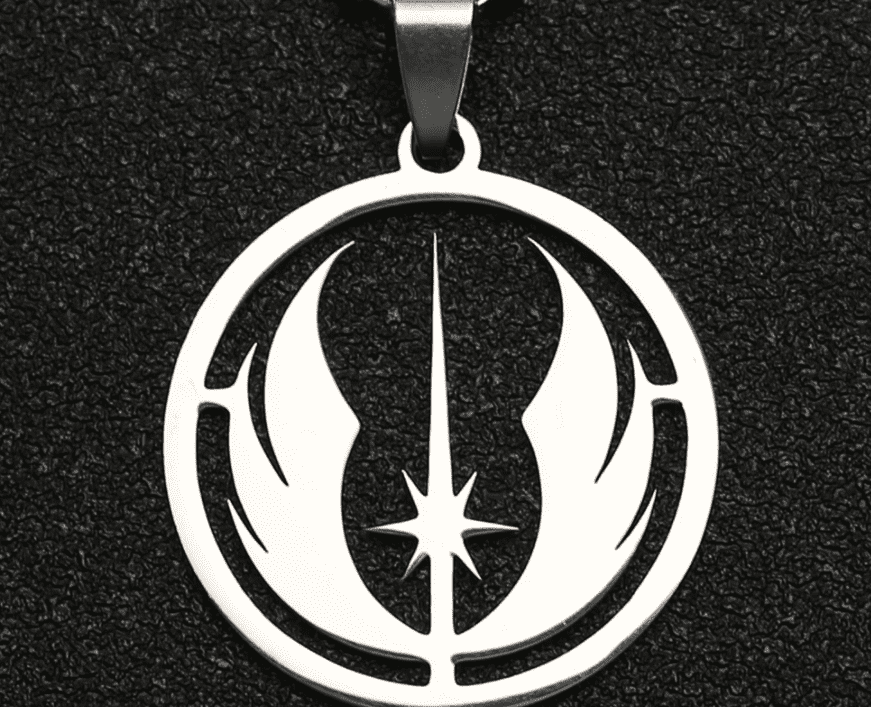 Stainless steel is my #1 recommendation for jewelry metals. This metal is hypoallergenic, it's long-lasting, it's shiny, and it's very easy to come by. Stainless steel does sometimes retain scratches, but generally, it's very durable.
Pros
Hypoallergenic material that rarely bothers allergies
Long-lasting and won't rust or turn green
Beautifully shiny material that retains its shine
Cons
Not as high-quality as sterling silver or 18-karat gold
What Jewelry is Best for Allergies?
If someone you know has metal allergies, buy them jewelry made from sterling silver or 18-karat gold. Sterling silver and 18-karat gold don't contain nickel, which is the metal that most often affects people with allergies.
Tips for Gifting Star Wars Inspired Jewelry
Don't skip this section if you're buying someone Star Wars-inspired jewelry as a gift! I run through some important preliminary questions to ask yourself so you buy them the perfect present.
Favorite Character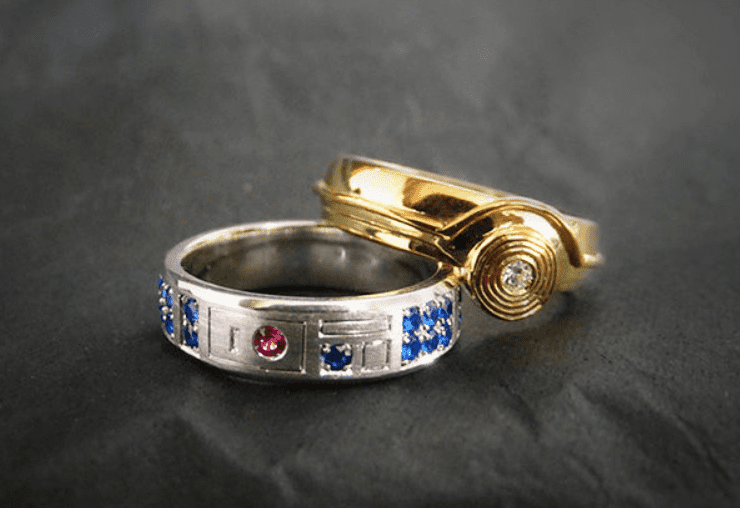 It's crucial to know someone's favorite character, right? Some people really identify with the heroes like Luke, Leia, Han Solo, Padme, Rey, Finn, Poe, Rose, and others. Some of us are all about the Dark Side and prefer villains like Darth Vader, Darth Maul, and Kylo Ren.
Before buying someone Star Wars jewelry, make sure you know which side they're on. You'd hate to buy a Death Star for a Rebel.
Type of Jewelry They Prefer
I don't know about you, but I've made the mistake of buying someone a piece of jewelry that they never wore after they got it. It's okay. It happens. Here's how you avoid that:
Ask yourself, does this person usually wear jewelry? If not, consider a different gift.
Does this person have a type of jewelry they prefer, like rings or earrings?
Do they already have a piece of jewelry they wear every day?
Does this person regularly switch out the jewelry they wear?
If someone has a special necklace they wear every day, then buying them a Star Wars necklace may not be a great idea. If they regularly wear lots of different necklaces, then a Star Wars necklace would be perfect!
Price Range
Unless this piece of Star Wars jewelry is given as a grand romantic gesture, keep the price range reasonable. Buying someone an inordinately pricey piece of jewelry out of the blue may be more of a burden than a gift. It could feel like you've unbalanced the what-I-spend-on-you scale.
But, you shouldn't cheap out on your friends. Buy them something within the price range you would normally spend on them.
The Best Star Wars Inspired Jewelry
Here they are! The best Star Wars-inspired jewelry from across the galaxy! I picked them based on their design, uniqueness, functionality, and price.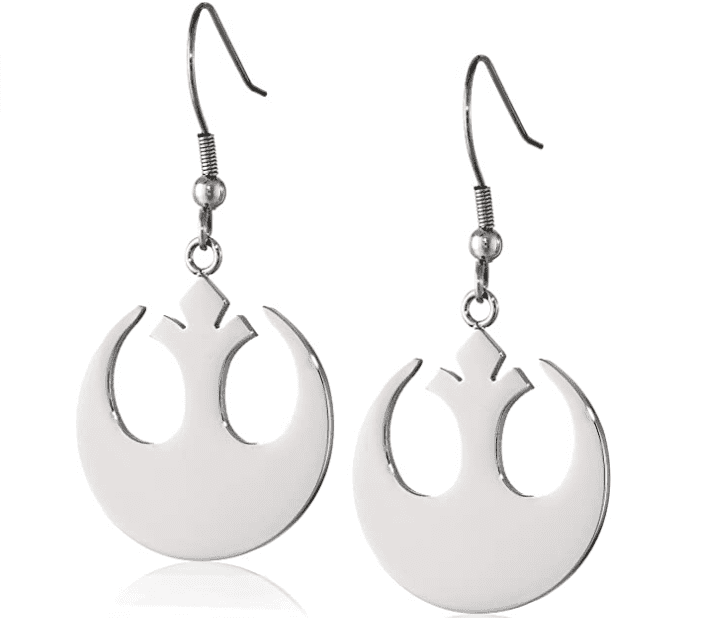 About
Want to give a nod to the Rebellion in your outfit? These are the perfect Rebel Alliance earrings. These earrings are made by Amazon, so despite being unofficial these earrings are made by a trusted brand. They're dangling sterling silver earrings, so they won't turn green or affect people with metal allergies.
Type: Earrings
Price Range: $18-$28
Best For: Fans of the heroes
Material: Stainless steel
Fun Fact
The Rebel Alliance's symbol, called the Starbird, was originally Mark Galen's family emblem. Mark Galen plays a crucial role in founding the Alliance.
Pros
High-quality material
Sterling silver
Trusted brand
Cons
Unofficial Star Wars merchandise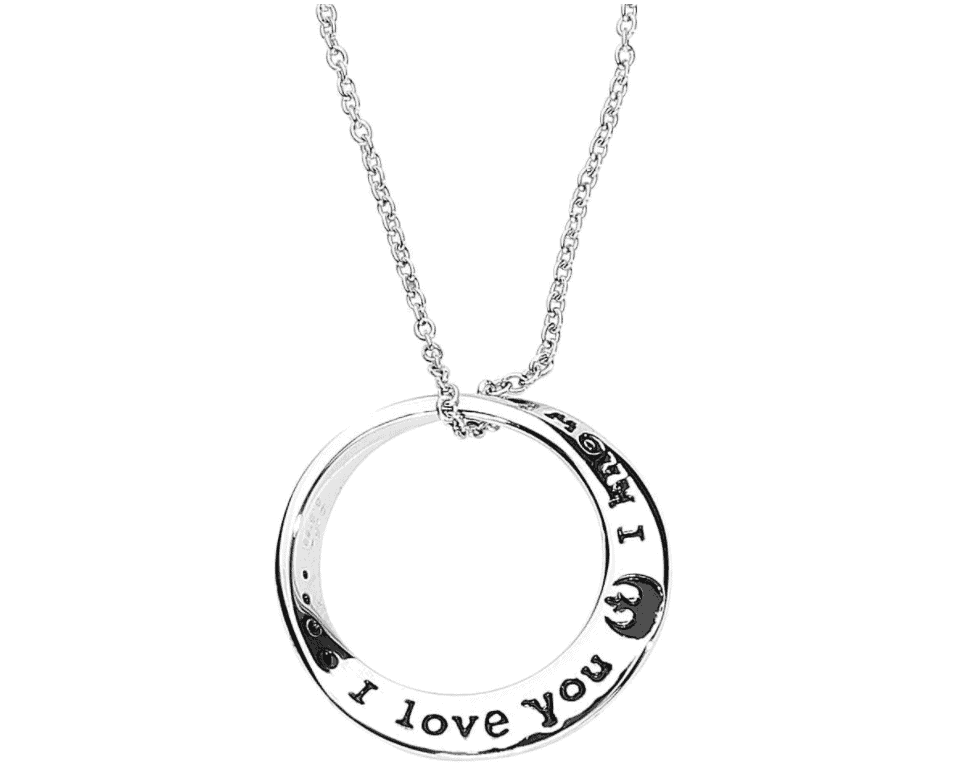 About
We all know the scene in The Empire Strikes Back. Princess Leia tells Han Solo she loves him, and he says, "I know." Iconic. This sterling silver necklace features Leia and Han's famous love lines, making this a perfect gift for your SO. The sleek, simplistic design makes it wearable with a wide variety of styles.
Type: Necklace
Price Range: $18-$28
Best For: A romantic present
Material: Stainless steel
Fun Fact
Han Solo's line to Princess Leia after she professed her love to him was an improvisation. The scripted line was, "I love you, too."
Pros
Made from a durable material
Famous quote from the franchise
Sleek design
Cons
Not official Star Wars merchandise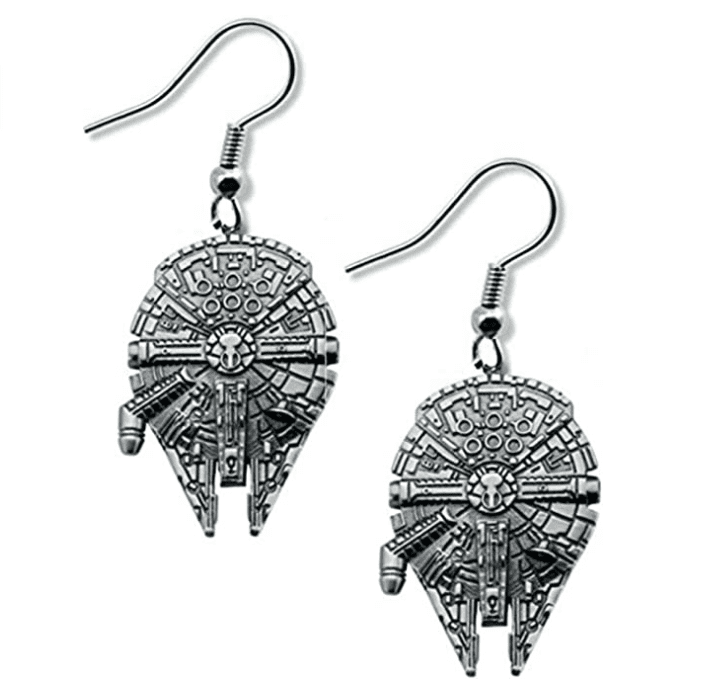 About
If you fight with the good guys, you might be interested in these Millennium Falcon earrings. These earrings are officially licensed, which makes them collectible. Their pewter color makes the earrings stylish and neutral-toned. Since these are dangle earrings, you can see the detailing of the Millennium Falcon's curves and ridges.
Type: Earrings
Price Range: $15-$25
Best For: Dangle earrings
Material: Metal
Fun Fact
Life aboard the Millennium Falcon inspired Joss Whedon to write the show, Firefly.
Pros
Shaped like one of the most popular starships
Official Star Wars merchandise
Neutral colors that fit well with many styles
Cons
Lower quality metal than sterling silver or stainless steel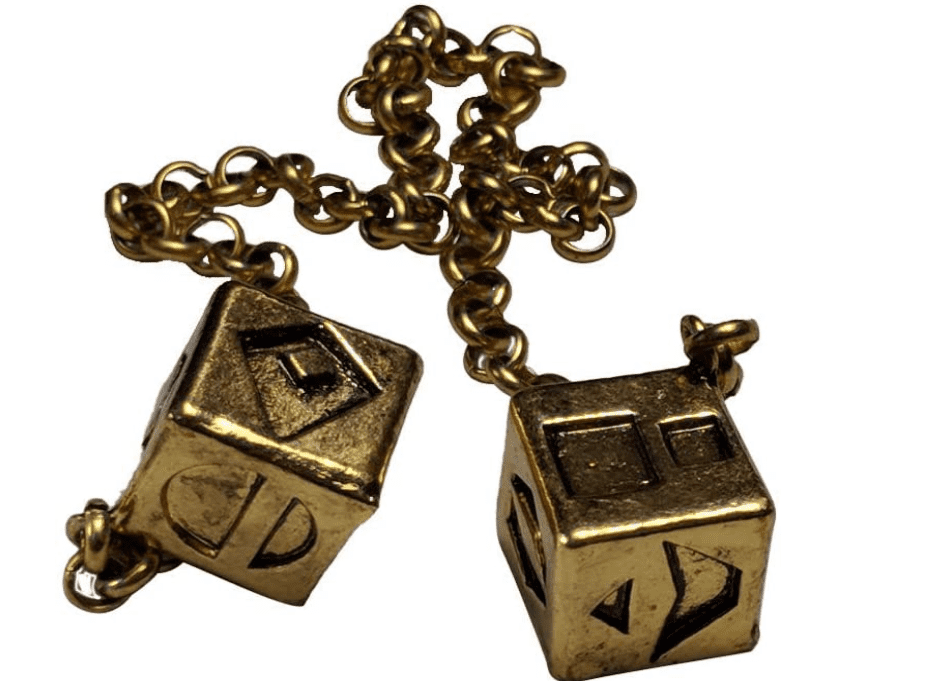 About
Gather here, Han Solo fans! These antiqued, gold-plated dice are a replica of Han Solo's lucky dice. The symbols on the sides of the dice were made by researching the shapes on the dice from Han's movie. A black velvet gift box is included, which is great if you want to give this to someone else.
Type: Dice
Price Range: $15-$25
Best For: People who don't like jewelry
Material: Metal
Fun Fact
Originally, Han Solo's character was imagined as an alien instead of a human!
Pros
Spot-on replica of Han Solo's dice
An antiqued, weathered look
Velvet gift box
Cons
Can't actually be worn as jewelry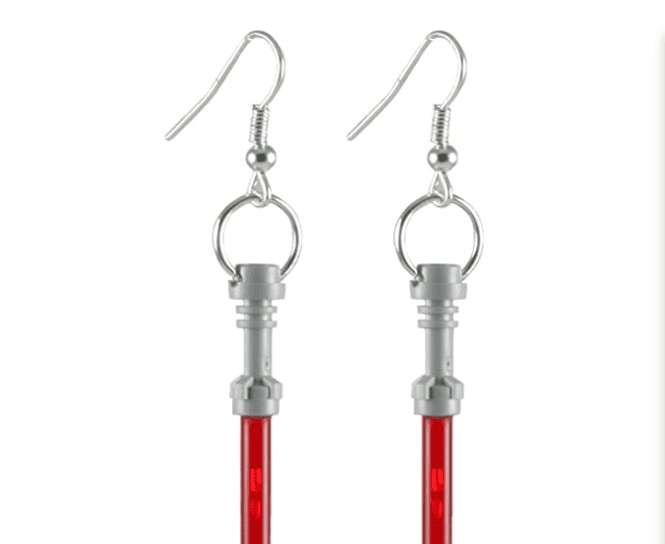 About
LEGO has 7 different pairs of LEGO lightsaber earrings to pick from. You can get the traditional look with blue, red, and green lightsabers. They also have unique colors like purple and yellow, which are specific to Mace Windu and Rey Skywalker.
Type: Earrings
Price Range: $8-$28
Best For: Best price
Material: Silver and stainless steel
Fun Fact
All around the world, Star Wars is the best-selling theme for LEGO.
Pros
LEGO brand product
Multiple lightsaber colors to choose from
Dangle hook earrings
Cons
Air bubbles in lightsabers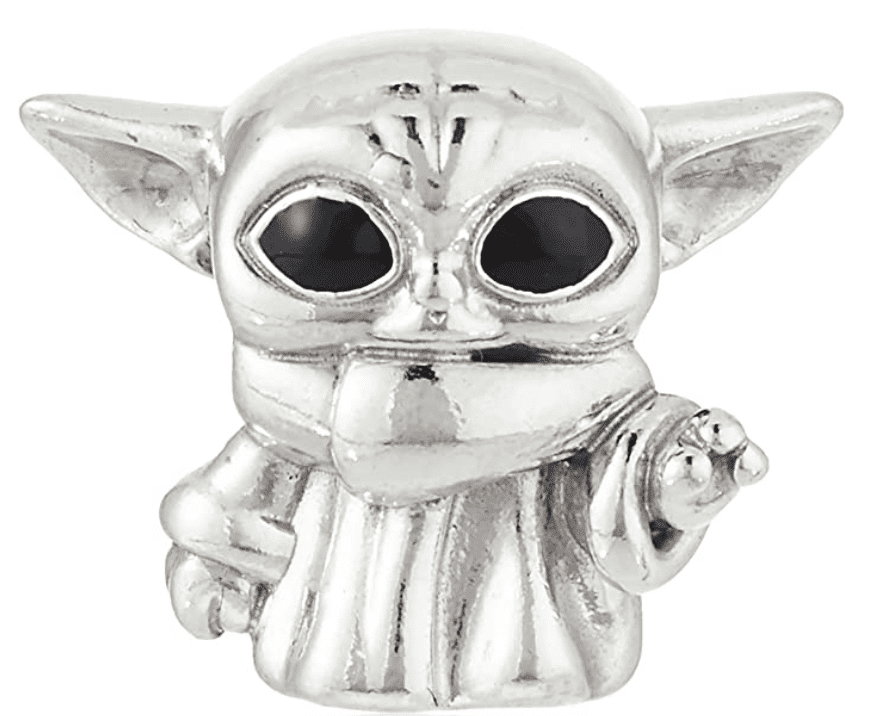 About
If you want a piece of Star Wars-inspired jewelry that's classy and made from a high-quality brand, I suggest this sterling silver Grogu. Since he has holes in either side of his head, he can be worn on multiple different chains. It also makes for great decor when it's not being worn.
Type: Charm
Price Range: $57-$67
Best For: Best quality
Material: Sterling silver
Fun Fact
In case you didn't know, Grogu was born in 41 BBY.
Pros
High-quality sterling silver
PANDORA product
Can be put onto different chains
Cons
Only a charm, so you need other PANDORA products or a chain to wear it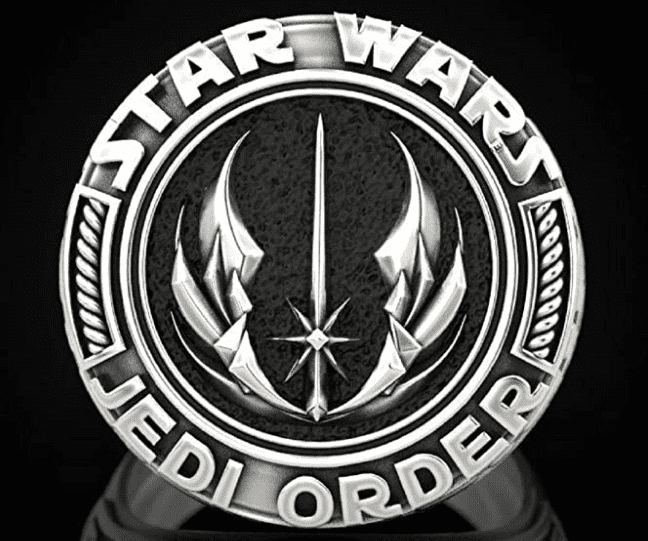 About
This gorgeously crafted stainless steel ring features the signet of the Jedi Order. Above and below the symbol are the words, "Star Wars" and "Jedi Order." On the sides of the ring are the words "Master Jedi." You can choose a ring size, so check to make sure you know the ring size of the person you're buying this for if it's a gift.
Type: Ring
Price Range: $16-$26
Best For: Best design
Material: Stainless steel
Fun Fact
The word "padawan" is based on the Sanskrit word for "learner."
Pros
Stainless steel
Crisp, clear detailing
Nickel-free, lead-free, and cadmium-free
Cons
Ring may be too bulky for some
FAQ
There are tons upon tons of Star Wars-inspired jewelry pieces, so it's no wonder lots of us have questions about them. I address your questions about Star Wars jewelry in this section, but don't worry if you don't see your questions answered! Pop a comment below with your question and I'll get back to you.
Question: Is there Valuable Star Wars Inspired Jewelry?
Answer: There are many pieces of valuable Star Wars-inspired jewelry! You can buy Star Wars jewelry made of solid sterling silver (which I list above), platinum, and even gold! PANDORA has a line of Star Wars charms.
Question: What is the Best Star Wars Jewelry?
Answer: This depends on what you want. Do you want jewelry made of valuable material? There are tons of choices for that. Do you want officially licensed Star Wars jewelry or vintage Star Wars jewelry? These pieces are certainly valuable, too.
Question: Where Can I Find Custom Star Wars Jewelry?
Answer: One of the best places to find customizable novelty merchandise is Etsy. Of course, none of the custom jewelry pieces on Etsy are official Star Wars products. Still, Etsy is filled with thousands upon thousands of talented artists, and many of the jewelry pieces sold on Etsy are custom.
Finale
You'll be ready to rule the galaxy with the riches you've acquired! You should feel like an expert when it comes to picking out quality Star Wars-inspired jewelry. Do you have any great recommendations?
Leave me a comment down below! For even more great Star Wars merchandise buying guides, come check out our website!
Looking for more interesting readings? Check out: